Vegan brioche dough is one simple recipe but extremely versatile. It's just like a buttery vegan crazy dough! You can use it to make dinner rolls, cinnamon rolls, babka (twist bread), Christmas wreath recipes and much more.
Overall, these recipes have received over 150 x 5 star reviews so it's safe to say they are VERY tried and tested!
What are the ingredients for vegan brioche dough?
My brioche recipe is essentially a buttery 'crazy dough'! If you aren't familiar with this term, it's basically a master dough recipe which can be turned into endless variations of breads, rolls etc (as explained by Gemma).
Compared to crazy dough, my brioche recipe is more buttery, slightly more sweet and will melt in your mouth. It's an easy vegan bread recipe using:
Plain or all-purpose flour
Vegan butter or margarine
Cane or coconut sugar
Plant-based milk
Active dried yeast
Depending on how you want to use the dough, you may also want to add:
Chocolate chips
Vanilla extract
Cinnamon
Nutmeg
Roll up that vegan brioche dough to make CINNAMON ROLLS!
Many good vegan cinnamon roll recipes use enriched yeast dough (dough with butter) aka brioche dough as the base. Here are my favourite vegan cinnamon roll recipes:
Buttery and soft vegan cinnamon buns with an irresistable sticky maple glaze. You can make then with common ingredients you probably already have in your pantry. And the post features step-by-step pictures!
Pillowy, moist and tender blueberry rolls with a touch of cinnamon and a deep purple glaze. Easy to make, uses common pantry ingredients.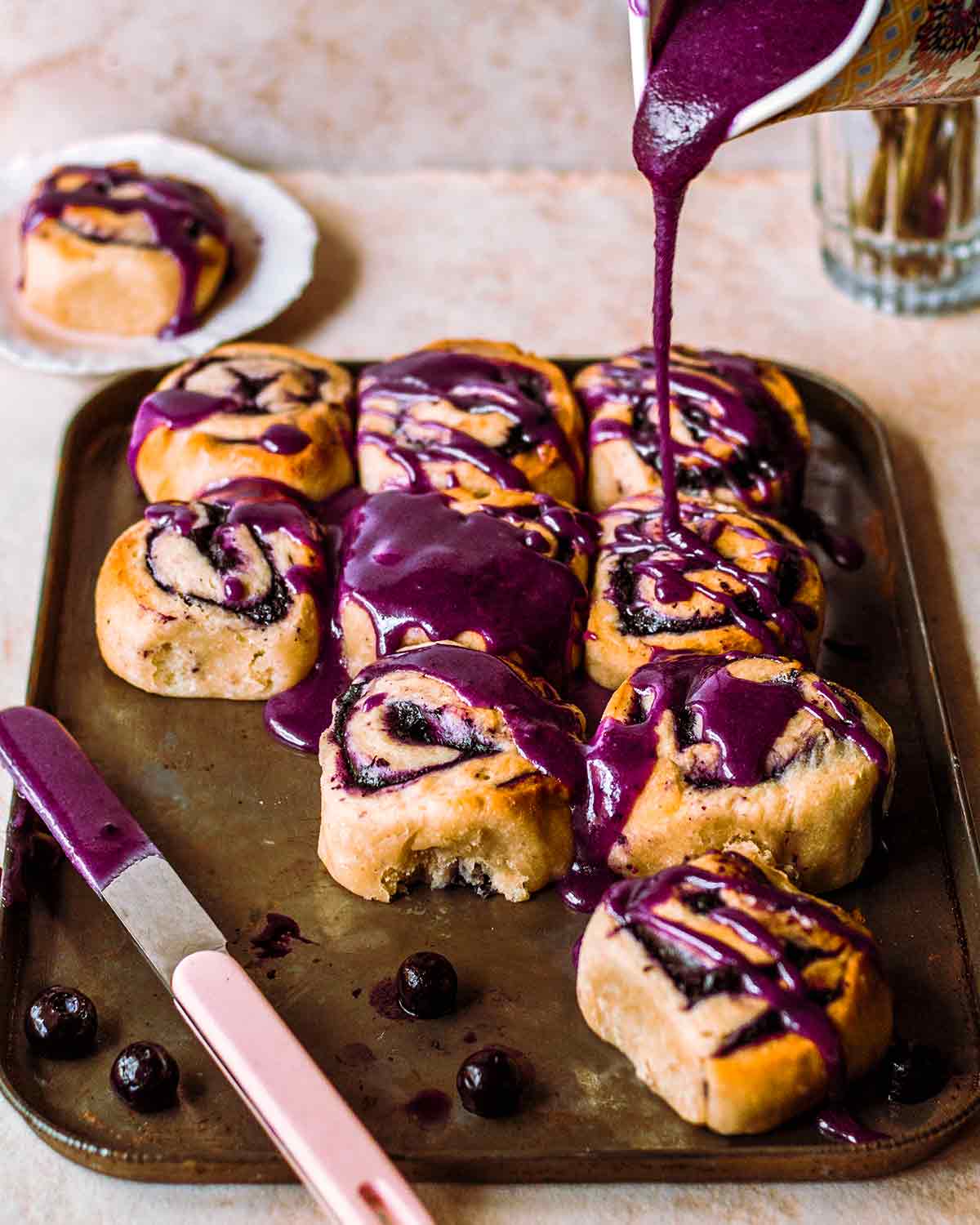 Buttery, soft and pillowy vegan cinnamon rolls with a raspberry jam donut filling. They happen to be vegan, are easy to make and have no weird ingredients!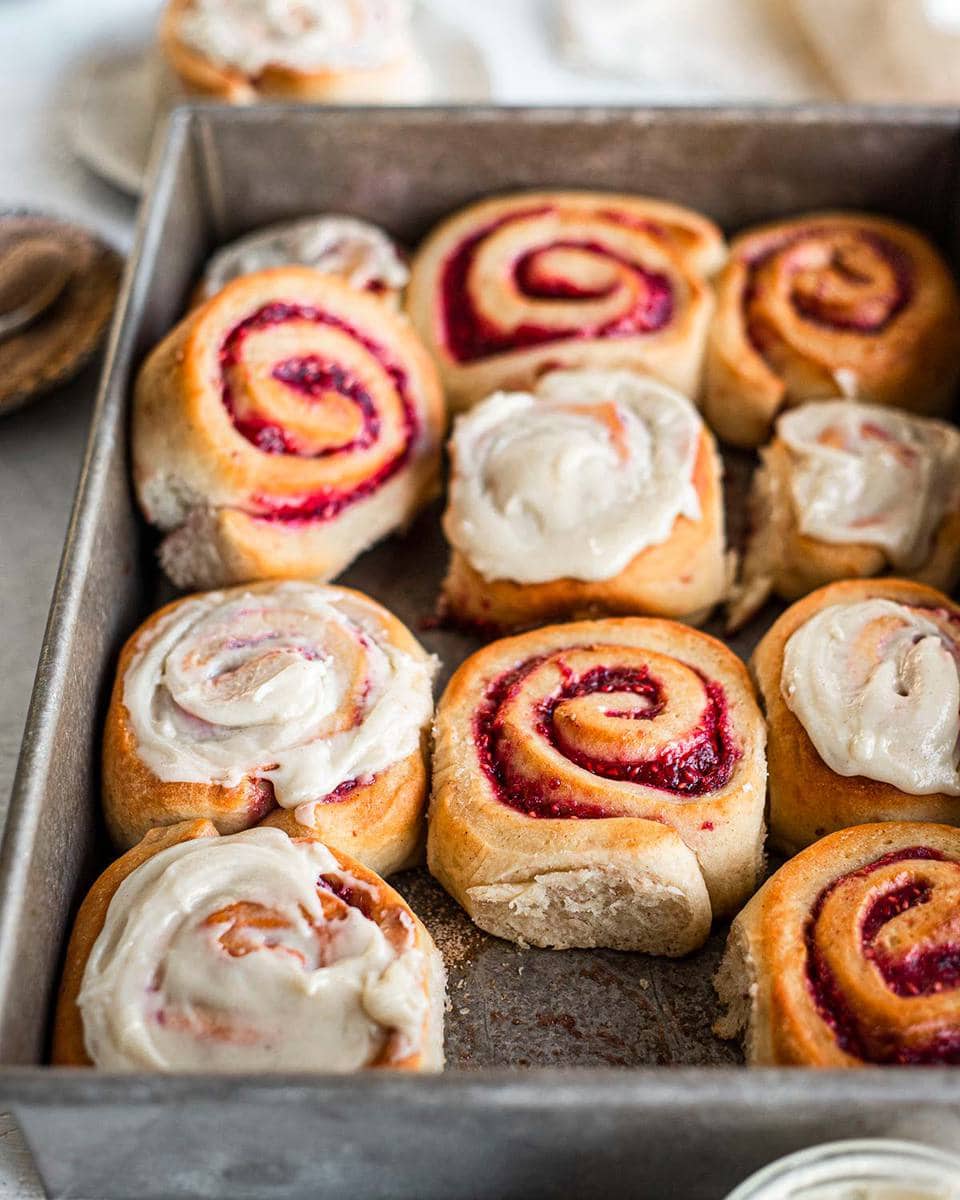 Berry swirl rolls with lashings of fruity jam and a beautiful purple glaze. Just like cinnamon rolls but uses a more complicated lamination process to create plenty more layers!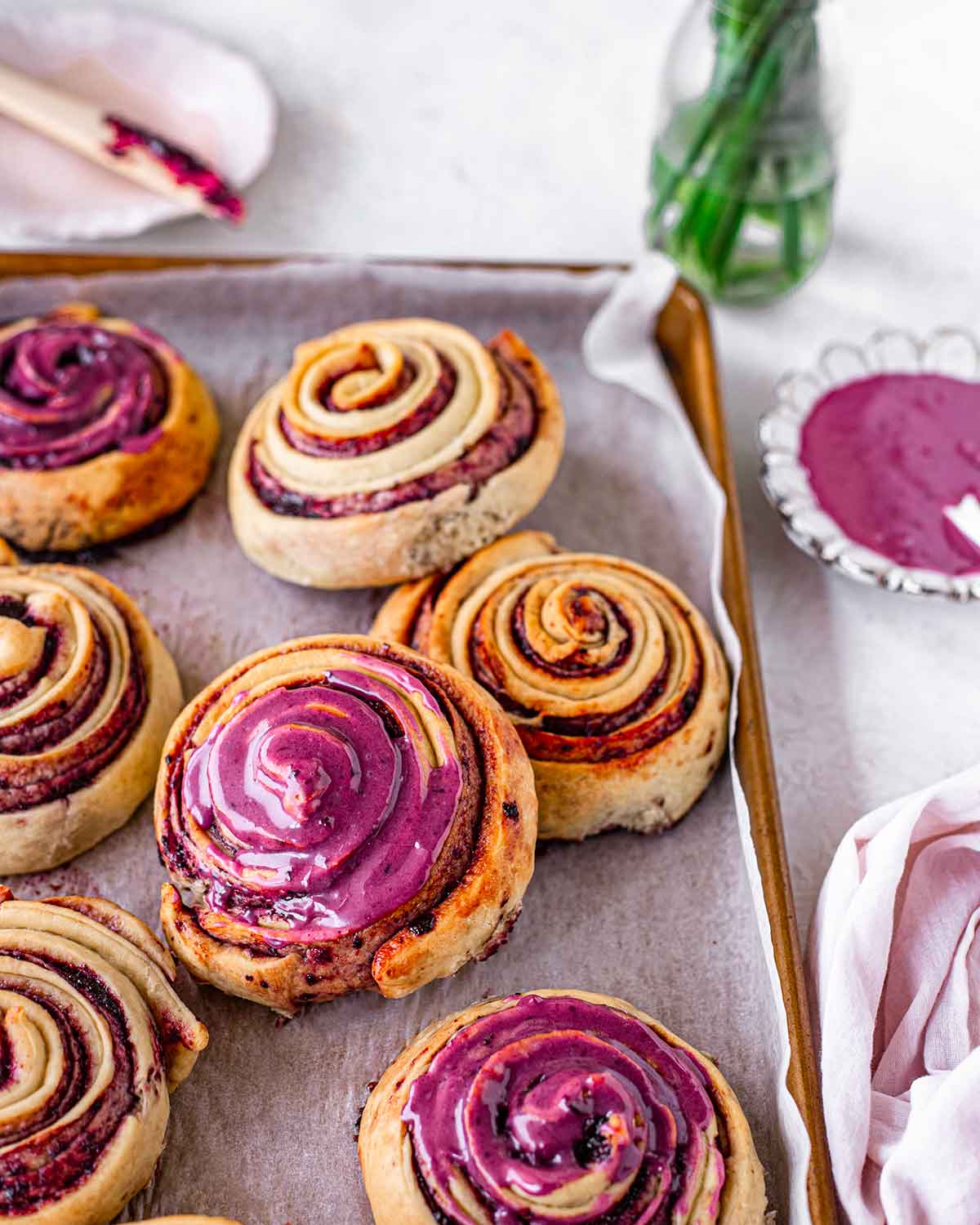 Spice up your vegan brioche dough and make these fluffy and soft vegan gingerbread cinnamon rolls! Easy to make and more fun than classic cinnamon rolls.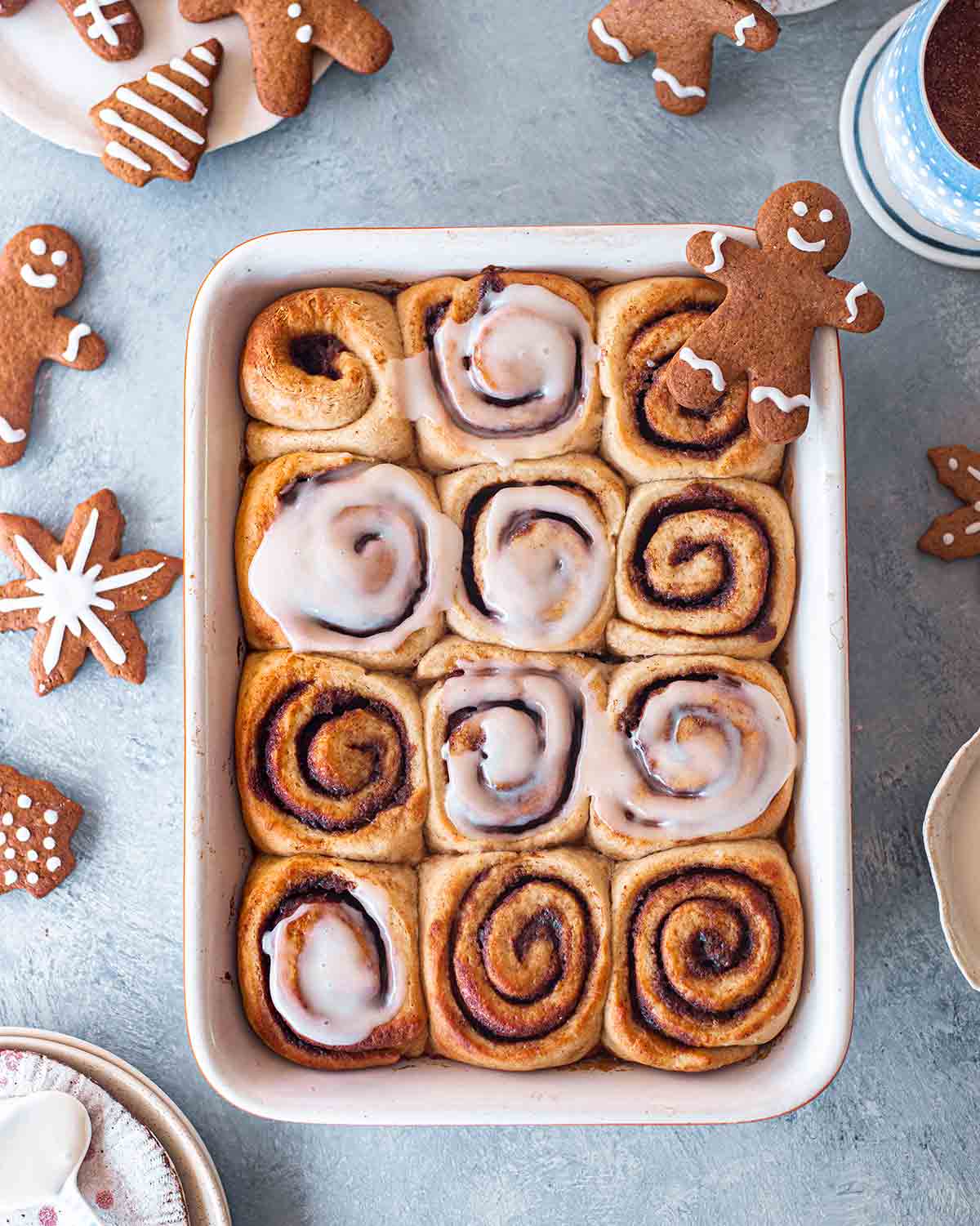 Vegan babka or twist bread
Vegan brioche dough can also be covered in chocolate or cinnamon and twisted into a beautiful babka, a pastry with Jewish origins! It's most popular in Eastern Europe, Israel and the USA.
However, you can make it at home with a few simple ingredients from your local supermarket.
Buttery and feathery vegan chocolate babka with lashings of chocolate ganache and a touch of cinnamon.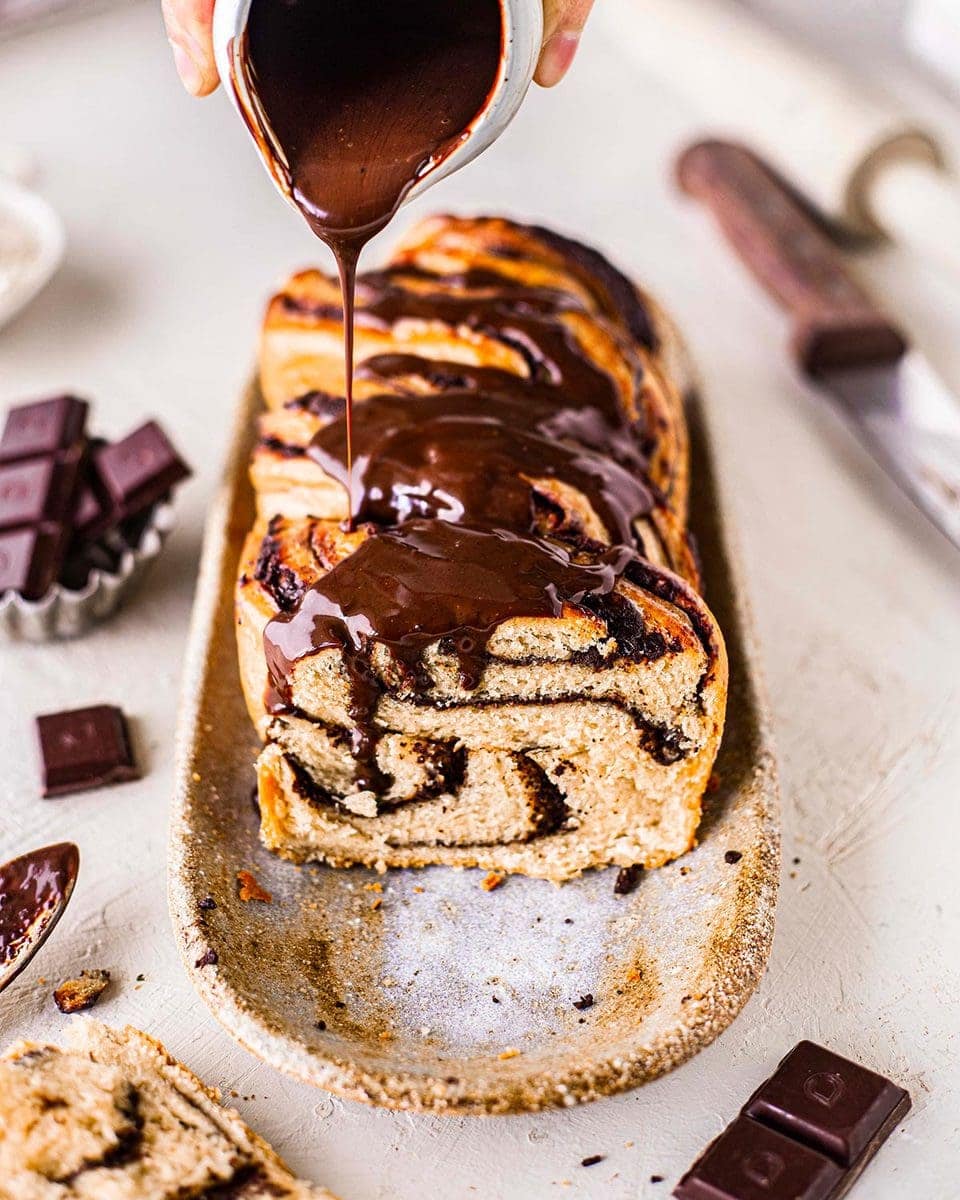 A fluffy babka lightly spiced with cinnamon and with luscious swirls of raspberry jam. This jam donut babka will have you craving for more!
Vegan Cinnamon Babka, a fluffy buttery brioche-like dough with swirls of caramelised cinnamon.
Little nibbles using vegan brioche dough
Need some vegan dinner rolls, burger buns or something for breakfast?! Use the vegan brioche recipe to make buttery brioche buns!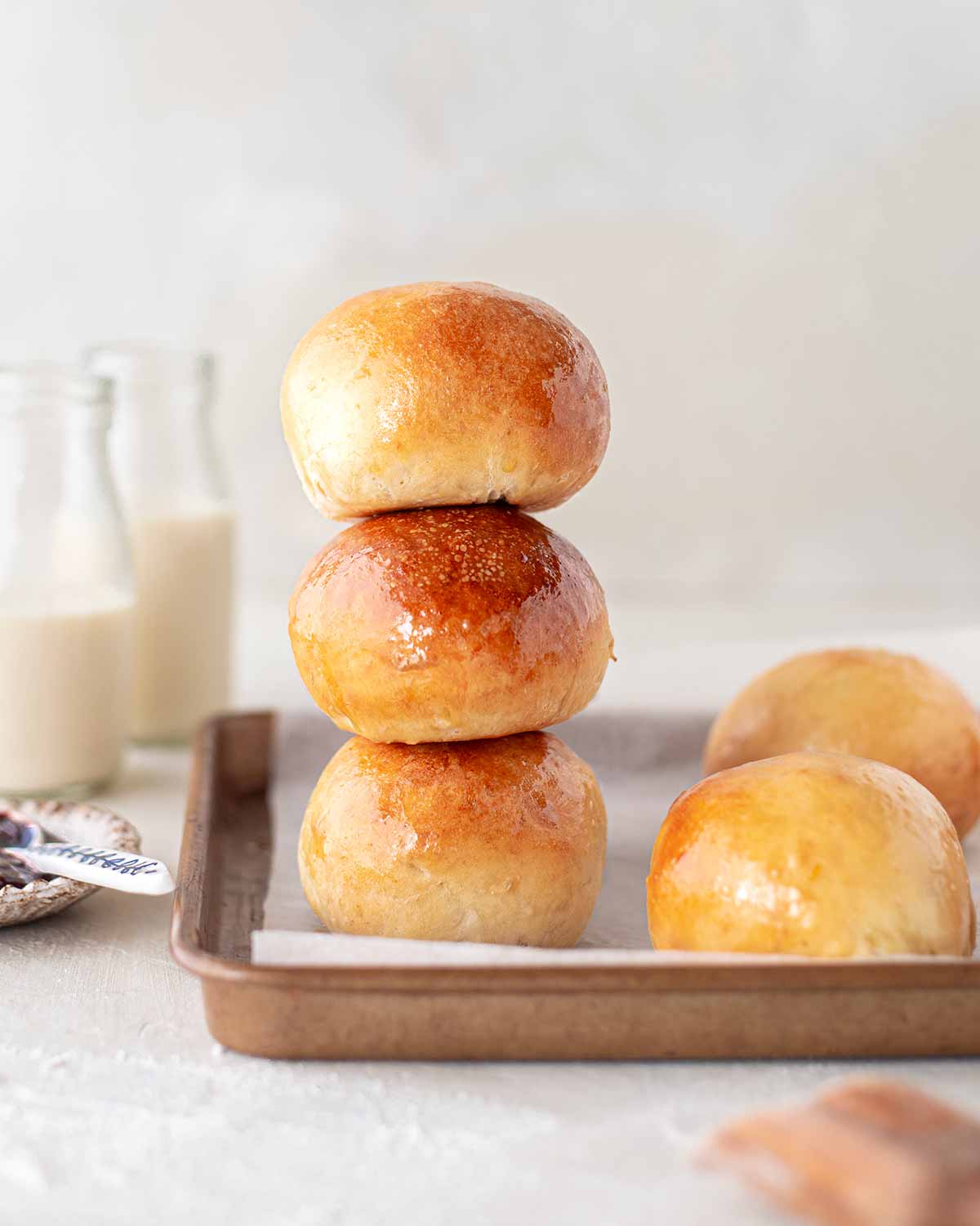 Add chocolate and spices to vegan brioche dough and you have indulgent chocolate chip hot cross buns! They are fluffy, will melt in your mouth and are SO much better than store-bought buns!
Flaky vegan chocolate rugelach, a delicate pastry which has origins in Jewish culture. The dough uses the basic vegan brioche recipe but has a touch of vegan cream cheese.
Holiday recipes
Raspberry and pistachio wreath recipe perfect for Christmas and gifting to loved ones! Easy to make, impressive and delicious. An impressive way to use buttery vegan crazy dough!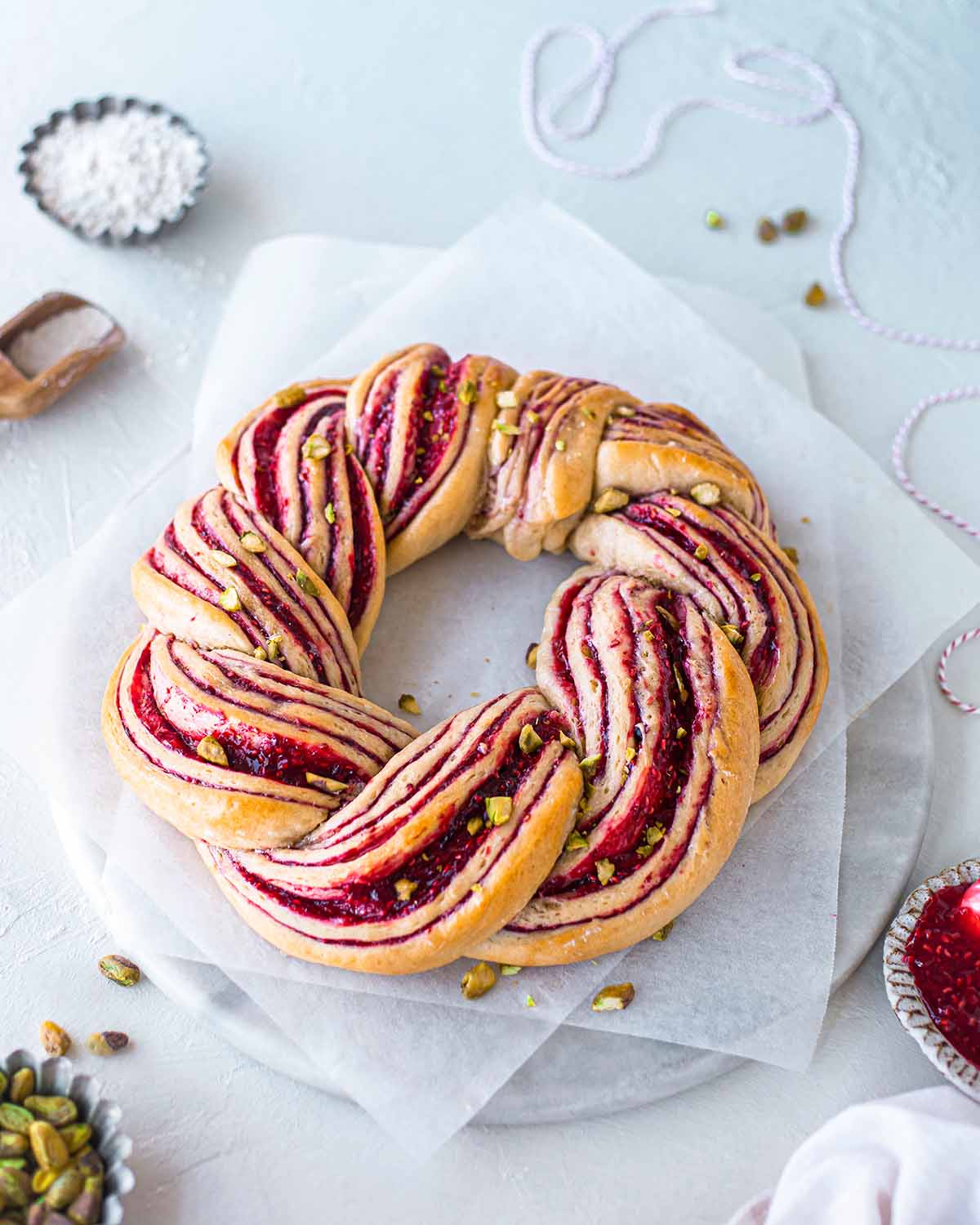 This cherry wreath recipe is made of crowd-pleasing jammy cinnamon rolls and is a beautiful centerpiece for your Christmas gathering!
Christmas wreath bread recipe using with spiced fruit mincemeat. Tastes just like a Christmas fruit mince pie but it's a more impressive centrepiece!
These hot cross buns use a brioche base so are sooo much better than regular vegan hot cross buns or your classic Easter bread!