A fluffy vegan babka lightly spiced with cinnamon and with luscious swirls of raspberry jam. This jam donut babka will have you craving for more!
What is babka?!
Babka is a Jewish brioche-like bread or pastry often filled with chocolate or cinnamon. It is most popular in Eastern Europe, Israel and the USA! However, you can make it at home with a few simple ingredients from your local supermarket.
I was lucky to try authentic babka bread when I visited Israel and they were sensational! The babkas were everything I expected and more - they tore perfectly and melted in your mouth!
Traditionally, a babka recipe makes 2 small loaves. I'm not 100% sure why but I suspect it's because babka needs to be baked in smaller baking tins. Or that these breads are normally shared during the Jewish Shabbat where food needs to serve LOTS of people.
Although untraditional, if you add raspberry jam and nutmeg to parts of cinnamon babka, you basically have an incredible bread reminscent of jam / jelly doughnuts! It's soo good that you won't miss traditional babka!
Unfortunately, not all babka is vegan. However, to make it egg-free, dairy-free and vegan, I simply substituted:
Conventional butter with vegan butter
Dairy milk for plant-based milk
Eggs for extra vegan butter
It's simple as that!
Ingredients you need to make babka
You basically need a few ingredients to make a vegan brioche dough (or enriched bread) and thick raspberry jam. This includes:
Flour
Sugar
Vegan butter / margarine
Instant dried yeast
Cinnamon, nutmeg and salt
Plant-based milk
Reduced store-bought raspberry jam or quick jam (see below)
Making a quick raspberry jam
You can make a super easy quick jam at home! You just need a few simple ingredients including:
Fresh/frozen raspberries
Organic sugar or a liquid sweetener (optional)
Corn flour
Lemon Juice (optional)
Dash of water
Pop it all in a small saucepan, mix until thickened and then you have the quickest jam EVER!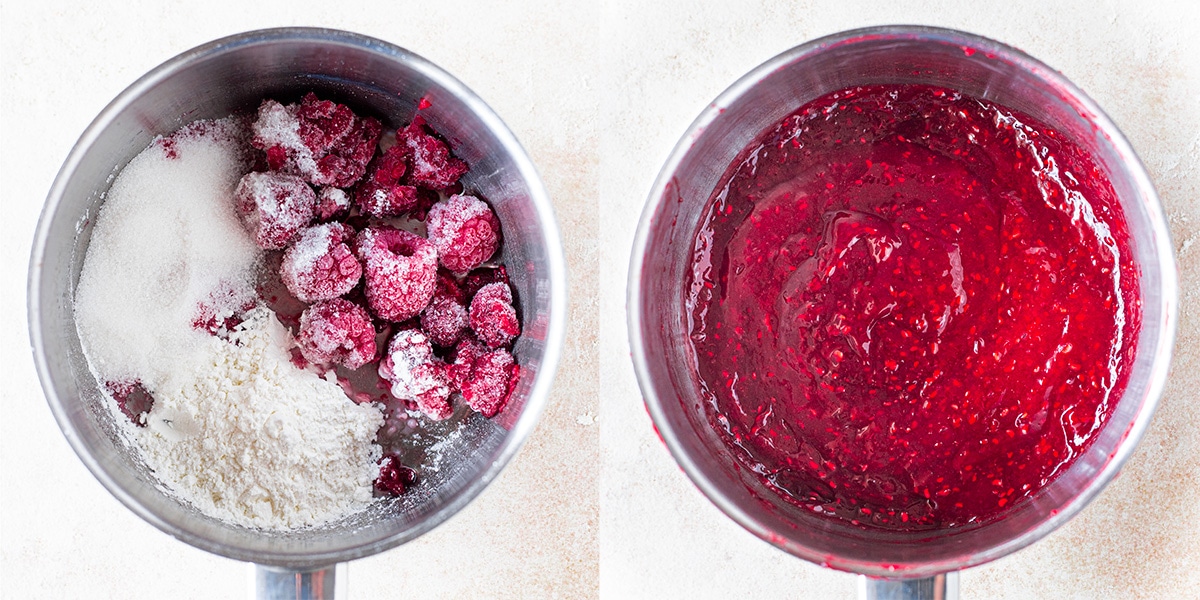 Baking with yeast and troubleshooting
Don't be intimidated by baking with yeast!
I used instant dry yeast which does NOT need to be activated before using it.
Fresh yeast and other types of yeast do need to be 'proofed' in advance. This is where you add the yeast to warm milk beforehand. It helps 'prove' whether your yeast is still active!
If you purchased the yeast months ago, it may have lost its potency. So I always recommend people keep yeast in the fridge so it can last months or a year past its due by date. I speak from experience!
However, if you know your yeast is still active, you don't need to proof it. 95% of the time I don't proof the yeast and it works fine!
Kneading the babka dough
Contrary to mixing cakes, you NEED to knead the dough for a good amount of time (say around 3 minutes using a stand mixer). This activates the gluten and encourages it to form long strands so the baked product has a wonderful bounce and stretch.
Under kneading the dough will result in a short and crumbly cake like texture. Over kneading the dough will result in a tough dough.
I used a stand mixer for this recipe as I have delicate wrists and cannot do repetitive activities. If you use your hands to knead the dough, you'll need to knead it for at least 5 minutes or until the dough is soft and bouncy. It's difficult to over knead the dough with your hands because you'll end up tired!
The vegan babka dough is ready when it's dry to the touch, STRETCHY and slightly bouncy. If you poke it with a finger, the dough should bounce back slightly!
Resting the babka dough
Place the dough in a bowl and cover it with a lid, tea towel or plate. Make sure the bowl is big enough so the dough can double in size.
Position the bowl in a warm draught-free spot in your home and wait until the magic happens! During this time, the yeast is eating up the sugar and produces gas or bubbles which makes the dough rise.
If your dough doesn't rise initially, re-position the bowl to a warmer location. If this still doesn't work, your yeast might not be active and you'll need to start again.
How to assemble and shape the babka
Basically the fun but slightly messy part!
Generously flour a clean surface and roll the dough out into a rectangular shape. The long side of the rectangle should be around 150% times the length of your baking tin. If it's any longer, don't worry!
Spread that fruity jam on and roll the dough as if it was a jam roll! See, it's easy to bake with jam!
Babka can be shaped in a few ways, including in a wreath or knot etc. For simplicity, we're just making babka into a loaf. Basically you:
Slice the 'jam roll' in half lengthways creating two strips of dough
Press the ends of the two strips together.
Weave / fold / twist them together with the jam facing up (because it's pretty). It's like making a braid / plait but with just two strips!
You can see the babka is much longer than my tin. I patted the bread with my hand to shorten the length and placed (or stuffed) it carefully into the loaf tin. I love how the swirls reshape themselves.
Don't worry if there are any gaps when you first place the babka in the tin. It'll sort itself out when it rests and rises for the 2nd time!
All the handling of the dough means it needs to rest again. And you should have a pre-emptive cuppa too!
Baking the jam donut babka
I baked the babka at 170°C instead of the normal 180°C as I found that 180°C browns it too quickly! It's a tall and wide dough so I wanted the heat to get right in the middle!
The sugar glaze in this babka recipes gives the bread a beautiful shine and gives it back some more moisture. The babka is already quite moist so you don't need much glaze!
I hope you enjoy this recipe!

See my other vegan bread recipes
Print Recipe
Jam Donut Babka (vegan)
A fluffy babka lightly spiced with cinnamon and luscious swirls of raspberry jam.
Ingredients
Quick Raspberry Jam (or use store-bought thick jam!*)
1

cup (110g)

fresh or frozen raspberries

3

tablespoons (40g)

cane sugar

,

or liquid sweetener to taste

2

tablespoons (14g)

corn starch / corn flour

Squeeze of

lemon juice

,

to taste (optional)
Babka
3

cups (375g)

plain or all-purpose flour,

plus more for dusting

¾

cup (165g)

dairy free milk, such as almond, soy or coconut

,

warm

½

cup (112g)

vegan butter,

room temperature

3

tablespoons (40g)

cane sugar

,

or coconut sugar

1

tablespoon (10g)

instant dried yeast**

½

teaspoon

ground cinnamon

¼

teaspoon

ground nutmeg

Pinch of

any good-quality salt
Babka glaze (optional)**
¼

cup (50g)

cane sugar

2

tablespoons (30g)

water
Instructions
To make the jam:
Add all ingredients to a small saucepan with a dash of water and bring it to a boil for 5 minutes. Reduce to a simmer for 5-10 minutes until the raspberries have broken down and the mixture has thickened. Remove from the heat. If you'd like the jam to be smoother, puree with a stick blender. Set aside to cool.
To make the babka:
Combine all ingredients in a large bowl or stand mixer and mix until it comes together. Knead the dough for 5-10 minutes or until the dough becomes soft, stretchy and comes away from the side of the bowl. If the dough continues to stick, add a little more flour and knead again. If the dough is a little dry, add a dash of milk and knead again. Leave the dough in the bowl or stand mixer, cover with a tea towel and leave it in a warm place for at least 1 hour or until the dough doubles in size. If it doesn't double in size, place it in a WARMER spot and wait until it does.

Dust a clean surface with flour. Roll out the dough into a rectangle shape (the long side should be a little longer than your loaf tin). Spread the cooled jam onto the dough 2 cm / 1 inch away from the edge.

Starting from the long side of the dough, roll it into a tube.*** Use a sharp knife to cut the tube in half length ways creating two long 'strips' of pastry. Carefully twirl the two halves together.

Lift the twirled dough into a lined or dusted loaf tin (I used a 10x20cm or 4x8inch tin). Place a tea towel over the babka and set aside to rise. It won't double in size but should rise a little.
Baking the babka:
When you are ready to bake, preheat the oven to 170°C (340°F).

Bake the babka for 30-40 minutes or until the outside is golden brown and a skewer can be inserted into the middle and there is no wet dough on it. If the outside is browning too quickly, turn down the oven to 160°C (320°F) and cover the babka with an oven-safe bowl or plate. Remove the babka from the oven.

To make the sugar glaze: Add the sugar and water in a small saucepan over medium heat. Stir until the sugar has dissolved. While the babka is still hot, drizzle the sugar glaze on top.

The babka is best eaten the day it is baked. Alternatively, store it an airtight container at room temperature for 1-2 days.
Notes
* If your store-bought jam is a little runny, reduce it on the stove for 5 minutes. Add the jam to a small saucepan over medium heat and allow it to simmer until it's thick and some of the liquid has evaporated. The jam should not drip and be sticky. If in doubt, the thicker the better! Use the pictures in the blog post as a reference.
** Instant yeast doesn't need to be 'activated' or 'bloomed' beforehand. However, if you use another type of yeast, combine it with warm milk and a pinch of sugar beforehand. Wait until it bubbles then use it in the recipe.
*** Alternatively, use 50mL of any liquid sweetener instead of the sugar and water. Heat it up and drizzle on the hot babka.
**** If you think your dough is too soft and will be difficult to shape, place it in the fridge for 30 minutes to firm up. This is just for the babka's appearance and won't affect its taste or texture.
Nutrition
Serving:
1
serve
|
Calories:
268
kcal
|
Carbohydrates:
47
g
|
Protein:
4
g
|
Fat:
8
g
|
Sodium:
95
mg
|
Potassium:
65
mg
|
Fiber:
2
g
|
Sugar:
14
g
|
Vitamin A:
432
IU
|
Vitamin C:
3
mg
|
Calcium:
29
mg
|
Iron:
2
mg
This post was first published in April 2019 and updated in March 2020.
Please leave a comment below if you made this recipe, have any questions or thoughts! Your comment will help other readers and Rainbow Nourishments.