Buttery, soft and pillowy vegan cinnamon rolls with a raspberry jam donut filling. They happen to be vegan, are easy to make and have no weird ingredients!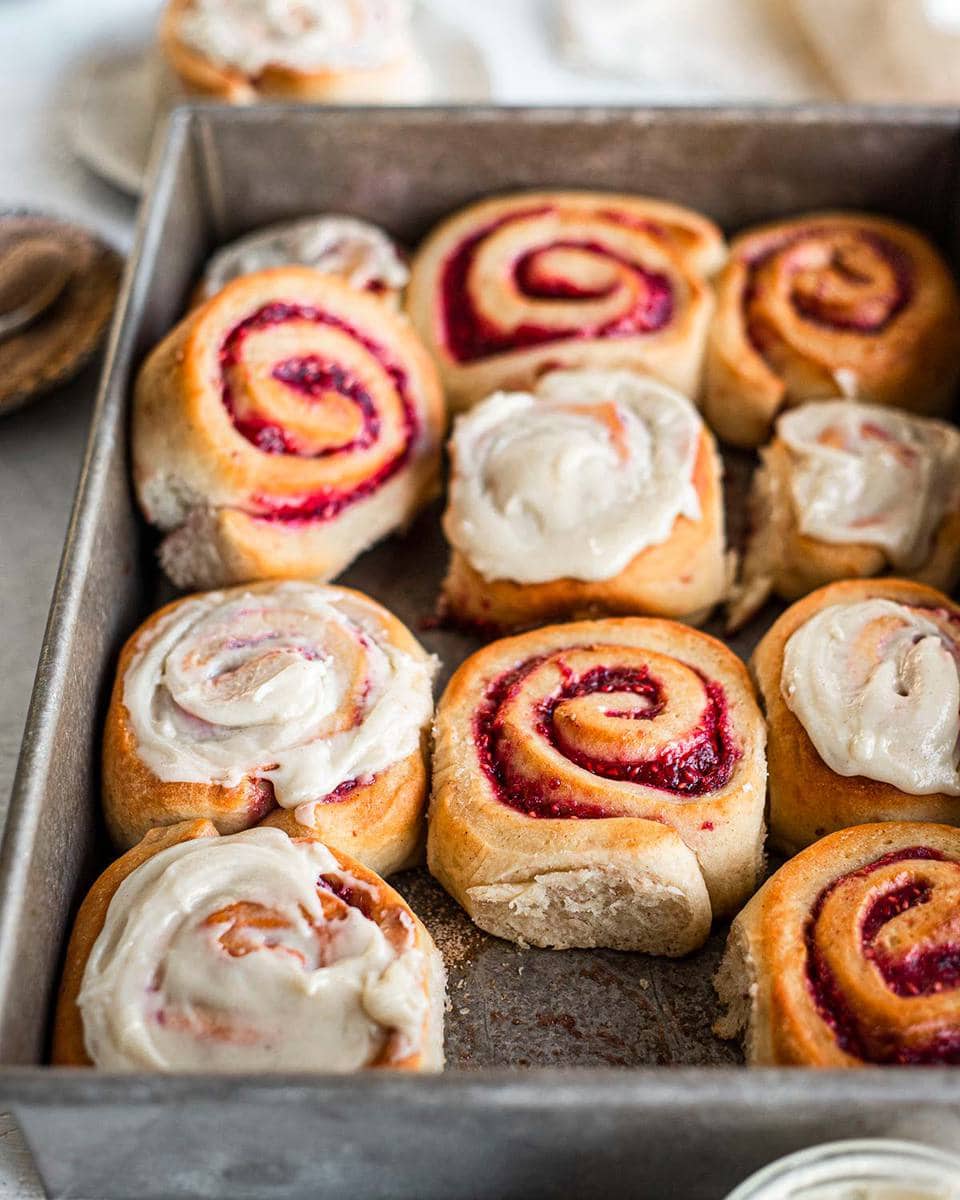 Combining jam donuts with cinnamon rolls
Everyone loves classic vegan cinnamon rolls but sometimes you just want something different. The traditional fluffy dough of cinnamon rolls is the perfect base for lashings of sweet and sticky raspberry jam!
I mimicked the dough of jam donuts by adding touch of cinnamon to the cinnamon roll dough. I also made a QUICK and easy raspberry jam as the filling.
These raspberry cinnamon rolls are:
Buttery
Flaky
Soft
Not too sweet
You can also make this recipe into a larger twist bread or babka!
Ingredients you need to make these EPIC jam cinnamon rolls
Like most of my recipes, I made sure these rolls used COMMON pantry staples including:
Plain or all-purpose flour
Plant-based milk, such as soy, coconut or almond
Cane sugar or coconut sugar
Melted vegan butter
Active dried yeast
Cinnamon
The quick jam uses only 3 ingredients:
Fresh or frozen raspberries
Cornflour/starch
Cane sugar or liquid sweetener of choice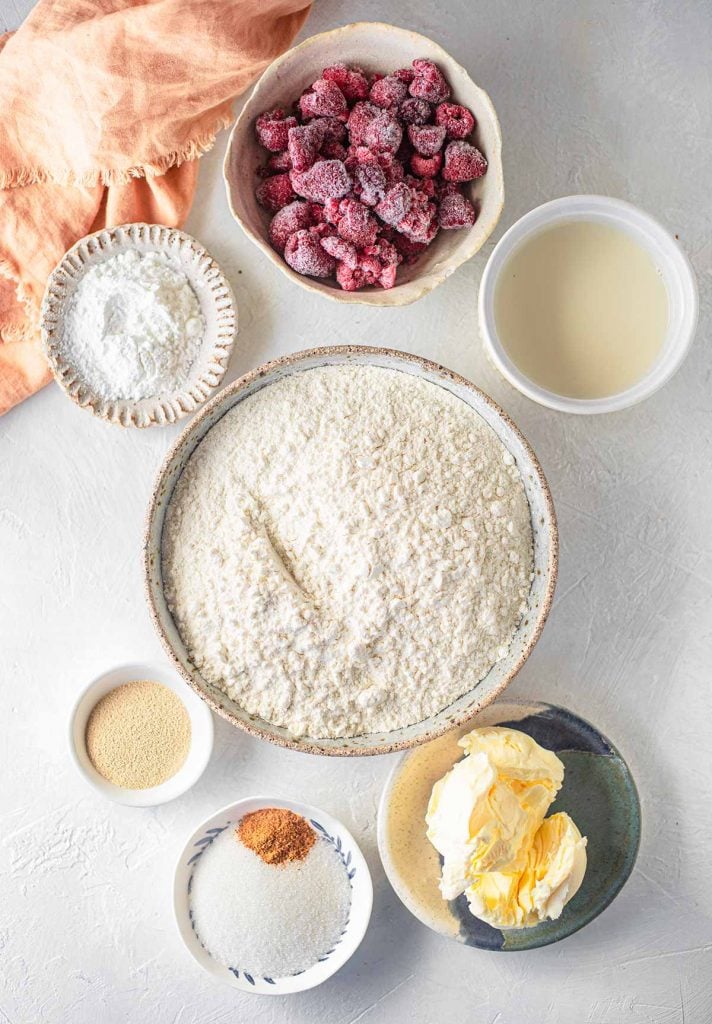 Preparing the dough
What I LOVE about this recipe is you can put all the dough ingredients into a bowl and just mix it.
Once you have a smooth and cohesive dough, cover it with a damp tea towel and place it in a warm spot in your house.
In 1-2 hours, your dough should increase in size. Note that it doesn't neeeeed to double in size - it just needs to increase by 150%. If it doesn't grow, reposition the dough in a warmer spot in your house and wait until it does.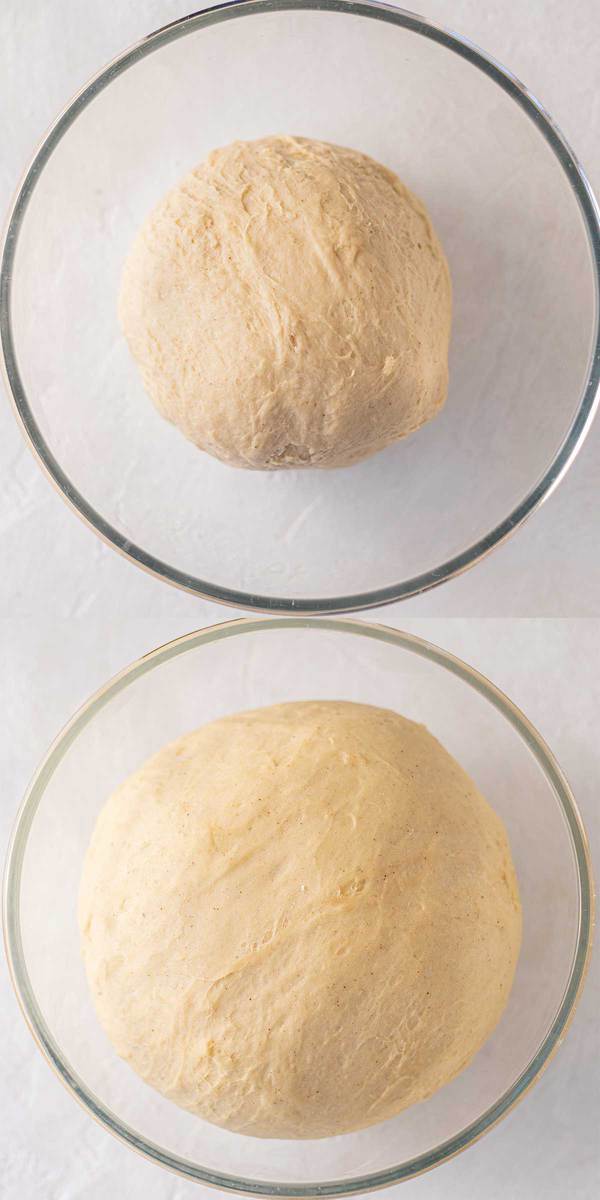 Making the quick raspberry jam
While your dough is resting, go ahead and make the raspberry jam!
Simply pop all ingredients into a small saucepan with a dash of water. Simmer for around 5 minutes or until the jam is nice and thick.
The thicker, the better! We don't want any of the jam seeping out when you bake the rolls. This jam also goes wonderfully with cookies, such as my mini vegan jam tarts.
Assembling the raspberry cinnamon rolls
If you've made cinnamon rolls before, these are no different. Or if this is your first time, it's okay I'll walk you through every step of the way!
At this stage, your dough should be soft but can be handled without drooping out of your hand. If your dough is very very soft, chill it before you do these next steps! This will just make it easier to roll and cut but will not affect the taste of the rolls.
If your dough is good to go, roll it out on a lightly floured surface. It doesn't matter if you roll it into a square or rectangle shape. If you don't have a rolling pin, you can use large glass jar for this!
Spread the thick jam on top. If your jam is thick like mine, you can spread it to the edges. I want the end pieces to still have jam on them!
From the long side, roll the dough tightly. Imagine it's like an actual jam roll, burrito, sushi... you get the point!
Then use a sharp knife to cut rolls out of the dough. I like the indent my dough at half, then quarters than rolls because it takes out the guess work. This part can be a little messy. If it's TOO messy, chill the dough in the fridge for 15 minutes then cut it again.
Baking the cinnamon rolls
Pop all the rolls in a greased baking tin, cover it and let it rest for another hour or so.
When you're ready to bake them, bake then in a hot oven for 15-20 minutes! They are ready when they are golden brown on top.
Cultural differences: cinnamon rolls, scrolls or buns?!
Coming from Australia, I would normally call these 'jam donut cinnamon scrolls'. I think people who speak British English would call them 'scrolls' too! However, I realise most of my audience is from America and would describe these as 'cinnamon rolls' or 'cinnamon buns'.
Check out my other vegan cinnamon rolls recipes:
Print Recipe
Jam Donut Cinnamon Rolls
Buttery, soft and pillowy vegan cinnamon rolls with a raspberry jam donut filling. They happen to be vegan, are easy to make and use common pantry staples!
Instructions
To make the rolls:
Combine all the ingredients in a large bowl or stand mixer and mix until it comes together. Knead the mixture until it forms a smooth and stretchy dough. Add a little more milk if the dough is too dry or a little more flour if the dough sticks to the bowl.

Cover the bowl with a damp tea towel. Set it aside in a warm spot for at least 1 hour or until the dough has doubled in size. If it doesn't double, reposition it in a *warmer* spot and wait until it does.
To make the jam filling
Add all the ingredients and a dash of water to a small saucepan. Bring to a gentle simmer for 5 minutes while stirring. The jam is ready when it has thickened and there are no more chunks of raspberries. Set aside to cool.
Assembling the jam rolls
Dust a clean surface with flour. Scoop the dough onto the surface and roll it out into a large rectangular shape.

Spread the cooled jam on the dough making sure it reaches all edges.***

Starting from the long side, tightly roll the dough into a large tube. Use a sharp knife to cut rolls out of the dough.

Arrange on a greased baking tray, leaving a little space in between each roll. Place a tea towel over the tray and set aside to rise for at least an hour or until the rolls have increased in size by 50%.
Baking the rolls
When the rolls are puffy again, preheat the oven to 180°C (350°F).

Bake the rolls in the preheated oven for 15-20 minutes. The rolls are ready when they are slightly golden brown or when you insert a skewer in one of the middle rolls and it doesn't have wet dough on it. Set aside to cool.
Frosting the rolls
Whisk all of the ingredients in a small until smooth and there are no lumps. Generously drizzle the frosting onto the rolls.

The rolls are best eaten the day they are baked. Alternatively, store them in an airtight container at room temperature for 1-2 days or in the fridge for 3-4 days. Warm up the rolls before you enjoy them.
Notes
* Instant yeast doesn't need to be 'activated' or 'bloomed' beforehand. However, if you use another type of yeast, combine it with warm milk and a pinch of sugar beforehand. Wait until it bubbles then use it in the recipe.
** Alternatively, you top your rolls with additional jam. Or you can sprinkle the rolls with a donut-like cinnamon sugar. Simply combine ¼ cup (50g) with 1 tablespoon ground cinnamon and dust the mixture over the donuts
*** If your dough is too soft to be rolled, chill it in the fridge for at least 10 minutes.
Nutrition
Serving:
1
roll with frosting
|
Calories:
250
kcal
|
Carbohydrates:
36
g
|
Protein:
4
g
|
Fat:
10
g
|
Sodium:
129
mg
|
Potassium:
72
mg
|
Fiber:
2
g
|
Sugar:
7
g
|
Vitamin A:
370
IU
|
Vitamin C:
3
mg
|
Calcium:
49
mg
|
Iron:
2
mg
This post may contain affiliate links. As an Amazon Associate, I may earn a small commission from qualifying purchases at no additional cost to you.