Buttery and fluffy vegan brioche with a tender crumb that just melts in your mouth. This brioche is egg-free, dairy-free and can be made soy free and sugar-free!
Conventional brioche bread recipes use butter, eggs and dairy milk. However, with a few easy substitutions, you can make brioche vegan with no eggs, dairy or animal products! This recipe includes a 'classic' version using vegan butter and a 'healthier' version with spelt flour, olive oil and no refined sugar.
Simple ingredients you'll need
Traditional French brioche bread use eggs and egg yolks to create a tender and fluffy crumb. However, you can recreate this beautiful texture in vegan brioche with the right ingredients.
Ingredient notes
First, I'd recommend using bread flour instead of all-purpose (plain) flour if you can. This is higher in protein which creates a more traditional brioche texture.
Even though this is an eggless brioche, you don't need any 1:1 store-bought vegan egg or egg yolk replacers. Eggs normally provide fat so I increased the amount of (vegan) butter and rising power which I compensated through extra yeast. This combination creates a soft, fluffy and tender vegan brioche.
Instead of using conventional butter, I used vegan butter or olive oil for this brioche bread. Vegan butter creates a fluffier and lighter crumb than olive oil (more info in the section about 'customizing your loaf').
Even though oil makes bread denser, the bright yellow color of some oils (such as olive oil) will give your vegan brioche a beautiful golden hue. I tested an older version of this brioche recipe with olive oil which you can see in this recipe video on my Facebook page.
To make dairy-free bread, I simply used dairy-free milk! I prefer soy milk as it's higher protein and leaves no aftertaste. However almond, oat, coconut and other types of dairy-free milk will work.
A complete list of ingredients, quantities and instructions are in the gray recipe card at the bottom of this post.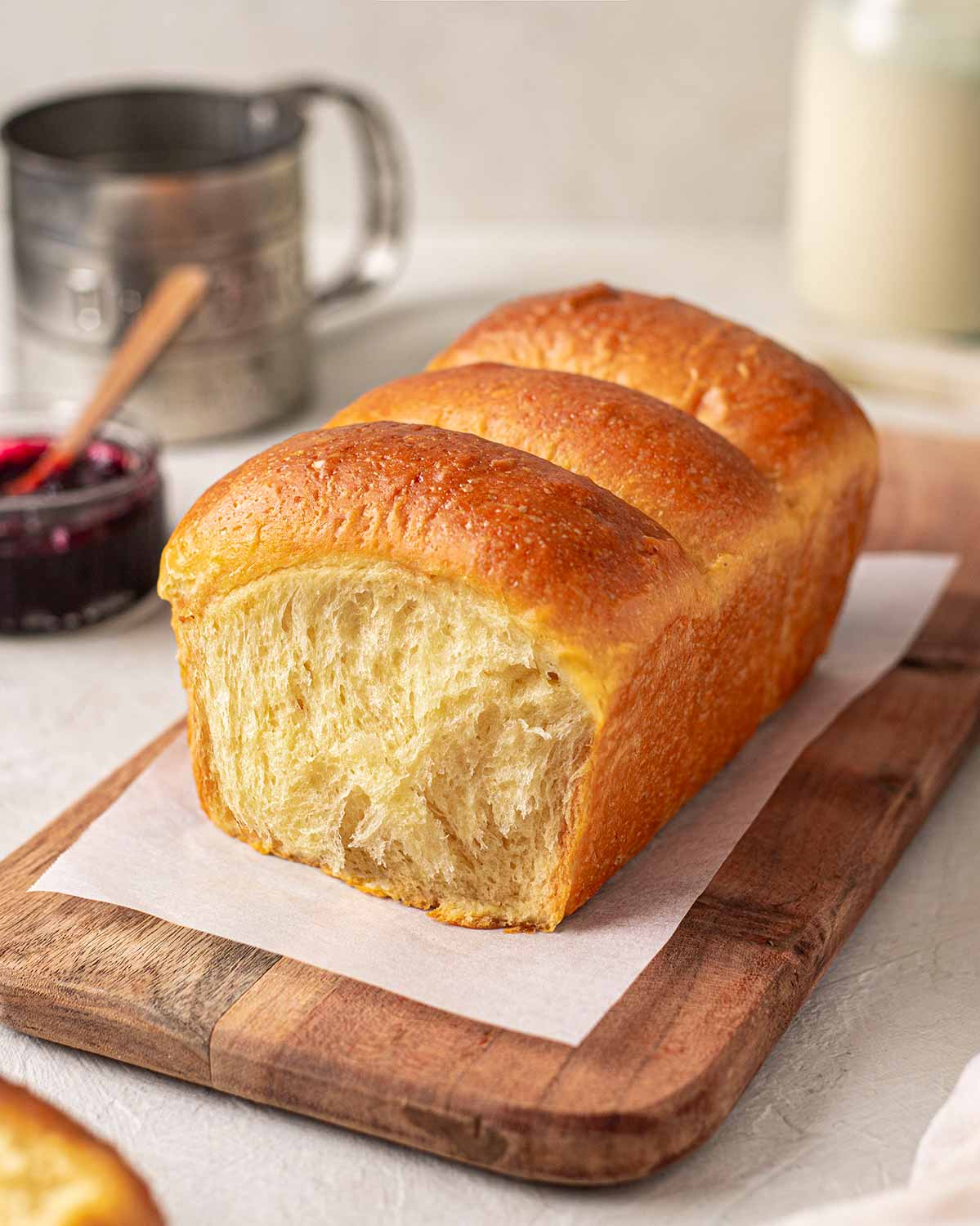 Kneading the dough: easy and advanced methods
There are two different ways you can prepare the vegan brioche dough. The easy method takes 5-10 minutes and makes a soft and buttery bread that will melt in your mouth. This is perfect if you just want an easy vegan bread (left picture).
The advanced method takes at least 20-30 minutes and is the traditional way to make brioche. The final bread is incredibly soft, has a tight crumb and will be 'feathery' when you pull it apart (right picture).
Below, you can see the slight difference between a brioche using the easy method (left) versus the advanced method (right). Both methods still produce delicious vegan bread!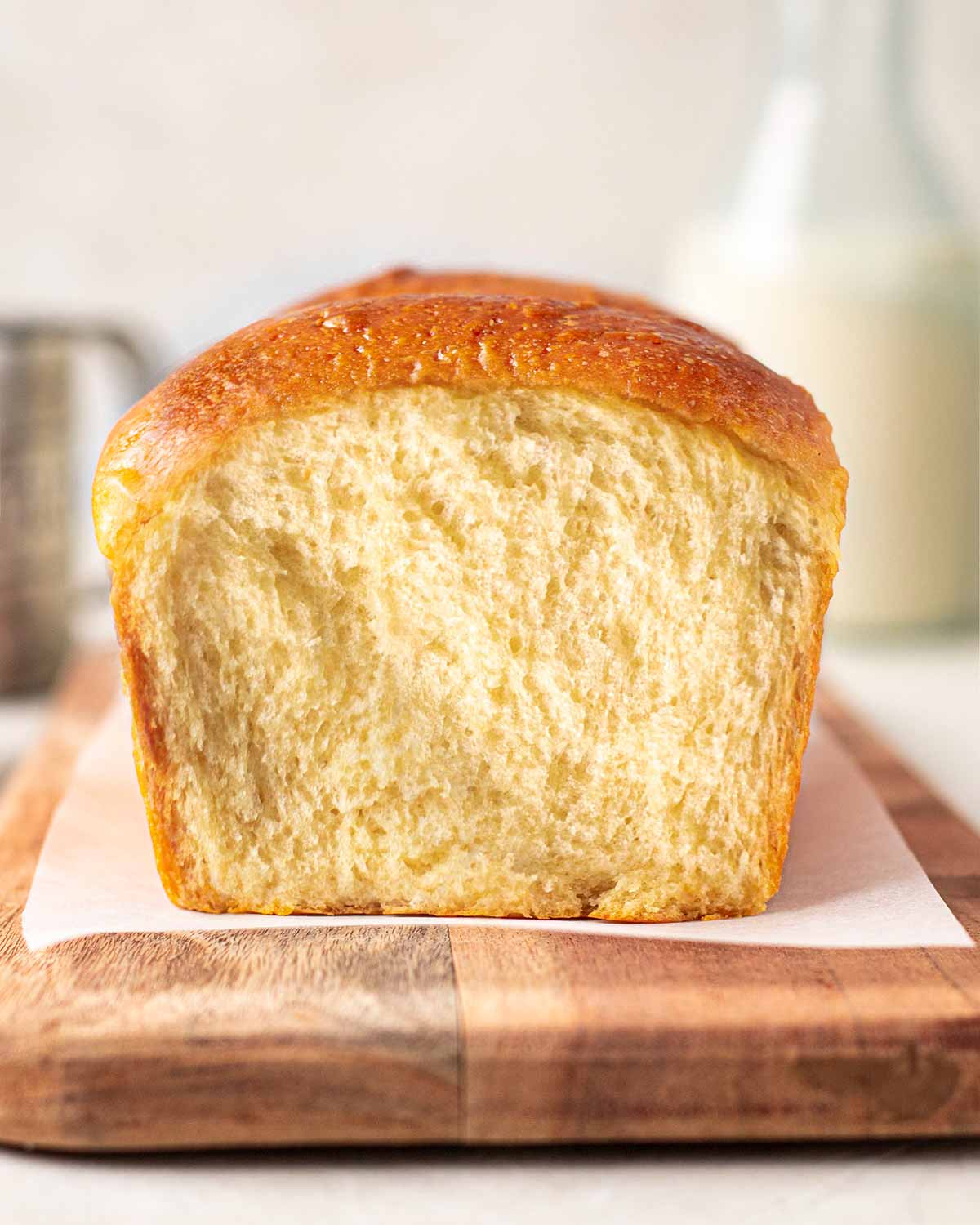 Easy kneading method
For an easy vegan bread, simply add all the ingredients to a stand mixer or bowl and knead until it's soft and stretchy. I used instant dried yeast which does not need to be proved or bloomed beforehand.
If you have a stand mixer, it takes only 5-10 minutes for your dough to be kneaded adequately. Initially, the dough will be very sticky and wet so please avoid adding any flour at this stage.
Kneading the dough strengthens its gluten structure. Over time, the dough will pull away from the side of the bowl.
If you don't have a stand mixer, you can mix and knead the dough by hand! It will take a little longer so consider it a free arm and hand exercise ;).
Advanced kneading method
For the advanced method, I'd strongly recommend using a stand mixer. It takes *at least* 20 minutes to really properly knead the dough IF you use a stand mixer. If you knead by hand, it'll take longer!
First, we need to knead all the ingredients (except the butter and maple syrup) until it forms the dough. This really helps develop the gluten so the longer you knead, the better!
The dough is ready when there are no bits of flour. It should also look rough but be stretchy. If it's just not coming together, add a dash of milk and knead until it does.
Next, we need to gradually add the butter (around 3 tablespoons at a time) while the bread is kneading!
The first time you add the butter, the dough will likely resist it... just keep persisting. When each addition of butter has been incorporated, you can proceed to add more butter. By the time you've used up the butter, your dough should be soft and stretchy.
How to tell if the brioche dough has been kneaded enough?
Regardless of whether you use the simple or advanced method, the best way to tell if your vegan brioche has been kneaded sufficiently is the windowpane test.
This is where you grab a small piece of dough and stretch it between your fingers. The dough shouldn't break and if you hold it against a light, you should be able to see gluten 'membranes' in it.
If the dough tears, simply keep kneading!
First rise for the brioche
Place the vegan brioche dough in a bowl, cover it and place it in a WARM humid area for 1 hour OR until it doubles in size, like below.
If your dough doesn't grow, reposition it in a warm spot in your home and wait until it does. Sometimes when it's cold, I have to place the bowl above or near a steamer for just 3 minutes to kickstart the dough. If it's cold, the dough can take 2+ hours to double in size.
Shaping and second rise for the brioche
To prepare your loaf/cake tin, line it with baking paper OR brush it with butter/oil and dust it with flour.
Place your risen brioche dough on a floured surface and divide it into 4 equal parts. Shape the dough into balls and place them in a cake or loaf tin! For a visual guide on how to shape the brioche/sections, see the video at the top or bottom of this post.
Alternatively, feel free to shape the dough however you like. You can divide it into fewer or more parts or even braid it to make challah bread!
Next step is, you guessed it - cover the dough and let it rise again. It should increase in size by around 50% and become puffy again. The easiest way to test whether the bread is ready the poke test. Simply, that's where you poke the bread lightly and it springs back slowly.
Baking the vegan brioche
This is my favorite part because the brioche makes your whole home smell AMAZING! This is an easy vegan bread to bake. Just pop it in at 180°C (355°F) for about 30-40 minutes or until the top is golden brown.
If the top of your bread is turning brown but the middle isn't cooked, simply turn down the oven heat or cover the bread with aluminum foil.
While the bread is still warm, brush it with a little maple syrup to create the most beautiful egg-free glaze ever! I tried brushing the brioche with dairy-free milk and aquafaba but they don't leave a lush golden glaze.
See, it is 100% possible to make DELICIOUS vegan French bread!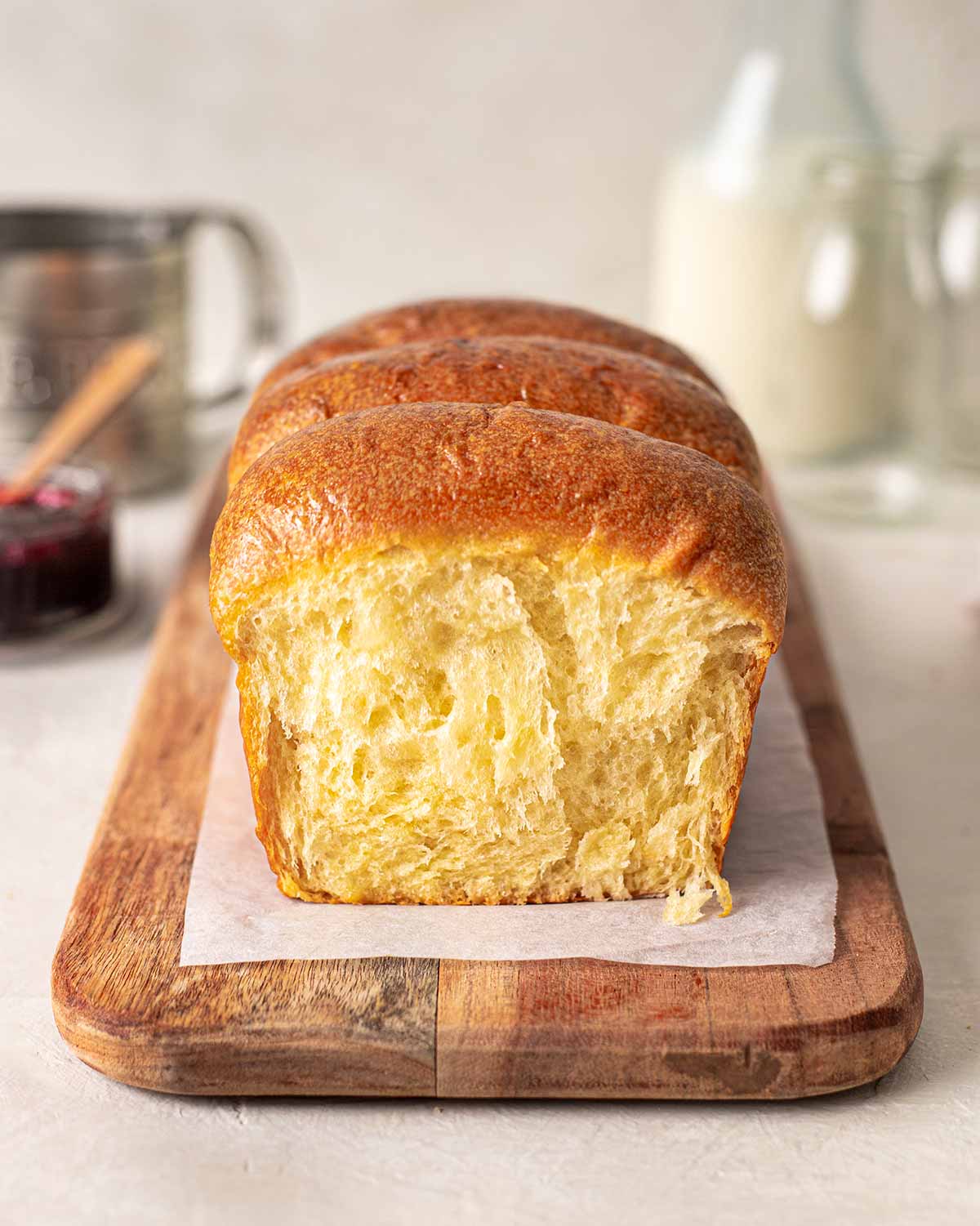 Customizing this recipe
There are a few ways you can customize this vegan brioche bread:
Replace plain flour with white spelt flour. Spelt flour doesn't rise as well as plain flour and creates a more dense brioche but it's still delicious!
Replace vegan butter for olive oil. The texture and color is probably the biggest difference in the final brioche. Butter helps create a lighter crumb so the bread 'tears' like a traditional brioche. Olive oil creates a crumb that is more similar to cake! Note that if you use oil, it'll take longer to rise and it will be denser.
Replace organic cane sugar for coconut sugar or maple syrup for refined sugar-free bread. Note that if you use coconut sugar, your brioche may be a little dark and denser than the pictures.
Replace yeast with a sourdough starter. I made this brioche and a similar recipe using 75-150g of a bubbly active sourdough starter (100% hydration) and it worked wonderfully! 75g was the minimum I needed to use to make the bread rise. For a stronger 'sourdough' taste, I increased the starter.
To make vegan brioche into BUNS, check out my Buttery Vegan Brioche Buns recipe.
Alternatively, you can use the recipe to make individual vegan brioche buns.
Or you can make savory vegan brioche bread simply by reducing the sugar to 1 tablespoon. The sugar is still needed in the recipe to feed and activate the yeast
Several readers have said this brioche recipe does not work with a 1:1 gluten-free flour. I am working on a gluten-free vegan brioche so watch this space!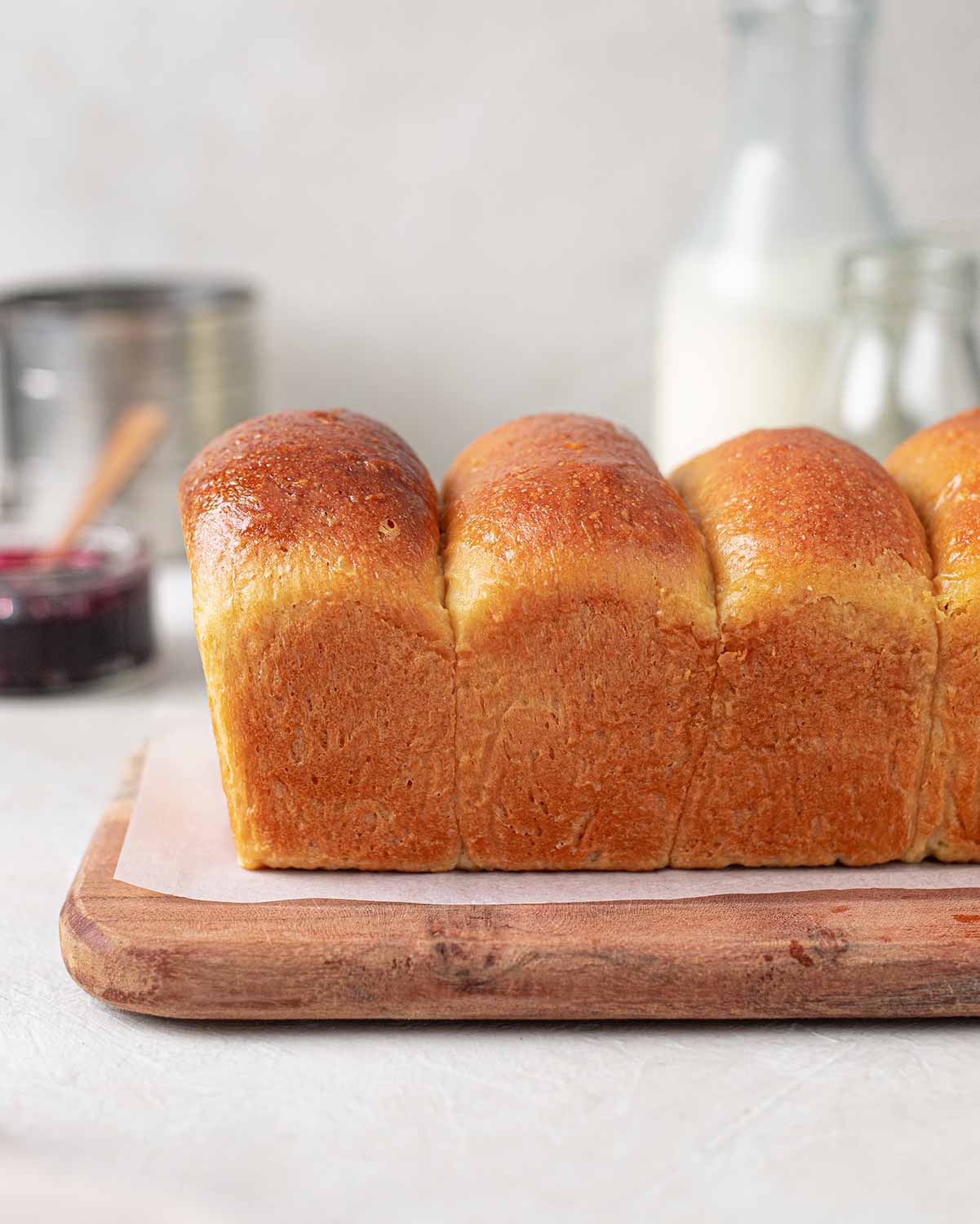 Troubleshooting baking issues
Every time I made this brioche, it works well. However, I've had my fair share of 'baking with yeast' fails so here are some fixes:
"My bread didn't double in the first rise (when it's in the bowl)"
Possible issue 1: Your brioche dough needs to be in a WARM place at ~25°C (77°F). This is very important with enriched bread dough because it contains a lot of butter which needs to be soft/warm enough for the dough to rise!
If you live in a cold climate (or your home is cold), you can place the vegan brioche dough in your oven with the light on or reposition the bread in the warmest spot in your home! King Arthur Baking gives some tips on how to keep your dough warm.
Sometimes I even use a double-boiler to gently steam my dough for only 1 minute. Heating your dough to 50°C (120°F) will kill the yeast so don't heat it up too much!
The exception to the temperature issue is if you're proofing the bread overnight. The dough can be cold because it has a longer time (8+ hours) to ferment.
Possible issue 2: Your vegan brioche dough is too dry which may be due to your ingredients or incorrectly measuring them. As Steps 1 and 2 say, if your dough is too dry, simply add a little more milk and knead again.
Use the above pictures above as a guide for the consistency of your brioche dough. It should be very smooth and stretchy! If your dough hasn't risen, you can still knead more liquid into it and let it further rest.
Possible issue 3: Your yeast is old and no longer active, especially if you used something apart from instant dried yeast. If you've already made the dough, you may still be able to find an active batch of yeast, combine it with warm milk then knead it into the dough.
"I used a different ingredient and my bread didn't increase in size"
You used a different type of yeast which may need to be activated beforehand. Simply add it to a small bowl of warm milk with a pinch of sugar and wait until it bubbles. I used instant dried yeast which does not need to be activated before mixing with the other ingredients.
Different flours and fats will affect how much the brioche dough rises. For example, spelt flour and olive oil will inhibit the rising of the dough!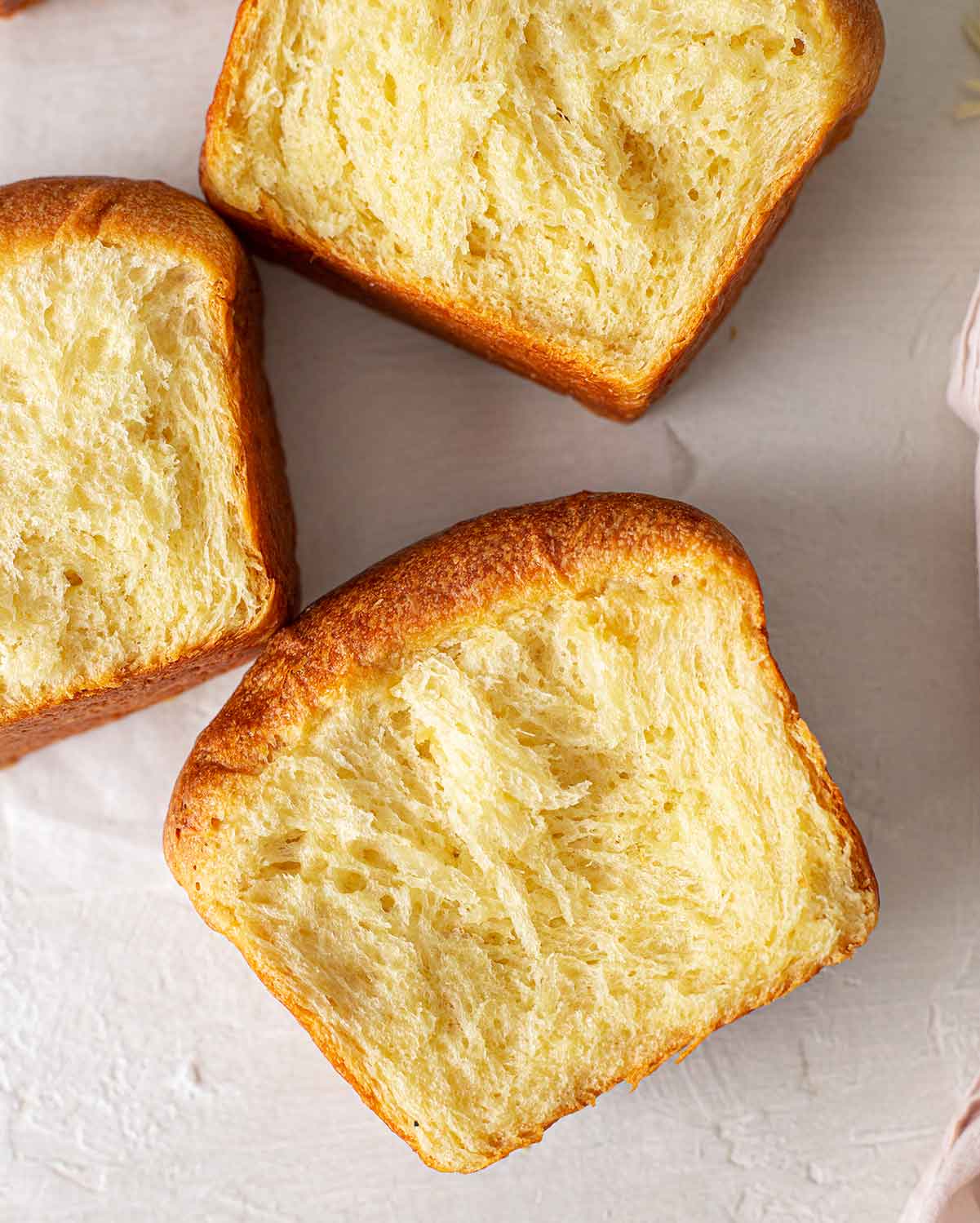 "My bread didn't bake in the middle"
Before you finish baking, make sure you test your dough by inserting a knife or skewer in it.
If the outside is brown and the inside is uncooked, cover it with an oven-proof bowl, plate or aluminum foil. This minimizes the oven's radiant heat (which cooks the outside of the brioche) and forces the heat into the middle of the loaf.
If you have any other questions or issues, leave a comment below!
How to serve the vegan brioche
If you don't devour the whole brioche loaf fresh from the oven, you can enjoy it in many ways:
Toast a slice and smother it with jam, cream, or any sweet spread!
Use stale leftovers for french toast casserole. You deserve it!
Freeze and enjoy it when the cravings hit.
Crumble the vegan bread, bake it at low heat and use it as a decadent topping for ice cream or other desserts.
Other easy vegan bread recipes!
Here's a secret: this brioche recipe is used as the foundation for my other yeast-based bread and scroll recipes! Here's a full list of ways to use brioche-like dough. My favorites are:
Follow Rainbow Nourishments on Instagram, Facebook, and Pinterest, and subscribe via email to receive all of our latest recipes!
Print Recipe
Buttery Vegan Brioche (classic and healthier options)
Buttery vegan brioche which melts in your mouth. I included a classic version and a 'healthier' version using olive oil and no refined sugar!
Instructions
To make the brioche dough:
EASY METHOD: Add all the ingredients except the maple syrup to a stand mixer bowl with the dough hook. Knead for at least 10 minutes or until the dough is smooth, soft and elastic. You can also do this in a bowl and on a floured surface but it will take a little longer. The dough should be very tacky but should just come away from the sides of the bowl. However, if your dough is too dry, add a little more milk and knead well.

ADVANCED METHOD: Add all the ingredients except the butter and maple syrup to a stand mixer with the dough hook. Knead until the dough is well combined and stretchy (at least 5 minutes). Add a little milk if needed. While the dough is kneading, gradually add the butter, around 3 tbsp (40g) at a time. Only add more butter when the last bit has been fully incorporated. Knead until the dough is very smooth and comes away from the bowl (at least 15 minutes).

Shape the dough into a smooth ball, place it back in a clean bowl and cover with a slightly damp tea towel (the moisture prevents the dough from drying out). Place the dough in a WARM area to double in size (or grow by at least 50%) for at least 1 hour (note 3).
To shape the brioche:
When the dough is puffy, divide it into 4 even sections. Shape each section into a round ball and place them a lined loaf tin (my tin was 12x22 cm or 5x9 inches but any size tin will work). Cover the tin with a tea towel and leave it in a warm area to rest for at least 1 hour. The dough should increase in size by 50% - 100%.
Baking the brioche:
When the dough is puffy again, preheat the oven to 180°C (350°F).

Bake in the oven for 30-40 minutes or until the top is golden brown. The loaf is fully cooked when you can tap the bottom and it sounds hollow or if you poke a skewer in the middle and there's no raw dough on it. If the bread is browning too quickly but is not baked in the middle, reduce the oven to 160°C (320°F) or cover the bread with aluminum foil.

While the brioche is still hot from the oven, brush the top with maple syrup then rest it in the tin for 15 minutes. Turn it onto a wire rack and allow to cool slightly.

Serve the brioche warm. Store the brioche in an airtight container at room temperature for up to 3 days or in the freezer for up to 1 month. To serve the brioche, reheat or toast the leftovers.
Notes
Bread flour results in a more traditional bread like texture whereas all-purpose flour results in a cake-like brioche. Spelt flour absorbs more liquid than regular flour so you may need to add a little more milk than specified. Add the specified amount of milk and knead the dough. If needed, add 1 tablespoon milk (15g) at a time until the dough is soft and cohesive.
I used instant yeast doesn't need to be 'activated' or 'bloomed' beforehand. However, if you use active dry or regular yeast, combine it with warm milk and a pinch of sugar beforehand. Wait until it bubbles then use it in the recipe.
The dough can take anywhere from 1-4 hours to rise, depending on the temperature of your home and your ingredients (i.e. whether you weighed or measured, type of flour and type of butter/margarine). If your dough doesn't increase in size, place it in a warmer spot in your house. Read my post above for some tips. If your dough doesn't increase in size at this stage, it will not bake well.
Nutrition
Serving:
1
slice
|
Calories:
256
kcal
|
Carbohydrates:
35
g
|
Protein:
5
g
|
Fat:
11
g
|
Sodium:
240
mg
|
Potassium:
67
mg
|
Fiber:
1
g
|
Sugar:
7
g
|
Vitamin A:
574
IU
|
Calcium:
41
mg
|
Iron:
1
mg
This post was originally published in August 2019 and has been updated a few times since then to provide more useful information and an improved recipe which is more similar to traditional French brioche.
This post may contain affiliate links. As an Amazon Associate, I may earn a small commission from qualifying purchases at no additional cost to you.