Fluffy and moist vegan carrot cake that is packed with warm spices and will melt in your mouth. This no-fuss cake uses only common pantry ingredients and is easy to make.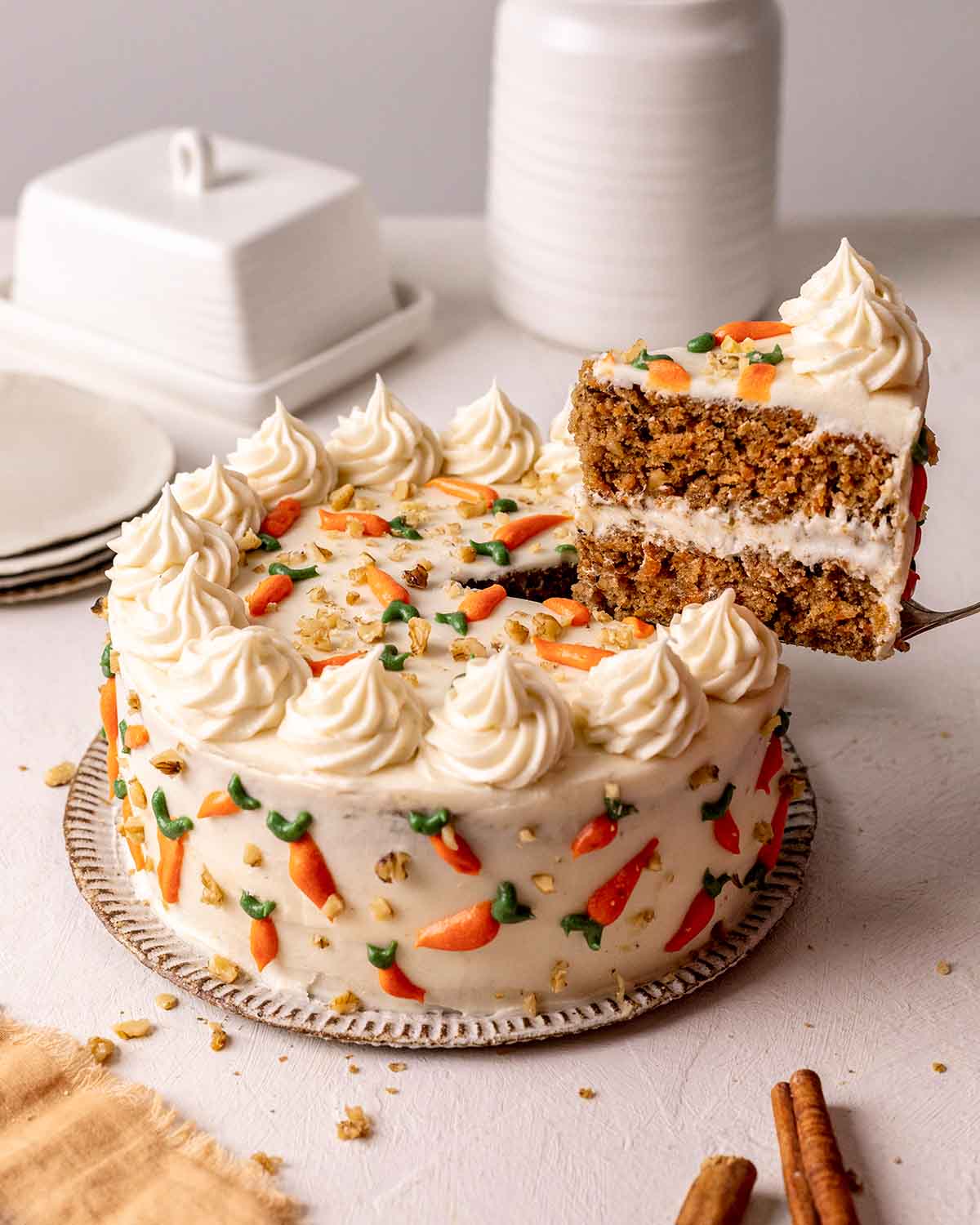 Why you'll love this carrot cake
TASTE/TEXTURE: Moist crumb that sticks to your fork and is packed with flavor. I've served this cake to non-vegans and they couldn't tell that it didn't contain eggs, dairy or conventional butter!
OCCASION: Perfect for Easter, Spring or whenever you need a classic dessert.
DIFFICULTY: The cake comes together in one bowl and you don't need to use any special egg replacers!
Ingredients you'll need
Notes about the ingredients
Coarsely shredded carrots add moisture and flavor to the carrot cake. You can use a box grater or food processor to grate your carrots (I used a food processor).
Neutral-flavored oil keeps the cake soft and moist, and allows the other flavors to shine. Melted coconut oil will work but I recommend serving the cake at room temperature as coconut oil solidifies at certain temperatures and can make a cake feel dry.
Dairy-free milk. I used soy milk but any variety will work (or even water).
Brown sugar and granulated sugar. Brown sugar adds flavor whereas granulated sugar keeps the carrot cake fluffy. We get the best of both worlds!
Apple cider vinegar makes the cake more soft and tender. Eggless cakes can still be fluffy ;)!
The full list of ingredient quantities and instructions are in the gray recipe card at the bottom of this post.
How to make vegan carrot cake
First, if your all-purpose flour or brown sugar has lumps, make sure you sift them!
In one large bowl, stir the dry ingredients, add the wet ingredients then mix until combined. If you're using nuts, add them at the same time as the wet ingredients.
You can mix the batter by hand, with a hand mixer or stand mixer. Whatever you choose, make sure you don't overmix the cake batter otherwise your cake will be dense and tough.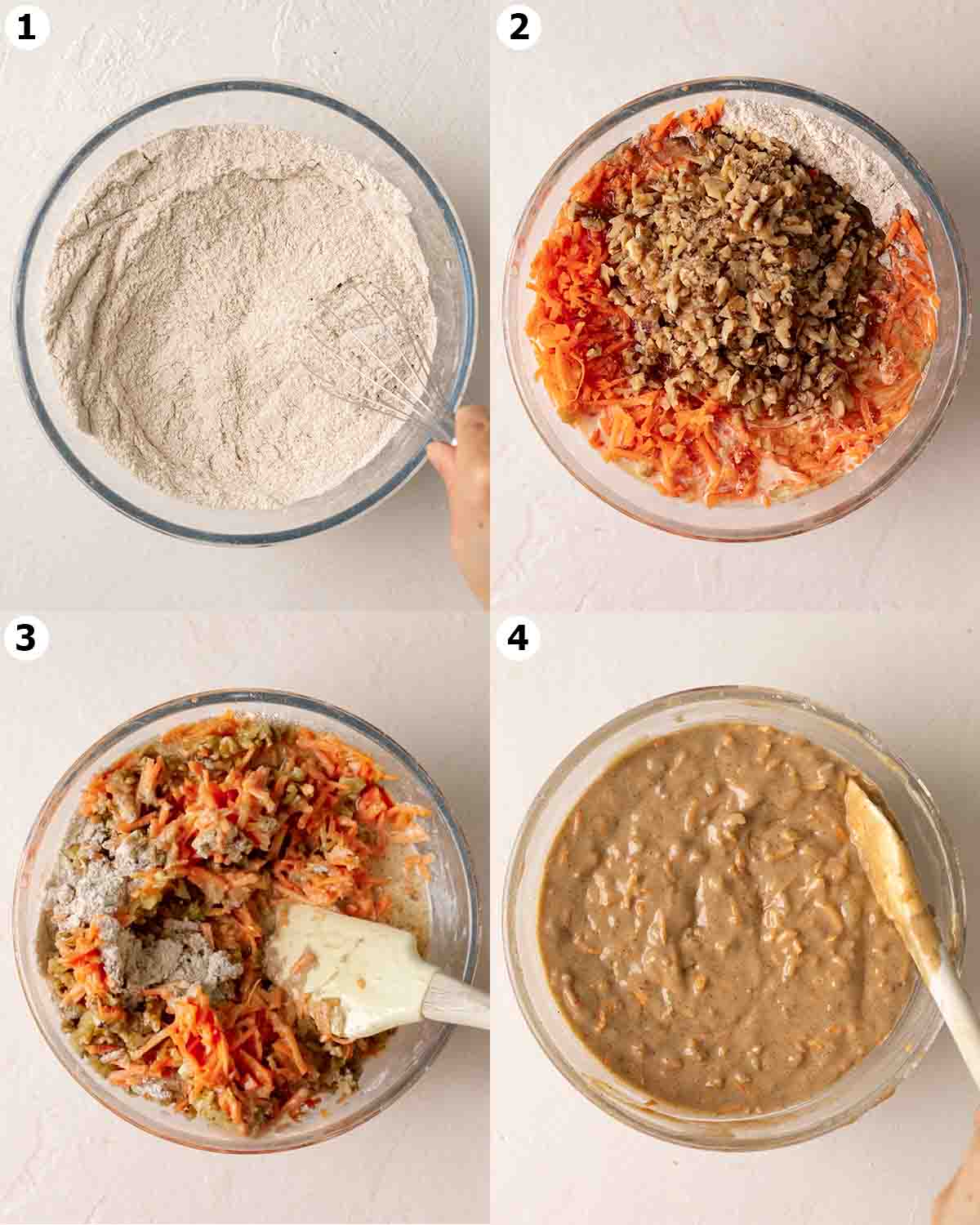 Baking tips
It'll take approximately 35-40 minutes to bake this vegan carrot cake and it's ready when a toothpick comes out clean.
The cakes may dome a little in the oven. If so, I recommend cutting the domes off as it's 100% easier to stack a cake when the layers are flat.
If you have cake strips, I suggest using them for this cake. Cake strips minimize cakes from doming which is super helpful when we need to stack the cakes.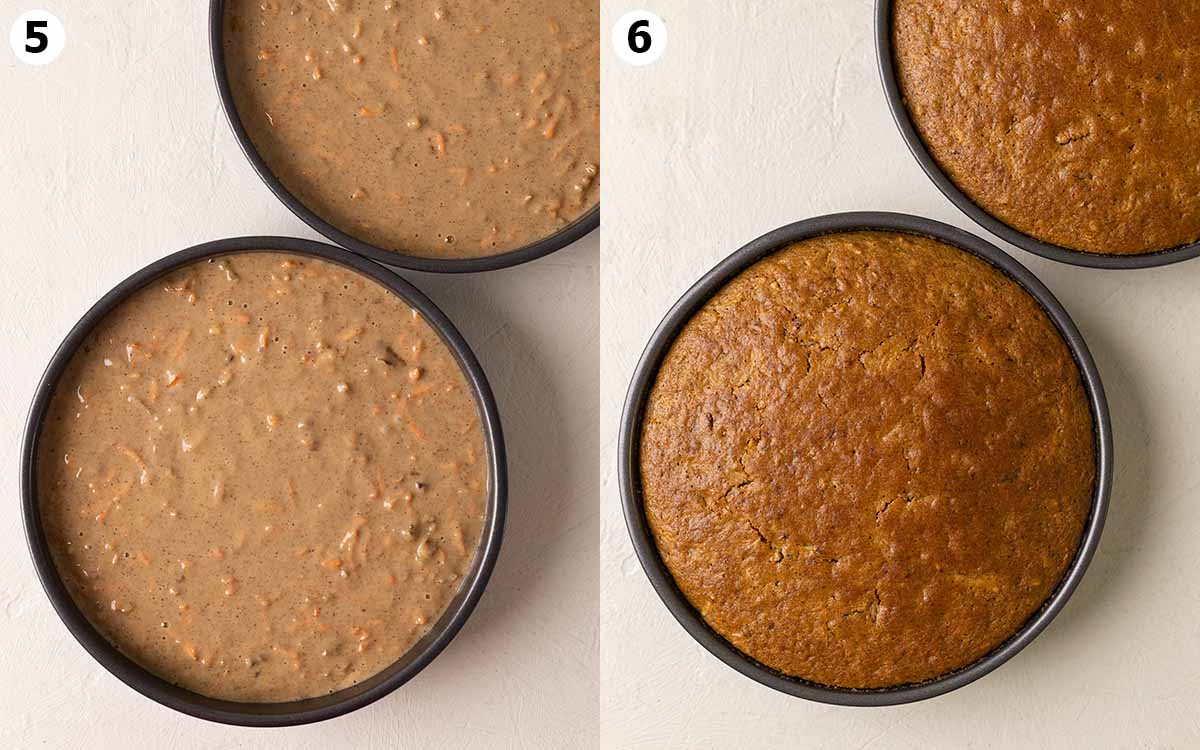 Decorating the carrot cake
Make sure the cake layers are completely cool before decorating. When the frosting is warm, it will be too soft to hold up your cake layers.
I decorated my cake with a vegan cream cheese frosting. If you can't access cream cheese, I recommend using a classic buttercream frosting with a squeeze of lemon (for example, from my lemon cake recipe). The lemon adds tartness to the buttercream and it'll taste similar to cream cheese frosting!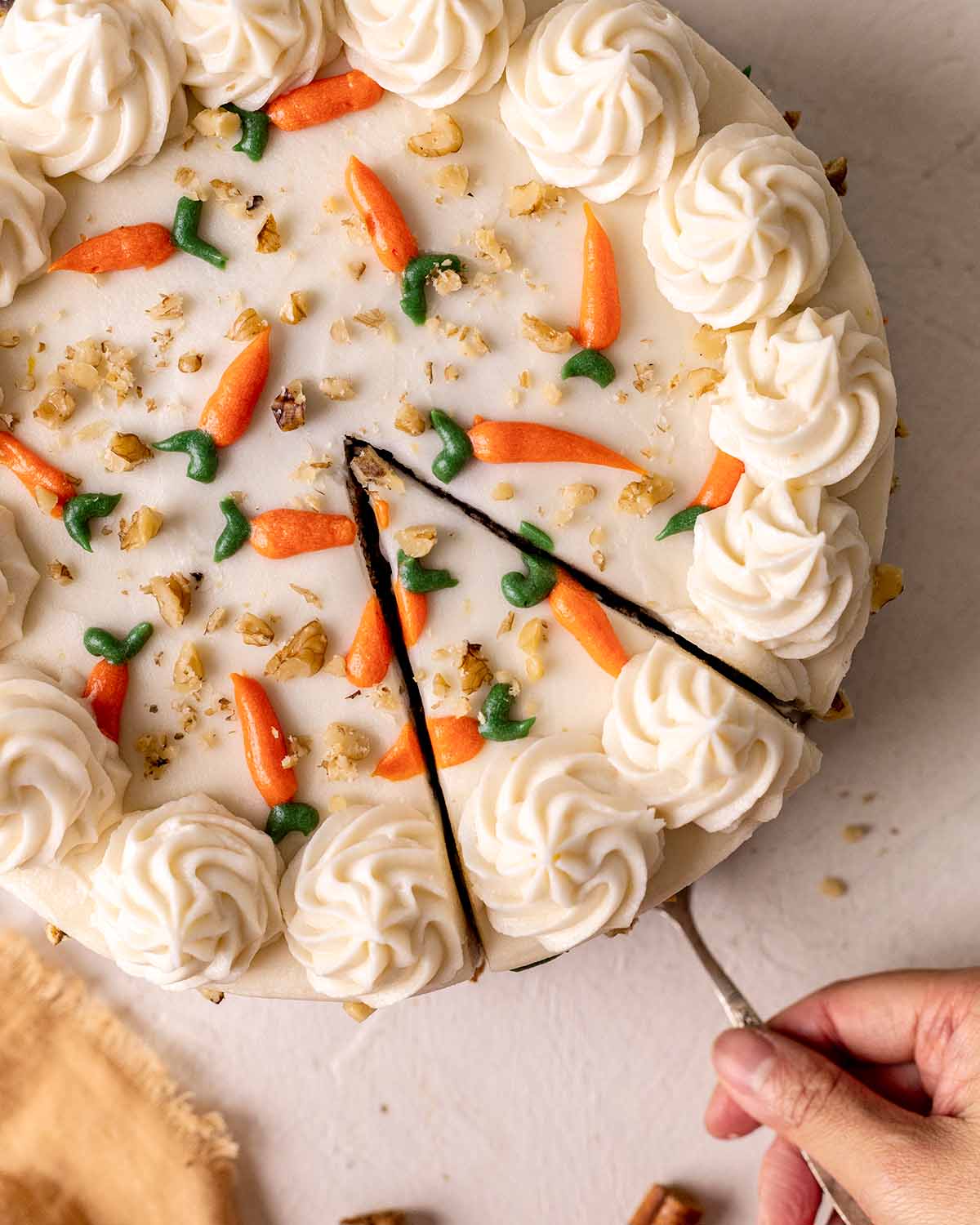 Customizing this recipe
Can I add anything else to this vegan carrot cake?
Without changing the recipe, you can add:
- shredded or fine coconut
- raisins
- different spices for example, cardamom
- orange or lemon zest

I haven't tested it but the cake should also work with crushed pineapple. I recommend reducing the plant milk and replacing it with pineapple.
Can I bake the carrot cake in different cake pans?
This recipe will also work in:
- Two 7-inch and 9-inch round cake pans. If using 7-inch pans, they'll need to be at least 2 inches tall otherwise they will overflow. You will also need to adjust the baking time.
- One 9-inch square cake pan
- One 10-inch round cake pan
- One 9x13 inch rectangle pan for a sheet cake

Alternatively, check out my carrot muffin or carrot cupcake recipes.
Can I make a healthier carrot cake?
Yes, try using whole wheat flour or spelt flour combined with coconut sugar. You may be able to use applesauce instead of oil but it will come out denser.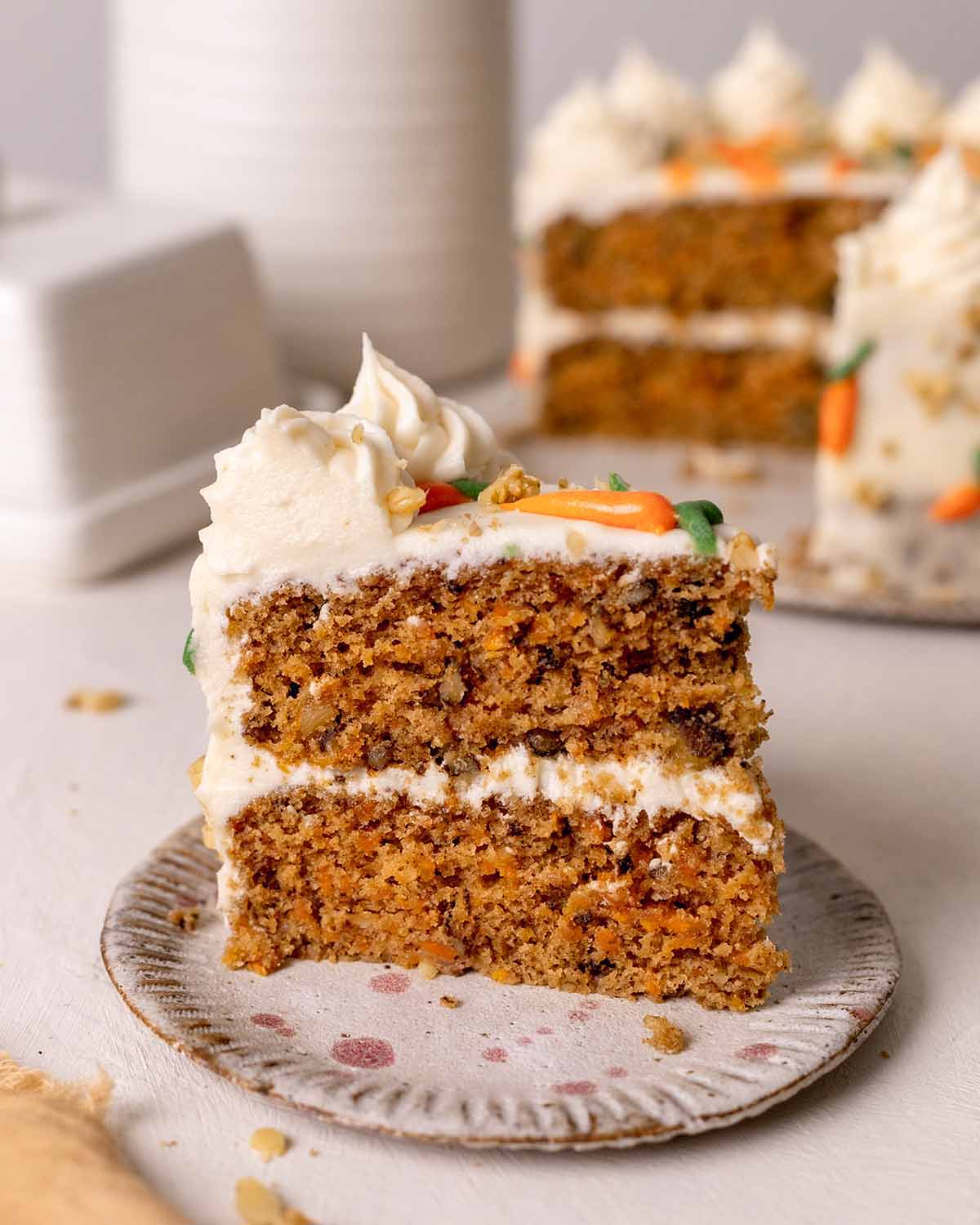 More vegan cake recipes
Follow Rainbow Nourishments on Instagram, Facebook, TikTok and Pinterest, and subscribe via email to receive all of our latest recipes!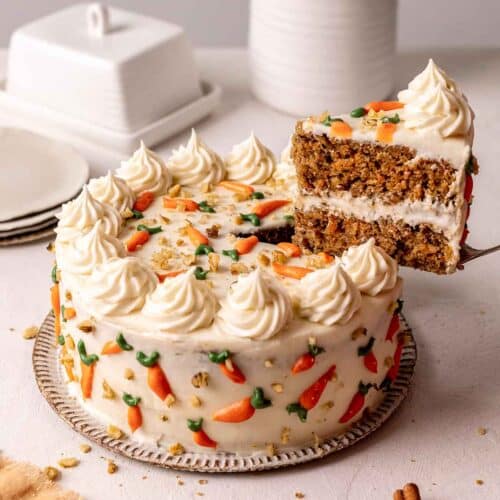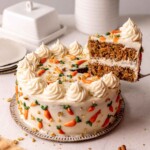 Print Recipe
Vegan Carrot Cake
Fluffy and moist vegan carrot cake that is packed with spices and will melt in your mouth. This no-fuss cake uses only common pantry ingredients and is easy to make.
Ingredients
Wet ingredients
3

cups (300g)

coarsely grated carrots

,

(around 3-4 medium carrots)

1 ¼

cups (315g)

dairy-free milk

½

cup (125g)

neutral flavored oil

,

or a light olive oil

1

cup (120g)

chopped walnuts

,

or pecans (note 2 for other add-ins)

1

tablespoon

apple cider vinegar,

regular vinegar or lemon juice, optional

1

teaspoon

vanilla extract
Cream Cheese Frosting (see note 3 for frosting without cream cheese)
Instructions
Preheat your oven to 180°C (355°F). Grease or line 2 x 8 inch (20 cm) round cake pans with parchment paper.
Make the vegan carrot cake (note 4 for make-ahead instructions):
Add all the dry ingredients to a large mixing bowl and whisk until there are no lumps. Add all the wet ingredients (including the carrots and nuts) and mix until just combined.

Evenly divide the carrot cake batter into your prepared cake pans.

Bake the cakes for around 35-40 minutes or until you can insert a toothpick in the middle and it comes out clean.

Allow the cakes to cool completely in their pans on a cooling rack.
Make the cream cheese frosting:
Add the vegan butter to a large bowl or bowl of a stand mixer with the paddle attachment. Beat until light and fluffy. Add the vegan cream cheese and beat until there are no lumps.

Add the sugar and vanilla extract and beat until just combined. If your frosting is too runny, add up to 1 extra cup of powdered sugar, corn starch or drizzle in the shortening while mixing.

Chill the frosting until needed.
Frosting the cake:
When the cakes have completely cooled, place one layer on a serving plate.

Spread or pipe around ¾ cup of frosting on the cake and place the remaining cake on top.

Spread the remaining frosting on the cake. If you have excess frosting, use a piping bag with a star nozzle to pipe the remaining frosting on top of the cake. Decorate the cake as desired.

Store the frosted vegan carrot cake in an airtight container in the refrigerator. Allow the cake to come to room temperature for 1 hour before serving. Leftovers will keep in the fridge for 5 days or in the freezer for 1 month.
Notes
It's important to measure the flour accurately otherwise, your cake will be dry and dense. If using measuring cups, use the spoon and level method where you fluff up the flour in its bag, use a spoon to add flour to a measuring cup, then level it off with a knife. I don't recommend using the measuring cup to scoop flour out of your container as it will collect too much flour which results in a dry cake. Alternatively, use the grams measurements.
If you'd like to add raisins or coconut, I recommend reducing the nuts to ½ cup (60g) and adding 1 cup (150g) raisins or 1 cup (85g) coconut.
If you don't have cream cheese, I recommend making lemon buttercream frosting from my vegan lemon cake recipe.
This vegan carrot cake can be prepared the day before. You can make the whole cake, decorate it and store it in an airtight container in the fridge overnight. Alternatively, you can make the cake layers and store them at room temperature in a container or plastic wrap overnight. The frosting can be made the day before but needs to be chilled overnight. Let the frosting to come to room temperature before using.
Nutrition
Serving:
1
slice without nuts or frosting
|
Calories:
229
kcal
|
Carbohydrates:
36
g
|
Protein:
3
g
|
Fat:
8
g
|
Sodium:
216
mg
|
Potassium:
45
mg
|
Fiber:
1
g
|
Sugar:
18
g
|
Vitamin A:
1
IU
|
Vitamin C:
0.02
mg
|
Calcium:
85
mg
|
Iron:
1
mg
This post may contain affiliate links. As an Amazon Associate, I may earn a small commission from qualifying purchases at no additional cost to you.