These vegan strawberry sugar cookies are packed with 3 cups of fresh strawberries and use only common pantry ingredients. They are soft and chewy, rather than cakey because we skipped the eggs and use a strawberry reduction.
Why you'll love these cookies
FLAVOR/TEXTURE: Lots of sweet strawberry flavor with the texture of classic sugar-coated cookies.
DIFFICULTY: All you need is a pot and a mixing bowl to prepare the dough You don't need a stand mixer or any unusual ingredients!
OCCASION: These are the perfect dessert for Valentine's Day, Mother's Day or any occasion. These cookies work with fresh AND frozen strawberries so you can make them all year round, just like my double strawberry muffins!
Ingredients you'll need
Notes about the ingredients
Strawberries (fresh or frozen). Normally, strawberries contain A LOT of water which contributes to cakey cookies. Cooking down the strawberries removes a lot of their moisture and intensifies their strawberry flavor. We don't need any expensive freeze-dried strawberries or artificial strawberry flavoring!
Baking soda also helps create chewier strawberry sugar cookies (whereas baking powder would make airier cookies).
Pink food coloring, red food coloring or beetroot powder. All brands of colors/powders have different strengths so you may need to add more or less, as needed. With no coloring, these vegan strawberry cookies are a pale pink color.
A complete list of ingredients, quantities and instructions are in the gray recipe card at the bottom of this post.
Reducing the strawberries
First, puree your strawberries using a blender or food processor. If you have a stick blender, you can add the strawberries directly to your pot and blend them.
I started with 360 grams of strawberry puree and reduced it to around 120 grams (just over ⅓ cup). The reduced mixture should be very thick, with a consistency similar to tomato paste. If you're in doubt, the more you reduce the strawberries, the better (excess moisture makes cakey strawberry sugar cookies)!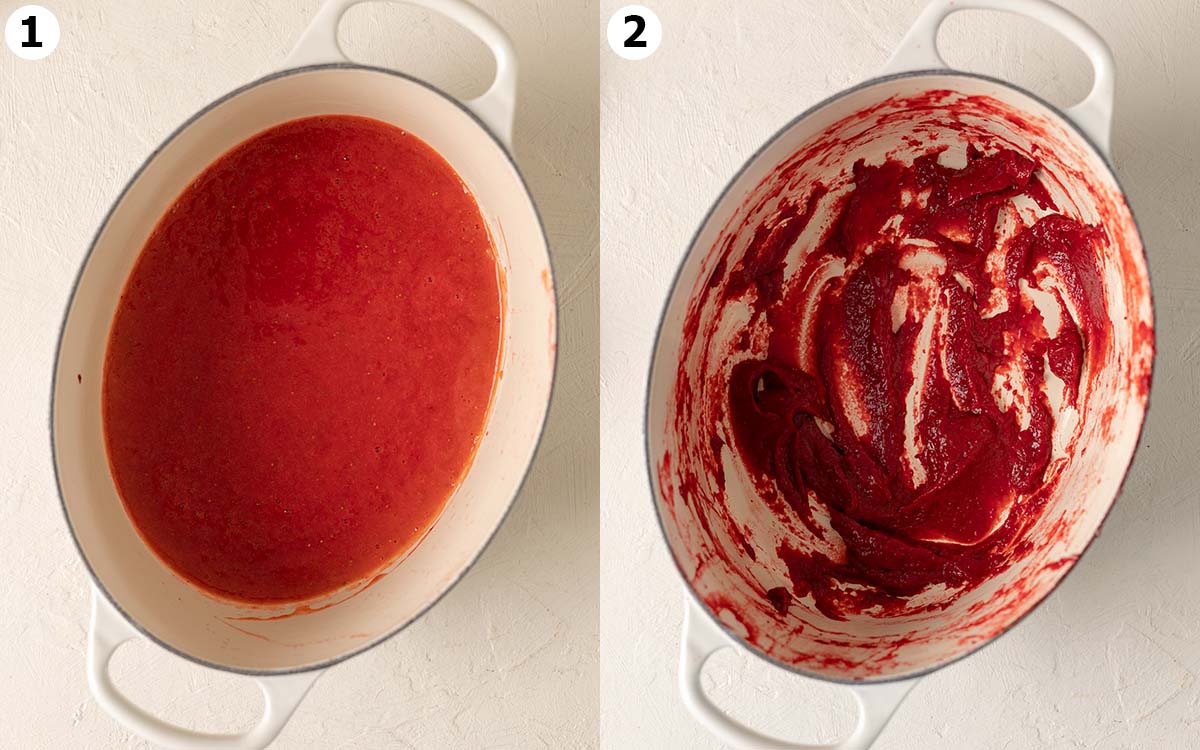 Making the strawberry cookie dough
Once you've made the reduction, the rest is straightforward!
Add all the wet ingredients to a large bowl and mix. Add all the dry ingredients and mix until combined. Feel free to add more food coloring, if desired. The color will fade in the oven, so add more food coloring than how you'd like your cookies to look.
The final cookie dough should be a little softer than regular cookie dough. It shouldn't stick to your hands but will be soft to the touch.
Don't be tempted to add more flour because it'll result in cakey vegan strawberry cookies. If it's a hot day or your dough is too sticky to roll, chill the dough for 1-2 hours.
Sugar coating
The sugar coating is an easy and quick way to decorate these vegan strawberry cookies! Sugar extracts moisture from the surface of the cookie dough which encourages pretty cracks to form.
The cookie dough balls are a little soft, so you'll need to 'toss' and gently roll them in the sugar, rather than roll them vigorously.
Baking tips
The vegan strawberry cookies need a little help to spread so I recommend gently squishing them on the baking sheets. If you leave the cookie dough as is, it will still spread but the final cookies will be thicker and cakier.
If your strawberry cookies are misshaped when they're fresh out of the oven, you can use a larger cookie cutter or a butter knife to reshape the cookies. However, I usually don't have to do this with this recipe.
Expert Tips
Can I prepare the cookies in advance?
Yes! For the freshest strawberry sugar cookies, I recommend preparing the cookie dough and chilling it, as a whole, until needed. Remove the dough from the fridge, roll it into balls, and coat them in sugar.

Alternatively, you can freeze the cookie dough balls (without the sugar coating) until needed.

The cookie dough balls can be baked while they're still cold or defrosting. They'll just need a few extra minutes in the oven.
Can I add anything else to these strawberry sugar cookies?
Yes, you can also try adding:
- white chocolate chips or regular chocolate chips to the cookie dough
- chopped strawberry pieces to the cookie dough
- sprinkles (roll the cookie dough balls in the sprinkles)

You can also sandwich two vegan strawberry cookies with my dairy-free strawberry cream cheese frosting or strawberry buttercream.
More eggless strawberry recipes
Follow Rainbow Nourishments on Instagram, Facebook, TikTok and Pinterest, and subscribe via email to receive all of our latest recipes!
Print Recipe
Strawberry Sugar Cookies (vegan)
These vegan strawberry cookies are packed with 3 cups of fresh strawberries and use only common pantry ingredients. They are soft and chewy, rather than cakey because we skipped the eggs and use a strawberry reduction.
Instructions
Make the strawberry reduction:
Add the strawberries to a food processor or blender and puree until smooth. If you have a stick blender, add the strawberries directly to a medium pot and blend. You should have about 1 ½ cups of strawberry puree.

Add the strawberry puree to a pot or saucepan over medium-high heat. Cook the puree for 15-20 minutes while stirring occasionally. Your puree is ready when you have 120g (heaped ⅓ cup) of strawberry puree. If you're in doubt, it's better to have less puree rather than more. Allow the strawberry puree to cool.
Make the strawberry cookie dough:
Preheat the oven to 180°C (350°F). Line 2-3 baking sheets with parchment paper.

Add the sugar and butter to a large bowl and beat until well combined. Add the strawberry puree, vanilla and food coloring and beat until combined.

Add the flour, and baking soda to and beat until just combined. Mix in more food coloring if desired. The cookie dough should be soft but not too sticky. If your cookie dough is too sticky, cover the dough and refrigerate for 1-2 hours.

Use a small cookie scoop or spoon to divide the dough and roll into balls. You should have around 18 balls, each having around 2 tablespoons of dough.

Add the remaining ¼ cup (50g) of granulated sugar to a small bowl. Toss and roll each cookie dough ball in the sugar.

Arrange the cookie dough balls on baking sheets about 2 inches (5 cm) apart. Slightly flatten each cookie dough ball with your fingers or the bottom of a cup.
Bake the strawberry sugar cookies:
Bake the cookies for 13-15 minutes or until the edges appear cooked. Remove the cookies from the oven. Allow them to cool on the baking sheets for 10 minutes then transfer them to a cooling rack.

Enjoy the strawberry sugar cookies warm or at room temperature. Store them in an airtight container at room temperature for up to 3 days, in the fridge for up to 1 week or in the freezer for up to 1 month.
Notes
For the best results, I recommend weighing the strawberries and flour. The volume of strawberries and flour varies a lot so using a scale will provide more accurate results. Plus, using a scale means you can wash less utensils!
I used a heaped ¼ teaspoon of pink gel food coloring. If you use a liquid pink food coloring, you'll need to add more. Red food coloring is stronger than pink so you'll need less. If you're not sure how much to use, add only a few drops when mixing the wet ingredients then add more at the end, if desired. Keep in mind that the color will fade in the oven. You can also use beetroot powder but the color doesn't always 'stick' during baking and it can dull the strawberry flavor. With my old beetroot powder, I added around 3 tablespoons to get enough color and flattened the cookies a little more as they don't spread as much.
Nutrition
Serving:
1
cookie with sugar coating
|
Calories:
162
kcal
|
Carbohydrates:
27
g
|
Protein:
2
g
|
Fat:
6
g
|
Sodium:
115
mg
|
Potassium:
48
mg
|
Fiber:
1
g
|
Sugar:
15
g
|
Vitamin A:
321
IU
|
Vitamin C:
12
mg
|
Calcium:
5
mg
|
Iron:
1
mg
This post may contain affiliate links. As an Amazon Associate, I may earn a small commission from qualifying purchases at no additional cost to you.