These vegan pumpkin cinnamon rolls are incredibly soft and fluffy, and are loaded with pumpkin flavor and pumpkin spice. Topped with a soft cream cheese icing, these are perfect for breakfast or brunch!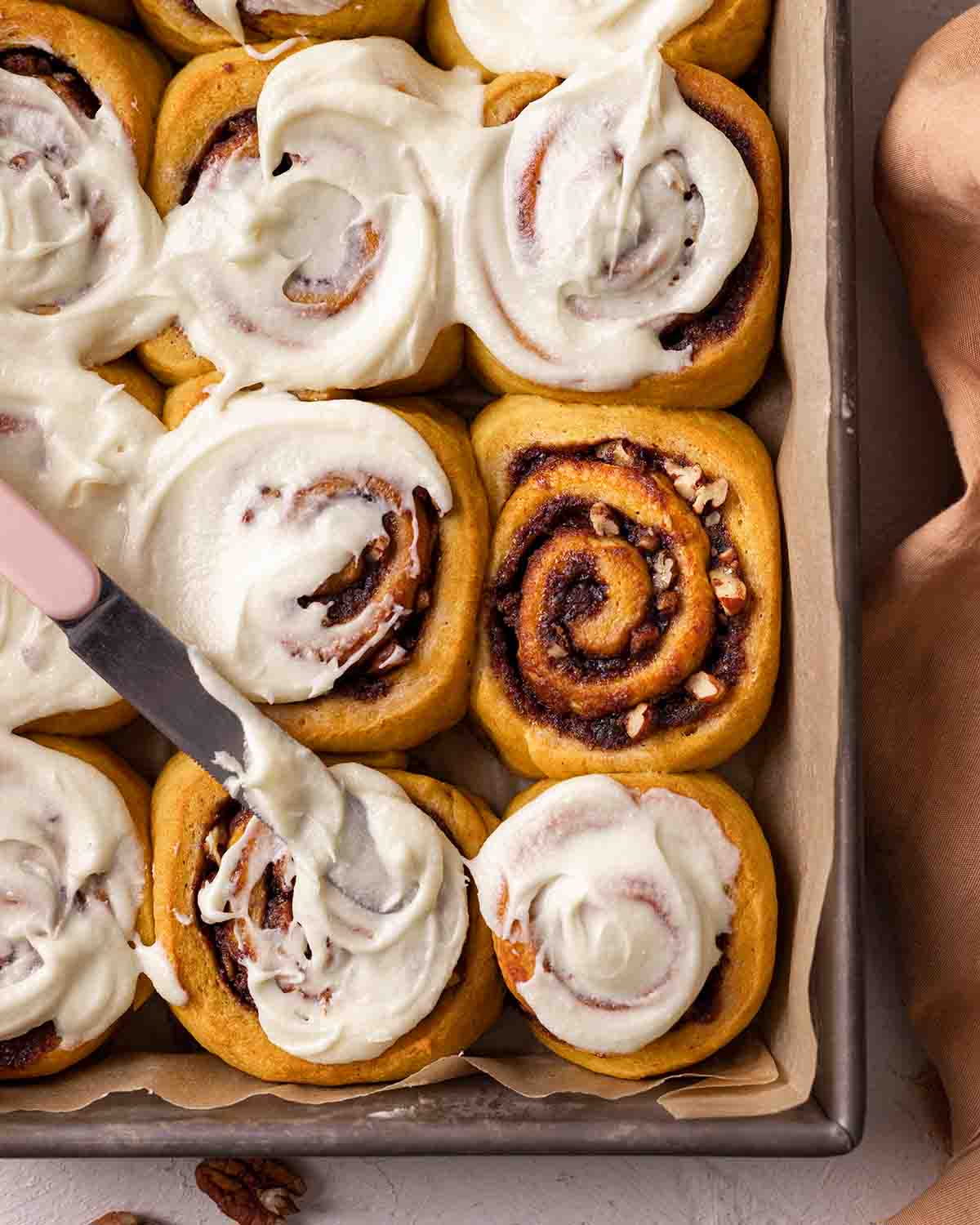 Why you'll love this recipe
TASTE/TEXTURE: These vegan pumpkin cinnamon rolls are softer and more pillowy than regular cinnamon rolls! You can space them apart to get crusty edges or place them close together for plush cinnamon rolls.
OCCASION: They're perfect with a cup of coffee or tea in Fall/Autumn!
If you're after a quicker Fall breakfast recipe, see my pumpkin coffee cake, vegan coffee cake or cinnamon quick bread.
Simple ingredients you'll need
The full list of ingredient quantities and instructions are in the gray recipe card at the bottom of this post.
Notes about the ingredients and substitutions
Bread flour or all-purpose flour. Bread flour results in fluffier and larger vegan pumpkin cinnamon rolls whereas all-purpose flour will give you cakier rolls.
Pumpkin puree either canned or homemade (I've tested both). To make your own pumpkin puree, I've listed instructions at the end of this blog post.
Vegan block butter. You can also use spreadable vegan butter, though your dough will need a little more flour. Softened coconut oil will also work however, I recommend adding a generous pinch of salt to mimic the flavor of butter.
Non-dairy milk. I prefer using creamy flavorful milk such as soy, oat or almond milk. However, any type of milk will work.
Instant yeast. This is the quickest and easiest yeast as it doesn't need to be proofed beforehand. Alternatively, you may use active dry yeast (or another type), if you proof it in warm milk beforehand.
Tips for making the dough
To make the dough for these vegan pumpkin cinnamon rolls, you can use a stand mixer or a large mixing bowl
If you're using a stand mixer, attach the dough hook and knead the dough for 5-10 minutes or until the dough is soft and stretchy.
If you're making the dough by hand, mix all the ingredients in a large bowl using a wooden spoon. Turn out your dough place the dough mixture on a lightly floured surface and knead for around 10 minutes or until the dough is soft and smooth.
As the dough is packed with pumpkin puree, it's a little softer than regular vegan cinnamon rolls. However, like all yeasted dough, the longer you knead it, the less sticky it'll become. After some time, if your dough is still sticky, add a little flour and continue to knead.
First rise for your dough
The most important thing for resting your dough is making sure it's in a WARM spot in your home!
According to King Arthur Baking, the ideal temperature for yeasted dough is between 75°F to 78°F (23°C to 25°C). My home is often cooler so I make sure the dough is resting in the kitchen or near a heater.
The dough is ready when it's doubled in size. If you gently poke the dough, it should spring back slowly.
Tips for assembling your cinnamon rolls
Unlike some recipes, you can spread the cinnamon mixture close to the edge of the dough. This cinnamon mixture is quite thick and won't ooze out easily!
When rolling your dough into a log, try to roll it as tightly as possible.
To cut your pumpkin rolls, I recommend using unflavored dental floss because it's easier and doesn't squish your each rolls! Alternatively, you can use a very sharp knife :).
Second rise and baking the cinnamon rolls
As you've just worked the dough, you'll need to let it rise again. The rolls are ready to bake when they're puffy.
I baked my vegan pumpkin cinnamon rolls in a 9 x 13 inch sheet pan. However, for very plush cinnamon rolls with no 'crust', I suggest using a baking dish around 11 x 6 inch large.
You can tell that your cinnamon rolls are ready when:
They're evenly golden brown on top.
If you press a cinnamon roll in the middle, it should feel firm.
If you lift up one cinnamon roll, the bottom will be cooked
Decoration and serving suggestions
I topped my vegan pumpkin cinnamon rolls with a vegan cream cheese frosting. However, they're also lovely with:
A soft vanilla buttercream (listed in the notes of the recipe below)
Maple syrup glaze, such as from my vegan sticky buns recipe
Dairy-free yogurt mixed with some maple syrup
How to make cinnamon rolls ahead of time
When preparing these pumpkin cinnamon rolls, you can refrigerate them at either of the following stages:
During the first rise. Knead the dough until soft, place it in an airtight container then refrigerate it. The next day, remove the dough from the fridge and when it's soft enough to handle, roll it out and assemble the cinnamon rolls. Cold dough is actually easier to shape!
During the second rise. Assemble the cinnamon rolls in their baking tray, cover the tray and refrigerate them.
Expert tips
How do I make pumpkin puree at home?
The most flavorful way to make home pumpkin puree is:
1. Preheat your oven to 180°C (350°F).
2. Cut your pumpkin in half and discard the seeds. Place the pumpkin, flesh side down on the baking tray.
3. Bake the pumpkin until it's fork-tender. This can take anywhere between 30 minutes to 1 hour.
4. When the pumpkin has cooled, scoop out the flesh and blend until smooth.

A quicker method is to peel and chop your pumpkin and boil or steam it until very soft. Then puree the pumpkin until smooth. However, this method is less flavorful.
Can I freeze these cinnamon rolls?
Like all bread recipes, cinnamon rolls are best enjoyed the day they're baked.

However, according to Prepared Cooks, when cinnamon rolls are frozen the right way, they can be stored for up to 4 months! They recommend wrapping the rolls in plastic or aluminum foil and sealing them in an airtight container to freeze.
Can I use sourdough starter instead of yeast?
Yes, just like my vegan sourdough cinnamon roll recipe, I recommend using around ½ cup (100g) of an active sourdough starter with 100% hydration instead of the yeast. Only use 3 tablespoons (45g) in the dough and add more milk if needed.
More vegan pumpkin recipes
Follow Rainbow Nourishments on Instagram, Facebook, TikTok and Pinterest, and subscribe via email to receive all of our latest recipes!
Print Recipe
Vegan Pumpkin Cinnamon Rolls
These vegan pumpkin cinnamon rolls are incredibly soft and fluffy, and are loaded with pumpkin flavor and pumpkin spice. Topped with a dreamy cream cheese icing, these are perfect for breakfast or brunch!
Ingredients
Cream Cheese Icing (note 3 for alternatives)
Instructions
Pumpkin Cinnamon Rolls:
Add all the ingredients to a stand mixer with the dough hook attachment or a large mixing bowl. Knead the mixture for at least 5 minutes until it forms a smooth and stretchy dough. Add a little more milk if the dough is too dry or a little more flour if the dough sticks to the bowl.

Place the dough in a clean bowl and cover with a tea towel. Leave it in a warm place for at least 1 hour or until the dough doubles in size. Alternatively, rest the dough in an airtight container in the fridge overnight.
Pumpkin Spice Filling:
Add the sugar, butter, pumpkin spice and optional vanilla to a small bowl. Mix until it forms a smooth paste and set aside.
Assembling the Vegan Pumpkin Cinnamon Rolls:
Grease or line a baking pan about 13 x 9 inches (33 x 23 cm) large. Alternatively, use a smaller baking tray or round casserole dish.

Lightly dust a clean surface with flour. Roll out the dough into a large rectangle about 12 x 17 inches (30 x 45 cm) large and ½ inch (~1 cm) thick.

Spread the pumpkin spice mixture on the dough close to the edge. Sprinkle the chopped pecans on top (optional).

Starting from the long side, roll the dough into a tight log. Use a sharp knife or unflavored dental floss to cut rolls out of the log.

Arrange the individual cinnamon rolls in your baking pan. Place a tea towel over the rolls and set them aside for at least an hour. The rolls are ready when they have increased in size by at least 50% and are puffy again.
Baking the cinnamon rolls:
When your rolls are puffy again, preheat the oven to 180°C (350°F).

Bake the rolls in the oven for 20-25 minutes. They are ready when their surface is evenly golden brown or if you insert a skewer in one of the middle rolls, there shouldn't be any raw dough on it.
Icing and serving:
Combine all the icing ingredients in a small bowl until smooth. Add some dairy-free milk for a runnier icing or more sugar for a firmer icing.

When the rolls have slightly cooled, spread the cream cheese icing on top.

The rolls are best eaten the day they are baked. Alternatively, store them in an airtight container at room temperature for 1-2 days or in the fridge for up to 5 days. Warm up the rolls before enjoying them again!
Notes
Instant yeast doesn't need to be 'activated' beforehand. However, if you use another type of yeast, mix it with the warm milk from the recipe, wait until it bubbles then use it in the recipe.
To make pumpkin pie spice at home, mix 1

tablespoon ground cinnamon, 1 teaspoon ground nutmeg, 1 teaspoon ground ginger and ½ teaspoon ground cloves. If you don't have any cloves, add more cinnamon. This will make enough pumpkin spice for the dough AND filling.

Alternatively, you can omit the powdered sugar and add 1 tablespoon of maple syrup at a time until it's sweet enough for you. This icing is runnier than a typical cream cheese icing.
Nutrition
Serving:
1
roll with pecans, without frosting
|
Calories:
294
kcal
|
Carbohydrates:
41
g
|
Protein:
4
g
|
Fat:
13
g
|
Sodium:
123
mg
|
Potassium:
109
mg
|
Fiber:
2
g
|
Sugar:
10
g
|
Vitamin A:
2522
IU
|
Vitamin C:
1
mg
|
Calcium:
45
mg
|
Iron:
3
mg
This post may contain affiliate links. As an Amazon Associate, I may earn a small commission from qualifying purchases at no additional cost to you.