The most pillowy and buttery vegan pumpkin cinnamon rolls you'll ever eat! Loaded with pumpkin spice, pecans and topped with a cream cheese frosting.
These soft vegan pumpkin spice cinnamon rolls are the perfect comfort food for Autumn/Fall. They will melt in your mouth, warm you up from head to toe and perfect with a cup of coffee/tea! They are as easy to make as regular cinnamon rolls!
For a quicker vegan pumpkin dessert, see my pumpkin cookies with chocolate chips. Or make my vegan french toast casserole in the colder seasons!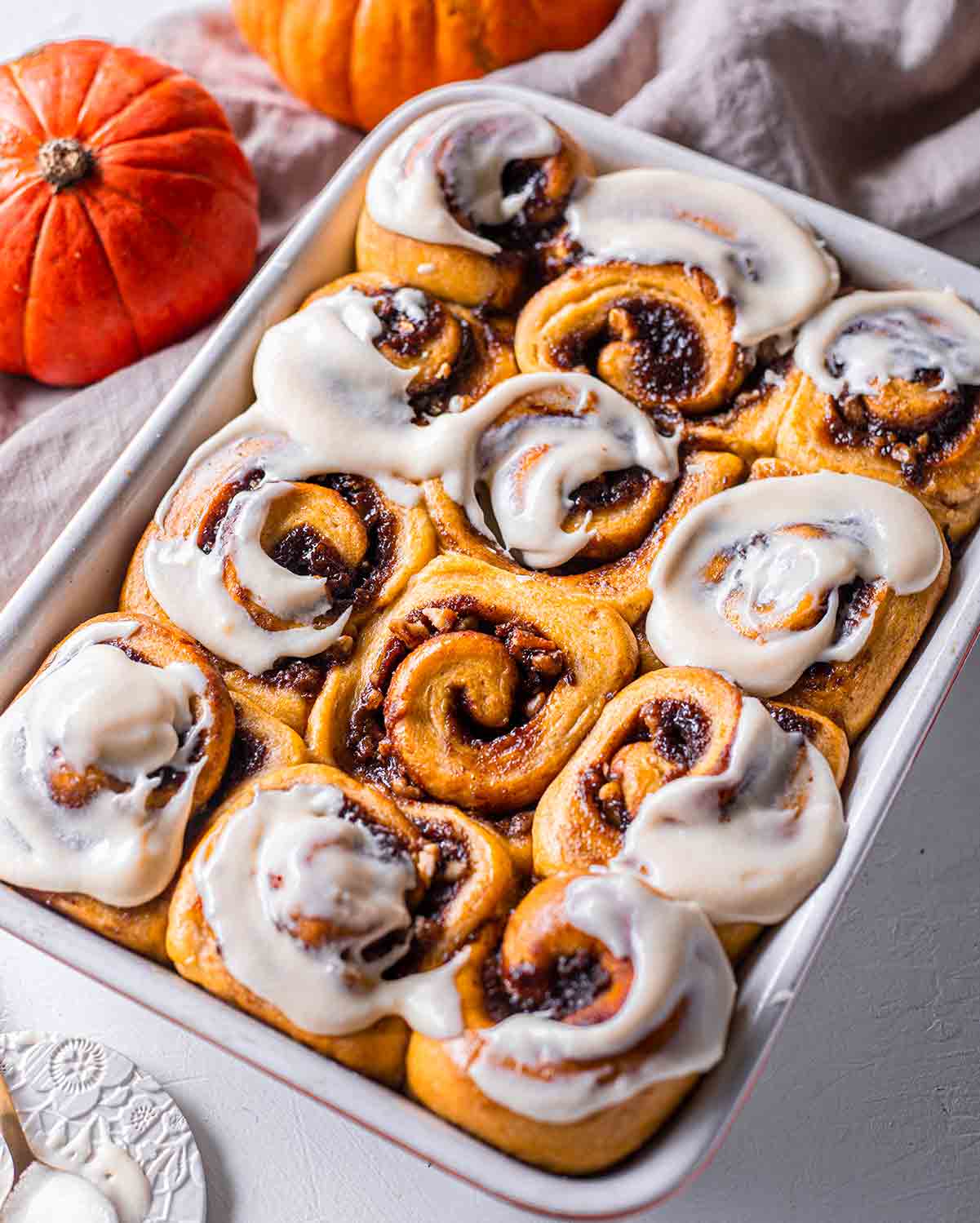 Ingredients to make these vegan pumpkin spice cinnamon rolls
The ingredient list for these rolls is MUCH shorter than any store-bought pumpkin cinnamon rolls. If you're in the USA, the ingredients are much better than the cinnamon rolls at Trader Joes! You will need:
Plain / All-purpose flour
Any plant-based milk such as almond milk or soy milk
Softened vegan butter / margarine spread or softened coconut oil with a generous pinch of salt
Pumpkin spice - or a combination of cinnamon, ginger, nutmeg and cloves
Pumpkin puree - store-bought or home-made. NOT pumpkin pie filling.
Sugar - either cane, light brown, dark brown or coconut sugar. I personally prefer brown or coconut sugar
Instant active dried yeast
If you don't have canned pumpkin puree
If you're in Australia or country which doesn't have readily accessible pumpkin puree, you can make your own by:
Chop some pumpkin
Steam the pumpkin til it is very soft
Puree the pumpkin.
Optional: reduce out the pumpkin by patting it with paper towels or cooking it on a stovetop. This intensfies its flavour!
I used high quality butternut pumpkin from my local Harris Farm Markets.
Making the dough
Since I used instant active dried yeast, I don't need to proof anything beforehand and makes this process super easy. Just throw everything into a bowl or stand mixer then mix and knead until it forms a soft cohesive ball. If you use another type of yeast, you may need to activate / proof it beforehand.
The dough is PACKED with pumpkin puree so it's a little softer than regular vegan cinnamon rolls. If your dough is still sticking to the side of your bowl, simply add a little more flour and knead again.
Let the dough rise in a WARM spot in your home until it doubles in size. Alternatively, if you want to make the recipe a day in advance, you can let your pumpkin dough rise in the fridge overnight. This dough is quite soft, so chilling it will make it easier to roll in the next step :).
Assembling the cinnamon rolls
On a lightly floured surface, roll out the dough into a large rectangle. It doesn't have to be a perfect rectangle :). I'd recommend rolling the dough to about 1 cm or ½ inch thick. The thinner your dough, the more your cinnamon rolls will have.
Spread your pumpkin spice filling on the surface then scatter the chopped pecans on top. Pecans are of course optional so feel free to omit if you're allergic or just don't have any at home!
Starting from the long side, roll your dough into a log, as tight as possible. Use a sharp knife or unflavoured dental flavours to cut scrolls out of your log.
Second rise for the vegan pumpkin rolls
After you arrange your rolls in a baking tray, allow it to rest for 1-2 hours or until they are puffy again. This may take longer or shorter depending on how WARM your home is! If you didn't let your dough rest in the fridge overnight, you can rest the shaped pumpkin rolls in the fridge overnight.
Then bake your cinnamon rolls.... and your home will smell wonderful :).
Serving the vegan cinnamon rolls
These pumpkin spice rolls are so fluffy and pillowy that you can enjoy them by themselves, for breakfast or dessert.
However, they are delicious with a vegan cream cheese frosting or maple cream cheese frosting used in my sourdough cinnamon roll recipe. The only downside is you have to wait until they are completely cool til you can frost them!
Or you can drizzle them with a sticky maple syrup to make pumpkin sticky buns!
Like all bread, cinnamon rolls are best enjoyed fresh. However, according to Prepared Cooks, when cinnamon rolls are frozen the right way, they can be preserved for up to 4 months! They recommend wrapping the rolls in plastic or aluminium foil and sealing them in airtight container to put in the freezer.
See my other vegan pumpkin recipes
See my other vegan breakfast and cinnamon roll recipes
Print Recipe
Vegan Pumpkin Cinnamon Rolls
The most pillowy and buttery vegan pumpkin cinnamon rolls you'll ever eat! Loaded with pumpkin spice, pecans and topped with a cream cheese frosting.
Ingredients
Frosting (optional) (note 2)
Instructions
Dough:
Add all the ingredients in a stand mixer or large bowl. Mix then knead for 5-10 minutes until the dough is smooth and elastic.

Place the dough in a bowl and cover with a damp tea towel. Leave it in a warm place for at least 1 hour or until the dough doubles in size. The dough can be rested in the fridge overnight!
Filling:
Mix all the ingredients in a small bowl until a paste forms and there are no lumps. Set aside.
To assemble:
Lightly dust a clean surface with flour. Use a rolling pin to flatten the dough into a large rectangle so the dough is about 5mm-1cm thick.

Spread the filling on the surface 2 cm (1 inch) away from the edge. Sprinkle the pecans on top.

Starting from the long side, roll the dough into a log. Use a sharp knife or unflavoured dental floss to cut rolls out of the log. Arrange on a baking tray. Place a damp tea towel over the rolls and set aside to rest for at least an hour until the rolls have increased by at least 50%.
Frosting:
Combine all the ingredients in a small bowl until smooth. Add more sugar for a firmer frosting. Chill in the fridge until needed.
Baking the rolls:
When your rolls are puffy again, preheat the oven to 180°C (350°F).

Bake the rolls in the oven for 15-20 minutes or until they are slightly golden brown. If you insert a skewer in one of the middle rolls, there should be no raw dough on it.

When the rolls have cooled completely, spread the glaze on top.

The rolls are best eaten the day they are baked. Alternatively, store them in an airtight container at room temperature for 1 day or in the fridge for 1-2 days.
Notes
Instant yeast doesn't need to be 'activated' or 'bloomed' beforehand. However, if you use another type of yeast, combine it with warm milk and a pinch of sugar beforehand. Wait until it bubbles then use it in the recipe.
Alternatively, I'd recommend vegan maple cream cheese frosting for these rolls!
Nutrition
Serving:
1
roll with pecans, without frosting
|
Calories:
294
kcal
|
Carbohydrates:
41
g
|
Protein:
4
g
|
Fat:
13
g
|
Sodium:
123
mg
|
Potassium:
109
mg
|
Fiber:
2
g
|
Sugar:
10
g
|
Vitamin A:
2522
IU
|
Vitamin C:
1
mg
|
Calcium:
45
mg
|
Iron:
3
mg
This post may contain affiliate links. As an Amazon Associate, I may earn a small commission from qualifying purchases at no additional cost to you.