Vegan blueberry muffins which are fluffy, moist and better than your local bakery! Made with just 7 ingredients, 1 bowl and loads of blueberries.
This blueberry muffin recipe is adapted from my popular vegan apple muffins!
Why these are the best vegan blueberry muffins
These eggless blueberry muffins are moist, PACKED with blueberries and have a delicious crunchy sugar topping.
The muffins have gorgeous high tops so you'll never have to buy a vegan muffin from your bakery again! To make these muffins, you'll only need a few common ingredients (no egg replacer) which you probably already have in your pantry.
You can use fresh or frozen blueberries in these muffins which means you can bake these all year round. So, what are you waiting for?!
Ingredients you'll need
Notes about the ingredients
Plain all-purpose flour will ensure the fluffiest vegan blueberry muffins. However, whole wheat flour or spelt flour will also work!
Dairy-free milk such as soy milk, oat milk or almond milk. Try using a full-bodied milk as it will give the muffins depth of flavor.
Granulated sugar for classic blueberry muffins. Or use light brown sugar or coconut sugar for a lovely caramel undertone.
Fresh or frozen blueberries. I have tested both and they both work very well in these muffins! The frozen blueberries do not need to be thawed and neither sinks in this special muffin batter.
Vinegar is combined with non-dairy milk to create vegan buttermilk and more tender muffins! We don't have to mix the vinegar and milk separately - it does its magic when mixed into the batter at the same time.
For extra flavor, you may use lemon juice and/or zest, ground cinnamon (or nutmeg), vanilla extract and salt! I'd highly recommend cinnamon for a nostalgic bakery flavor and aroma.
A complete list of ingredients, quantities and instructions are in the gray recipe card at the bottom of this post.
How to make vegan blueberry muffins
The muffin batter comes together in just one bowl!
Simply add all the dry ingredients to a large mixing bowl and stir until combined.
Add all the wet ingredients and whisk until JUST combined. Some lumps are fine, as long as they aren't lumps of flour. Cooks Illustrated showed that lumpy batter can actually create a fluffier cake/pancakes!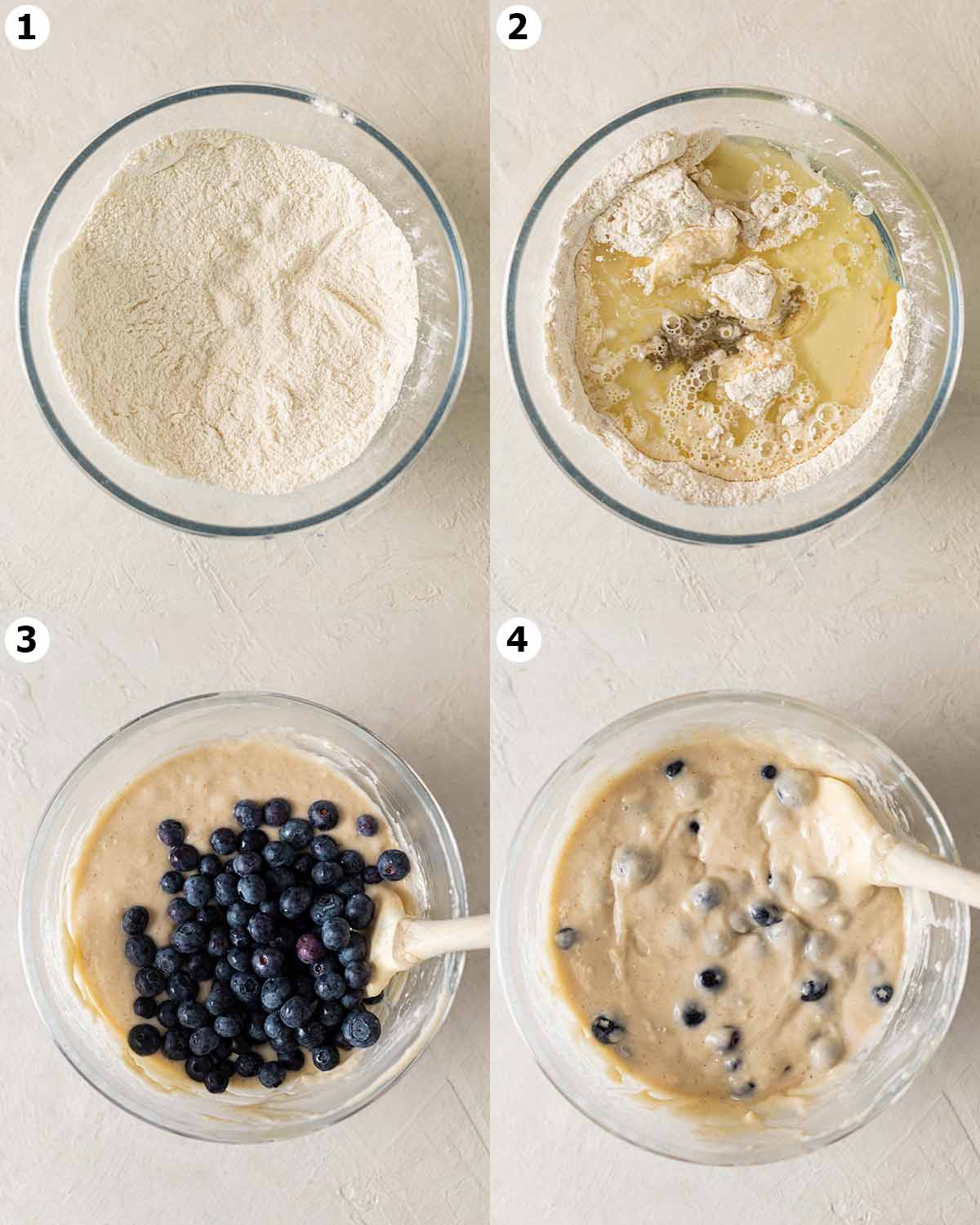 Tips for folding blueberries into muffin batter
Add your fresh or frozen blueberries to your large bowl (reserve some berries to top the muffins). Then use a spatula to FOLD the blueberries through the batter. You should only need to fold the mixture around 5 times.
If you aren't sure how to 'fold' cake batter, check out the video in this post!
If you're using fresh blueberries, you don't need to toss them in flour before mixing. A thick muffin batter helps prevent the blueberries from sinking! Serious Eats has debunked the flour-tossing technique in this helpful article.
If you're using frozen blueberries, make sure you fold them carefully and as little as possible. Over mixing the batter with frozen blueberries will make the batter and muffins purple. But your blueberry muffins will still be delicious (trust me, I've tried)!
How to bake blueberry muffins
These muffins are slightly larger than regular and need around 25 minutes to bake in a conventional oven.
However, not all ovens are not the same! Your oven may run hot or cold so I'd suggest keeping an eye on your vegan blueberry muffins at around 20 minutes.
To get evenly domed muffins, I'd recommend using a conventional oven.
You can still bake these vegan blueberry muffins in a fan-forced or convection oven if you reduce the temperature by about 15°C (25-30°F). Your muffins will still bake well but they may be slightly lopsided, which is typical for convection ovens according to Bob Red Mills.
Expert tips for customizing muffins
Can I make these vegan blueberry muffins gluten-free and/or refined sugar-free?
Yes! To make them gluten-free, check out the notes of the recipe card below.

To make refined sugar-free muffins, I'd recommend using coconut sugar, like my apple muffins. Granulated sugar replacements such as stevia, erythritol and monk fruit will also work for this blueberry muffin recipe. I do not recommend using liquid sweeteners such as maple syrup.
Can I use another fruit instead of blueberries? Or can I add anything else to the muffins?
Yes! The blueberries can easily be replaced with raspberries, blackberries or any other berry in the same grams measurement. Alternatively, check out my apple berry muffins.

You can also add ½ cup of chocolate chips or nuts to the blueberry muffin batter.

To make vegan banana blueberry muffins, try baking my cafe-style banana muffins but adding blueberries.
More easy vegan berry recipes
Follow Rainbow Nourishments on Instagram, Facebook, TikTok and Pinterest, and subscribe via email to receive all of our latest recipes!
Print Recipe
Vegan Blueberry Muffins
Vegan blueberry muffins which are fluffy, moist and better than your local bakery! Made with just 7 ingredients, 1 bowl and loads of blueberries.
Ingredients
Wet ingredients
1

cup (250g)

dairy-free milk,

room temperature (note 2 for lemon blueberry muffins)

½

cup (125g)

neutral flavored oil

,

(note 3)

1

tablespoon

apple cider vinegar,

optional

1

teaspoon

vanilla extract

1 ¾

cups (260g)

fresh or frozen blueberries

,

(do not thaw if using frozen)
Topping (optional)
2

tablespoons

raw demerara sugar
Instructions
Preheat the oven to 180°C (350°F). Line a muffin/cupcake tray with muffin liners (note 4 for jumbo muffins).
Making the blueberry muffin batter:
Add all the dry ingredients to a large mixing bowl. Mix until there are no lumps.

Add all of the wet ingredients to the bowl (except the blueberries) and mix until just combined. Add most of the blueberries to the muffin batter (reserve a handful for the topping). Use a spatula or spoon to carefully fold through.

Use an ice cream scoop or a large spoon to divide the mixture into your muffin tin.
Decorating and baking the blueberry muffins:
Optional: Scatter the remaining blueberries and raw demerara sugar on top.

Bake the muffins in the oven for around 25 minutes if you used fresh blueberries or 30 minutes if you used frozen blueberries. If you insert a toothpick into a muffin, there shouldn't be any wet batter on it, though some crumbs are fine (note 5).

Cool the muffins in their tray for 10 minutes then allow then to cool on a wire rack. Sprinkle extra demerara on top if desired.

Enjoy the muffins warm with vegan butter or at room temperature! Store the muffins in an airtight container at room temperature for 2 days, in the fridge for 3 days or in the freezer up to 1 month. The crunchy sugar topping will soften after 1 day.
Notes
To make these vegan blueberry muffins gluten-free, substitute the plain flour with 1 ½ cups (150g) almond meal and 1 cup (160g) gluten free all-purpose flour.
To make vegan lemon blueberry muffins, substitute ¼ cup of the dairy-free milk with ¼ cup (60g) lemon juice and add 1 tablespoon of lemon zest. Lemon blueberry muffins tends to have a tighter crumb and dome a little less than regular blueberry muffins.
You may use melted coconut oil (room temperature) for these muffins. However, coconut oil can solidify when it's cold so will make cakes feel drier than normal. If so, I'd recommend warming up the muffins before you serve them.
This recipe will make 12 large muffins or around 6 jumbo cafe-sized muffins.
If you baked jumbo muffins, bake them for at least 25-35 minutes (depending on the size of your muffin tin) or until a skewer comes out clean.
Nutrition
Serving:
1
muffin (without sugar topping)
|
Calories:
246
kcal
|
Carbohydrates:
35
g
|
Protein:
3
g
|
Fat:
11
g
|
Sodium:
134
mg
|
Potassium:
46
mg
|
Fiber:
1
g
|
Sugar:
15
g
|
Vitamin A:
12
IU
|
Vitamin C:
3
mg
|
Calcium:
91
mg
|
Iron:
1
mg
This post may contain affiliate links. As an Amazon Associate, I may earn a small commission from qualifying purchases at no additional cost to you.