Soft and moist vegan almond cake with a crunchy sliced almond topping. This cake comes together in one bowl and can be made gluten-free! Or check out my crunchy vegan almond cookies.
What to expect
TASTE/TEXTURE: More moist and denser than a regular vegan cake. Fluffier and has more 'body' than marzipan or the almond filling for a croissant!
DIFFICULTY: Easy to make. You don't need a food processor, blender, hand mixer or any special equipment!
Ingredients you'll need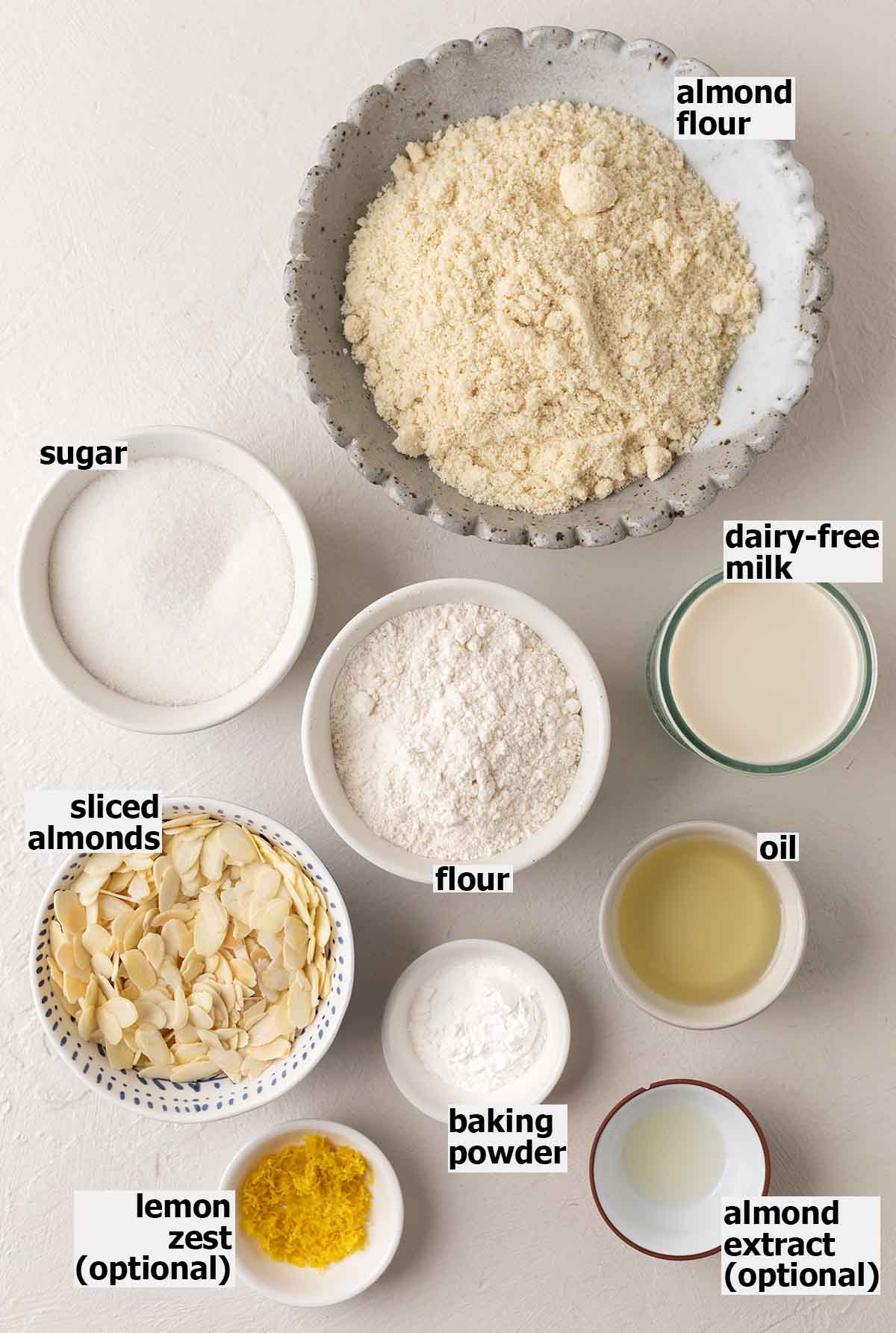 Notes about the ingredients
Almond flour adds moisture and flavor. I recommend using almond flour rather than almond meal (with the almond skin still on) for a lighter vegan almond cake.
All-purpose plain flour for structure and to bind the almond flour in the absence of eggs. Unfortunately, a cake made with just almond flour and no eggs will deflate and crumble. Flax eggs, aquafaba and other common egg replacers do not work for this recipe.
Oil doesn't only add moisture but makes the cake fluffier. For alternatives, see the section 'Customizing this recipe'.
Dairy-free milk. I recommend choosing a full-bodied plant milk, such as soy milk or oat milk as they make a more tender cake.
Almond extract and lemon zest to complement the nuttiness of the almond flour.
A complete list of ingredients, quantities and instructions are in the gray recipe card at the bottom of this post.
How to make a vegan almond cake
This almond cake is easy to make as you just stir the dry ingredients in a large bowl, add the wet ingredients and mix until combined.
For the fluffiest vegan almond cake, here are some extra tips:
Rub the lemon zest with the sugar. This releases the oil in the lemon zest which allows it to disperse more throughout the cake batter.
Avoid any big lumps in your cake batter. Mix the cake batter enough so there are no large lumps, but not too much otherwise the final cake will be dense and stodgy.
The final batter is meant to be quite thick! This recipe works best with a thicker batter as a thin batter is more likely to sink when baked.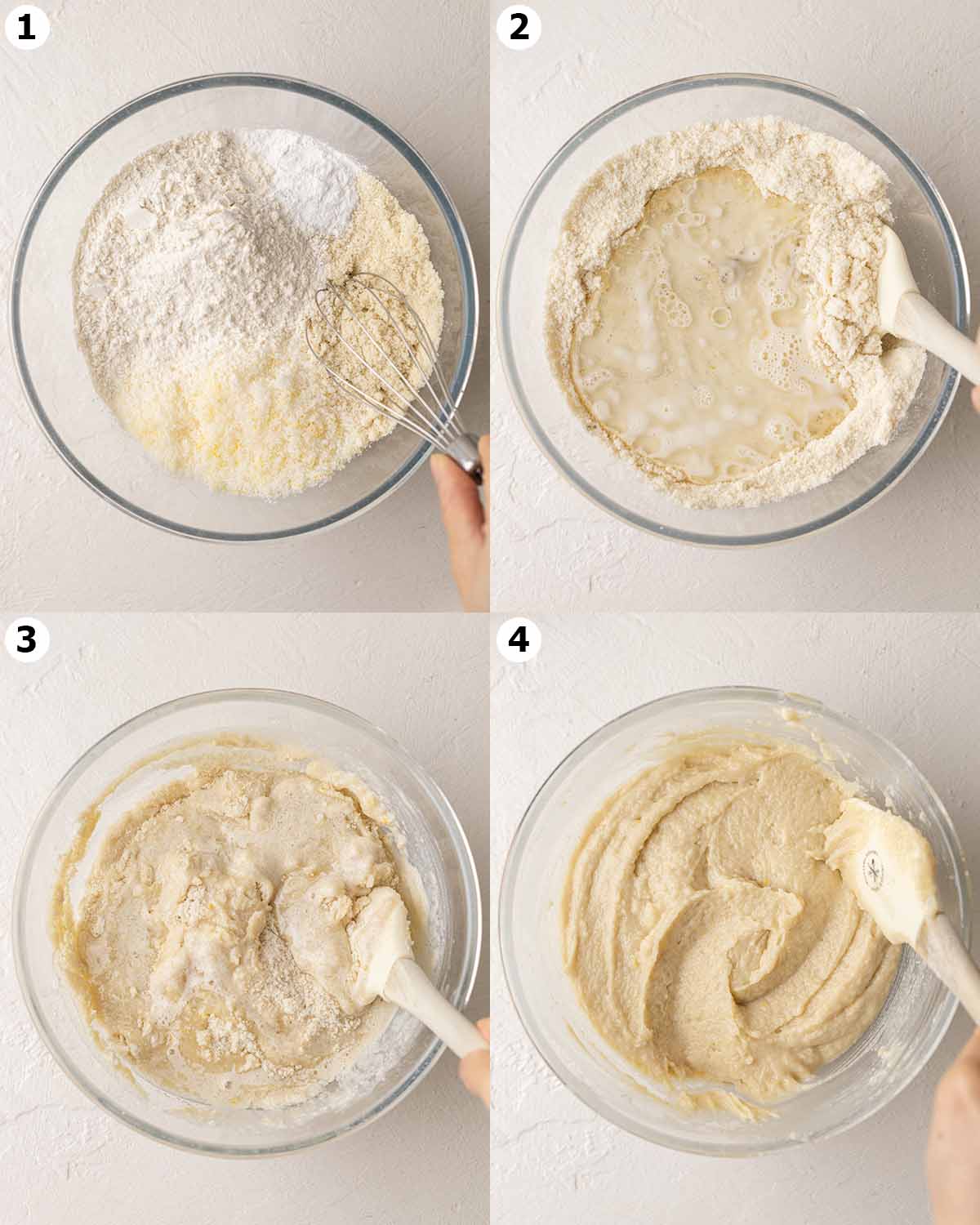 Tips for baking the cake
For extra crunch and almond flavor, I love decorating this cake with flaked almonds!
In most ovens, the almond topping will not burn. However, if your oven has a strong top heating element, your almonds may brown too quickly. If you know your oven tends to burn cakes on top, I recommend covering your cake pan with aluminum foil at the beginning of baking.
With the exception of a burning cake, I strongly recommend avoiding opening the oven door in the first 45 minutes of baking. Almond flour is a delicate gluten-free flour so inconsistent oven heat is more likely to make your cake sink.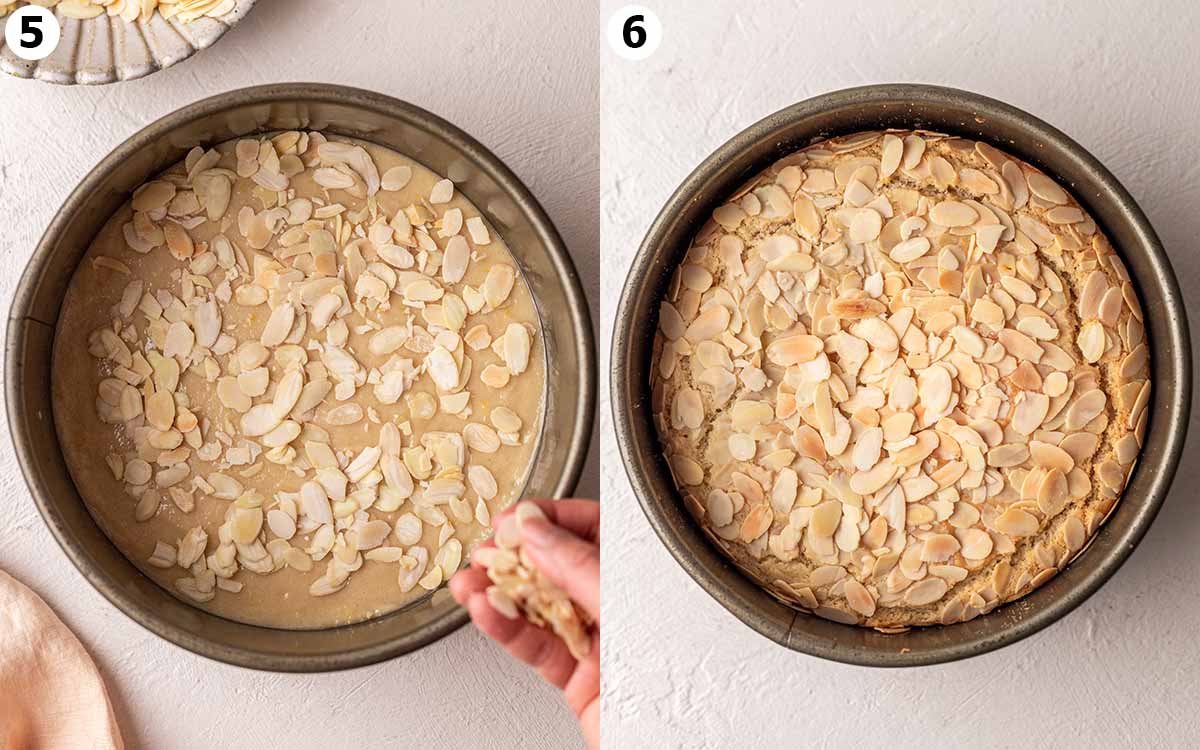 Adding other ingredients to this cake
This cake is lovely by itself! However, the following ingredients would enhance the cake:
Chocolate chips
Dried fruit such as cranberries
Dried coconut
For an apple almond cake, make the gluten-free version of my vegan apple crumble cake. It uses a combination of almond flour and gluten-free all-purpose flour!
Customizing the recipe
Can I make the vegan almond cake gluten-free?
Yes, I tested this cake replacing all-purpose flour with all-purpose gluten-free flour and it worked well! However, some brands of gluten-free flour were more absorbent so, if your batter is very thick, I suggest adding a dash of dairy-free milk.
Can I replace some all-purpose flour with more almond flour?
It depends on what kind of cake you're after. I tested this cake with as little as ½ cup all-purpose flour (and more almond flour) but it resulted in an overly moist cake that turned into a wet marzipan texture once you put it into your mouth. The cake was also more likely to sink.

If you want a 100% almond flour recipe, see my vegan almond flour shortbread.
Can I replace the sugar?
Brown sugar and coconut sugar will work similarly to granulated sugar but they will add more moisture to the cake.

Granulated sugar replacers may work but I haven't tested them so cannot vouch for the results.

Liquid sweeteners such as maple syrup or agave syrup will be too heavy for this cake.
More vegan cakes using almond flour
Follow Rainbow Nourishments on Instagram, Facebook, TikTok and Pinterest, and subscribe via email to receive all of our latest recipes!
Print Recipe
Vegan Almond Cake
Soft and moist vegan almond cake with a crunchy sliced almond topping. This cake melts in your mouth!
Ingredients
Dry ingredients for almond cake
Wet ingredients for almond cake
To decorate (optional)
½

cup (45g)

sliced almonds
Instructions
For the best results, I recommend using a digital scale to weigh the ingredients for this recipe. It's difficult to accurately measure the key ingredients using cups and this recipe has been tested using grams (except the smaller ingredients).
Making the vegan almond cake:
Preheat the oven to 180°C (350°F). Grease or line an 8-inch (20 cm) cake pan (at least 2-inch or 5cm tall) with parchment paper.

Add all the dry ingredients to a large mixing bowl and whisk until there are no lumps. Add all the wet ingredients and mix until just combined. The batter should be quite thick

Scoop the cake batter into your cake tin. Smooth the top with a spoon or spatula. If desired, generously sprinkle the sliced almonds on top.
Baking the cake:
Bake the cake for 50-60 minutes. The cake is ready when you can insert a toothpick in the middle and it comes out with no wet batter (a few moist crumbs are fine). For a cake with a slightly fudgy marzipan-like center, underbake the cake by 5 minutes. Allow the cake to cool in the cake pan for 30 minutes then cool on a wire rack.

To serve, dust the cake with powdered sugar. Serve with fresh berries, yogurt or as desired. Store leftovers in an airtight container at room temperature for 1 day, in the fridge for up to 5 days or in the freezer for up to 1 month.
Notes
I recommend using grams because not all brands of gluten-free all-purpose flour have the same volume measurements as regular all-purpose flour. Some brands will also make the cake batter much thicker than pictured. If so, add a dash of dairy-free milk to ensure the cake isn't dry.
This amount of sugar creates a mildly sweet cake. You can decrease the sugar to ¾ cup (150g) but your cake will be denser and you may be able to taste the baking powder.
The vinegar or lemon juice reacts with the dairy-free milk to make vegan buttermilk and makes a cake more tender. You will not be able to taste the vinegar or lemon juice in the final cake.
Nutrition
Serving:
1
serve
|
Calories:
284
kcal
|
Carbohydrates:
33
g
|
Protein:
5
g
|
Fat:
16
g
|
Sodium:
134
mg
|
Potassium:
19
mg
|
Fiber:
2
g
|
Sugar:
17
g
|
Vitamin A:
0.2
IU
|
Vitamin C:
0.4
mg
|
Calcium:
122
mg
|
Iron:
2
mg