These vegan blueberry cinnamon rolls are soft, buttery and packed with blueberries! They are easy to make and use common pantry ingredients. You can choose between a rich blueberry icing or blueberry cream cheese icing.
If you love cinnamon rolls and blueberries, you'll love this recipe! These blueberry sweet rolls have:
a buttery fluffy dough adapted from my popular vegan brioche recipe
lashings of blueberry puree
gorgeous purple blueberry icing or blueberry cream cheese icing.
Like all good bread recipes, these blueberry rolls take a little time to make (mostly waiting for the dough the rise). If you're after a quicker vegan blueberry dessert, check out my Blueberry Lemon Cake, Blueberry Muffins or Blueberry Bread.
Ingredients to make vegan blueberry rolls
Notes about the ingredients
Bread flour or all-purpose plain flour. Bread flour is high in protein and results in more brioche-like rolls. Plain flour will still create delicious blueberry rolls but they'll be slightly cakier. King Arthur Baking shows the slight differences between bread made with bread flour versus all-purpose flour.
Vegan butter. I tested this recipe with vegan block butter and spreadable vegan margarine and they both work. However, margarine contains more water than block butter so you may need to add more flour.
Fresh or frozen blueberries. I've tried this recipe with both and they work similarly! There might be slight differences with flavor and color.
Instant dried yeast or your yeast of choice. Instant dried yeast doesn't need to be proofed beforehand and makes the rolls rise the quickest! However, active dry yeast will still work well.
Corn starch (corn flour) helps thicken the blueberry filling and glaze. I haven't tested this recipe with other starches.
Ground cinnamon is added to the dough for a nostalgic cinnamon roll flavor.
The full list of ingredient quantities and instructions are in the gray recipe card at the bottom of this post.
Preparing the dough for the blueberry rolls
The best thing about the dough is that you can throw all the ingredients into one bowl and mix (if you use instant yeast)! Just make sure your liquids (milk and butter are WARM).
If you are using active dried yeast, you'll need to mix the yeast with warm milk beforehand, wait until it bubbles and use it in the recipe.
The dough can be kneaded by hand or using a stand mixer.
If you're using a stand mixer, use the dough hook attachment and knead all the ingredients or until your dough is smooth. The dough should be soft and slightly tacky but come away from the sides of the bowl.
If you're preparing the dough by hand, mix all the ingredients in a large bowl until combined. Then turn the dough onto a clean floured surface (such as your kitchen bench) and knead until the dough is smooth. If you aren't sure how to knead the dough, this post by Bon Appetit includes a brief video.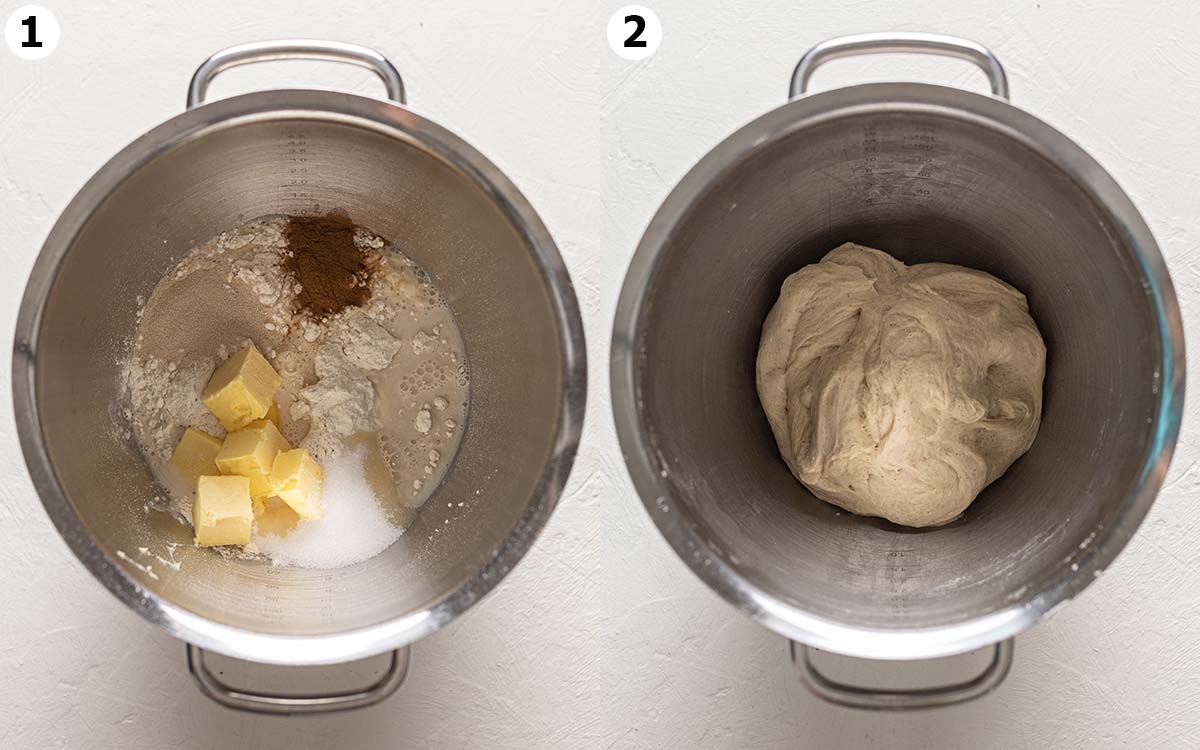 Expert tip: How to tell if the dough has been kneaded enough
It can take anywhere from 5 to 20 minutes to knead the dough for cinnamon rolls.
Dough that has been kneaded for 5 minutes until smooth creates cakier blueberry rolls. They're still delicious but might be a little dense.
If you knead the dough for longer (up to 20 minutes) or until it passes the windowpane test, the gluten strengthens and you'll get softer and stretchier cinnamon buns. For next-level blueberry rolls, I'd recommend kneading your dough for a little longer.
First rise of the dough
Once you've kneaded your dough, place it in a large bowl and cover it with a tea towel. Leave the dough in a WARM draught-free spot in your home for at least 1 hour or until it doubles in size.
The amount of time that it takes for your dough to rise depends on the type of yeast you used, the consistency of your dough and the temperature of your home! Dough made with instant yeast rises the quickest :).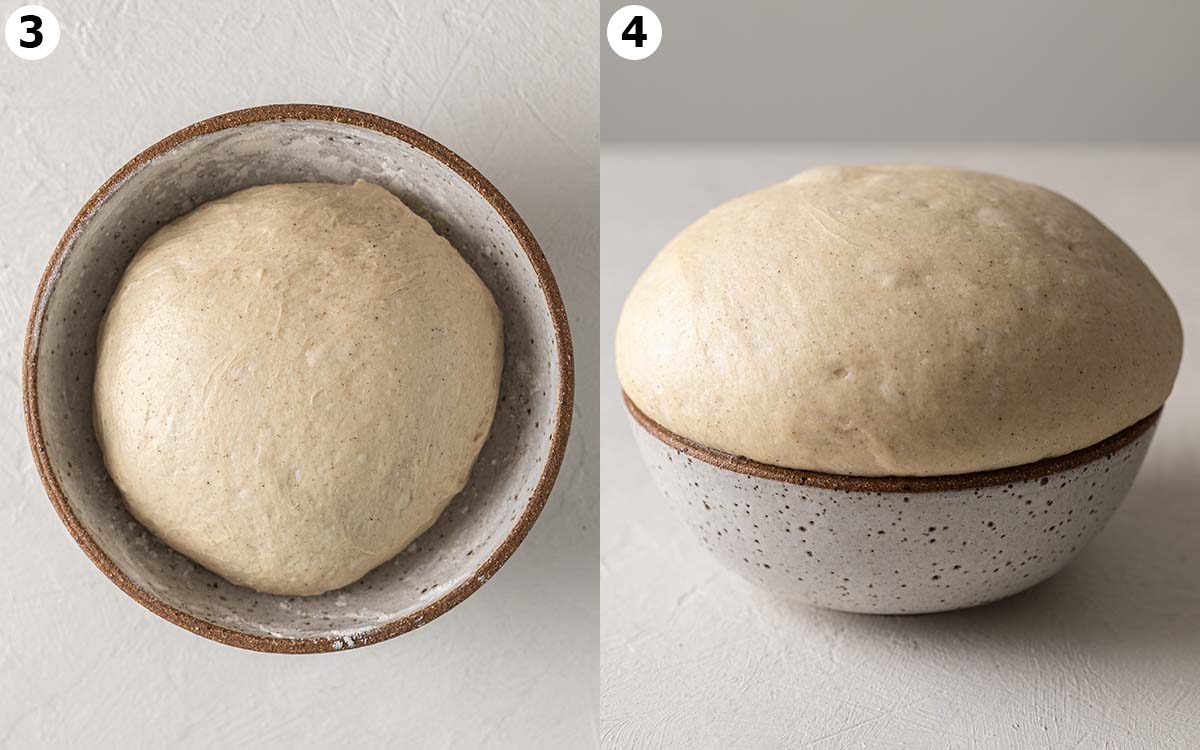 Tips for making the blueberry filling
For simplicity, the blueberry mixture is split into two parts and used for the filling AND topping!
My top tips for making the blueberry mixture are:
If you use fresh berries, add a dash of water to encourage the blueberries to break down. Many frozen berries aren't fully intact so their juices come out quicker.
To encourage the blueberries to soften, use a fork or a stick blender.
If the mixture becomes too thick, simply add a dash of water.
Lastly, allow the blueberry mixture to come to room temperature before spreading it on your dough! Warm blueberries will soften your dough, making it harder to roll up.
Your blueberry mixture will thicken once it cools. A thick mixture will easyer make itTry to make your blueberry mixture THICK! It'll make it easier to shape the rolls.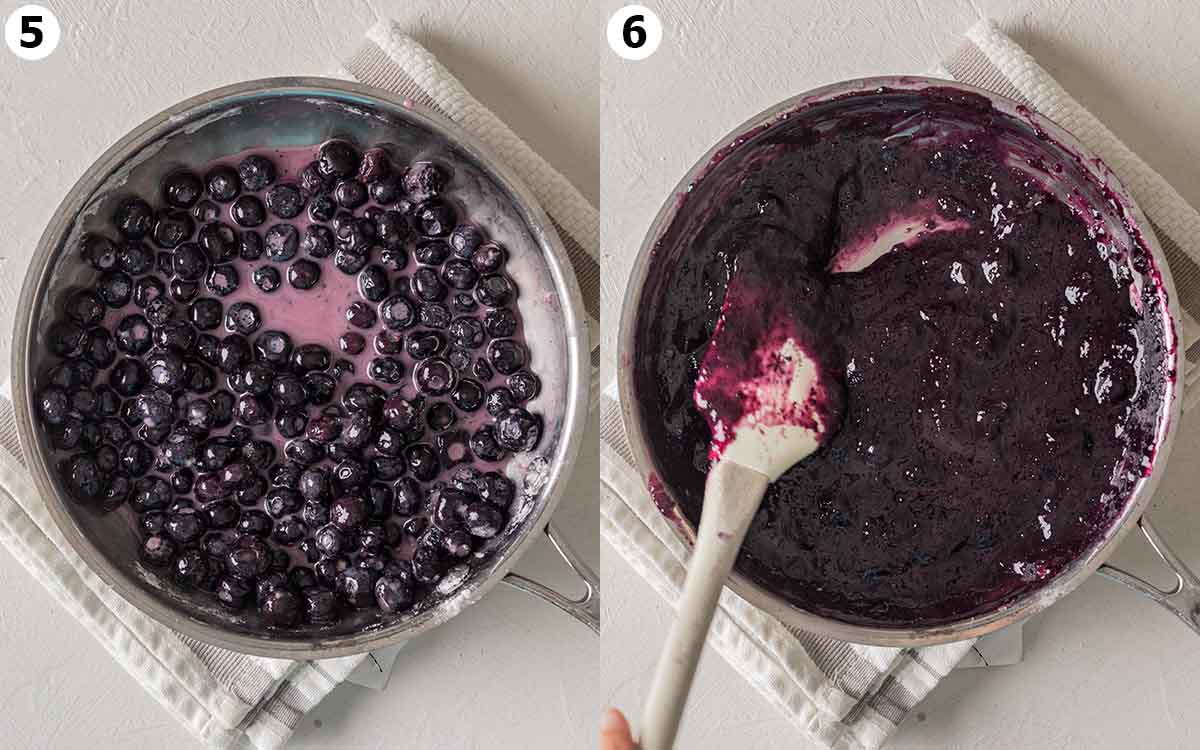 How to assemble the blueberry rolls
These blueberry sweet rolls are assembled like classic cinnamon rolls but are slightly messier. If you haven't made cinnamon rolls before (or need a refresher), I'll walk you through the process!
First, lightly dust a clean surface with flour and place your dough on top. Using a rolling pin, roll out your dough into a rough rectangle shape about 30 x 45 cm (12 x 17 inches) large.
Use a spatula or spoon to spread your blueberry mixture on the dough. If your blueberry mixture is thick, you can spread it to the edges. If your mixture is runny, leave a 1-inch border.
Starting from the long side, carefully and tightly roll up the dough into a log shape, similar to a sandwich wrap or sushi. Don't worry if things get messy - there are lots of blueberries!
For evenly sized vegan blueberry cinnamon rolls, you can use a blunt knife (or any object) to score your log in quarters or 12 parts. To cut the rolls, I'd recommend using a very sharp knife or unflavored dental floss. Check out the video in this post for a detailed guide.
Second rise for the vegan blueberry rolls
Place all of the rolls in a lined or greased baking pan. Cover the rolls with a tea towel, place them in a WARM spot and allow them to rise for the second time.
The rolls will increase in size and become puffy again. If they don't, reposition the baking tray to a warmer spot in your home and be patient!
Then your rolls are ready to bake!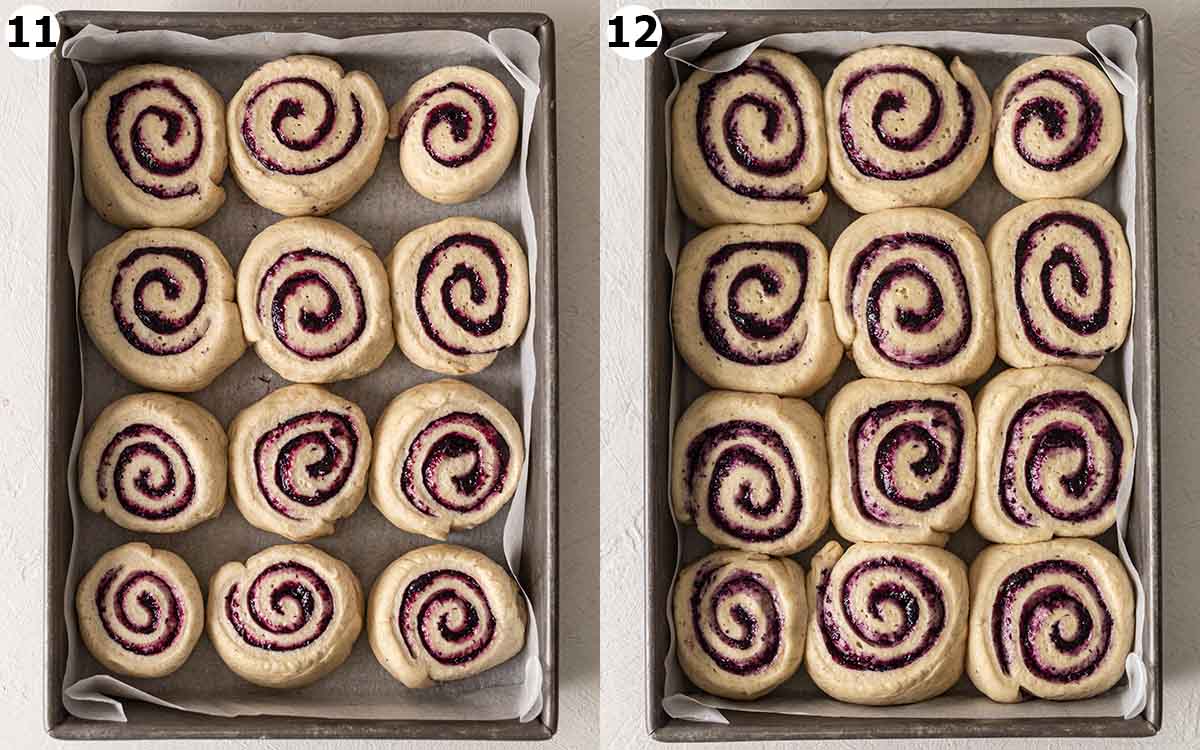 Options for decorating the rolls
These vegan blueberry cinnamon rolls are wonderful with either:
A simple blueberry icing which is very vibrant purple, seen in the last picture of this post (recipe provided below)
A blueberry cream cheese icing which consists of the blueberry icing plus cream cheese (optional recipe provided below). This icing is softer than a regular cream cheese icing due to the high amount of blueberries.
A plain cream cheese icing, such in my jam donut cinnamon roll recipe.
A plain or lemon sugar icing, such as in my lemon poppyseed muffins.
Customizing vegan blueberry cinnamon rolls
Can I use gluten-free flour to make these rolls?
I've tried using a few different gluten-free flour blends in this recipe and unfortunately, the rolls were unpleasant. Bob Red Mill's 1:1 flour works with similar recipes but I haven't tested it myself so I cannot vouch for results!
Can I add other flavors to these vegan blueberry rolls?
For blueberry lemon rolls, substitute about 2-4 tablespoons of the milk with lemon juice. You may also put lemon zest in the filling. I'd also recommend topping the rolls with a simple lemon sugar icing from my lemon poppyseed muffins.

You can also infuse your dairy-free milk with other flavors such as lavender, cardamom or other herbs/spices.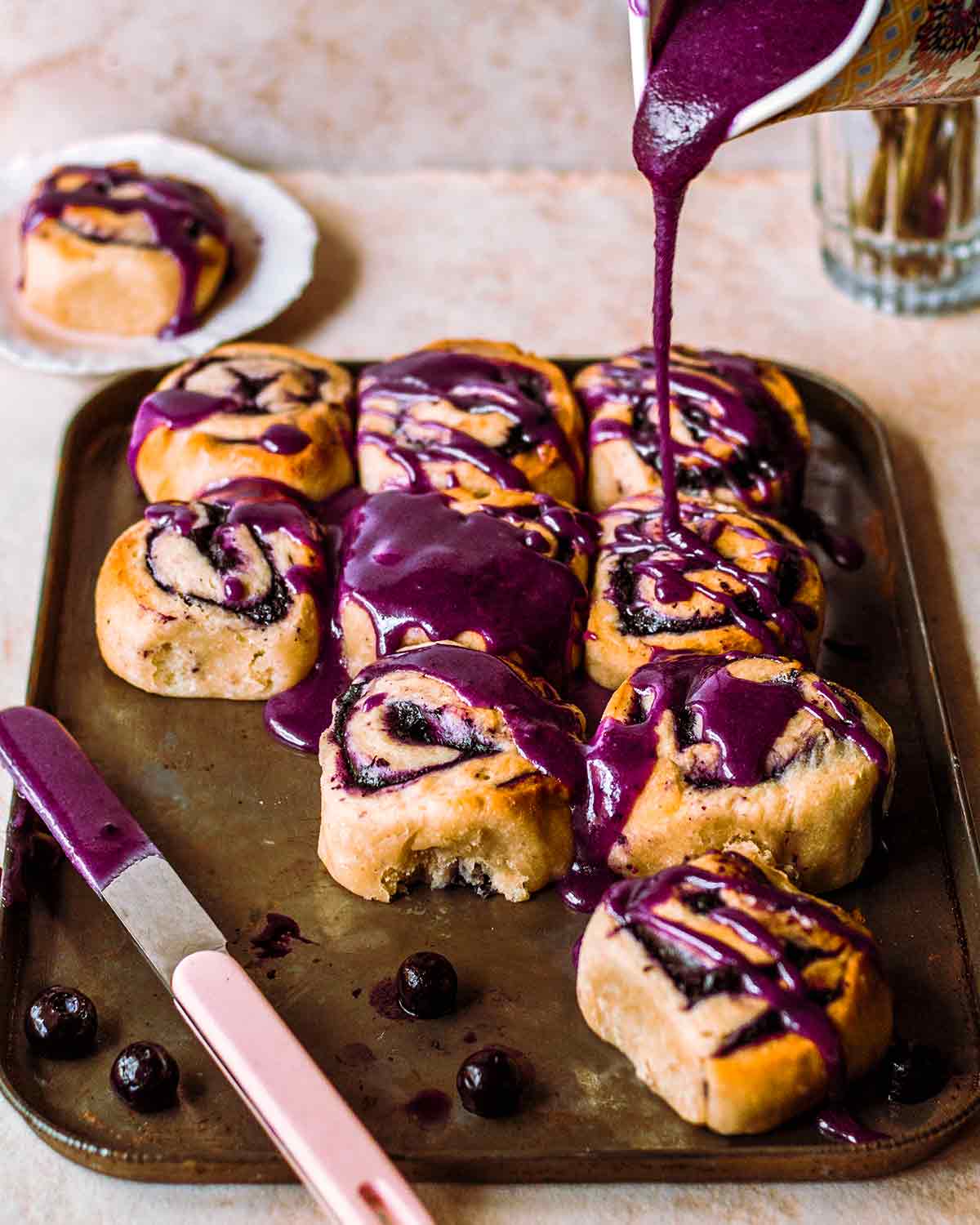 More vegan bread recipes
Follow Rainbow Nourishments on Instagram, Facebook, TikTok and Pinterest, and subscribe via email to receive all of our latest recipes!
Print Recipe
Vegan Blueberry Cinnamon Rolls
These vegan blueberry cinnamon rolls are soft, buttery and packed with blueberries! They are easy to make and use common pantry ingredients.
Instructions
Making the dough:
Add all the ingredients to a large bowl or stand mixer and mix until it comes together. Knead the mixture for at least 5 minutes until it forms a smooth and stretchy dough. Add a little more milk if the dough is too dry or a little more flour if the dough sticks to the bowl.

Cover the bowl with a tea towel. Set it aside in a warm spot for at least 1 hour or until the dough has doubled in size.
Preparing the blueberry filling:
Add all the ingredients to a medium saucepan over medium heat. If you're using fresh blueberries, add a dash of water. Mix all the ingredients so the corn starch is evenly distributed.

Once the blueberries have started to leak their natural juices, use a fork to mash the blueberries or use a stick blender to roughly blend the blueberries. Leave some chunks in the blueberry mixture if desired.

Allow the blueberry mixture to cook until slightly thick. Set aside to cool. The mixture will thicken as it cools.
Assembling the blueberry rolls:
Grease or line a large cake or casserole tray about 33 x 23 cm (13 x 9 inches) large.

Lightly dust a clean surface with flour. Roll out the dough into a rectangular shape about 30 x 45 cm (12 x 17 inches) large.

Scoop only half of the cooled blueberry mixture onto the dough, reserving the remaining mixture. Use a large spoon or spatula to spread the puree on the dough so it's close to the edge.

Starting from the long side, tightly roll the dough into a tube. Use a sharp knife or unflavored dental floss to cut rolls out of the dough.

Arrange the rolls in your prepared baking tray. Place a tea towel over the rolls and set aside to rise for at least 1 hour. The rolls are ready when they are puffy again and have increased in size by at least 50%.
Baking the rolls:
When the rolls are puffy again, preheat the oven to 180°C (350°F).

Bake the rolls for around 20-25 minutes. The rolls are ready when they are slightly golden brown or when you insert a skewer in one of the middle buns and it doesn't have wet dough on it. Set aside to cool.
Making the blueberry icing:
Add the powdered sugar to the remaining blueberry mixture. If you'd like a blueberry cream cheese icing, add the cream cheese as well.

Mix the ingredients (for a chunky icing) or blend with a stick blender (for a smooth icing).
Serving:
When the rolls have cooled slightly, drizzle with your icing of choice.

The scrolls are best eaten the day they are baked. Alternatively, store them in an airtight container at room temperature for 1-2 days or in the fridge for up to 5 days. Warm up the rolls before enjoying them again!
Notes
If you use vegan margarine, you will need to add a little more flour to your dough.
Instant yeast doesn't need to be 'activated' or 'bloomed' beforehand. However, if you use another type of yeast, combine it with the warm milk from the recipe and a pinch of sugar beforehand. Wait until it bubbles then use it in the dough.
Nutrition
Serving:
1
roll with glaze
|
Calories:
299
kcal
|
Carbohydrates:
55
g
|
Protein:
4
g
|
Fat:
7
g
|
Sodium:
91
mg
|
Potassium:
71
mg
|
Fiber:
2
g
|
Sugar:
24
g
|
Vitamin A:
380
IU
|
Vitamin C:
2
mg
|
Calcium:
40
mg
|
Iron:
2
mg
This post may contain affiliate links. As an Amazon Associate, I may earn a small commission from qualifying purchases at no additional cost to you.