If you love cinnamon scrolls and blueberries, I've got just the treat for you! A melt-in-your-mouth golden pastry rolled around a fruity berry filling with a luscious deep purple glaze!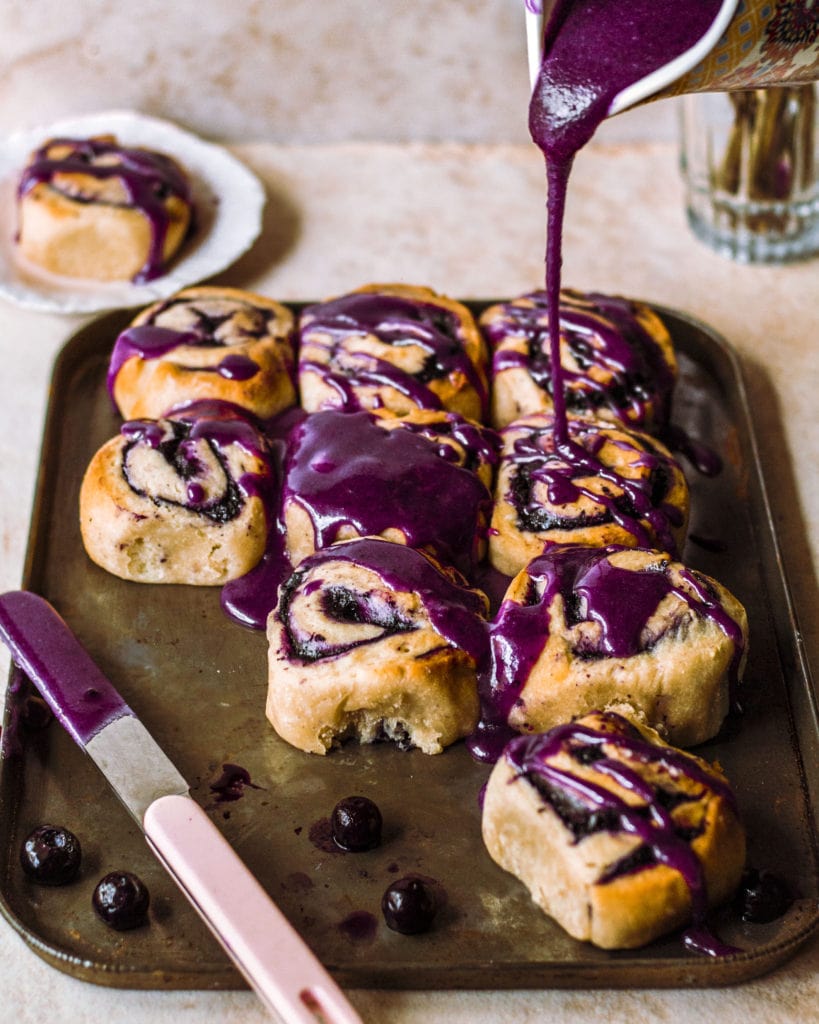 The other day, it occurred to me that Australians call these pastries 'scrolls' but people in the USA and UK refer to them as rolls and buns. What do you call them??? I've been super conscious of different cultural food phrases as my cookbook publisher is American while I obviously use Aussie phrases. I did a poll of the 'scroll vs roll' question on my Instagram and received a few messages on different cultural phrases concerning food. Some include:
slices vs bars
plain flour vs all-purpose flour
cookies vs biscuits
porridge vs oatmeal
chips vs crisps vs fries
crumbed vs breaded
I wonder how these words evolved over time so that different cultures use different words?!?! It's so interesting!
Anyway, I hope you enjoy this recipe!
---
If you try this recipe, I would love to hear about it! Comment below and rate it as it would really help us and other readers! If you post it on social media, tag @rainbownourishments and #rainbownourishments.
Print Recipe
Ultimate Blueberry Cinnamon Scrolls with a Blueberry Glaze
Ingredients
Scrolls
3

cups (450g)

plain or all-purpose flour,

plus more for dusting

3/4

cup (180mL)

plant-based milk, such as almond, soy or coconut

,

warm

1/2

cup (115mL)

melted vegan butter

,

OR light-tasting vegetable oil, such as sunflower, rapeseed or refined coconut*

1/4-1/2

cup (40-80g)

coconut sugar,

or organic cane sugar

1

tablespoon (9g)

fast-acting yeast

1

tablespoon

ground cinnamon

Pinch of

nutmeg powder

Pinch of

any good-quality salt
Scroll filling and glaze
1

cup (150g)

fresh or frozen blueberries

1-2

cups (100-200g)

organic powdered sugar (or sub with around 1/4 cup or 100g maple syrup)

,

to taste

2

tablespoons

corn flour or corn starch

1

tablespoon

ground cinnamon

Dash of vanilla extract
Instructions
To make the scrolls: Combine all of the ingredients in a large bowl and mix until it comes together. If you have a stand mixer, you can do this using your dough hook. Knead the mixture until it forms a cohesive and smooth dough. Leave the dough in the bowl or stand mixer, cover with a tea towel and leave it in a warm place for at least 1 hour or until the dough doubles in size.

To make the scroll filling: Add all of the blueberries, a dash of water and a few tablespoons of sugar or maple syrup to small saucepan. Bring to a boil for 3 minutes then reduce to medium heat for 5 minutes. Sift in the cinnamon, cornflour and add the vanilla extract. Use a stick blender to roughly blend the blueberries to form a chunky puree. Return the saucepan to the heat and stir until the mixture thickens. Set aside to cool.

Lightly dust a clean surface with flour. Scoop out the dough and use a rolling pin to flatten the dough into a rectangular shape. Spread the majority of the cooled blueberry puree onto the rectangle, leaving some puree left in the saucepan.

Starting from the long side of the pastry, roll the pastry into a tube. Use a sharp oiled knife to cut scrolls out of the pastry. Arrange on a lined baking tray leaving a little space in between each scroll.** Place a tea towel over the scrolls and set aside to rise.

Preheat the oven to 180°C (350°F).

To make the scroll glaze: Add the remaining powdered sugar or a drizzle of maple syrup to the remaining blueberry puree. Simmer the mixture on low heat until it thickens. Use a stick blender to thoroughly blend the puree and set aside.

Bake the scrolls in the oven for 25-30 minutes or until they are slightly golden brown or when you insert a skewer in one of the middle scrolls and it comes out clean.

When the scrolls have cooled slightly, drizzle with the blueberry glaze.

The scrolls are best eaten the day they are baked. Alternatively, store them in an airtight container at room temperature for 1-2 days.
Notes
* The butter results in a more traditional and rich pastry whereas the oil makes the texture a little heavier but still delicious. If you use salted vegan butter, you don't need to add a pinch of salt. If you use oil, add around 1/4 cup (40g) more flour.
** For a visual guide on how to make the scrolls, refer to the pictures on this blog post.