Flaky vegan chocolate rugelach, a delicate pastry which is a lot easier to make than it looks! I've included step-by-step pictures of how to make rugelach.
What is rugelach?
Rugelach is a crescent-shaped pastry often pronounced as 'ru-ger-lark' or 'ru-ger-lac'. Even though it has a similar appearance to croissants, its texture is more dense.
Rugelach seems to have origins in Jewish culture in Europe, particularly Eastern Europe. These days it's very common in Israel (where I tried it) and in the American Jewish communities. In Australia, I personally haven't seen it in shops but my partner (who is half Eastern European) says he grew up with it!
There are two main versions of rugelach: a yeasted version and a biscuit version. Both usually have a crescent-like shape and filled with chocolate, jams, poppy seeds or nuts. This recipe is for the yeasted version! When I visited Israel in early 2020 with Vibe Israel, the yeasted rugelach was more popular.
Rugelach can vary so much but this recipe is:
Flaky with lots of beautiful layers
Moist and not too dry, when fresh
Not too sweet
What ingredients are in this vegan chocolate rugelach?
This yeasted rugelach uses:
Plain flour
Cane sugar (make sure it's organic if you're vegan)
Plant-based milk
Active dried yeast
Plant-based butter
Cream cheese
The ratios of ingredients are very similar to my extremely tried and tested recipes including my vegan brioche and chocolate babka. I strongly recommend checking out either post to see what your dough should look like before assembling the rugelach.
For these rugelach I replaced half the butter with cream cheese in my original brioche dough. This makes the rugelach richer and more like pastry. New York's Breads Bakery uses babka dough as the base of their rugelach – I haven't tried their version but in order to create a flaky pastry, I did the same for this! Plus, if you already know a recipe works, stick with it!
Adding cream cheese to the rugelach dough seems to be an Americanisation of the traditional pastry and a common practice in the Western world. People who grew up with rugelach may think it's a little odd to have cream cheese in the recipe. However, I think it's similar to how pizza in Italy is very different from pizza in other countries. Or vegan sushi in Japan is nothing like vegan sushi around the world!
Ingredient substitutions
If you don't have all the ingredients at home or you have particular dietary preferences, here are possible substitutions:
Sugar: To make the rugelach refined sugar free, you can use coconut sugar instead of cane sugar.
Yeast: I haven't tried this recipe with different types of yeast but if you do, let me know!
Butter: Can be substituted with oil
Cream cheese: Can be substituted with butter or oil
I've been told that bakeries in Israel often use oil instead of butter in order to make it parve / pareve to accommodate the large Jewish kosher community… sooo using oil instead of butter doesn't make the vegan rugelach less 'authentic'!
How to make chocolate rugelach: Method 1
This first method of making chocolate rugelach is easy, quick and results in a slightly layered pastry.
Once you've made and rested your dough, you'll need to shape it! Roll out the dough into a circular shape (like a pizza). Make sure you roll the dough as thinly as possible as it'll give you pastry more delicious layers. Spread your chocolate ganache to the edges, cut the dough into segments then roll it up from the edge to make little 'snails'.

These vegan chocolate rugelach look elegant, cute and didn't need much effort! Place them on a lined baking tray and let them rest – you've worked them hard and you've worked hard yourself!

How to make chocolate rugelach: Method 2
The second and more lengthy way of making vegan rugelach is where you 'laminate' or fold layers of chocolate into the dough. It's easy but just takes a bit of time – here are pictures to walk you through the process.
Roll the dough into a long rectangular shape and spread some of the ganache on the bottom two-thirds of the dough. Fold down the top third of dough and cold up the bottom third. You'll eventually have a 'parcel' which needs to be placed in the fridge to rest and chill.
After it's rested, flatten/roll the dough into a long rectangular shape again. Your dough may quite firm at this stage so consider the rolling free exercise!
Repeat the steps above (spread chocolate ganache on two thirds of the dough and fold). Set aside and chill the dough.
Once you've done that, you need to:
Roll out the dough one last time
Spread the chocolate ganache on the entire surface
Cut into long segments and shape as desired

Laminating the dough results in a super flaky pastry with LOTS of layers! I'm always up for short cuts BUT the second method is well worth the patience and hard work! The pastry is soo much more fun and delicious to eat :).

In the below picture, the left rugelach uses 'Method 2' and has many delicate layers. The right rugelach uses 'Method 1' and has one distinct layer.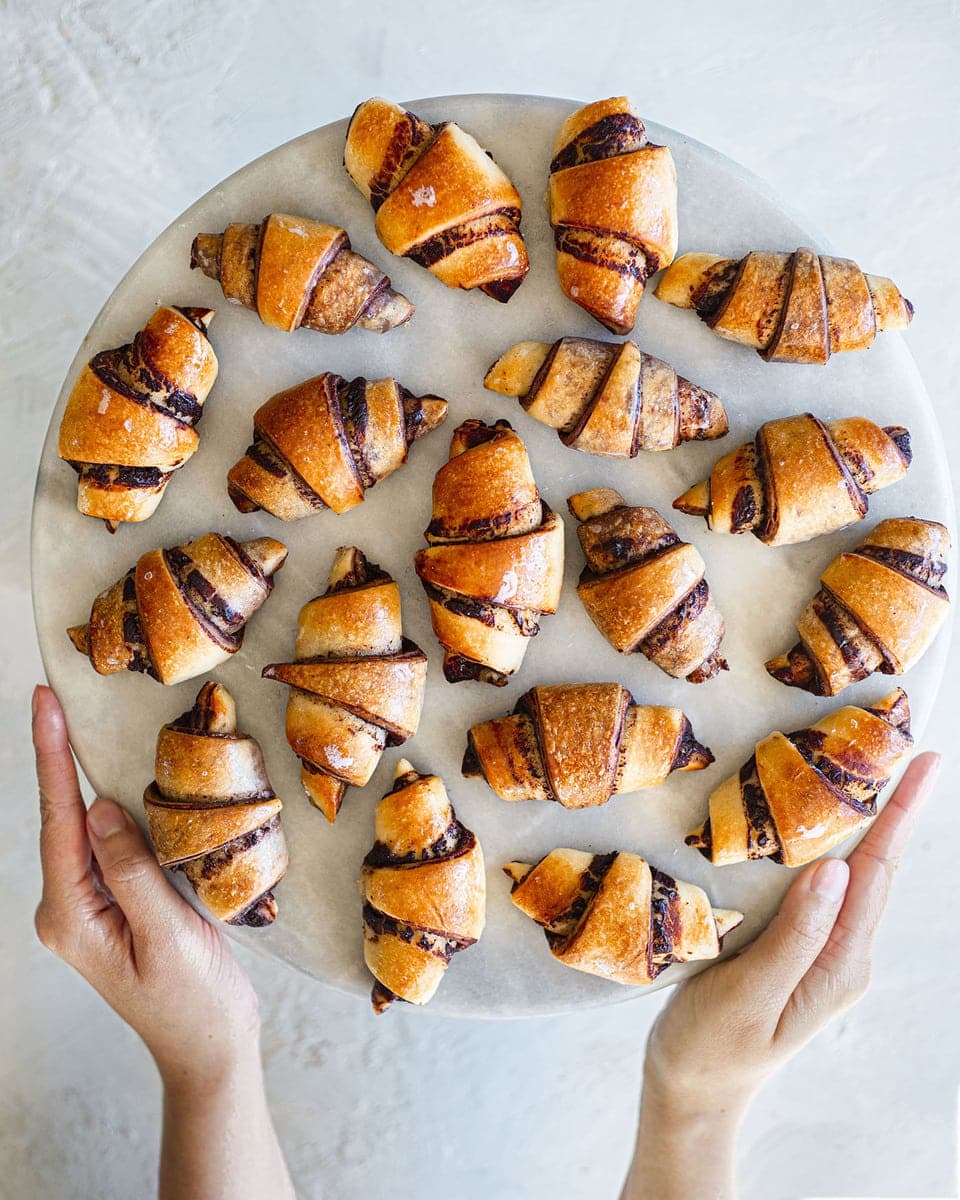 Check out my other vegan Jewish inspired recipes:
Or do you want other vegan pastry/bread recipes?
Print Recipe
Vegan Chocolate Rugelach
Servings:
20
small rugelach pastries
Ingredients
Dough*
2

cups (190g)

plain or all-purpose flour

1/4

cup (60mL)

plant-based milk, such as almond, soy or coconut

1/4

cup (50g)

cane sugar,

or coconut sugar

3

tbsp (40g)

vegan butter*

3

tbsp (45g)

vegan cream cheese**

5g

instant dried yeast***

Pinch of

any good-quality salt

,

if your butter is not salted
Chocolate Ganache Filling
1/4

cup (60g)

canned coconut cream

1/2

cup (50g)

roughly chopped chocolate or chocolate chips

,

70% dark sweetened or chocolate of choice
Sugar Glaze
1/4

cup (50g)

cane or coconut sugar

Dash of

water
Instructions
To make the dough:
Combine all ingredients in a large bowl or stand mixer and mix until it comes together. Knead the dough for 5-10 minutes or until the dough becomes soft, stretchy and comes away from the side of the bowl. If it continues to stick, add a little more flour and knead again.

Leave the dough in the bowl or stand mixer, cover with a tea towel and leave it in a warm place for at least 1 hour or until the dough doubles in size. See my vegan brioche recipe for pictures on what your dough should look like.
To make the ganache:
Add both ingredients to a small saucepan over low heat. Mix until just melted and set aside to cool. It *must* be cool before you spread it on the dough.
Assembling the rugelach:
Method 1: Dust a clean surface with flour. Roll out the dough into a circular shape as thin as possible. Spread all the ganache onto the circle. Use a knife or pizza cutter to cut around 12 segments in the dough (like a pizza). Starting from the long edge, roll each segment into a rugelach shape.

Method 2: Dust a clean surface with flour. Roll out the dough into a rectangle and spread some of the ganache on the bottom two-thirds of the dough. Fold down the top third of dough and fold up the bottom third forming a 'parcel'. Set aside to chill in the fridge for at least 10 minutes. Flatten the 'parcel' with a rolling pin into a rectangle. With some more ganache, repeat the spreading, folding and chilling of the dough. After the dough has chilled twice, flatten the dough for the last time and spread the remaining ganache on the surface. Use a knife or pizza cutter to cut the dough in half and a zig zag motion to create triangular segments. Starting from the long edge, roll each segment into a rugelach shape.

Place each rugelach on a lined baking tray, with the tip of the dough underneath. Loosely cover the tray and allow the rugelach to rest and rise for at least 1 hour. Or you can put them in the fridge and bake them tomorrow.
Baking the rugelach:
Preheat the oven to 180°C (350°F). Bake the rugelach for 10-15 minutes or until they are slightly golden.

To make the sugar glaze, add all ingredients to a small saucepan over medium heat. Mix until the sugar has melted.

Brush the warm rugelach with the sugar glaze. Enjoy on the day of baking or store in an airtight container for 1-2 days.
Notes
* You should be able to substitute butter for a light-flavoured oil. I haven't tried oil with this exact recipe but I've used it in brioche which has a similar ingredient ratio to the rugelach dough.
** I used Miyoko's Plain Cultured Cream Cheese. You can substitute this for butter or a light-flavoured oil.
*** Instant yeast doesn't need to be 'activated' or 'bloomed' beforehand. However, if you use another type of yeast, combine it with warm milk and a pinch of sugar beforehand. Wait until it bubbles then use it in the recipe.
Please leave a comment below if you made this recipe, have any questions or thoughts! Your comment will help other readers and Rainbow Nourishments.