These vegan gingerbread cinnamon rolls are a fun twist on classic cinnamon rolls! They're incredibly soft and fluffy and perfect for Christmas!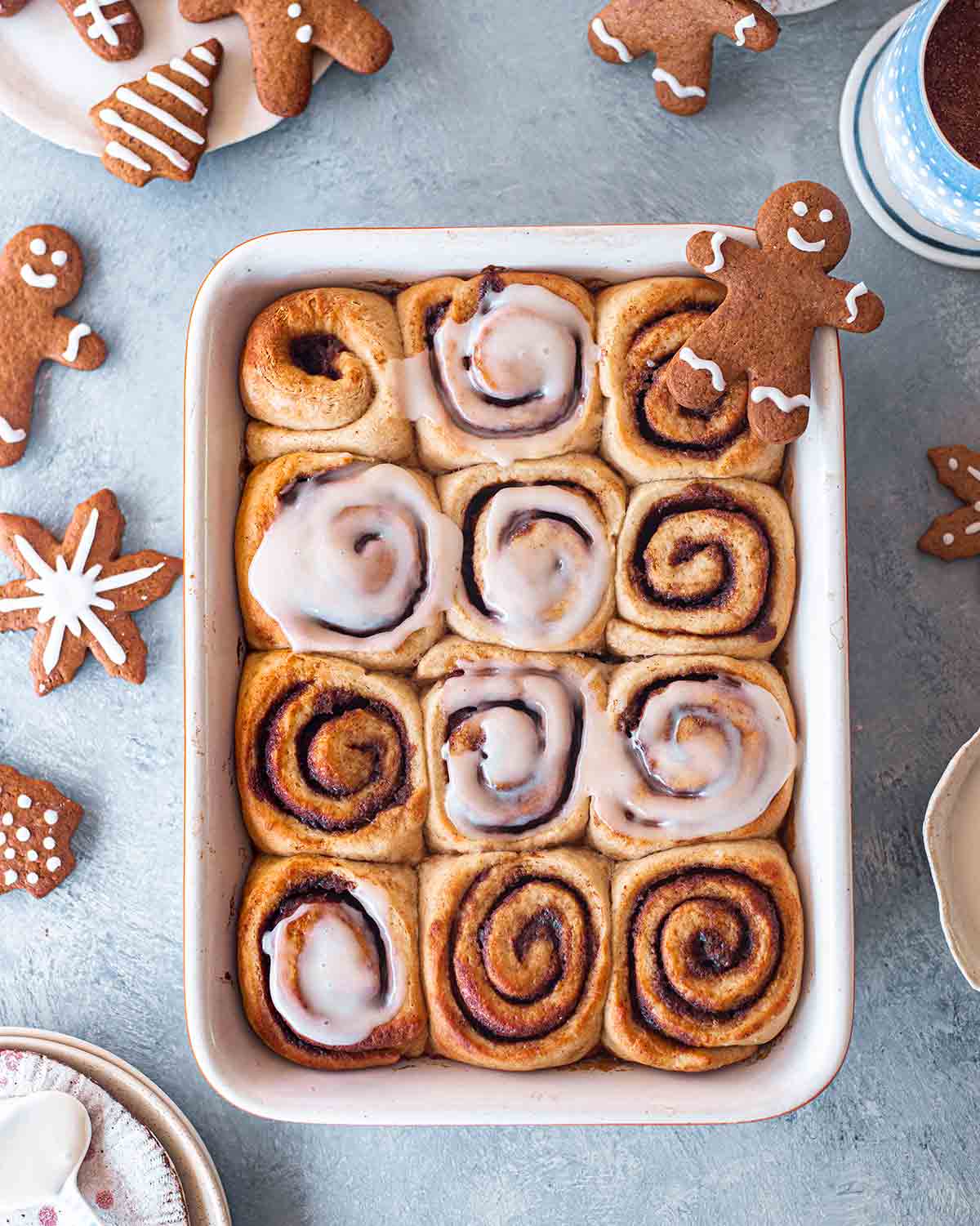 Why you'll love this recipe
These are basically like cinnamon rolls but with a gingerbread cinnamon filling and optional gingerbread cookies on top! They are soooo comforting and remind you of Christmas at every bite!
I've served these at non-vegan family Christmas events and the whole baking tray is often devoured within minutes!
Like any cinnamon roll or yeasted bread recipe, it takes some time to prepare this recipe but the results are well worth it!
Ingredients you'll need
This recipe combines a basic vegan brioche recipe with a generous gingerbread spice filling. You'll need:
Notes about the ingredients
Compared to my other cinnamon roll recipes, I used melted butter instead of room temperature butter. This helps kickstart the rising process, especially for those who have Christmas in Winter!
Making the dough for the gingerbread rolls
Simply add all the ingredients to your stand mixer and knead it for around 5 minutes until your dough is smooth and elastic. If you don't have a mixer, you can mix all the ingredients in a large bowl then transfer it to a floured surface and knead until smooth.
The dough should be soft, stretchy and slightly tacky. If there are any large cracks in it, add more milk and knead until it's soft. If the dough sticks to the side of the bowl, add more flour and knead again.
Once you've kneaded your dough, place it in a bowl and cover it with a damp tea towel. Then place it in a WARM spot. It should double in size in an hour or so.
Filling for the vegan gingerbread cinnamon rolls
While the dough is resting, you can make your filling for the gingerbread rolls! It's a simple mixture of:
melted vegan butter
brown or coconut sugar
gingerbread spices (cinnamon, ginger, nutmeg)
Simply mix all ingredients in a bowl until a smooth paste forms. It may not look like much filling but a little goes a far way.
As much as I love cinnamon, we don't want TOO much of a filling otherwise it oozes out of the gingerbread rolls when we bake them.
Assembling the gingerbread cinnamon rolls
Dust a clean surface with flour such as a chopping board or kitchen bench. Then use a rolling pin or jar to roll your dough into a rough rectangular shape.
The thinner your dough, the more 'swirls' your cinnamon rolls will have! I rolled my dough so it was about 5mm thick.
Use a spatula to spread the gingerbread 'buttercream' filling on the surface, about 2 cm (1 inch) away from the edge. Once you've done this, carefully roll up your dough into a log shape!
Tips for cutting the gingerbread rolls
Before cutting your rolls, I'd recommend scoring your 'log' into quarters. This ensures your rolls are roughly even!
I used a sharp knife to cut rolls out of my dough log. However, unflavoured dental floss also works well!
Second rise of the gingerbread rolls
Place the rolls in a greased baking tin the cover with a tea towel. In an hour or so, they will increase in size!
Making the gingerbread rolls in advance
These rolls can definitely be prepared beforehand. If you want to enjoy them on Christmas day, you can start making them the day before! You can either:
Chill the dough in the fridge during the first rise (before they are shaped). The dough will double in the fridge and you can shape them the next day. The advantage of this method is that chilled dough is easier to work with than warm dough!
Chill the rolls after they are shaped while they're in your baking tin. 2 hours before you need the rolls, allow them to come to room temperature then bake away!
Troubleshooting vegan cinnamon rolls
I've tested this recipe many times to ensure the recipe is as fool-proof as possible. However, like any dessert recipe, variations with brand of ingredients and even the climate you're baking in affects the process a lot.
TEMPERATURE: If your dough don't rise, reposition it into a warmer spot in your house. We're working with an enriched dough where the butter sometimes inhibits the rising process. However, if the dough is in a warm spot, the butter is softer and the dough is more likely to rise.
DOUGH IS TOO SOFT: If your dough is too soft (maybe because it's a hot day), it will be more difficult to shape into neat rolls. If you've already kneaded it (and can't add any more flour to it), simply CHILL the dough. This makes it soooo much easier to work with.
DOUGH IS TOO TOUGH: If your dough is too tough at the kneading stage, simply add more liquid then knead it again. It's difficult to add moisture to the rolls once you've passed this stage.
More Vegan Christmas recipes:
Follow Rainbow Nourishments on Instagram, Facebook, and Pinterest, and subscribe via email to receive all of our latest recipes!
Print Recipe
Vegan Gingerbread Cinnamon Rolls
Fluffy and soft vegan gingerbread cinnamon rolls perfect for Christmas! Easy to make and more fun than classic cinnamon rolls.
Instructions
To prepare the gingerbread roll dough
Combine all the ingredients in a stand mixer or large bowl. Mix then knead for 5-10 minutes until the dough is smooth and elastic. Add a little more milk if the dough is too dry or a little more flour if the dough sticks to the bowl.

Place the dough in a bowl and cover with a damp tea towel. Leave it in a warm place for at least 1 hour or until the dough doubles in size. If the rolls don't double, reposition them in a warmer spot in your house.
Gingerbread roll filling
Combine all the ingredients in a small bowl until a paste forms and there are no lumps. Set aside.
To assemble the gingerbread rolls
Lightly dust a clean surface with flour.** Scoop out the dough and use a rolling pin to flatten the dough into a rectangle. Spread the filling on the surface 2 cm (1 inch) away from the edge.

Starting from the long side, roll the dough into a log. Use a sharp knife to cut rolls out of the log. Arrange on a greased baking tray leaving a little space in between each roll to rise further. Place a tea towel over the rolls and set aside to rest for at least 1 hour or until they increase in size by at least 50% and are puffy.
Frosting:
Combine all the ingredients in a small bowl until smooth. Add more sugar for a firmer frosting. Chill in the fridge until needed.
Baking the gingerbread rolls:
When your rolls are ready to bake, preheat the oven to 180°C (350°F).

Bake the rolls in the oven for 15-20 minutes or until they are slightly golden brown. If you insert a skewer in one of the middle rolls, there should be no raw dough on it.

When the rolls have cooled completely, spread the glaze on top. If desired, top with gingerbread cookies.

The rolls are best eaten the day they are baked. Alternatively, store them in an airtight container at room temperature for 1 day or in the fridge for 1-2 days.
Notes
* Instant yeast doesn't need to be 'activated' or 'bloomed' beforehand. However, if you use another type of yeast, combine it with warm milk and a pinch of sugar beforehand. Wait until it bubbles then use it in the recipe.
** If you're in a warm climate and your dough is too soft to be rolled out, chill it in the fridge for freezer for at least 30 minutes or until it's firm enough to be rolled out.
Nutrition
Serving:
1
roll without frosting
|
Calories:
263
kcal
|
Carbohydrates:
40
g
|
Protein:
4
g
|
Fat:
10
g
|
Sodium:
128
mg
|
Potassium:
84
mg
|
Fiber:
3
g
|
Sugar:
8
g
|
Vitamin A:
553
IU
|
Vitamin C:
1
mg
|
Calcium:
67
mg
|
Iron:
2
mg
This post was originally published in November 2019 but updated in November 2020.
This post may contain affiliate links. As an Amazon Associate, I may earn a small commission from qualifying purchases at no additional cost to you.