Vegan brioche buns which are buttery, fluffy and super easy to make! The buns can be made sweet or savoury and in a variety of sizes.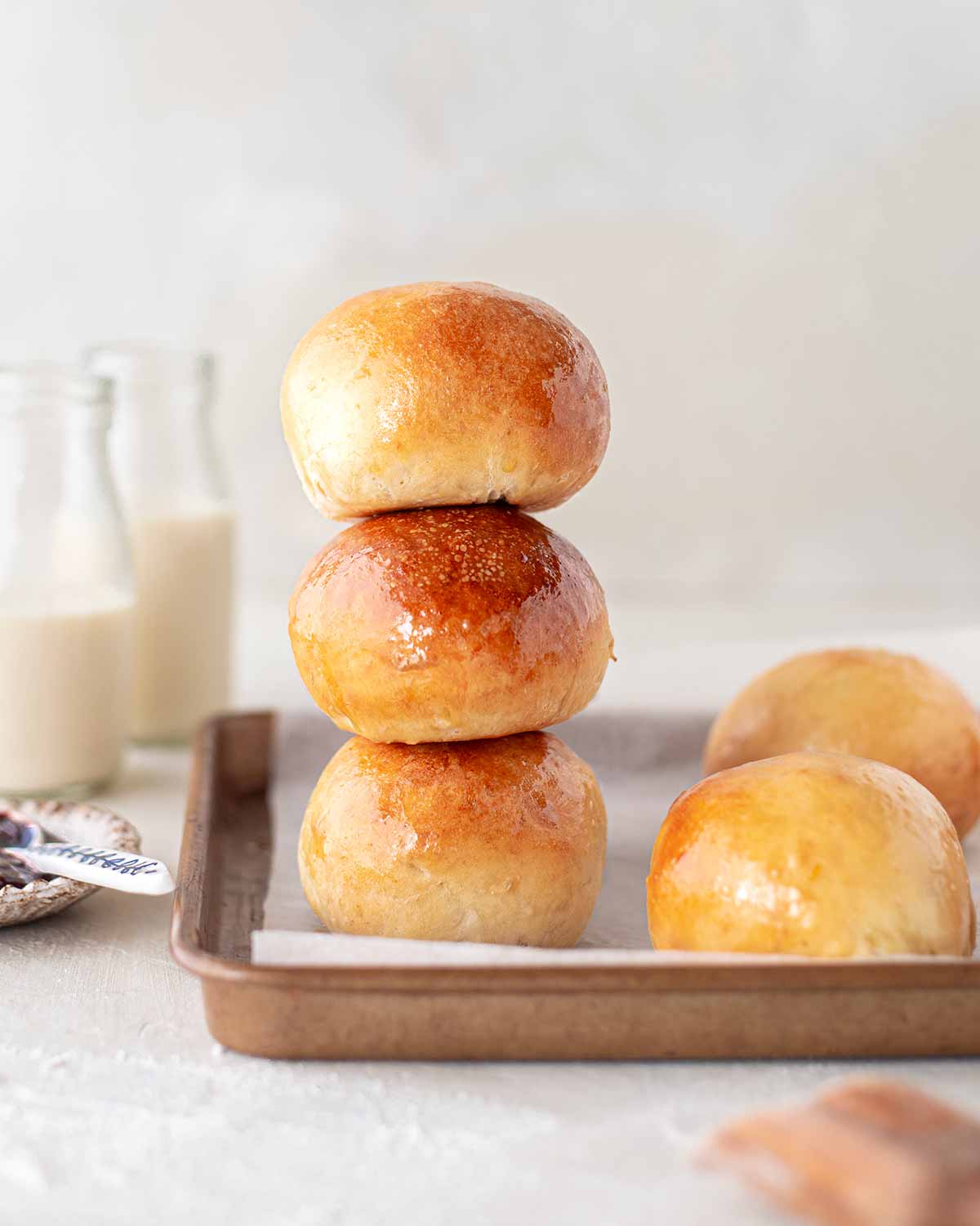 Is brioche vegan?
Brioche is a buttery French bread often eaten by itself or used in sweet or savoury dishes.
Traditionally, brioche is not vegan as the dough is laden with eggs, dairy milk and butter. Also, traditional brioche is often glazed with egg wash to give it a golden and shiny appearance and to trap in the moisture.
Much to my surprise, it's easy to veganise this French bread. I used simple substitutes such as vegan butter and non-dairy milk!
In traditional brioche, eggs add fat and act as a leavening agent. However, you don't needs eggs at all if you use a little extra vegan butter and enough yeast.
How to make vegan brioche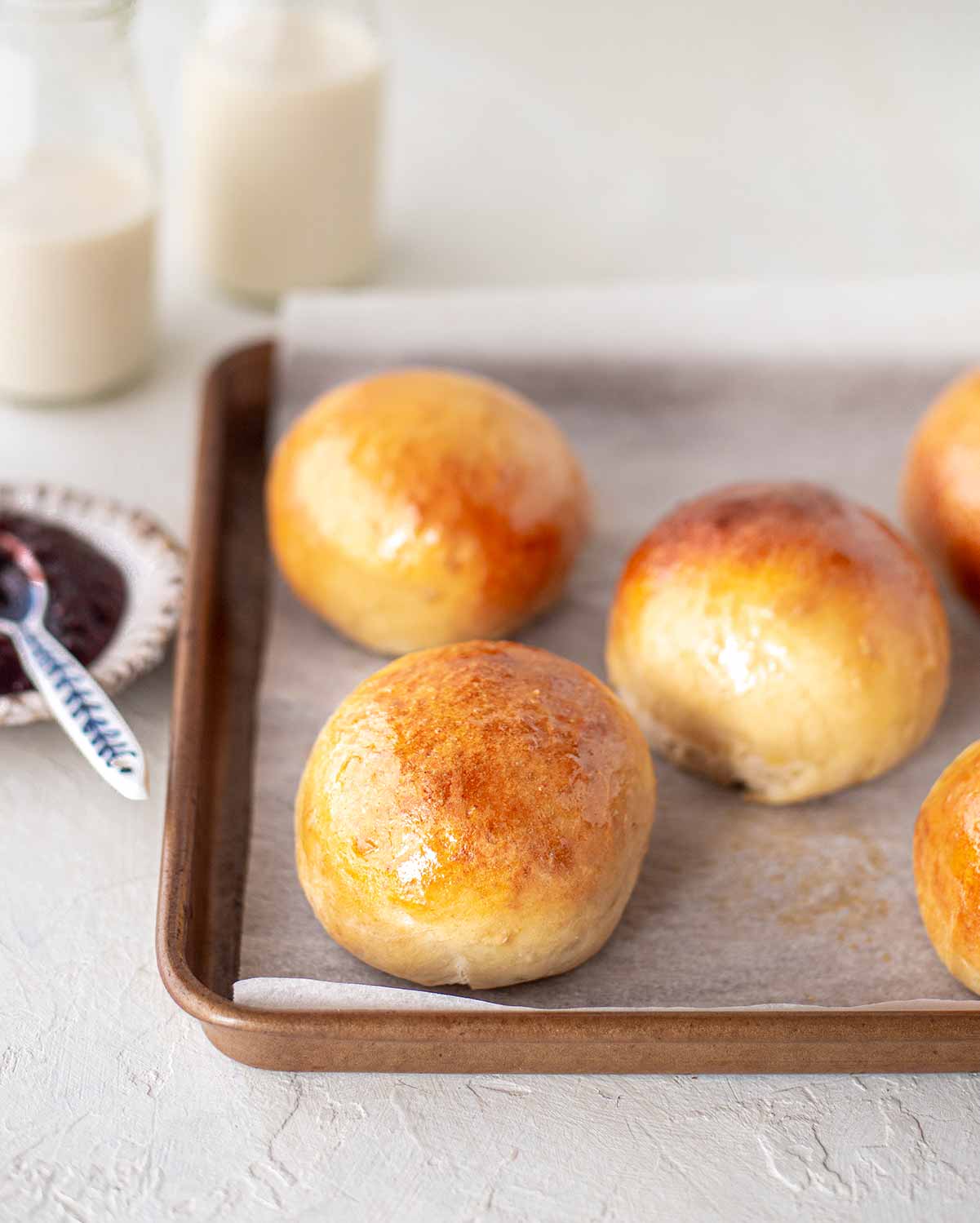 These vegan brioche buns uses the same ingredients (but slightly different ratios) as my Buttery Vegan Brioche Loaf recipe. In order to avoid repetion, head over there for step by step pictures.
This brioche bun recipe serves more people and makes 8 hand-sized buns. It's seriously an easy vegan bread recipe!
My biggest tip for making vegan brioche
It's essential that your brioche dough increases to double its size (or thereabouts) during the first rise. Unfortunately, if it doesn't double your final brioche will be dense and heavy.
To ensure your brioche doubles, you need to make sure:
Your yeast is active
The dough is placed in a WARM place. Unlike conventional bread, this french bread dough has butter which can inhibit its rise. So, if you place the dough in a warm spot, the butter will soften and your dough will rise easier.
If you use a glass bowl, you'll be able to see lots of bubbles and air pockets if your dough has risen successfully.
Shaping the vegan brioche buns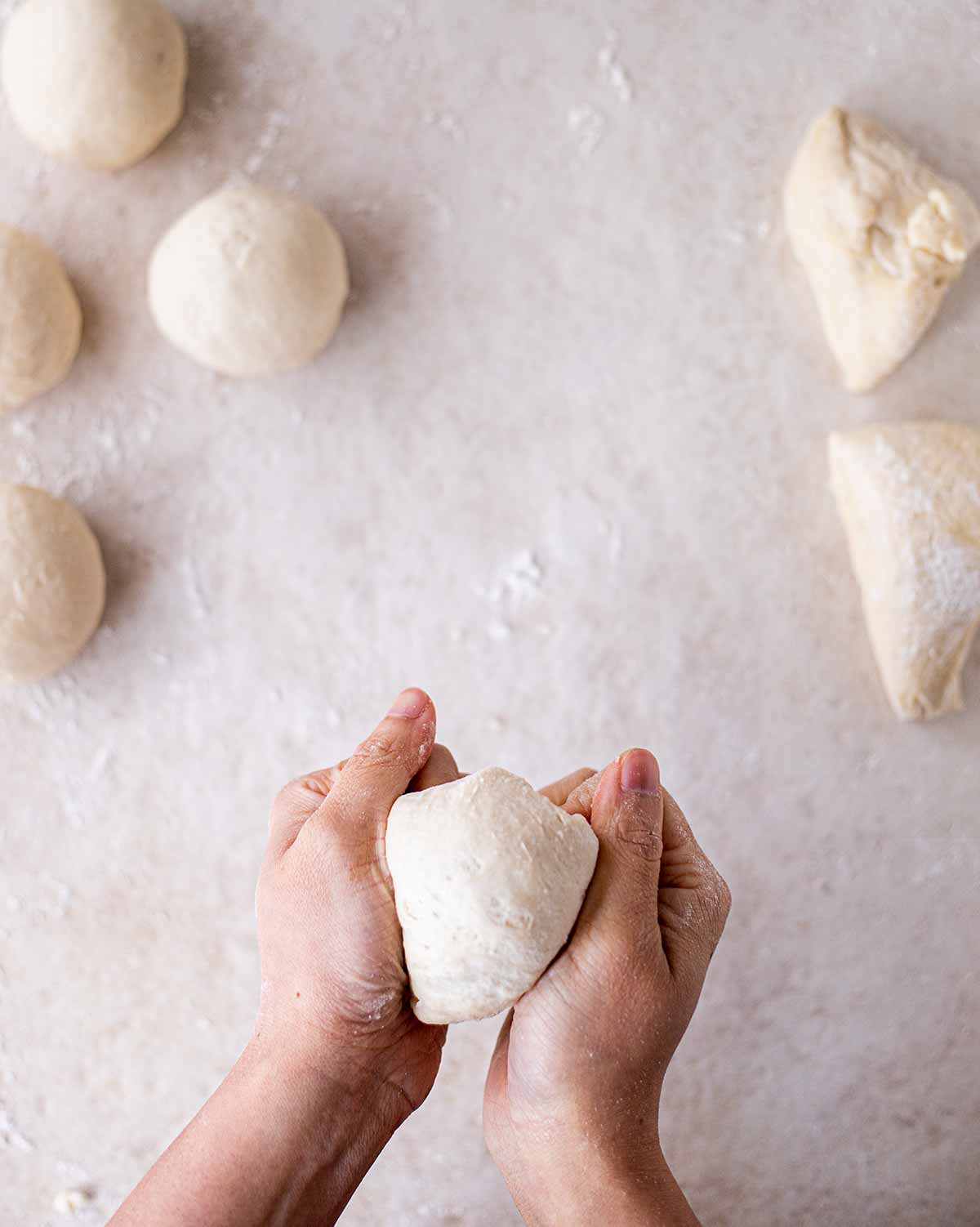 After you create 8 equal parts from your dough, you'll need to shape it. The key to shaping the buns is to make sure each has a smooth and taut top.
That will hide all the uneven parts of the dough underneath. Shaping the brioche well will ensure your final buns are smooth and evenly risen!
To visualise this, Joshua Weissman created a good Youtube video showing how to shape brioche buns (the link takes you to the exact part of the video).
After you bake your brioche buns
I recommend brushing the vegan buns with a sugar glaze as it makes them beautifully shiny and keeps some of their moisture in. Alternatively, you can brush the buns with aquafaba (the liquid from a can of chickpeas), although it won't be as shiny.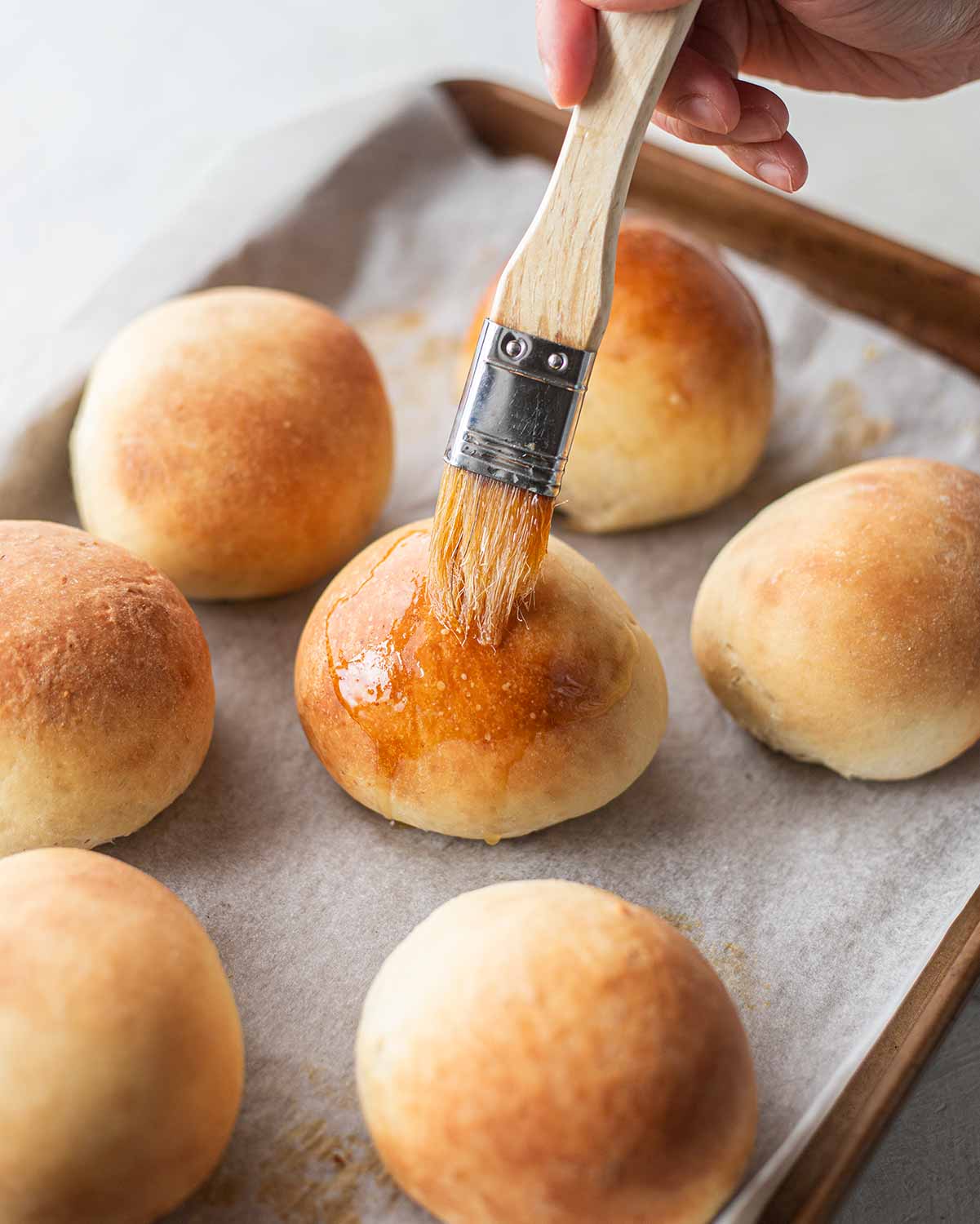 How to serve brioche buns?
This easy vegan bread recipe can be used in LOTS of ways:
Spread jam or your favourite sweet spread on them and enjoy them fresh or toasted for breakfast
Use stale brioche buns in a vegan french toast casserole.
Fill them with a savoury filling and enjoy them as sliders, at home or for entertaining
Make larger portions and use them as vegan brioche burger buns
Or serve them as vegan dinner rolls!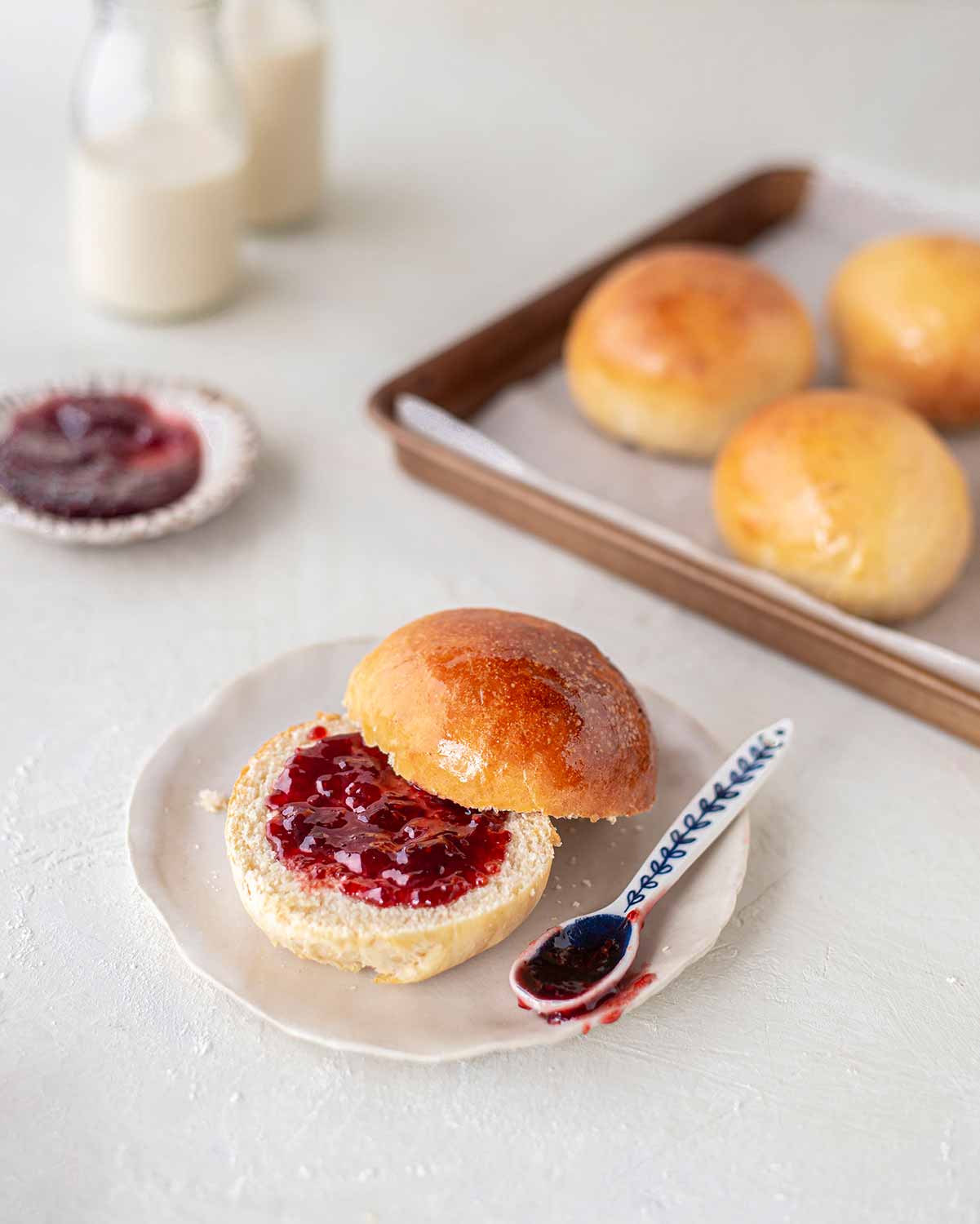 More easy vegan bread recipes:
Did you know brioche dough can be used in SO many ways, from cinnamon rolls to babka? Here I've listed MANY ways you can use brioche dough. Here are some of my favourites: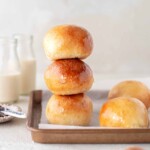 Print Recipe
Buttery Vegan Brioche Buns
Buttery and fluffy vegan brioche buns which are super easy to make! The buns can be made sweet or savoury and in a variety of sizes.
Instructions
To make the brioche dough:
Add all the ingredients except the liquid sweetener to a large bowl and mix until combined. Knead the dough for at least 5 minutes or until the dough becomes soft and elastic. If you're using a stand mixer, use the dough hook and knead until the dough is smooth and comes away from the sides of the bowl. If the dough is a little dry, add a little more milk and knead again. If the dough is still sticking on the bowl, add a little flour and knead again. The softer your dough is, the softer your brioche buns will be!
Resting the dough:
Leave the dough in the bowl and cover with a damp tea towel (the damp towel prevents the dough from drying out). Leave it in a warm area to double in size for at least 1 hour. You can also leave it to rise in the fridge overnight, as long as you allow the dough to come to room temperature before you use it the next day.**

When the dough is puffy, divide it into 8 even parts (about 90g each). Shape each part into a smooth round ball. Arrange the balls on a lined baking tray with about 5 cm (2 inches) between each one. Cover the tray with a damp tea towel and leave it in a warm area to rest for at least 1 hour. The dough should increase in size by around 50% and feel puffy.
Baking the brioche buns:
When the dough is puffy again, preheat the oven to 180°C (350°F).

Bake the buns the oven for 15-20 minutes or until the surface is golden brown. The buns are ready when you can tap the bottom of one and it sounds hollow.

To make the brioche glaze, combine the liquid sweetener with 1 tablespoon of water. When the brioche buns are still hot, brush the top with the sugar glaze syrup then allow it to rest.

Enjoy the brioche immediately. Like all home-made breads, the brioche is best eaten the day it is baked. Alternatively, store the buns in an airtight room temperature for 3-5 days or in the freezer for up to 1 month. Warm up the brioche before you eat it again!
Notes
* Instant yeast doesn't need to be 'activated' or 'bloomed' beforehand. However, if you use another type of yeast, check the packet instructions to see the conversion rate. For example, 1 tsp of instant yeast is not the same as 1 tsp of fresh yeast. If you use another type of yeast, combine it with some of the warm milk from the recipe and a pinch of sugar. Wait until it bubbles then use it in the recipe.
** If your dough doesn't increase in size, place it in a warmer spot in your house such as the oven with its light on. Sometimes I gently steaming the bowl for 1 minute. If your dough doesn't increase in size at this step, it will not bake well.
Nutrition
Serving:
1
bun
|
Calories:
275
kcal
|
Carbohydrates:
40
g
|
Protein:
5
g
|
Fat:
10
g
|
Sodium:
272
mg
|
Potassium:
63
mg
|
Fiber:
1
g
|
Sugar:
4
g
|
Vitamin A:
549
IU
|
Calcium:
41
mg
|
Iron:
2
mg
This post may contain affiliate links. As an Amazon Associate, I may earn a small commission from qualifying purchases at no additional cost to you.