This vegan sweet potato cake is incredibly fluffy and moist, loaded with spices and is topped with an irresistible dairy free cream cheese frosting. You can make this easy and cozy dessert with less than 10 ingredients!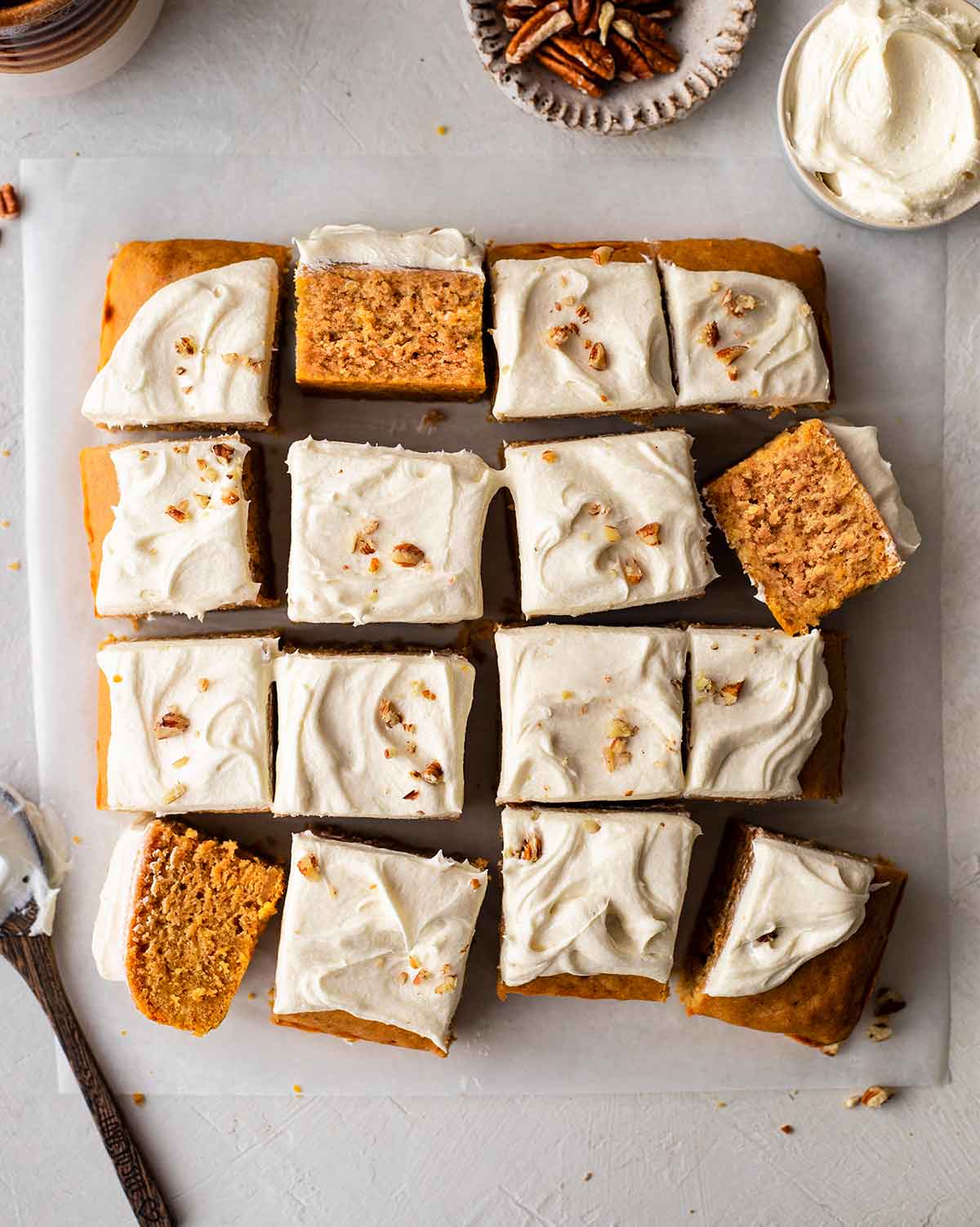 Why this is the BEST sweet potato cake!
FLAVOR + TEXTURE: This cake is moist, fluffy and packed with sweet potato. It's similar in texture and flavor to carrot cake, but without grated carrots! The cake is packed with spices and is like a much-needed warm hug on a cold day.
DIFFICULTY: You only need one bowl to make the cake and it's an easy single layer! No awkward stacking or worrying that the cake will collapse.
FROSTING: This cake has a dreamy melt-in-your-mouth cream cheese frosting! Since this is a single-layer cake, we can use a soft frosting (which tends to get squished in cakes with multiple layers).
8 ingredient sweet potato cake!
That's right - you'll only need 8 ingredients to make the cake component! You will need:
Notes about the ingredients
Plain all-purpose flour. If you're after a healthy sweet potato cake, use whole wheat or spelt flour. I've also listed a gluten-free option in the recipe card.
Sweet potato puree. I made my own by simply boiling sweet potatoes and pureeing the golden flesh with a stick blender. The Spruce Eats demonstrates this process well. Canned sweet potato puree or pumpkin puree will also work!
Brown or coconut sugar because they have a natural caramel profile which complements the sweet potato.
Oil for moisture! It also balances out the natural starches in the sweet potato and makes a soft and tender cake (rather than a chewy one). If you're oil-free, you may be able to substitute it with applesauce but I haven't tried it myself.
Pumpkin pie spice. I made my own blend using ground cinnamon, nutmeg and cloves.
This is an eggless sweet potato cake but we don't actually need any egg replacers :). There's enough starch and structure in the sweet potato puree to hold the cake together.
A complete list of ingredients, quantities and instructions are in the gray recipe card at the bottom of this post.
How to make sweet potato cake
This sweet potato cake recipe comes together in just one bowl!
To make the cake batter, add all the liquid ingredients to a large bowl and whisk until combined.
Tip: If your sweet potato hasn't been pureed yet, add your chopped cooked sweet potato with the non-dairy milk and oil to your mixing bowl. Then use a stick blender to puree the ingredients until smooth.
Next, add all the dry ingredients to the bowl and mix until just combined. You may use a spatula or electric mixer to stir the ingredients but make sure you don't over mix the batter!
Some lumps in the batter are fine, as long as they aren't lumps of flour or wet ingredients. The batter should be quite thick, like a typical banana bread batter.
Baking sweet potato cake
Baking the cake in a square pan takes less time than baking it in a round pan or loaf tin! I used a 9-inch (23 cm) square pan but an 8-inch (20 cm) or regular pan with a similar capacity will also work well.
The cake is delicate when it's still warm so I'd highly recommend leaving it in the cake pan to cool, rather than turning it onto a wire rack.
Alternatively, if you would like a layered sweet potato cake, simply bake the cake in 2 x 8 inch (20 cm) round cake pans or 3 x 6 inch (15 cm) round cake pans. The cakes may dome a little so make sure you cut off the domes before you stack them. Or use some cake strips!
Frosting and decorating the cake
This vegan sweet potato cake is excellent with a simple cream cheese frosting and some crushed walnuts or pecans. Its tangy flavor and creamy texture complement the earthy sweet potato and spices in the cake.
The sweet potato cake is also wonderful with no frosting as a snack cake.
Alternatively, you can also decorate the cake with:
A simple dusting of powdered sugar
A two-ingredient glaze such as what I used in my pistachio lemon cake (use plant based milk instead of lemon juice).

A pecan crumble from my

vegan apple cake

or wholesome oat crumble from my

apple berry muffins

. For a crumb topping, I'd recommend crumbling the mixture on the unbaked sweet potato cake then baking it for around 35 minutes.

American-style buttercream, such as from my vegan gingerbread cake. You'll only need to make half the quantity of buttercream to cover this sweet potato cake.
Whipped coconut cream, to mimic marshmallow cream, yum!
Coconut yogurt or warm custard 🙂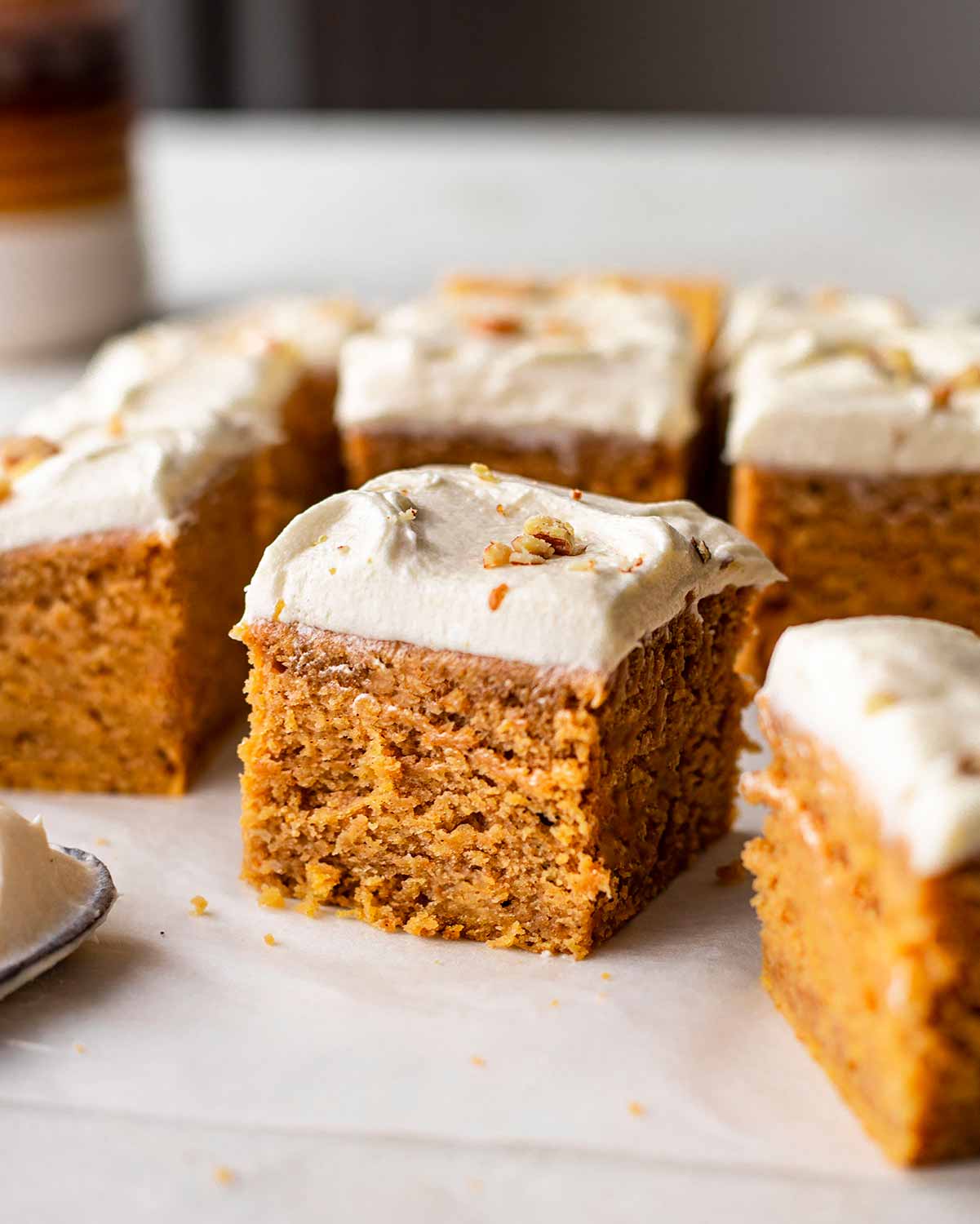 More cozy vegan cake and dessert recipes
Follow Rainbow Nourishments on Instagram, Facebook, TikTok and Pinterest, and subscribe via email to receive all of our latest recipes!
Print Recipe
Easy Vegan Sweet Potato Cake
This vegan sweet potato cake is incredibly fluffy, loaded with spices and topped with an irresistable dairy free cream cheese frosting. You'll need less than 10 ingredients to make this easy cake!
Ingredients
Wet ingredients for sweet potato cake
Dry ingredients for sweet potato cake
Cream cheese frosting (note 4)
Instructions
Preheat the oven to 180°C (350°F). Grease or line a 9-inch (23 cm) or 8-inch (20 cm) square baking pan with parchment paper.
To make the cake
Add all the wet ingredients to a large mixing bowl and mix until there are no lumps. Add all the dry ingredients to the bowl and mix until there are no pockets of flour or wet ingredients. Be careful to not overmix the batter!

Pour the batter into your cake tin. Bake for 30 minutes or until you can insert a skewer or toothpick in the middle and it comes out clean. Allow the cake to cool in the tin.
To make the frosting
Add all ingredients to a mixing bowl and cream the ingredients until smooth.

When the cake has fully cooled, spread the frosting on the cake. Cut the cake as desired and serve!

Leftovers can be stored in an airtight container in the fridge for 3 days or in the freezer for up to 1 month.
Notes
For homemade sweet potato puree, simply boil or roast 1 large sweet potato or 2 small sweet potatoes, and puree the flesh. I prefer boiling the sweet potato as it's much quicker! You can also use canned pumpkin puree instead of sweet potato.
For a gluten free vegan sweet potato cake, substitute the flour with a good quality 1:1 gluten free flour. OR use 1 ½ cups (150g) almond flour and 1 ½ cups (240g) gluten free all-purpose flour.
Or use 2 teaspoons ground cinnamon, ½ teaspoons ground nutmeg and ½ teaspoon ground cloves. For an extra kick, you may add 1 teaspoon of ground ginger.
If you only have access to spreadable vegan margarine, use only ½ cup (110g). Your frosting may be a little softer. More icing sugar will create a firmer frosting whereas less icing sugar will create a softer frosting. For frosting/decoration alternatives, check out the blog post above!
Nutrition
Serving:
1
serve without frosting
|
Calories:
212
kcal
|
Carbohydrates:
32
g
|
Protein:
3
g
|
Fat:
8
g
|
Sodium:
148
mg
|
Potassium:
116
mg
|
Fiber:
1
g
|
Sugar:
11
g
|
Vitamin A:
3004
IU
|
Vitamin C:
3
mg
|
Calcium:
88
mg
|
Iron:
1
mg
This post was originally published in 2019 and updated for simplicity in 2021.
This post may contain affiliate links. As an Amazon Associate, I may earn a small commission from qualifying purchases at no additional cost to you.