Fluffy vegan pumpkin muffins with cafe-style muffin tops! These muffins come together in one bowl and have an optional crunchy streusel topping.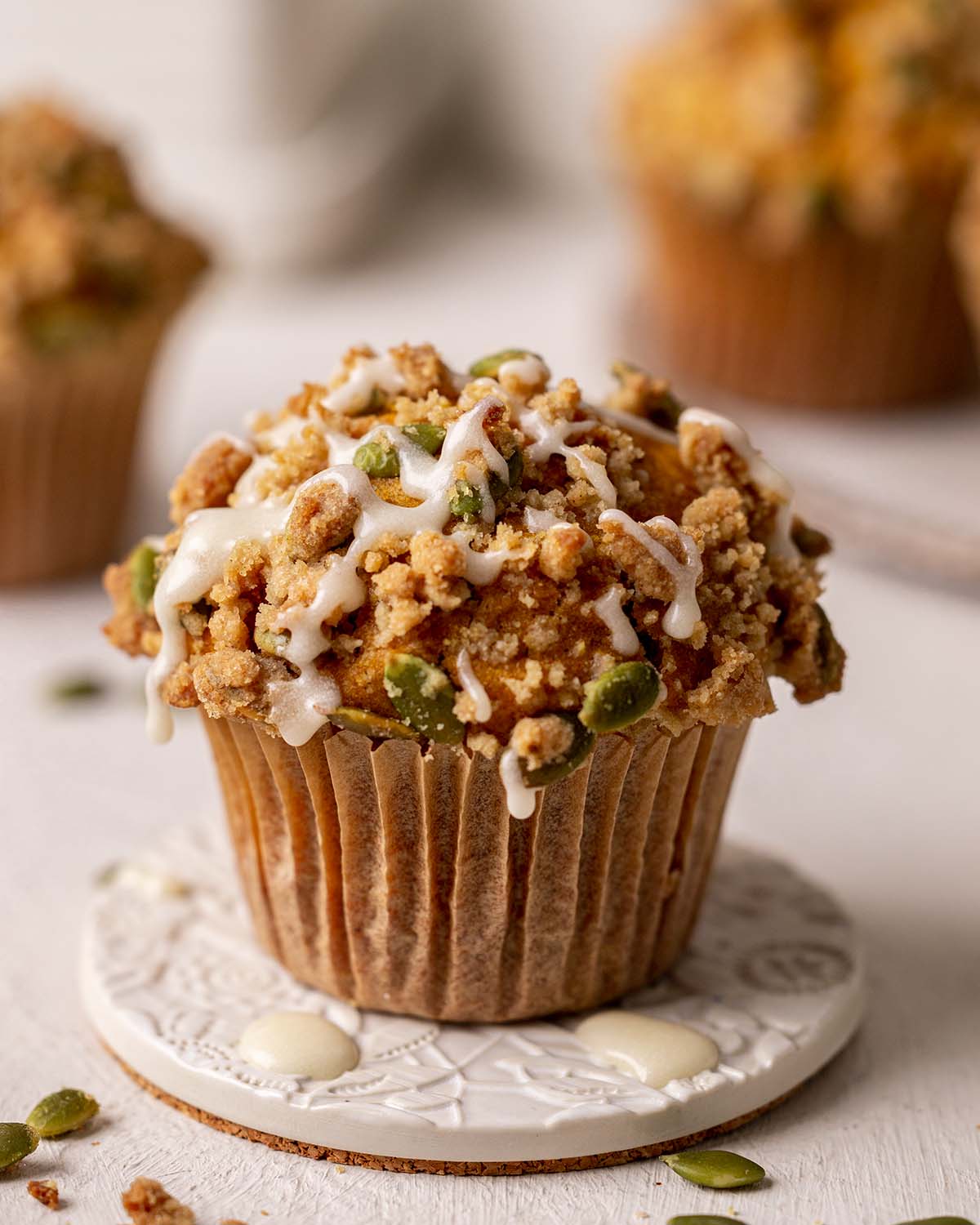 Why are these the best vegan pumpkin muffins
PACKED WITH FLAVOR: These muffins have the perfect amount of Fall spices and use a whole can of pumpkin puree for the best pumpkin flavor (and which means you won't have any leftovers).
EASY TO MAKE: Comes together in one bowl using simple pantry ingredients!
TRIED AND TESTED: These muffins have been adapted from my reader favorite carrot muffins and banana muffins.
Alternatively, you may like my vegan pumpkin bread!
Ingredients you'll need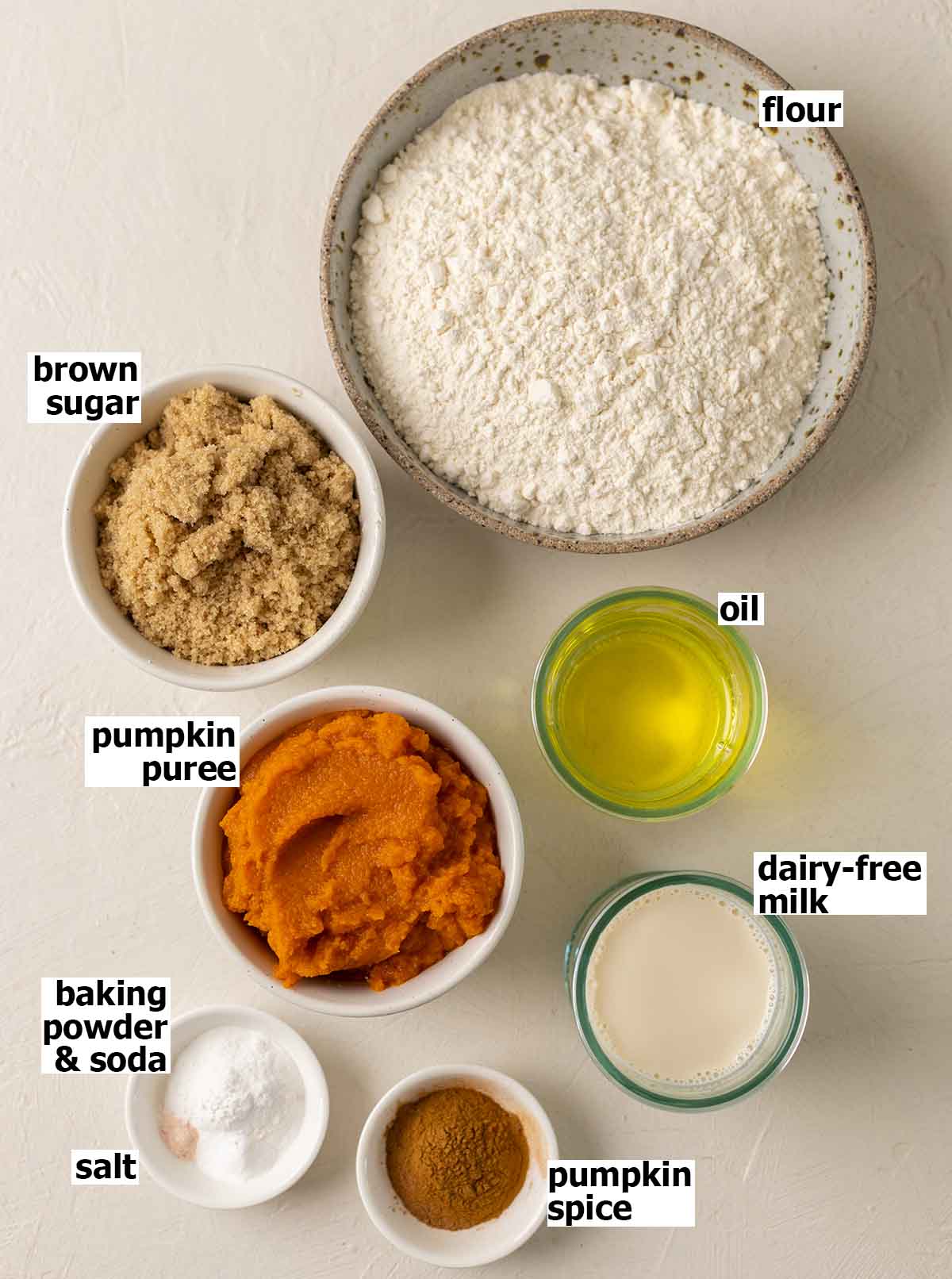 Notes about the ingredients
Pumpkin puree. These muffins work well with both canned pumpkin puree and homemade! Just make sure your pumpkin puree is thick, like pictured.
All-purpose flour for the fluffiest muffins. Alternatively, you may use whole wheat or spelt flour though your muffins will be denser.
Brown sugar for sweetness and depth of flavor! Alternatively, you can use regular granulated sugar. For less sweet refined sugar-free muffins, use coconut sugar.
Baking powder and soda. Pumpkin purée often weighs down baked goods so we're using double baking agents to make sure the muffins are fluffy.
Even though these muffins are eggless, we don't need any special egg replacers! The extra pumpkin in the recipe adds moisture and binds the ingredients.
A complete list of ingredients, quantities and instructions are in the gray recipe card at the bottom of this post.
How to make vegan pumpkin muffins
The batter is no fuss and comes together in one bowl!
First, add all your wet ingredients (including the sugar) to a large bowl and whisk until smooth. Add all your dry ingredients and stir until there are no more lumps of flour.
Just don't overmix the batter as it will make the muffins dense, a little chewy and they won't rise as much!
Making the streusel topping
The topping is also easy to make! Just mix everything in a small bowl until crumbly (or use the same bowl as the batter, after you distributed the batter).
If you don't want pumpkin seeds, you can just omit them (or replace them with rolled oats or pecans). The streusel will still be a good consistency without the seeds, just like the streusel I used for my banana muffins.
Assembling the muffins
In a classic USA muffin tray, the muffin batter fills each cup close to the top! This recipe was designed so the muffins bake upwards rather than spilling over the sides.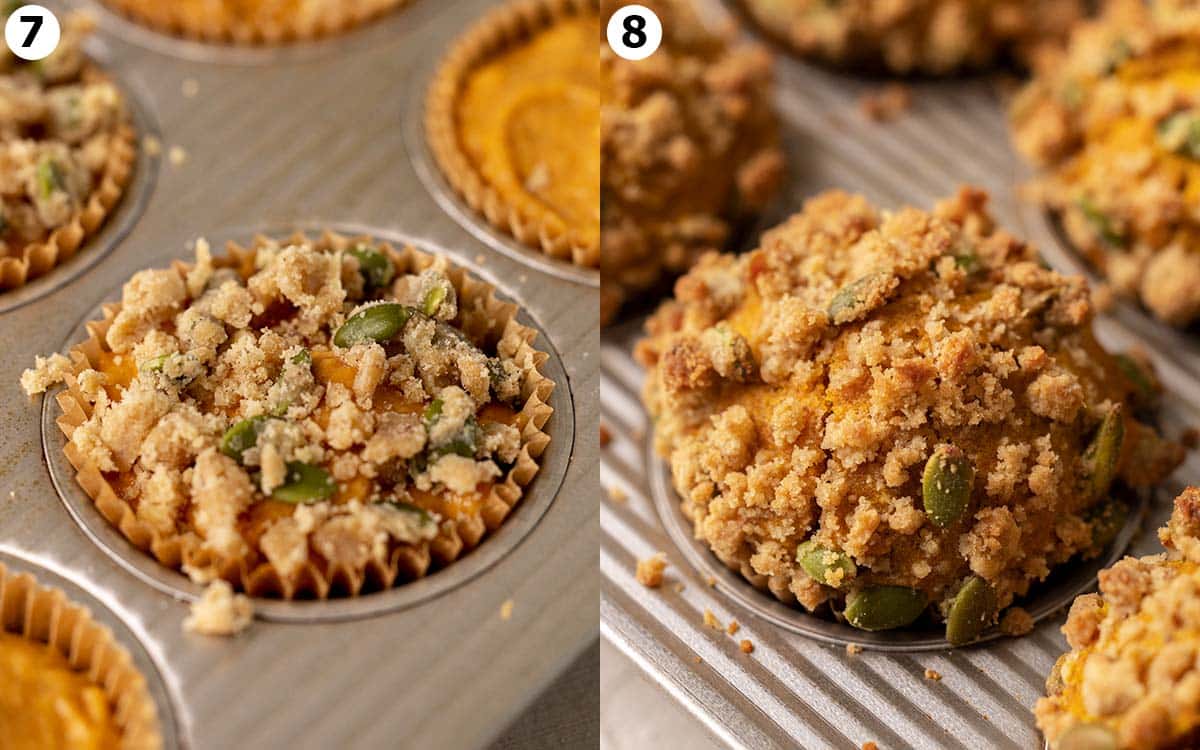 TOP tips for cafe-style muffin tops
If you bake these muffins as is, you'll still get high muffin tops!
But for extra high muffin tops, I recommend spacing apart the muffins in your muffin tin and baking only six muffins at a time. Each muffin is exposed to more oven heat which encourages them to dome more! With a 12-cavity tray, you'll place the muffins diagonally from each other. If you have only one muffin tray, you'll have to bake the muffins in two lots but it's definitely worth it.
Also, make sure you use active baking powder and soda! Old or expired raising agents will make smaller and denser muffins.
Expert tips + customizations
Can I make these pumpkin muffins smaller?
Yes, you will get around 16 smaller muffins from this recipe (similar in size to my vegan apple muffins). They'll take only around 20-25 minutes to bake. Or make them even smaller as kid-friendly snacks!
Can I add anything else to these pumpkin muffins?
Yes! I recommend:
- dairy-free chocolate chips (or check out my vegan choc chip muffins)
- pecans, walnuts or other nuts
- dried cranberries
Can I make gluten-free pumpkin muffins?
I haven't tested this recipe with gluten-free flour. It may work with a high-quality 1:1 gluten-free flour such as Bob Red Mills.
How can I make healthy pumpkin muffins?
Yes, try using whole wheat flour or spelt flour and coconut sugar. Also, add an extra dash of non-dairy milk because those flours are more absorbent than all-purpose flour.
More vegan recipes with pumpkin
Check out my round-up post for all my vegan Thanksgiving desserts.
Follow Rainbow Nourishments on Instagram, Facebook, TikTok and Pinterest, and subscribe via email to receive all of our latest recipes!
Print Recipe
Vegan Pumpkin Muffins
Fluffy vegan pumpkin muffins with cafe-style muffin tops! These muffins come together in one bowl and have an optional crunchy streusel topping.
Ingredients
Wet ingredients for pumpkin muffins
Dry ingredients for pumpkin muffins
Instructions
Preheat your oven to 350°F (180°C). Line a 12-cup muffin pan with liners.
Preparing the pumpkin muffins:
Add the wet ingredients to a large mixing bowl and whisk until combined. Add the dry ingredients to the wet batter and mix until there are no big lumps. Make sure you don't overmix the batter.

Use an ice cream scoop or a spoon to divide the batter in your muffin pan (note 2). The batter should fill each cup almost entirely (check the reference images above).
To make the crumb topping (optional):
Add all ingredients for your crumb topping to a mixing bowl (use the same bowl that you used for your batter to minimize dirty dishes). Mix with a spoon or your fingertips until combined and the mixture is flaky and crumbly.

Generously sprinkle the crumb topping onto your muffins.
Baking and storing the muffins:
Bake the muffins for 25-28 minutes or until you can insert a toothpick in a muffin and it comes out completely clean.

Allow the muffins to cool in the muffin pan for 10 minutes (or until they aren't too hot to handle). Remove the muffins and allow them to cool on a wire rack.

Enjoy the muffins warm or at room temperature. They're perfect by themselves or with some vegan butter.

Store leftover muffins in an airtight container at room temperature for 3-4 days, in the fridge for up to 5 days or in the freezer for up to 1 month. If the crumb topping softens, you can reheat the muffins in the oven for 10 minutes at 160°C (320°F) or until heated through.
Notes
For homemade pumpkin spice, use 2 teaspoons ground cinnamon, ½ teaspoon ground nutmeg, ¼ teaspoon ground ginger and ½ teaspoon ground cloves. If you don't have any of those spices, use more of the others.

For the highest muffin tops, I recommend baking 6 muffins at a time in a 12-cup muffin tray. Spacing apart the muffins allows the hot oven air to bake them faster, resulting in higher tops. This means you'll need to bake the muffins in 2 lots.
Nutrition
Serving:
1
muffin with topping
|
Calories:
374
kcal
|
Carbohydrates:
52
g
|
Protein:
6
g
|
Fat:
17
g
|
Sodium:
209
mg
|
Potassium:
165
mg
|
Fiber:
3
g
|
Sugar:
14
g
|
Vitamin A:
5514
IU
|
Vitamin C:
2
mg
|
Calcium:
102
mg
|
Iron:
3
mg
This post may contain affiliate links. As an Amazon Associate, I may earn a small commission from qualifying purchases at no additional cost to you.