This healthy vegan banana bread is studded with blueberries, is fluffy and tastes better than your local cafe's banana bread! It is sugar free and can be made gluten free!
Ingredients to make this healthy vegan banana bread
Very ripe bananas. The spottier, the better! Ripe bananas have a stronger taste and are higher in natural sugars which is perfect for this healthy banana bread. It also means we can add less sugar/sweetener!
Dairy free milk such as almond, soy or coconut.
Light-tasting vegetable oil such as sunflower or olive. If you use olive, just make sure you pick one that doesn't have a strong flavour.
All-purpose flour, whole wheat flour or even spelt flour! I've tried all these flours and they all result in a fluffy and wholesome banana bread. The pictures in this post show a banana bread made with whole wheat flour.
Coconut sugar or your choice of sugar replacer. Coconut sugar is refined sugar free and adds a lovely caramel richness which complements the bananas. Its flavour is similar to light brown sugar! In comparison, erythritol or stevia is completely sugar free and makes the banana bread sweet without the complex flavours.
Blueberries (fresh or frozen) makes your healthy banana bread a little more FUN!
I also added a little apple cider vinegar which helps tenderise the banana bread and allows it to melt-in-your-mouth. Cinnamon for that nostalgic banana bread flavour. And baking powder to make sure the banana bread is FLUFFY!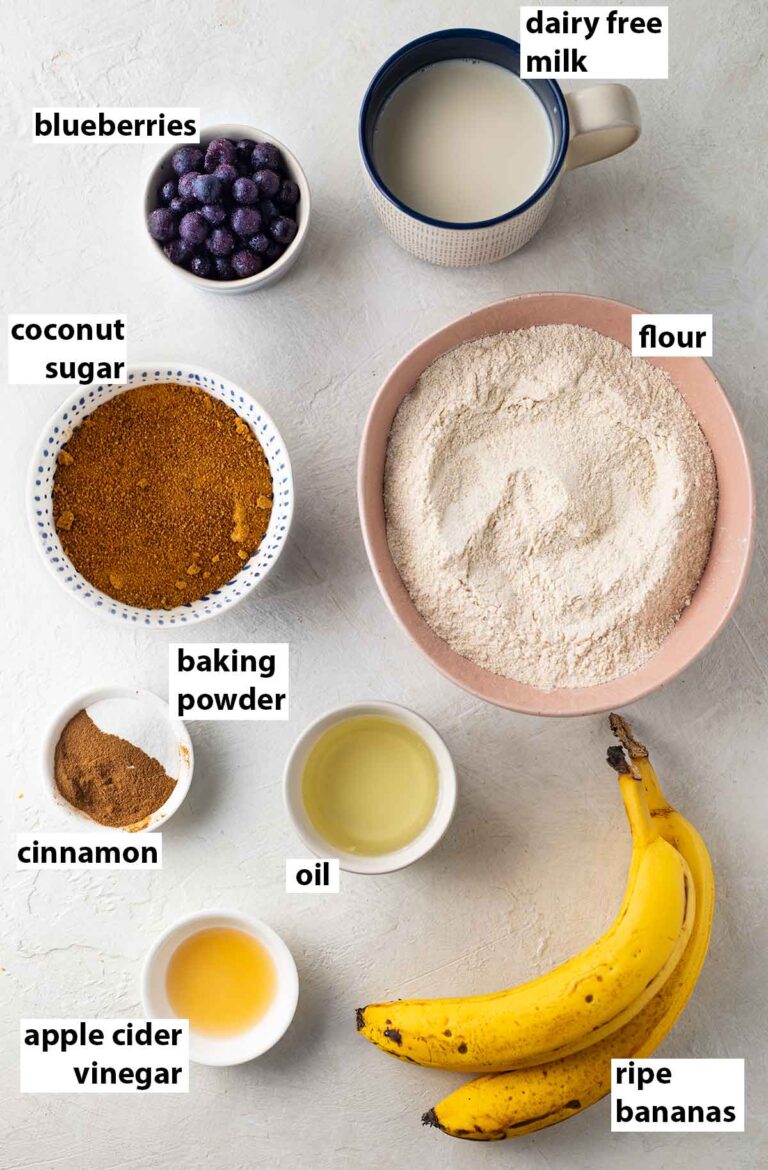 How to make vegan banana bread
This easy banana bread recipe only needs ONE BOWL. There's no whisking of aquafaba or combining of unusual egg replacers. It's a very forgiving and customisable recipe :).
So, simply, mash the banana in a bowl mix it with all the wet ingredients. I personally like to mash my bananas roughly as it gives texture to the final banana bread.
Add all the dry ingredients and mix until just before it's combined. We're not mixing it fully as we still need to fold through the blueberries!
Then add your blueberries and fold them into the banana bread mixture.
I'd recommend folding the blueberries into the batter rather than mixing as we don't want to overwork the batter. Overmixing any cake batter results in a less fluffy final cake which may even be chewy. No one wants that!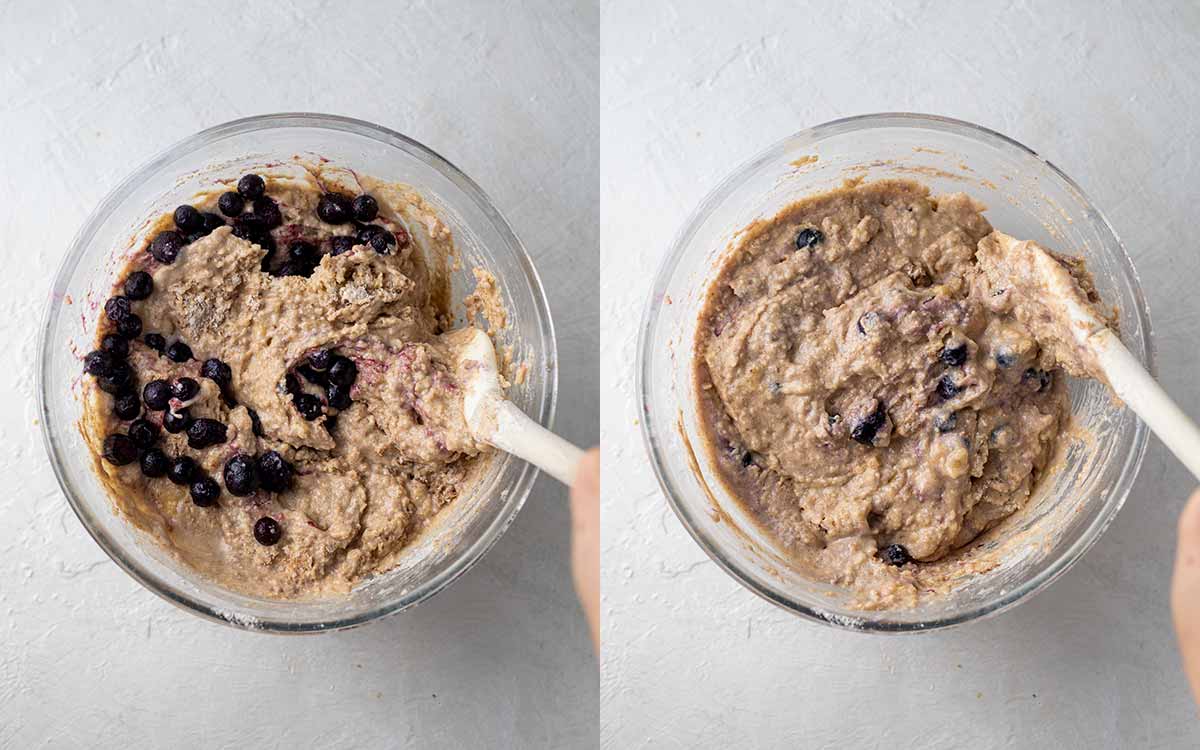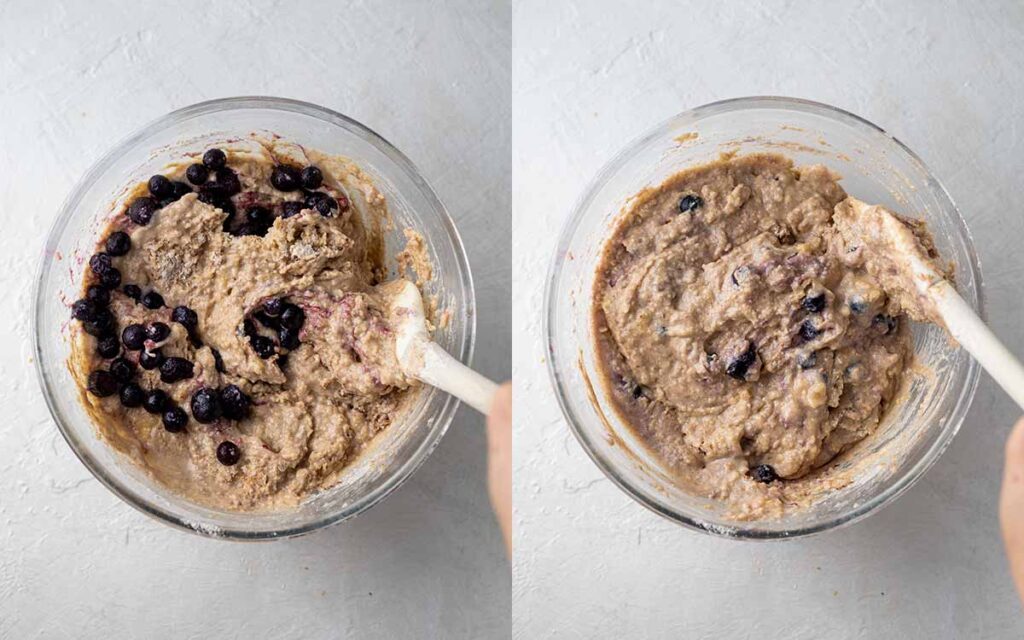 Baking banana bread
It's pretty easy to bake the banana bread! However, as this banana bread is packed with fruit, it can brown quickly in the oven (if you use coconut sugar).
If the bread is browning too quickly and it hasn't baked through, simply cover the loaf pan with aluminium foil or an oven safe bowl. This forces the oven heat to cook the middle of the banana bread and reduces the radiant on the exterior of the bread.
How to serve
This healthy vegan banana bread recipe is absolutely delicious by itself and doesn't need to be served with any toppings. However, if you still want to take the bread to the next level, you may:
Top the banana bread with coconut yoghurt and even with some berry compote
Serve a warm slice of banana bread with vegan ice cream, yoghurt or even vegan custard. Or spread some almond butter on it and top it with fresh berries!
Toast a slice to enjoy the crispy exterior and soft interior of the banana bread. Or spread some vegan butter on a slice and enjoy!
Other variations of vegan banana bread
Print Recipe
Banana and blueberry bread
This healthy banana bread is studded with blueberries and happens to be vegan and sugar free! I also included a gluten free option.
Ingredients
Wet ingredients
2

x (~200g)

very ripe bananas

1

cup (250g)

dairy free milk, such as almond, soy or coconut

1

tbsp

white or apple cider vinegar

,

optional
To decorate (optional)
Coconut yoghurt

¼

cup

blueberries

,

(note 2)
Instructions
Preheat the oven to 180°C (350°F). Line a 20 cm (8 inch) or longer loaf tin with baking paper. The longer your loaf tin, the shorter amount of time it'll take to bake the banana bread.

Add bananas to a mixing bowl and mash until there are only small lumps. Add the rest of the wet ingredients and mix until thoroughly combined.

Add all of the dry ingredients (except the blueberries) to the bowl and mix until just before it's combined. Add the blueberries and fold throughout batter.

Pour the batter into your loaf tin. Bake in the oven for around 1 hour or until a knife can be inserted into the centre of the banana bread and it comes out clean. Allow the it to cool in the tin for 10 minutes then cool on a wire rack.
To decorate (optional):
When the banana bread is fully cool, top with coconut yoghurt and blueberries. Enjoy!

Store leftovers in an airtight container at room temperature (unfrosted) or in the fridge (frosted) for 3 days or in the freezer for up to 1 month. However, it usually doesn't last that long!
Notes
To make vegan gluten free banana bread, substiute the flour with 125g gluten free all-purpose flour and 125g almond flour (blanched almond meal)
If you would like to make a thick blueberry compote like the pictures above, combine the blueberries with 1 tsp corn starch, 1 tsp sweetener of choice and a dash of water in a small saucepan over medium heat. Heat until thickened and allow the mixture to cool before topping the coconut yoghurt.
This recipe was first published in July 2018 and updated in July 2021.
Please leave a comment below if you made this recipe, have any questions or thoughts! Your comment will help other readers and Rainbow Nourishments.