Easy vegan pumpkin chocolate chip cookies that are chewy and soft rather than cakey! These cookies are made with only 7 ingredients, come together in one bowl and don't need to be chilled before baking!
These cookies are the perfect snack for Fall and Thanksgiving. Alternatively, check out my vegan oatmeal cookies or white chocolate chip cranberry cookies.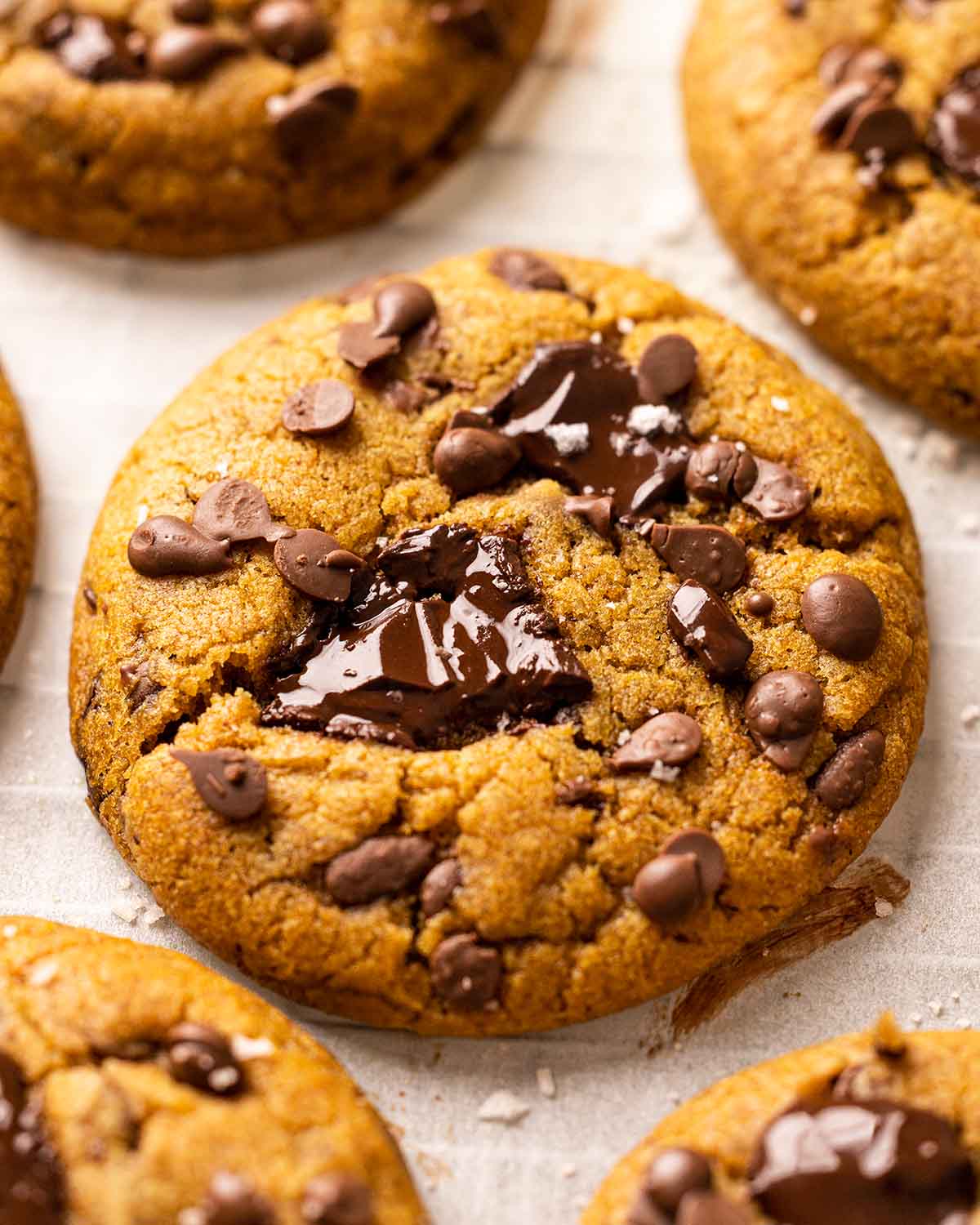 Why you'll love this recipe
TASTE: These vegan pumpkin chocolate chip cookies are full of pumpkin flavor and pumpkin spice! I also loaded them with chocolate chips for good measure!
TEXTURE: Chewy and crisp edges with a soft gooey center. However, if you prefer cakey or crispy cookies, you can I've included ways you can customize them.
DIFFICULTY: They come together in one bowl and you don't need a mixer!
Ingredients you'll need
Notes about the ingredients
Light brown sugar makes the cookies chewier than using regular granulated sugar! You can also use dark brown sugar or coconut sugar which will make the cookies more caramelly and darker in color.
Pumpkin puree. I tested this recipe with Libby's canned pumpkin and homemade pumpkin puree and they both work well. Pumpkin puree contains a lot of moisture which normally makes cookies cakey rather than chewy. However, I have a few simple tricks to counteract this.
Vegan block butter, ideally one which is around 80% fat. The high fat helps balance out the water content of the pumpkin. You may use melted coconut oil but I recommend adding a generous pinch of salt to mimic the buttery flavor.
Chocolate chips and chunks. I added both types to these cookies so we get lots of little bits of chocolate and larger pools of chocolate! However, you can use whichever you prefer.
Baking soda makes the cookies chewier and crispier compared to cookies using baking powder. You can see the difference in this helpful article by Handle the Heat.
A complete list of ingredients, quantities and instructions are in the gray recipe card at the bottom of this post.
My TOP TIP for chewy cookies
For chewier cookies, I recommend removing as much liquid as possible from your pumpkin puree.
To remove the excess moisture, you can:
Blot the pumpkin puree with disposable paper towels (pictured).
Quickly heat the pumpkin puree in the microwave or in a small saucepan over medium heat. When the puree has thickened, it's good to go!
This cookie recipe will still work if you don't do anything to your pumpkin puree.
Tips for preparing the cookie dough
Since the butter is melted, you can make the cookie dough by hand! Alternatively, feel free to use a mixer if you have one.
First, mix all the wet ingredients together. This helps dissolve the sugar and ensures the pumpkin is evenly distributed.
Then add the dry ingredients and mix until just before it's combined (we'll be mixing it more later). The dough may be a little sticky at this stage but don't worry - it'll firm up quickly!
Finally, fold through the dairy-free chocolate chips. Make sure the dough isn't too warm (from the melted butter) otherwise it will melt the chocolate chips.
Shaping and baking the cookies
I recommend using an ice cream scoop to portion your cookie dough. It's easy to use and helps you make evenly sized pumpkin chocolate chip cookies.
You can scoop the dough directly onto your lined baking tray or shape each dough into a ball then place it on your tray.
For very thick chocolate chip cookies, leave the dough balls as is. For slightly thick cookies, flatten the balls slightly (these will be 1.5 inches thick, as pictured).
How to save the cookie dough for later
If you want to enjoy your vegan pumpkin chocolate chip cookies later, store them in an airtight container or bag. The cookie dough can be refrigerated for 2 days or frozen for a few months. If freezing, I recommend keeping them as balls or slightly flattened balls (depending on how thick you want your cookies).
The cookies can be baked straight from the fridge or freezer! They will take a few extra minutes to bake but are as delicious as fresh cookies.
How to store pumpkin cookies
The pumpkin content in these cookies helps keeps them soft for days. They are a little softer than classic vegan chocolate chip cookies so, it's important to store them in an airtight container.
If you'd like to refresh these pumpkin cookies, you pop one in the microwave for a few seconds. Or you can reheat a few in the oven at 210°F (100°C) for 5-10 minutes. You'll have fresh cookies in just minutes!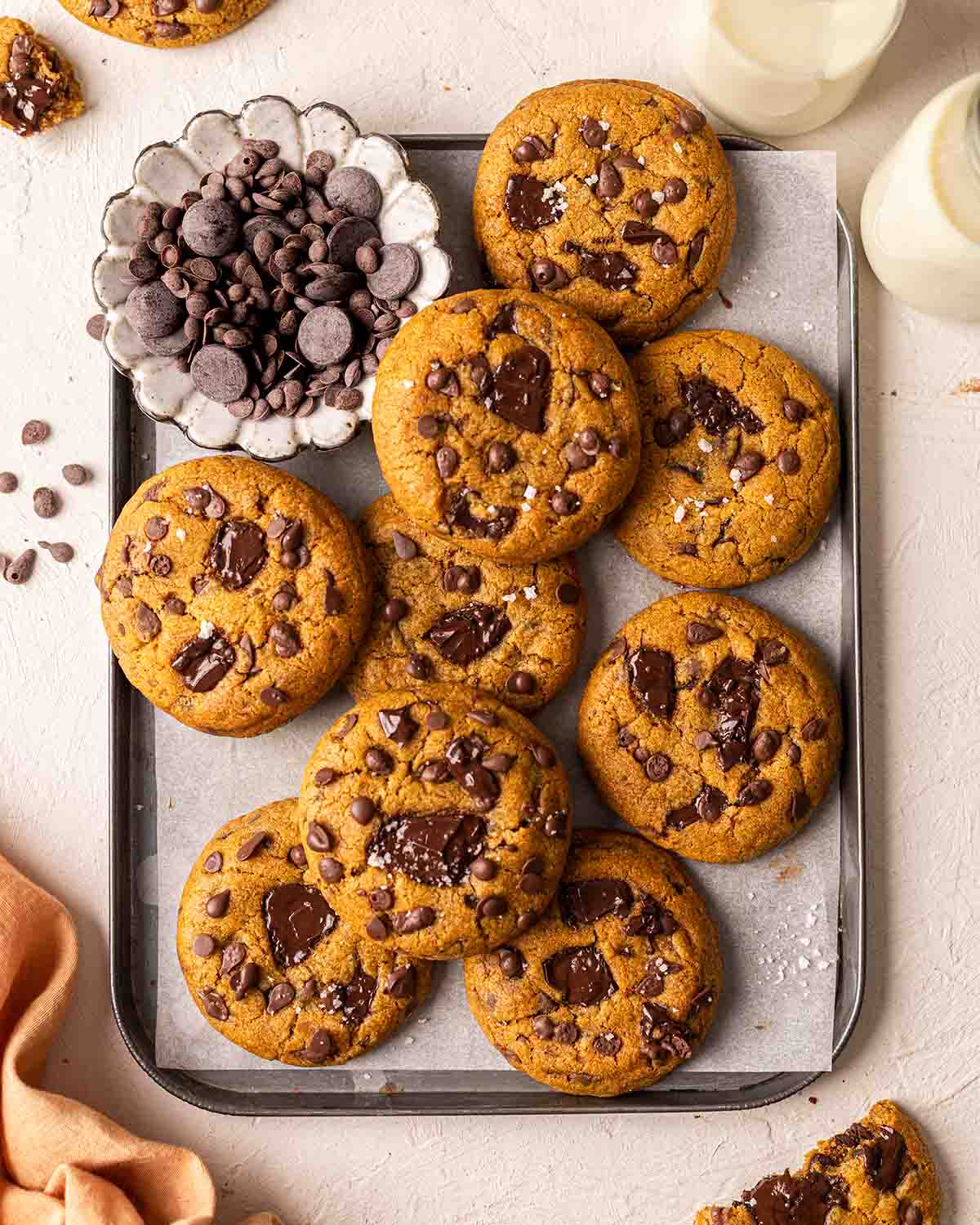 Expert Tips
How can I make cakey or crunchy pumpkin chocolate chip cookies?
For cakey cookies, don't blot the pumpkin and don't flatten the cookie dough balls before baking.

For crunchy cookies, make sure you blot the pumpkin. Also, press the cookie dough balls into flatter shapes and cook them for 3-5 minutes longer.
Can I add anything else to these cookies?
Yes! I recommend:
- pecans or walnuts for crunch
- white chocolate chips or chunks
- pumpkin seeds or rolled oats for healthier pumpkin chocolate chip cookies
- orange zest for a little kick
Can I make these cookies gluten-free?
Readers have successfully made these cookies with a 1:1 gluten-free flour blend. However, I haven't tried it myself so can't vouch for results.
More vegan pumpkin desserts
Follow Rainbow Nourishments on Instagram, Facebook, and Pinterest, and subscribe via email to receive all of our latest recipes!
Print Recipe
Vegan Pumpkin Chocolate Chip Cookies
Easy vegan pumpkin chocolate chip cookies that are chewy and soft rather than cakey! These cookies are made with only 7 ingredients, come together in one bowl and don't need to be chilled before baking!
Instructions
Preheat the oven to 180°C (350°F). Line 2-3 baking sheets with parchment paper.
Preparing the cookie dough:
Add the sugar, butter, pumpkin puree and vanilla extract to a large mixing bowl. Whisk until well combined.

Add the flour, spices and baking soda to your mixing bowl. Mix until just before it's combined. The cookie dough should be a little sticky.

Add the chocolate chips/chunks and fold through.
Shaping the cookies:
Roll the dough into balls, about 2 tablespoons of dough each or a heaped mini cookie scoop. Arrange them on a baking tray with about 2 inches (5cm) between each. For super thick cookies, leave the balls as is. For regular cookies (pictured), slightly flatten each ball.
Baking and storing the cookies:
Bake the cookies for 13-15 minutes or until the edges appear cooked. Don't worry if the centers don't look done because the cookies will continue baking on the sheets. If desired, press a few extra chocolate chips into the top of the cookies.

Enjoy the cookies warm or store them in an airtight container for up to 3 days. Although, these cookies never last that long in my house!
Notes
Light brown sugar is the best for these cookies as it's not overpowering and keeps the cookies an orange color. Cookies made with dark brown or coconut sugar will be more caramelly and darker.
If your puree is already very thick, you can use it as is. If not, I recommend removing the excess moisture. To do this, place the puree on a couple of sheets of disposable paper towels and blot with extra paper towels. See the blog post for pictures. I started with ¾ cup (170g) of pumpkin puree and blotted it to get ½ cup (155g).
Light brown sugar is the best for these cookies as it has the best flavor and allows the color of the pumpkin to shine. However, you can still use dark brown sugar or coconut sugar. Your cookies will still be delicious but your cookies will be darker.

To make your own pumpkin pie spice, combine 1 teaspoon ground cinnamon, ½ teaspoon ground nutmeg, ¼ teaspoon ground ginger and ¼ teaspoon ground cloves. If you don't have any of the spices, use more of the others.
Nutrition
Serving:
1
cookie
|
Calories:
219
kcal
|
Carbohydrates:
33
g
|
Protein:
3
g
|
Fat:
10
g
|
Sodium:
138
mg
|
Potassium:
33
mg
|
Fiber:
1
g
|
Sugar:
15
g
|
Vitamin A:
1220
IU
|
Vitamin C:
0.3
mg
|
Calcium:
21
mg
|
Iron:
2
mg
This recipe was originally published in September 2021 and updated in 2022 for simplicity.
This post may contain affiliate links. As an Amazon Associate, I may earn a small commission from qualifying purchases at no additional cost to you.