Fluffy vegan banana muffins with a crumb topping and impressive cafe-style high tops. The muffins use only 8 key ingredients and come together in one bowl!
Why you'll love this recipe
TEXTURE: Delightfully soft muffins with a crunchy crumb topping. They're fluffier than vegan banana bread but denser than banana cake.
TASTE: Packed with banana, brown sugar and cinnamon!
DIFFICULTY: Really easy to make and great for beginners! The muffins come together in just one bowl which means there are fewer dirty dishes :).
APPEARANCE: I carefully developed this recipe so you can get gorgeous high muffin tops using a regular USA muffin pan!
Ingredients to make vegan banana muffins
Ingredient notes and substitutions
Very ripe or overripe bananas. The riper your bananas, the sweeter and more flavorful your muffins will be!
All-purpose flour for the fluffiest muffins. For healthy banana muffins, you can use whole wheat or spelt flour.
Brown sugar for depth of flavor. Coconut sugar will work and will make your muffins darker in color and less sweet. Regular sugar or a granulated sugar replacer will also work.
Non-dairy milk. You can use any milk for example, soy milk or almond milk. Even water will work!
Baking powder and soda. Double baking agents help make sure these muffins are FLUFFY!
You don't need to prepare any egg replacers such as flax eggs. I've added extra bananas to help bind the ingredients and extra raising agents to give the muffins more lift.
A complete list of ingredients, quantities and instructions are in the gray recipe card at the bottom of this post.
How to make vegan banana muffins
First, add all your bananas to a large bowl and mash them well. You can use a fork, potato masher or even an electric whisk!
Add all your wet ingredients (including the sugar) to your mashed bananas and stir. We're adding sugar with the wet ingredients to help it dissolve more quickly.
Then add all your dry ingredients (flour, baking agents and cinnamon) and fold the batter until combined.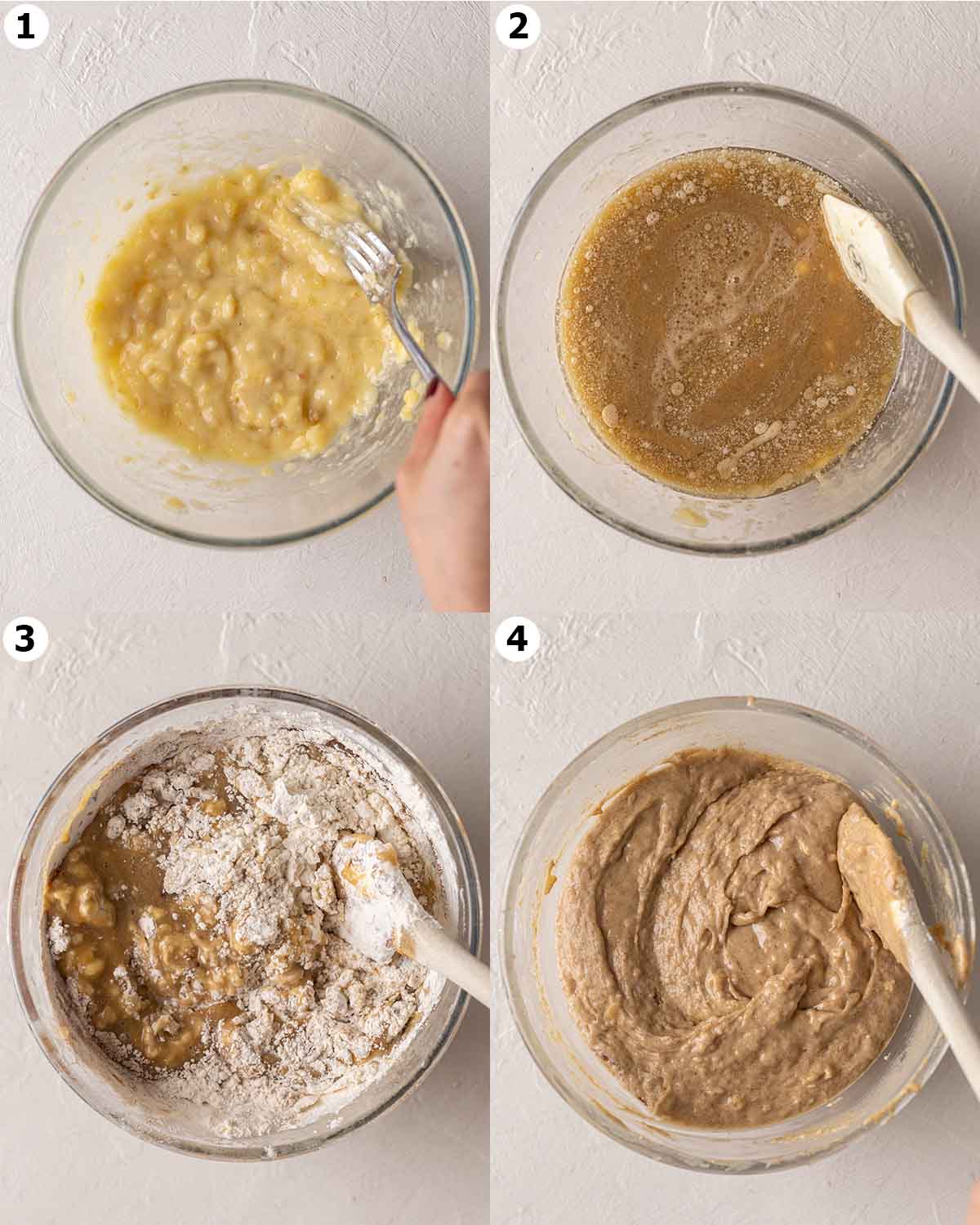 Making the crumb topping (optional)
If you want one less bowl to wash, divide the muffin batter into your muffin tin and use the same bowl to make the crumb topping!
The topping is super easy - just mix everything in a bowl until crumbly. I like to leave some big and small crumbs for texture.
If you'd like to add other ingredients to your crumble, such as oats, check out the crumble topping I used for my carrot cake muffins.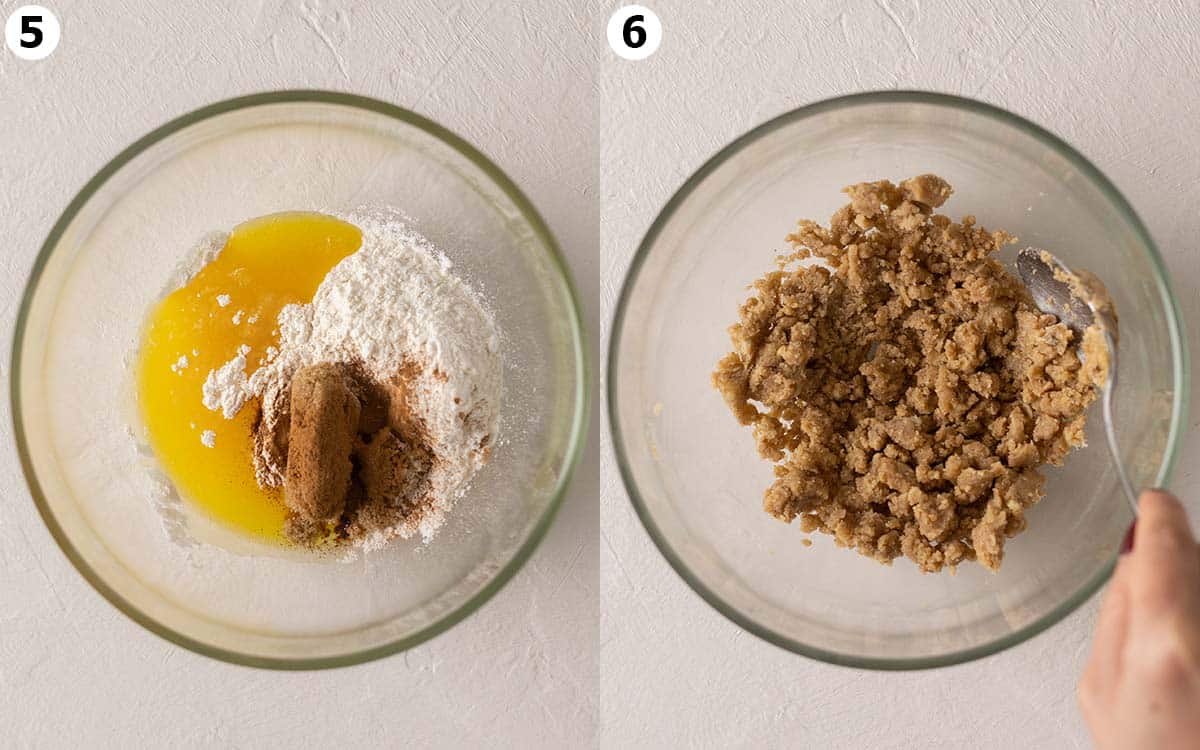 The easiest way to divide the batter
I recommend dividing the muffin batter using an ice cream scoop! It's easier, less messy and allows you to divide your muffin batter evenly.
I filled each muffin cup close to the top with a USA muffin pan. This encourages the muffins to develop really large tops! All muffin pans are different so your muffins may look slightly different.
Tip: Next-level muffin tops
The EASIEST and best way to get high muffin tops is to fill only every second muffin cup (not pictured below). This allows more of the hot oven air to circulate each muffin and encourages them to rise quicker.
If you have one 12-cavity muffin tray, you'll bake only 6 muffins at a time and in 2 lots.
I tested a few other 'tricks' for getting high muffin tops for example resting the batter overnight and adding less liquid. However, spacing the muffins apart is the quickest and tastiest method.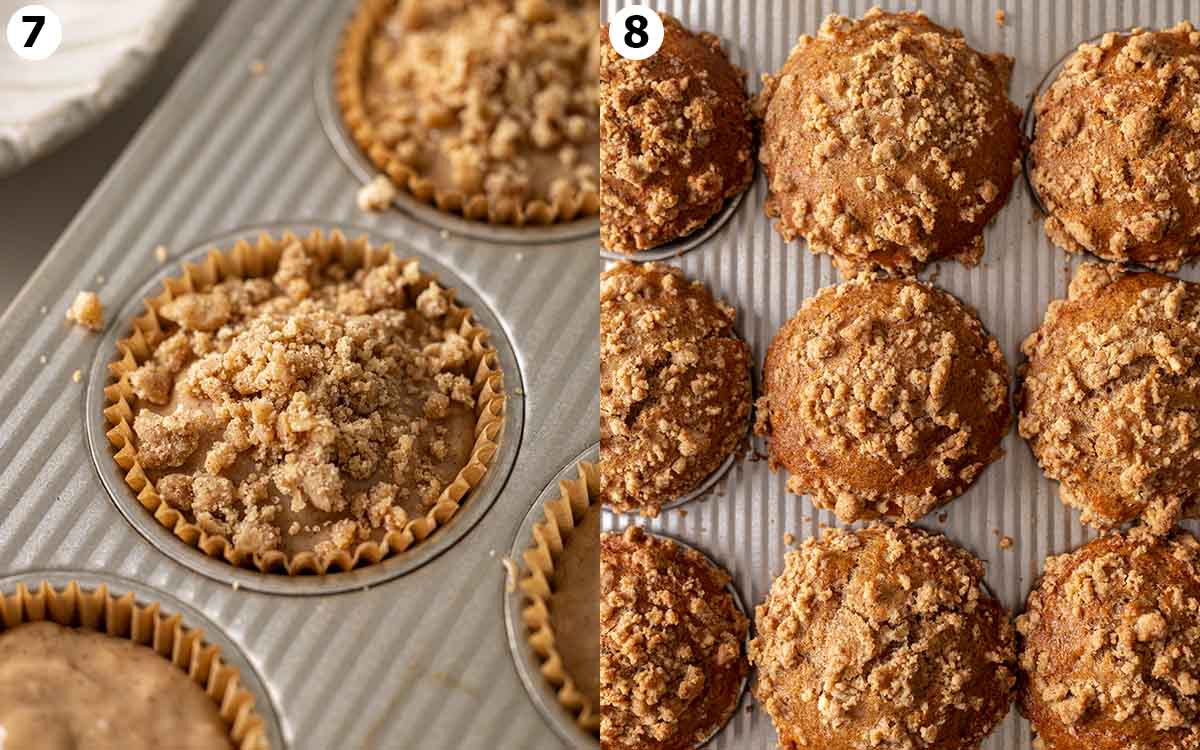 Optional add-ins
These vegan banana muffins are amazing by themselves. However, you can take them to the next level by adding:
Chopped pecans, walnuts

or nuts of choice.
Dark chocolate chips (or see my vegan choc chip muffins)
Blueberries, fresh or frozen (if you add a lot of blueberries, you may end up with 13 muffins rather than 12)
Skip the crumb topping and add flaked almonds on top, just like my lemon poppy seed muffins
For any add-ins, I recommend folding your batter until just before it's combined so there are still some pockets of flour. Throw in your add-ins and fold until just combined. If you'd like a visual guide of when/how to do this, check out the pictures in my vegan blueberry banana bread recipe.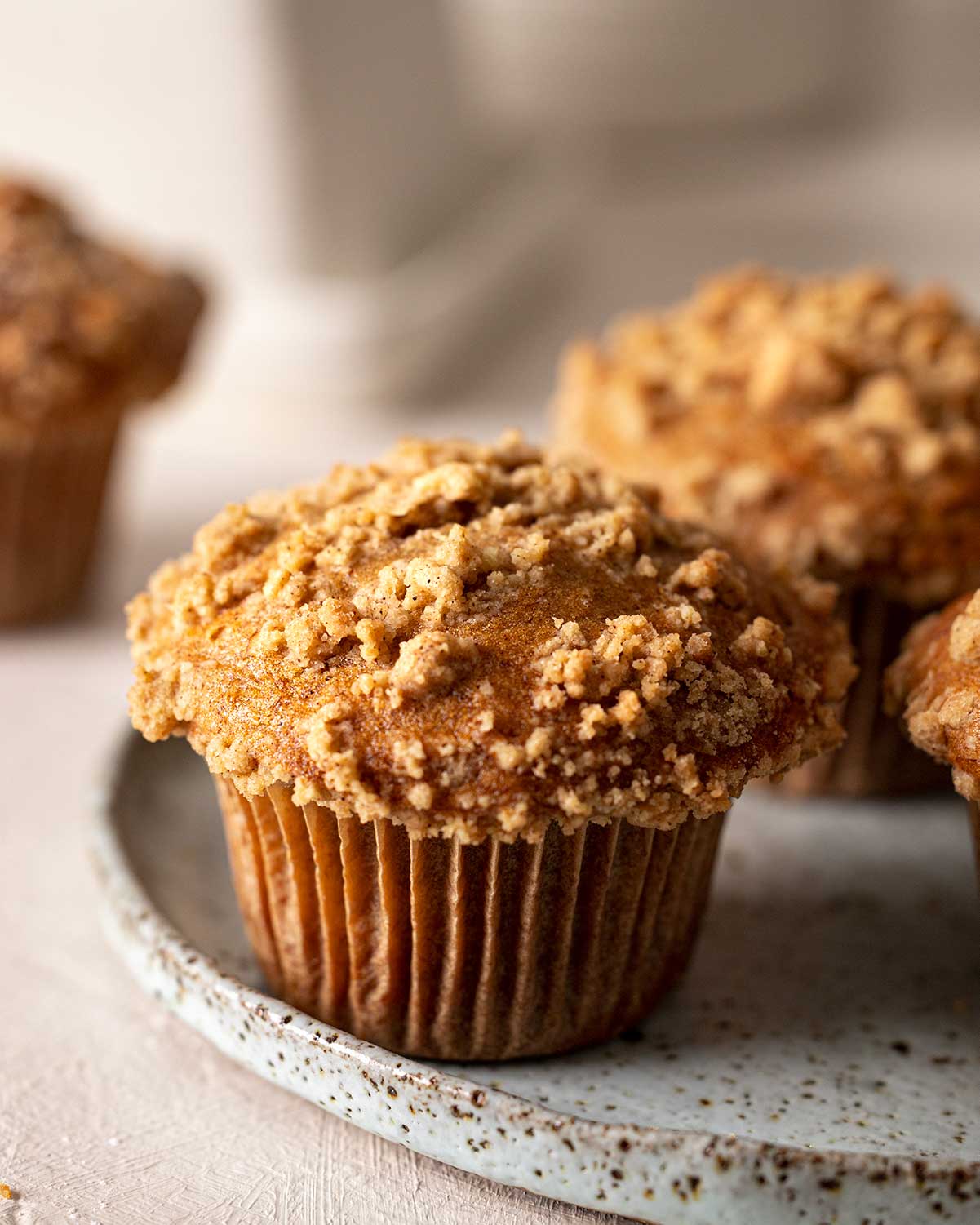 Expert tips and customizations
Can I make these muffins refined sugar-free?
I recommend using coconut sugar as it works similarly to brown sugar and doesn't weigh down baked goods. I do not recommend maple syrup as it'll be too heavy for this recipe.
How do I freeze vegan banana muffins?
These muffins freeze very well, just like my pumpkin muffins! Store them in a freezer bag or an air-tight container for up to 1 month. You can reheat them in the microwave or in the oven for a crispy top.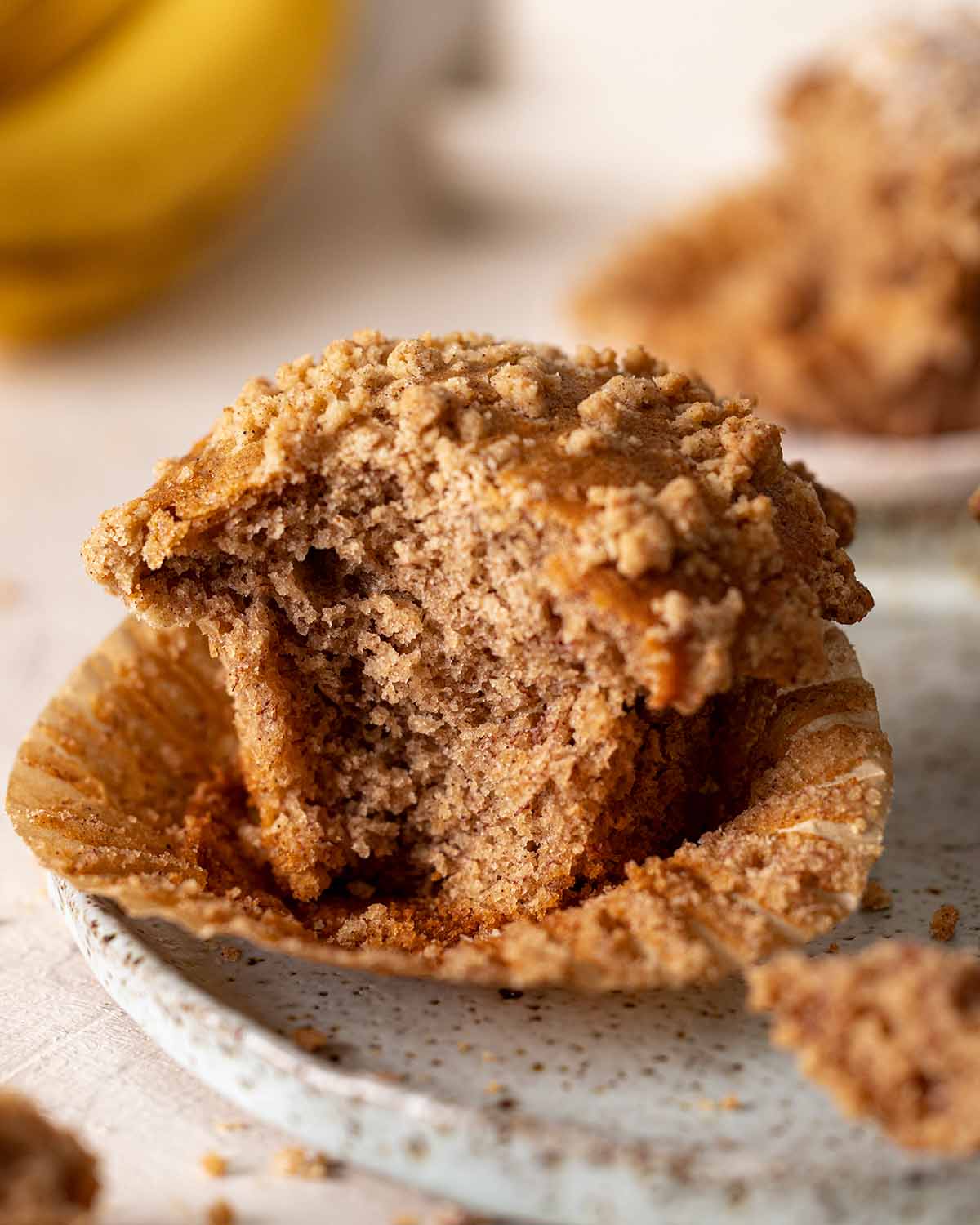 More vegan banana recipes
Follow Rainbow Nourishments on Instagram, Facebook, TikTok and Pinterest, and subscribe via email to receive all of our latest recipes!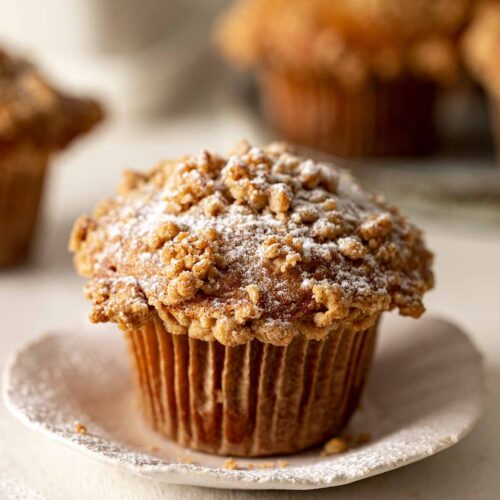 Print Recipe
Vegan Banana Muffins
Fluffy vegan banana muffins with a crumb topping and gorgeous cafe-style high tops. They come together in one bowl and are easy to make!
Ingredients
Wet ingredients
3

x (~360g total)

very ripe medium bananas

,

(about 1 ⅔ cups of mashed banana, note 1)

1

cup (190g)

packed brown sugar,

coconut sugar, regular sugar, or granulated sweetener of choice e.g. erythritol

½

cup (125g)

dairy-free milk,

room temperature

½

cup (125g)

neutral flavored oil

1

tablespoon

white or apple cider vinegar,

or lemon juice (optional)

1

teaspoon

vanilla extract,

(optional)
Instructions
Preheat the oven to 180°C (350°F). Line a 12-cup muffin pan with paper liners.
To make the vegan banana muffins:
Add the bananas to a large mixing bowl and mash until it forms a thick lumpy paste. Add the sugar and rest of the wet ingredients and mix until thoroughly combined.

Add all of the dry ingredients and mix until just combined. Some lumps are fine, as long as there aren't lumps of flour.

Use an ice cream scoop or a spoon to divide the batter in your muffin pan. The muffin batter should be close to the top of each cup (check the reference images above, note 2).
To make the crumb topping (optional):
Using the same bowl, add all ingredients for your crumb topping. Mix with a spoon or your fingertips until combined and the mixture is flaky and crumbly.

Generously sprinkle the crumb topping onto your muffins.
Baking and storing the muffins:
Bake the muffins for 23-27 minutes or until you can insert a toothpick in a muffin and it comes out mostly clean. The muffins have a lot of banana so a few crumbs on your toothpick are okay.

Allow the muffins to cool in the muffin pan for 15 minutes (or until they aren't too hot to handle). Then place them on a cooling rack.

Enjoy the vegan banana muffins warm or at room temperature. They're perfect by themselves or with some vegan butter.

Store any leftover muffins in an airtight container at room temperature for up to 3 days, in the fridge for up to 5 days or in the freezer for up to 1 month. If the crumb topping softens over time, you can reheat them in the oven for 10 minutes at 160°C (320°F) or until heated through.
Notes
1. For the best results, I recommend weighing your bananas. The weight measurement was taken after I peeled the bananas.
2. For the highest muffin tops, I recommend baking 6 muffins at a time in a 12-cup muffin tray. Spacing apart the muffins allows the hot oven air to bake them faster, resulting in higher tops. This means you'll need to bake the muffins in 2 lots.
Nutrition
Serving:
1
muffin without topping
|
Calories:
330
kcal
|
Carbohydrates:
48
g
|
Protein:
4
g
|
Fat:
14
g
|
Sodium:
171
mg
|
Potassium:
187
mg
|
Fiber:
2
g
|
Sugar:
19
g
|
Vitamin A:
22
IU
|
Vitamin C:
3
mg
|
Calcium:
101
mg
|
Iron:
2
mg
This post may contain affiliate links. As an Amazon Associate, I may earn a small commission from qualifying purchases at no additional cost to you.