These vegan pumpkin donuts are easy to make, fluffy, and baked not fried! You'll need less than 10 ingredients to make this cozy Fall snack. And you can choose between a pumpkin spice sugar coating OR a maple icing!
Ingredients to make vegan pumpkin donuts
The full list of ingredient quantities and instructions are in the gray recipe card at the bottom of this post.
Notes about the ingredients
All-purpose flour for the fluffiest donuts. To make healthier donuts, you can use spelt or whole wheat flour. For gluten-free pumpkin donuts, see the notes in the recipe card at the bottom of this post.
Pumpkin puree, either canned or homemade. Pumpkin puree doesn't only lend flavor but acts as a great egg replacer. I added a little extra puree as it helps keep these donuts intact especially when we decorate them.
Brown sugar or coconut sugar for depth of flavor. Granulated sugar will also work but it isn't as flavorsome.
Dairy-free milk. I prefer using soy milk in baking as it makes cakes more tender. However, any dairy-free milk such as oat milk or almond milk will work.
How to prepare the donut batter
The donut batter comes together in one large mixing bowl! Simply mix all the dry ingredients, add all the wet ingredients and mix until combined.
The batter should be a little thicker than pancake batter but runny enough to pipe or spoon into your donut pan.
Tips for filling the donut pan
These easy pumpkin donuts can be baked in either aluminum or silicone donut molds. However, I have a couple of tips that prevent the donuts from sticking to the pan:
Grease your donut pan and then lightly dust each mold with flour.
Use the full amount of pumpkin puree in the recipe. I added more pumpkin puree in the batter as it helps prevent the donuts from crumbling when you remove them from the pan.
To transfer the pumpkin donut batter to the pan, I recommend using a spoon or a piping bag!
How to decorate the donuts
These vegan pumpkin donuts are delicious with either a pumpkin spice sugar coating OR a simple maple icing. You can even top them with mini biscoff pumpkins!
Pumpkin Spice Sugar Coating
The pumpkin spice sugar coating is a take on the classic cinnamon sugar coating. If you've run out of pumpkin pie spice, you can simply use ground cinnamon!
The vegan pumpkin donuts are quite moist so the sugar should automatically stick to them. However, if your donuts are drier to the touch, brush a tiny bit of oil or melted vegan butter on your donuts then dip them in the sugar.
Maple Icing
The maple icing is creamy and thicker than a Krispy Kreme glaze but not too thick that a donut breaks when you dip it in.
To make the icing, add the all ingredients to a small saucepan and stir over medium heat. Ideally, the icing should be the consistency of runny nut butter. If you mix the icing with a spoon, it should hold its shape for a few seconds then fall back into a puddle.
For a runnier icing, add a dash of milk and heat the icing a little more. For thicker icing, add more powdered sugar and allow the icing to cool for 1-2 minutes.
Expert Tips
I don't have a donut mold. Can I make muffins or mini cupcakes instead?
If you have a mini cupcake pan, you can make vegan pumpkin donut holes! Bake the mini cupcakes for a little less time and roll each one in the sugar coating.

For larger muffins, I recommend checking out my cafe-style vegan pumpkin muffins.

Can I make refined sugar-free donuts?
Yes, I recommend using coconut sugar in the donut batter. In the sugar coating, use coconut sugar instead of granulated sugar. Or skip the coating/icing altogether!
More vegan pumpkin desserts and breakfasts
Follow Rainbow Nourishments on Instagram, Facebook, TikTok and Pinterest, and subscribe via email to receive all of our latest recipes!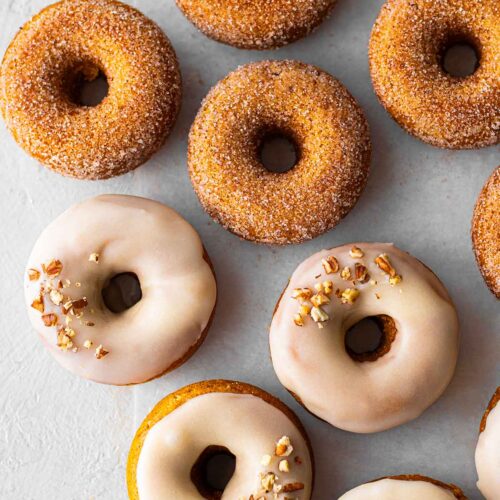 Print Recipe
Vegan Pumpkin Donuts
These vegan pumpkin donuts are easy to make, fluffy, and baked not fried! You'll need less than 10 ingredients to make this cozy Fall snack.
Ingredients
Option 1: Pumpkin spice sugar coating OR
Instructions
Preheat the oven to 180°C (350°F). Generously grease and lightly flour your donut pan. If you're using a silicone pan, place it on a sturdy baking tray.
To make the vegan pumpkin donuts:
Add all the dry ingredients to a medium-sized mixing bowl. Mix until there are no big lumps. Add all the wet ingredients and mix until just combined.

Use a spoon or piping bag with a large nozzle to divide the batter into the donut pan.

Bake the donuts for 18-20 minutes or until you can insert a toothpick into a donut and it comes out clean.

Allow the donuts to fully cool in the pan then carefully invert them onto a cooling rack or tray. The donuts are delicious by themselves however if you'd like to decorate them, proceed to the next few steps.
Option 1 - Pumpkin spice sugar coating:
Combine the sugar and pumpkin spice or cinnamon in a shallow bowl.

Dip the cooled donuts in the sugar coating (if the sugar doesn't stick, see note 4). Enjoy immediately.
Option 2 - Maple icing:
Add all ingredients to a small saucepan over medium heat. Melt and mix the icing until it is the consistency of runny nut butter. Add more milk to thin the icing or more powdered sugar to thicken it, keeping in mind the icing will thicken up a lot when it sets. (See note 6)

Dip the smooth side of each donut into the icing allowing the excess to drip off. Immediately sprinkle the pecans on top and allow the donuts to set at room temperature. When the frosting is dry to the touch, enjoy!
Serving the donuts:
The donuts are best enjoyed on the day of baking. If you'd like to serve them on another day, store them undecorated and decorate them before serving. As the donuts are baked and very moist, they will soak up the sugar coating or icing after a day.

The undecorated donuts can be stored in an airtight container at room temperature for a day, in the fridge for up to 3 days or in the freezer for up to 1 month.
Notes
MEASURING FLOUR: Make sure you measure the flour accurately, otherwise your donuts will be dry. If you're using measuring cups, use the spoon and level method where you fluff up the flour in the bag, use a spoon to add flour to a measuring cup, then level it off with a knife. I don't recommend using the measuring cup to scoop flour out of your container as this will add too much flour to your donuts. Alternatively, use the grams measurements.
GLUTEN-FREE OPTION: I haven't tested these donuts with gluten-free flour but readers have said that some of my other pumpkin cake recipes work well with King Arthur's measure for measure flour.
Brown or coconut sugar gives a better flavor to these donuts, though granulated sugar will still work.
To make your own pumpkin spice, combine 1 ¾ teaspoons ground cinnamon, ½ teaspoon ground nutmeg, ½ teaspoon ground ginger and ¼ teaspoon ground cloves.
If you don't have canned pumpkin puree, roast or boil some pumpkin until tender then blend the pumpkin until it's a thick and smooth puree.
The donuts should be moist enough that the sugar instantly sticks to the donuts. If they don't, very lightly brush the donuts with melted butter or oil then dip them in the sugar.
6. I'd recommend making a thicker rather than thinner icing as baked donuts absorb a thinner icing much quicker (after a few hours).
Nutrition
Serving:
1
plain donut
|
Calories:
180
kcal
|
Carbohydrates:
27
g
|
Protein:
2
g
|
Fat:
8
g
|
Sodium:
134
mg
|
Potassium:
58
mg
|
Fiber:
1
g
|
Sugar:
9
g
|
Vitamin A:
2595
IU
|
Vitamin C:
1
mg
|
Calcium:
79
mg
|
Iron:
1
mg
This post was originally published in 2020 and updated in 2021.
This post may contain affiliate links. As an Amazon Associate, I may earn a small commission from qualifying purchases at no additional cost to you.