Moist and melt-in-your mouth vegan apple cake with a delectable pecan crumble. Perfect as a vegan tea cake or with coffee! Can be made gluten free, nut free and refined sugar free. This cake is also known as a vegan Apfelkuchen!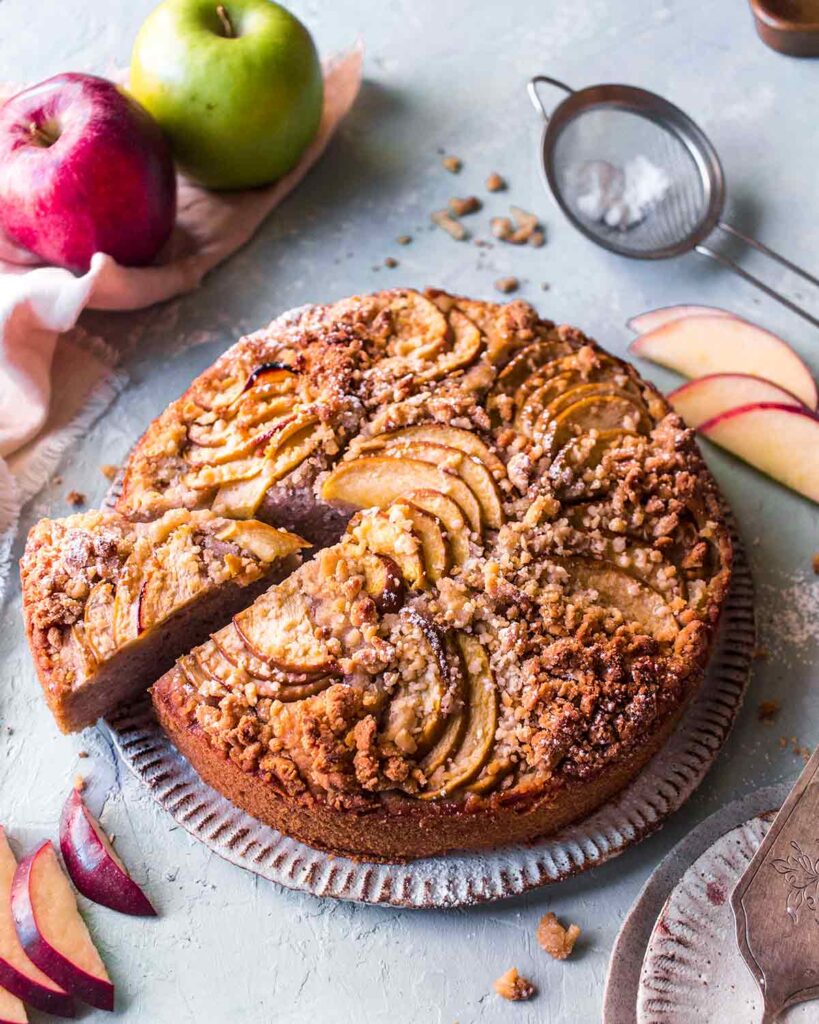 This vegan apple cake is easy to make, customisable and will melt in your mouth! Biting into a piece is like a warm hug from your inside! This is my favourite vegan cake recipe on my website.
This is called a 'vegan tea cake' (UK) or a 'vegan apple coffee cake' (USA) because it's meant to be enjoyed with tea or coffee :). In Germany, this would be a 'vegan Apfelkuchen'! Frankly, I'll skip the hot beverage and enjoy it by itself!
Ingredients for making this vegan crumble cake
I might be biased but this is the best vegan apple cake I've ever had! And you can make it common pantry staples including:
Plain or all-purpose flour
Coconut sugar or brown sugar or cane sugar
Plant-based milk. I use almond, coconut and soy and they all work well.
One apple, grated coarsely or chopped finely
Liquid vegetable oil, such as sunflower or rapeseed.
Apple cider vinegar or white vinegar which curdles the dairy-free milk and tenderises the flours in the cake. For ease, I don't combine the milk and ACV seperately but I just add it at the same time to the larger mixing bowl.
Baking powder
Cinnamon and salt
Making the apple cake batter is pretty straight forward. Simply:
Mix all the dry ingredients until combined
Add all the wet ingredients and mix until it forms a thick batter
My top tips for making a FLUFFY vegan apple cake
I've experimented with soo different flours, sugars, apples and fats. To make a delicious and fluffy vegan apple crumble cake, my top tips are:
Use plain flour. It's the lightest of all flours and doesn't weigh down a cake.
Use a dairy-free milk which you already like the flavour of. The differences between each dairy-free milk in the final cake is not very noticable.
Use coconut sugar as it has less moisture than brown sugar (makes the cake fluffier) yet imparts a beautiful caramel flavour unlike white sugar.
Grate your apple COARSELY, not finely. A finely grated apple will make your cake dense. See the process pictures above for a visual guide.
Making a gluten free vegan apple cake
To make this gluten free, I strongly recommend using almond meal and fine white rice flour. I've tested soooo many different combinations of gluten free flours (including using pre-made blends) and this is my favourite combination.
Almond meal makes the apple cake moist and fine white rice flour is super light and helps make a fluffy apple cake.
This isn't a recipe which is sub-par quality when it's gluten-free. I first tested this cake using gluten-free flour then substituted it with plain / all-purpose flour to see if it'd work in reverse.
There is barely any difference between the vegan apple cake when its made with regular flour versus gluten-free flour!
Can I substitute any of the ingredients to make the vegan apple tea cake?
If you MUST substitute any of the ingredients, here are some options. I have tried these or my readers have:
Replace plain flour with spelt flour or wholemeal plain flour for healthier vegan apple cake. Keep in mind that spelt and wholemeal will make the cake more dense.
Replace the liquid oil for melted butter.
Substitute pecans with walnuts for the crumble top.
Use regular sugar instead of coconut sugar. Regular sugar will create a cake lighter in colour and your cake will have no (or less of a) caramel profile.
How to make the vegan crumble mix
The stickiness of a liquid sweetener helps the ingredients bind together. Whereas the oil or butter makes sure that everything doesn't stick together TOO much.
The liquid sweetener makes a slightly chewier crumble but I love it! I've tried rice malt syrup and maple syrup for the crumble and they both work well. I'm sure you could use coconut nectar or other liquid sweeteners.
Assembling the vegan apple crumble cake
There are no rules to assembling the cake. I was inspired by the German Apple Cake Apfelkuchen, such as this one, which often has apple slices baked into the top of a cake.
I added an extra dose of YUM by making a pecan crumble. The crunch of the pecans makes every bite soooo delicious!
This vegan apple coffee cake recipe makes a THICK batter so I scooped/poured it into a 20 cm (8 inch) round cake tin. I also smoothed the top using a spatula.
Next, I arranged thinly sliced apples in fan shapes on top of the cake. Feek free to arrange them however you like!
Wet your hands with water then use your hands to scatter the crumble on the cake. The crumble is quite sticky and I'd highly recommend seperating the big lumps as much as possible. Otherwise the crumble will bake into a weird mass of crunchy stickiness.
With a sprinkling of powdered sugar, this cake is beautifully rustic and perfect for sharing with guests or bringing to a potluck!
I mean, just look at that crumb of this vegan apple cake! It will seriously melt in your mouth. And the apple cinnamon combination is divine!
Whether you call it a vegan tea cake, vegan apple coffee cake or vegan Apfelkuchen, this cake is mind-blowingly delicious!
Check out my other vegan apple recipes:
Or here are some other vegan desserts for Autumn/Fall:
Print Recipe
Apple Crumble Tea Cake
Moist and melt-in-your mouth apple tea cake with a delectable pecan crumble. Vegan and can be made gluten free, nut free and refined sugar free!
Ingredients
Instructions
Preheat the oven to 180°C (350°F). Line a 20 cm (8 inch) round cake tray with baking paper.
To make the cake:
Add all the dry ingredients to a large mixing bowl. Mix until there are no lumps. Add all of the wet ingredients to the bowl and mix until combined. Pour the cake batter into the cake tin. Flatten the top with a spatula
To prepare the crumble topping:
In a medium bowl, combine all the crumble ingredients and mix until well combined.
To assemble and bake:
Arrange the thinly sliced apple on the top of the cake in 'fan' shapes or as desired. Wet your hands and scatter the crumble in the gaps on top of the cake.

Bake the cake in the oven for 50-60 minutes or until a skewer can be inserted into the middle and there is no wet batter on it. The cake is very moist and there might be some crumbs on the skewer which is fine. If the cake is browning too quickly at any point, cover it with an oven-safe plate or aluminium foil.

Allow the cake to rest in the cake tin for at least 5 minutes. Remove the cake from the tin and dust with powered sugar if desired. Serve and enjoy!

The cake can be kept at room temperature for 1 day or in an airtight container in the fridge for 3 days.
Notes
*For a gluten free vegan apple cake, substitute the plain flour for

1 ½ cups (150g)

almond meal and 1 cup (160g) fine white rice flour.
Please leave a comment below if you made this recipe, have any questions or thoughts! Your comment will help other readers and Rainbow Nourishments.