This vegan gingerbread cake is moist, fluffy, packed with warm spices with a hint of molasses. The cake is easy to prepare and is the perfect dessert for any Christmas table this holiday season!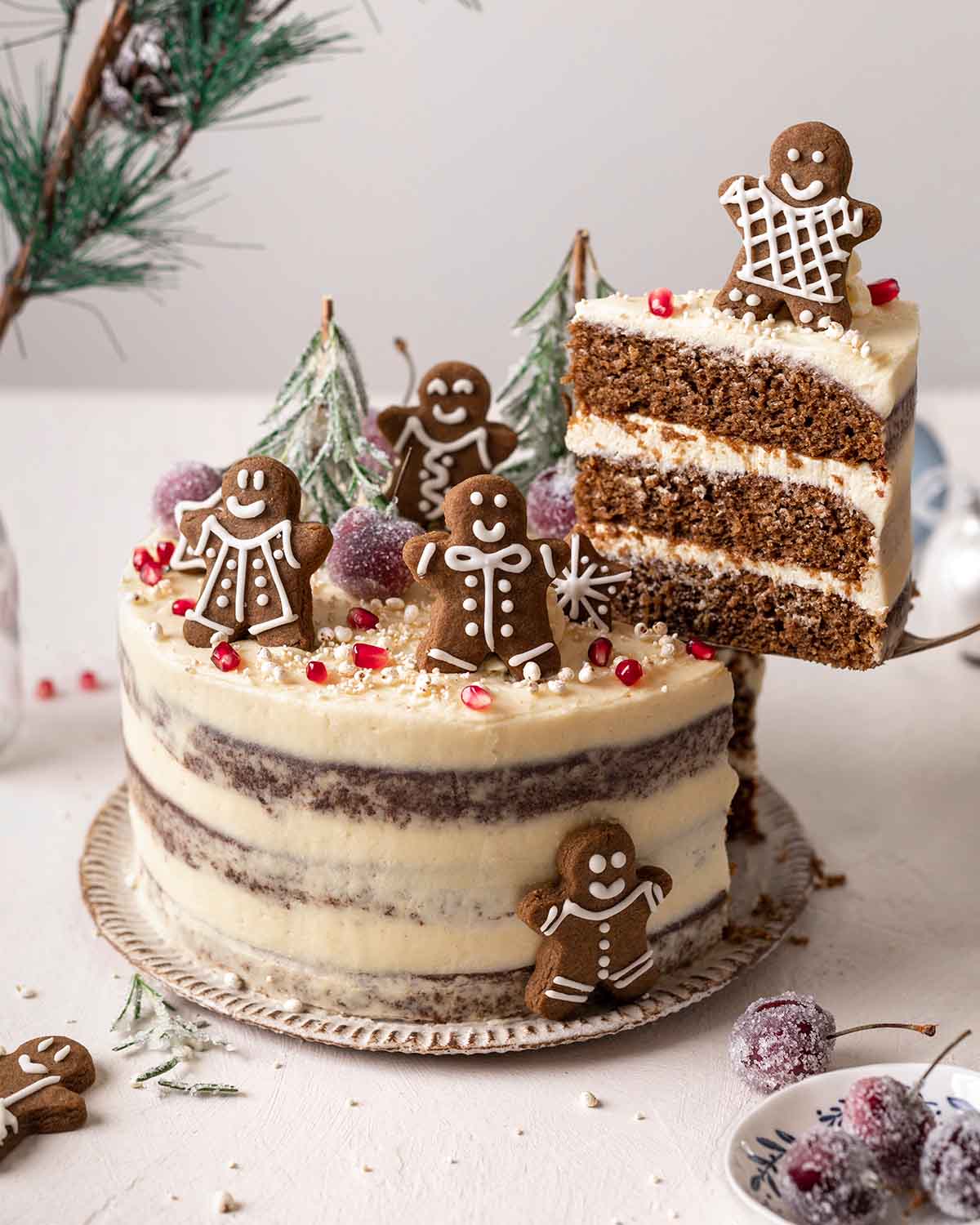 Why you'll love this cake
TASTE/TEXTURE: This vegan gingerbread cake is moist, perfectly spiced and has undertones of caramel. There are options to make the cake with or without molasses.
DIFFICULTY: The cake is really easy to prepare as all ingredients are mixed in one bowl. We're also using a super simple American-style buttercream! The frosted cake keeps very well in the fridge which means you can prepare the cake a few days before any event.
CUSTOMIZABLE: The recipe can be made as an easy sheet cake, a 2-layered cake or a 3-layered cake (pictured).
Ingredients you'll need
Notes about the ingredients
Light brown sugar for flavor and moisture in the vegan gingerbread cake. Alternatively, you may use regular sugar (for a lighter-colored cake) or coconut sugar (for a darker-colored cake).
Molasses provides a classic gingerbread flavor and helps bind the ingredients together (like an egg replacer). If you don't have molasses, you can use golden syrup or omit it with a few adjustments (see the notes in the recipe card at the bottom of this post).
LOTS of spices. For this large cake, we're using a total ¼ cup of spices! This amount gives a noticeable gingerbread flavor without being overpowering.
The full list of ingredient quantities and instructions are in the gray recipe card at the bottom of this post.
Preparing the cake
The cake batter is prepared in one bowl by mixing the dry ingredients then mixing in the liquid ingredients. It's really that simple!
For the best gingerbread cake, here are my top tips:
Mix the cake batter with a whisk or hand mixer. The molasses makes a sticky viscous batter but a whisk helps break it down.
Avoid overmixing the batter. Overmixing any cake batter will make the cake dense.
If you're making the cake without molasses, the batter should be a little runny like pancake batter.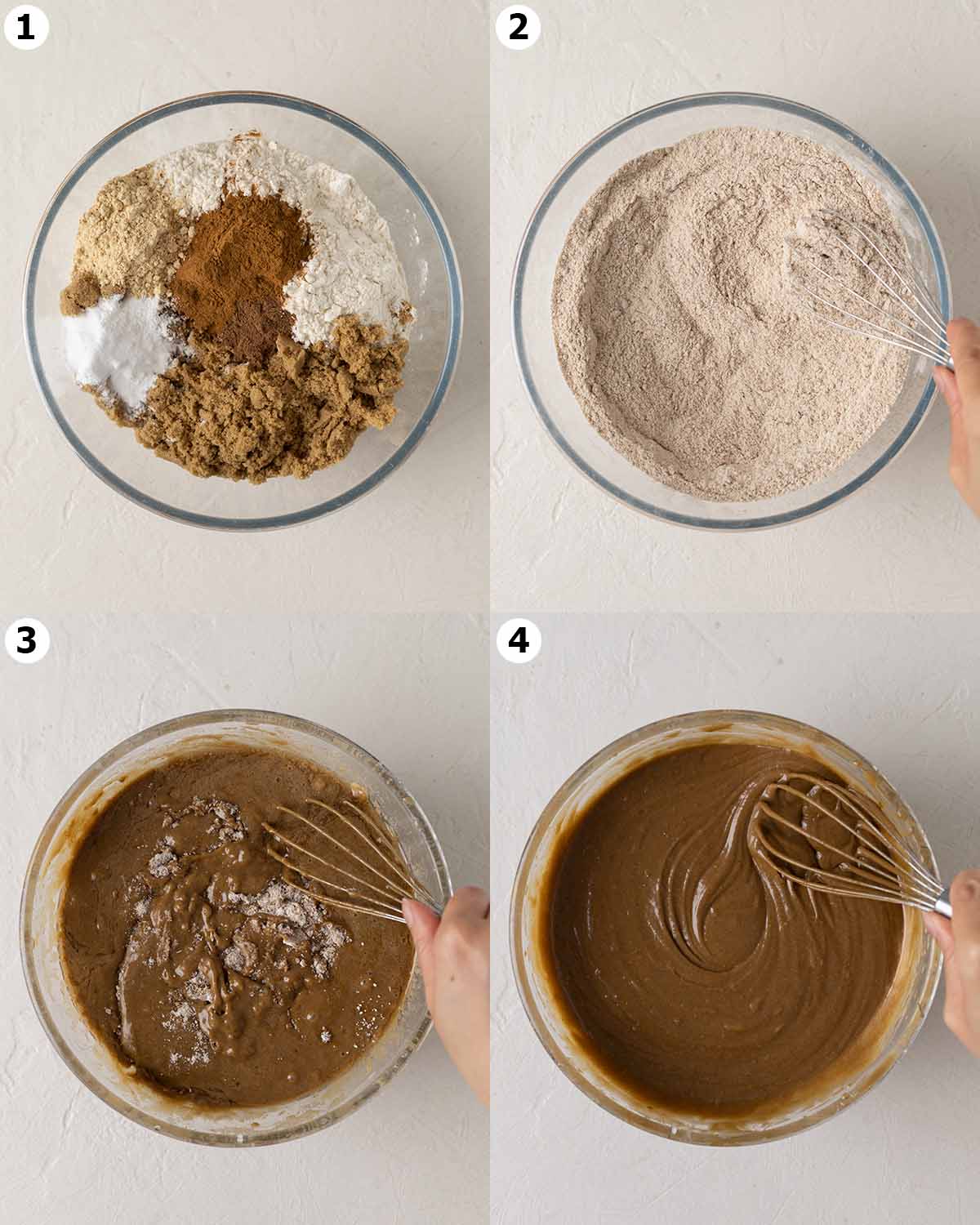 Tips for baking the cake
We're baking the vegan gingerbread cake at a slightly lower temperature (160°C or 320°F) because this creates flatter cake layers that are easier to stack.
TIP: Make sure your oven isn't too hot or cold. A hot oven causes a cake to dome more whereas a cooler oven can make your cake sink a little. However, don't stress if this happens to your gingerbread cake - we're covering it with frosting anyway!
I recommend allowing the cakes to cool in their pans for at least 20 minutes. These layer cakes are quite thin and delicate when they're warm!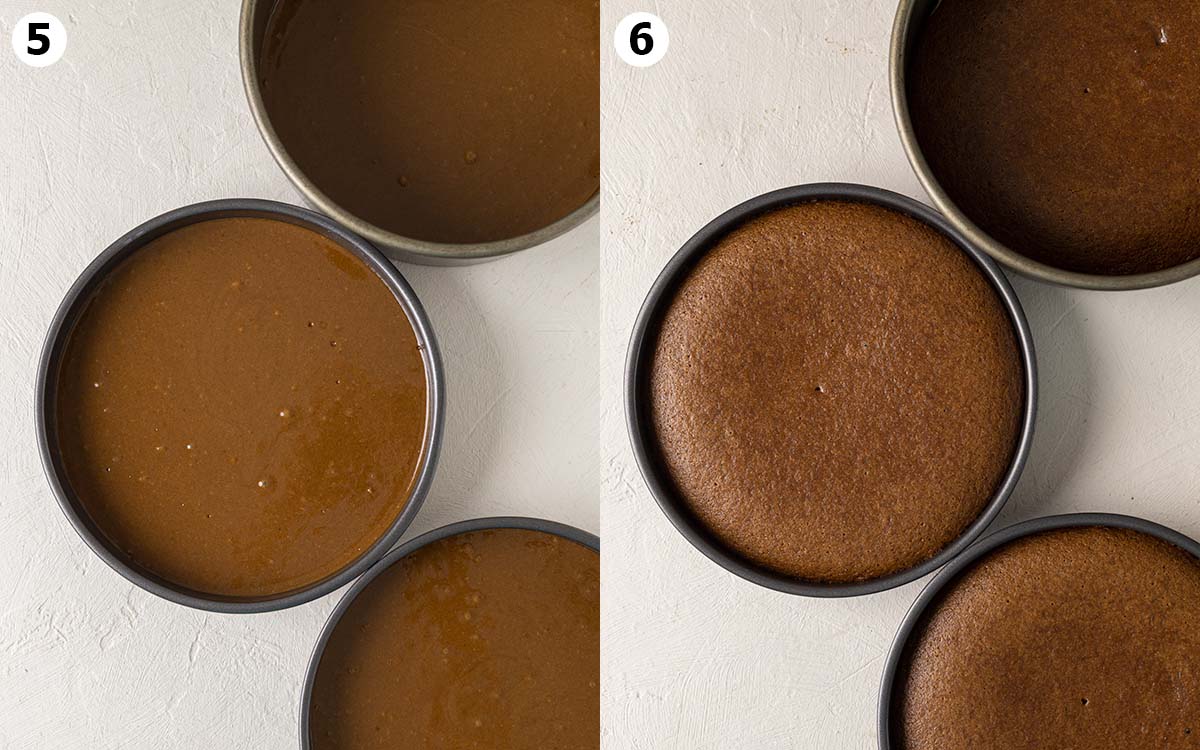 Decorating the cake
Once the gingerbread cake layers are at room temperature, they're ready to stack and decorate. However, if you have extra time, chill the cake layers in the fridge for 4 hours or overnight. Chilled cakes are always easier to handle!
Even though we baked these cakes at a lower temperature, they may still dome. If so, use a serrated knife to carefully cut the domes off.
I decorated my cake like a rustic 'naked-style' cake where the sides have a minimal amount of frosting. I love the contrast between the dark gingerbread cake and the light creamy frosting! If you prefer a fully-frosted cake, you'll need to increase the amount of buttercream.
I topped my cake with gingerbread cookies, sugared rosemary, sugared cherries and pomegranate arils. Other topping ideas include:
Dried coconut. Coat your whole cake in coconut to mimic snow.
Fresh or sugared cranberries
Mini gingerbread house
Crushed gingerbread cookies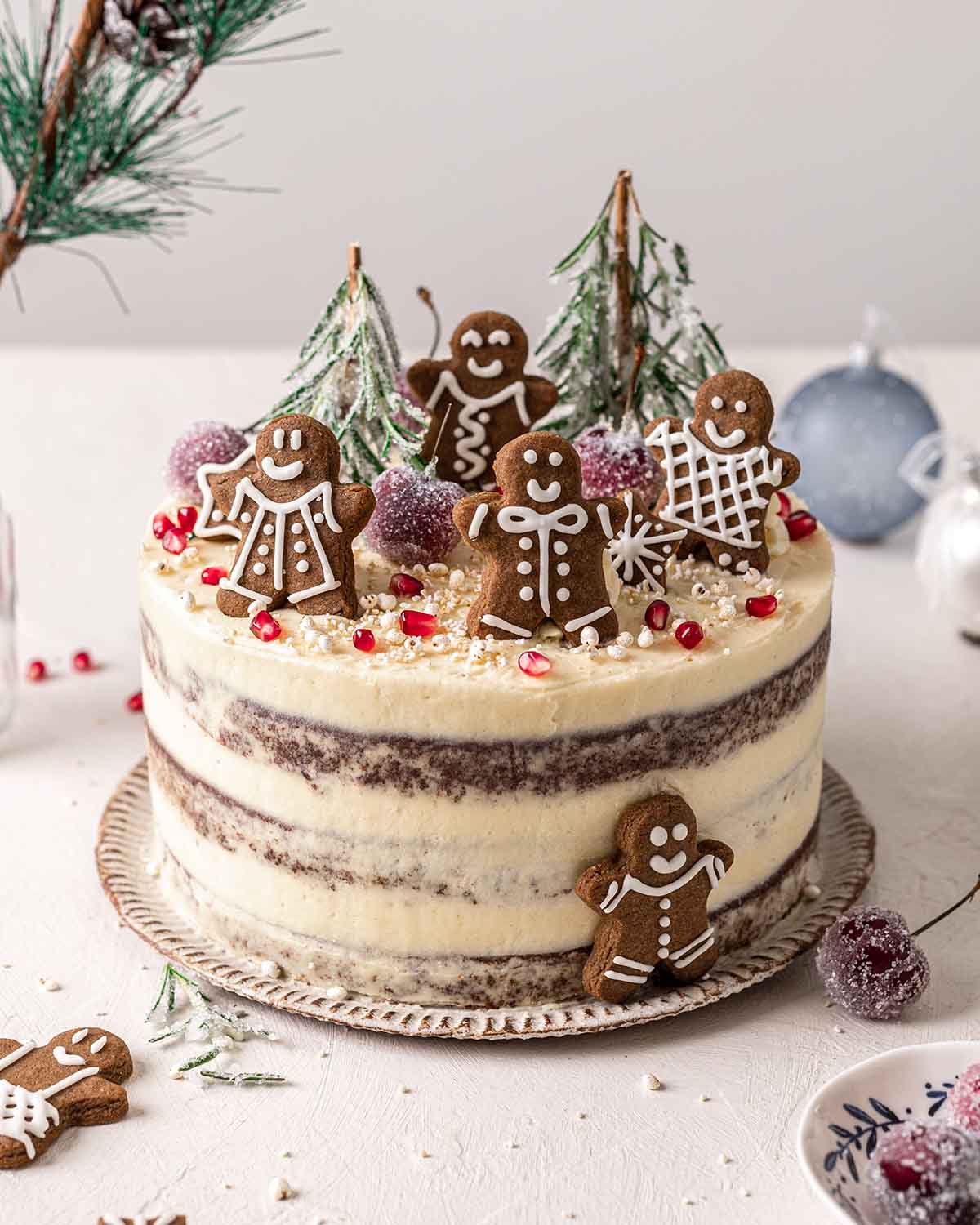 Making the cake and decorations in advance
1-2 days in advance, you can make the cake and frosting and store them separately in the fridge. The frosted cake (with no decorations) also keeps well in the fridge for 1-2 days. The frosting works as a great 'shield' between the cake and the fridge! However, I still recommend placing the frosted cake in an airtight container.
The cake and frosting can also be prepared a few weeks in advance and frozen. If you do this, I recommend storing the cake and frosting separately in an airtight container or food wrap. 1-2 days before serving, allow the cake and frosting to thaw in the fridge. The cakes can be chilled when you stack them but make sure the frosting is at room temperature. You may need to re-whip the frosting for a few seconds to give it back some life.
Gingerbread cookies can be made 1-2 weeks in advance and stored in the fridge or freezer. The sugared rosemary and cranberries or cherries can be made 1 day in advance and stored at room temperature.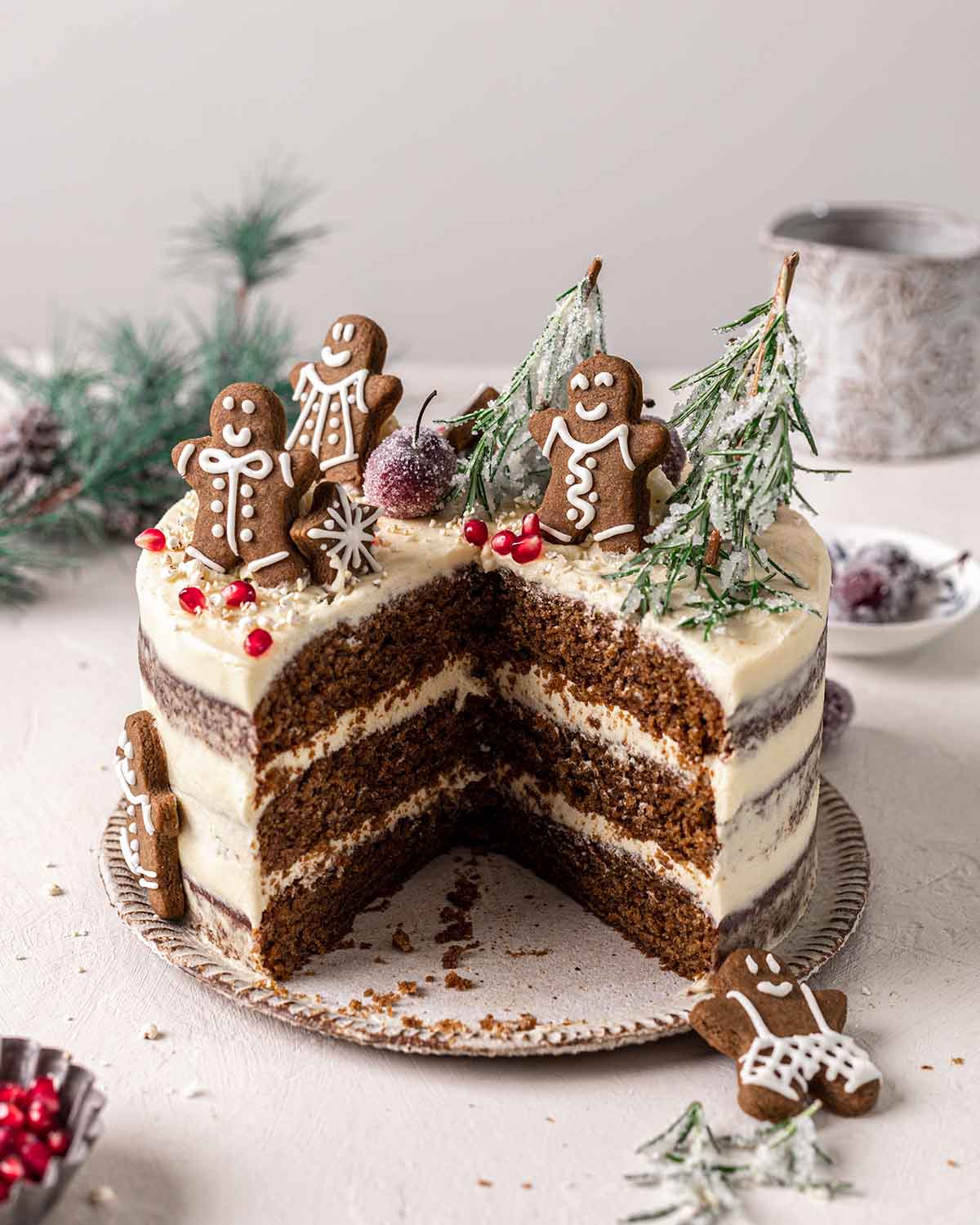 Baking this gingerbread cake in a different pan
If you'd like to make a sheet cake, this cake will bake wonderfully in a 13 x 9 inch pan. Bake it for around 30-40 minutes and let the cake cool completely in the pan.
For a small 1-layer cake, check out my easy vegan ginger cake which is baked in an 8-inch square pan.
For a 2-layer cake, prepare the batter as is and divide it into two 8-inch or 9-inch round pans. Bake them for around 30-35 minutes or until done.
To make a gingerbread loaf (in an 8-inch loaf pan) scale the ingredient quantities down to '13 serves' and bake it for around 1 hour.
Cake with or without molasses
The vegan gingerbread cake WITH molasses is slightly sticky and has a slightly denser crumb than the cake without molasses. It doesn't rise as much as the other version because it's weighed down by the molasses.
The vegan gingerbread cake WITHOUT molasses (pictured below) is light and airy almost like a sponge cake. It has a simpler flavor profile and rises a little taller than the gingerbread cake with molasses.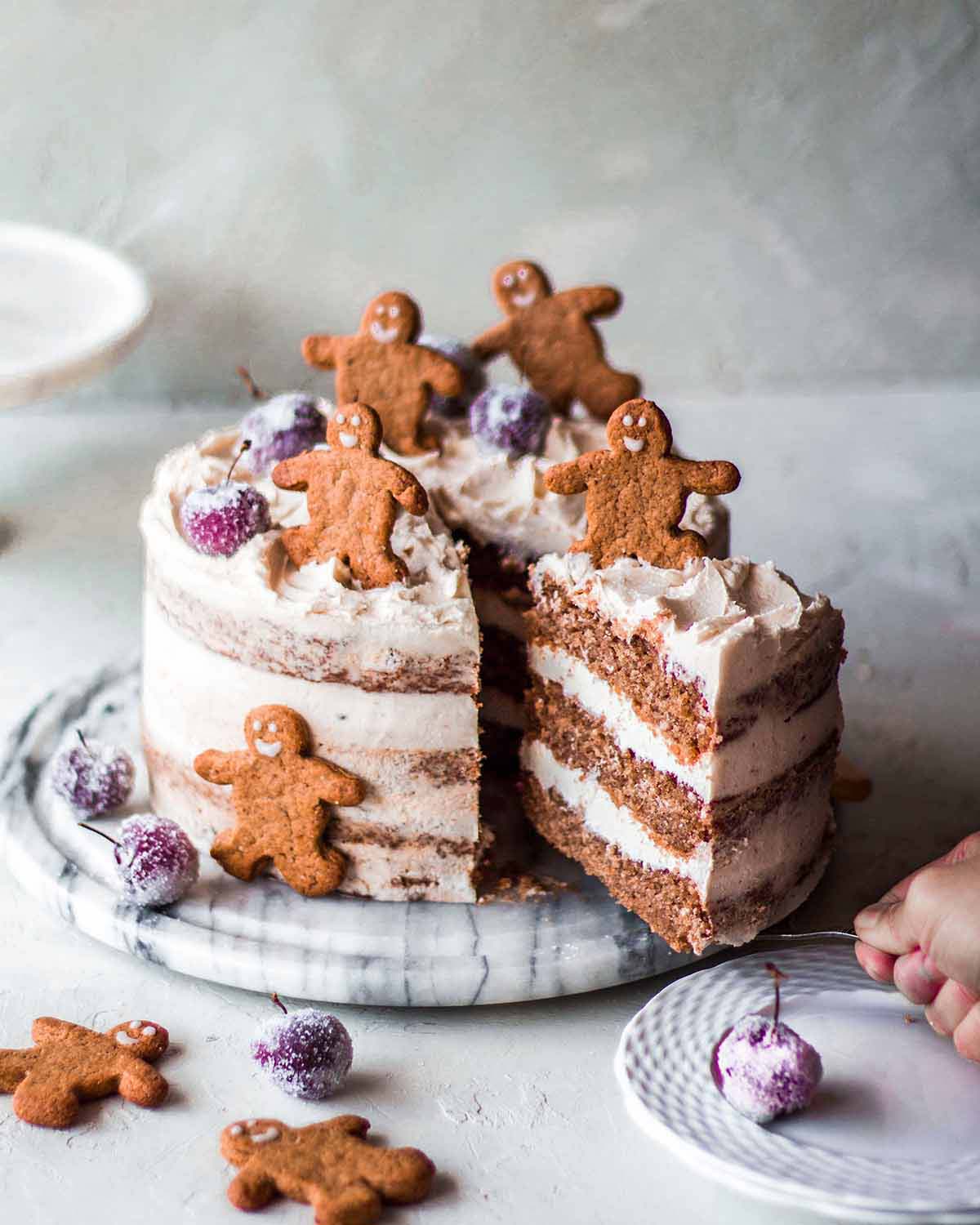 Expert Tips
Can I add anything else to this cake or customize the flavor?
To the cake batter, you can:
- substitute some of the dairy-free milk for orange juice
- increase the spices (cinnamon, ginger and add cloves). You'll get a wonderfully spiced cake that isn't overpowering. The amounts are listed in the notes in the recipe card.

When decorating, you can:
- use a vegan cream cheese frosting. Cream cheese frostings are notoriously soft so I recommend adding a stabilizer such as corn starch and vegetable shortening/coconut oil. Check out the frosting recipe in my vegan mango cake recipe.
- add some cranberry jam between the layers. If you do, make sure you create a 'dam' of frosting otherwise, your jam will ooze out.


More vegan gingerbread dessert recipes
Follow Rainbow Nourishments on Instagram, Facebook, TikTok and Pinterest, and subscribe via email to receive all of our latest recipes!
Print Recipe
Vegan Gingerbread Cake
This vegan gingerbread cake is moist, fluffy, packed with warm spices, and has a hint of molasses. The cake comes together in one bowl using only common pantry ingredients. For make-ahead instructions, see note 1.
Ingredients
Instructions
Make the gingerbread cake:
Preheat your oven to 160°C (320°F). Line 3 x 8-inch (20 cm) round cake pans with parchment paper.

Add all the dry ingredients to a large mixing bowl or stand mixer. Mix until there are no lumps. Add all the wet ingredients to the bowl and mix until just combined.

Evenly divide the cake batter into your 3 prepared pans. Bake for 20-25 minutes or you can insert a toothpick in the center of each cake and it comes out clean. Allow the cakes to cool in the tins for 20 minutes then carefully place them on a cooling rack.
Make the frosting:
Add the vegan butter to a stand mixer with the whisk attachment or to a large bowl (if using a hand mixer). Beat on high speed for 3-5 minutes until the butter has increased in size and turned lighter in color.

Add 4 cups (400g) of powdered sugar and vanilla to the mixer or bowl. Beat on low for 30 seconds or until the sugar is fully incorporated. Increase to high speed and beat the frosting for another 5 to 10 minutes or until it's light and fluffy.

Taste test the frosting. For a sweeter frosting, add more sugar as desired. Beat the frosting until it's fluffy.
Assemble:
If the cake layers have domes, use a serrated knife to carefully slice off the domes. Flat cakes are easier to stack!

Place one cake layer on a serving plate and spread around ¾ cup buttercream on top. Place another cake layer on the frosting making sure it is level. Repeat until all cake layers have been used up.

Spread a thin layer of frosting on the sides and top of the cake. Use a spatula or cake scraper to smooth the surface, as desired.

1-2 hours before serving, decorate your cake with gingerbread cookies or as desired. If you have any leftover buttercream, use it to keep your decorations in place.

Store any cake leftovers in an airtight container in the fridge for up to 3 days or in the freezer for up to 1 month. Allow the cake to come to room temperature before eating.
Notes
Make ahead instructions: The cake, frosting and gingerbread cookies can be prepared 1-2 days in advance. Store them separately in an airtight container in the fridge overnight. You can also frost the cake and store it without decorations in the fridge for 1-2 days. The sugared fruit can only be made 1 day in advance and should be kept in a container at room temperature. See the blog post above for more details.
To spoon and level your flour, fluff up the flour in its container, use a spoon to add flour to your measuring cup, and level it off with a knife. Using your measuring cup to scoop flour out of the container will pack too much flour into your cup, which will result in a dry cake. Alternatively, use the grams measurements for the best results.
If you'd like a spicier cake, use 3 tablespoons ground cinnamon, 3 tablespoons ground ginger, 1 teaspoon ground nutmeg and ½ teaspoon ground cloves.
To make this cake without molasses, increase the brown sugar to 2 cups ( 380g) and increase the dairy-free milk to 1 ¾ cups (440g). All the other ingredients stay the same.
Nutrition
Serving:
1
serve without frosting
|
Calories:
271
kcal
|
Carbohydrates:
40
g
|
Protein:
3
g
|
Fat:
11
g
|
Sodium:
136
mg
|
Potassium:
196
mg
|
Fiber:
1
g
|
Sugar:
20
g
|
Vitamin A:
3
IU
|
Vitamin C:
0.04
mg
|
Calcium:
108
mg
|
Iron:
2
mg
This post may contain affiliate links. As an Amazon Associate, I may earn a small commission from qualifying purchases at no additional cost to you.