This Vegan Pistachio Cake has is naturally coloured with avocado, has a hint of lemon and is super moist. It is the perfect cake with your daily tea or coffee. This eggless pistachio cake has a unique and refreshing flavour profile!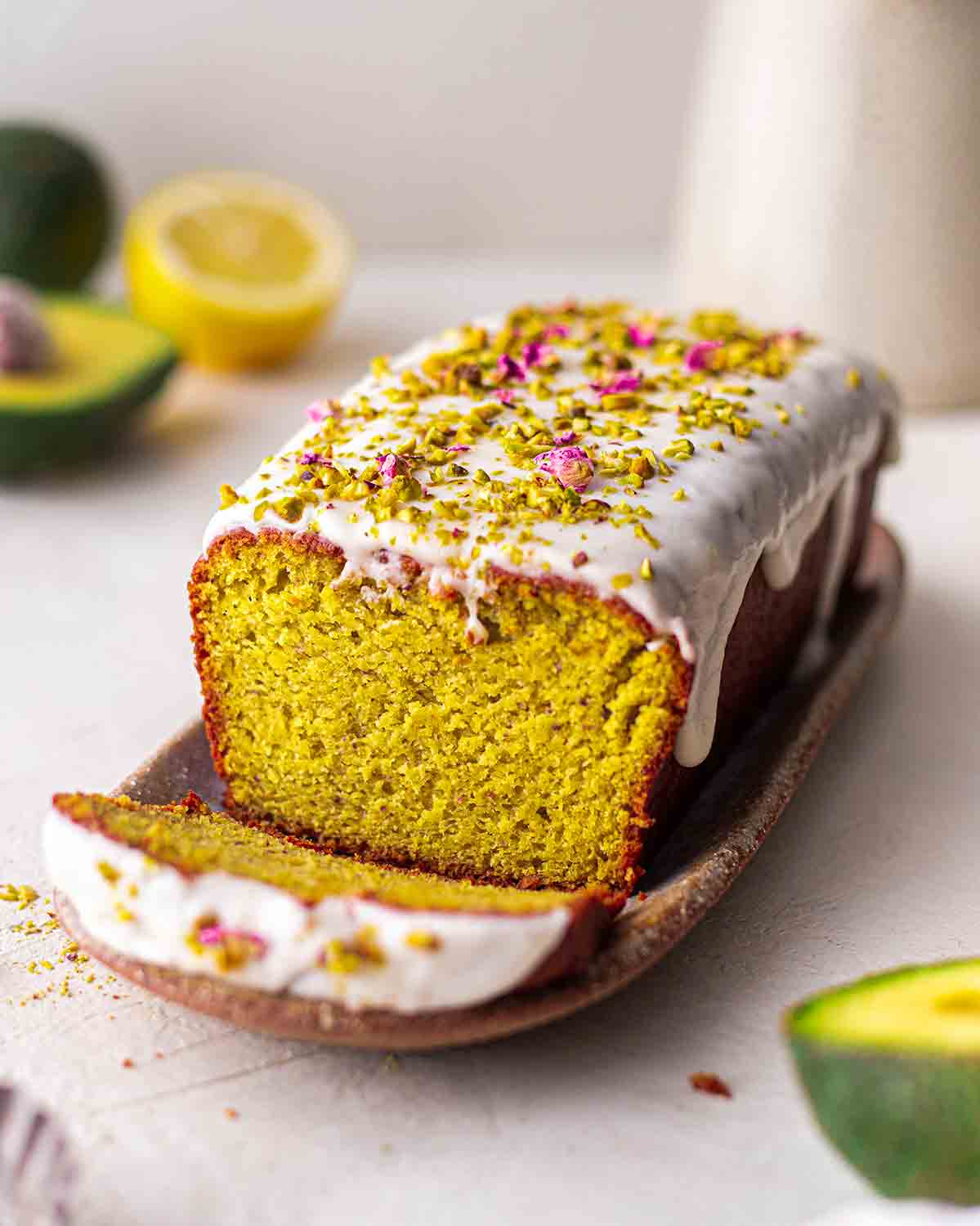 Why you'll love this cake
This cake is fluffy and has NO dense spots typical of nut-based cakes or eggless cakes. It has the texture of friands so is perfect for morning tea, afternoon tea or as an easy vegan dessert.
This eggless pistachio cake has a delicious and unique flavour profile. It has the nuttiness of pistachios, slight tang of lemon and beautiful green hue of avocados!
The natural fat in the avocado makes the cake extra moist and replaces some of the fat from eggs. With enough sweetener and lemon juice, the avocado flavour doesn't strongly come through.
Alternatively, check out my vegan grasshopper pie (which uses avocado) or my vegan pistachio cookies with cranberries.
Ingredients to make this cake
This lemon pistachio cake recipe has no weird ingredients, no food colouring and is packed with nuts and fruit (avocado)! Although it's an eggless cake, it doesn't use any egg replacers or aquafaba :).
If you're allergic to pistachios, I'd recommend my whole lemon cake or lemon drizzle cake instead. Or if you would like a vegan lemon avocado cake, simply substitute the pistachios with almond flour by grams.
Incorporating a lot of fruit or vegetables (avocado) to a cake can make it dense. However, adding an acid such as lemon juice (apple cider vinegar for other cakes) balances it out making a softer cake. In saying that, I do not recommend substituting the lemon juice with apple cider vinegar in its entirety, as there's quite a lot of it!
If you don't like the lemon flavour, you replace it with
orange or tangerine juice
dairy free milk and 1 tablespoon apple cider vinegar (for texture) OR
dairy free milk and almond extract (for flavour).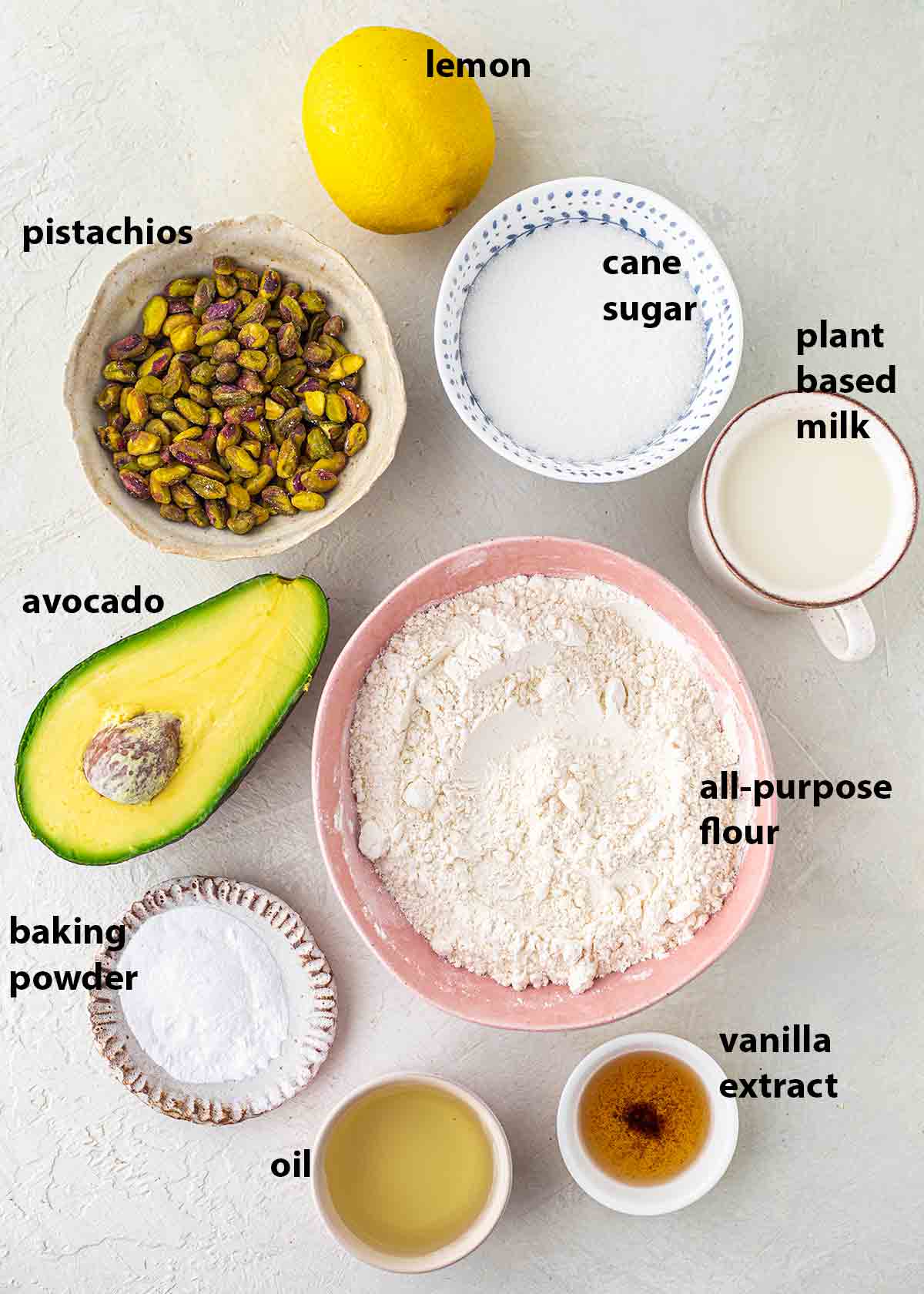 Steps to make the cake
I'm always a fan of easy cake recipes and this vegan lemon pistachio cake is no exception. To make the cake, add all dry ingredients (except the pistachios) to a bowl and mix.
Add the rest of the ingredients (pistachios, avocados and the wet ingredients) to a food processor and blitz until combined.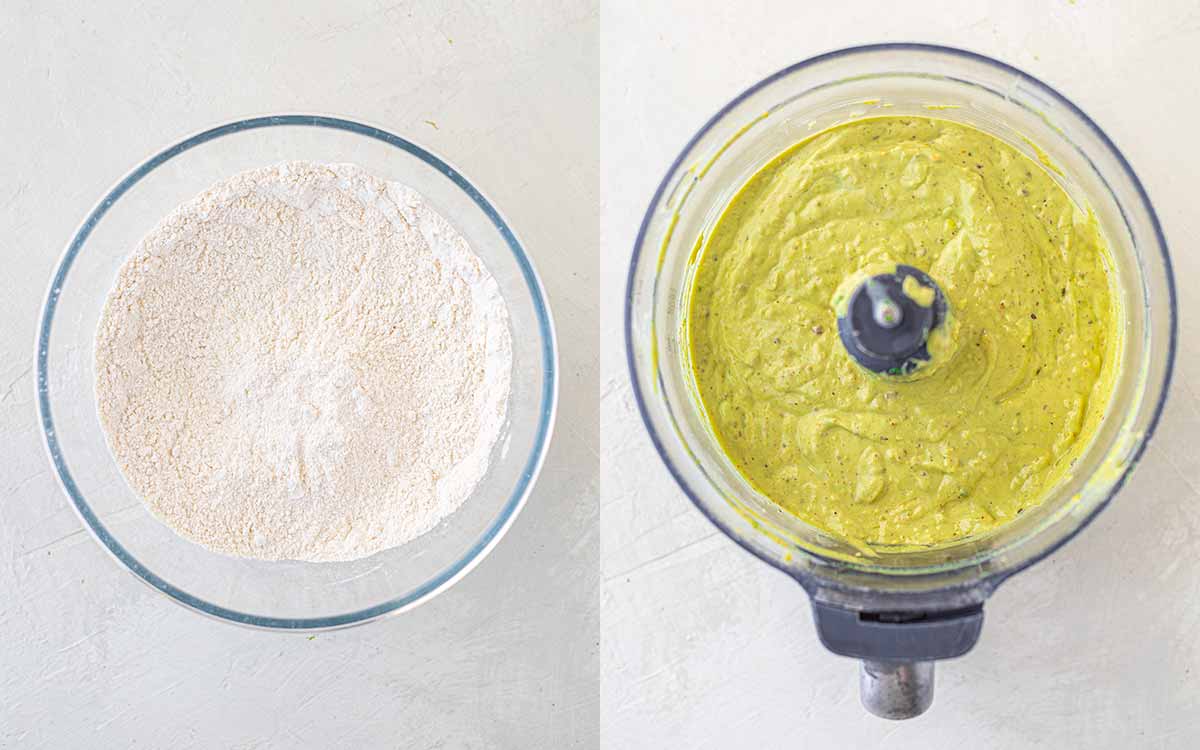 Combine the ingredients in your mixing bowl to form a very thick cake batter. As there's already so much natural moisture and oils in the avocado and pistachios, we don't need to add too much liquid!
As the batter is quite thick, you'll need to scoop (or slowly pouring) the mixture into your lined loaf tin.
Like all cakes packed with fruit or nuts (such as my vegan apple bread) this pistachio cake takes time to bake. If the cake browns TOO quickly and the middle is still uncooked, cover the tin with an oven safe bowl or aluminium foil to force the oven to cook inside the cake.
The final cake will be brown on the outside but green inside!
When you take the cake out of the oven, it will deflate a little. This is completely fine and will not affect the end result of the cake!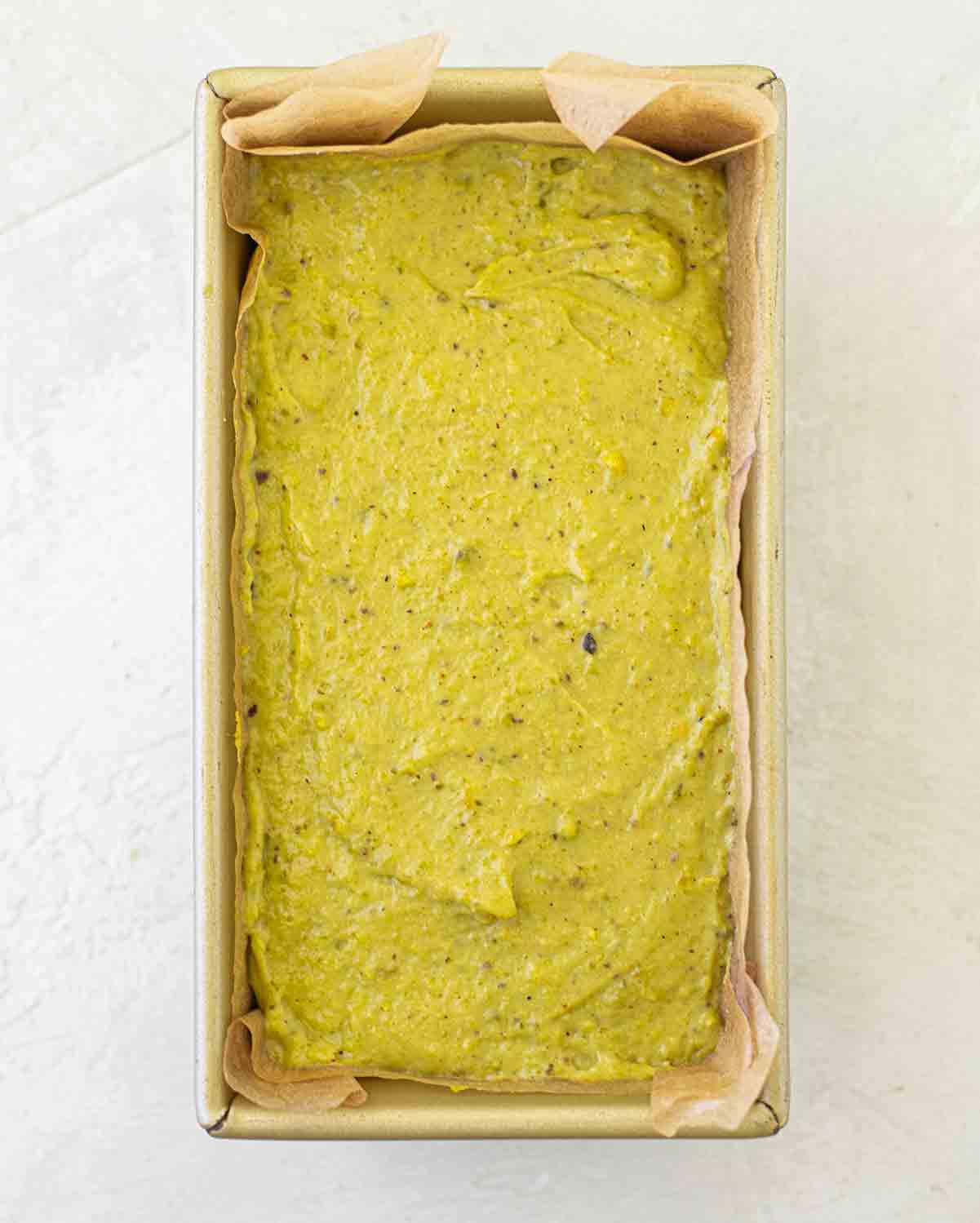 Icing and decorating the cake
A simple sugar icing best suits this lemon pistachio cake. It is elegant, simple and makes the cake look like it's from a cafe! I made the icing using only powdered sugar and lemon juice. You can sub the juice for almond milk or other plant-based milk but the lemon juice really adds an extra element to the cake.
Alternatively, if you want a healthy lemon pistachio cake, you can top it with thick coconut yoghurt or whipped coconut cream.
Key tips for baking:
Make sure your oven isn't too hot (many ovens are hotter than they say they are so I recommend getting an oven thermometer in the long term). There are lots of pistachios in this cake and nuts tend to burn easily in the oven. As mentioned above, if your cake is browning too quickly, simply cover the cake with a large oven-safe bowl or aluminium foil. Or you can lower the temperature of your oven.
Taste test the eggless pistachio cake batter before you bake it. I couldn't really taste the avocado in my final cake but if you can (and don't like it), simply add more lemon juice/zest.
This cake can be made into vegan pistachio cupcakes. Your cupcakes won't need to be baked for as long (maybe around 25 mins). They also won't deflate as much when out of the oven.
You can customise this cake to make a vegan pistachio and rose cake or vegan pistachio cardamom cake. Simply mix in a dash of rose water or cardamom spices to the cake batter and bake as is! You can also add rose water to the icing.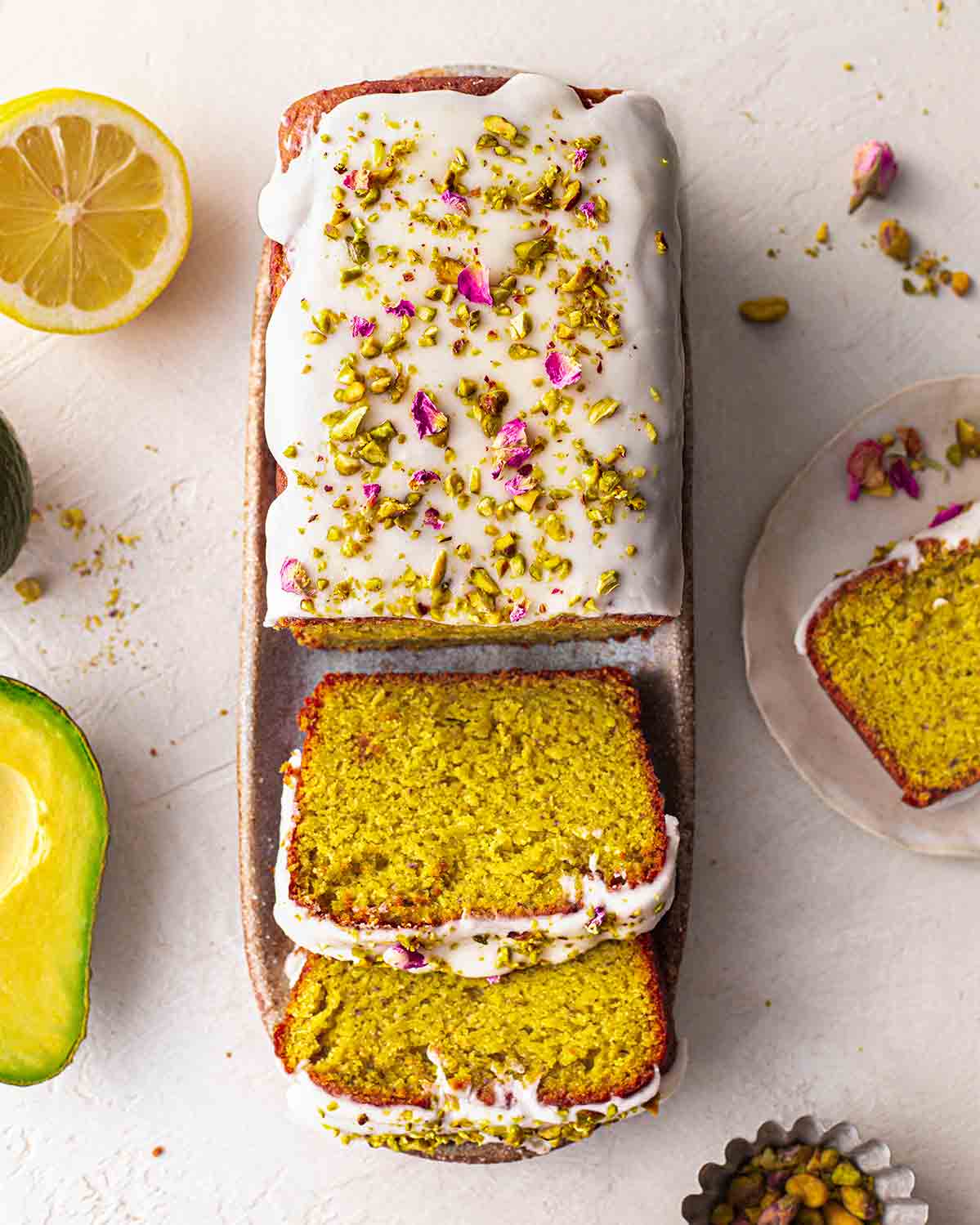 More vegan lemon desserts
Follow Rainbow Nourishments on Instagram, Facebook, and Pinterest, and subscribe via email to receive all of our latest recipes!
Print Recipe
Vegan Pistachio Avocado Cake
This Vegan Pistachio Cake is naturally coloured with avocado, super moist and not too sweet. It is the perfect vegan tea cake or coffee cake.
Ingredients
Instructions
Note: For accuracy, I recommend using grams for this recipe except for the tablespoon and teaspoon measurements!

Preheat the oven to 180°C (350°F). Line a 20 cm (8 inch) or longer loaf tin with baking paper. The longer your tin, the less time it'll take to bake your pistachio cake.
To make the pistachio cake:
Add all dry ingredients to a large mixing bowl. Mix until combined and there are no lumps. Set aside.

Add the pistachios to a food processor and blitz until it forms medium to fine crumbs. Add the avocado, milk, oil, lemon juice/zest and vanilla. Blitz until there are no more chunks of avocado. The mixture may be lumpy from the pistachios.

Pour the pistachio mixture into the mixing bowl with the flour. Mix gently until combined. The batter needs to be quite thick (otherwise the cake will not bake through).

Pour or scoop the cake batter into your loaf tin.

Bake the cake for 60-70 minutes OR until a skewer can be inserted into the middle and there is no wet batter on it (note 2). If the cake is browning too quickly but is uncooked in the middle, cover the cake with an oven-safe bowl or aluminum foil and bake until ready. The cake is very moist and there might be some crumbs on your skewer which is fine.

Allow the cake to rest in the tin for at least 10 minutes. Remove it from the tin and allow it to cool on a wire rack. The cake might deflate which is fine.
To make the icing:
Add all ingredients to a bowl and mix until combined. Add more powdered sugar for a firmer frosting or more lemon juice for a runnier frosting

When the cake has fully cooled, spoon the icing on top of the cake. Sprinkle with pistachios if desired.

The loaf can be stored in an airtight container at room temperature for 1 day, in the fridge for 3 days or in the freezer up to 1 month.
Notes
For a gluten-free vegan pistachio cake, substitute the flour with 1 cup (100g) almond flour and 1 cup (160g) gluten-free flour blend.
If you don't want to wait this long to bake the cake, bake it in a round 20cm cake tin for around 50-60 minutes
Nutrition
Serving:
1
slice without icing
|
Calories:
304
kcal
|
Carbohydrates:
35
g
|
Protein:
6
g
|
Fat:
17
g
|
Sodium:
127
mg
|
Potassium:
273
mg
|
Fiber:
4
g
|
Sugar:
14
g
|
Vitamin A:
68
IU
|
Vitamin C:
5
mg
|
Calcium:
98
mg
|
Iron:
2
mg
This post may contain affiliate links. As an Amazon Associate, I may earn a small commission from qualifying purchases at no additional cost to you.