One-bowl vegan chocolate chip muffins with huge bakery-style muffin tops! These muffins are soft and fluffy, and loaded with dairy-free chocolate chips.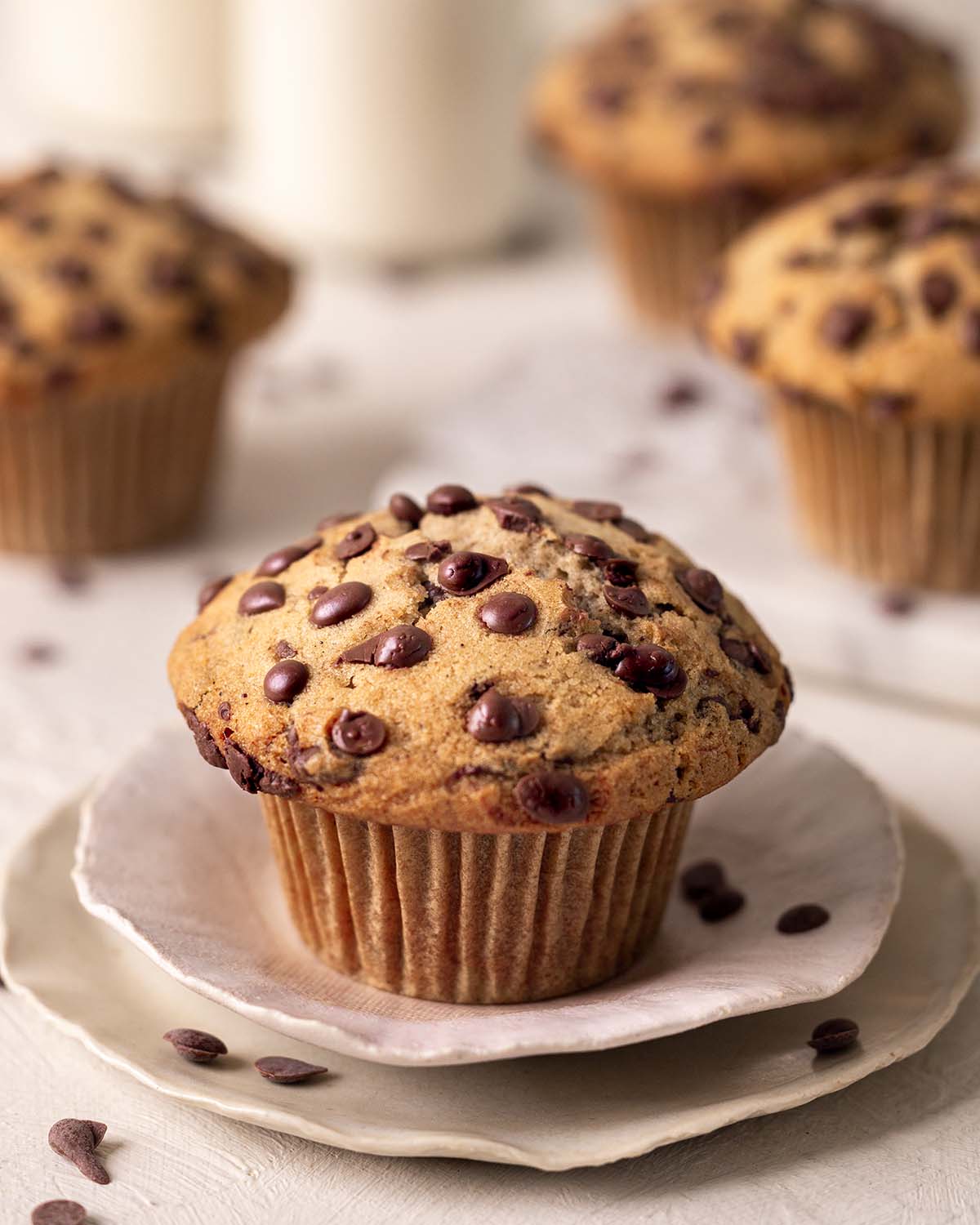 Why you'll love these muffins
TEXTURE/FLAVOR: These muffins have extra vanilla, extra chocolate chips and a hint of cinnamon for a wholesome bakery-style touch. They're moist and soft with crunchy tops and lots of melty chocolate chips.
EASY: One-bowl and no fuss. And I've provided the easiest tips for tall muffin tops!
OCCASION: These muffins are a delicious afternoon snack or breakfast. Or make regular-sized muffins for kids' lunchboxes!
Ingredients you'll need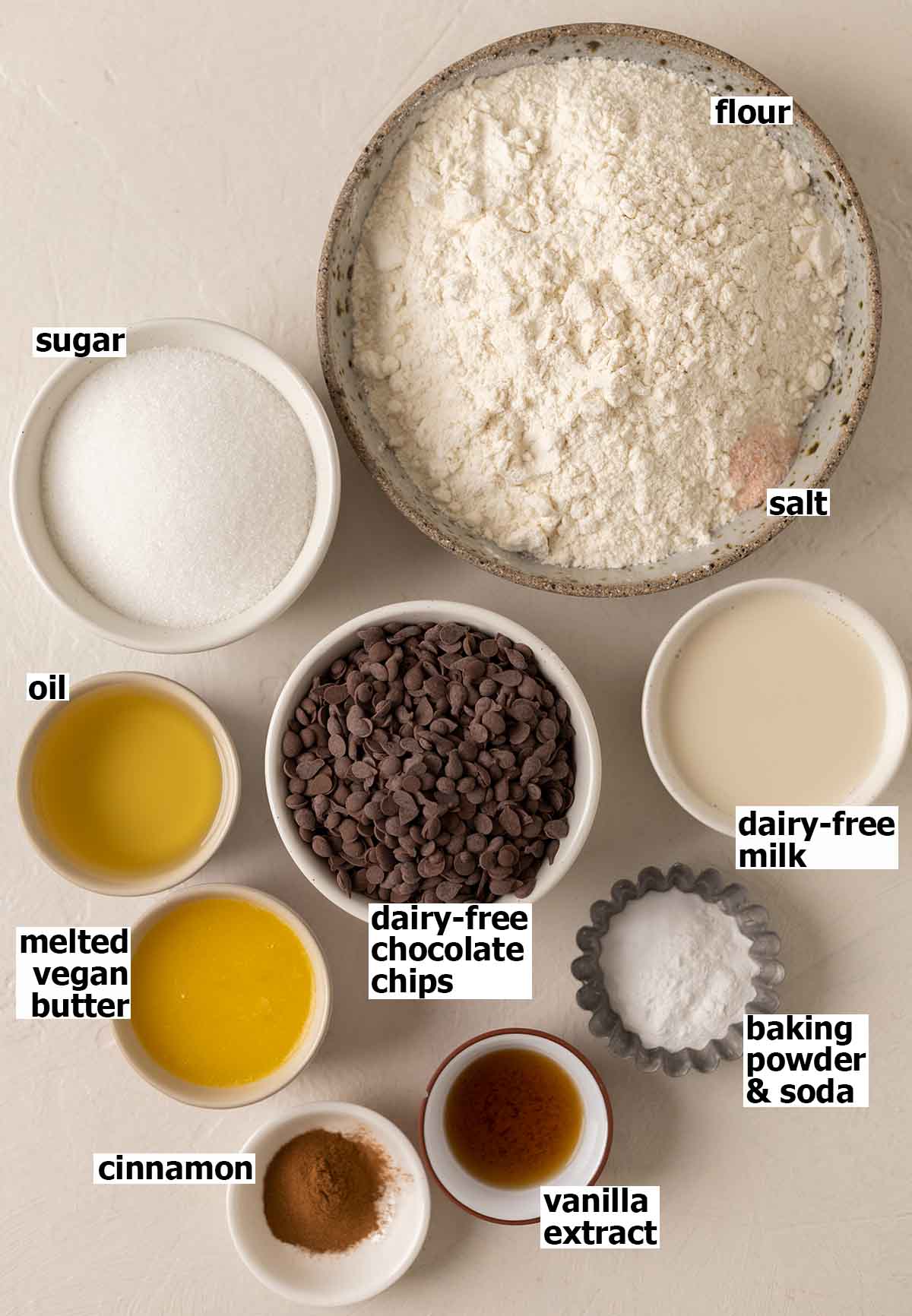 A complete list of ingredients, quantities and instructions are in the gray recipe card at the bottom of this post.
Notes about the ingredients
All-purpose flour or use spelt or whole wheat flour for more wholesome muffins.
Oil and melted vegan butter. We're using both because oil makes the muffins moister whereas vegan butter provides depth of flavor. Alternatively, you can use only oil. Melted coconut oil will work but make sure you enjoy the muffins warm because coconut oil can solidify and make the muffins feel dry.
Mini vegan chocolate chips or roughly chopped vegan chocolate (from a bar). I recommend using a brand of chocolate that you enjoy eating, as it's the main flavor.
Cinnamon and vanilla extract for extra flavor. They make the muffins taste like they're from a bakery and brings out the flavor of the chocolate chips.
Apple cider vinegar, white vinegar or lemon juice (optional). This reacts with the dairy-free milk to create vegan buttermilk and gives the muffins a more tender texture. You don't need to add the vinegar separately - it does its magic when added to the cake batter!
Making the muffin batter
Like all of my muffin recipes, these vegan choc chip muffins come together in one bowl!
First, combine the dry ingredients then stir through the wet ingredients until just combined (or until there are only a few more lumps).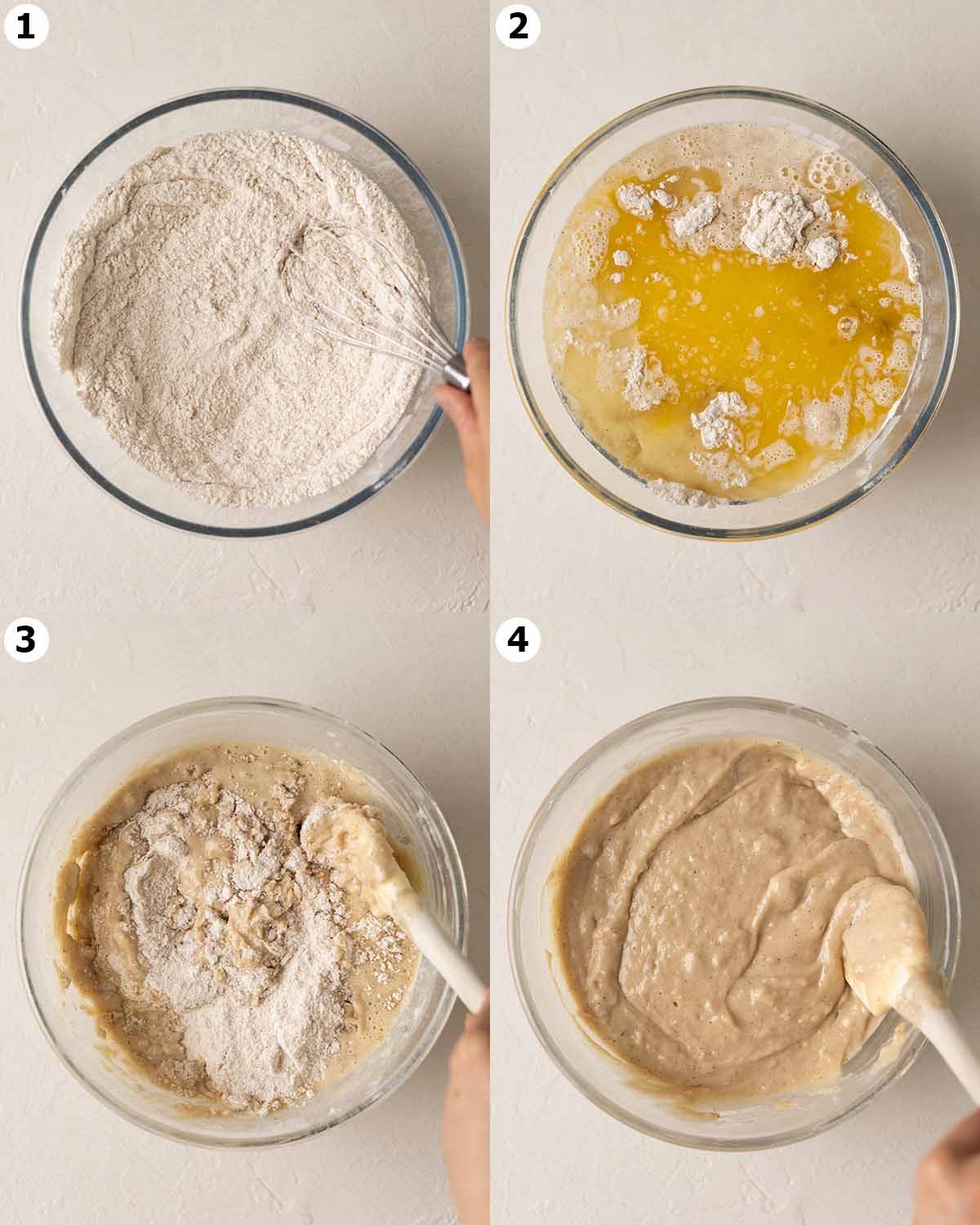 Add the chocolate chips and fold in. It should take only a few folds to incorporate all the chocolate chips.
KEY TIP: Avoid overmixing the batter. Some lumps in your batter are fine, as long as they aren't lumps of flour. Over-mixing results in denser muffins.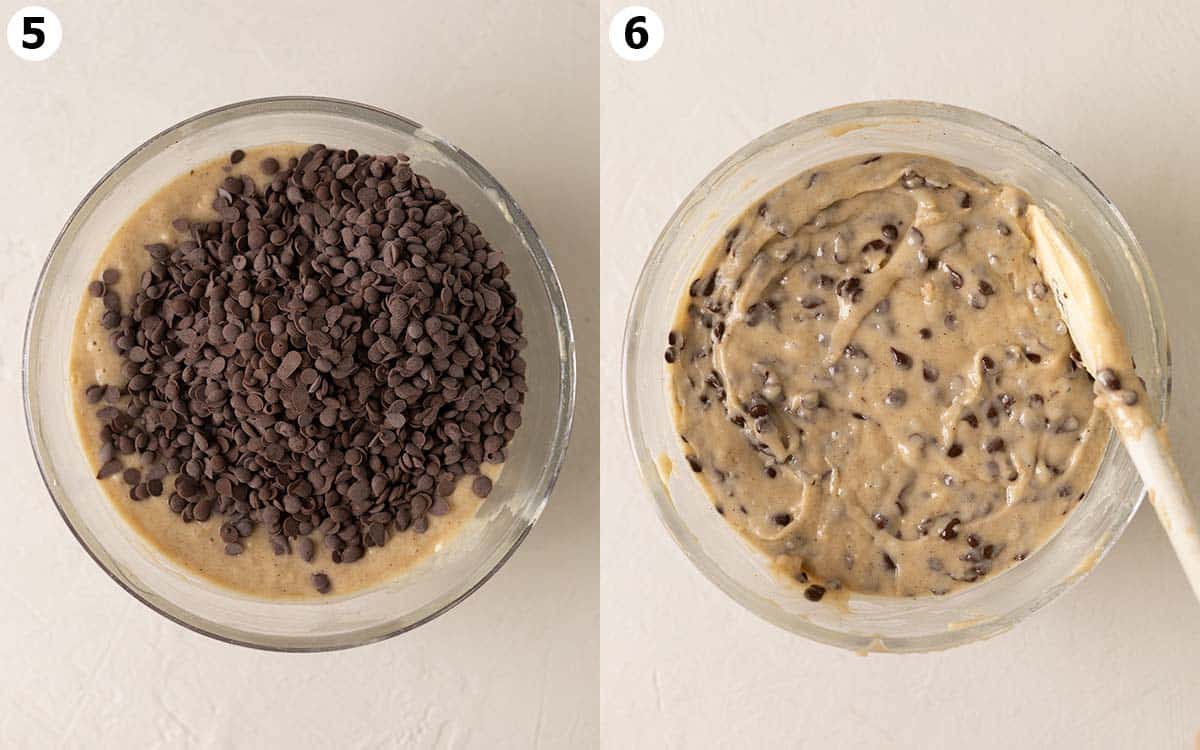 Dividing the muffin batter
I recommend using a large ice cream scoop to divide the muffin batter in your tin. It's much easier and there'll be fewer drips!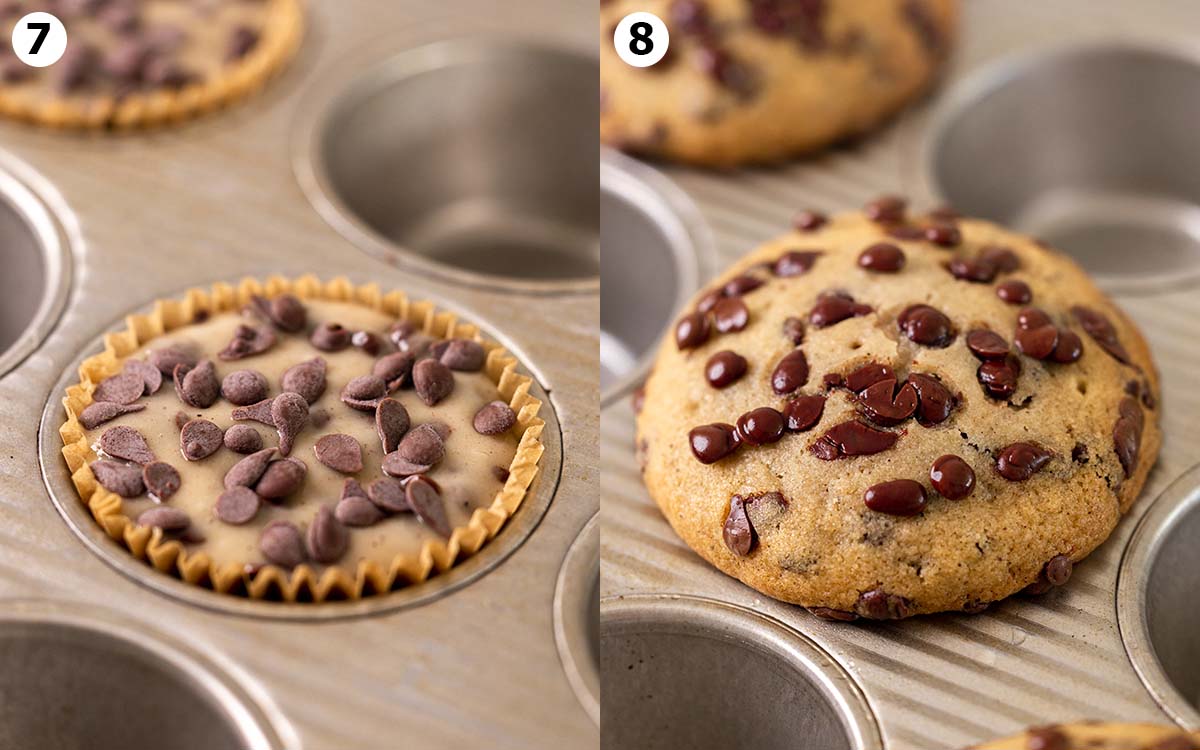 BEST method for high muffin tops
The easiest and quickest way to get high muffin tops is to space the muffins apart in your muffin tin and bake only 6 muffins at a time (pictured above). Spacing the muffins apart means each muffin will be exposed to more heat which encourages them to rise more. This will mean you'll need to bake the muffins in 2 lots.
Also, make sure your oven is the right temperature! A slightly cooler oven will make the muffins spread out than up.
I've tried other methods such as resting the batter overnight, and starting the oven really hot then decreasing it. However, those methods take more time and aren't always reliable especially if you have an old oven.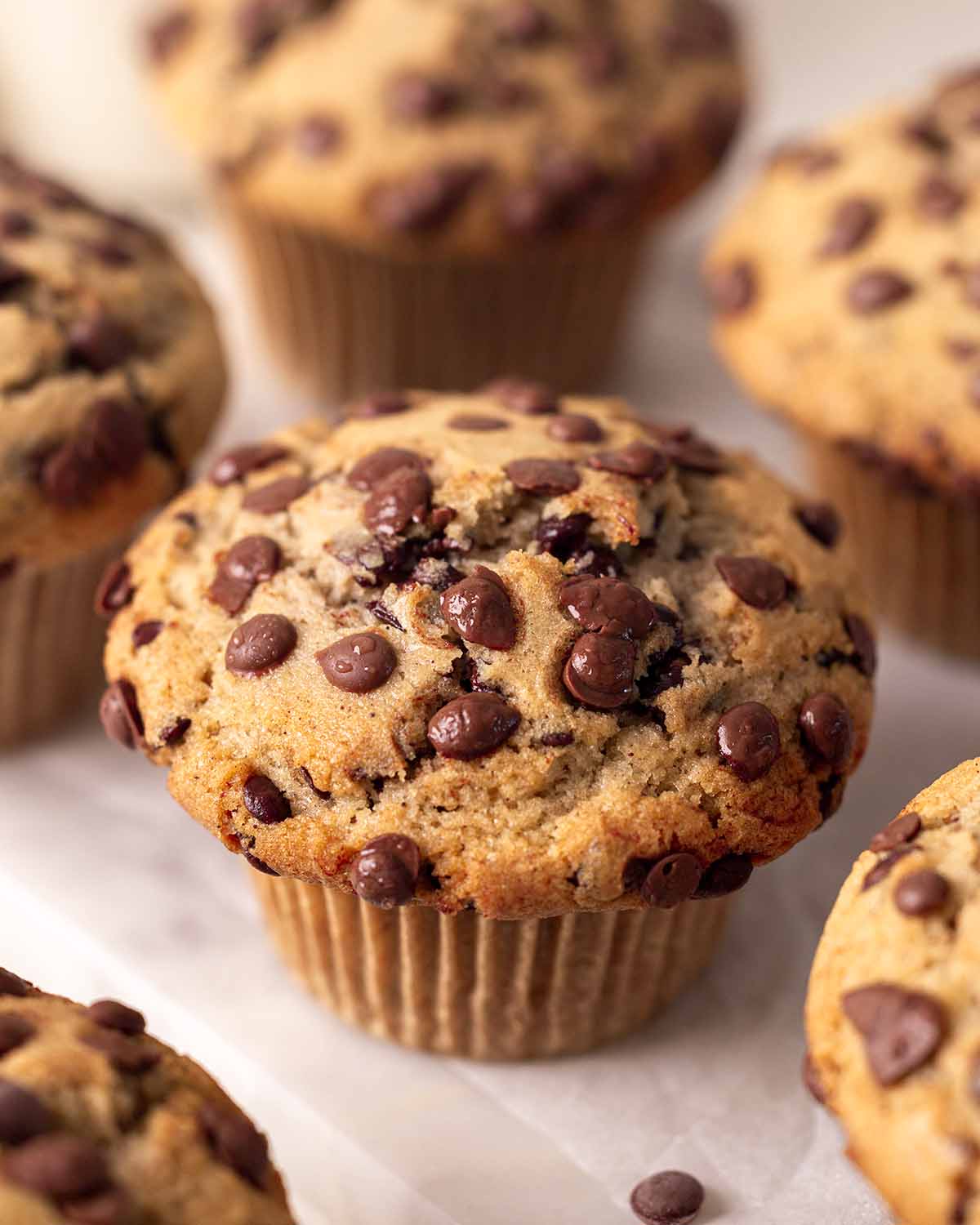 Tips for moist muffins
Don't overbake the muffins. Aim for some crumbs and melted chocolate on your toothpick! If you wait until your toothpick comes out completely clean, your muffins will be too dry.
Don't overmix your batter. The batter should be lumpy and similar to pancake batter.
If you accidentally overbaked your muffins, you can soften them by sprinkling a little water on top and reheating what you'd like to eat!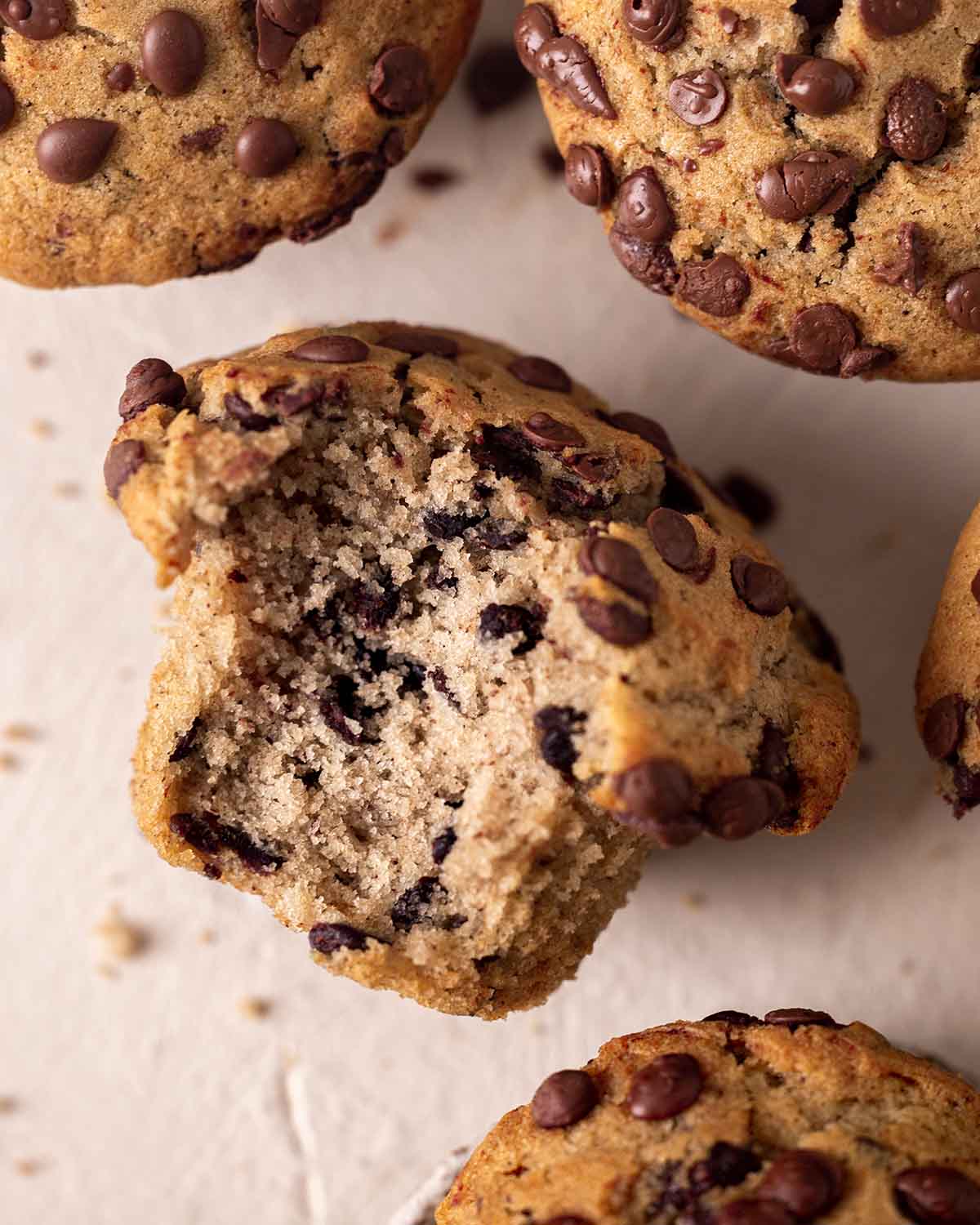 Customizing this recipe
Can I add anything else to these vegan chocolate chip muffins?
Yes! These muffins also will work well with:
- berries
- white chocolate chips
- chopped walnuts or pecans

If you'd like to add bananas, I recommend following my vegan banana muffins recipe and then adding chocolate chips. For zucchini muffins, I recommend making my vegan zucchini bread recipe in a muffin pan.

Can I use whole wheat flour, spelt flour or coconut sugar?
Yes! Whole wheat flour and spelt flour absorbs more than all-purpose flour so you may need to add extra milk (just a dash). Coconut sugar makes delicious muffins but makes them darker colored.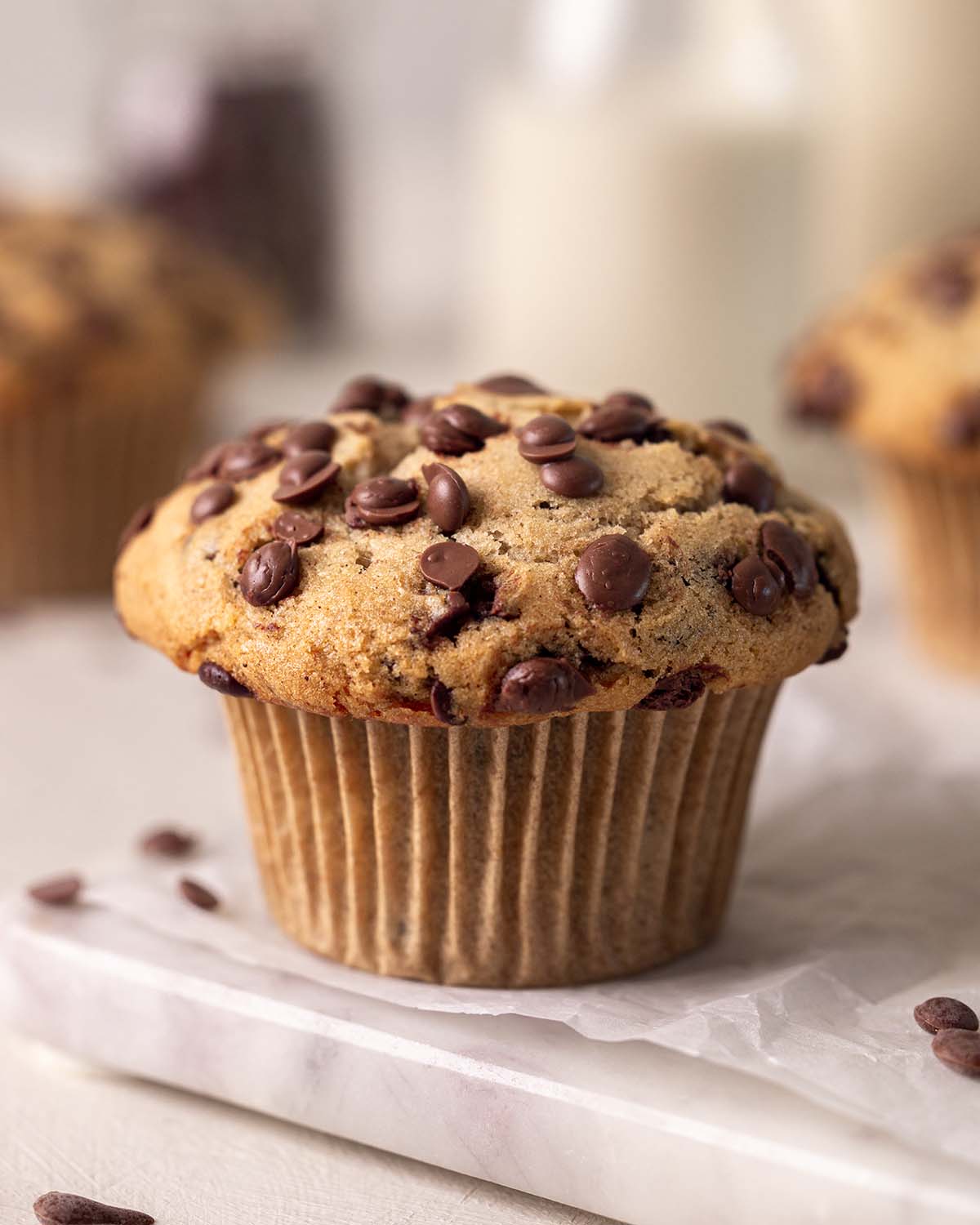 Follow Rainbow Nourishments on Instagram, Facebook, TikTok and Pinterest, and subscribe via email to receive all of our latest recipes!
More vegan muffin recipes
Print Recipe
Vegan Chocolate Chip Muffins
One-bowl vegan chocolate chip muffins with huge bakery-style muffin tops! These muffins are soft and fluffy and loaded with dairy-free chocolate chips.
Servings:
12
large muffins
Instructions
Preheat the oven to 180°C (350°F). Line a 12-cup muffin pan with muffin liners.
Make the muffin batter:
Add all the dry ingredients to a large mixing bowl and whisk until there are no lumps.

Add all of the wet ingredients (except the chocolate chips) and mix until just combined. Some lumps are fine, as long as there aren't lumps of flour. Add most of the chocolate chips (reserve around ¼ cup for sprinkling) and fold until just combined.

Use an ice cream scoop or a large spoon to divide the batter into your muffin pan. The muffin batter should reach the top of each cup (check the reference images above, note 2).

Sprinkle the remaining chocolate chips on top.
Baking and storing the muffins:
Bake the muffins for 22-30 minutes or until you can insert a toothpick in a muffin and it comes out mostly clean. Your toothpick should have some crumbs and melted chocolate on it but no wet batter. Don't overbake the muffins otherwise they'll be dry.

Allow the muffins to cool in the muffin pan for 5 minutes (or until they aren't too hot to handle). Then place them on a wire rack.

Enjoy the vegan chocolate chip muffins warm or at room temperature. They're perfect by themselves or with some vegan butter.

Store any leftover muffins in an airtight container at room temperature for up to 2 days, in the fridge for up to 5 days or in the freezer for up to 1 month.
Notes
For extra flavor and more tender muffins, I recommend any full-bodied milk such as soy milk or oat milk. Other varieties such almond milk will work but makes the muffins less rich.
For the highest muffin tops, I recommend baking 6 muffins at a time in a 12-cup muffin tray. Spacing apart the muffins allows the hot oven air to bake them faster, resulting in higher tops. This means you'll need to bake the muffins in 2 lots.
Nutrition
Serving:
1
muffin
|
Calories:
450
kcal
|
Carbohydrates:
64
g
|
Protein:
6
g
|
Fat:
21
g
|
Sodium:
229
mg
|
Potassium:
41
mg
|
Fiber:
3
g
|
Sugar:
34
g
|
Vitamin A:
251
IU
|
Vitamin C:
0.003
mg
|
Calcium:
133
mg
|
Iron:
4
mg
This post may contain affiliate links. As an Amazon Associate, I may earn a small commission from qualifying purchases at no additional cost to you.