These vegan avocado muffins are moist and fluffy with tall bakery-style tops! They come together in one bowl and are easily customizable. This recipe has been adapted from my popular vegan pumpkin muffins.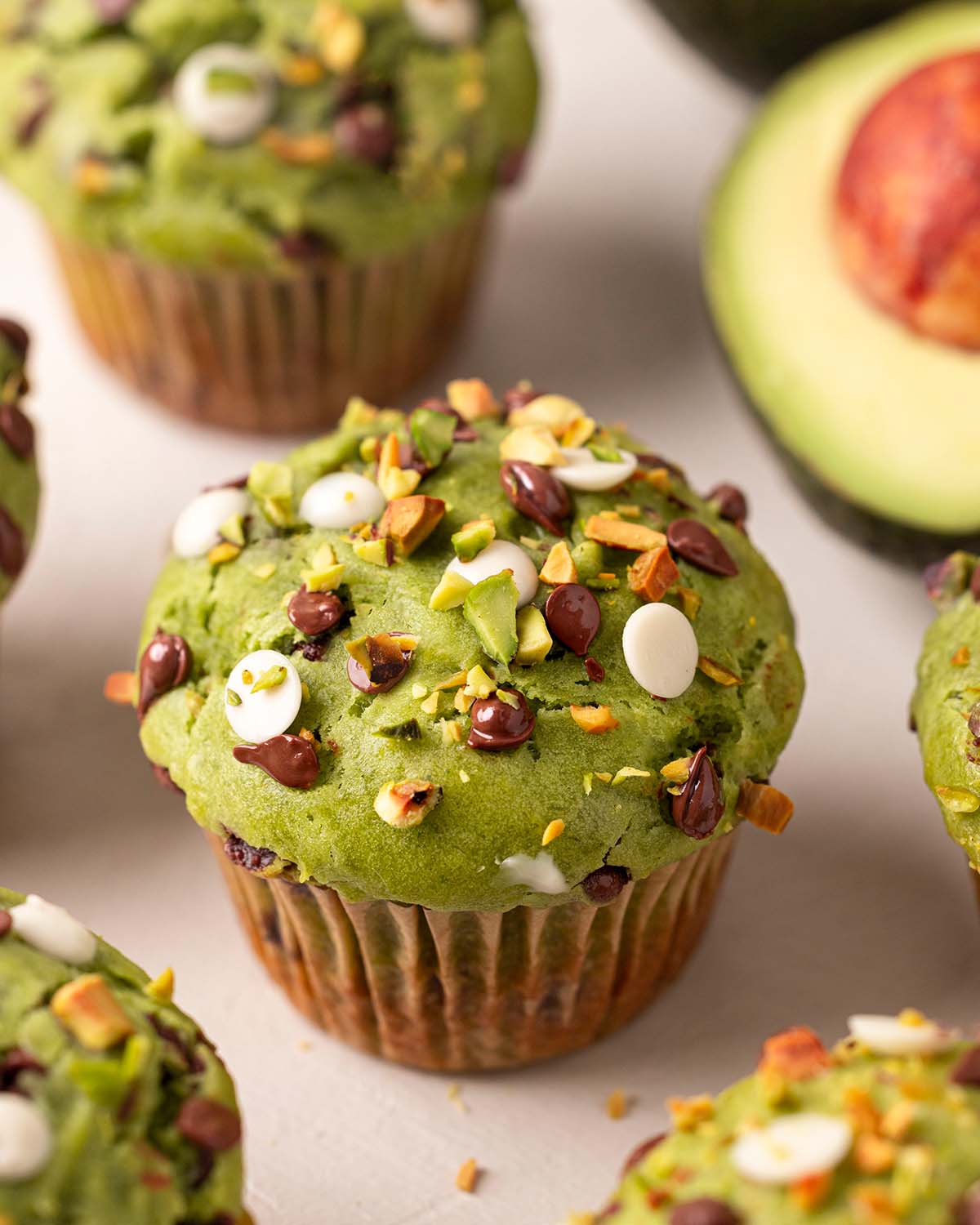 Why you'll love this recipe
FLAVOR/TEXTURE: These muffins taste wholesome with a hint of avocado flavor. With the chocolate chips, they taste like a special treat without being too indulgent.
EASY TO MAKE: One-bowl, no-fuss muffins that are great for beginners. They bake in less time than quick breads and you don't need a stand mixer to make them!
Ingredients you'll need
Notes about the ingredients
Avocados add moisture, healthy fats and flavor. It even provides some of the structure that is normally created by eggs in conventional muffins. I recommend using ripe or overripe avocados for this recipe as they blend better.
Sugar doesn't only add sweetness but makes these avocado muffins moist and fluffy.
Baking powder and soda. We're using double baking agents to make sure these avocado muffins aren't too dense!
Baby spinach for a more vibrant green color and extra fiber. It makes the muffins slightly denser so you can skip it (for pastel green muffins) or use green food coloring.
Even though this recipe doesn't use any eggs, we don't need any special egg replacers such as flax eggs!
A complete list of ingredients, quantities and instructions are in the gray recipe card at the bottom of this post.
How to make the avocado muffins
First, we need to blend all the wet ingredients and the avocado together. If you have a stick blender, add the wet ingredients to a bowl and blend. Alternatively, you can blend your wet ingredients in a food processor or stand blender.
We're mixing sugar with the wet ingredients to help it dissolve quicker. Since it turns into liquid, it helps us prepare the final batter!
Next, add your dry ingredients to the avocado mixture and mix until just combined. The batter should be quite thick!
Then gently fold in your chocolate chips or any other add-ins e.g. nuts.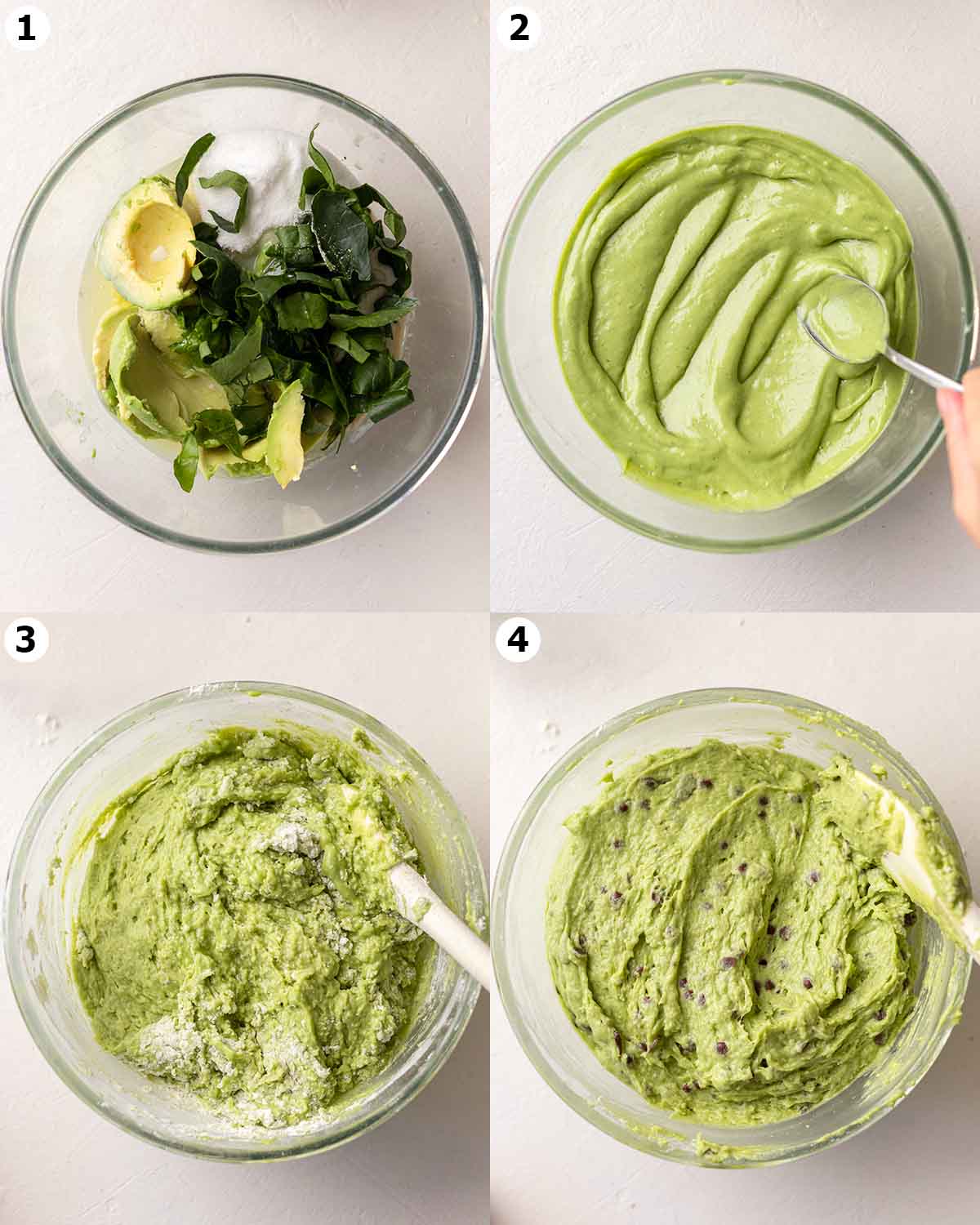 Tips for high muffin tops
This recipe produces a very thick batter which naturally bakes into high muffin tops!
However, to make your muffins grow a little taller, I recommend:
Fill each muffin cup close to the top. The batter should be thick enough for you to create a 'mound'.
Bake the muffins spaced apart in your muffin tin. If you have only 1 muffin tin, you'll need to bake 6 muffins at a time and in 2 batches. Each muffin is exposed to more heat which encourages them to rise more.
I have used this method for lots of my other vegan muffin recipes and it works so well!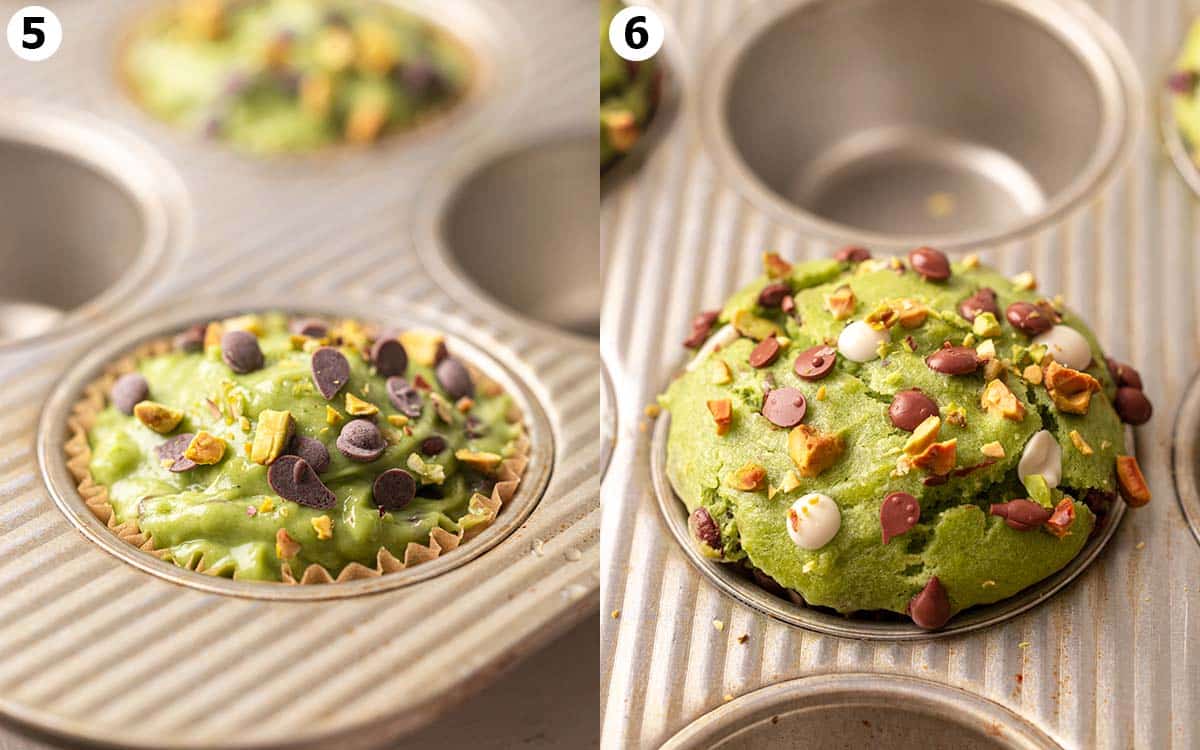 Customizing these avocado muffins
Can I omit the sugar for savory muffins?
Yes, however, your avocado muffins will be denser. As mentioned above, sugar doesn't only add sweetness but makes these muffins fluffy. I made a savory avocado loaf on Instagram and it was more bready than these muffins.
Can I use a different flour?
Whole wheat flour and spelt flour will work well with this recipe. You may need to add a splash more milk as they're more absorbent than all-purpose flour.

I haven't tested this recipe with gluten-free flour. However, if you've previously used a brand of gluten-free flour for a similar recipe, they'll work with these muffins.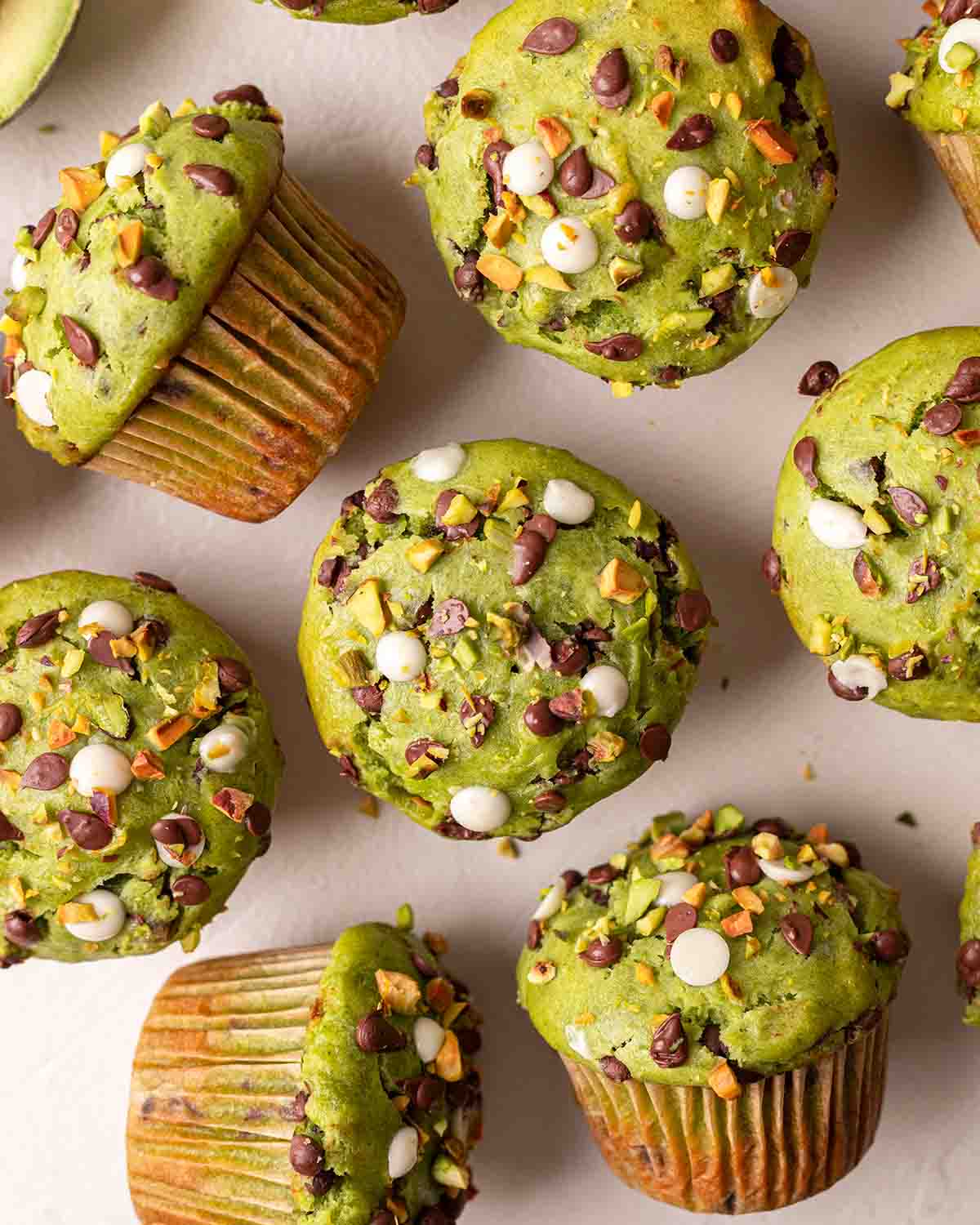 Optional add-ins
I love these muffins with chocolate chips! Some other ideas are:
Walnuts or pecans, chopped
Hemp seeds
Blueberries, fresh or frozen
Banana. Based on the ratios in my banana muffins recipe, I think this recipe will work if you add 1 small banana (100g) to the recipe, in addition to the avocado. However, I recommend decreasing the plant milk to ½ cup (125g) and increasing the baking soda to ½ teaspoon.
Cocoa powder for chocolate avocado muffins. Replace ½ cup (65g) flour with ½ cup (50g) cocoa powder. For extra flavor, you can also use brown or coconut sugar instead of granulated.
You can also top the avocado muffins with a crumble. I recommend my pumpkin seed crumble from my pumpkin muffins recipe or the cinnamon crumble from my zucchini muffins.
More vegan muffin recipes
Follow Rainbow Nourishments on Instagram, Facebook, TikTok and Pinterest, and subscribe via email to receive all of our latest recipes!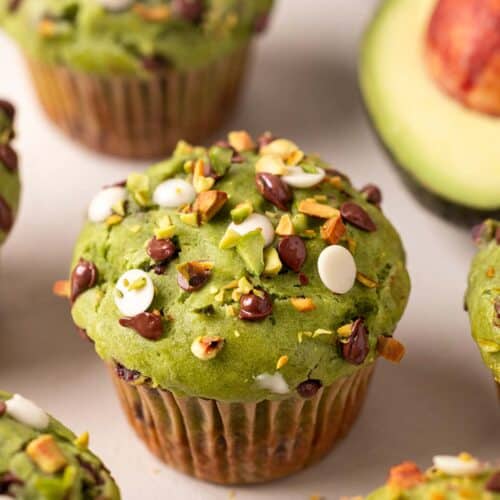 Print Recipe
Vegan Avocado Muffins
These vegan avocado muffins are moist and fluffy with tall bakery-style tops! They come together in one bowl and are easily customizable.
Ingredients
Wet ingredients
300

g

avocado,

(around 2 small avocados weighed after removing the skin and seed, see note 1)

1

cup (200g)

granulated sugar

½

cup (125g)

neutral flavored oil

1

cup (240g)

dairy-free milk

½

cup (15g)

baby spinach

,

or green food coloring (optional)

1

tablespoon

lemon juice,

or apple cider vinegar (optional)

1

teaspoon

vanilla extract,

(optional)
Instructions
Preheat your oven to 180°C (350°F). Line a 12-cup muffin pan with liners.
Preparing the avocado muffins:
Add the wet ingredients to a large mixing bowl and blend using a stick blender. If you don't have a stick blender, add all the ingredients to a food processor or blender and blend until smooth. Then transfer the mixture to a large bowl.

Add the dry ingredients to the bowl and mix until just before it's combined and there are still some small pockets of flour.

Add the chocolate chips to the bowl and fold until just combined.

Use an ice cream scoop or a large spoon to divide the batter into your muffin pan (note 2). The batter should be thick enough for you to create a 'heaped mound' in each muffin cup (see reference images above).

If desired, sprinkle additional chocolate chips and chopped pistachios on top of the muffins.
Baking and storing the muffins:
Bake the muffins for 20-25 minutes or until you can insert a toothpick in a muffin and it comes out mostly clean. Avoid overbaking the muffins as it'll make them dry. These muffins are very moist so a few crumbs are fine.

Allow the muffins to cool in the muffin pan for 10 minutes (or until they aren't too hot). Remove the muffins and allow them to completely cool on a wire rack.

Enjoy the muffins warm or at room temperature. They're perfect by themselves or with some vegan butter or more avocado!

Store leftover muffins in an airtight container at room temperature for up to 3 days, in the fridge for up to 3 days or in the freezer for up to 1 month.
Notes
I recommend weighing the avocados as too much avocado will make your muffins heavy. Also, make sure you use a variety of avocado that doesn't turn bitter when baked. Some varieties will turn noticeably bitter when heated.

For the highest muffin tops, I recommend baking 6 muffins at a time in a 12-cup muffin tray. Spacing apart the muffins allows the hot oven air to bake them faster, resulting in higher tops. This means you'll need to bake the muffins in 2 lots.
Nutrition
Serving:
1
muffin without optional ingredients
|
Calories:
315
kcal
|
Carbohydrates:
43
g
|
Protein:
4
g
|
Fat:
15
g
|
Sodium:
158
mg
|
Potassium:
157
mg
|
Fiber:
3
g
|
Sugar:
17
g
|
Vitamin A:
37
IU
|
Vitamin C:
3
mg
|
Calcium:
91
mg
|
Iron:
2
mg
This post may contain affiliate links. As an Amazon Associate, I may earn a small commission from qualifying purchases at no additional cost to you.