Fluffy vegan lemon cake made with fresh lemon juice and zest! This cake is easy to make, uses only common pantry ingredients and comes together in one bowl (plus the frosting).
This recipe has been adapted from my popular vegan lemon olive oil cake.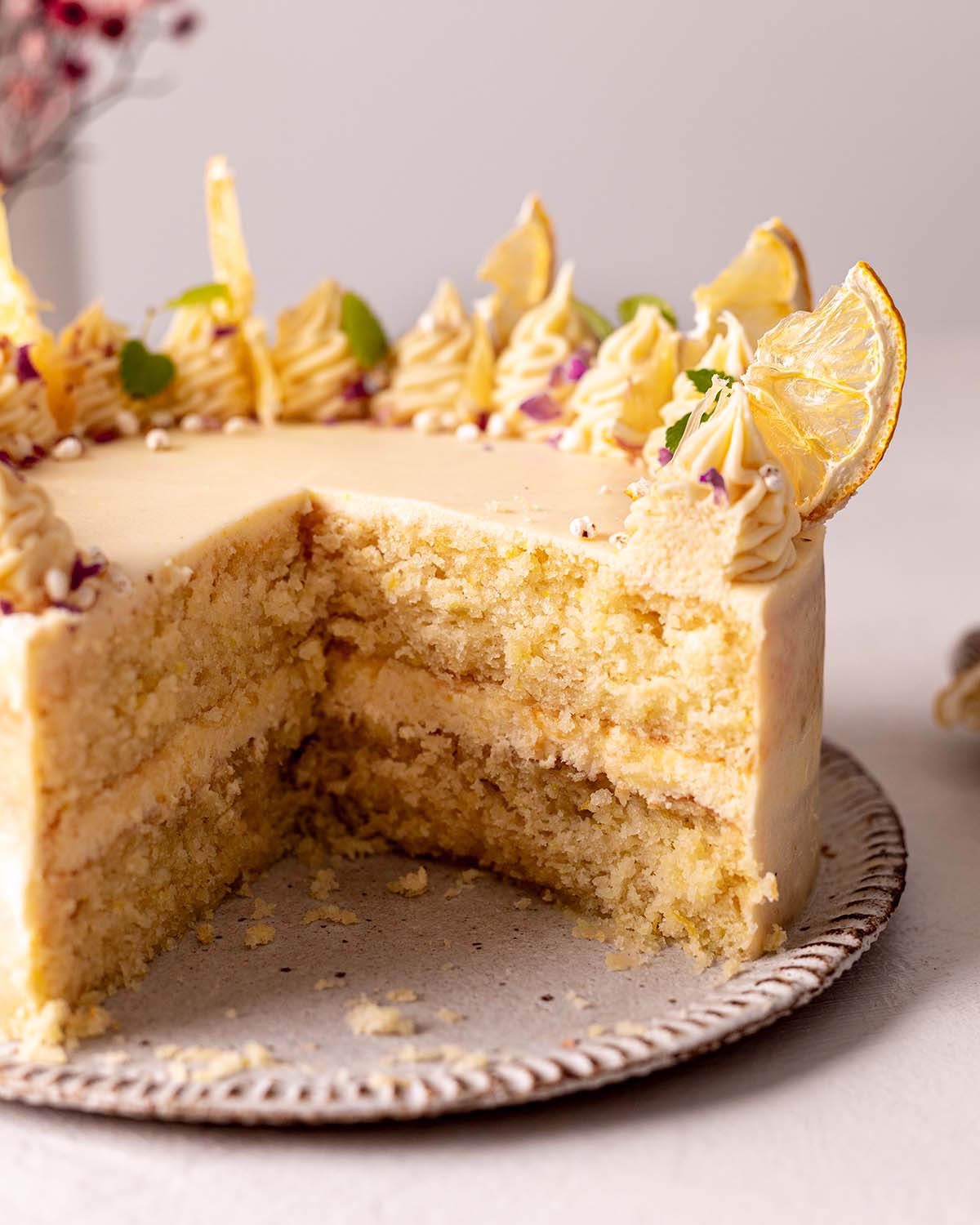 Why you'll love this vegan lemon cake
FLAVOR/TEXTURE: This cake has the fluffiest cotton-like texture which is incomparable to many other vegan cakes! The high amount of lemon juice adds the best flavor and, since lemon juice is an acid, it actually makes the cake lighter and fluffier!
OCCASION: Perfect for Spring or whenever lemon is in season. I love making it for Easter brunch or Mother's Day!
Ingredients you'll need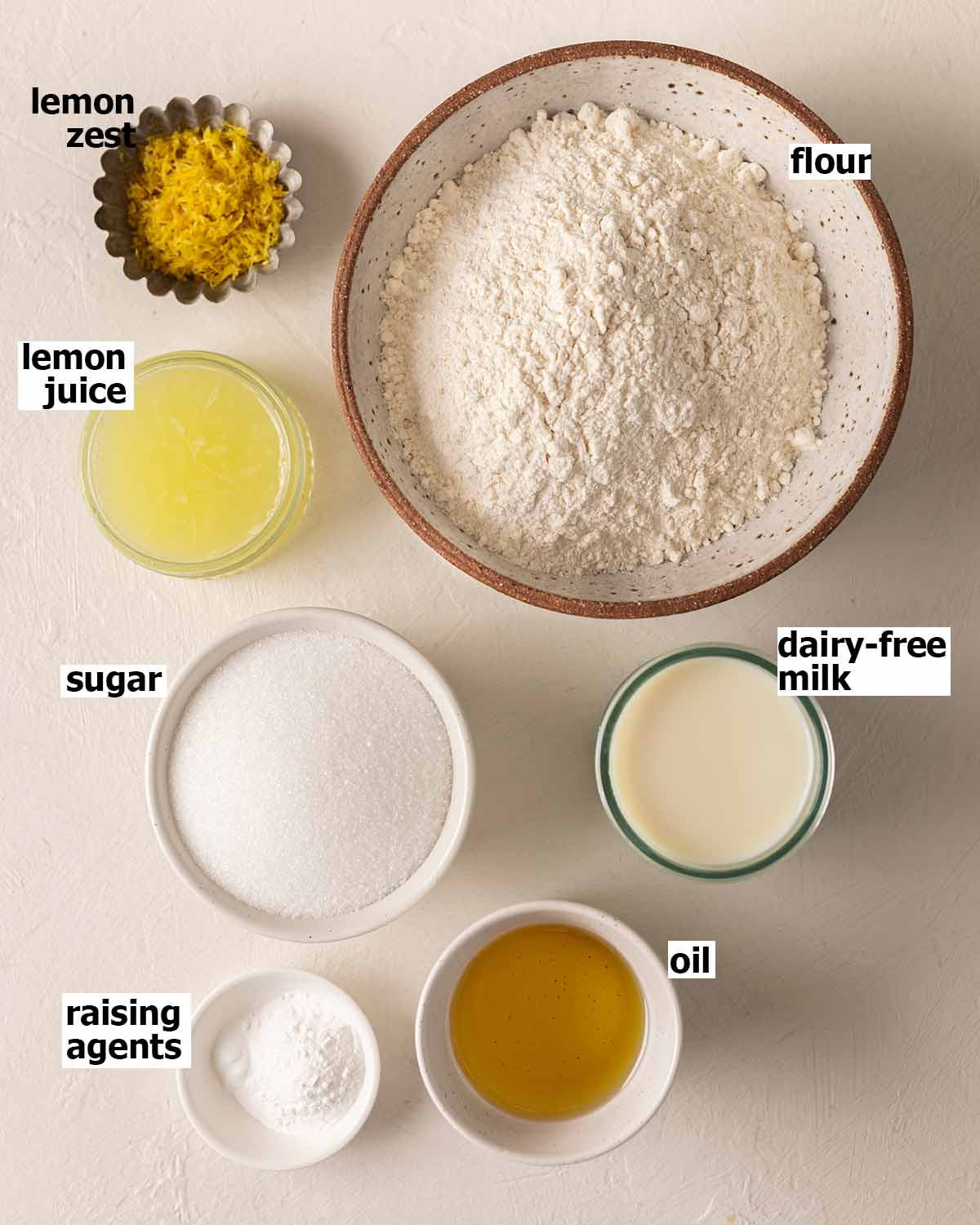 Notes about the ingredients
All-purpose flour or cake flour for the lightest possible vegan lemon cake!
Lemon juice and zest for the best lemon flavor. Lemon juice is acidic and reacts with dairy-free milk to make vegan buttermilk which makes this cake more tender. Although I used fresh lemon juice, bottled lemon juice will still work :).
If you're in a pinch, you can use lemon extract instead of lemon juice. I recommend using around 2-3 teaspoons of lemon extract and replacing the original amount of lemon juice (125g or ½ cup) with additional dairy-free milk.
Sugar. I used regular (vegan) granulated sugar for the most classic flavor. Coconut sugar will work but will make the cake brown in color and dull the lemon flavor.
Liquid oil. For the best color in your final cake, I'd recommend using an oil that is vibrant yellow but mellow in flavor such as light olive oil.
Double baking agents to make sure the cake is light and fluffy! This helps replace some of the rising properties of eggs in other cakes.
A complete list of ingredients, quantities and instructions are in the gray recipe card at the bottom of this post.
How to make vegan lemon cake
The cake itself comes together in just one bowl! I prefer preparing the batter by hand as it means I'm less likely to overmix. If you prefer, you can use a hand beater or a stand mixer.
First, pour all the wet ingredients (including the sugar) into a large bowl and stir until combined. We're stirring the wet ingredients first so we can make sure the sugar is fully dissolved.
Then add all the dry ingredients and whisk until just combined. It helps to use a whisk rather than a spatula! Initially, the batter will be very lumpy but just continue whisking until most of the lumps are gone. It's fine if there are a few lumps in your final cake batter, as long as they aren't lumps of flour.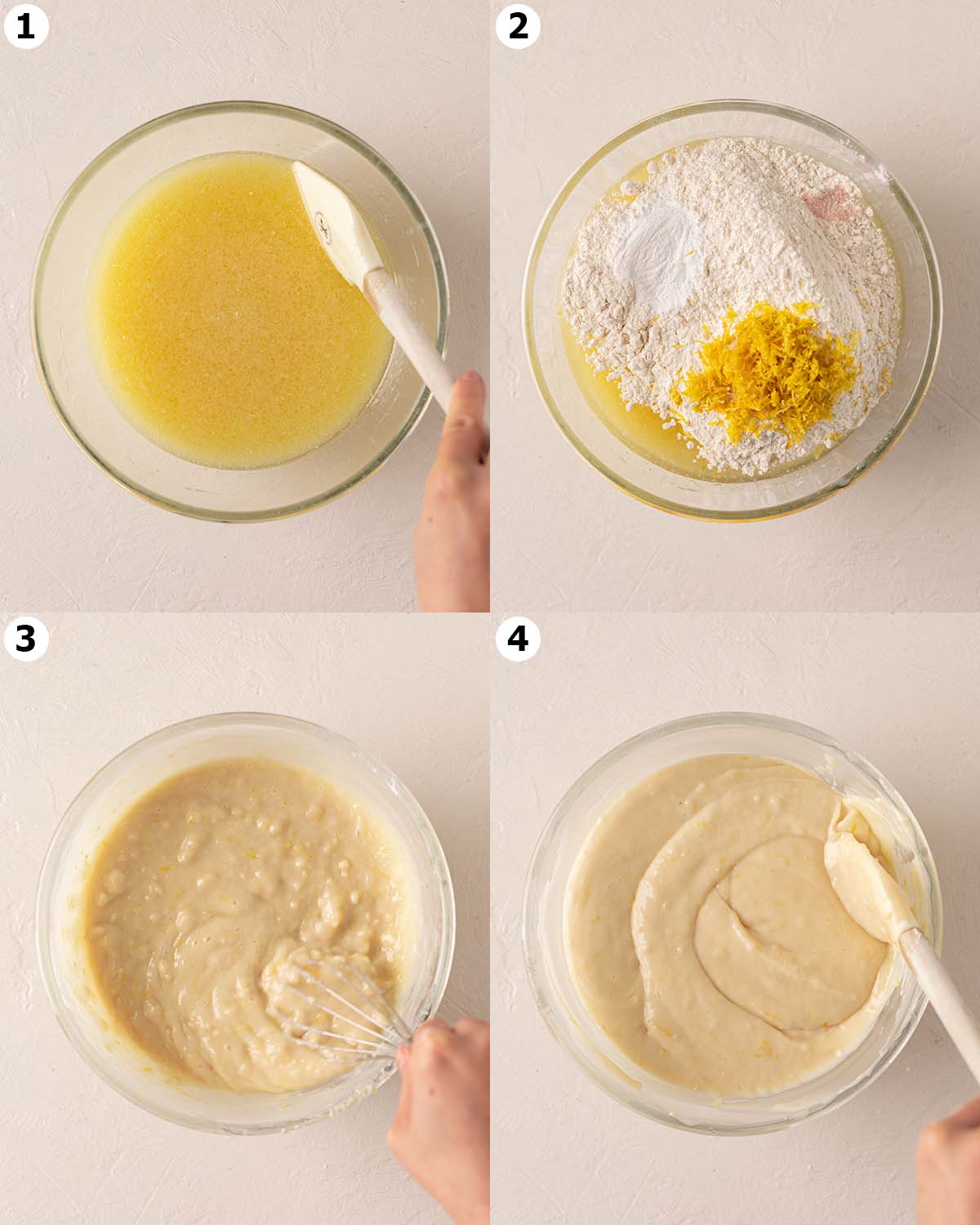 Tips for baking the cake
Divide the lemon cake batter into 2 cake pans. You can eyeball the amount of batter in each pan or use a scale to weigh them (there should be around 605g of cake batter in each pan).
The final cakes are usually pretty flat as the high amount of lemon juice inhibits their rising (even though the cakes are still VERY fluffy).
When making a layer cake, flat layers are actually a great thing! Domed cakes usually have to be trimmed which means there is food waste.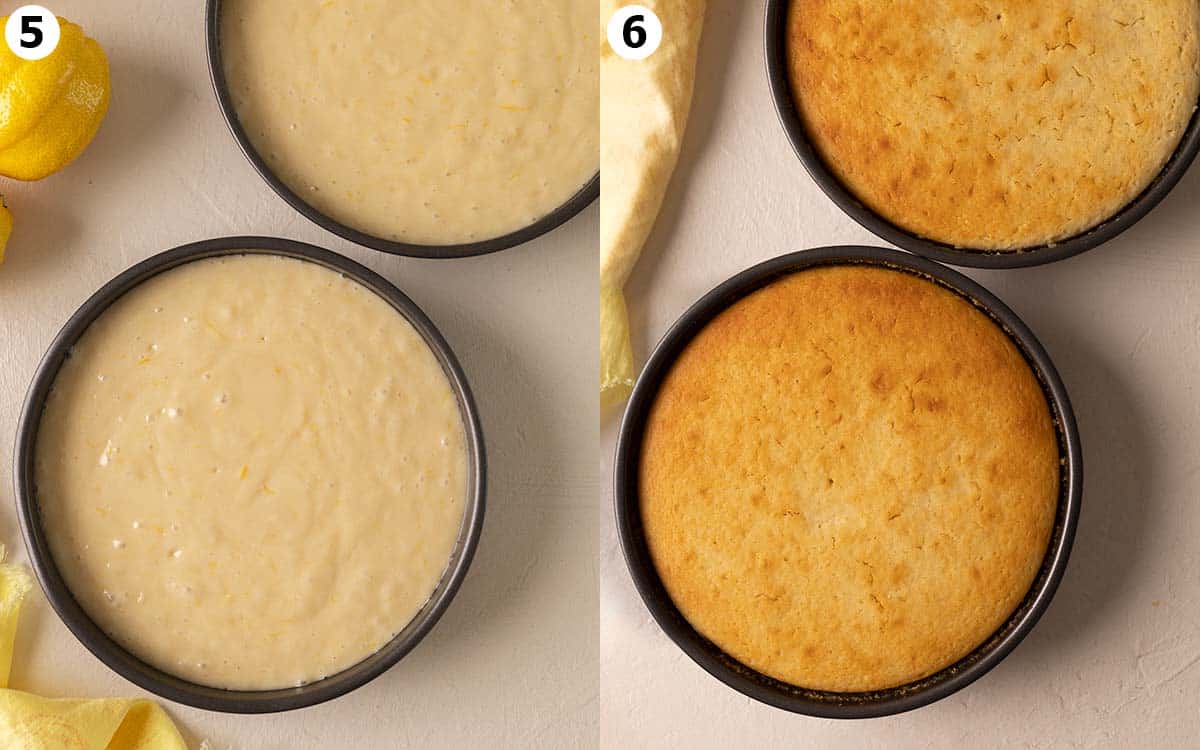 Decoration tips
This vegan lemon cake is best with a simple lemon buttercream or vegan cream cheese frosting.
For extra measure, this cake is delicious with some vegan lemon curd in between the layers or on top. I recommend using the lemon curd from my lemon cheesecake recipe but adding an extra tablespoon of cornstarch for stability. For a more decadent lemon curd made with dairy-free cream, use half of the filling of my vegan lemon tart recipe with only 3 tablespoons (22g) of cornstarch.
Alternatively, you can make just 50% or 75% of the recipe (in just one cake pan) and top the cake with a simple lemon glaze. Check out my vegan olive oil cake recipe for a glaze recipe.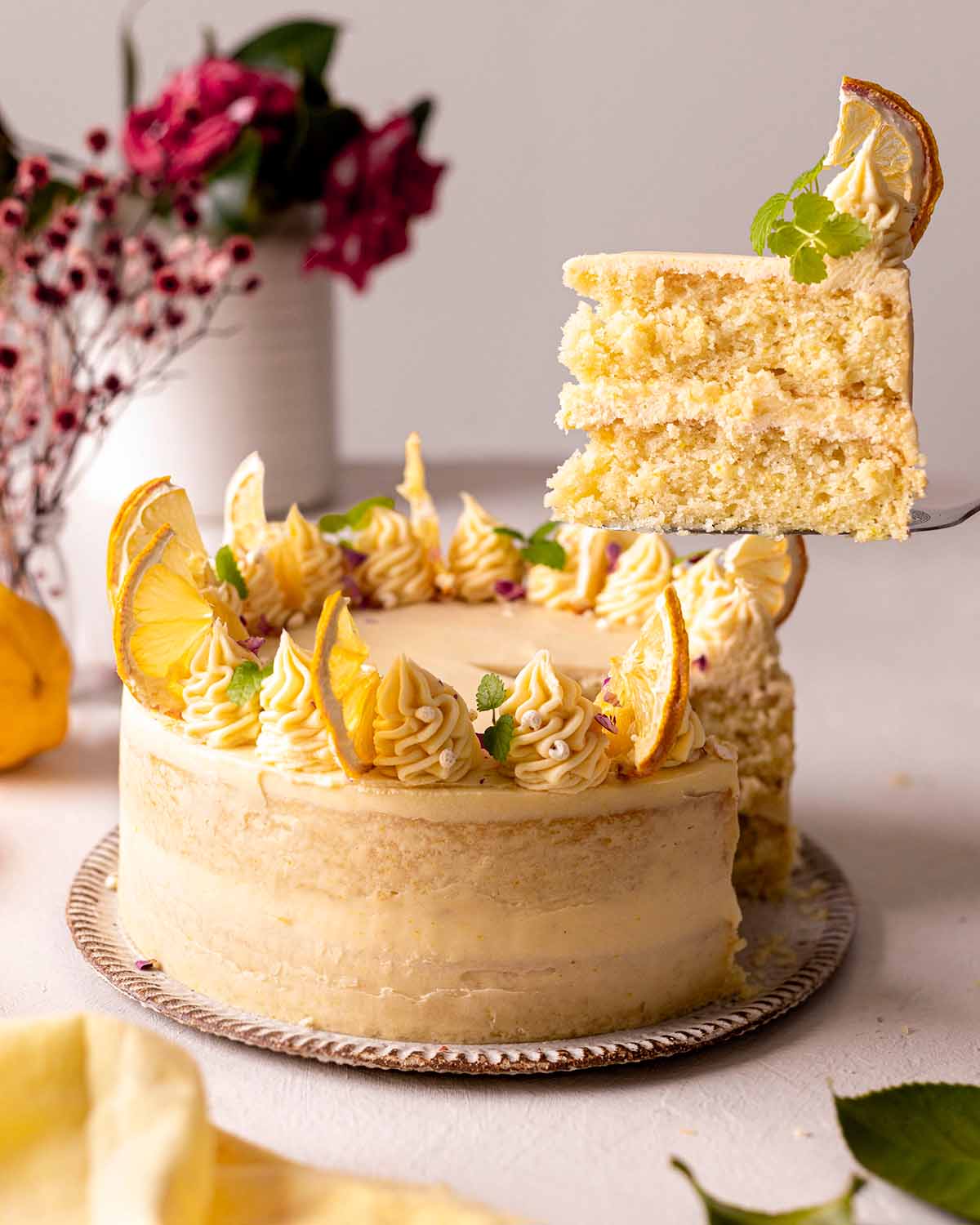 Expert Tips
Can I add blueberries to this vegan lemon cake recipe?
Yes. For an ideal cake-to-berry ratio, I recommend adding 1 ½ cups (225g) of blueberries. The recipe works with both fresh and frozen blueberries (without thawing) and you don't even have to coat them in flour before baking. The lemon cake batter is thick which prevents the berries from sinking to the bottom.

For a quick and simple lemon blueberry cake, check out my vegan lemon blueberry cake recipe.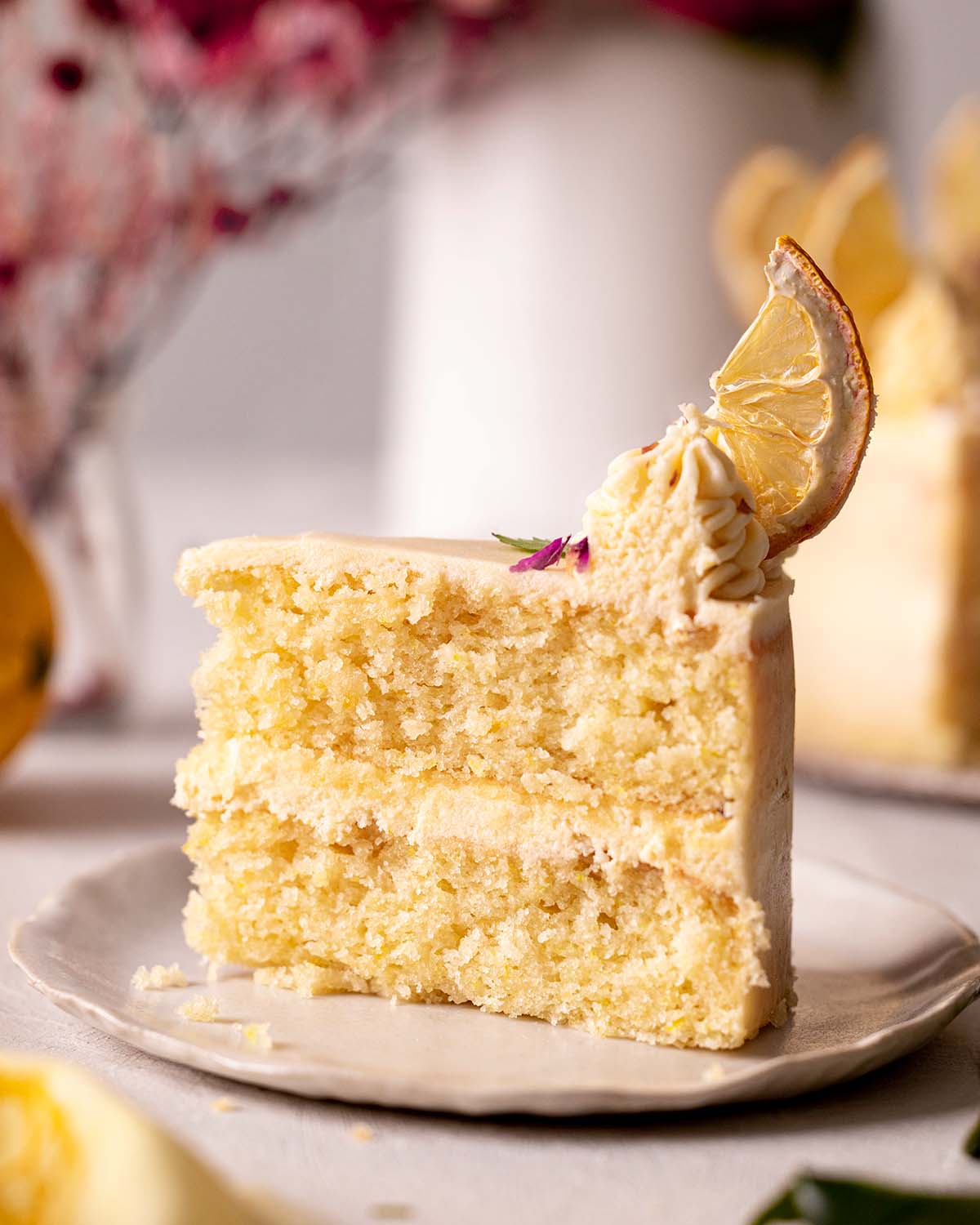 More easy vegan lemon desserts
Follow Rainbow Nourishments on Instagram, Facebook, TikTok and Pinterest, and subscribe via email to receive all of our latest recipes!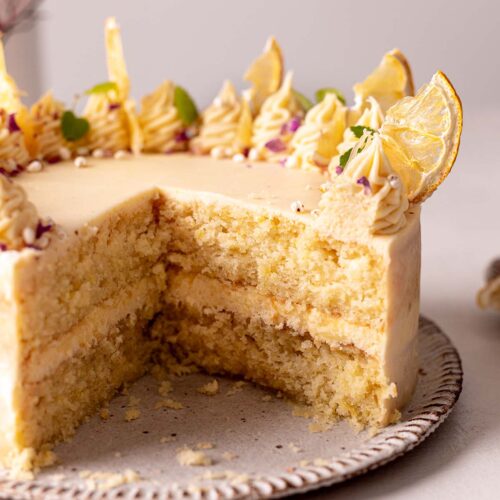 Print Recipe
Vegan Lemon Cake
Fluffy vegan lemon cake made with fresh lemon juice and zest! This cake is easy to make, uses only common pantry ingredients and comes together in one bowl (plus the frosting).
Ingredients
Lemon buttercream (see note 2 for alternatives)
To decorate
fresh or dehydrated sliced lemon
Instructions
To make the vegan lemon cake:
Preheat your oven to 180°C (355°F). Grease or line 2 x 8 inch (20 cm) round cake pans with parchment paper.

Add all the wet ingredients (including the sugar) to a large mixing bowl. Mix until combined. Add all the dry ingredients and whisk until just smooth. Initially, the batter will be lumpy but just keep whisking until most of the lumps are gone (a few lumps are fine).

Evenly divide the lemon cake batter into your prepared cake pans.

Bake the cakes for around 30-35 minutes or until you can insert a toothpick in the middle and there's no wet batter on it.

Allow the cakes to cool in their pans for 15 minutes then cool on a wire rack.
To make the lemon buttercream:
Add the vegan butter to a large bowl or stand mixer. Beat until the butter is light and fluffy. Add the sugar, lemon juice and vanilla extract and beat until combined. Add more sugar for a firmer frosting or more lemon juice (or milk) for a smoother frosting.
To assemble the cake:
When the cakes have completely cooled, place one layer on a serving plate.

Spread or pipe around ¾ cup of buttercream on the cake and place the remaining cake on top.

Spread around 1 ½ cups of frosting around the sides. If you have excess frosting, use a piping bag with a star nozzle to pipe the remaining frosting on top of the cake. Decorate the cake as desired.

Store the vegan lemon cake in an airtight container in the refrigerator. Allow the cake to come to room temperature 30 minutes to 1 hour before serving. Leftovers will keep in the fridge for 5 days or in the freezer for 1 month.
Notes
I recommend using a vibrant yellow-colored oil such as light-tasting olive oil. This will give the final lemon cake a subtle golden color.
For a stable vegan cream cheese frosting, use the recipe from my vegan mango cake recipe and add lemon juice or lemon extract. Keep in mind that cream cheese frosting is always quite soft so be careful not to add too much lemon juice as it will make your frosting even softer.
If using spreadable margarine, you may need to add more sugar or less lemon juice to get your buttercream to the right consistency.
Nutrition
Serving:
1
serve without frosting
|
Calories:
339
kcal
|
Carbohydrates:
50
g
|
Protein:
3
g
|
Fat:
14
g
|
Sodium:
146
mg
|
Potassium:
47
mg
|
Fiber:
1
g
|
Sugar:
25
g
|
Vitamin A:
1
IU
|
Vitamin C:
5
mg
|
Calcium:
91
mg
|
Iron:
2
mg
This post may contain affiliate links. As an Amazon Associate, I may earn a small commission from qualifying purchases at no additional cost to you.