Easy vegan almond flour cookies with only 3 ingredients! This gluten-free shortbread is healthy, oil-free, crispy and buttery. They are also keto and grain-free!
These eggless cookies are extremely versatile - fill them with jam to make healthy Christmas Linzer cookies or dip them in chocolate like classic shortbread. You can even multiply the recipe to make a healthy oil-free pie crust for desserts like banoffee pie!
I first published the recipe for these vegan gluten-free cookies in 2016 and have made and eaten them sooo many times since. I've updated the recipe to simplify the ingredients and process!
3 ingredients you'll need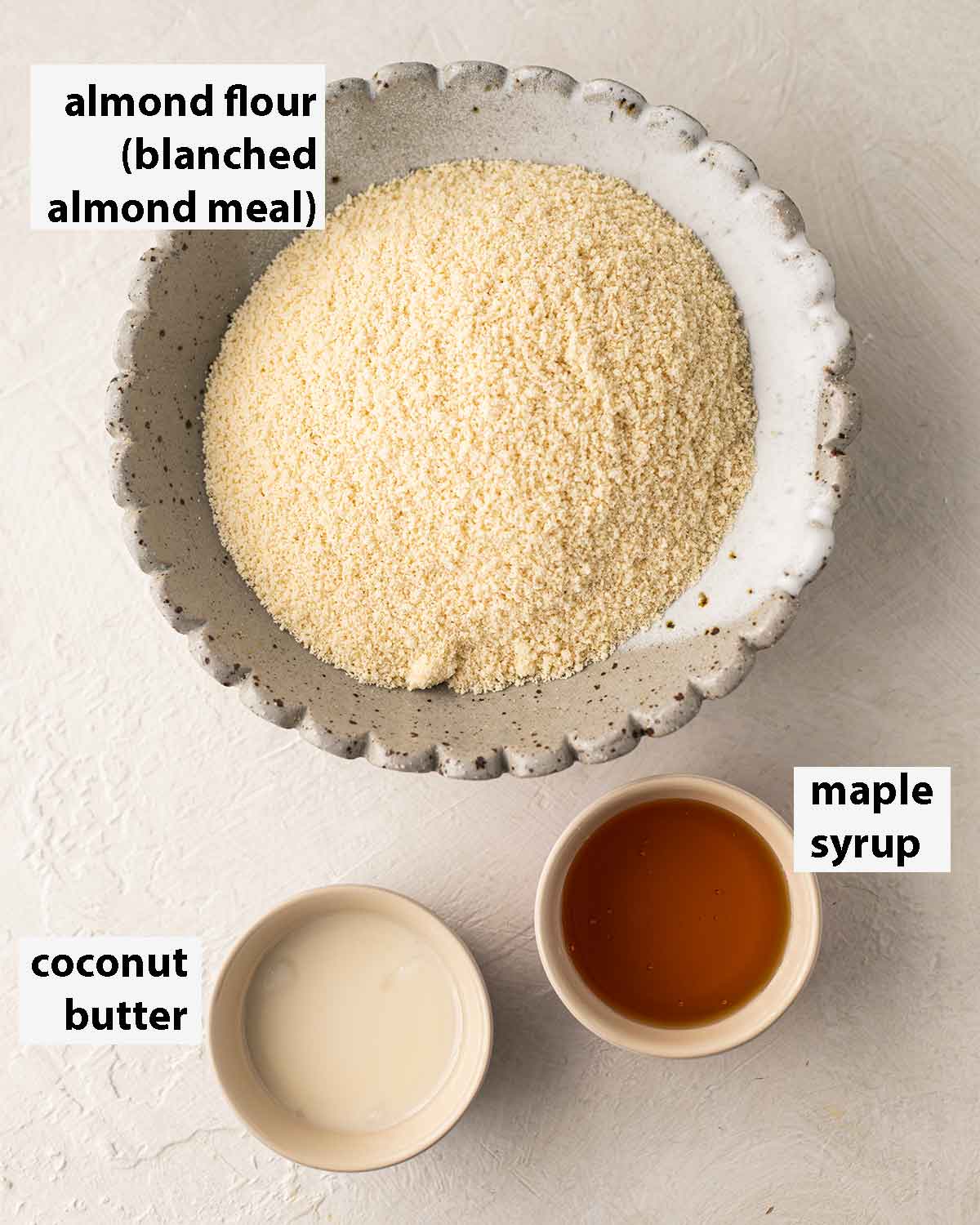 Notes about the ingredients:
Almond flour (US) or blanched almond meal (Australia/UK) is your main gluten-free flour. The natural fats in almond flour cookies allow them to be oi free but taste rich and buttery.
Maple syrup as a refined sugar-free sweetener and binder. The stickiness of the maple syrup helps bring together the almond flour. Unlike coconut sugar which is dark brown in color, maple syrup keeps the cookies a light golden color.
Coconut butter or coconut manna which is the paste of ground dried coconut. It is a whole food and rich in fiber compared to coconut oil which is 100% fat. Melted coconut butter also helps combine the ingredients for this recipe.
A complete list of ingredients, quantities and instructions are in the gray recipe card at the bottom of this post.
If you don't have access to coconut butter and are happy with using oil, you can use softened coconut oil. I'd recommend using refined coconut oil if you don't like the flavor of coconut!
That's it! CRISPY oil-free vegan gluten-free cookies which have no wheat flour, no butter, no egg replacers and no aquafaba. As always, all the ingredient amounts are in the grey recipe box at the bottom of this post!
Tip: coconut butter is also known as 'coconut paste' and can be found in South Asian shops, not to mention it's very affordable there!
How to make vegan almond flour cookies
Simply add all ingredients to a bowl and mix until combined. It doesn't matter if you use a spoon or hand mixer to combine the ingredients. As this vegan shortbread is gluten-free (which is the culprit of chewy baked goods), you don't have to worry about overmixing!
When you measure the ingredients (the exact amounts are at the bottom of this post), it may look like there's not enough liquid to dry ingredients. However, you don't need much liquid to bring all the ingredients together!
The vegan gluten-free cookie dough is a little more crumbly than regular cookie dough. For this recipe, the more crumbly your dough, the crunchier your cookies will be! The more moisture your dough has, the chewier your cookies will be.
Since these cookies don't contain any wheat flour, the cookie dough is edible from the bowl!
How to shape the cookies
This flourless vegan cookie dough is extremely versatile and can be shaped using a few classic methods.
First, you can roll out the dough can be and cut out cookies using cookie cutters. Just like making normal cookies!
Alternatively, you can also roll the cookie dough into balls and flatten them into cookie shapes with your hands.
For more consistent cookie shapes, you can also roll the dough into a log to slice and bake the cookies. Just like the cookie dough you get from the shops!
Tips for baking the shortbread
These vegan almond flour cookies don't really spread in the oven so you don't have to worry about spacing them too far apart on your baking tray.
I tested this recipe many times and found that the cookies were ready with just ~12 minutes in the oven. This is enough time for them to develop a beautiful golden hue!
If you bake the cookies for less than 12 minutes, they'll have crispy edges and a slightly chewy and soft center. If you bake the cookies for longer, they'll be crispier!
As always, all ovens run differently so keep a close eye on them while they are baking. These oil-free vegan cookies have a high amount of nuts so will burn quicker than regular cookies.
Customising the shortbread
Whether you're visiting friends/family or celebrating Valentine's Day, Christmas, you can customize these vegan gluten-free shortbread for any occasion!
Half dip the shortbread in chocolate and they'll be like a healthier version of Danish butter shortbread. Or cut the cookies into hearts and dip them in chocolate for some adorable vegan Valentine's Day cookies!
To add a festive touch, add chopped pistachios and dried cranberries to the shortbread dough like my Pistachio and Cranberry Vegan Christmas Cookies. You can enjoy them individually or make Linzer cookies out of them!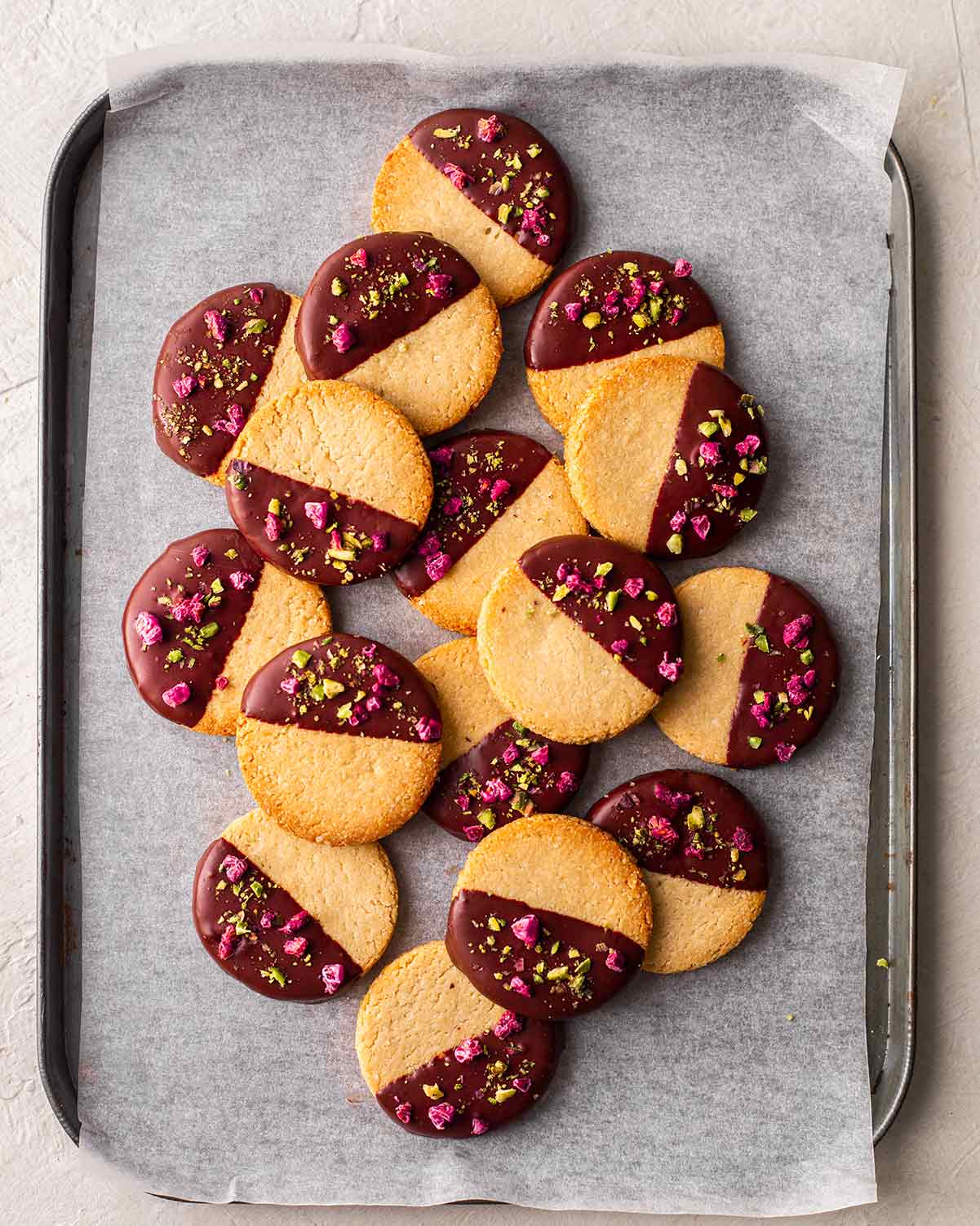 These cookies can also be dehydrated at 45C for around 8 hours to make raw vegan cookies. They will have crisp edges and a soft coconut macaroon center. They're *really* delicious when prepared like that!
You can also transform these into sugar cookies! Make a frosting out of coconut butter (like Natalie's recipe here) and decorate the cookies as desired.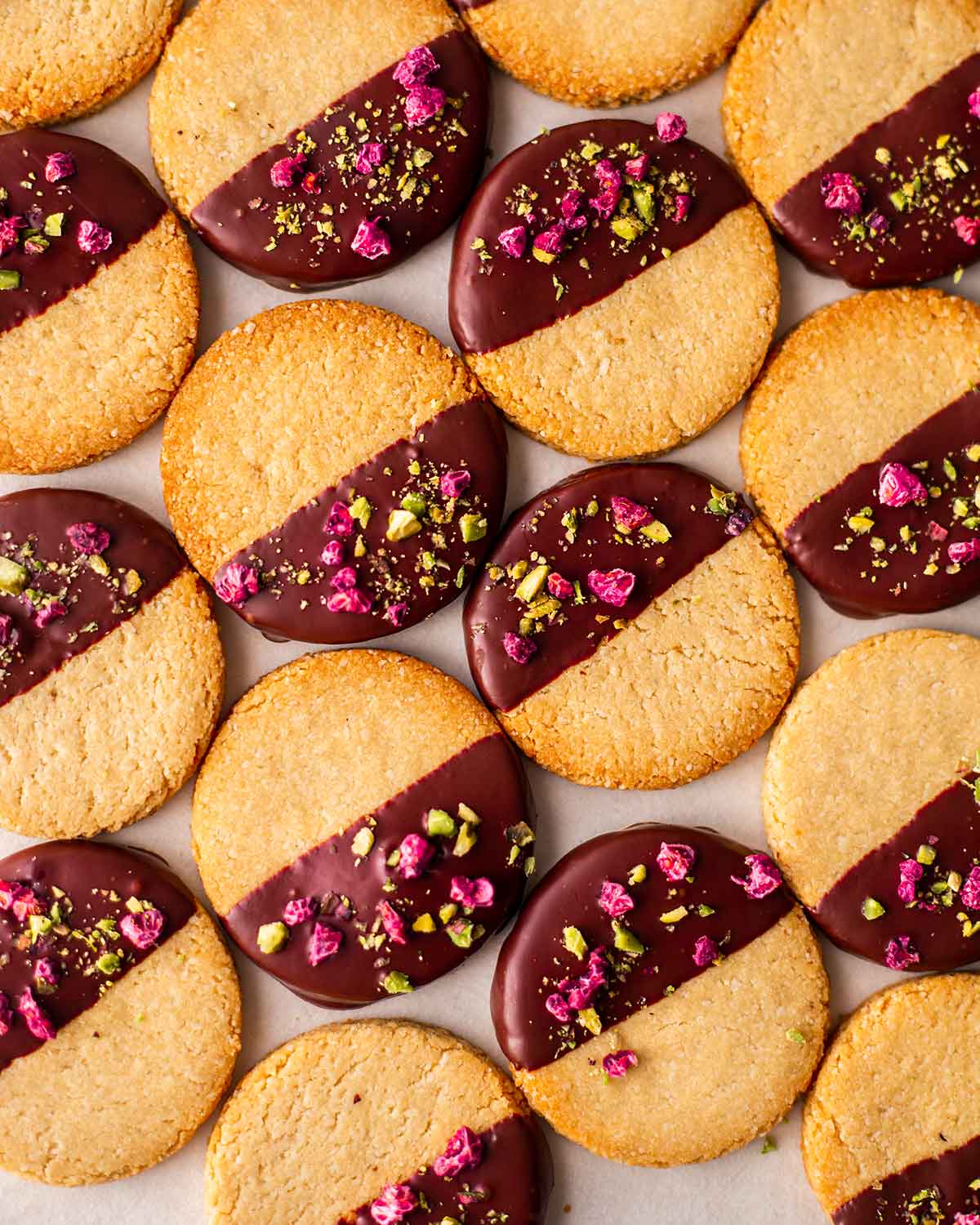 Questions and Answers
Q: What do these vegan gluten-free cookies taste like?
A: The cookies taste like a rich and buttery almond shortbread with a hint of coconut. Almond flour and coconut butter are high in natural fat which contributes to a 'short' and crumbly texture that melts in your mouth.
Q: Is the coconut taste strong?
A: No, there is only a very small amount of coconut in the recipe!
Q: I'm allergic to nuts. Can I substitute the almond flour?
A: Almond flour cannot be easily substituted with a nut-free flour. Its natural fats give the vegan gluten free cookies a crumbly and buttery texture. Instead, I'd recommend my classic Pistachio and Cranberry Vegan Cookies.
Q: Can I substitute the maple syrup?
A: I've tried these oil free vegan cookies using rice malt syrup and wouldn't recommend it for crispy shortbread style cookies. It changes the texture of the unbaked dough and makes the cookies VERY chewy!

I haven't tried other liquid sweeteners. Granulated sugar will not work as these cookies need the stickiness of a liquid sweetener to stay together.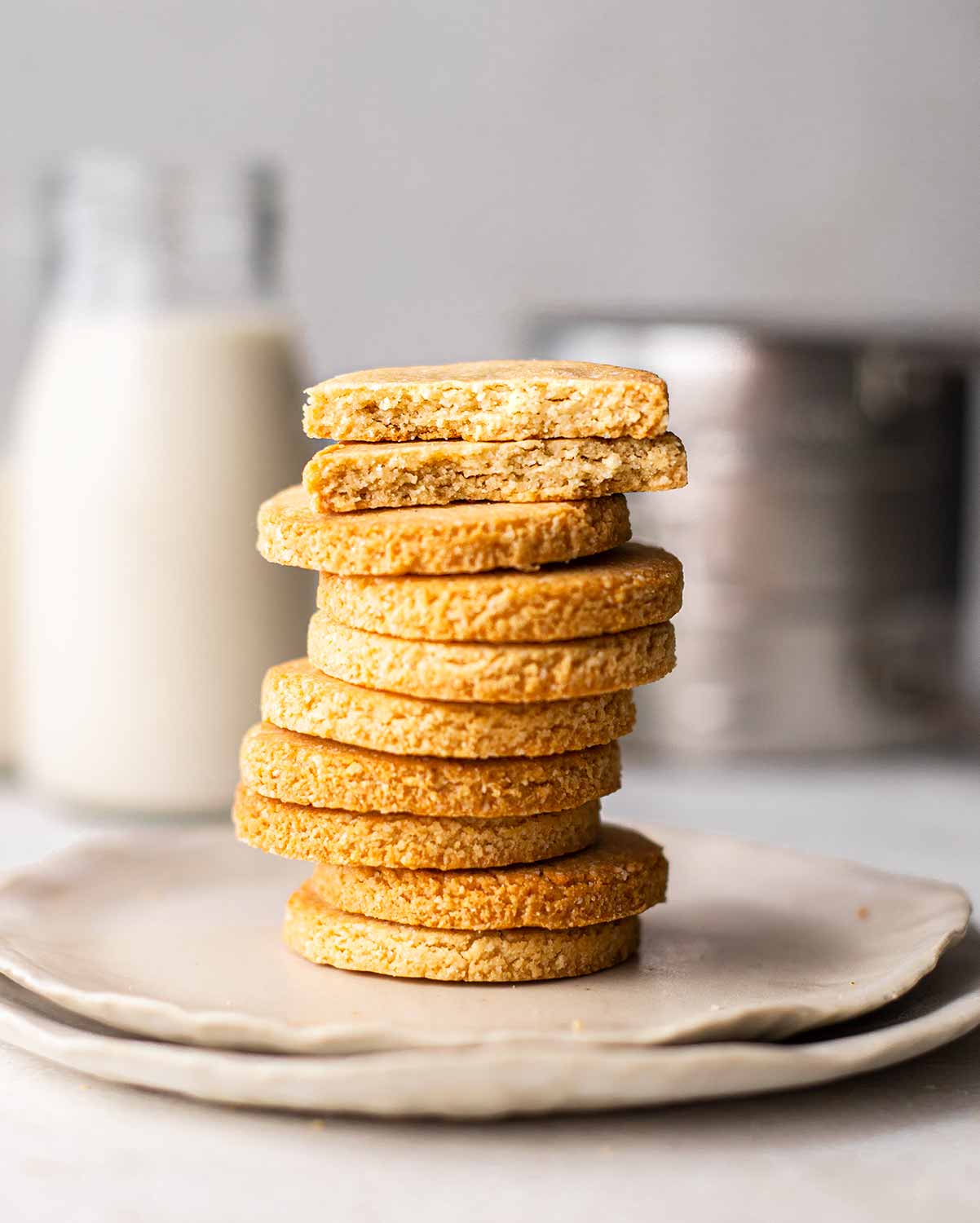 More vegan cookie recipes
Follow Rainbow Nourishments on Instagram, Facebook, and Pinterest, and subscribe via email to receive all of our latest recipes!
Print Recipe
3 Ingredient Vegan Almond Flour Shortbread Cookies
Easy vegan almond flour shortbread cookies with only 3 ingredients! Gluten free shortbread which is healthy, oil free, crispy and buttery.
Servings:
24
small cookies
Ingredients
To decorate (optional)
Chopped pistachios and freeze dried raspberries
Instructions
Note: for this recipe, I'd strongly recommend using grams instead of cups/tablespoons. Even 1 tablespoon (15-20g) of extra coconut butter or maple syrup will change the texture of the cookies!

Preheat oven to 180°C (350°F) and line a baking tray with baking paper.

Add all the ingredients to a bowl and mix until combined. The mixture is more crumbly than normal cookie dough but you should be able to pinch the mixture between 2 fingers without it crumbling. Form the cookie dough into a rough ball. (See Note 2)

On a clean surface or between 2 sheets of baking paper, roll out the cookie dough so it's about 8-10mm thick. Use a 5 cm (2 inch) cookie cutter to cut cookies out of the dough. Carefully place each cookie on your lined baking tray with a little space in between each cookie. (See Note 3 for the slice and bake method)

Collect the excess dough, roll it out and repeat until you have no more dough.

Bake the cookies for 12 minutes or until their surface is slightly golden. Allow the cookies to completely cool on the baking tray.

Store the cookies in an airtight container at room temperature for 5 days, in the fridge for 2 weeks or up to 2 months in the freezer.
To decorate (optional):
Melt the chocolate in a double boiler and melt over medium heat then remove.

Half dip each cookie in the melted chocolate and arrange on a lined baking tray. Sprinkle the pistachios and raspberries on the chocolate while it's melted. Allow the chocolate to set at room temperature for 20 minutes then serve or store away the cookies until needed.
Notes
If you use coconut oil, make sure it's softened (half way between fully liquid and fully solid). Use refined coconut oil for if you don't like the taste of coconut!
If you're in a hot climate, your cookie dough may be softer than needed. If so, chill the dough in the fridge for 15 minutes or until it's firm enough to handle.
Alternatively, shape your dough into a tight log which is about 5 cm (2 inches) in diameter. If the dough is firm enough to slice, use a sharp knife to cut the log into 8-10mm thick pieces. If the dough is very soft, place it in an airtight container and chill it in the fridge for 1 hour or until it's firm enough to slice.
Nutrition
Serving:
1
plain cookie
|
Calories:
73
kcal
|
Carbohydrates:
5
g
|
Fat:
6
g
|
Potassium:
64
mg
|
Sugar:
3
g
|
Calcium:
23
mg
This post was originally published in June 2016 and updated in July 2021 to simplify the recipe.
This post may contain affiliate links. As an Amazon Associate, I may earn a small commission from qualifying purchases at no additional cost to you.