Insanely delicious vegan pumpkin bread that is soft, fluffy and moist. The bread comes together in just one bowl and uses a whole can of pumpkin puree!
This quick bread is perfect for breakfast or as a snack in Autumn/Fall, just like my pumpkin muffins, pumpkin cinnamon rolls or cinnamon quick bread.
Ingredients you'll need:
You'll need a few common pantry ingredients to make vegan pumpkin bread including:
Notes about the ingredients
Pumpkin puree. This recipe works well with both canned and homemade pumpkin puree! I used Libby's canned pumpkin puree as isn't as watery as other brands. Alternatively, if you use homemade pumpkin puree, make sure it's around the same consistency as the above picture. I've listed some instructions for making your own pumpkin puree at the end of this post.
Light brown sugar for depth of flavor and to complement the pumpkin and spices. Granulated sugar doesn't give as much 'oomph'. For refined sugar-free bread, use coconut sugar, granulated stevia or erythritol.
Baking powder AND baking soda. We're using two raising agents to make sure the bread isn't too dense or moist, which many pumpkin bread recipes tend to be.
Ground flax seeds or chia seeds (optional) to help bind the ingredients together. Due to the lack of eggs, some vegan quick breads tend to be a little crumbly. If you bake this without flax/chia, your pumpkin bread will still work but crumble a little more easily.
A complete list of ingredients, quantities and instructions are in the gray recipe card at the bottom of this post.
Preparing the batter
First, mix all your wet ingredients (including the sugar and ground flax) in a mixing bowl. This ensures the pumpkin puree is evenly distributed and helps dissolve the sugar. Rather than making a separate flax egg, we're adding the ground flax directly to the bowl - it's quicker and saves you an extra dirty bowl.
Then add your dry ingredients and mix until just combined. The batter should be very thick which results in fluffy yet moist bread!
Don't worry if your batter looks curdled at any point - this is hugely affected by the pumpkin puree! When I used Libby's pumpkin puree, my batter looked curdled (in pictures 2 & 4) but baked beautifully. When I used homemade pumpkin puree, my batter looked fine.
Tips for baking pumpkin bread
This vegan pumpkin bread recipe makes a tall loaf so it will take over 1 hour to bake.
If your oven runs hot (or has heating elements at the top), your pumpkin bread may brown quickly while being raw If this happens, I recommend creating a tent of aluminum foil and covering your loaf. Then turn down the oven temperature by 10°C (50°F).
When you remove the pumpkin bread from the oven, allow it to cool in the pan for only around 10 minutes then place it on a wire rack. If you leave it to cool in the pan, the bottom may become soggy.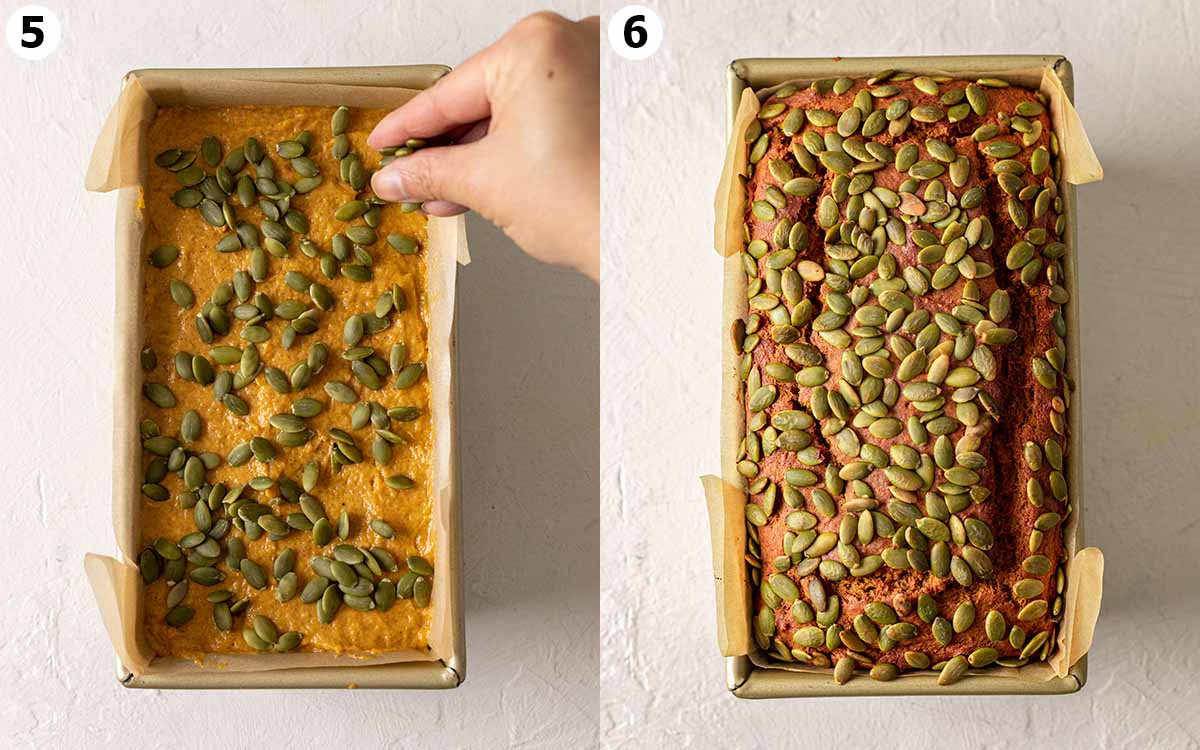 Serving the pumpkin bread
Like all quick breads or cakes, this vegan pumpkin bread is a little crumbly when sliced warm. I recommend allowing it to cool and slicing it at room temperature. The bread is even easier to slice the next day!
If you have any leftover pumpkin bread, you can use them in a pumpkin trifle. It also has layers of pumpkin custard, whipped cream and ginger cookies. It's a huge crowd-pleaser!
Summary: Tips for making the best pumpkin bread
Use fresh baking powder and soda. Older baking powder and soda lose their effectiveness which results in denser bread, cake and all the delicious things.
Don't overmix the batter. Mix the batter until JUST combined. The key is to stop mixing once there are no more streaks of flour or pumpkin puree.
Bake the bread at the correct temperature. An oven too cold will make the pumpkin bread denser. An oven that is too hot will burn the surface and leave the middle uncooked. I always recommend using an oven thermometer as many ovens aren't accurate. If you don't have one, keep a close eye on your pumpkin bread.
Extra tips
Is there anything else I can add to this vegan pumpkin bread?
Yes, I also recommend:
- vegan chocolate chips
- chopped pecans, walnuts or pumpkin seeds (pepitas)
- cranberries
- a cinnamon sugar layer, such as from my pumpkin coffee cake recipe.

On top, you can add:
- chopped pecans, walnuts, chocolate chips or rolled oats
- a crumb topping such as from my apple cake. It makes the pumpkin bread a little trickier to cut but the texture makes the bread out of the world!
How can I make my own pumpkin puree?
The best way to make flavorsome pumpkin puree is:
- Grab a large pumpkin or butternut squash/pumpkin and cut it in half
- Remove the pumpkin seeds
- Place the pumpkin, flat side down on a lined baking tray.
- Bake in a preheated 350°F (180°C) oven for 45 minutes or until the pumpkin is fork tender.
- Allow the pumpkin to cool. Scoop out the flesh and puree using a food processor or blender. You may need to stop your appliance and scrape down the sides a few times.
More vegan pumpkin recipes
Check out my round-up post for all my vegan Thanksgiving desserts.
Follow Rainbow Nourishments on Instagram, Facebook, and Pinterest, and subscribe via email to receive all of our latest recipes!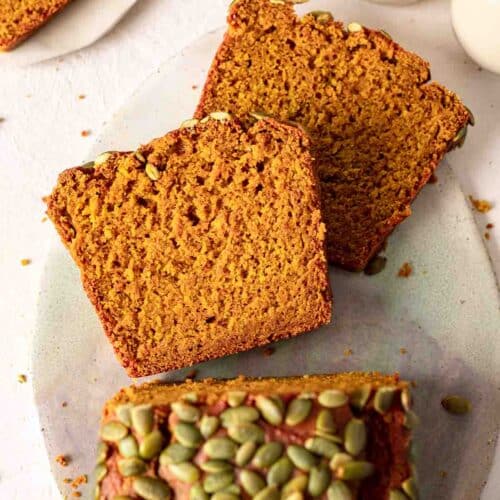 Print Recipe
Vegan Pumpkin Bread
Insanely delicious vegan pumpkin bread that is soft, fluffy and moist. The bread comes together in just one bowl and uses a whole can of pumpkin puree!
Ingredients
Wet ingredients for pumpkin bread
Dry ingredients for pumpkin bread
To decorate (optional)
½

cup (60g)

raw pumpkin seeds
Instructions
Preheat your oven to 350°F (180°C). Line an 8-inch (20 cm) loaf pan with parchment paper.
Preparing the pumpkin bread:
Add the wet ingredients to a large mixing bowl and mix until combined. Don't worry if your mixture looks curdled at this point. Add the dry ingredients and mix until there are no big lumps of flour.

Pour or scoop the batter into your loaf pan and smooth the surface with a spoon.

Optional: sprinkle the bread with pumpkin seeds.
Baking the pumpkin bread:
Bake the bread for around 1 hour and 5 minutes (this will depend on how hot your oven runs). If you insert a toothpick in the center, there shouldn't be any wet batter, though some crumbs are fine.

Allow the bread to cool in the tin for 10 minutes then cool on a cooling rack.

When the pumpkin bread is room temperature, slice and enjoy! The bread is wonderful by itself or toasted with some vegan butter.

Store leftovers in an airtight container at room temperature for 3 days, in the fridge for 5 days or in the freezer for up to 1 month. However, it usually doesn't last that long!
Notes
Light brown sugar and coconut sugar produces the best results as they provide depth of flavor. However, other sugar varieties still produce delicious pumpkin bread!
The flax/chia seeds are optional but help make the pumpkin bread less crumbly!
For a homemade pumpkin spice blend, use 2 teaspoons ground cinnamon, ½ teaspoon ground nutmeg, ¼ teaspoon ground ginger and ½ teaspoon ground cloves. Or add more or less of the spices to suit your tastes!
Nutrition
Serving:
1
slice without topping
|
Calories:
296
kcal
|
Carbohydrates:
42
g
|
Protein:
4
g
|
Fat:
13
g
|
Sodium:
234
mg
|
Potassium:
128
mg
|
Fiber:
2
g
|
Sugar:
14
g
|
Vitamin A:
6616
IU
|
Vitamin C:
2
mg
|
Calcium:
102
mg
|
Iron:
2
mg
This post may contain affiliate links. As an Amazon Associate, I may earn a small commission from qualifying purchases at no additional cost to you.