Fluffy and moist vegan cinnamon quick bread that tastes like just cinnamon rolls but are made in a fraction of the time! This bread is easy to make as you don't need a mixer or any yeast, just like my vegan coffee cake.
Alternatively, for a yeasted cinnamon bread, check out my vegan cinnamon babka.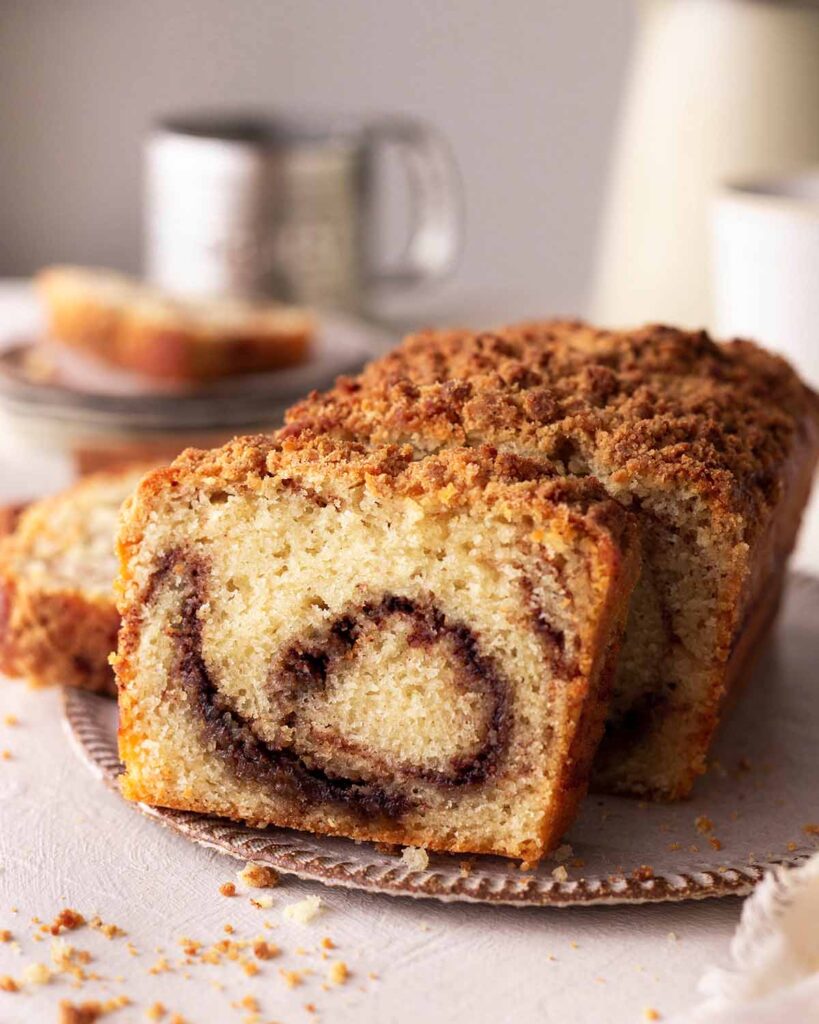 Ingredients you'll need
Notes about the ingredients
Granulated sugar to sweeten the main part of the cinnamon bread. It keeps the cake part a light color so you get a nice contrast between the cake and the cinnamon swirl.
Brown sugar for the cinnamon swirl. It adds a wonderful depth of flavor and color!
Dairy-free milk. Honestly, it doesn't really matter what milk you use. You can even use water! I personally prefer soy milk, oat milk or almond milk as they make cakes a little richer.
Raising agents and vinegar (not pictured). As this cinnamon bread is eggless, we're adding a little more baking powder to help the bread rise properly. The vinegar gives the bread a more tender crumb, and replaces some of the functions of eggs.
Vanilla. Normally, vanilla is optional but I highly recommend it for this recipe as it's one of the main flavors of the cinnamon bread.
Optional: vegan butter or coconut oil if you'd like to make a crunchy streusel topping. We're combining it with a few ingredients you'll already have from the loaf.
The full list of ingredient quantities and instructions are in the gray recipe card at the bottom of this post.
Tips for making the batter
The cake part of this quick bread comes together in one large bowl! Just mix the dry ingredients, add the wet ingredients then mix again.
My TOP tip for the batter is to not overmix it! Just make sure there are no more streaks of flour, although some lumps are okay. However, if you can see granules of sugar in the mixed batter, fold the batter just once or twice to help them dissolve.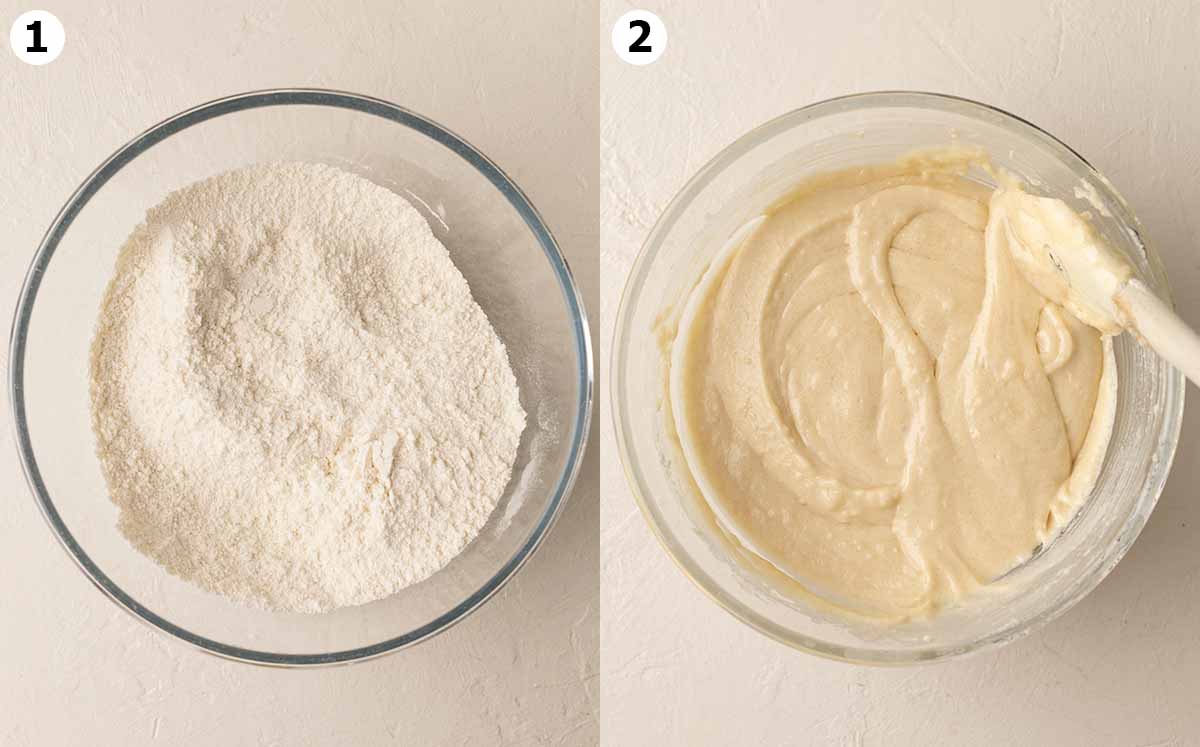 Cinnamon sugar swirl and streusel topping
Cinnamon sugar is easy to make. Just mix 2 ingredients in a bowl and you're done!
The streusel topping is completely optional but levels up your vegan cinnamon quick bread. I made the streusel a little more crumbly than other streusel mixtures because it makes the baked bread easier to cut.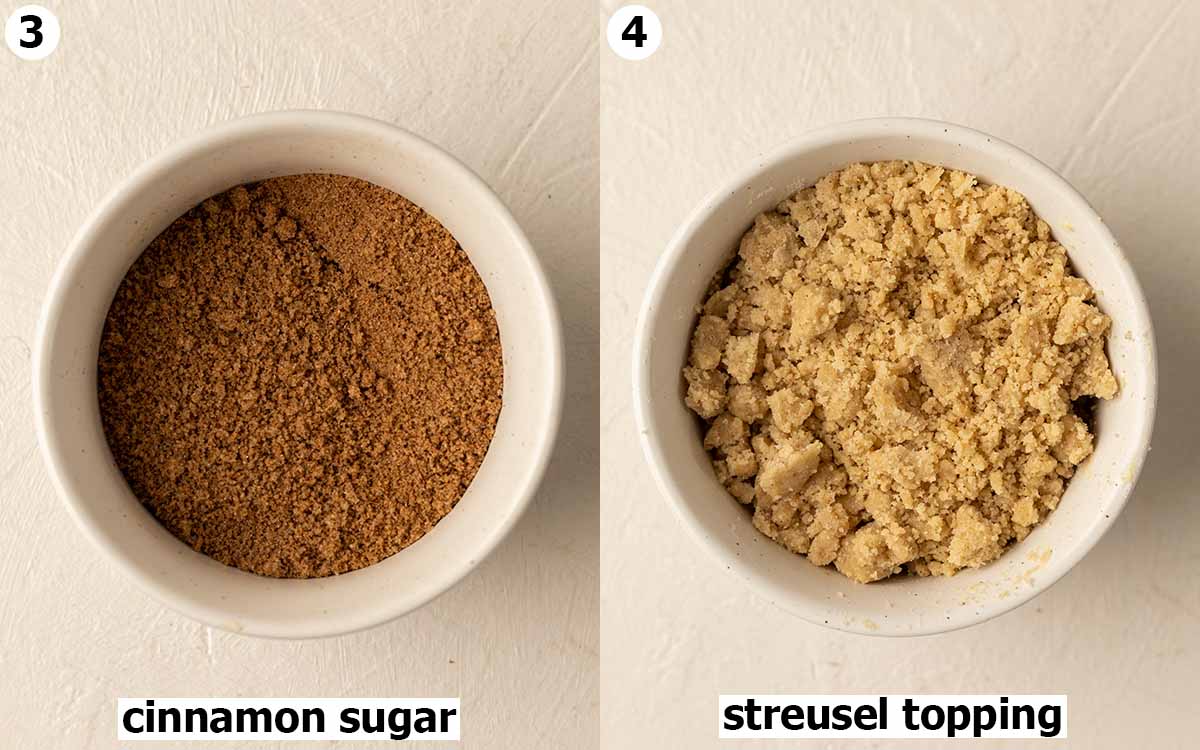 Tips for assembling the cinnamon bread
There are no rules for assembling this vegan cinnamon bread! You don't have to be precise and the swirl looks different in every slice and every loaf.
Some people like to have one very thick layer of cinnamon sugar in the middle. Others prefer to 'swirl' the cinnamon sugar through.
I love cinnamon rolls so I made this bread with two thick swirls of cinnamon sugar. To do this, I recommend:
Pour around ⅓ of the batter in the loaf pan.
Sprinkle around ½ of the cinnamon sugar on top.
Repeat 1 and 2 until you've used up the cake batter and cinnamon sugar. Your top layer should be cake batter.
Sprinkle all of the streusel topping on the loaf.
Don't worry about getting precise amounts of cake batter and cinnamon sugar. Once I used just a few tablespoons of batter for one layer and the bread baked beautifully with obvious layers!
You also don't need to use a knife/skewer to swirl the batter and cinnamon sugar together. The gravity of the cake batter automatically gives the cinnamon sugar a swirly pattern.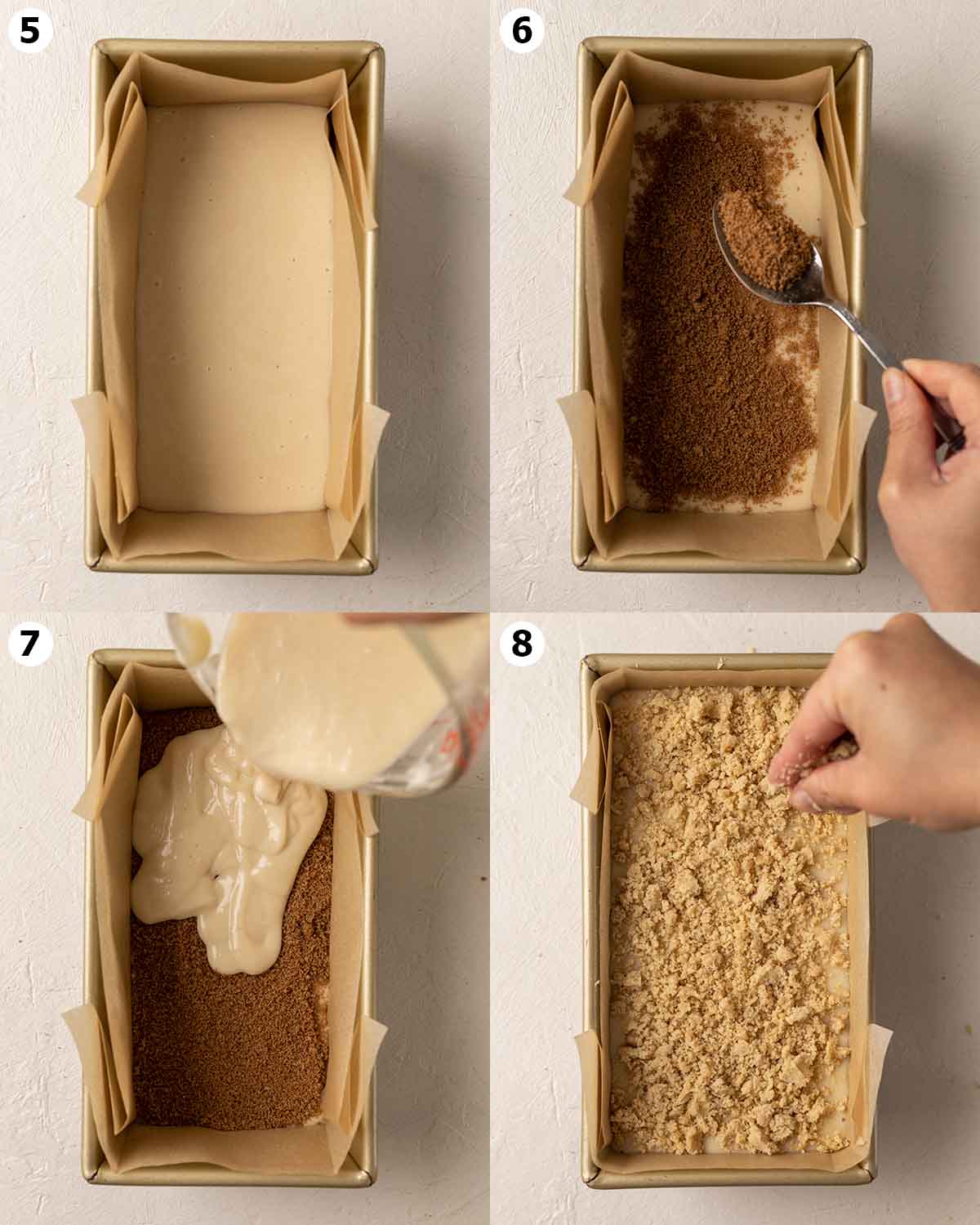 Other topping suggestions
The vegan cinnamon bread is amazing by itself or with the streusel topping. However, you can also top the bread with:
2 tablespoons of the cinnamon sugar mixture. Don't use too much otherwise, it will burn.
Pecan crumb topping, from my apple crumb cake recipe. Use just half a batch.
Oat crumb topping, from my carrot muffin recipe. Use just half a batch.
Powdered sugar
Buttercream or cream cheese frosting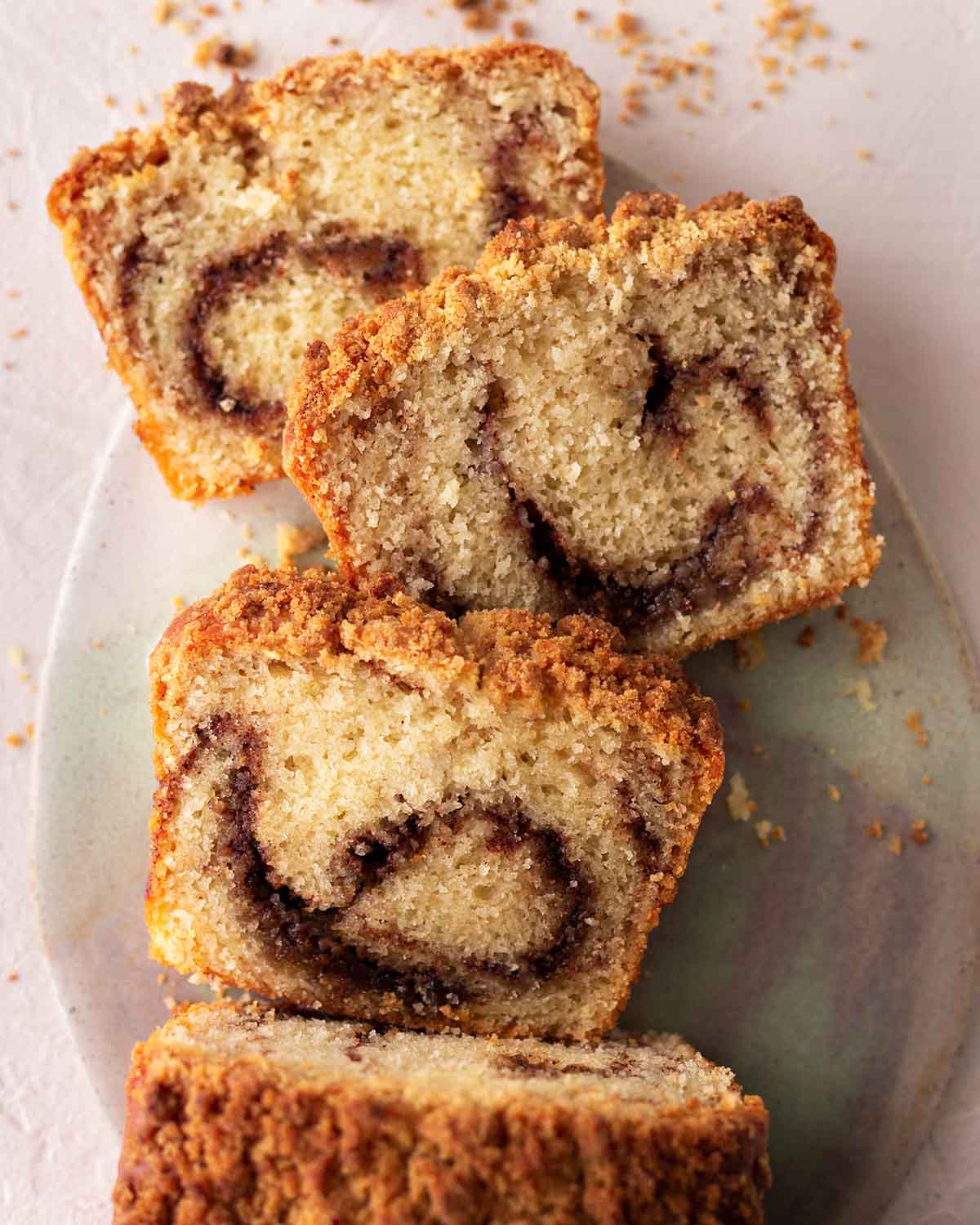 Substitutions and extra tips
Can I replace granulated white sugar with coconut sugar, brown sugar or maple syrup?
Coconut and/or brown sugar will work. However, it will make your bread light brown in color so the cinnamon swirl won't be as noticeable.

Unfortunately, maple syrup is too heavy for this recipe. If you'd like a refined sugar-free cinnamon bread, try using granulated stevia or erythritol.
Can I make this recipe gluten-free?
I haven't tested this cinnamon swirl bread with gluten-free flour so I'm not 100% sure. However, a good quality 1:1 gluten-free all-purpose flour may work.
Can I add anything else to this recipe?
Yes, you can add some raisins, pecans or walnuts to the cinnamon swirl layer!

If you'd like a cozy fruit-based quick bread, I recommend checking out my:
- vegan apple bread
- vegan pumpkin bread
- vegan banana blueberry bread

Try combining the cinnamon swirl layer in this recipe with your quick bread recipe of choice.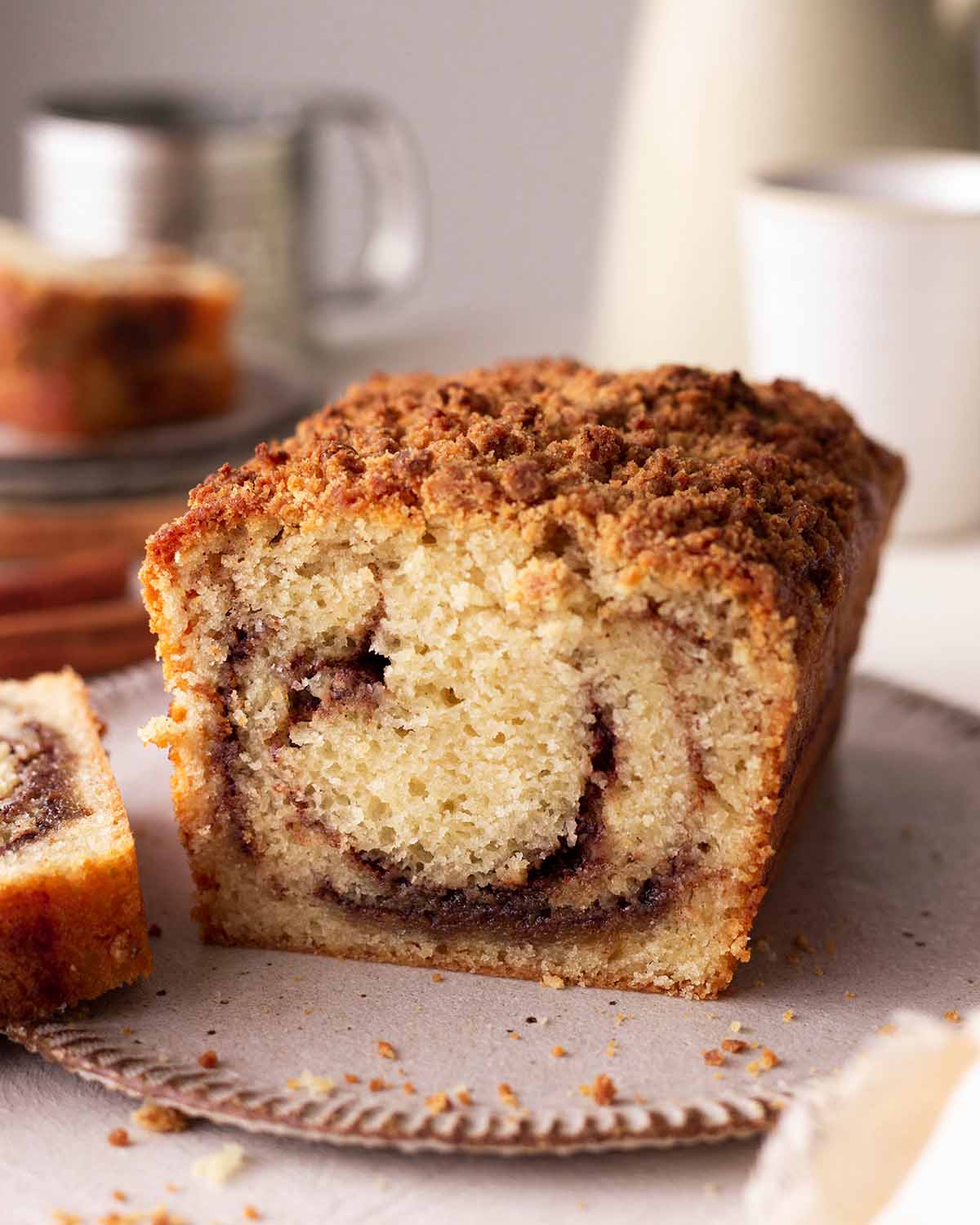 More vegan cinnamon recipes
Follow Rainbow Nourishments on Instagram, Facebook, TikTok and Pinterest, and subscribe via email to receive all of our latest recipes!
Print Recipe
Vegan Cinnamon Bread
Easy vegan cinnamon quick bread made with no yeast. This bread is fluffy, moist and tastes like cinnamon rolls!
Ingredients
Optional: Streusel topping (see note 2 for alternatives)
Instructions
To make the bread:
Preheat your oven to 180°C (355°F). Line an 8 inch (20 cm) loaf tin with parchment paper.

Add all the dry ingredients (flour, sugar, baking powder and salt) to a large mixing bowl. Whisk until there are no lumps. Add all the wet ingredients (milk, oil, optional vinegar and vanilla) and whisk until smooth. Set aside.
To make the cinnamon swirl mixture:
Add the sugar and cinnamon to a small bowl. Mix until combined.
Optional: To make the streusel topping:
Add all ingredients to a small bowl and mix until it resembles a fine crumbly mixture.
Assembling the bread:
Pour about ⅓ of the cake batter into your loaf pan. Generously sprinkle ½ of the cinnamon mixture on top. It will look like a lot of cinnamon which is right!

Pour another ⅓ of the cake batter on top. Sprinkle the remaining cinnamon sugar on top. Cover with the remaining cake batter.

Sprinkle the streusel topping on top.
Baking and storing the cinnamon bread:
Bake the cinnamon bread for 1 hour. If the top is browning too quickly, tent the loaf pan with alumiunium foil. The bread is ready when you can insert a toothpick in the middle and there's no wet batter on it. Some crumbs on the toothpick are fine, as this is a moist bread.

Allow the cinnamon bread to cool in the loaf tin for 10 minutes then cool on a wire rack. Slice and serve as is, with some vegan butter or toasted.

Store the bread in an airtight container at room temperature for one day, in the fridge for up to 3 days or in the freezer for up to 1 month.
Notes
Alternatively, you can use 1 tablespoon lemon juice. Sometimes, acid is added to cakes as it creates a more tender crumb. In vegan cakes, it helps replaces some of the functions of eggs!
Alternatively, you can top the cinnamon bread with 2 tablespoons of the cinnamon sugar mixture or plain. See the post above for more recommendations.
Nutrition
Serving:
1
slice without toppings
|
Calories:
335
kcal
|
Carbohydrates:
52
g
|
Protein:
3
g
|
Fat:
13
g
|
Sodium:
171
mg
|
Potassium:
48
mg
|
Fiber:
1
g
|
Sugar:
26
g
|
Vitamin A:
2
IU
|
Vitamin C:
0.03
mg
|
Calcium:
127
mg
|
Iron:
2
mg
This post may contain affiliate links. As an Amazon Associate, I may earn a small commission from qualifying purchases at no additional cost to you.