Vegan Pumpkin Trifle, an easy dessert for Fall / Autumn or the festive season! It's a crowd pleaser and happens to be egg free, dairy free and can be made gluten-free.
This trifle has layers of pumpkin bread, pumpkin custard pudding, whipped cream, butterscotch sauce and ginger cookies. It's packed with real pumpkin, warm spices and lots of delicious textures!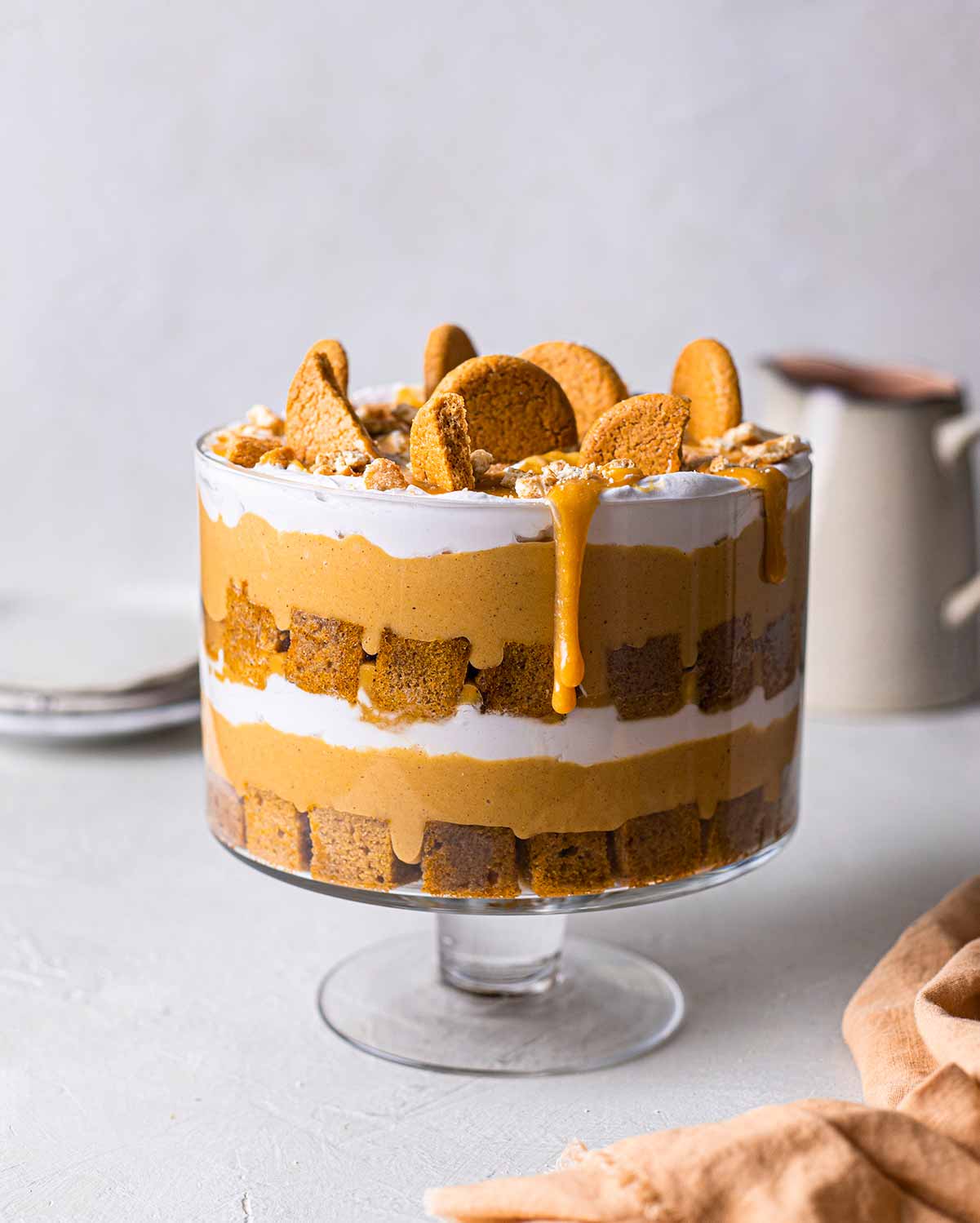 Making the vegan pumpkin bread
The cake recipe is based on my vegan pumpkin bread and pumpkin coffee cake and produces a fluffy and moist cake that you can easily cut into cubes.
I baked the cake in 2 x 8-inch pans but you can also use a large sheet pan. Once it's cooled, simply cut the cake into 1-inch cubes or thereabouts. This step can be done 1-2 days in advance of serving.
Making the pumpkin custard pudding
This pumpkin pudding is thick and creamy and doesn't soak into the cubes of pumpkin cake.
My main tip for the pudding is to cook it on the stovetop until it's thickened. Cooking it for too little time will result in a runny pudding that doesn't really set in the fridge.
The pudding is ready when you can lift your spatula or whisk and it falls back into the saucepan leaving 'ribbons' for at least 5 seconds. King Arthur Baking demonstrates the 'ribbon stage' in some detail, but in relation to conventional custard using eggs.
I'd recommend making the pudding at least a few hours in advance, up to a day ahead. I tried to make sure the pudding wasn't too warm so it doesn't melt the whipped dairy-free cream.
If you chill the pudding and it sets, simply use a stick or stand blender and blend the pudding until it's smooth again.
Whipping the dairy-free cream
For this recipe, I used Nature's Charm whipping coconut cream which is high quality and extremely reliable. Some other brands of coconut cream don't produce consistent results for whipping. However, Nature's Charm always works for me!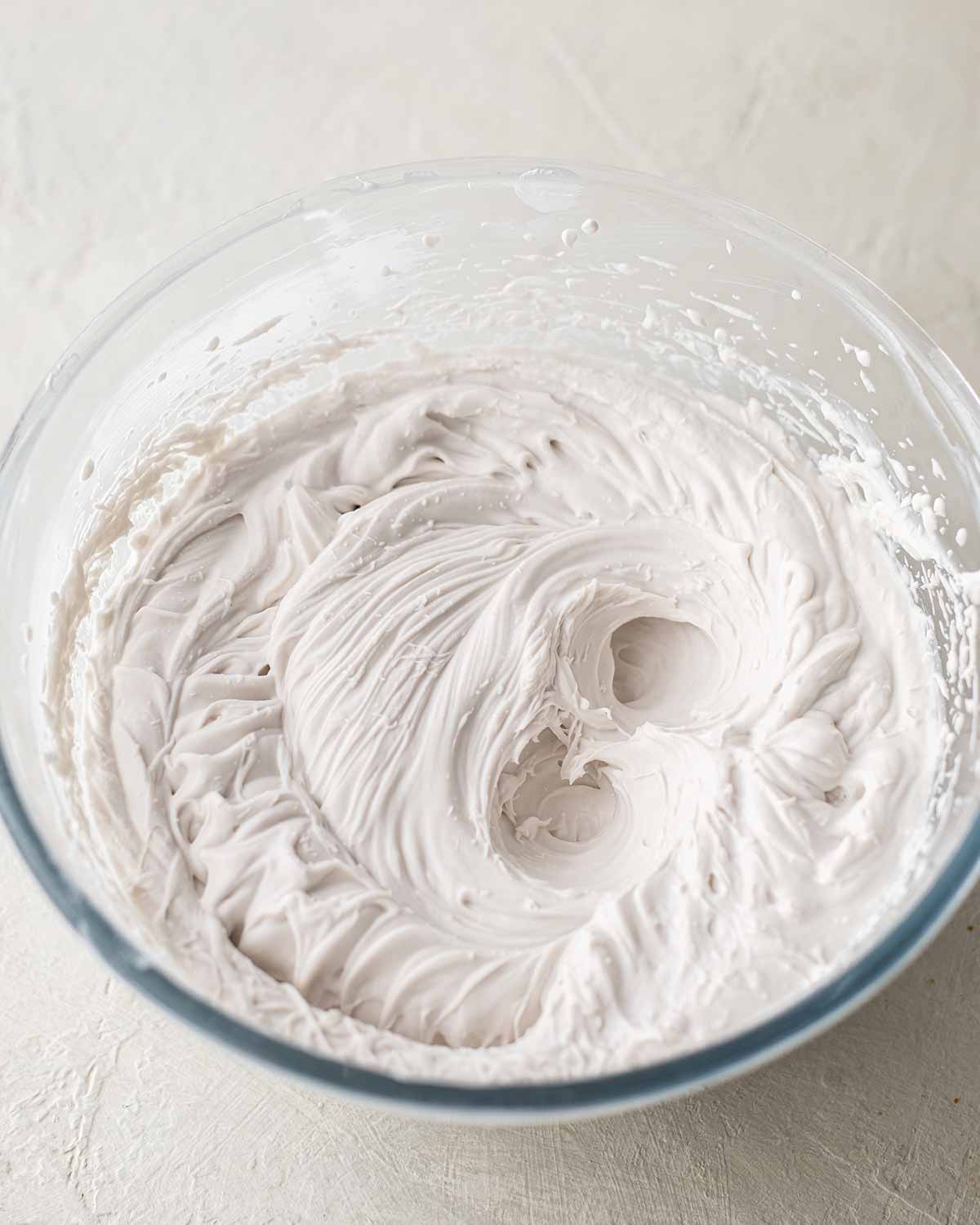 Assembling the pumpkin trifle
For a more detailed visual of how I layered the trifle, see the video at the top of this post OR in the grey recipe card at the bottom of this post.
In the trifle, I also used Nature's Charm butterscotch sauce and store-bought ginger cookies. My top tips for assembling the trifle are:
To create even layers, make sure you use only half of the cake, custard pudding, cream and butterscotch sauce every time. Use a scale or measuring cups if you'd prefer!
The layers don't have to be neat! The beauty of trifles is that they can be messy.
Assemble the trifle the day before your special occasion. And top it with ginger cookies right before you serve it!
More vegan pumpkin recipes
Follow Rainbow Nourishments on Instagram, Facebook, TikTok and Pinterest, and subscribe via email to receive all of our latest recipes!
Print Recipe
Easy Vegan Pumpkin Trifle
Vegan Pumpkin Trifle, an easy dessert for Fall and the festive season! It's a crowd pleaser and is egg free and can be made gluten free.
Instructions
Preheat the oven to 180°C (350°F). Line or grease 2 x 8 inch (20 cm) round baking tins or a large sheet tray.
To make the cake (a few hours or a day in advance):
Add all the wet ingredients to a large mixing bowl and mix until there are no lumps. Add all the dry ingredients to the bowl and mix until combined.

Pour the batter into your cake tin(s). Bake for 30 minutes or until you can insert a skewer in the middle and it comes out clean. Allow the cake(s) to cool in the tin.
To prepare the custard pudding (a few hours or a day in advance):
Add all ingredients to a large saucepan and whisk until all ingredients are combined. Place the saucepan over high heat. Boil the mixture for 1 minute then reduce to a simmer while whisking frequently. The pudding is ready when it has reach the 'ribbon stage' where you can lift your whisk and the pudding falls into ribbons. Remove from the heat and cool.

If you chill your custard pudding and it fully sets, simply blend it with a hand or stand blender until it softens to a soft pudding consistency.
To assemble:
Whip the cream according to packet instructions.

Cut your cake into 1 inch cubes.

Scatter half the cake into the bottom of your trifle dish. Fill any holes with more cake to form an even layer. Pour half of the pudding on top. Scoop half of the whipped cream into the trifle dish. Drizzle half of the butterscotch sauce on top. Repeat until you have two layers of cake, pudding, whipped cream and butterscotch sauce.

Chill until ready to serve. Just before serving, top the trifle with ginger cookies.
Notes
For homemade pumpkin puree, simply boil or roast your choice of pumpkin, and puree the flesh. I prefer boiling the pumpkin as it's much quicker!
For a gluten free vegan pumpkin cake, substitute the flour with a good quality 1:1 gluten free all purpose flour. Or use 1 ½ cups (150g) almond flour and 1 cups (160g) gluten free all-purpose flour.
Or use 2 tsp ground cinnamon, ½ tsp ground nutmeg and ½ tsp ground cloves.
Nutrition
Serving:
1
serve
|
Calories:
566
kcal
|
Carbohydrates:
63
g
|
Protein:
7
g
|
Fat:
33
g
|
Cholesterol:
2
mg
|
Sodium:
213
mg
|
Potassium:
389
mg
|
Fiber:
4
g
|
Sugar:
32
g
|
Vitamin A:
7309
IU
|
Vitamin C:
8
mg
|
Calcium:
135
mg
|
Iron:
3
mg
This post may contain affiliate links. As an Amazon Associate, I may earn a small commission from qualifying purchases at no additional cost to you.