Baked vegan pumpkin cheesecake that is packed with pumpkin flavor and spices, has a crunchy ginger cookie crust and optional caramel pecan topping.
Why you'll love this cheesecake
LOTS OF FLAVOR: This cheesecake uses a whole can of pumpkin puree, lots of warm spices, and topping inspired by pecan pie. It's really the perfect vegan Thanksgiving dessert!
RICH AND CREAMY: We're using dairy-free cream cheese (rather than cashews) for the most traditional cheesecake flavor.
EASY TO MAKE: Prepared in a food processor (or blender) and one bowl.
Ingredients for this cheesecake
A complete list of ingredients, quantities and instructions are in the gray recipe card at the bottom of this post.
Notes about the ingredients
Vegan cream cheese. This cheesecake works well with Tofutti and Sheese cream cheese and readers have successfully used many other brands. Some readers said that Violife and Daiya do not work well as they can split. Alternatively, I also have a recipe for a baked cheesecake without cream cheese.
Thick coconut cream (not coconut milk) Don't worry, the cheesecake has no coconut flavor because we're using a lot of cream cheese and pumpkin. Alternatively, tofu will work (see the notes in the recipe box for tips).
Pumpkin puree, either canned pumpkin puree (I used Libby's) or homemade pumpkin puree.
Vegan-friendly ginger cookies for the crust. Plain sweet cookies or graham crackers will also work (see the notes in the recipe box at the bottom of this post). You can also use gluten-free cookies for a gluten-free cheesecake.
Making the ginger cookie crust
First, we need to use a food processor or high-powered blender to pulse the cookies into fine crumbs. If your cookies are firm, this will take a few minutes.
If you don't have a food processor, place the cookies in a food-safe bag and crush them with a rolling pin.
Then mix the cookie crumbs with melted vegan butter until it resembles wet sand.
Press the crust mixture into your cake pan as firmly as possible. This will prevent your vegan pumpkin cheesecake from crumbling when you cut into it!
We're par-baking the crust so it's still crunchy when the whole cheesecake is ready.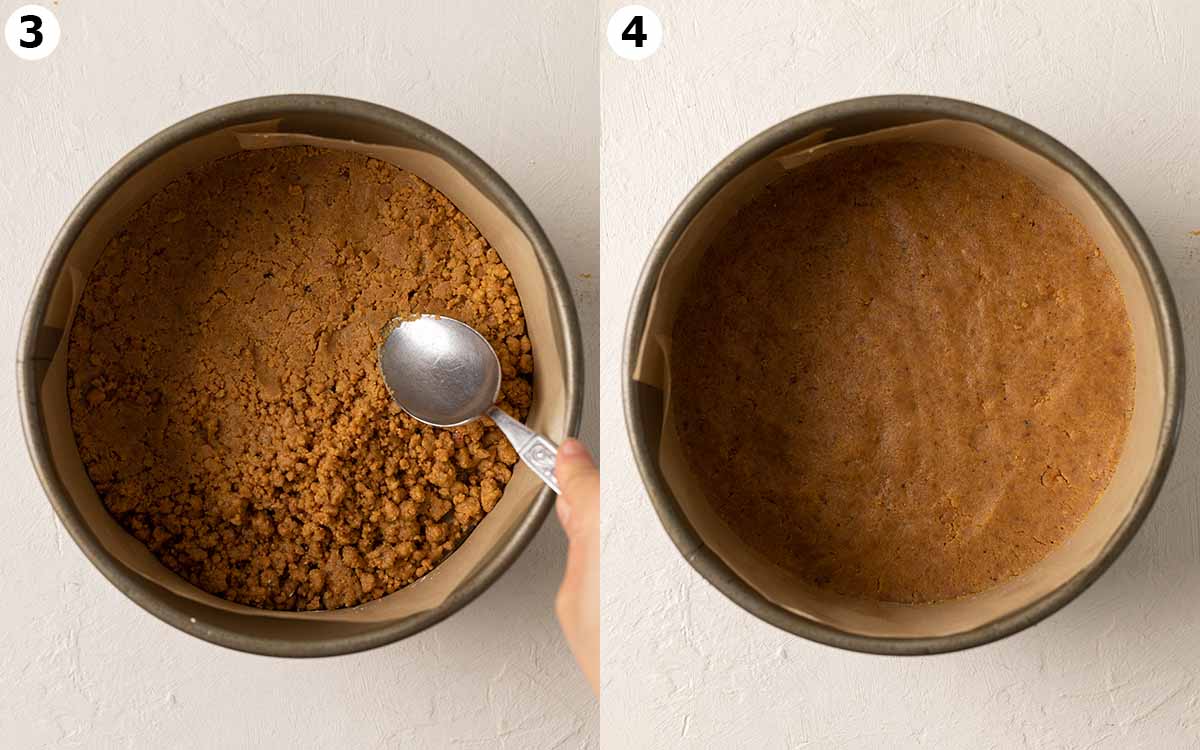 Tips for making the cheesecake filling
The vegan pumpkin cheesecake filling is smooth, creamy and slightly fluffy. Here are some tips for making the creamiest filling:
Use

room-temperature vegan cream cheese

. Beat it first to remove any lumps.

Avoid overmixing the cheesecake filling. Adding too much air to the cheesecake can cause it to rise and fall when baked.
If your mixture is still lumpy, try pressing it through a strainer or blending it in a high-speed blender.
Finally, pour the filling into your cake pan. Tap the vegan pumpkin cheesecake on your kitchen bench a few times to remove any air bubbles. The cheesecake filling is quite thick so you may need to smooth the surface before baking.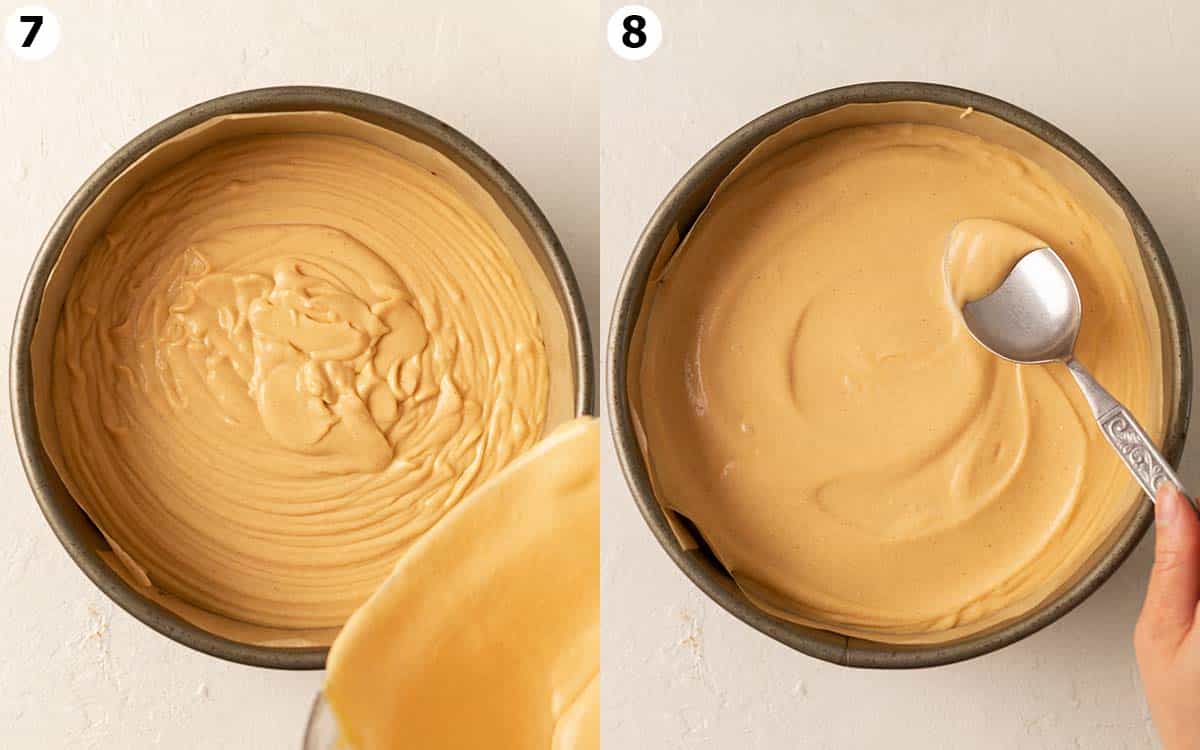 How to create a water bath for the cheesecake
Baking this vegan pumpkin cheesecake in a water bath makes the filling really smooth and creamy. The cheesecake will still bake but the filling can crack and feel dry.
The traditional way to create a water bath is to cover the bottom of a cheesecake pan with aluminum foil and place it in a roasting pan or deep tray filled with hot water. Culinary Hill provides helpful step-by-step pictures of this.
If you don't have aluminum foil at home, you can:
Place your pumpkin cheesecake in a slightly larger cake/quiche pan. Place this in the middle of a larger roasting pan (such as the one that came with your oven).
Place the roasting pan in the middle rack of your oven.
Pour boiling water into the roasting pan. Immediately close the oven door.
Alternatively, pour the hot water into your roasting pan and then place the cheesecake in the middle (whichever works for you).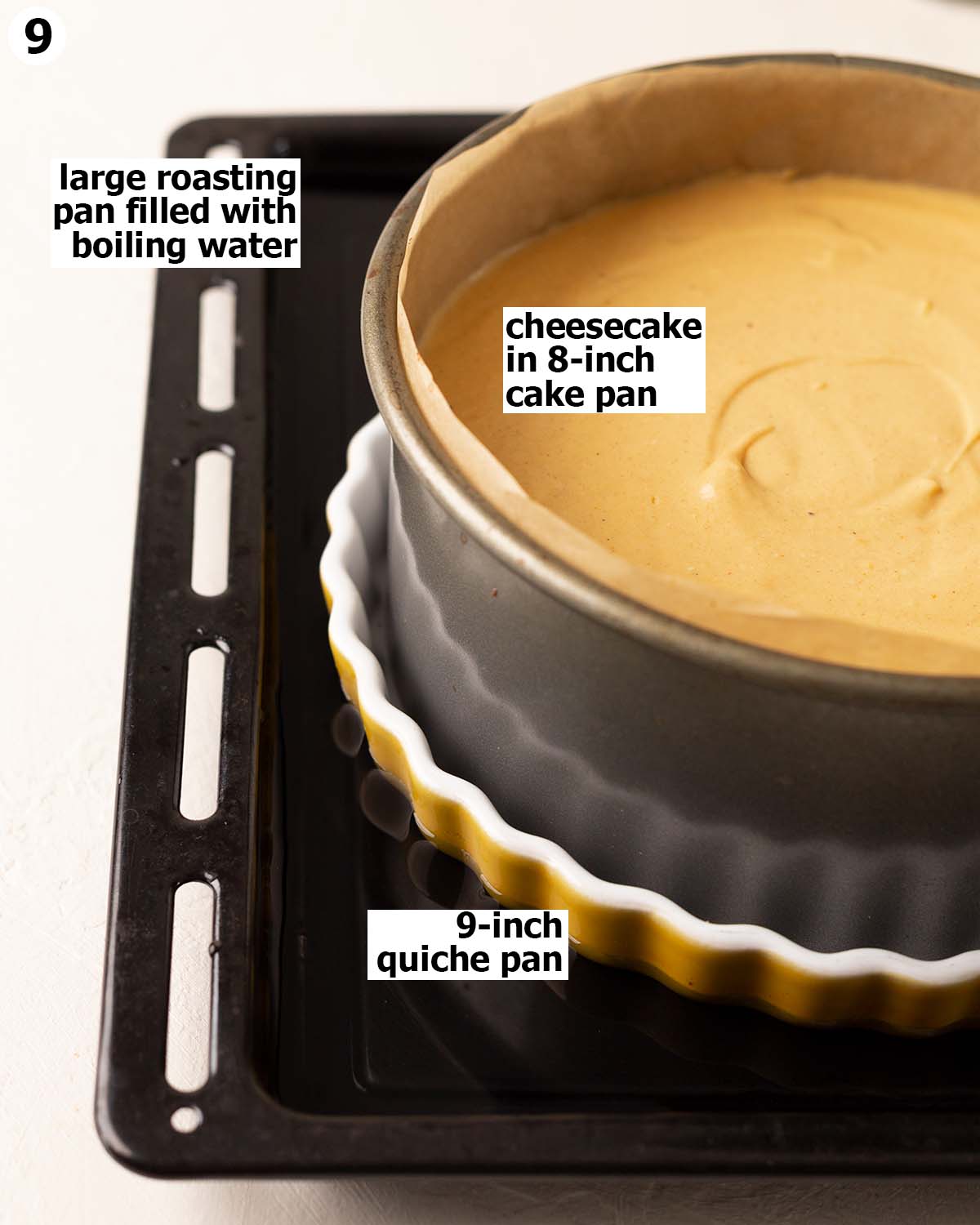 Baking tips
Some tips for baking the best vegan pumpkin cheesecake:
Avoid opening the oven door for at least 1 hour while the cheesecake is baking. Sudden temperature drops can cause the cheesecake to crack. However, if your cheesecake is browning on top, quickly open the oven to cover the cake pan.
If your oven runs hot or has strong top heating elements, tent your cake pan with aluminum foil or a small oven-safe tray at the beginning

of baking.

This will prevent your cheesecake from burning.
How to tell if the cheesecake is done
The 'jiggle test' is the easiest way to tell if a cheesecake is ready. At around 60-70 minutes gently shake the pumpkin cheesecake and it's done when the edges look set but the middle is a little jiggly. The middle should 'jiggle like jello', but not 'ripple like water'.
You can see the 'jiggle test' in this video by Food52 or this video by Allrecipes. Don't worry if your cheesecake takes longer to bake (your oven may run cool).
When your vegan pumpkin cheesecake is ready, let it sit in the warm oven and then at room temperature. The residual heat will eventually cook the middle of the cheesecake.
Serving suggestions
This vegan pumpkin cheesecake is very rich and indulgent by itself!
For something extra, I topped my cheesecake with a caramel pecan sauce that's reminiscent of pecan pie. Alternatively, you can top your cheesecake with:
Whipped coconut cream or any dairy-free cream
Crushed ginger cookies
Pumpkin seeds
Vegan caramel sauce
Expert Tips
Can I make this vegan pumpkin cheesecake refined sugar-free?
Yes, use store-bought or homemade refined sugar-free gingerbread cookies for the base. For the filling, I recommend using coconut sugar. Maple syrup may work but will make the filling runnier and you'll have to bake it for longer.
What can I use instead of coconut cream?
Instead, you may use silken firm tofu (otherwise known as medium tofu) or dairy-free yogurt. The original version of this recipe used tofu! However, I recommend adding 2 extra tablespoons (15g) of cornstarch and baking the cheesecake for a little longer.
Can I use a larger cake pan to bake this vegan pumpkin cheesecake?
Yes, your cheesecake will bake a little quicker. Try checking it at the 50-minute mark.
Can I replace pumpkin puree with something else?
I haven't tested this recipe with other fruits/vegetables. However, you can browse my other vegan cheesecake recipes.
More vegan pumpkin desserts
Follow Rainbow Nourishments on Instagram, Facebook, TikTok and Pinterest, and subscribe via email to receive all of our latest recipes!
Print Recipe
Vegan Pumpkin Cheesecake (baked)
Baked vegan pumpkin cheesecake that is packed with pumpkin and spices, has a crunchy ginger cookie crust and optional caramel pecan topping. This epic Fall dessert is perfect for sharing with friends and family.
Ingredients
Crust
~2 ½

cups (300g)

ginger cookies

,

gluten-free if needed (note 1 if you only have plain cookies)

⅓

cup (75g)

melted vegan butter,

or melted coconut oil
Instructions
Preheat your oven to 350°F (180°C). Line the bottom and sides of an 8-inch or 9-inch (20 or 23 cm) springform pan or loose-bottom pan with parchment paper.
Make the crust:
Add the ginger cookies to a food processor and pulse until they form fine crumbs. Add the melted butter and pulse until combined. Firmly press the mixture into the bottom of your cake pan.

Bake the ginger crust in the oven for 10 minutes and set aside. Reduce the oven temperature to 320°F (160°C).
Make the filling:
Add the cream cheese to a large bowl (if using a handheld mixer) or bowl of a stand mixer with the whisk attachment. Beat until smooth and there are no lumps. You can also use a blender or food processor for this step.

Add the remaining filling ingredients and mix until all ingredients are combined. Avoid over-mixing the batter as it can cause the cheesecake to rise quickly and fall in the oven.

Pour the pumpkin cheesecake batter into your cake pan and smooth the surface with a spoon. Tap the cheesecake on your kitchen bench a few times to remove any air bubbles.
Prepare the water bath:
Boil 4 cups of water in a kettle or a medium-sized pot.

Wrap your cake pan with aluminum foil OR place your cake pan in a slightly larger round cake pan. Place this in a deep baking tray and position it in the middle rack of your oven. Carefully pour boiling water into the baking tray so the water is around 1 inch high. See my post above for extra tips.
Bake the vegan pumpkin cheesecake:
Bake the cheesecake for 60-75 minutes or until done. Your cheesecake is ready if you gently shake the cake pan and the edges look set but the middle is still jiggly. Your cheesecake will continue to set over time. (note 4)

Turn off the oven and allow the cheesecake to sit in the oven with the door closed for at least 1 hour. Remove the cheesecake from the oven and let it sit at room temperature until it reaches room temperature. Cover and refrigerate the cheesecake for at least 4 hours or overnight.
Prepare the pecan topping:
Add all ingredients except the pecans to a small saucepan over medium heat. Simmer the mixture for 5 minutes then mix through the pecans. Remove from the heat. Allow the mixture to cool and thicken.

Chill your vegan pumpkin cheesecake until needed. Just before serving, spoon the pecan topping or your desired topping on top.

Store leftovers in an airtight container in the fridge for up to 5 days or in the freezer for up to 1 month.
Notes
Alternatively, you can use 250g plain vegan-friendly cookies and add 2 teaspoons ground cinnamon, 2 teaspoons ground ginger and ½ teaspoon ground nutmeg. For a graham cracker crust, use 200g graham crackers, 50g brown sugar and the same spices as above.
For a coconut-free cheesecake, you may use film-silken tofu (make sure you blend the filling). I recommend adding 2 extra tablespoons (15g) of cornstarch and baking the cheesecake for a little longer.
For homemade pumpkin spice, use 1 ½ teaspoons ground cinnamon, 1 teaspoon ground ginger, ½ teaspoon ground nutmeg and a pinch of ground cloves. If you don't have any ginger, nutmeg or cloves, use extra cinnamon.

At the 30-minute mark, if your cheesecake starts to brown on top, cover your cake pan with an oven-safe tray or aluminum foil.

Also, if your cheesecake takes less or more time to bake, that is absolutely okay. It will depend on your ingredients and if your oven runs cool. For extra tips on how to tell if your cheesecake is ready, see the post above.
Nutrition
Serving:
1
slice with no topping
|
Calories:
459
kcal
|
Carbohydrates:
45
g
|
Protein:
7
g
|
Fat:
32
g
|
Sodium:
355
mg
|
Potassium:
145
mg
|
Fiber:
6
g
|
Sugar:
28
g
|
Vitamin A:
5755
IU
|
Vitamin C:
3
mg
|
Calcium:
68
mg
|
Iron:
2
mg
This post may contain affiliate links. As an Amazon Associate, I may earn a small commission from qualifying purchases at no additional cost to you.