Soft and fluffy vegan pumpkin cupcakes with lots of pumpkin puree and warm spices! These cupcakes come together in one bowl and use simple ingredients, just like my vegan pumpkin cake.
Ingredients you'll need
The full list of ingredient quantities and instructions are in the gray recipe card at the bottom of this post.
Notes about the ingredients
Pumpkin puree, either canned (I used Libby's) or homemade. If using homemade, try to make sure it's the same consistency as above.
Brown sugar for depth of flavor and moisture, and granulated sugar to make sure the cupcakes aren't too heavy. If you're in the US, use organic sugar to make sure it's vegan. Alternatively, you can use all brown sugar, all granulated sugar or even coconut sugar.
Dairy-free milk. I always like using soy milk in baking as its higher protein content makes cakes softer and more tender. However, any milk will work, such as oat milk or almond milk.
Pumpkin spice, either pre-made or a homemade blend of ground cinnamon, nutmeg, ginger and cloves. Check the notes in the recipe box at the bottom of the post for quantities!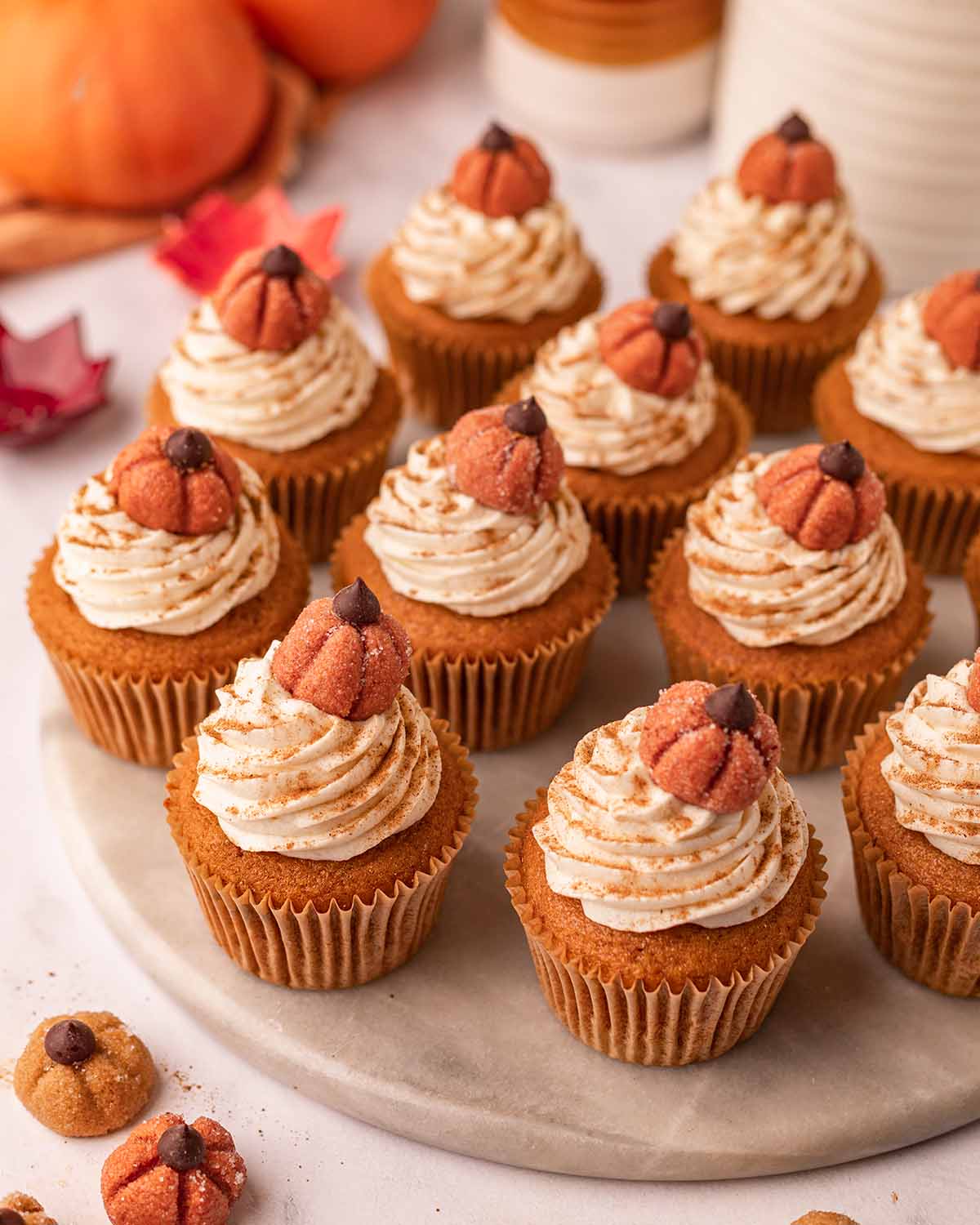 Making the cupcake batter
The batter is easy to make as you just mix the wet ingredients with the dry ingredients until combined! For the best fluffy pumpkin cupcakes, here are my top tips!
Measure the all purpose flour using a scale, or use the spoon and level method. Packing too much flour in your measuring cup will make this recipe (and any cake recipe) denser and drier.
Also, avoid overmixing your batter. Overmixing cake batter strengthens the gluten and contributes to a dense and chewy texture. The final batter doesn't have to be completely smooth - as long as there aren't any lumps of dry flour or streaks of pumpkin purée, you're fine!
Mix in the pumpkin spice and raising agents first. After you mix your wet ingredients, stir in the spices and baking powder. This ensures they are evenly incorporated (no one likes chunks of baking powder in their cake). Then mix in the flour!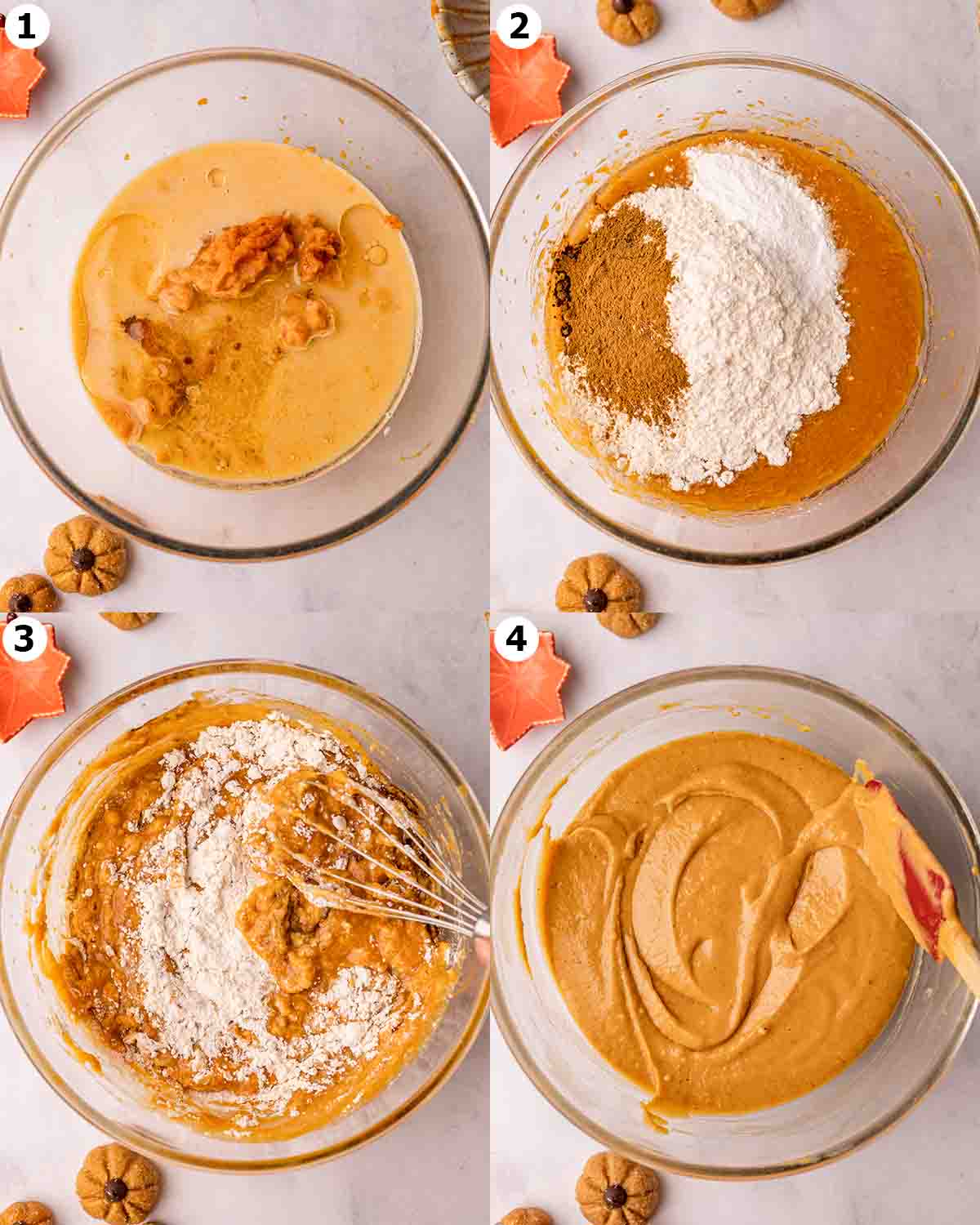 Baking the vegan pumpkin cupcakes
These vegan pumpkin cupcakes are straightforward to bake. However, I have a few tips:
Fill each cupcake liner by around two-thirds. I used a USA Pan muffin tin but not all muffin tins are the same. Your tin may have smaller or larger muffin cups so you can just eyeball the amount of batter in each.
Use an ice cream scoop to divide the cupcake batter as it's easier than using spoons and less messy! If you don't have one, of course, spoons will work :).
For slightly taller cupcakes, bake only 6 cupcakes at a time and space them apart in your muffin pan. This isn't reflected in the below pictures, but you can see this technique in my vegan pumpkin chocolate chip muffins post.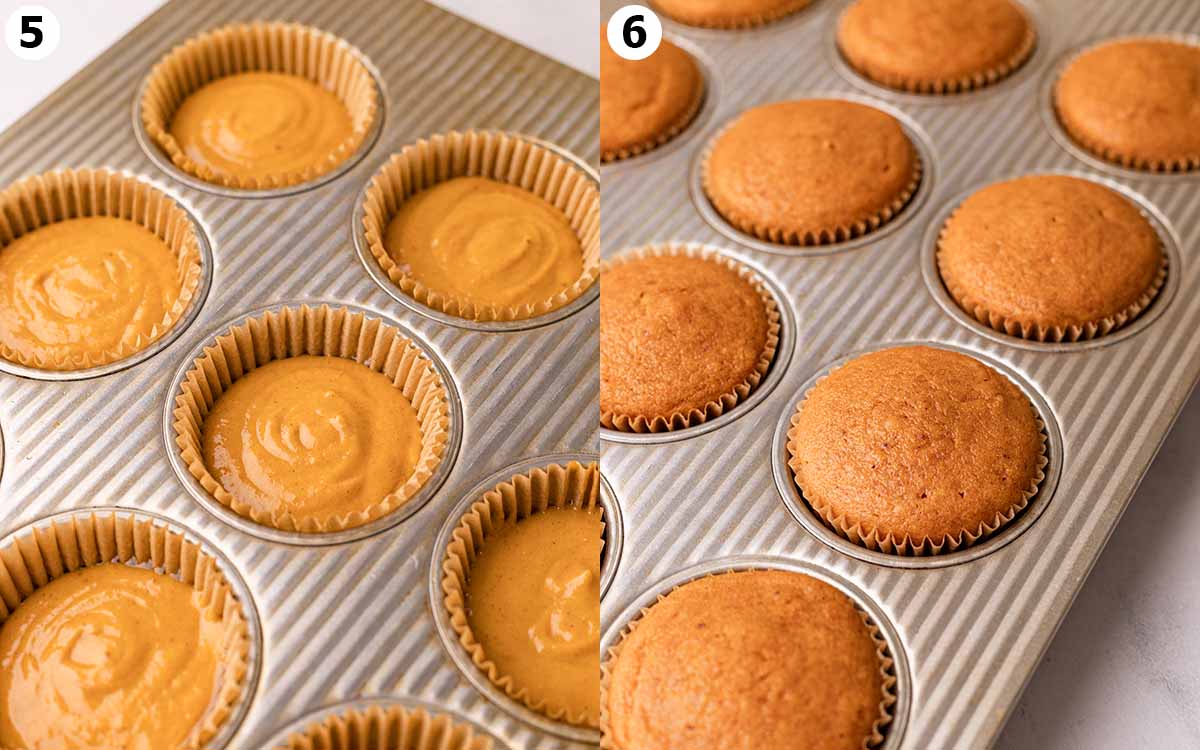 Decorating the cupcakes
These cupcakes are lovely with my vegan cream cheese frosting. Alternatively, you can top them with:
Vanilla buttercream. Try adding a dash of maple syrup for extra flavor, or lemon juice to mimic the tanginess of cream cheese!
Dairy-free whipping cream
For aesthetic Fall vibes, you can also top your vegan pumpkin cupcakes with:
My mini biscoff pumpkins or marzipan pumpkins
A sprinkle of pumpkin spice or ground cinnamon
Cinnamon sticks
Pecans
Fresh cranberries
Pumpkin seeds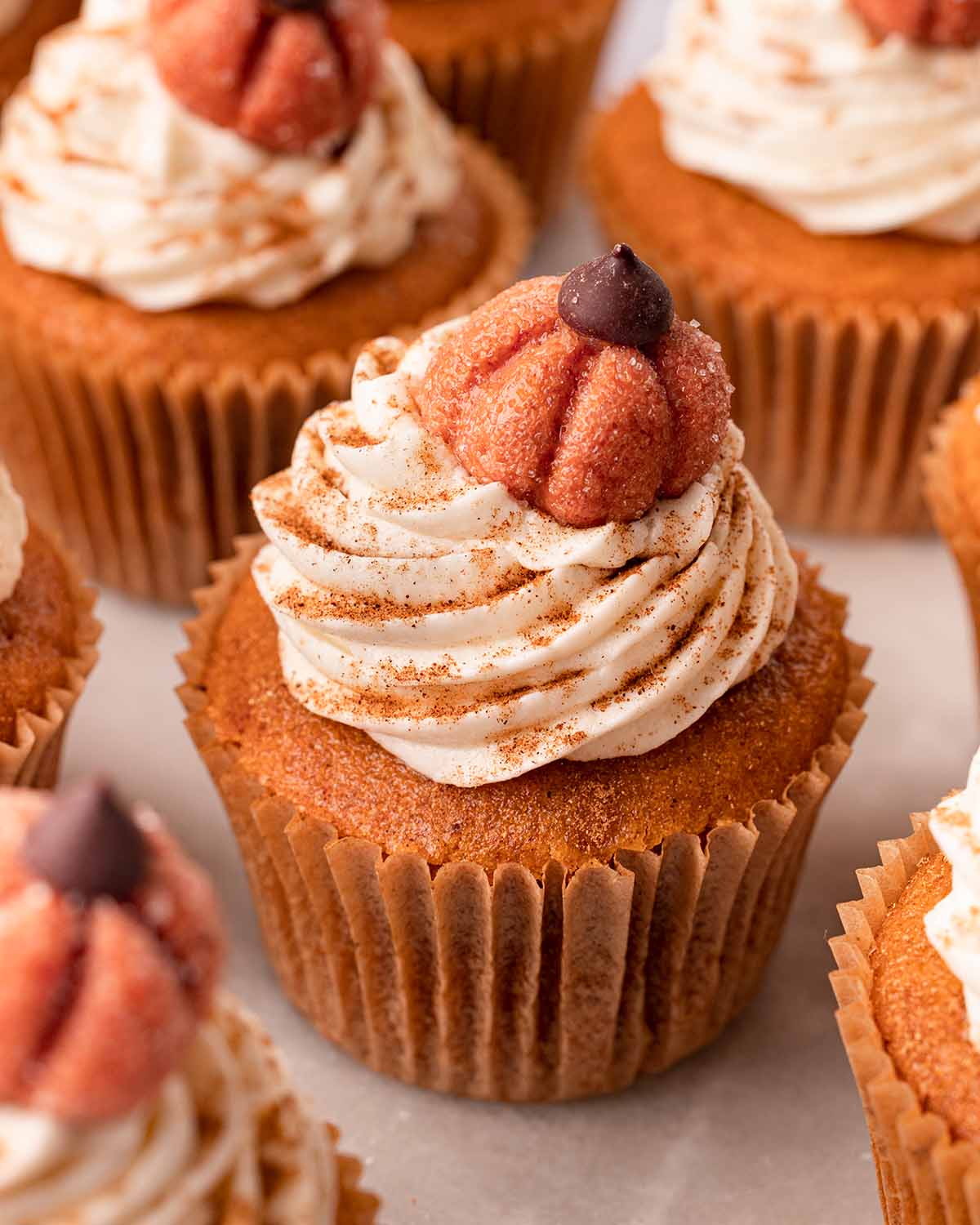 Customizing this recipe
Can I add anything else to the cupcakes?
Yes! You can add the following to the batter:
- chocolate chips
- chopped nuts, such as pecans or walnuts

Keep in mind that this will add more volume to the batter, so you may end up with more cupcakes!

If you want to use sweet potato instead of pumpkin, I recommend baking my vegan sweet potato cake in a muffin pan.
How do I make pumpkin puree at home?
1. Peel and cut your pumpkin into cubes and steam it until soft. OR cut your whole pumpkin in half, remove the seeds and roast the pumpkin, side down, until the flesh is as soft as possible. Scoop out the flesh and discard the skin.
2. Use a food processor or stick blender to puree the pumpkin.
Don't forget to check out my other vegan cupcakes and muffins!
More vegan pumpkin desserts
Follow Rainbow Nourishments on Instagram, Facebook, TikTok and Pinterest, and subscribe via email to receive all of our latest recipes!
Print Recipe
Vegan Pumpkin Cupcakes
Soft and fluffy vegan pumpkin cupcakes with lots of pumpkin puree and warm spices! These cupcakes come together in one bowl and use simple ingredients.
Ingredients
Wet ingredients for pumpkin muffins
Dry ingredients for pumpkin muffins
Cream cheese frosting and decorations (see note 3 for alternatives)
Instructions
Preheat your oven to 350°F (180°C). Line a 12-cup muffin pan with cupcake liners. If you're using paper liners, spray or brush them with oil.
Make the pumpkin cupcakes:
Add the wet ingredients to a large mixing bowl and whisk until combined. Add the dry ingredients to the bowl and mix until combined. Make sure you don't overmix the batter (some lumps are fine, as long as they aren't lumps of dry flour).

Use an ice cream scoop or a spoon to divide the batter in your muffin pan. The batter should fill each cup by around two-thirds.

Bake the cupcakes for 22-27 minutes or until you can insert a toothpick in the center of a cupcake and it comes out with no wet batter on it (a few moist crumbs are fine).

Allow the cupcakes to cool in the pan for around 15 minutes then transfer to a cooling rack.
Make the cream cheese frosting and decorating:
Add the butter to a large bowl (if using an electric hand mixer) or bowl of a stand mixer (with the whisk or paddle attachment). Beat until light and fluffy. Add the vegan cream cheese and mix until just combined and there are more lumps (around 30 seconds).

Add the sugar and beat on low speed until just combined. Increase to medium speed and beat just until the frosting firms up. Be careful to not mix the frosting too much as it can become soft again. Add more powdered sugar for a firmer frosting. Chill until needed.

When the cupcakes have fully cooled, use a spatula or piping bag to frost the cupcakes. Dust with additional pumpkin spice and top with mini pumpkins, or as desired.

Serve the cupcakes immediately. Store the unfrosted cupcakes in an airtight container at room temperature for up to 3 days, or store the frosted cupcakes in the fridge for up to 5 days. If freezing, store the unfrosted cupcakes in a freezer safe container for up to 1 month (store the frosting separately). Allow the cupcakes to come to room temperature before serving.
Notes
To spoon and level flour, fluff up the flour in its container, use a spoon to add flour to your measuring cup, then level it off with a knife. I don't recommend using your measuring cup to scoop flour out of your container as this will add too much flour to your cup which will make your cupcakes more dry and dense. Alternatively, use the grams measurements.
For homemade pumpkin spice, use 1 ½ teaspoons ground cinnamon, ½ teaspoon ground nutmeg, ½ teaspoon ground ginger and a generous pinch of ground cloves. If you don't have any nutmeg, ginger or cloves, use more cinnamon.
Instead of cream cheese frosting, I recommend making a classic buttercream. Beat ¾ cup (170g) of room temperature vegan butter until fluffy. Add 2-4 cups (200-400g) powdered sugar and a dash of lemon juice, to taste, then beat until light and fluffy. The lemon flavor mimics the tanginess of the cream cheese.
This post may contain affiliate links. As an Amazon Associate, I may earn a small commission from qualifying purchases at no additional cost to you.