Soft and fluffy vegan coffee cake with a thick layer of cinnamon sugar and a crunchy streusel topping. This cake is easy to make, uses very common pantry ingredients and is perfect with a cup of coffee!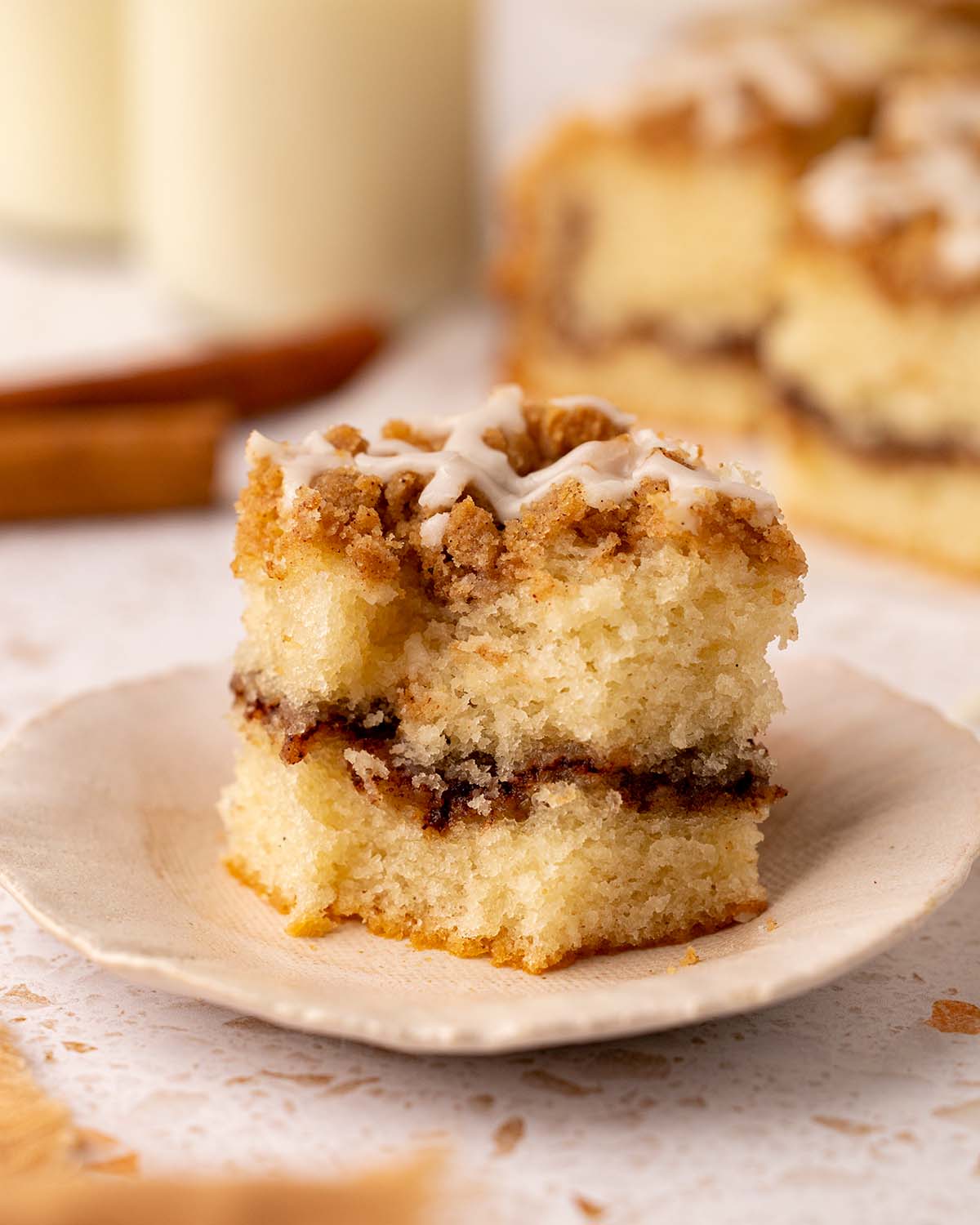 Why you'll love this cake
ACCESSIBLE INGREDIENTS: Even though this is an eggless cake, you don't need any special egg replacers! We're using a specially crafted ratio of ingredients to create a fluffy cake that doesn't fall apart.
VERSATILE: This coffee cake is the perfect breakfast cake, treat with your daily coffee or for dessert.
Simple ingredients you'll need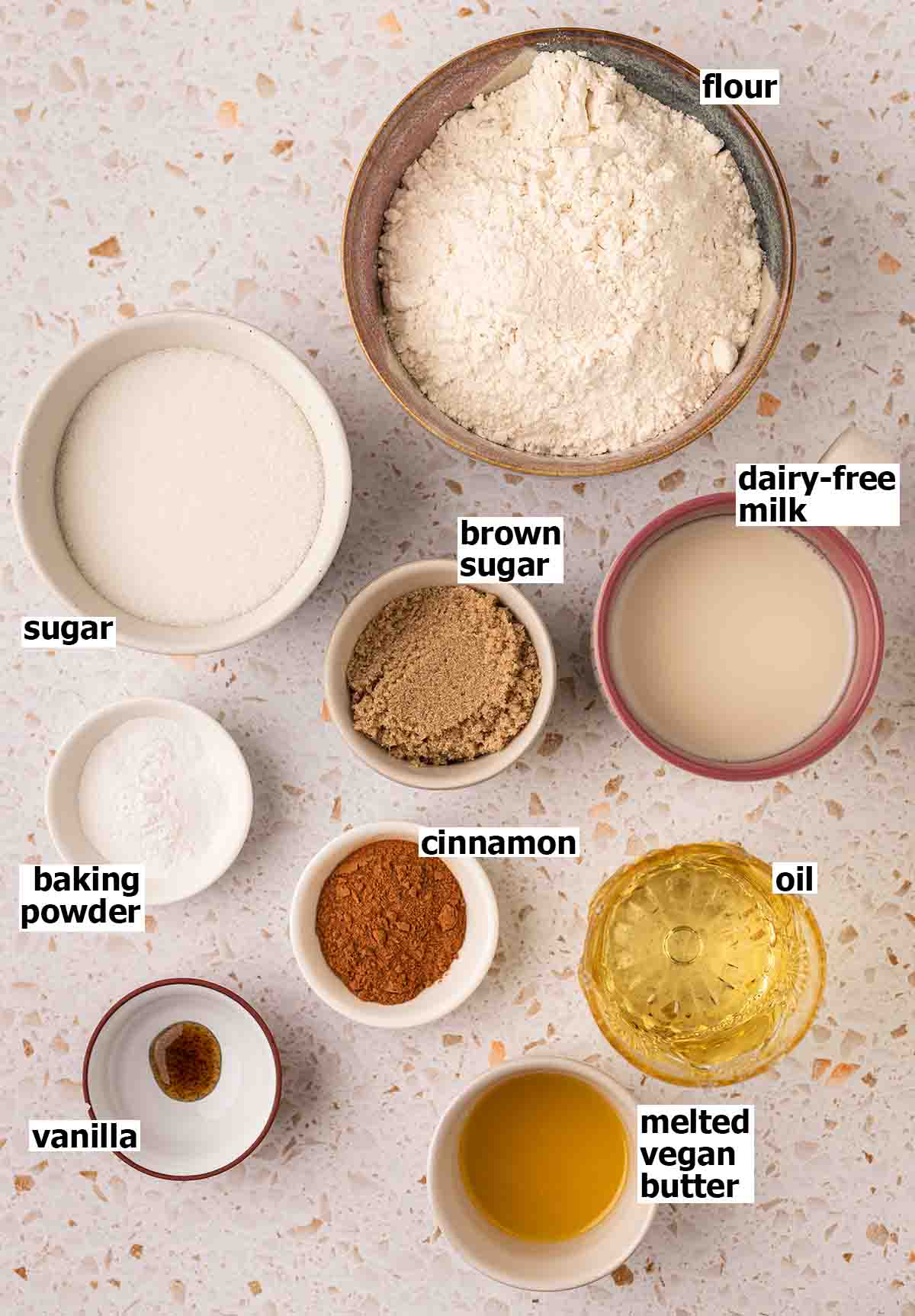 A complete list of ingredients, quantities and instructions are in the gray recipe card at the bottom of this post.
Oil for moisture and helps create a fluffier vegan coffee cake. You can substitute half of the oil with melted vegan butter for more depth of flavor (but I think it's perfect as is).
Non-dairy milk. I recommend using a thick creamy milk such as soy milk as it makes the cake more tender. However, any milk will work for example oat milk or almond milk.
Granulated sugar for the vanilla cake. If you're in the US, use organic sugar or cane sugar to ensure it's vegan.
Brown sugar for the topping. Alternatively, coconut sugar will work wonderfully!
Melted vegan butter for the streusel topping. I used a vegan block butter but coconut oil or a spreadable butter will also work (you may need to add a little more flour for the right consistency).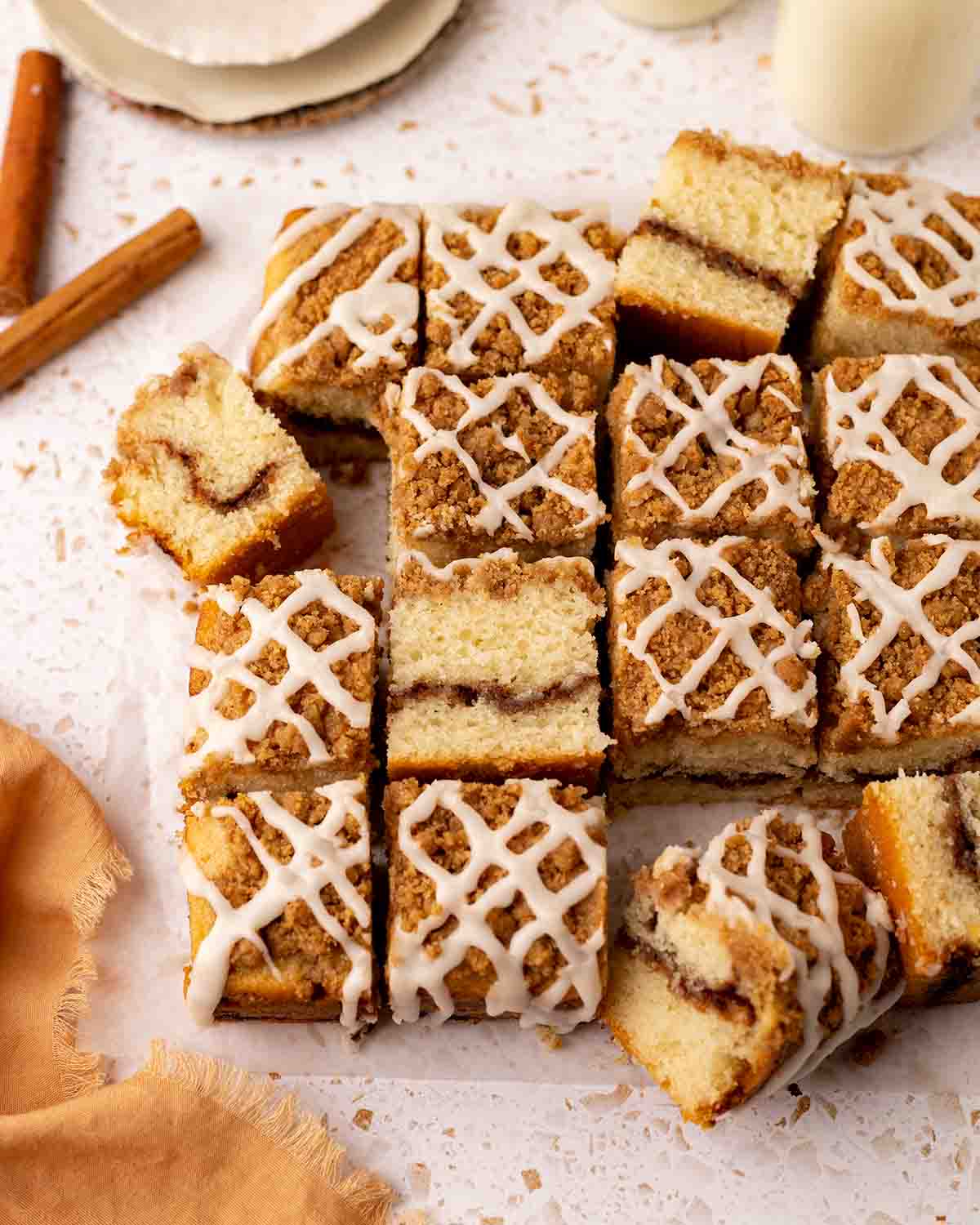 Making the crumb topping and cinnamon layer
Before making the vanilla cake, I recommend preparing the topping and cinnamon sugar layer. They're very easy to make as you just mix all the ingredients in a bowl!
The topping should have the consistency of crumbly wet sand. However, this can vary a little depending on how you measure your ingredients and the temperature of your home! If your mixture is too dry or too sticky, feel free to mix in an extra teaspoon of melted butter. A little goes a long way!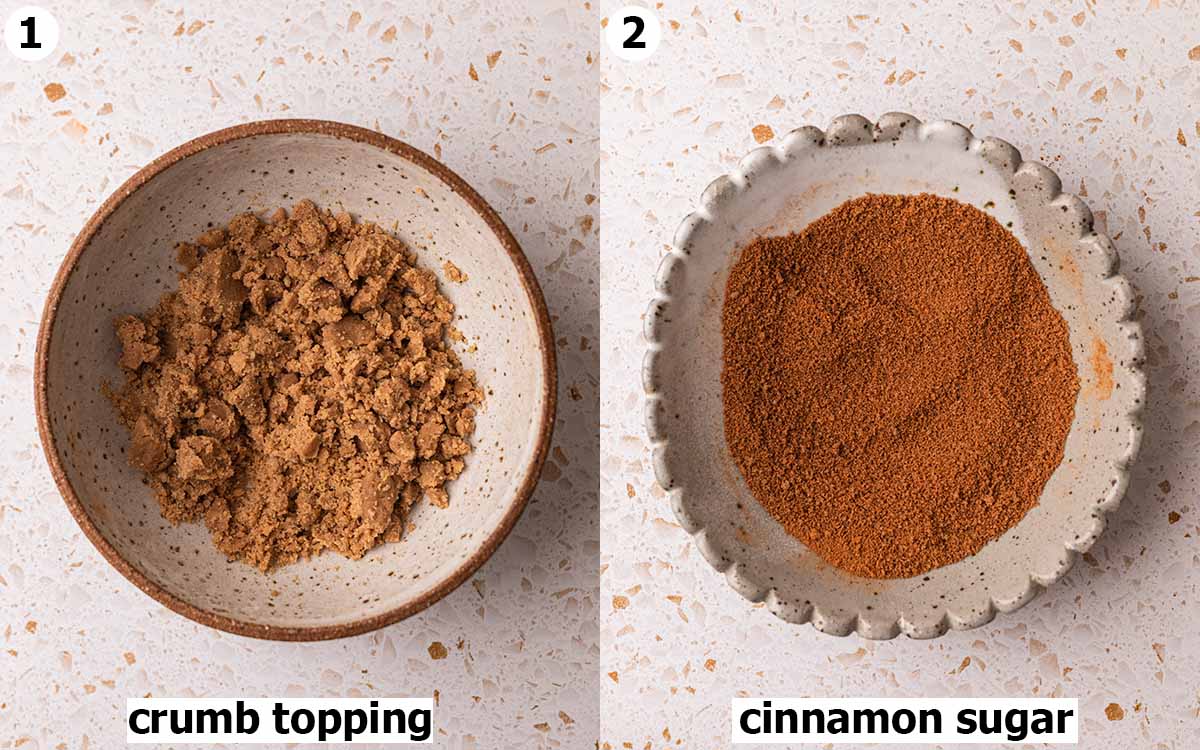 Making the eggless vanilla cake
To prepare the vanilla cake, you just need to mix the dry ingredients in a large bowl, add the wet ingredients and stir until combined. Here are my top tips for a fluffy cake:
Measure the ingredients (especially the flour) using a kitchen scale for the best results. It's very easy to under or overmeasure the flour using measuring cups, and this can impact the texture of your final cake. If you only have cups, I recommend using the 'spoon & level' method where you fluff the flour before spooning it into your cup.
Don't overmix your batter. Some lumps in your batter are fine, as long as they aren't lumps of flour.
Your final batter should be runnier than a typical muffin batter but still hold shape for a few seconds after mixing it. If you let your batter sit for a few minutes, it'll get a little runnier as the sugar will dissolve. So, don't worry if your batter doesn't look exactly like below.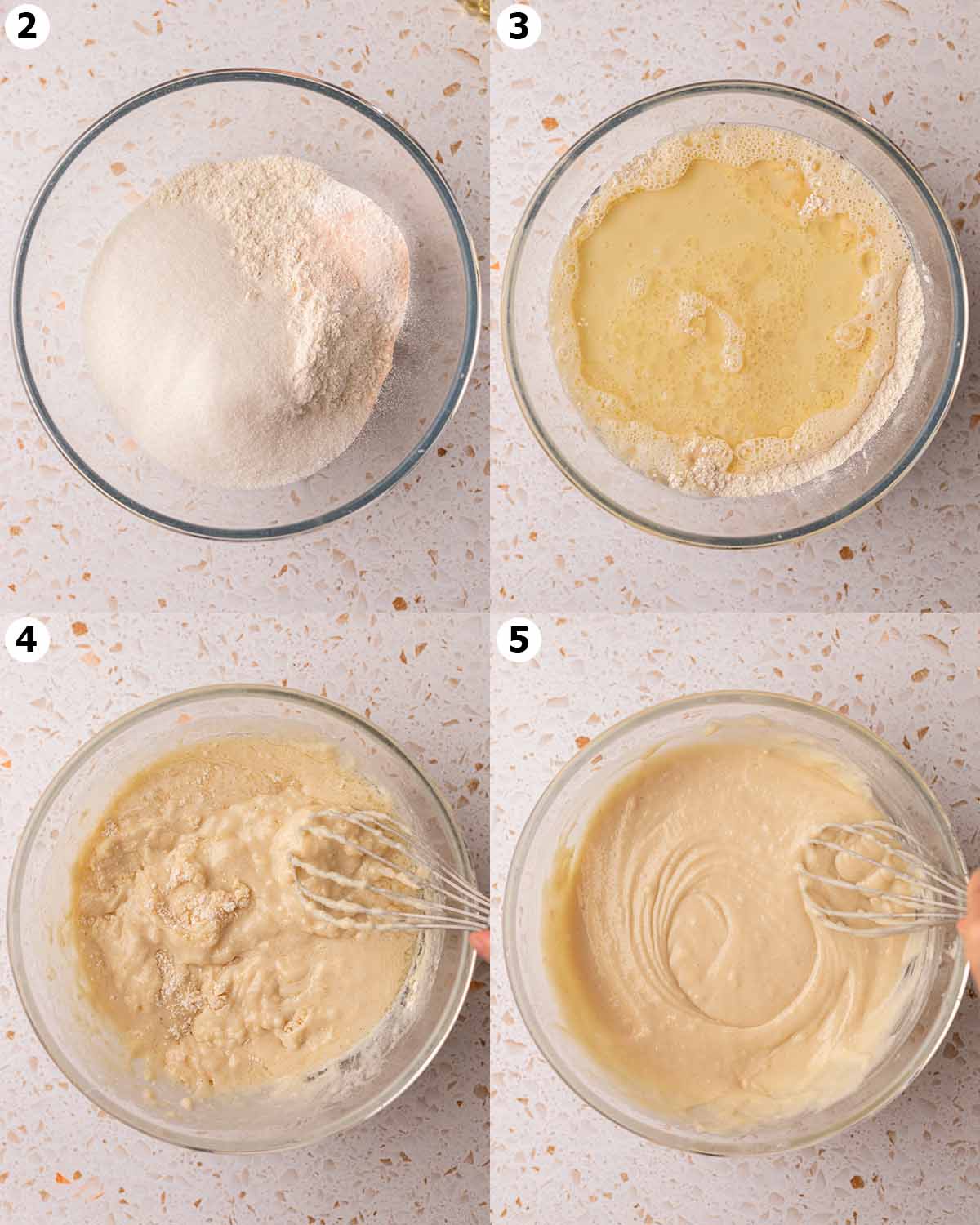 Assembling the vegan coffee cake
The layers for this coffee cake are:
Half of the vanilla cake
Cinnamon sugar
Second half of the vanilla cake
Crumble topping.
It's easy to assemble the cake, but here are my top tips:
Use an offset spatula to spread the cake batter. The first layer of cake spreads mostly on its own but you'll need to spread the second layer of batter.
Initially, the second layer of batter will refuse to stick to the cinnamon sugar. To minimize this, try to lift your spatula or spoon as little as possible when you spread the cake batter. Don't overthink this step and just do what you can :).
Customizing this vegan coffee cake recipe
Can I make this cake gluten-free?
Yes, I recommend using a combination of almond flour and gluten-free all-purpose flour for the best texture (see the notes of the recipe card for quantities). You may use all gluten-free flour, as long as it's designed for 1:1 baking (not all gluten-free blends are created equal).
Can I replace the oil with something else?
I have successfully replaced half of the oil with vegan yogurt without any huge differences. I haven't tested applesauce or mashed banana but I suspect that it will make the cake sweeter.
Can I add other ingredients to the cake?
Yes! The following ingredients would be great in the crumb topping:
- chopped pecans
- chopped walnuts
- sliced almonds

If you'd like some coffee flavor throughout the cake, infuse the milk with instant coffee and use it in the recipe. Alternatively, check out my pumpkin coffee cake or apple crumble cake.
More cozy vegan cake recipes
Follow Rainbow Nourishments on Instagram, Facebook, TikTok and Pinterest, and subscribe via email to receive all of our latest recipes!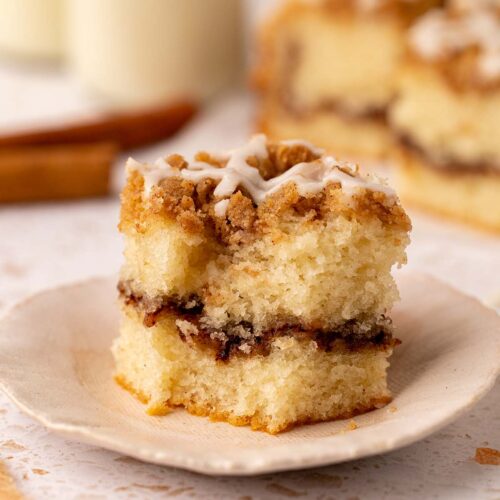 Print Recipe
Vegan Coffee Cake
Soft and fluffy vegan coffee cake with a thick layer of cinnamon sugar and a crunchy streusel topping. This cake is easy to make, uses very common pantry ingredients and is perfect with a cup of coffee!
Instructions
Preheat your oven to 180°C (355°F). Line an 8-inch (20 cm) square tin with parchment paper.
Make the streusel topping:
Add all ingredients to a small bowl and mix until it resembles a fine crumbly mixture. Set aside.
Make the cinnamon swirl mixture:
In a separate bowl, add the sugar and cinnamon and mix until combined. Set aside.
Make the vanilla cake:
Add all the dry ingredients (flour, sugar, baking powder and salt) to a large mixing bowl. Whisk until there are no lumps. Add all the wet ingredients (dairy-free milk, oil, vinegar and vanilla) and whisk until smooth.
Assemble the vegan coffee cake:
Pour around half of the cake batter into your prepared pan. If needed, flatten the surface with an offset spatula or spoon. Sprinkle all of the cinnamon sugar evenly on top of the cake batter.

Pour the remaining half of the batter on top. Use an offset spatula or spoon to spread out the batter so you can't see any more of the cinnamon sugar. Sprinkle the streusel topping on top.

Bake the coffee cake for 50-55 minutes. If the top is browning too quickly, tent the cake pan with aluminum foil. The cake is ready when you can insert a toothpick in the middle and there's no wet batter on it (some moist crumbs on the toothpick are fine).

Allow the cake to cool in the pan for 20 minutes then cool on a wire rack.

Serve the cake as is, with a light dusting of powdered sugar or a thin drizzle of icing (note 3). Use a serrated knife to cut the cake into slices. Store the bread in an airtight container at room temperature for 1-2 days, in the fridge for up to 3 days or in the freezer for up to 1 month.
Notes
To make this vegan coffee cake gluten-free, substitute the plain flour for 1 ½ cups (150g) almond flour / blanched almond meal and 1 cup (160g) gluten-free all-purpose flour and reduce the oil to ½ cup (85g). For the topping, you can use just gluten-free all-purpose flour.
Alternatively, you can use 1 tablespoon lemon juice. The acid reacts with the dairy-free milk to make vegan buttermilk which gives a cake a more tender crumb. You don't need to mix the ingredients separately as it has the same chemical reaction in the bowl!
I made a simple icing by mixing ¾ cup (75g) of powdered sugar and 3-4 teaspoons of dairy-free milk. Add more sugar for a thicker icing or more liquid for a thinner icing and drizzle it over the cooled cake.
Nutrition
Serving:
1
square
|
Calories:
269
kcal
|
Carbohydrates:
37
g
|
Protein:
2
g
|
Fat:
13
g
|
Sodium:
118
mg
|
Potassium:
38
mg
|
Fiber:
1
g
|
Sugar:
20
g
|
Vitamin A:
2
IU
|
Vitamin C:
0.02
mg
|
Calcium:
79
mg
|
Iron:
1
mg
This post may contain affiliate links. As an Amazon Associate, I may earn a small commission from qualifying purchases at no additional cost to you.