Fluffy and moist vegan apple bread that comes together in one bowl using only 8 ingredients! The bread can easily be made gluten-free and refined sugar-free too.
This vegan apple bread has been adapted from reader favorite recipes: Apple Crumble Cake and Vegan Apple Muffins.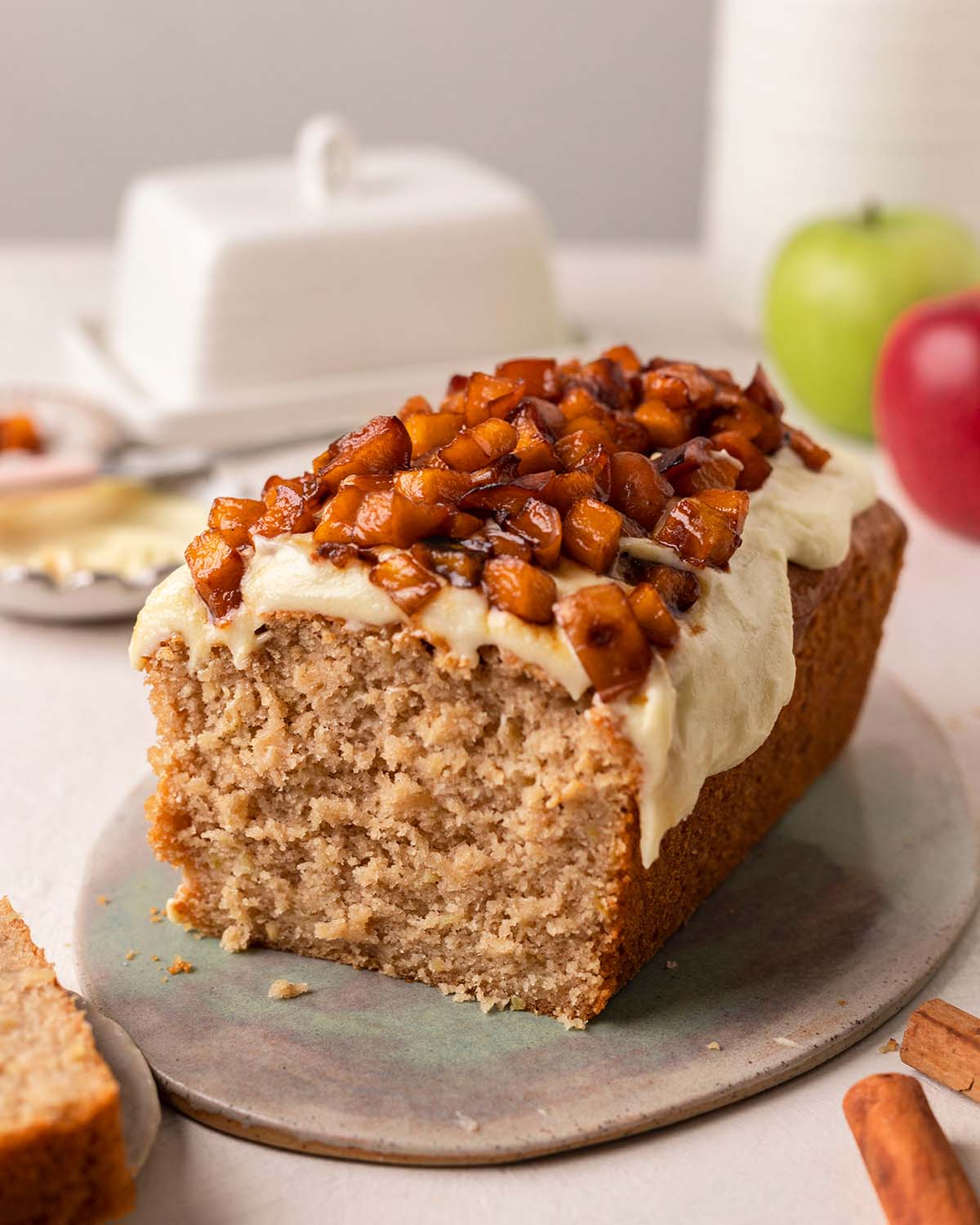 Why you'll love this recipe
TASTE/TEXTURE: This bread is moist, cake-like and uses grated apples for a 'melt-in-your-mouth' texture.
DIFFICULTY: This apple bread uses common pantry ingredients and is easy to make! Alternatively, you may like my vegan pumpkin bread.
OCCASION: Enjoy a plain slice of apple bread for breakfast or top it with frosting and caramelized apples for afternoon tea or a gathering!
Ingredients you'll need
The full list of ingredient quantities and instructions are in the gray recipe card at the bottom of this post.
Notes about the ingredients
All-purpose flour for the fluffiest vegan apple bread! This bread works wonderfully gluten-free (gluten-free ingredient quantities are in the notes of the recipe card at the bottom of this post).
Brown sugar for depth of flavor. If you prefer a less sweet bread, I recommend coconut sugar. Alternatively, you can use a granulated sugar replacer such as erythritol!
Apple, coarsely grated or finely chopped. Similar to zucchini bread, the grated apple 'melts' away and makes this bread very moist! I recommend using a sweet snacking apple such as a Fuji, Gala or Honey Crisp. If you prefer a less sweet apple bread, use a tart apple like granny smith.
Baking powder and soda. We're using double baking agents to make sure the vegan apple bread is fluffy and bakes in the middle. You don't need eggs to make fluffy quick breads!
Apple cider vinegar (optional) helps create a more tender crumb. Alternatively, you can use lemon juice or white vinegar or simply omit it.
How to make vegan apple bread
The batter is easy to prepare! In a large bowl, mix the dry ingredients, add the wet ingredients and mix until combined.
For the best results, here are my top tips:
Use a scale to measure the ingredients. Mis-measuring the flour, sugar or apples will affect the texture of your final apple bread.
Your apple shouldn't be too juicy after you grate/chop it. If it leaks any juice, add a little extra flour (details are in the notes of the recipe card at the bottom of this post).
Don't overmix the batter. I often 'fold' my cake batter to prevent this from happening. A few lumps in the batter are fine, as long as they aren't lumps of flour.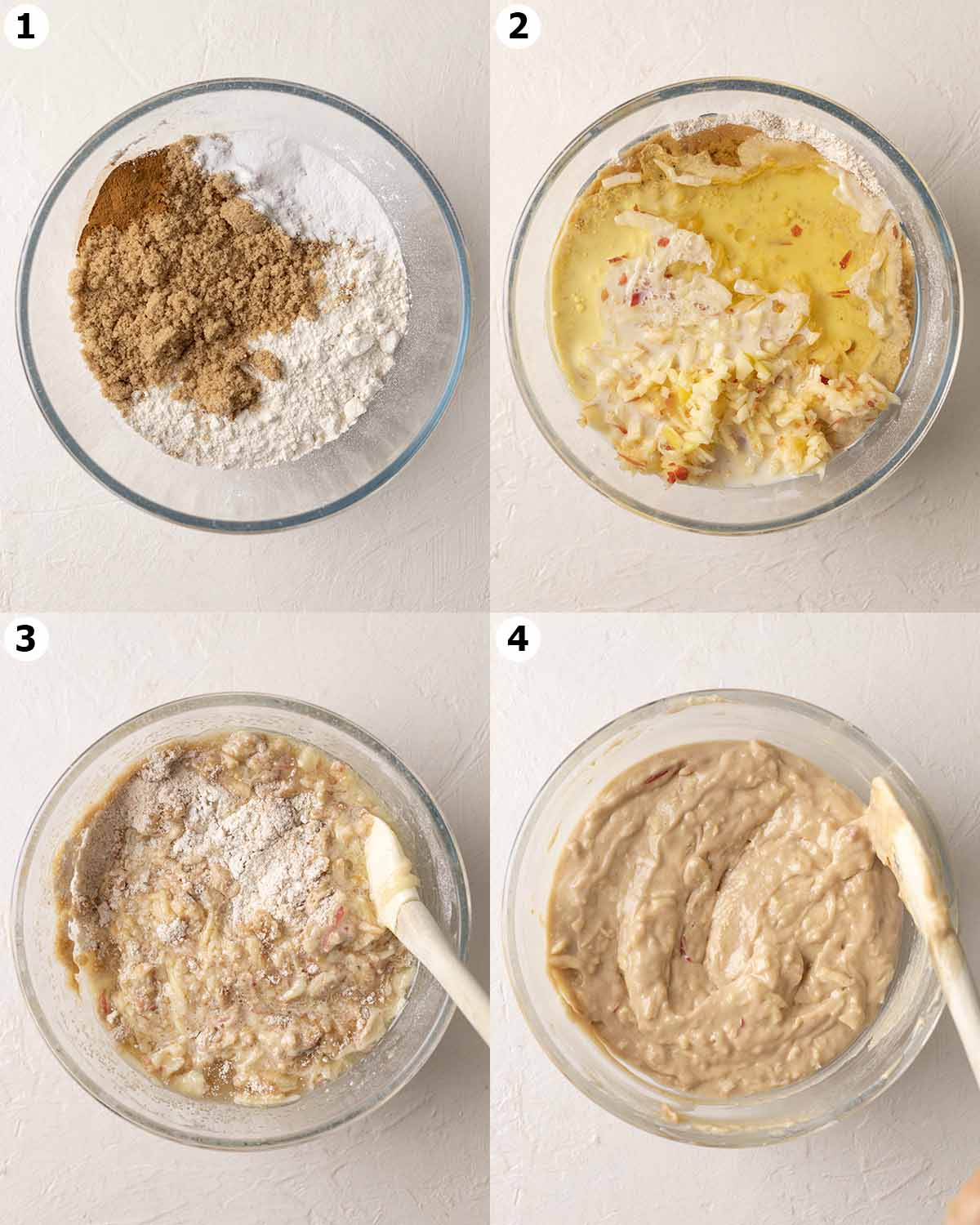 Baking tips: troubleshooting
This vegan apple bread takes around 50 minutes to 1 hour to bake, depending on whether your oven runs hot or cool.
If the top of your bread is browning quickly at the 30 to 40 minute mark, loosely cover your baking pan with aluminum foil. Some ovens have very strong top heating elements and will cook the surface more quickly. If so, cover your apple loaf once the top looks dry to the touch.
On the other hand, make sure your oven isn't too cool otherwise your bread will be too dense!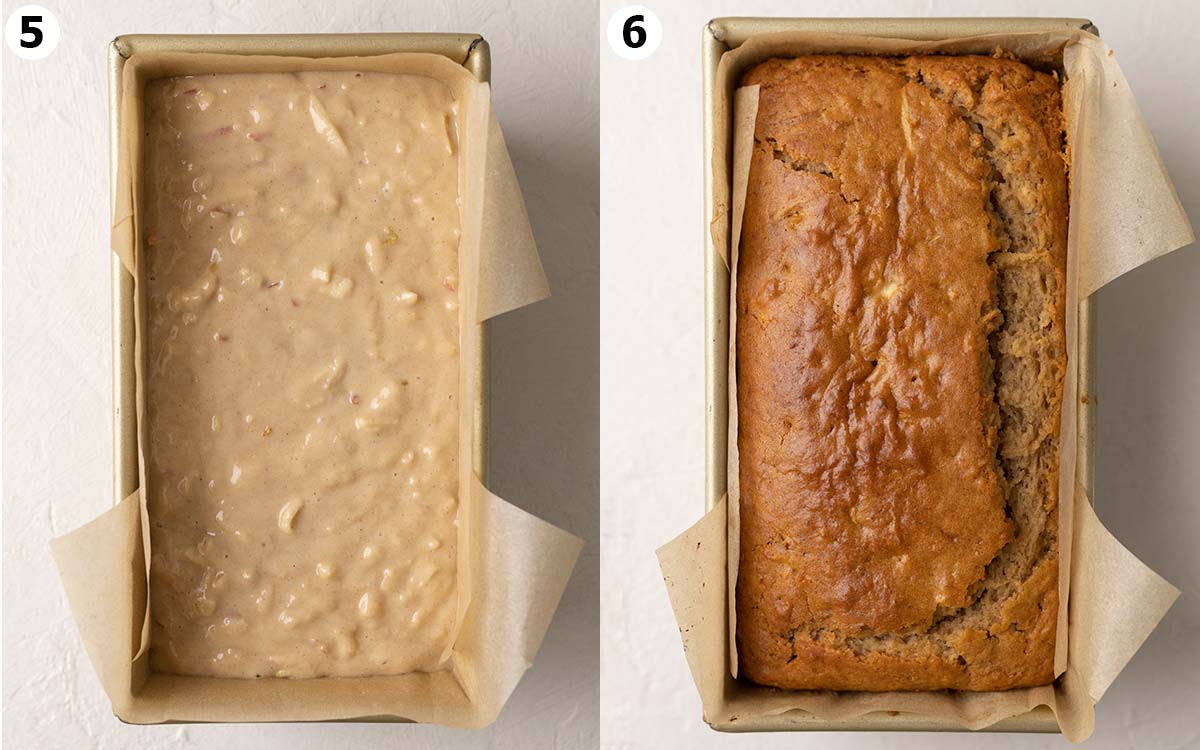 Making caramelized apples for the topping (optional)
I love topping my vegan apple bread with caramelized apples. It's not only very eye-catching but adds a lot of flavor!
My top tips for caramelizing the apples are:
The longer you cook the apple pieces, the softer and more caramelized they will be.
Once you add the sugar, don't walk away from the stove as sugar burns easily!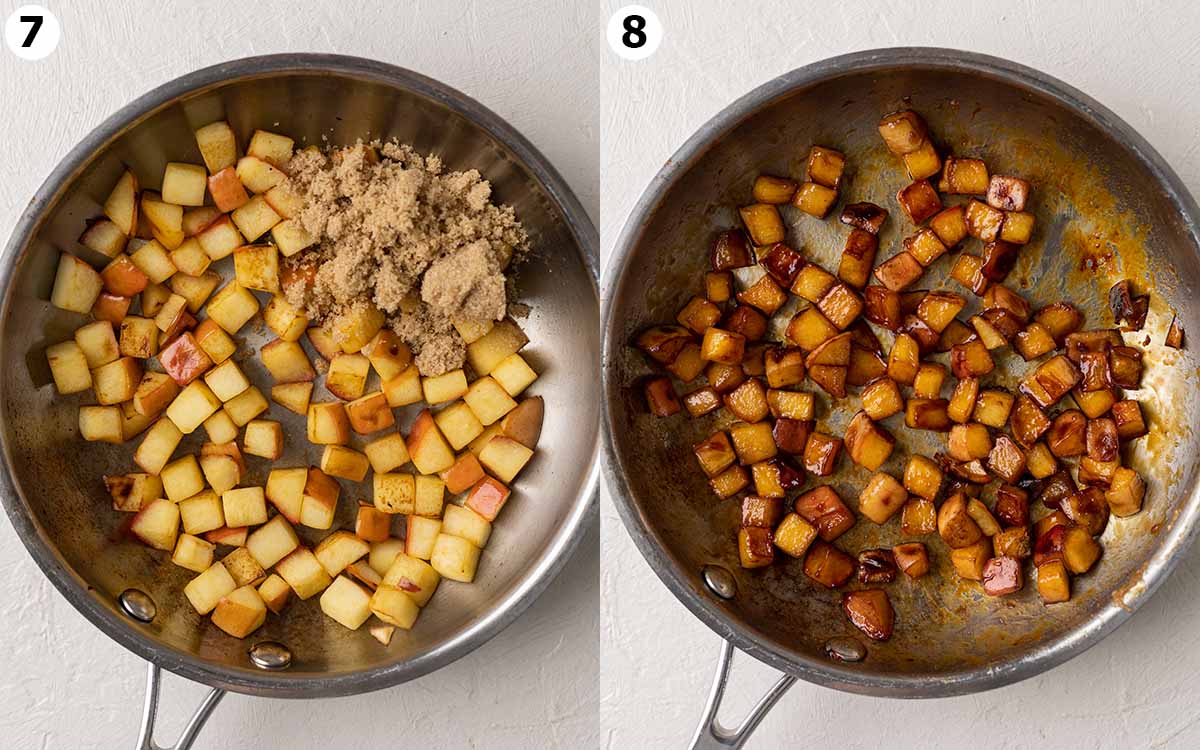 Other topping suggestions
The vegan apple bread is delicious by itself with no toppings!
However, before baking, you can top the bread with:
After baking, I topped my bread with a soft cream cheese icing and caramelized apples. Alternatively, you can top it with:
Customizing this recipe
How can I make healthier vegan apple bread?
I recommend replacing the all-purpose flour with whole wheat flour or spelt flour and using coconut sugar instead of brown sugar.

Some readers have successfully substituted the oil with unsweetened applesauce, however I haven't tested it myself.

Unfortunately, a liquid sweetener such as maple syrup won't work well in this recipe. The apple bread is already packed with fruit and a liquid sweetener will make the bread too dense.
Can I add anything else to the vegan apple bread?
Yes, to the batter, you can also add:
- Raisins
- Cranberries
- Walnuts or pecans, just like carrot cake
- Vegan chocolate chips

You can also incorporate a cinnamon swirl to the loaf! Use the swirl from my cinnamon bread recipe and layer it into this apple bread.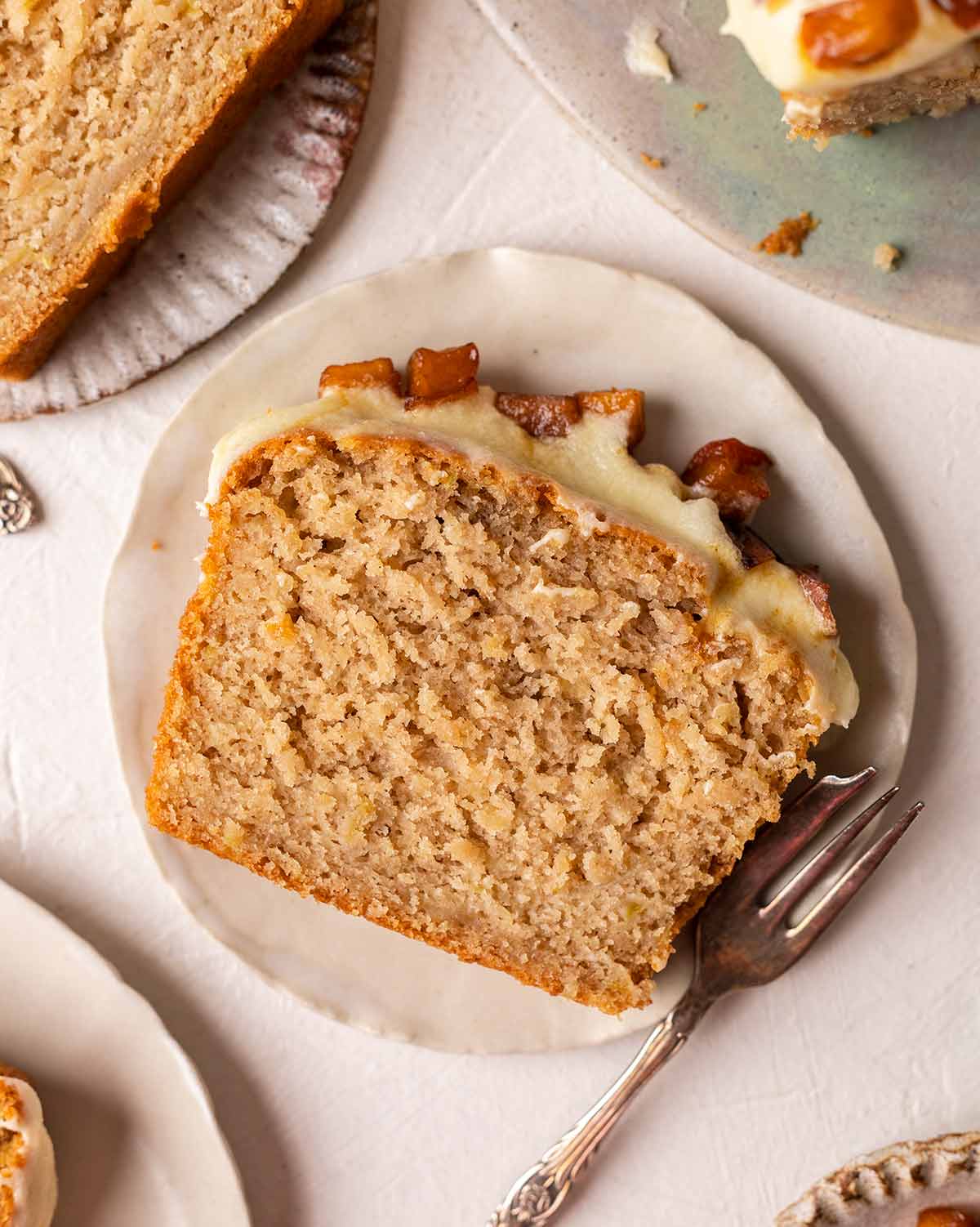 More vegan apple recipes
Follow Rainbow Nourishments on Instagram, Facebook, TikTok and Pinterest, and subscribe via email to receive all of our latest recipes!
Print Recipe
Vegan Apple Bread
Fluffy and moist vegan apple bread that comes together in one bowl using only 8 ingredients! The bread can be made gluten-free and refined sugar-free too.
Ingredients
Instructions
Preheat the oven to 180°C (350°F). Grease or line an 8-inch (20 cm) loaf pan with parchment paper.
Make the Vegan Apple Bread:
Add all the dry ingredients to a large mixing bowl. Mix until there are no lumps. Add all of the wet ingredients to the bowl and mix until combined. Pour the batter into your prepared loaf pan and smooth the top.

Bake the apple bread for around 50 minutes to 1 hour or until it is done. Check the bread at the 35 minute mark and if it's browning quickly on top, loosely cover the bread with aluminum foil. The bread is ready when you can insert a toothpick in the center and there's no wet batter on it, though some crumbs on your toothpick are fine. (note 4)

Let the apple bread rest in the pan for at least 10 minutes. Remove the bread from the pan and let it cool on a wire rack.
Cream cheese icing (optional)
Add all the icing ingredients to a small bowl and mix until smooth. This icing is quite soft at room temperature but if you'd like a firmer icing, double the amount of butter and add more sugar, to taste.
Caramelized apples (optional):
Add the apples and butter to a small saucepan over medium-low heat. Saute until the apples are almost tender and slightly golden brown.

Add the sugar to the saucepan and gently mix the apples while they caramelize. If the apples stick to the saucepan, add a dash of water. The longer you cook the apples, the more caramelized they will be.
Serving the apple bread:
When the apple bread has cooled down, dollop the cream cheese frosting (or desired frosting) on top and top with caramelized apples. Slice and serve!

Store the apple bread in an airtight container at room temperature for 1 day or in the fridge for 4 days. Or store individual slices of the undecorated apple bread for up to 1 month.
Notes
To make gluten-free apple bread, substitute the flour with 1 ½ cups (150g) almond flour and 1 cup (160g) gluten-free all-purpose flour (or fine white rice flour).
This amount of sugar creates a mildly sweet apple bread. To make the bread less sweet, I recommend using ¾ cup (140g) of brown or coconut sugar.
This bread will be too moist if you grate the apples too finely. Ideally, the grated apple shouldn't leak any juice. If your apple is extra juicy, use an extra 3 tablespoons (25g) of flour to the batter.
The baking time will hugely depend on your oven. If it takes longer than 1 hour to bake, that's absolutely fine. If your oven has strong heating elements on top, I recommend tenting your loaf pan with aluminum foil at the beginning of baking. Alternatively, place a rack at the top of the oven (above your apple loaf) and an empty baking tray on the rack. This will prevent your loaf from burning.
The apple bread is wonderful by itself. Alternatively, you can top the bread with a simple buttercream made by whipping 100g vegan butter and 200g powdered sugar, a simple sugar icing such as from my lemon olive oil cake recipe or coconut yogurt. See the post above for more suggestions.
Nutrition
Serving:
1
slice without topping
|
Calories:
191
kcal
|
Carbohydrates:
29
g
|
Protein:
3
g
|
Fat:
8
g
|
Sodium:
151
mg
|
Potassium:
43
mg
|
Fiber:
1
g
|
Sugar:
7
g
|
Vitamin A:
9
IU
|
Vitamin C:
1
mg
|
Calcium:
90
mg
|
Iron:
1
mg
This post was originally published in October 2019 and has been updated several times since then.
This post may contain affiliate links. As an Amazon Associate, I may earn a small commission from qualifying purchases at no additional cost to you.