Fudgy no bake brownies made with only 5 ingredients! These healthier raw brownies have a rich chocolate avocado frosting and are vegan, sugar-free, gluten-free with no coconut or butter.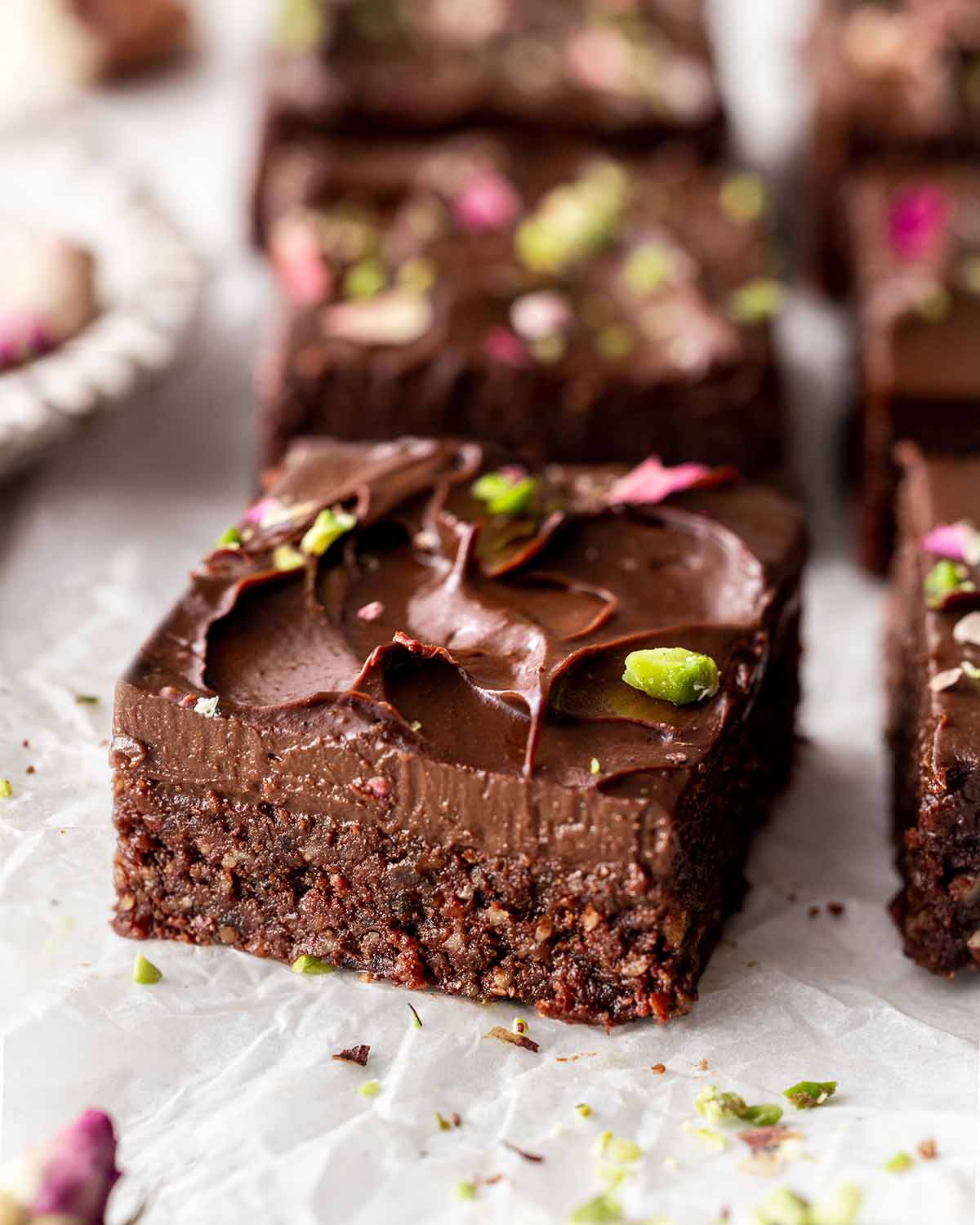 Why you'll love these brownies
You can make these no bake brownies in just 10 minutes! The brownies and frosting quickly comes together in a food processor and you don't even have to clean your processor in between.
You don't have to turn on the oven to make these chocolate treats, so you can still get your chocolate fix on warmer days or when cravings hit.
Alternatively, if you prefer baked bars, check out my vegan beetroot brownies, sweet potato brownies or chickpea blondies.
5 key ingredients you'll need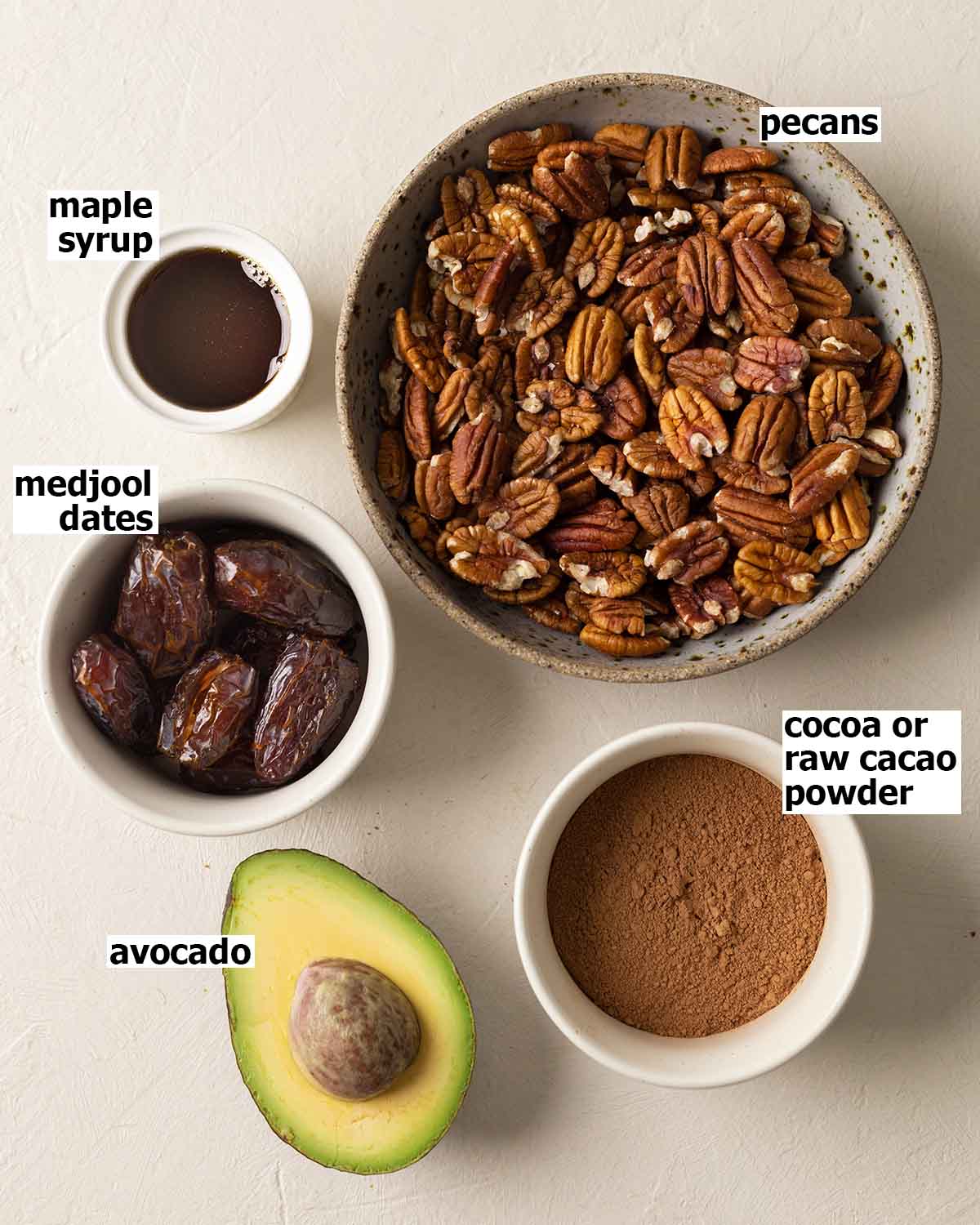 Notes about the ingredients
Raw pecans or walnuts for the best flavor as their earthiness complements the other ingredients. Those nuts are often found in conventional brownies so you still get that nostalgic brownie flavor! This brownie recipe actually works with any nut/seed so you can mix and match your favorites.
Medjool dates or dried dates. I used about 10 medjool dates for these brownies but the amount you'll need will depend on the size and moistness of your dates. You can also make these brownies with dried dates if you soak them beforehand (more instructions are in the notes of the recipe card at the bottom of this page).
Cocoa powder or raw cacao powder. Raw cacao powder is slightly more bitter than unsweetened cocoa powder but both varieties are still great!
Avocado which makes the creamiest chocolate frosting for these no bake brownies. You don't need to use butter or coconut oil at all!
Maple syrup to sweeten the frosting. Maple syrup is not truly 'raw' so for raw vegan brownies, use extra dates for the frosting.
The full list of ingredient quantities and instructions are in the gray recipe card at the bottom of this post.
How to make no-bake brownies
First, add the raw pecans to your food processor and pulse until it forms coarse crumbs. If you'd like a few chunks of nuts in your brownies, you can entirely skip this step or pulse the nuts for just a few seconds!
Add your remaining brownie ingredients and pulse until the dates are fully broken down and your mixture comes together. This will take anywhere up to 5 minutes, depending on your food processor.
Then taste-test your raw brownie dough. Yes that's right! The dough should be slightly tacky but shouldn't stick to your fingers. If it's too crumbly, add more wet ingredients (dates, milk or water). Or if it's too sticky, add more dry ingredients (nuts) to reach your desired texture.
Then press the dough in your brownie pan!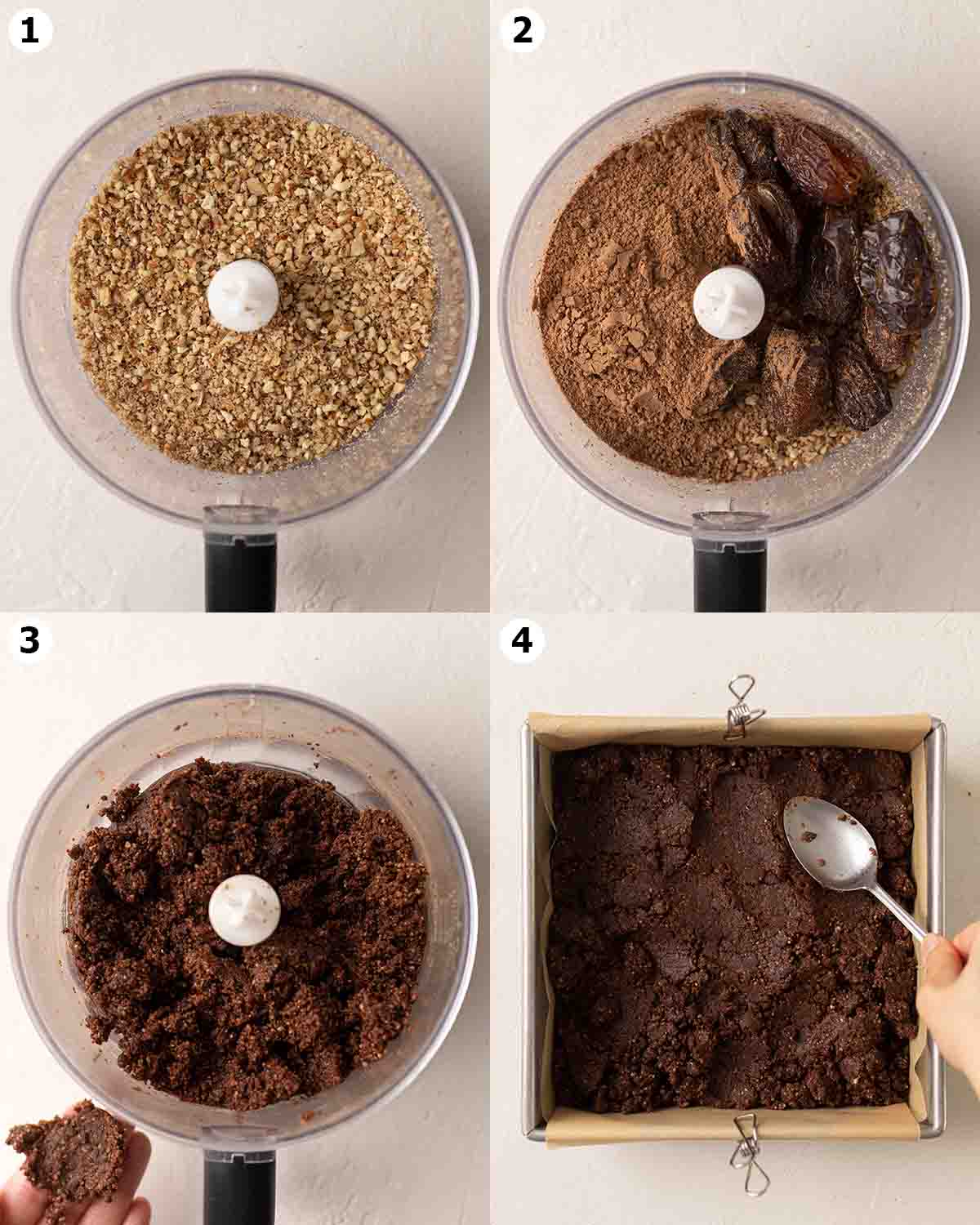 How to make the chocolate frosting
Once you've made the no bake brownies, roughly clean out your food processor. It doesn't need to be perfect!
Add all your frosting ingredients to your food processor and blend. After around 1 minute, you'll have a super smooth and creamy frosting! Make sure you scrape down the sides so there are no chunks of avocado.
The frosting is SO good that you can eat it by itself - no one will judge you!
Use a spoon (or if you're being fancy, a piping bag) to spread the frosting on your raw brownies.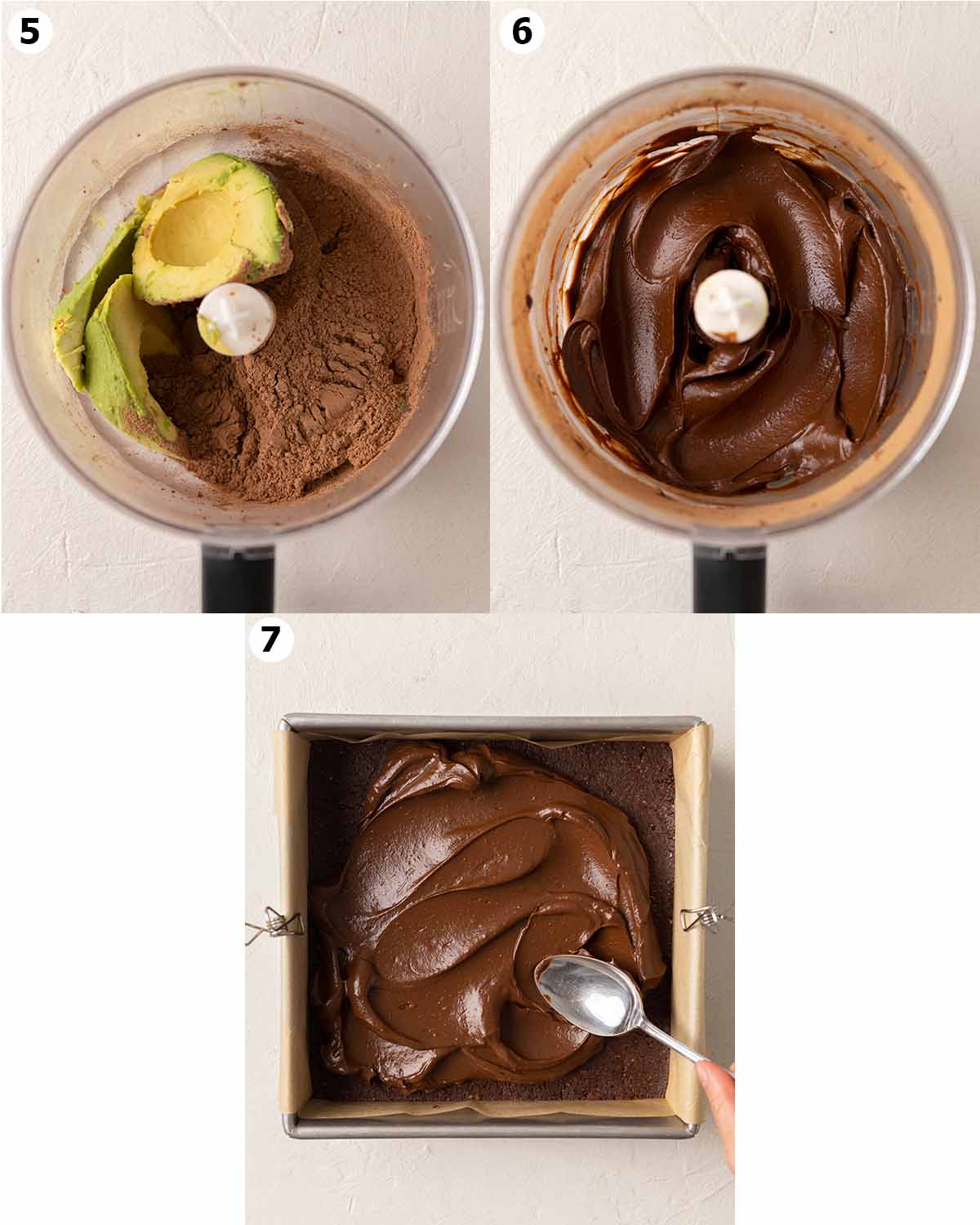 Serving the brownies
The raw brownies and frosting are super fudgy when you finish making them and can be cut immediately! If your brownies are exxxtrra fudgy, simply refrigerate them for 10 minutes. Everything firms up and is easier to cut.
TIP: Make the brownies look like they're from a cafe by sprinkling some rose petals, extra nuts or freeze-dried fruit on top!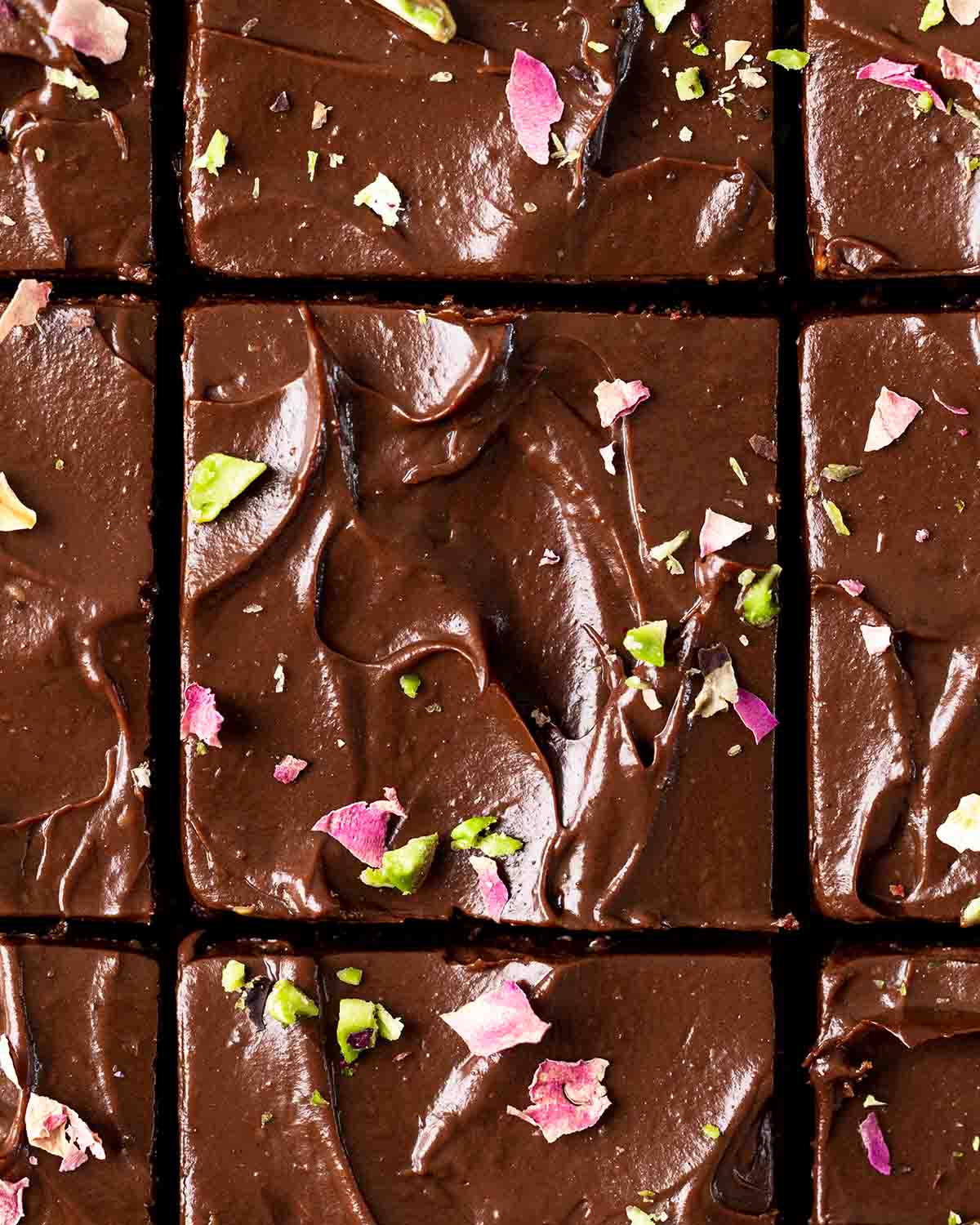 Expert tips for no bake brownies
I don't have a food processor. Can I use a blender?
Yes. However, the raw brownie dough and frosting are quite thick so you will need to stop and scrape your blender a few times or blend the mixture in a few batches.
Can I add anything else to these brownies?
Of course! You can add:
- A scoop of nut butter (such as peanut butter or almond butter). This makes the brownies fudgier.
- Sea salt
- Espresso powder
- Chopped walnuts and pecans (after processing the brownie filling)
- Chopped chocolate or chocolate chips
- Cacao nibs
Can I use the raw brownie recipe or avocado 'frosting' for other desserts?
Yes, the brownie batter can be rolled into balls to make bliss balls. I've also used the brownie batter as a no-bake crust for my Chocolate Mousse Tart and my no-bake raspberry bars!

Similarly, the avocado frosting can be enjoyed as a mousse for dessert. I used a similar avocado mousse in my vegan beetroot brownies and chocolate avocado mousse tart.
More easy vegan chocolate desserts
Follow Rainbow Nourishments on Instagram, Facebook, TikTok and Pinterest, and subscribe via email to receive all of our latest recipes!
Print Recipe
No Bake Brownies with Chocolate Avocado Frosting
Fudgy no bake brownies made with only 5 ingredients! These healthier brownies have a rich chocolate avocado mousse frosting and are vegan, sugar-free, gluten-free and have no coconut or butter.
Ingredients
No Bake Brownies
3

cups (300g)

pecans,

walnuts or almonds (or a combination)

~1

heaped cup (250g)

pitted medjool dates,

soaked in water for 10 minutes if dry (note 1)

½

cup (50g)

cocoa or raw cacao powder

Pinch of

salt

,

1 tsp espresso powder and/or vanilla extract (optional, to taste)
Chocolate Avocado frosting
Instructions
Line an 8-inch (20 cm) square pan (or similar sized pan) with parchment paper.
Making the brownies:
Add the pecans to a food processor. Process until the mixture resembles coarse crumbs. If you'd like your brownies to be chunkier, skip this step and process the pecans with the rest of the ingredients.

Add the dates and cocoa powder. Add any optional ingredients if desired. Process the mixture until it forms a soft dough.

The texture of your dough will depend on how moist your dates are. If it's too dry, add a dash of water or dairy-free milk and process again. If it's too sticky, add more nuts and process again.

Scoop out the mixture into your lined pan. Use a spoon to flatten the surface. At this stage, you don't have to clean your food processor.
Making the avocado chocolate frosting:
Add all the frosting ingredients to your food processor. Process until smooth and there are no lumps of avocado.

Spread the chocolate frosting on your brownies. Decorate if desired.

Optional: Chill the brownies in the fridge for at least 10 minutes.
To serve:
Use a sharp knife to cut the brownies into around 16 bars. The brownies can be kept in an airtight container at room temperature for a couple of hours, in the fridge for up to 3 days or in the freezer for 3 months.
Notes
If you're using dried dates (that are already pitted), use only 200g of dates and soak them in room temperature water for 2 hours or in boiling water for 10 minutes. Drain the dates very well before using them in the recipe.
Instead of a liquid sweetener, you can use very soft dates and blend the mixture in a high-powered blender or use a stick blender. The dates may take an extra few minutes to completely break down into a smooth mixture.

If your mixture is not sticking together, add 1-2 more dates or a splash of water or dairy-free milk. Dates range in texture and moisture depending on the brand and what country they are from!
Nutrition
Serving:
1
brownie with frosting
|
Calories:
175
kcal
|
Carbohydrates:
11
g
|
Protein:
3
g
|
Fat:
16
g
|
Sodium:
2
mg
|
Potassium:
215
mg
|
Fiber:
4
g
|
Sugar:
5
g
|
Vitamin A:
24
IU
|
Vitamin C:
1
mg
|
Calcium:
28
mg
|
Iron:
1
mg
This recipe was originally published in June 2020 and updated in August 2022.
This post may contain affiliate links. As an Amazon Associate, I may earn a small commission from qualifying purchases at no additional cost to you.