These vegan coffee cake cookies are soft, pillowy and perfect for cinnamon lovers! They combine a thick cinnamon cookie with a buttery streusel and are topped with an easy icing. These bakery-style cookies are perfect with a cup of coffee, just like my vegan coffee cake.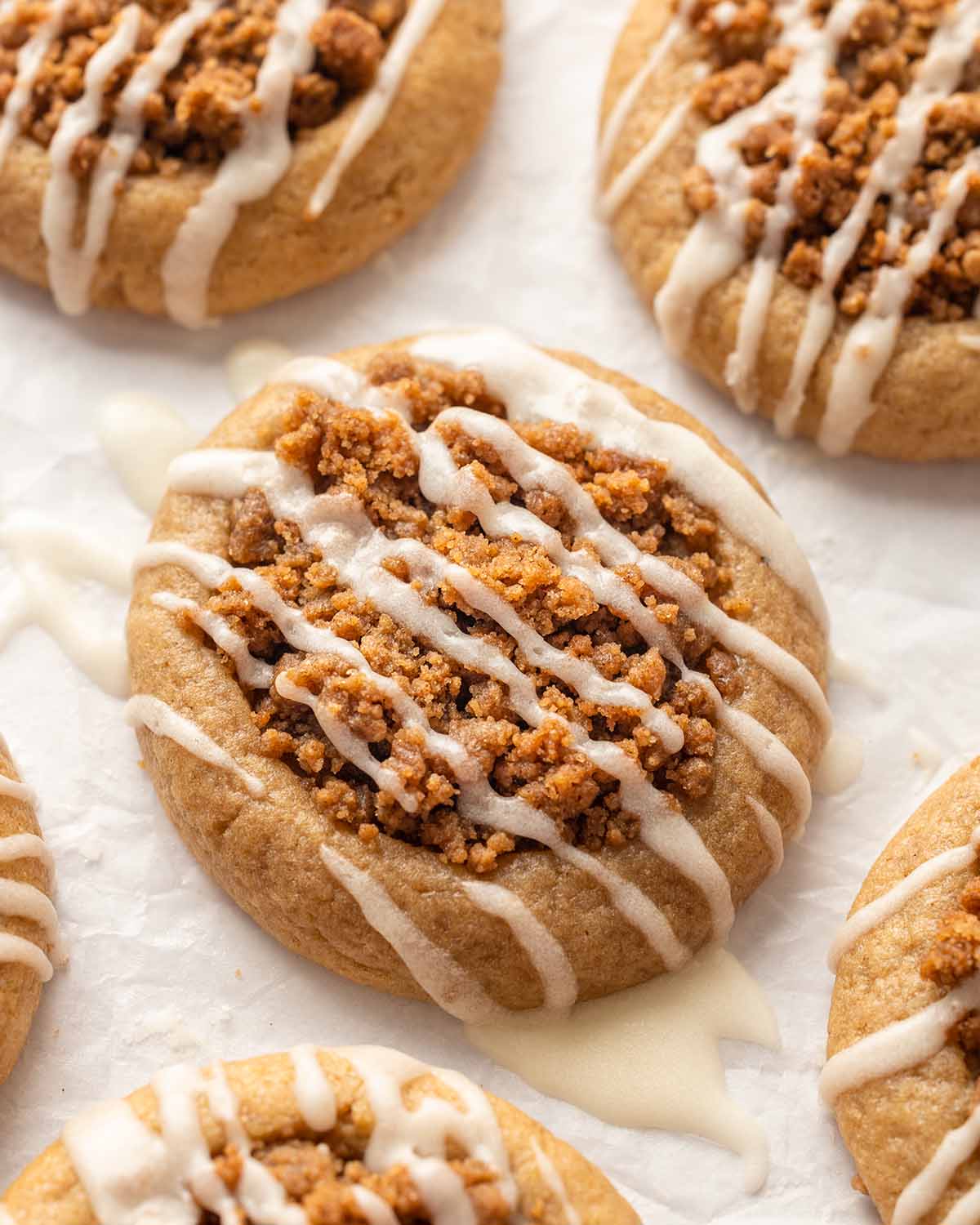 Simple ingredients you'll need
The full list of ingredient quantities and instructions are in the gray recipe card at the bottom of this post.
Notes about the ingredients
Vegan yogurt for moisture and structure, a partial egg substitute. partly replaces eggs. It also mimics the flavor of sour cream that's often used in coffee cake. You can replace the yogurt with dairy-free milk, but the cookies will spread more unless you chill the dough.
Vegan block butter for the cookie and streusel. You may use a vegan spreadable butter or coconut oil but will have different results.
Baking soda and powder. The baking soda encourages these cookies to spread and brown, whereas the powder gives them a little lift.
Preparing the vegan coffee cake cookies
First, it's best to make the streusel topping. It should be a crumbly mixture, similar to the texture of moist sand.
The cookie dough itself is also straightforward to make. For the best results, here are some tips:
Make sure the butter is at room temperature otherwise, your cookie dough may not come together.
When measuring the all purpose flour, use the spoon and level method or a scale. If your measuring cup has too much flour, your coffee cake cookies will be dry and not chewy.
Start with less yogurt, and add more if needed!
Shaping the cookies
Assembling these cookies is similar to making thumbprint cookies.
First, you need to divide the dough into balls and flatten them with your hands or the back of a glass. Then we need to make an indent in the cookie dough balls for the crumb topping. You can use a flat or round circular object such as a small jar (or its lid), the bottom of a sauce dish, the outside of a cookie scoop, a spoon or just your fingers.
This recipe has a generous amount of cinnamon crumble, so make sure you sprinkle as much as you can inside the indent! I pressed the crumble very lightly into the indent, to make sure it stayed in place.
Baking the coffee cake cookies
These cookies spread in the oven, so make sure you leave some space in between them!
Depending on your ingredients and the temperature of your cookie dough, the cookies may lose some shape in the oven. Don't worry, here are some ways to reshape them:
When the cookies are hot from the oven, place a larger cookie cutter around each cookie and lightly 'swivel' it back into shape. This helps when cookies spread too much!
Use a spoon or your fingers to redistribute the crumble. Sometimes the cookies spread but the crumble stays in one place - this can be influenced by your oven temperature and how it distributes heat.
These techniques are definitely the quickest and easiest (it only takes 3 minutes). But if you're worried about your cookies changing shape, you can chill the cookies in the fridge for at least 30 minutes before baking.
Customizing these cookies
Can I use another sugar instead of brown/granulated sugar?
Coconut sugar will be the easiest 1:1 substitute. However, it doesn't hold as much moisture as light brown sugar and results in drier cookies.
Can I add anything else to the streusel?
Yes, of course! Some delicious mix-ins are oats, walnuts and pecans. If you add a lot, you may need to add an extra ½ - 2 tablespoons of vegan butter. For extra Fall flavor, ground nutmeg, cardamom or even ginger would be delicious.
Can I make the cookies without the streusel?
These cookies will be pretty bland without the topping. Instead, I recommend my vegan snickerdoodles.
More vegan cookie recipes
Follow Rainbow Nourishments on Instagram, Facebook, TikTok and Pinterest, and subscribe via email to receive all of our latest recipes!
Print Recipe
Vegan Coffee Cake Cookies
These vegan coffee cake cookies are soft, pillowy and perfect for cinnamon lovers! They combine a thick cinnamon cookie with a buttery streusel and are topped with an easy icing.
Ingredients
Cinnamon Streusel topping
Instructions
Make the cinnamon streusel topping:
Add all ingredients to a small bowl and mix until it resembles a fine crumbly mixture. Set aside.
Make the cinnamon cookies:
Preheat the oven to 350°F (180°C). Line 2-3 large baking sheets with parchment paper.

Add the butter and two sugars to a large bowl (if using an hand mixer) or a stand mixer with the paddle attachment. Beat until fluffy and well combined. Add 2 tablespoons (30g) of yogurt and vanilla and beat until combined.

Add the dry ingredients (flour, cinnamon, baking soda, baking powder, and salt) and mix until combined. The dough should be slightly soft and tacky but not sticky. If the dough is too sticky, chill it in the fridge for at least 10 minutes so the flour soaks up the extra moisture. If the dough is too dry, add a little more dairy-free yogurt and mix until combined.
Assemble and bake the cookies:
Divide and roll the cookie dough into 12 balls. Slightly flatten each ball with the palm of your hands or the bottom of a glass.

Arrange the flattened cookies on each lined baking sheet, with about 2 inches (5 cm) between them. Make an indent in each cookie, using your thumbs, the curved side of a spoon or a small lid.

Very generously crumble the streusel topping into the indent of each cookie. If you have extra streusel, spread it on a separate lined baking sheet.

In your preheated oven, bake the cookies for around 11-13 minutes. If you have extra streusel, bake it at the same time but remove it after 8 minutes.

Allow the cookies to cool on the cookie sheets placed on a wire rack. If you prefer softer cookies, transfer them to a wire rack after 10 minutes. Your cookies may be puffy when they come out of the oven but will deflate a little. If your cookies have changed shape, use a large cookie cutter or small spoon to reshape them. If desired, sprinkle the additional crumble on the cookies while they're still warm.
Decorate the cookies:
To make the icing, mix the powdered sugar and milk in a small bowl until smooth. The icing should be thick but runny. For a thicker icing, add more powdered sugar or add more milk for a runnier icing.

When the cookies have completely cooled, drizzle with the icing. Enjoy immediately or allow the icing to set.

Store the cookies in an airtight container at room temperature for 2-3 days. If you'd like softer cookies, add a piece of bread to the container, though I never need to do this. The cookies can also be stored in the fridge for up to 2 weeks or freezer for up to 2 months. Before serving, let the cookies come to room temperature or briefly warm them up.
Notes
Yogurt helps make these cookies puffy, whereas cookies made with dairy-free milk will spread a little more.
It's important to accurately measure the flour otherwise your cookies will be dry. If you're using measuring cups, use the spoon and level method where you fluff up the flour in the bag, use a spoon to add flour to a measuring cup, then level it off with a knife. I don't recommend using the measuring cup to scoop flour out of your container as too much flour will result in dry and dense muffins. Alternatively, use the grams measurements.
This post may contain affiliate links. As an Amazon Associate, I may earn a small commission from qualifying purchases at no additional cost to you.