Vegan apple tart with a buttery shortcrust pastry and juicy caramelized cinnamon apples. You only need 6 common ingredients to make this simple dessert!
This tart is like a French apple tart but easier! It's perfect for Fall / Autumn and Thanksgiving, just like my vegan apple pie and apple muffins.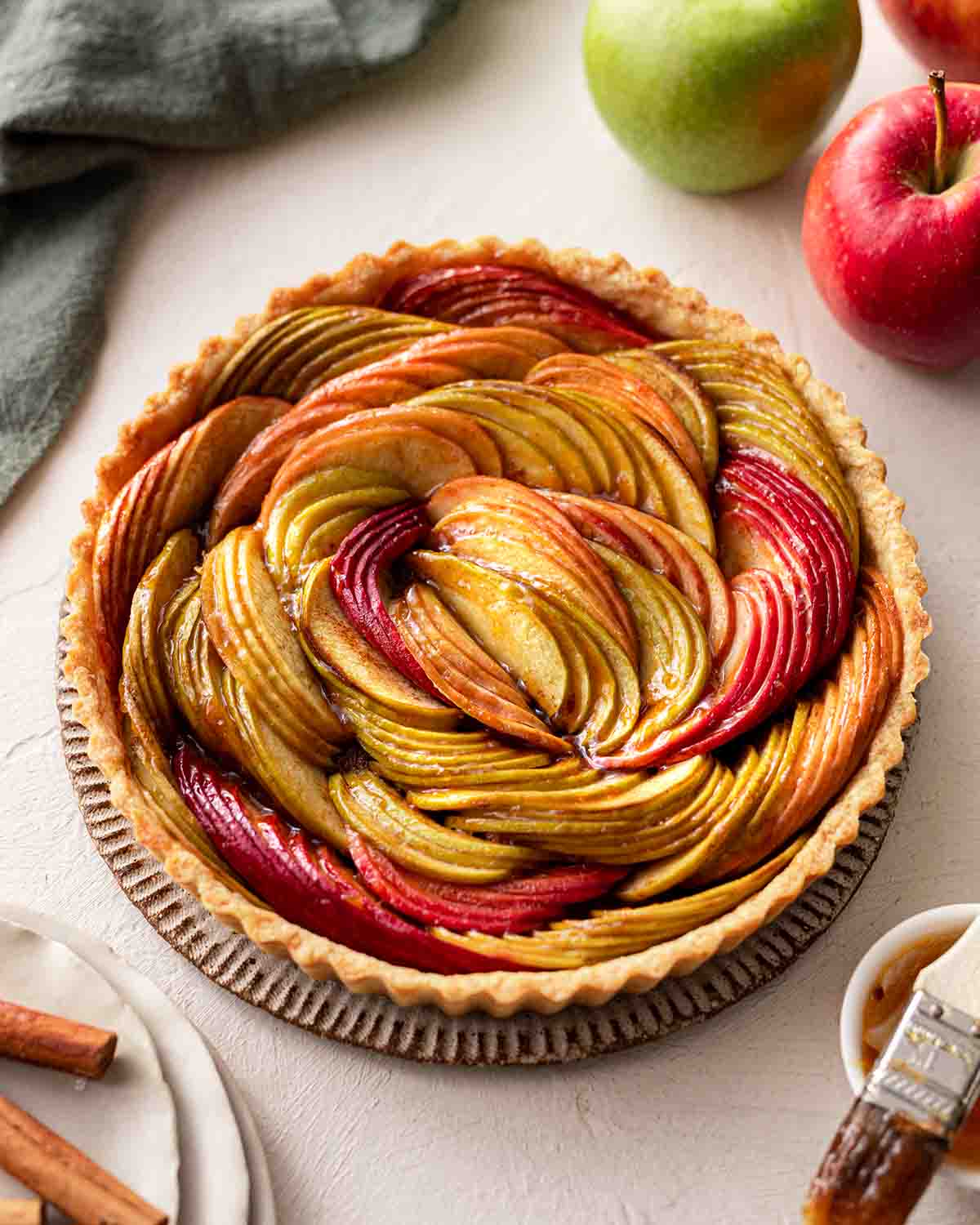 Ingredients you'll need
This apple tart uses only common ingredients including:
Notes about the ingredients
Apples, thinly sliced. I recommend using sweet snacking apples, for example, Fuji, Pink Lady, Gala or Golden Delicious. Avoid any apple that is 'powdery', such as Red Delicious. I also used some green Granny Smith apples to add complexity of flavor. If you prefer using just one apple variety, I suggest using sweet snacking apples.
Vegan block butter for the shortcrust pastry and filling. If you're in a pinch, vegan spreadable margarine or softened coconut oil will also work.
Sugar, preferably white granulated. Brown sugar and coconut sugar will also work though they will make your tart browner in color. Alternatively, you may use a granulated sugar replacer.
A light-colored jam, such as apricot jam, to glaze the apples after baking. This makes the tart shiny and lends extra flavor and moisture. Alternatively, you can use maple syrup.
A complete list of ingredients, quantities and instructions are in the gray recipe card at the bottom of this post.
Preparing the shortcrust pastry
There are two ways you can prepare the pastry:
In a mixing bowl, rub all ingredients with your fingertips or a pastry cutter until combined.
In a food processor, pulse all ingredients until just combined.
Whichever method you use, the most important thing is to avoid overmixing your dough! The final dough should be soft and pliable. If you pinch the mixture between two fingers, it shouldn't crumble.
If your pastry is too dry or wet, simply mix in more flour or water. Usually, you'll be able to roll out the pastry immediately however, if your pastry is too soft, chill it in the fridge for 30 minutes.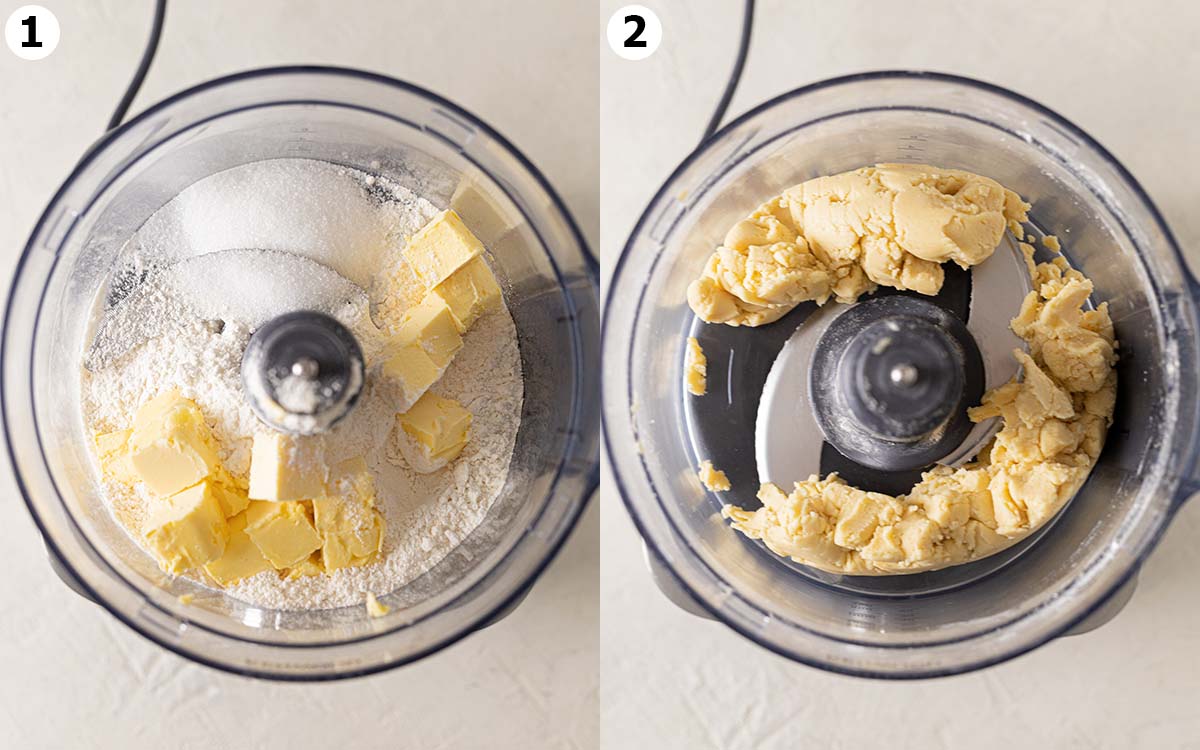 Transferring the pastry and parbaking
To transfer the pastry to your tart pan, you can:
Roll out the pastry on a floured surface and transfer it to your tart pan OR
Press the pastry directly into your tart pan.
The tart crust needs to be par-baked in advance. The apple filling will caramelize in the oven but we don't want the crust to get soggy from all of the juices! It only takes 15 minutes to par-bake the crust and you can prepare the apples while you wait.
Although it's not absolutely necessary, I recommend 'blind-baking' the pastry. This prevents it from puffing up during baking. To blind-bake, scrunch up some parchment paper or aluminum foil and place it in your tart crust. Then fill the tart with some pie weights, dried rice, beans or lentils! Simply Recipes has a great step-by-step guide on how to blind-bake a tart crust.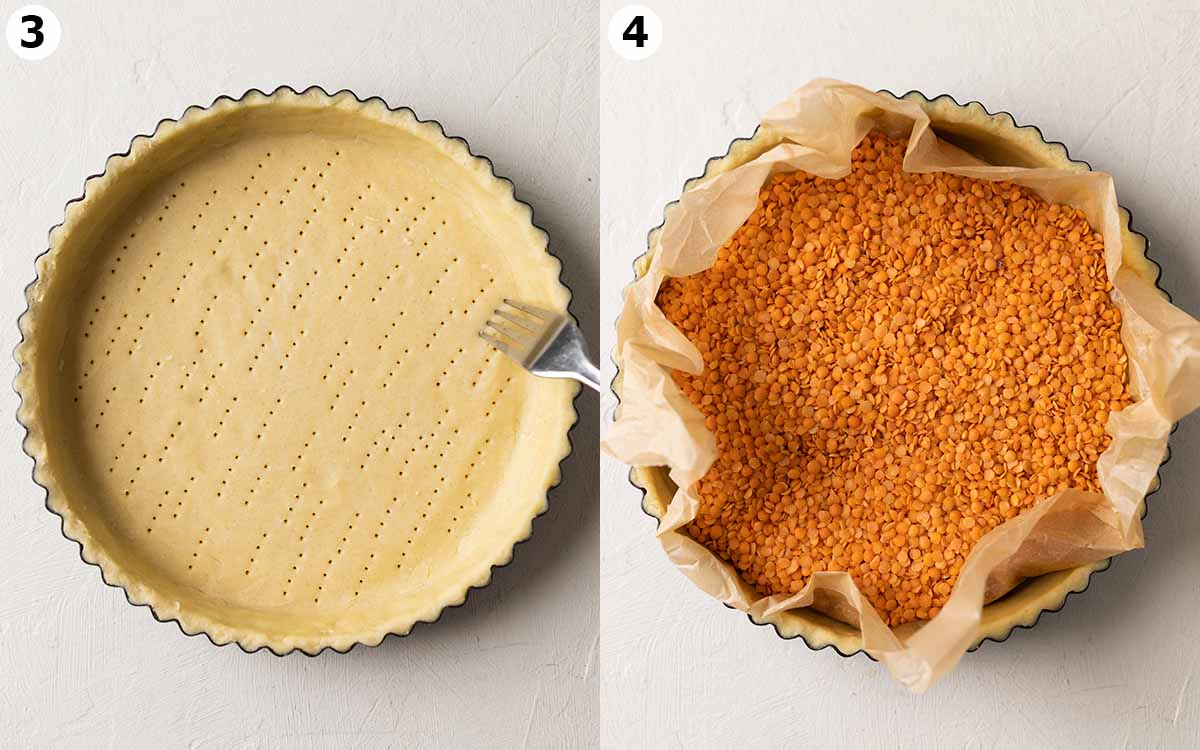 Assembling the vegan apple tart
First, sprinkle the floury cinnamon sugar mixture on the base of the tart. This helps make sure there is flavor underneath the apple layer!
Next, arrange your apples TIGHTLY and CLOSELY in your tart crust. The apples shrink when they are baked and any small gaps will be exposed.
Lastly, brush your tart with melted butter and sprinkle the cinnamon sugar on top. When you bake the tart, the butter melts into the cinnamon sugar and turns into a mixture reminiscent of cinnamon roll filling.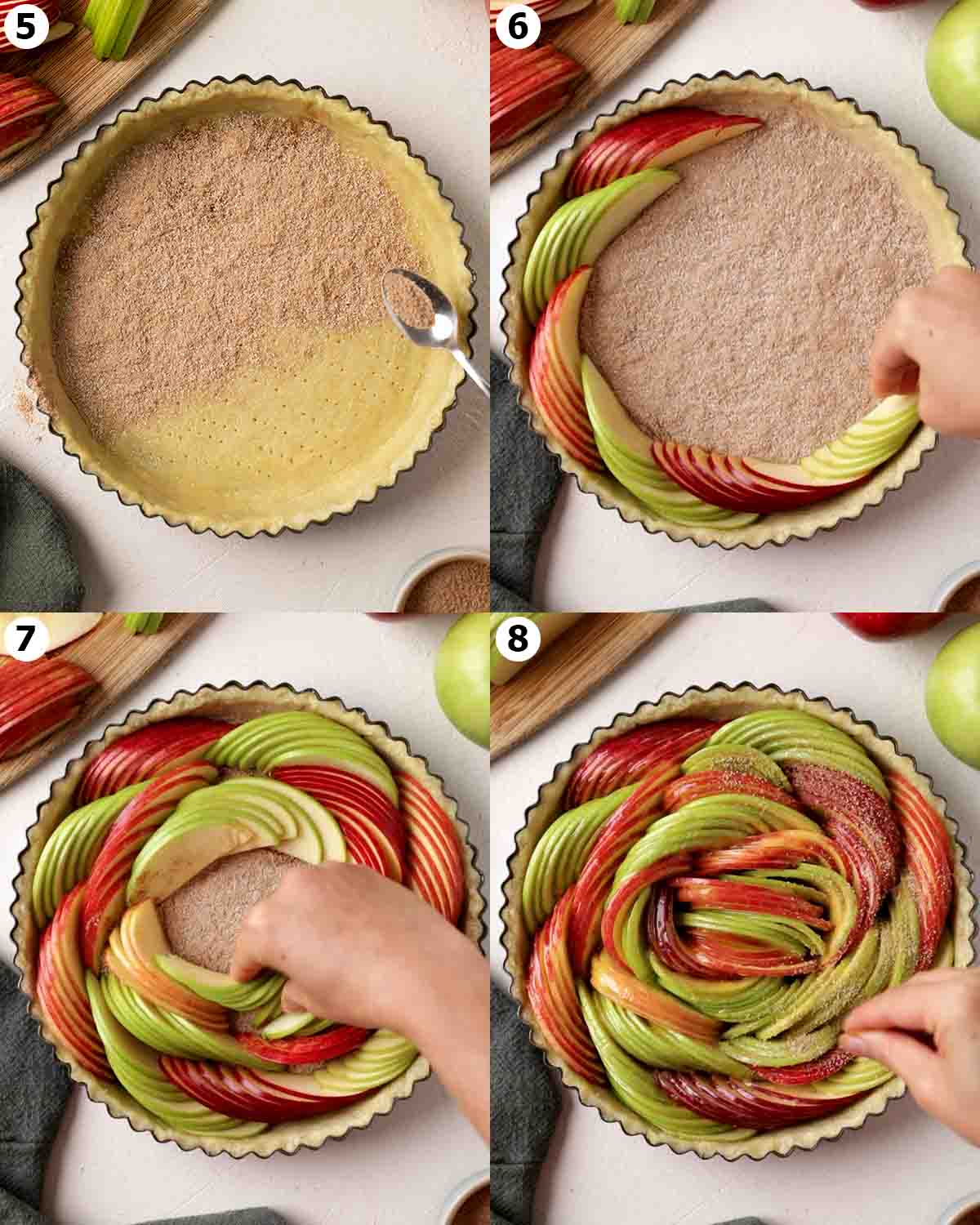 Tips for baking the tart
The tart is done baking when the pastry is golden brown and the filling is bubbling. If you poke a knife into the tart, the apples should feel tender.
TIP: If your outer crust is turning golden brown but your filling isn't ready, create a 'pie shield' using aluminum foil. This is where you create a ring out of foil to cover your pie crust. Taste of Home has a helpful guide on how to create a pie shield.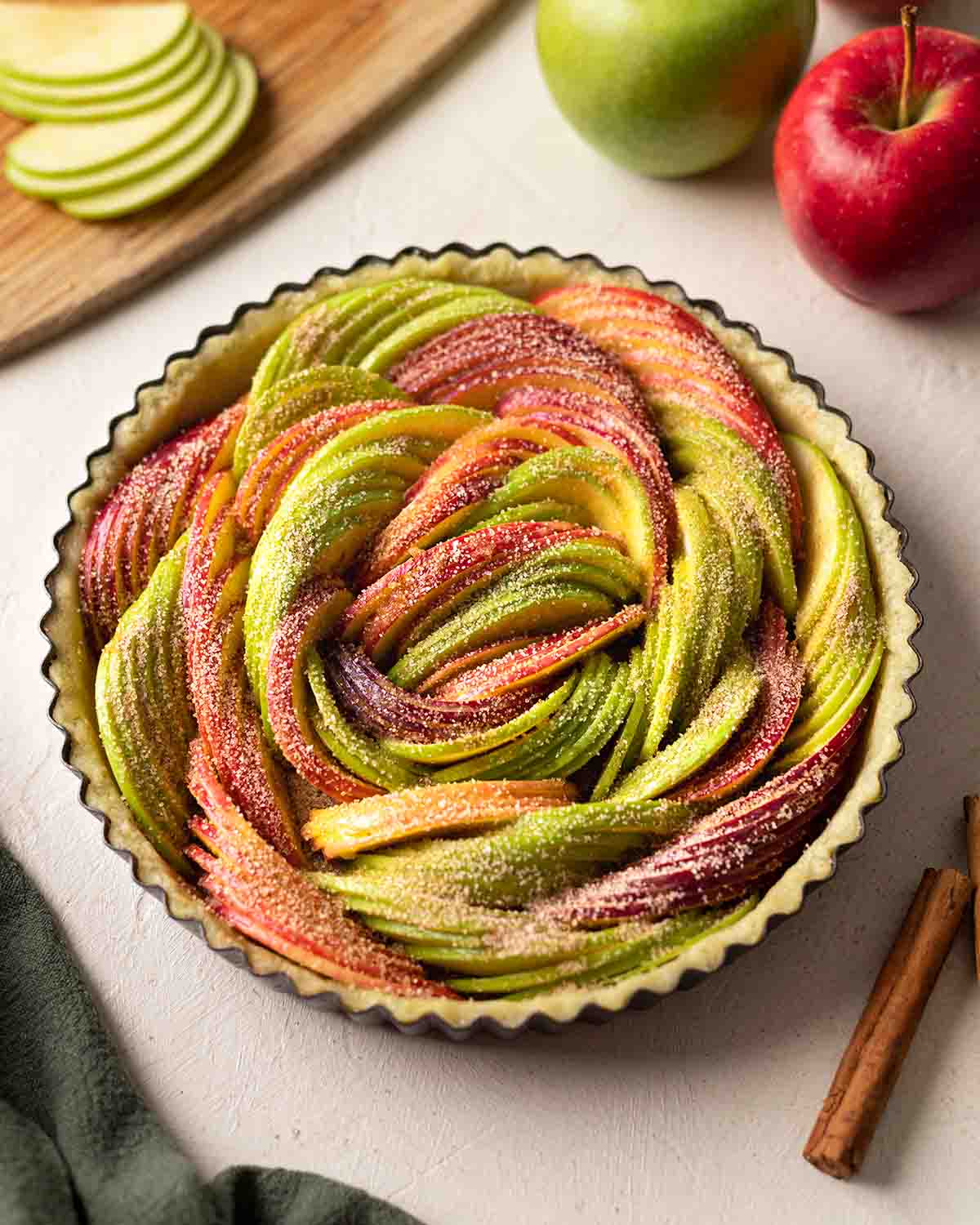 Expert Tips
Can I prepare this tart in advance?
Yes, I recommend parbaking the crust and assembling the raw apples and cinnamon sugar then chilling the tart until needed. The tart can be baked up to a day in advance.
Is there anything else I can add to the tart?
This tart would be amazing with a pecan streusel such as from my vegan apple crumble cake. The tart will work with other sturdy fruits, just like my vegan peach tart.
Can I use store-bought pastry to make the tart?
Yes! You can use a sheet of shortcrust pastry or puff pastry. A lot of store-bought pastry is accidentally vegan however check the ingredients, just in case. I recommend pre-baking your pastry in the same way mentioned in the recipe.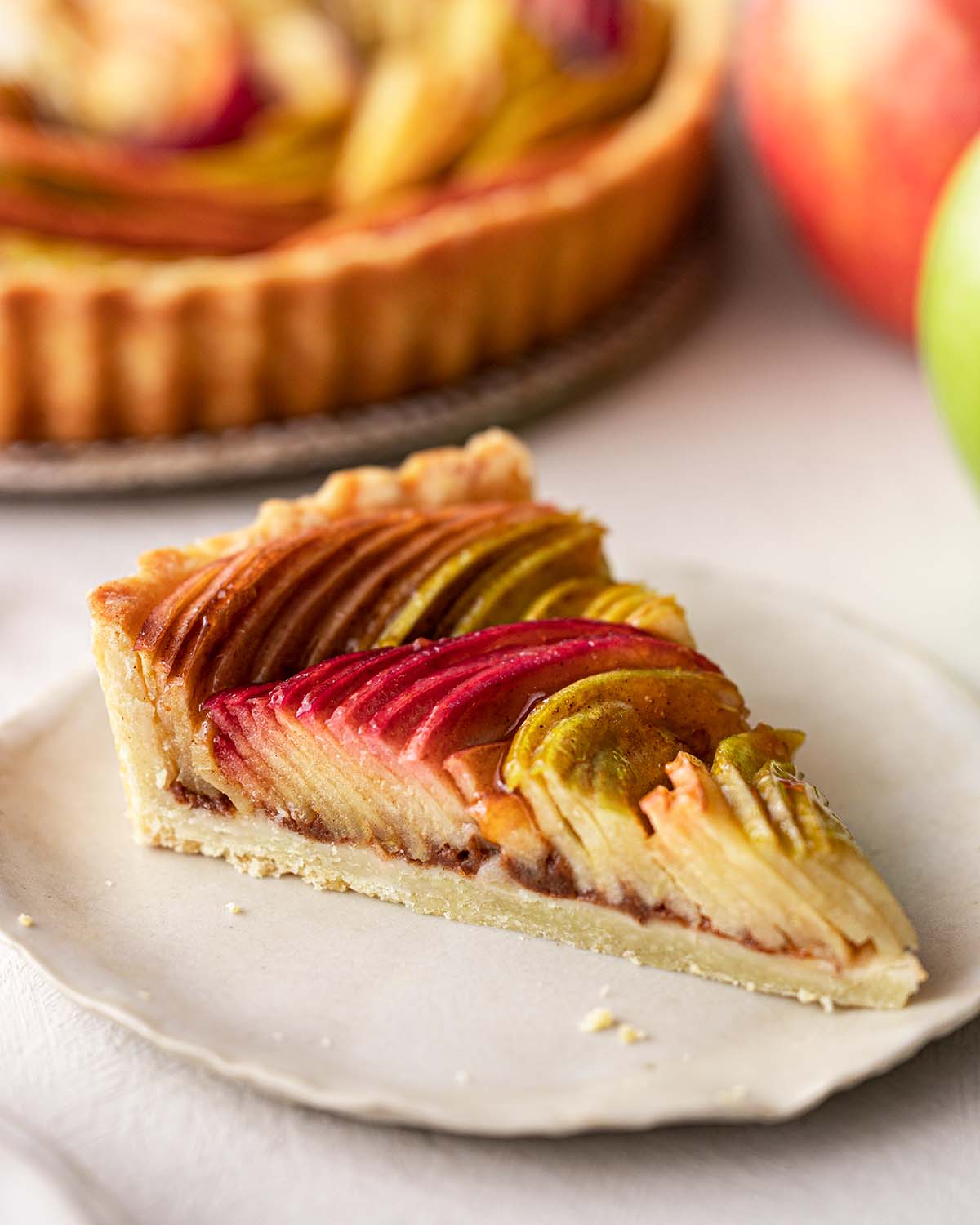 More vegan apple desserts
Follow Rainbow Nourishments on Instagram, Facebook, TikTok and Pinterest, and subscribe via email to receive all of our latest recipes!
Print Recipe
Vegan Apple Tart
Vegan apple tart with a buttery shortcrust pastry and juicy caramelized cinnamon apples. You only need 6 common pantry ingredients to make this simple dessert!
Ingredients
To decorate (optional)
3

tablespoons (60g)

apricot jam

,

any light-colored jam
Instructions
Grease a 9-inch (23 cm) loose-bottom tart pan.
Make the pastry:
Add the flour, butter and sugar to a medium size bowl or food processor. Mix until just combined. Drizzle the cold water into the pastry, 1 tablespoon at a time. Mix the pastry until it comes together (note 4).

On a floured surface, use a rolling pin to flatten your pastry into a large circle about ¼ inch (5 mm) thick.

Transfer the pastry to the tart pan and press it against the base and sides to form a crust. Trim off the excess. If there are any holes, patch it up with the remaining pastry. Alternatively, directly press the pastry into the tart pan and shape it into a crust.

Prick the bottom of the tart shell with a fork. Line the tart shell with parchment paper or aluminum foil and fill with pie weights or dried rice, lentils or beans. Set aside in the fridge.
Prepare the filling:
Add the sugar and cinnamon to a small bowl and mix until combined. Remove half of the cinnamon sugar mixture into another small bowl. Add 1 tablespoon of flour to one of the bowls and mix.

Use a sharp knife or mandoline slicer to cut the apples thinly. Each slice should be around ⅛ inch (3 mm) thick.
Assemble the apple tart:
Preheat your oven to 180°C (350°F).

Blind bake the crust for 10-15 minutes. Carefully remove the parchment paper and pie weights when they are cool enough to touch.

Sprinkle the floury cinnamon sugar on the base of your parbaked tart crust.

Arrange the apple slices in your tart, as desired. Make sure you place the apples as closely as possible as they will shrink when baking. If desired, brush the apples with lemon juice.

Generously brush the apples with melted butter. If you have leftover butter, drizzle it over the tart. Sprinkle the remaining cinnamon sugar over the apples.
To bake:
Bake the tart for 45 to 55 minutes or until the apples are tender and the filling is bubbling.

While the tart is warm, use a pastry brush to brush the jam on the apples.

Serve the tart warm or at room temperature. Cut the tart with a sharp knife and, if needed, a pair of scissors. The tart is delicious served warm with a scoop of ice cream, whipped cream or dairy-free yogurt.

Store leftovers in an airtight container at room temperature for 1 day or in the fridge for up to 3 days. I do not recommend freezing the tart as it will change the texture of the apples.
Notes
For a gluten-free vegan apple tart, use 1 cup (100g) almond flour / blanched almond meal and ⅔ cup (105g) gluten-free flour blend which has xantham gum. You may need to add more flour or water to get the right consistency. The gluten-free pastry is more delicate and should be pressed directly into your tart pan.
If you use vegan spreadable margarine, you may need to add extra flour. Your pastry will also be softer. If you use coconut oil, I'd recommend adding ½ teaspoon of salt to your pastry to mimic the flavor of butter.
I used a combination of sweet snacking apples (Royal Gala and Fuji) and green apples (Granny Smiths). However, any firm apple variety will work. I kept my apples unpeeled but you may peel your apples if you prefer.
If your pastry is too soft to handle, cover it in plastic wrap or an airtight container and refrigerate it for 30 minutes to 1 hour or until it's firm enough to roll out.
Nutrition
Serving:
1
slice
|
Calories:
242
kcal
|
Carbohydrates:
37
g
|
Protein:
2
g
|
Fat:
10
g
|
Sodium:
103
mg
|
Potassium:
109
mg
|
Fiber:
3
g
|
Sugar:
18
g
|
Vitamin A:
492
IU
|
Vitamin C:
4
mg
|
Calcium:
14
mg
|
Iron:
1
mg
This post may contain affiliate links. As an Amazon Associate, I may earn a small commission from qualifying purchases at no additional cost to you.