Vegan cinnamon rolls with an apple cinnamon custard filling and creamy custard topping. These are a fun variation of classic cinnamon rolls and are perfect for an Autumn/Fall breakfast or dessert or for Thanksgiving!
Alternatively, check out my vegan apple cinnamon rolls (without custard).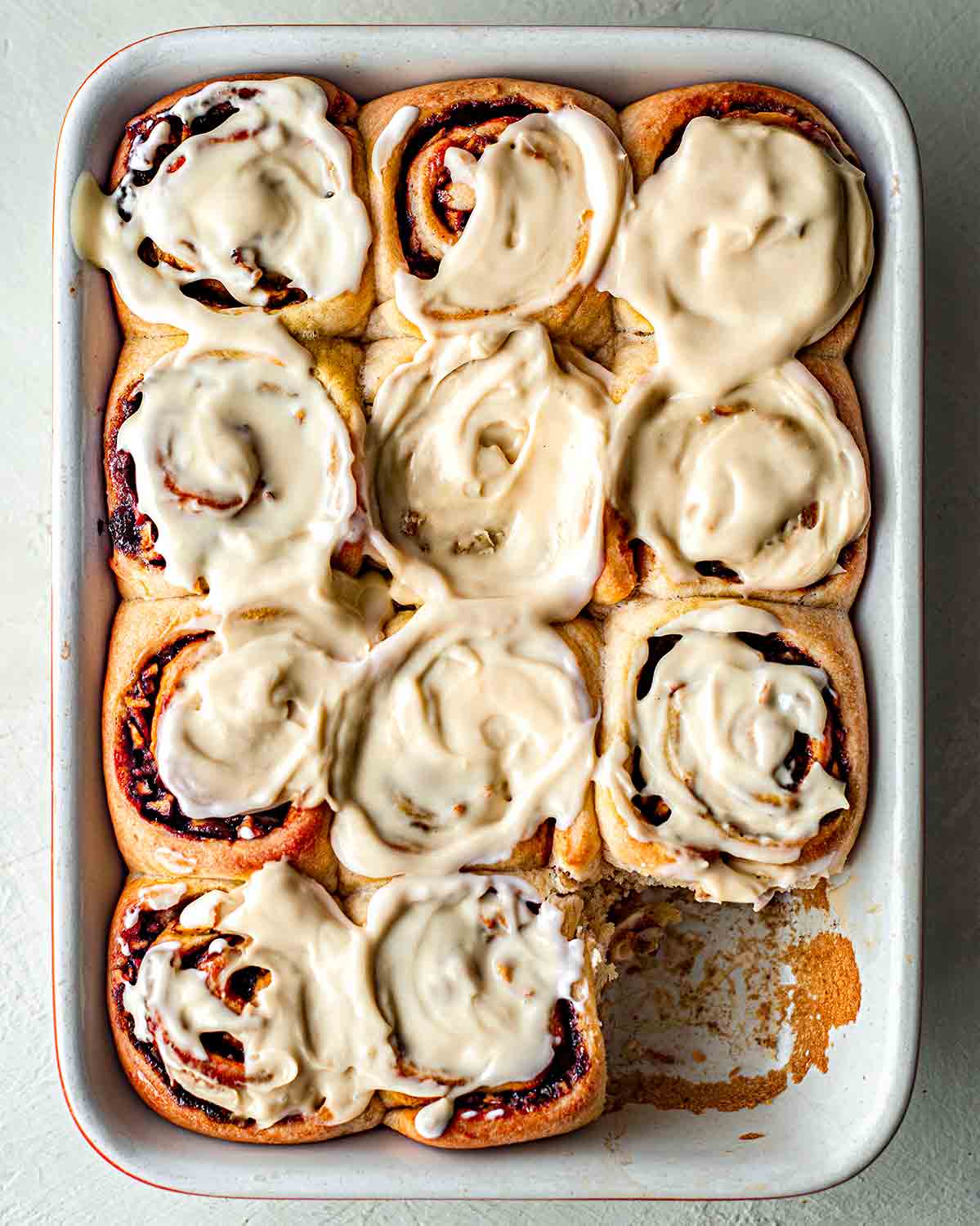 This post is sponsored by Nature's Charm. As always, all opinions are my own!
These cozy cinnamon rolls are:
soo soft and will melt in your mouth
have lovely bits of apple
lashings of creamy custard
Just like my popular vegan cinnamon rolls, this recipe uses very standard ingredients including flour, butter, sugar, an apple, cinnamon and yeast.
I used Nature's Charm coconut custard which is sooo beautifully thick and creamy! The custard is in the cinnamon roll dough, filling and topping. It makes the dough super soft, adds creaminess to the filling and is a delightful topping by itself.
I haven't tested this recipe with homemade vegan custard (from scratch or using vegan-friendly custard powder) so cannot vouch for results. However, it MAY work if your custard is thick!
If you love vegan apple desserts but want something slightly different, see my recipe for vegan apple quick bread (no yeast) or vegan apple crumble cake.
How to assemble these cinnamon rolls
These cinnamon rolls are assembled just like normal cinnamon rolls! Once you've made the dough, basically you:
Roll the dough into a large rectangle
Spread the cinnamon 'buttercream'
Sprinkle the chopped apples on top. Then spread the coconut custard (optional).
Tightly roll the dough
Use a sharp knife or unflavoured dental floss to cut rolls out of the log!
These cinnamon rolls work best with finely chopped apples. It will allow you to tightly roll up the dough without any unshapely bits!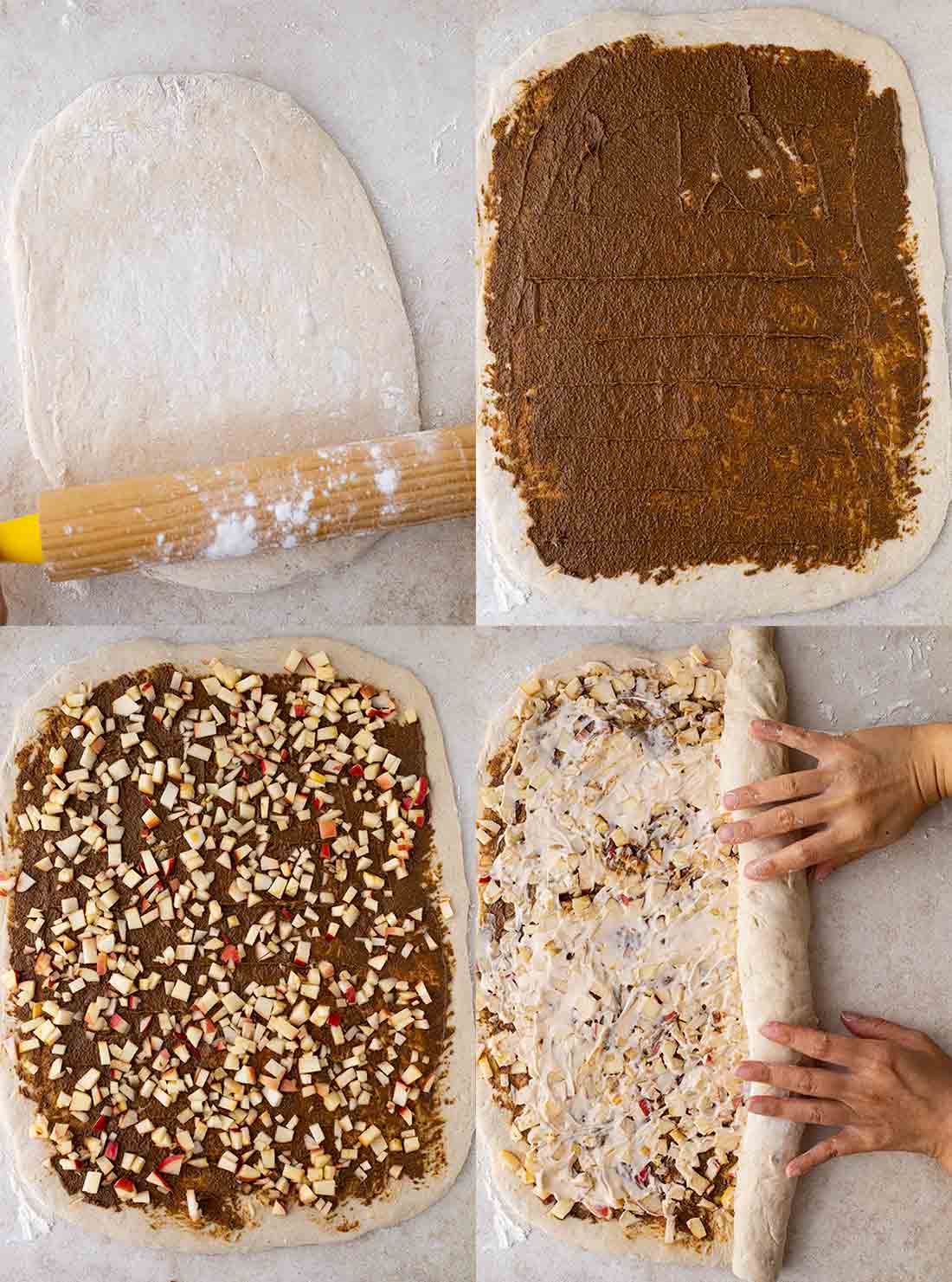 Place the shaped rolls in a greased baking tray and set aside for at least 1 hour (or in the fridge overnight) to rise.
If your cinnamon rolls are taking their time to rise, simply reposition them in a WARMER spot in your home. This is one of the most important things when baking with yeast.
Your cinnamon rolls are ready when they're puffy again!
Baking the cinnamon rolls
Since these cinnamon rolls are packed with apple and custard, they may take 5-8 minutes longer to bake than regular cinnamon rolls or cinnamon rolls filled with fruit puree.
The vegan apple custard cinnamon rolls are fully baked when the surface is evenly golden brown. And if you poke a skewer into one of the middle buns, there shouldn't be any uncooked dough on it! Obviously, it's fine if there's custard on your skewer - custard is a wet ingredient!
Frosting the cinnamon rolls
I topped my vegan apple cinnamon rolls with Nature's Charm coconut custard. I think the creaminess and slight coconutty flavour really complements the apple and cinnamon.
Alternatively, you can use a maple glaze such as my 'sticky buns' recipe or a lush cream cheese frosting from my jam donut cinnamon rolls recipe.
Print Recipe
Apple Custard Cinnamon Rolls
Vegan cinnamon rolls with an apple cinnamon custard filling and lush custard topping. A fun variation of classic cinnamon rolls!
Instructions
To make the rolls:
Combine all the ingredients in a large bowl or stand mixer and mix until it comes together. Knead the mixture until it forms a smooth and stretchy dough. Add a little more milk if the dough is too dry or a little more flour if the dough sticks to the bowl.

Remove the dough from the dough hook and cover the bowl with a damp tea towel. Set it aside in a warm spot for at least 1 hour or until the dough has doubled in size. If it doesn't double, place the dough in a WARMER spot until it does.
To prepare the filling:
Combine the butter, sugar and cinnamon in a small bowl.
To assemble the rolls:
Scoop the dough onto a lightly floured surface and roll it out into a large rectangular shape.**

Spread the cinnamon mixture on the dough. Sprinkle the apples on top and lightly spread with the coconut custard

Starting from the long side, tightly roll the dough into a large tube. Use a sharp knife or unflavoured dental floss to cut buns out of the dough.

Arrange the rolls on a greased baking tray, leaving a little space in between each bun. Place a damp tea towel over the buns and set aside to rise for at least 1 hour or until they're puffy again.
Baking the rolls:
When you're ready to bake the buns, preheat the oven to 180°C (350°F).

When the oven is hot, bake the buns for 15-20 minutes. The rolls are ready when they are slightly golden brown or when you insert a skewer in one of the middle buns and it doesn't have unbaked dough on it.

Brush the warm rolls with maple syrup. When they have cooled, top with the custard.

The buns are best eaten the day they are baked. Alternatively, store them in an airtight container at room temperature for 1-2 days or in the fridge for 3-4 days. Warm up the buns before you enjoy them.
Notes
* Instant yeast doesn't need to be 'activated' or 'bloomed' beforehand. However, if you use active dry yeast, you'll need to combine it with warm milk and a pinch of sugar beforehand. Wait until it bubbles then use it in the recipe. If you use another type of yeast, you may need a different quantity.
** If your dough is too soft to be rolled, chill it in the fridge for at least 10 minutes.
Nutrition
Serving:
1
roll with custard
|
Calories:
275
kcal
|
Carbohydrates:
42
g
|
Protein:
5
g
|
Fat:
10
g
|
Cholesterol:
17
mg
|
Sodium:
130
mg
|
Potassium:
143
mg
|
Fiber:
2
g
|
Sugar:
10
g
|
Vitamin A:
533
IU
|
Vitamin C:
1
mg
|
Calcium:
81
mg
|
Iron:
2
mg
This post may contain affiliate links. As an Amazon Associate, I may earn a small commission from qualifying purchases at no additional cost to you.