These easy vegan mini apple tarts have a buttery shortcrust pastry and gooey apple pie filling! The apple tartlets are perfect for when you're craving apple pie without all the effort.
These adorable mini desserts are ideal for dinner parties, Easter, Mother's Day or Thanksgiving with my biscoff pumpkins or jam tarts!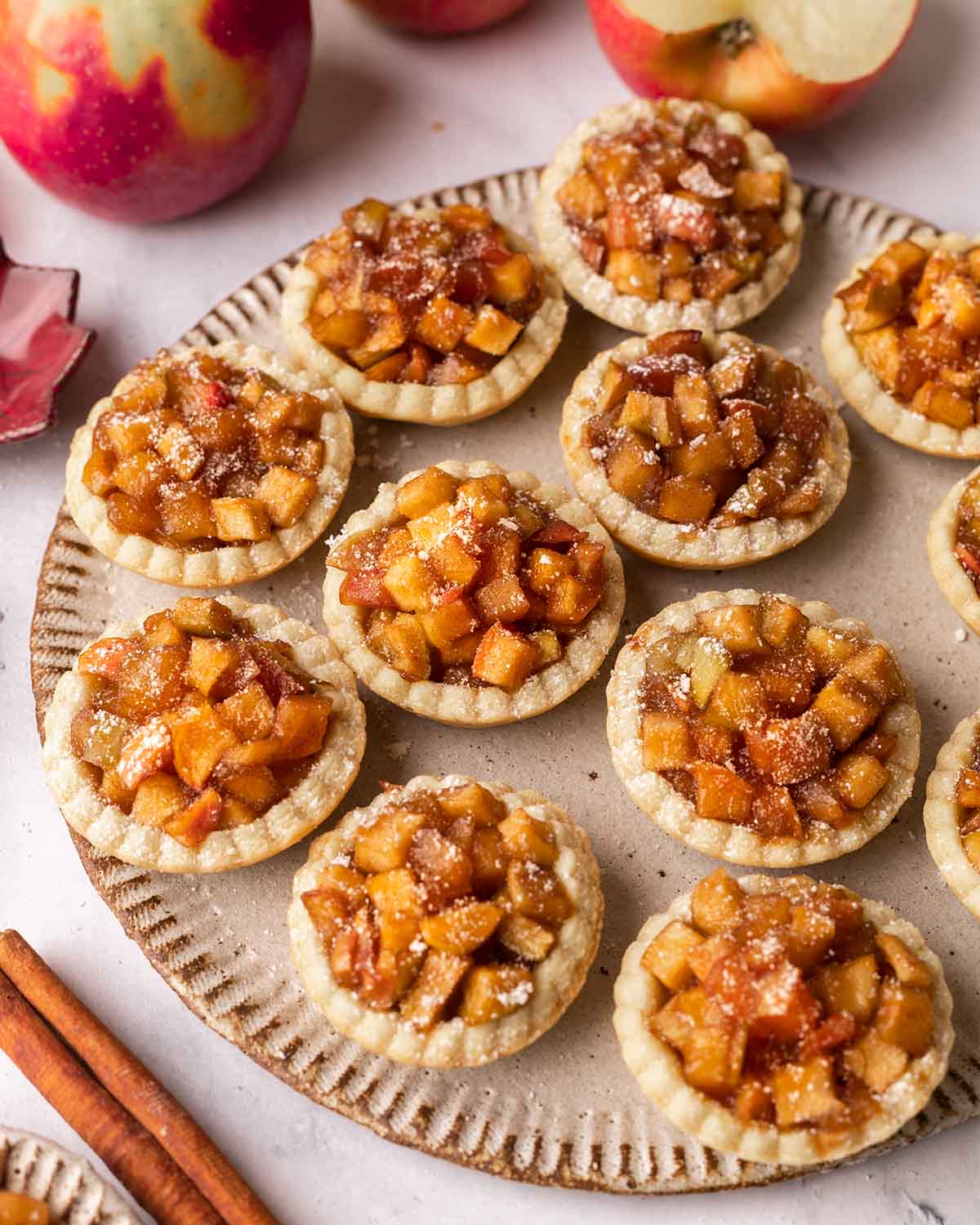 Ingredients you'll need
The full list of ingredient quantities and instructions are in the gray recipe card at the bottom of this post.
Notes about the ingredients
Vegan block butter for the shortcrust pastry and to 'set' the filling. You can use vegan spreadable butter for both, but your pastry will be softer to handle and you'll need to add more flour.
Fresh apples, peeled or unpeeled. These apple tartlets are great with sweet snacking apples (such as pink lady, gala or honeycrisp) or, if you prefer a less sweet filling, granny smith apples work well.
Brown sugar for the delicious caramel-like sauce in the filling. Alternatively, you can use coconut sugar or granulated sugar.
Lemon juice (optional) for flavor and to balance out the sweetness of the apples. Alternatively, you can use dairy-free milk or cream (for a creamy and richer caramel filling) or just water.
Making the apple filling
The apple filling is really easy to make! We need to cook the apples in advance as the apple tartlets don't have enough time in the oven.
Simply add all the ingredients to a large saucepan, and cook the mixture until the apples are tender. Of course, you can melt the butter before you add the apples, but we're going for effortless here!
Finally, make your cornstarch slurry and mix it into the saucepan. This will thicken the filling for the mini apple tarts!
Making the shortcrust pastry
To make the pastry, mix the flour, butter and sugar in a food processor or by hand in a large bowl. Then gradually add water until your dough comes together.
The final dough should be soft, pliable and very slightly tacky (but not sticky). If you pinch the dough between two fingers, it should stay together.
Assembling the mini apple tarts
On a lightly floured work surface, roll out your dough so it's a little less than ¼ inch (5 mm) thick. Keep in mind that the pastry will expand when it's baked in the oven. Then, use a fluted or regular cookie cutter to cut rounds out of your pastry.
Here are my top tips for the best buttery pastry:
Avoid adding too much flour on your work surface otherwise, it will dry out the pastry dough.
Each time you roll out your dough, try to get as many 'pastry rounds' as possible. The more you collect and re-roll your dough, the tougher your pastry will be.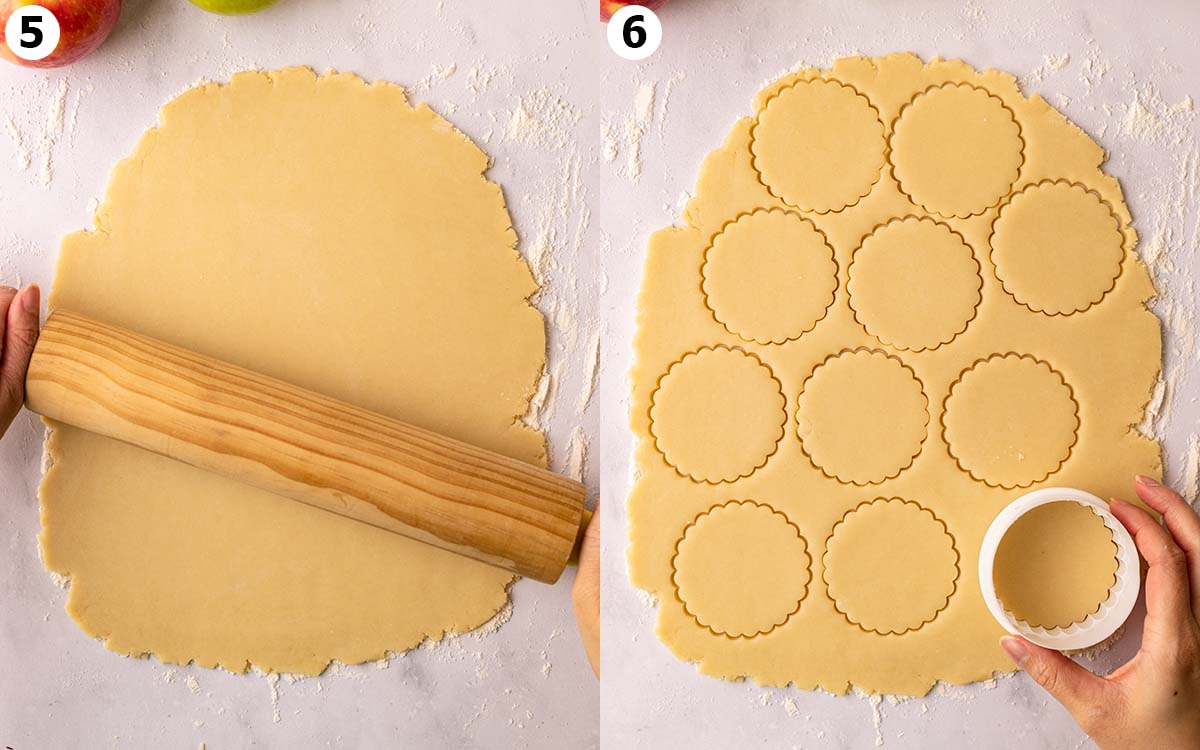 To assemble the apple tartlets, I used a mini tart pan but a regular muffin pan will work!
In order to shape the mini pie crusts, place a pastry circle over each cavity and press it down, along the bottom and sides. Then, spoon your cooled apple pie filling into each shell! Each shell should have a very generous heaping of apples.
Your tarts are now ready to bake!
Making these tarts ahead of time
If you want to save precious time on holidays and special occasions, you can make these tarts ahead of time. There are two ways:
Assemble and bake the tarts completely. When they've cooled, store them in an airtight container in the fridge for 3 days or in the freezer for up to 1 month. On the day of serving, let your tarts thaw in the fridge (if frozen). Sprinkle the filling with a little water then reheat in the oven until they're hot.
OR prepare the apple filling and pastry. Store the filling in an airtight container and the pastry in a container or plastic wrap in the fridge or freezer. Note that some apples change texture after freezing. On the day of serving, let the pastry and filling come to room temperature and assemble according to the recipe.
You can also assemble the apple tartletts in the morning, refrigerate them for up to 8 hours, then bake them before serving. I wouldn't let them sit for any longer as the edges may dry out and the centers may become mushy.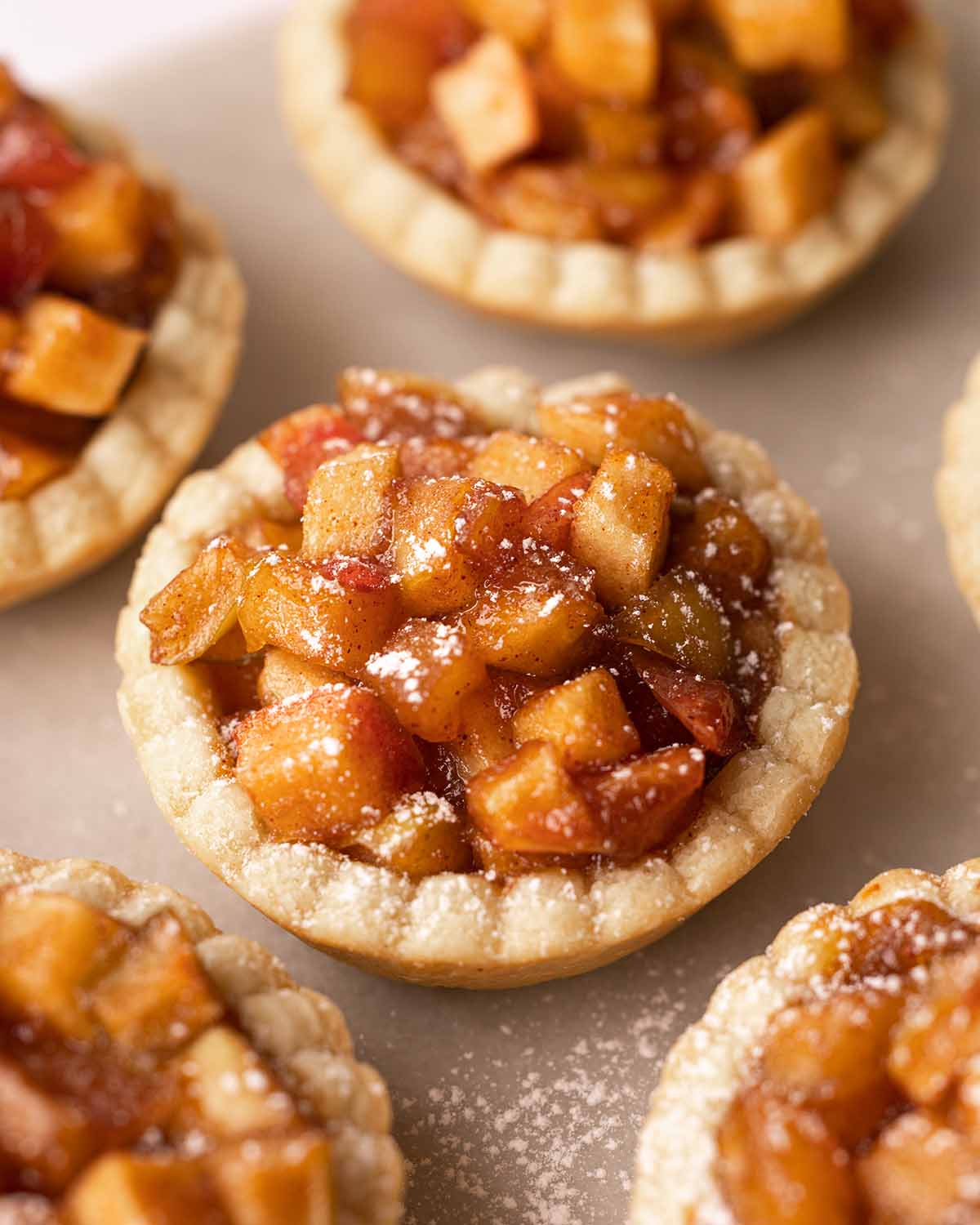 Customizing this recipe
Can I add any other ingredients to the tart filling?
Yes, the filling will be delicious with
- other warm spices such as nutmeg, ginger or cardamom
- vanilla extract
- lemon or orange zest
- candied fruit peel
Can I add a crumb topping to the tarts?
Yes! You'll need to increase the ingredient quantities for the pastry to:
- 2 ⅔ cups (335g) flour
- ¾ cup (190g) vegan butter
- ½ cup (50g) powdered sugar
- 3 tablespoons (45g) water as needed

Use two-thirds of the pastry for the tart shells. With the remainder, mix 1 tablespoon (8g) of all purpose flour and ½ teaspoon of ground cinnamon until it forms coarse crumbs. Sprinkle it on top of the mini apple pie tarts and bake per the recipe.
More vegan apple desserts
Follow Rainbow Nourishments on Instagram, Facebook, TikTok and Pinterest, and subscribe via email to receive all of our latest recipes!
Print Recipe
Mini Apple Tarts
These easy vegan mini apple tarts have a buttery shortcrust pastry and gooey apple pie filling! The apple tartlets make cute appetizers and are perfect for when you're craving apple pie with less effort.
Ingredients
Apple filling
3

medium-size apples

,

of choice, chopped into ⅓ inch or 1 cm cubes

⅓ - ½ cup (65-90g)

brown sugar,

depending on how sweet you like your filling

3 tablespoons (45g)

vegan butter,

chilled or room temperature

2-3

teaspoons

lemon juice,

to taste (or sub with water)

1

teaspoon

cinnamon

1 ½ tablespoons (12g)

corn starch
Shortcrust pastry (note 2 for alternatives and ingredient substitutions)
Instructions
Make the apple filling:
In a large saucepan over medium-high heat, add the apples, brown sugar, vegan butter, lemon juice (or water) and cinnamon. Mix until combined or until the butter has melted.

Reduce the stove to medium heat. Cook the apple mixture for around 10 minutes or until the apples have softened. Taste test the apple mixture and add more sugar or lemon juice, to suit your tastes.

In a small bowl, stir together the cornstarch and 3 tablespoons (23g) of water to make a slurry. Add the slurry to the apple mixture and mix. Cook the apple mixture for another 5 minutes or until it has thickened. Set aside to cool.
Make the shortcrust pastry:
Add the flour, butter and sugar to a large mixing bowl or food processor and mix until there are no large chunks of butter. Gradually add the water and mix until the dough starts to clump together. The dough should be soft and pliable, to the point you can pinch it between two fingers without breaking. If your dough is too dry, add 1 tablespoon of water and mix again. If the dough is too wet, add 1 tablespoon of flour and mix again.
Assemble the mini apple tarts:
Preheat the oven to 180°C (350°F). Grease 1-2 mini tart pans or muffin pans with cooking spray or use melted butter/oil and a pastry brush. You'll get around 20 mini tarts from this recipe.

On a lightly floured surface, use a rolling pin to flatten the dough to a little less than ¼ inch (5 mm) thick.

Use a 2 ½ inch (6 cm) fluted cookie cutter to cut rounds out of your pastry. If your tart or muffin tin has a wider base, use a larger cookie cutter. Gently press the pastry rounds into your baking tin. Collect and roll the excess dough and repeat until you've used up the dough (note 2).

Use your fingertips or a small spoon to press the pastry against the bottom and sides of each cavity.

Spoon the cooled apple filling into each tart case. The filling should generously fill each tart and form a small mound. Press down the apple filling into each tart so there are no gaps.
Bake and serve the tarts:
Bake the mini apple tarts for around 20 minutes or until the pastry is golden brown. Allow the tarts to completely cool in their tart or muffin tin, placed on a wire rack.

Just before serving, sprinkle the apple tarts with powdered sugar or drizzle a simple glaze on top. Serve the tarts warm or at room temperature. They're also delicious with some vegan whipped cream or ice cream!

Store leftovers in an airtight container at room temperature for 1 day, in the fridge for up to 5 days or in the freezer for up to 1 month (note 3).
Notes
Alternatively, you can use store-bought pie dough or 1-2 sheets of store-bought puff pastry or shortcrust pastry. For the homemade pastry, you can also use softened room-temperature coconut oil (same quantity as the butter). Add a generous pinch of salt to mimic the buttery flavor. Spreadable vegan butter will also work but I suggest omitting the water and an extra 1-2 tablespoons of flour, if needed.
If this step is too fiddly for you, divide the dough into 20 equal pieces, roll them out and press them into your cupcake/tart mold.
When you refrigerate or freeze the apple pie filling, the butter may solidify - don't worry! Once the tarts are at room temperature or warmed up, the butter will be soft (and not visible) again.
Nutrition
Serving:
1
serve
|
Calories:
97
kcal
|
Carbohydrates:
13
g
|
Protein:
1
g
|
Fat:
4
g
|
Sodium:
35
mg
|
Potassium:
22
mg
|
Fiber:
1
g
|
Sugar:
4
g
|
Vitamin A:
2
IU
|
Vitamin C:
2
mg
|
Calcium:
3
mg
|
Iron:
1
mg
This post may contain affiliate links. As an Amazon Associate, I may earn a small commission from qualifying purchases at no additional cost to you.