Easy vegan apple muffins which use only 7 core ingredients and one bowl! These muffins are fluffy, moist and just like those from your local bakery.
This muffin recipe is adapted from my popular, tried and tested apple bread and apple cake with a pecan crumble.
What to expect from these muffins
These vegan apple cinnamon muffins are:
Easy, no fuss and use common pantry ingredients
Have a simple crunchy topping thanks to the chopped apple and granulated raw sugar
Look and taste like they're from a bakery

Can be made gluten free

!
Ingredients you'll need
Plain or all-purpose flour for obvious reasons! However, wholemeal and spelt flour also work well in these muffins.
Coconut, brown or cane sugar for sweetness and moisture. I used a mix (coconut for flavour and regular sugar for lightness) but it's up to you!
Dairy free milk, such as soy, coconut, almond or oat.
Light-tasting vegetable oil, such as sunflower or rapeseed. I prefer using oil instead of butter or solid coconut oil because it allows the vegan apple muffins to stay moist at room temperature. In contrast, butter and coconut oil are solid at room temperature so can make cakes feel more 'dry'.
Roughy chopped apple, though finely chopped will work too. I used sweet apple varieties (Royal Gala and Fuji) to add some natural sweetness. However, if you prefer more 'sour' apples, you can still use Granny Smith apples or other varieties!
Cinnamon because what is apple without this beautiful spice?
Baking powder for rise. I really prefer FLUFFY baked goods so used enough to make the apple muffins very fluffy but not too much that you can taste it.
Apple cider vinegar as they help tenderise the muffins. This is optional but recommended.
Even though these are eggless apple muffins, you don't need any store-bought egg replacers!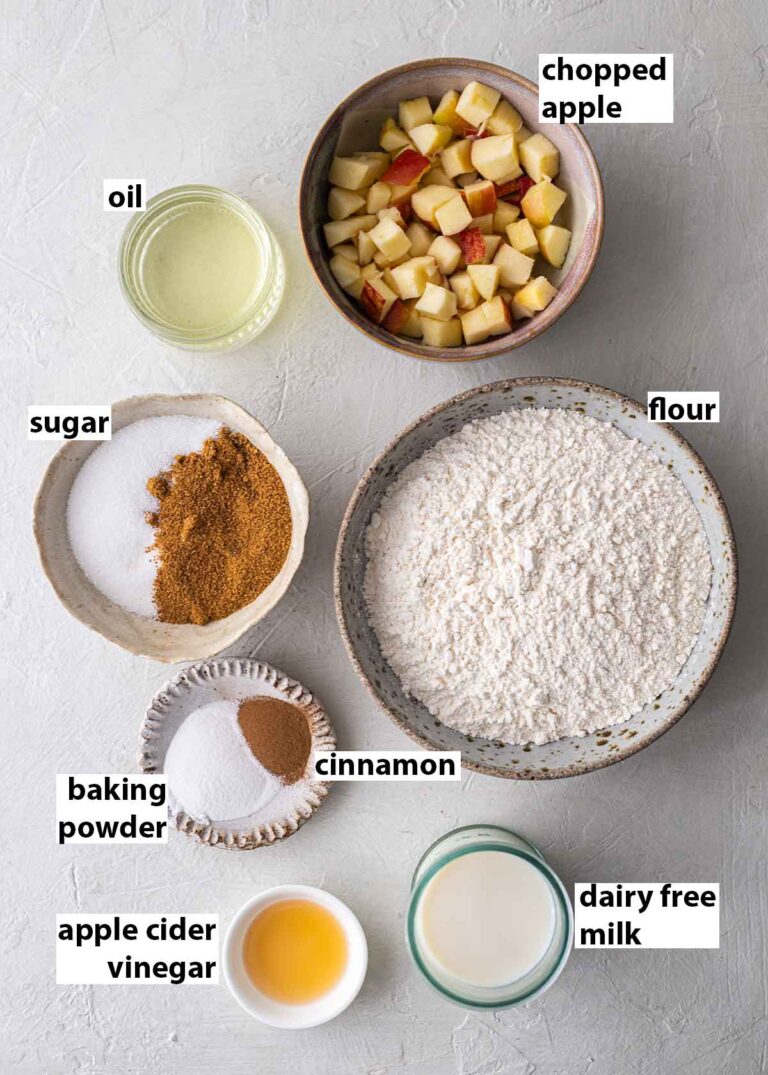 How to make the batter for the muffins
I always prefer one-bowl recipes and these vegan apple muffins are no exception!
So, simply add all the dry ingredients to a bowl and mix until there are no big lumps. Watch out for lumps of baking powder (as it tastes the most gross by itself)!
Then add all the wet ingredients (except the apple) to the bowl and mix until just BEFORE it's combined. There should be some pockets of liquid or dry ingredients. This helps prevent us from overmixing the batter :).
Add the chopped apple and fold the batter until combined. The muffin batter should be quite thick - the apple leaks juice while baking so the batter needs to be a little more thick than usual.
Baking the apple muffins
One of my baking 'hacks' is using an ice cream scoop to divide muffin or cupcake batter. It's easier, neater and allows each muffin to be roughly the same size.
For a yummy and pretty touch, I'd recommend sprinkling some extra chopped apple and raw demerara sugar on top. The apple adds a little colour to those brown muffins and the sugar adds some crunch.
If you'd like jumbo cafe style muffins, this recipe will make 8-10 muffins. For average size muffins, this recipe will make 12.
Customising these muffins
To make healthy vegan apple muffins, use whole wheat or spelt flour instead of plain and coconut sugar instead of regular sugar. I've also listed a gluten free option the notes of the grey recipe box.
To make oil free apple muffins, some of my readers have substituted the oil with applesauce and said it worked well (I haven't tried it myself).
Instead of topping the muffins with apple and sugar, you can sprinkle the top with rolled oats or an easy oat crumble, such as in this recipe.
For added deliciousness, add berries, white chocolate chips, pecans or walnuts to the muffin batter!
Other easy vegan apple recipes
Other vegan muffin recipes
Print Recipe
Easy Vegan Apple Muffins
Easy vegan apple muffins made with only 7 core ingredients and one bowl! They are fluffy, moist and just like those from your local bakery.
Ingredients
Wet ingredients
1

(~180g)

medium-sized apple

,

chopped roughly or finely

1

cup (250g)

dairy free milk, such as almond, soy or coconut

,

1

tablespoon

apple cider vinegar,

optional
Topping (optional)
½

(~90g)

medium-sized apple

,

chopped roughly or finely

2

tablespoons

raw demerara sugar
Instructions
Preheat the oven to 180°C (350°F). Line a muffin/cupcake tray with liners. (note 2)

Add all the dry ingredients to a medium-size mixing bowl. Mix until there are no lumps. Add all of the wet ingredients to the bowl (except the apple) and mix until just before it's combined. Add the chopped apple and fold until the apple is evenly dispersed.

Use a cookie scoop to divide the batter into your muffin tin.

Optional: Scatter the remaining chopped apple and granulated coarse sugar on top.

Bake the muffins in the oven for 20-25 minutes OR until a skewer can be inserted into the middle and there is no wet batter on it, though some crumbs are fine (note 3).

Cool the muffins in their tray for 10 minutes then allow then to cool on a wire rack.

Enjoy the muffins warm or at room temperature! The muffins can be stored in an airtight container at room temperature for 2 days, in the fridge for 3 days or in the freezer up to 1 month. The crunchy raw sugar topping will soften after 1 day.
Notes
To make this gluten-free, substitute the plain flour with 1 ½ cups (150g) almond meal and 1 cup (160g) gluten free all-purpose flour
This recipe will make 12 standard muffins or around 8-10 larger cafe-sized muffins.
If you baked larger muffins, bake them for at least 25-35 minutes (depending on the size of your muffins) or until a skewer comes out clean.
Please leave a comment below if you made this recipe, have any questions or thoughts! Your comment will help other readers and Rainbow Nourishments.