This incredible vegan apple pie uses just a few common pantry ingredients, tastes like childhood and can be as simple or complicated as you make it!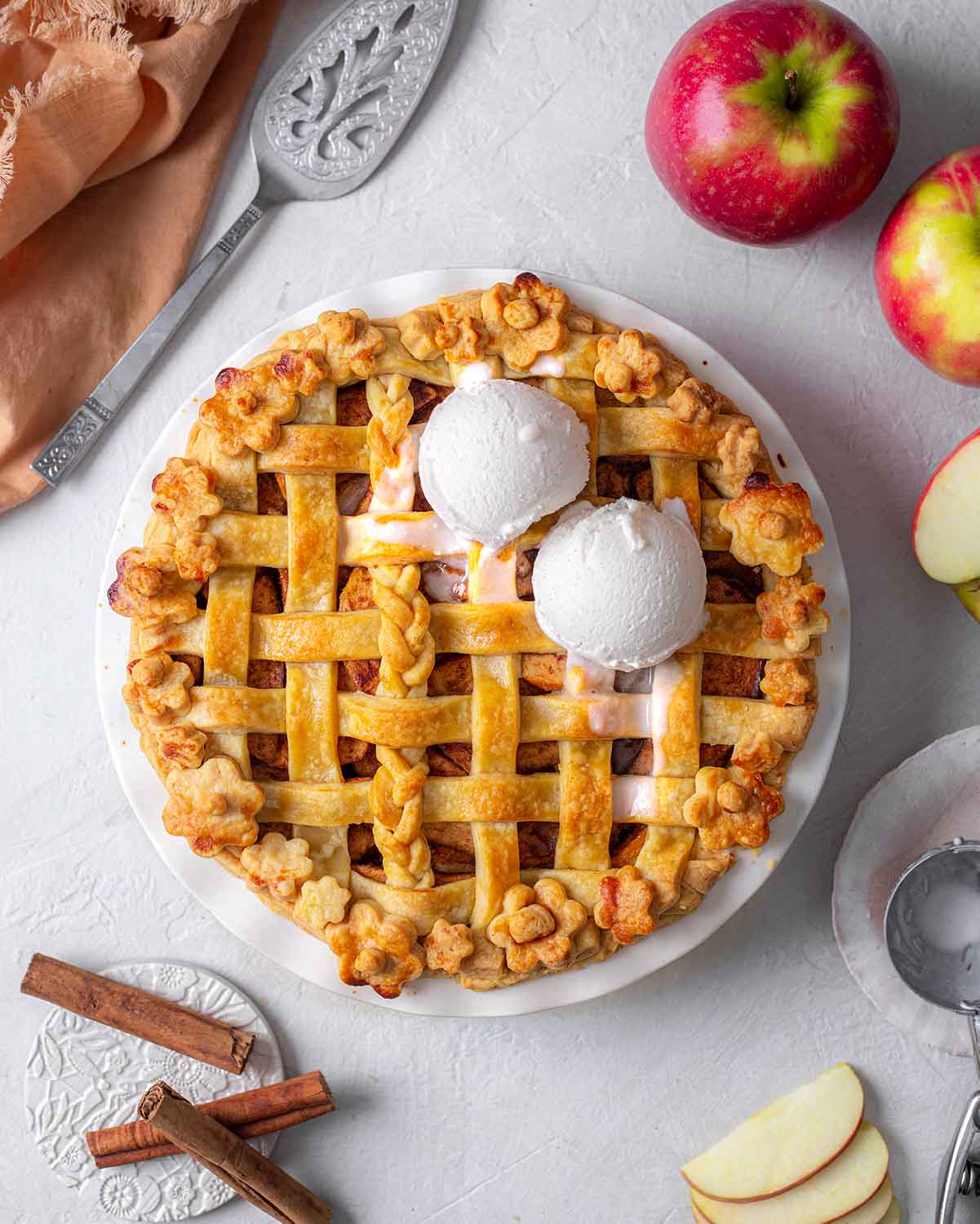 What to expect from this recipe
This vegan apple pie is naturally vegetarian, eggless and dairy-free. It's fuss-free and has a:
Buttery vegan shortcrust pastry that will melt in your mouth
Sweet apple cinnamon filling that doesn't need to be cooked beforehand
It can be made in advance or on the day of serving. And I've included a few shortcuts if you want to make this in less than 1 hour! Perfect for Thanksgiving dessert!
For quicker vegan apple recipes, check out my apple crumble pie, apple bread or apple crumb cake. You may prefer my apple tart or mini apple pie tarts!
Ingredients you'll need
This vegan apple pie uses common pantry ingredients including:
The full list of ingredient quantities and instructions are in the gray recipe card at the bottom of this post.
Notes about the ingredients
Vegan butter (block-style preferred) or solid coconut oil. It's always better to use block butter for pastry as it's easier to handle and makes the pastry flakier. If you want to use coconut oil, I'd recommend refined coconut oil if you don't like the taste of coconut. I've also included an option for using vegan margarine/spread too!
Apples. You can use sweet snacking apples (such as pink lady) or, tart apples (such as granny smith) for a less sweet filling, use granny smith apples. I used a combination for a more complex flavor.
Corn starch/flour. When the pie is baking, the juices come out from the apples and mix with the cornstarch (and other ingredients) to create a delicious finger-licking sauce inside the pie.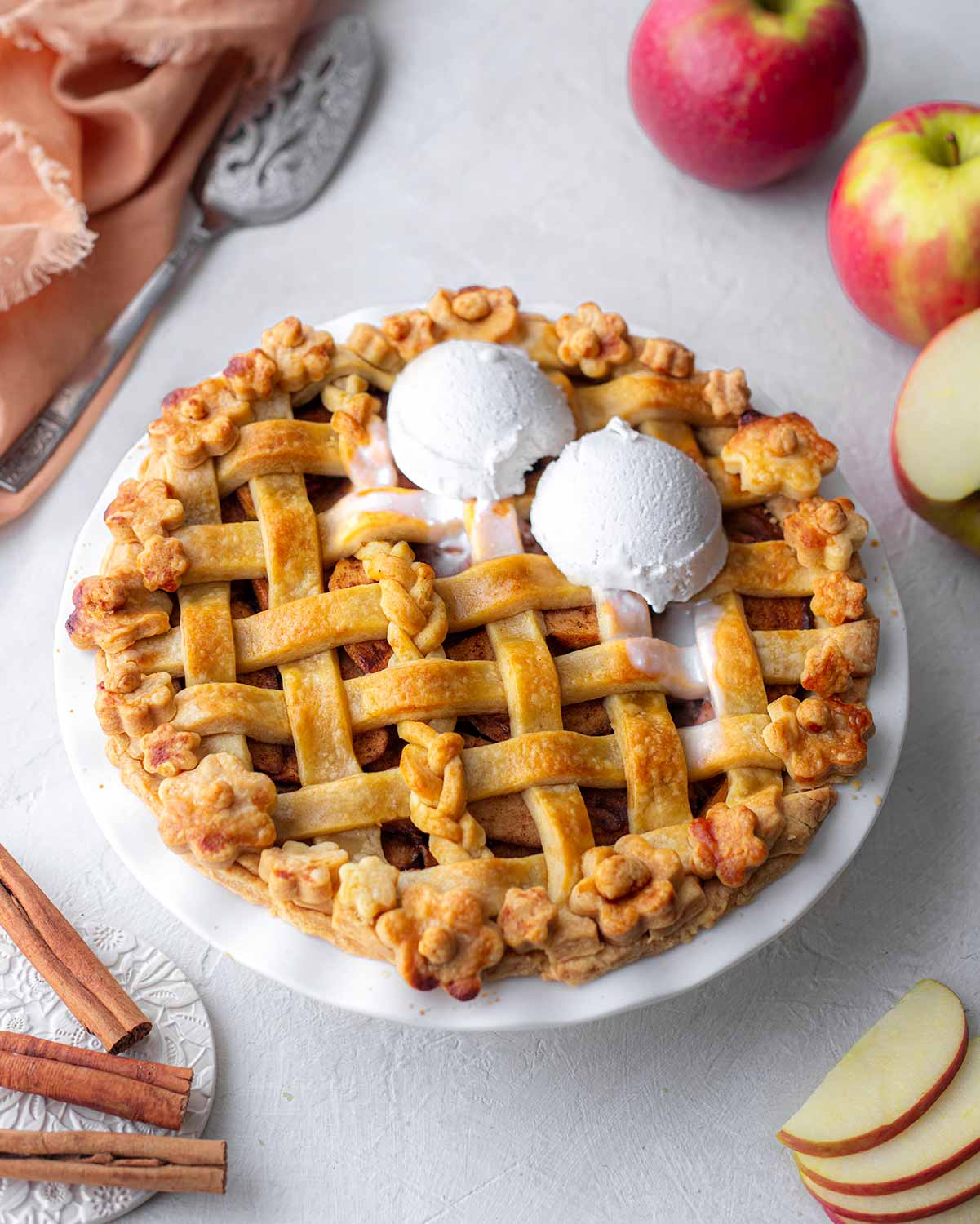 How to make shortcrust pastry
I prefer making shortcrust pastry in a food processor as it is quicker and mixes the ingredients more thoroughly. Just make sure you don't pulse the mixture for too long!
If you don't have a food processor, you can just use a large mixing bowl and a pastry cutter.
Add all the ingredients to your food processor (or bowl) and pulse (or mix) until the mixture comes together. The dough will likely need some chilled water so add it gradually until the pastry forms flaky crumbs (like the picture on the right).
If you're using a food processor, this will only take 1-2 minutes.
Once the pastry comes together, place it in an airtight container or wrap it in plastic. Chilled dough is always easier to work with!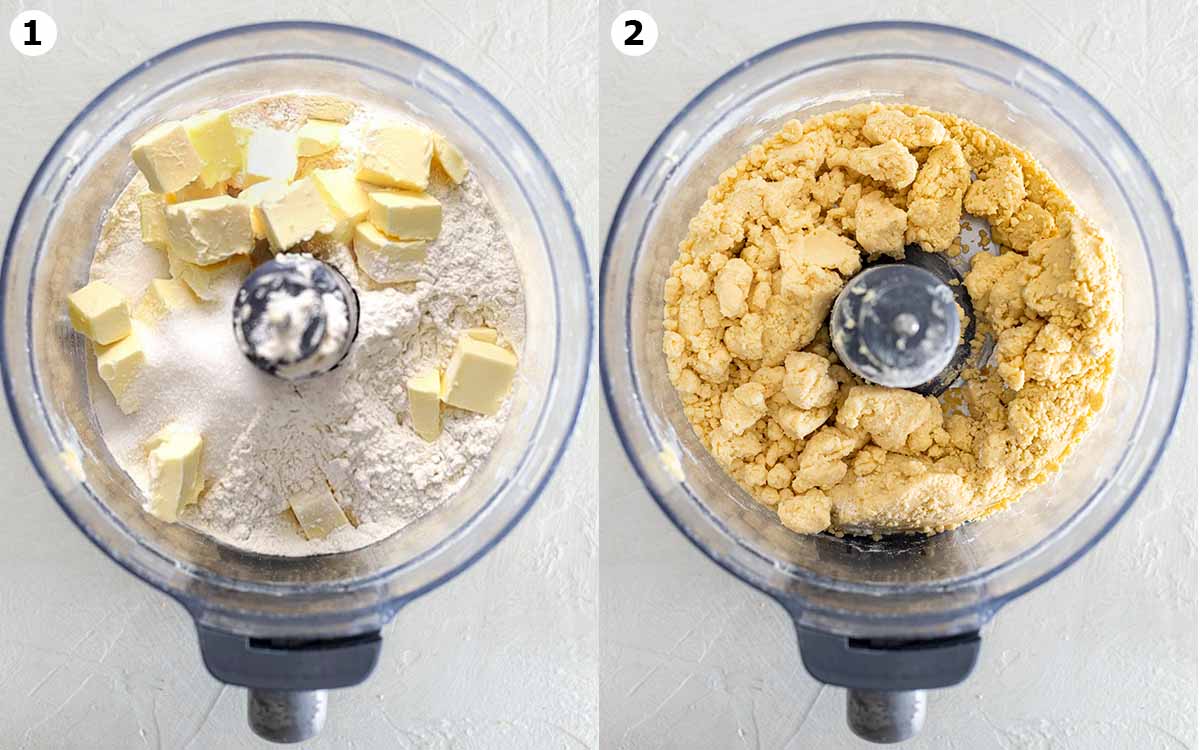 Making the apple pie filling
While the pie crust is chilling, you can make the filling!
For this vegan apple pie, you can use peeled or unpeeled apples. Once you've thinly sliced all of the apples, toss them in a large bowl with the rest of the filling ingredients.
Cover the bowl and set aside the apple mixture for at least 30 minutes. This will allow all the flavors to develop and for the apple to soften and caramelize.
Rolling out the pastry
If you've refrigerated your pastry for only 30 minutes, you should be able to roll it out immediately. If your pastry has turned into a cold solid brick, let it soften at room temperature for another 30 minutes or so.
I recommend rolling out the pastry on a well-floured surface or in between two sheets of baking paper!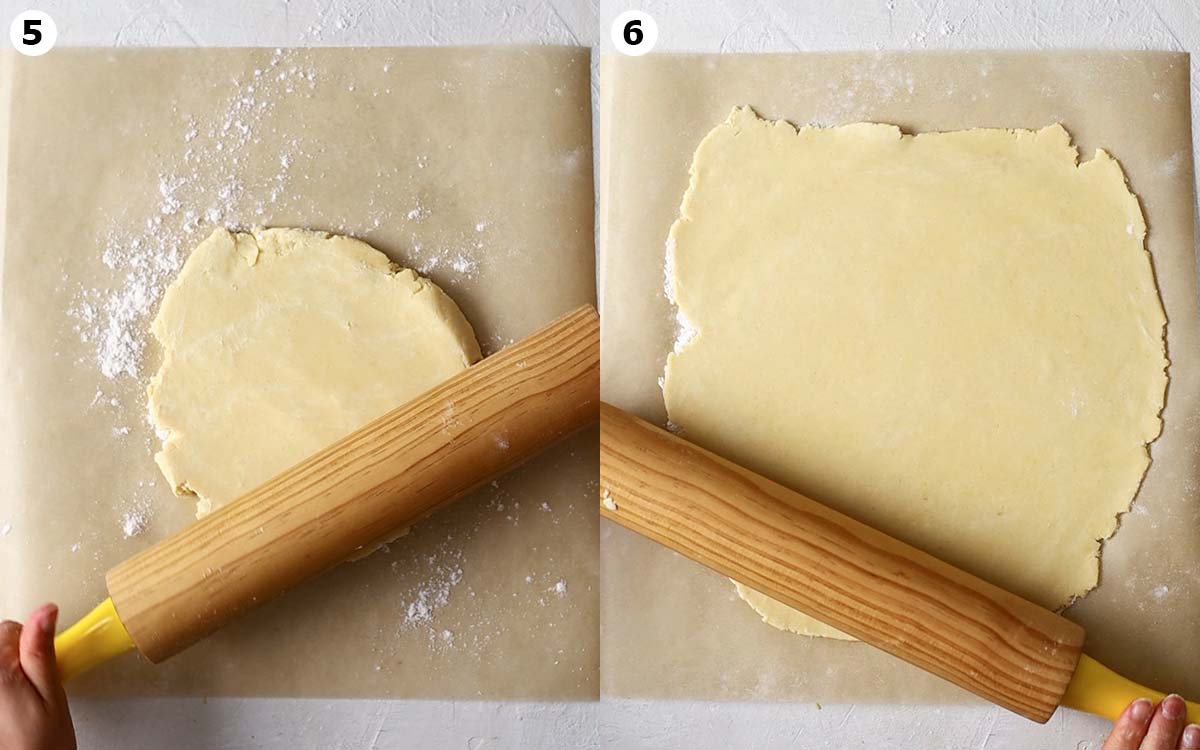 Assembling the pie
Transfer your rolled-out pastry to your greased pie tin. There are a few ways to do this which you can see in King Arthur's Youtube video. If any large holes form in the pie crust, simply patch them up with excess pastry (no one will see it after baking).
Next, use of pair of scissors to trim off the excess pie crust. Then use a fork to prick the bottom of your pie crust.
Pile all your apple slices onto your bottom crust, trying to make sure there aren't any large gaps!
You can make the top of your pie as simple or as decorative as you want!
If you're short on time, top the pie with a single layer of pastry and cut a few 'vents' in the middle to allow air to escape while it's baking. Or you can turn the pastry into a crumble to make an apple crumble pie or skip it altogether and make my vegan apple tart.
To see how I made a lattice design, check out the video in this blog post (at the top of the post or in the gray recipe card at the bottom).
Shortcuts for making this apple pie
If you just don't want to make the pastry, use store-bought shortcrust pastry. A lot of store-bought pastries use vegetable shortening so are accidentally vegan.
Or if you don't want to prepare the apple filling, use canned pie apple! Having a pre-made filling will reduce the baking time to 30 minutes. Or bake the pie until the pastry is golden brown.
To make this pie for Thanksgiving or a special celebration, you can make the pastry and filling ahead of time! The pastry can be made 3 days beforehand and refrigerated (or 2 weeks beforehand then frozen).
The apples can be prepared a day beforehand and left to macerate in the fridge overnight. On the day of baking, allow your pastry to come to room temperature so you can roll it out and assemble your pie.
Expert tips and customizations
Can I make this a healthy vegan apple pie?
Yes, simply use spelt/wholemeal flour, no refined sugar (or erythritol) and solid coconut oil in the crust. You may need to add a little more water as whole grain flours are more absorbent than regular flour.

I'd also recommend using coconut sugar or maple syrup in the pastry and filling instead (to taste). Or you can make the pie completely sugar-free by using erythritol!
What are the best ways to serve this vegan apple pie?
Hot from the oven or cold from the fridge haha. Serve it with scoops of ice cream, thick whipped cream, pouring cream or, my favorite, custard!
More vegan pie recipes
Follow Rainbow Nourishments on Instagram, Facebook, TikTok and Pinterest, and subscribe via email to receive all of our latest recipes!
Print Recipe
Incredible Vegan Apple Pie
Incredible vegan apple pie with just a few common pantry ingredients. Tastes like childhood and is as easy or complicated as you make it!
Instructions
Preparing the pastry:
Mix all the pastry ingredients in a medium size bowl or food processor. If the mixture is too crumbly, add some extra water and mix until it becomes a pliable dough. If the mixture is too wet, add a little more flour and mix again. Divide the pastry into 2 balls, wrap or cover in an airtight container and chill for at least 30 minutes.
Preparing the filling:
Toss all ingredients in a bowl until combined and set aside.
Assembling the vegan apple pie:
Preheat oven to 180°C (350°F). Grease a 9 inch (23 cm) pie dish.

Remove the pie dough from the fridge. If the dough is too cold, allow it to come to room temperature for 30 minutes.

On a floured surface, use a rolling pin to roll out half of the pastry into a thin circle. It should be about 5 mm (¼ inch) thick. Transfer the pastry to your pie plate and press it against the base and sides to form a crust.

Trim off the excess pastry and prick the bottom with a fork. Set aside.

Layer all the apple pieces (and any excess juices) into the pie crust.

On a floured surface, roll out the remaining half of the pastry into a thin circle. Transfer the pastry to your pie dish for the top crust. If you'd like to create a lattice design, cut your pastry into 1.5 cm (~½ inch) strips and layer them on your pie (refer to the video for a visual guide). Trim off the excess pastry from the pie.
Glazing and baking your apple pie:
Combine the maple syrup and water in a small bowl. Brush the mixture on your unbaked pie.

Bake the pie for 1 hour or until the surface is golden and the apples are tender. If your pastry is browning too quickly but your apples are not tender, reduce the oven to 160°C (320°F) and/or cover with aluminum foil.

Slice and serve the apple pie with vegan ice cream, whipped cream or custard. Enjoy!
Notes
To make this apple pie gluten-free, use a good 1:1 gluten free all-purpose flour OR 1 ½ cups (150g) almond flour, ¾ cup (120g) gluten-free flour all-purpose flour and ¼ cup (40g) tapioca flour. If you use almond flour, your pie crust may brown quicker so just cover your pie with aluminum foil if needed.
If you only have access to vegan margarine/spread, use ¾ cup (170g) of chilled margarine,

2 ¾ cups (

345g) flour and less or no water. Your pastry will be softer and more delicate.
Apples were weighed after they were peeled and cored. You can leave your apples unpeeled if you prefer.
Nutrition
Serving:
1
serve
|
Calories:
359
kcal
|
Carbohydrates:
45
g
|
Protein:
3
g
|
Fat:
19
g
|
Sodium:
150
mg
|
Potassium:
141
mg
|
Fiber:
3
g
|
Sugar:
14
g
|
Vitamin A:
40
IU
|
Vitamin C:
4
mg
|
Calcium:
26
mg
|
Iron:
2
mg
This post may contain affiliate links. As an Amazon Associate, I may earn a small commission from qualifying purchases at no additional cost to you.