This beautiful vegan peach tart is a showstopper with its buttery shortcrust pastry and fresh juicy peaches. You only need 6 ingredients to make this tart!
This vegan peach tart has been adapted from my popular apple tart recipe!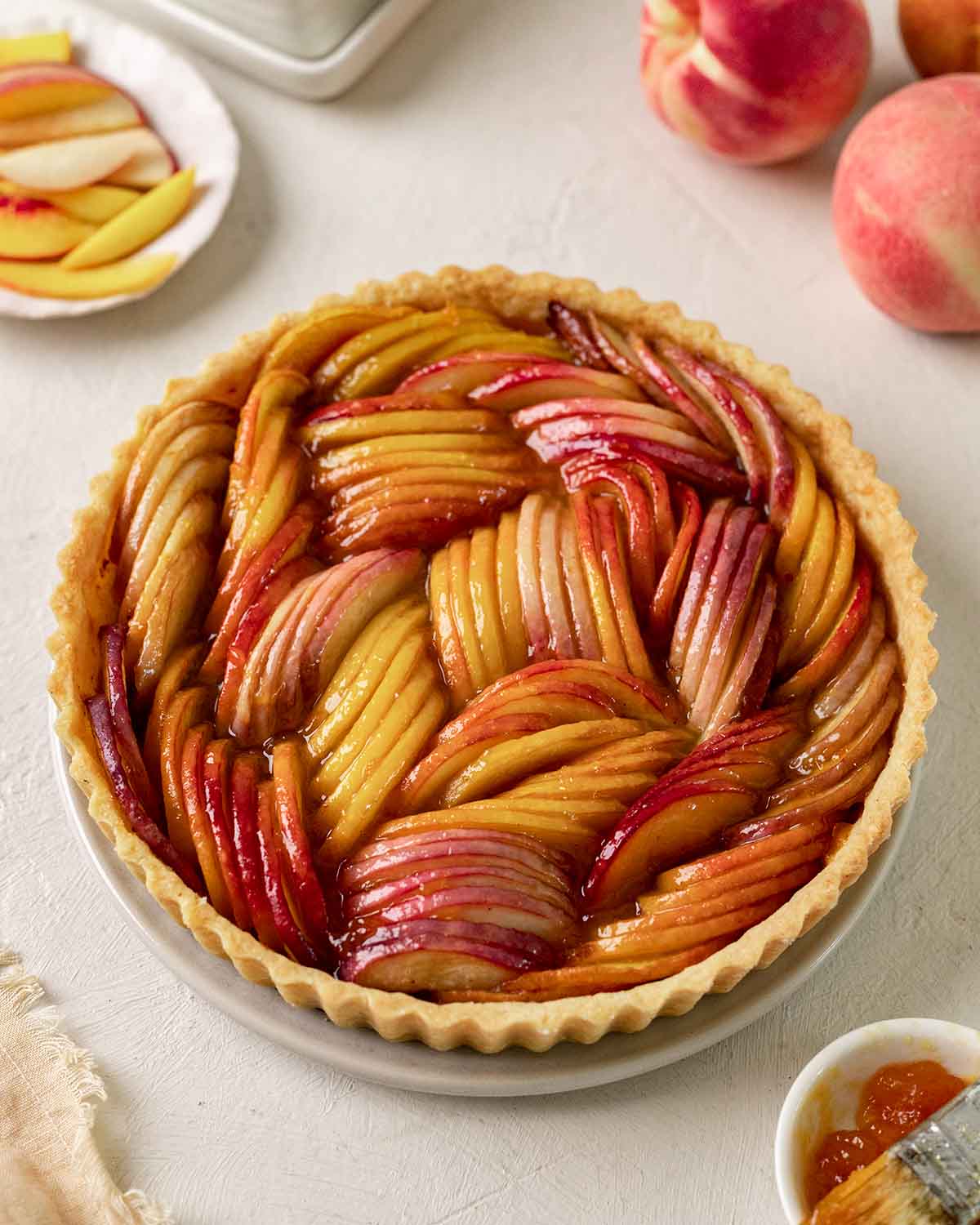 Ingredients you'll need
A complete list of ingredients, quantities and instructions are in the gray recipe card at the bottom of this post.
Notes about the ingredients
Peaches, that are slightly firm or very firm. Very firm peaches will still soften and taste sweet after baking.
Vegan block butter for the pastry and filling. Vegan spreadable butter or softened coconut oil will still work but may need a few tweaks for flavor and consistency.
Sugar. I suggest using light-colored sugar to maintain the beautiful color of the peaches. However, brown sugar or coconut sugar will also work.
Light-colored jam to glaze the peaches after baking, for flavor and moisture. I used Bonne Maman's mango-peach preserves but any variety will work. Alternatively, you can use maple syrup.
Tips for making the pastry
The pastry can be prepared in a food processor or a mixing bowl. It's an easy pastry to make, but here are some top tips:
Try not to overwork the pastry otherwise, it can become tough.
If your pastry is too dry or sticky, add a little more water or flour and mix until combined.
While it's not absolutely necessary, I recommend blind-baking the pastry as it helps keep its shape. If you're new to this process, check out The Kitchn's step-by-step images and instructions.
Alternatively, if you're in a pinch, you can par-bake the pastry without any pie weights and, when the crust is still hot, use a spoon to press the pastry back into shape.
Assembling the peach tart
First, we're sprinkling a layer of floury cinnamon sugar on the base. This adds flavor and helps thickens the peach juices.
Next, arrange your peach slices as tightly and closely as possible in your tart. The peaches will shrink during baking and leave little gaps. If your peaches aren't 'keeping together', don't worry - we can add more peaches at the end!
Finally, brush the peaches with melted butter and sprinkle it with sugar. It will feel like a lot of butter but this melds with the peach juices and sugar to make a delicious caramel-like sauce!
Tips for baking the peach tart
Compared to my apple tart, the peach tart doesn't take long to bake as peaches soften quickly!
Your tart is ready when the peaches are tender (insert a toothpick in one to test), the filling is bubbling and the crust is golden. It will smell amazing!
Expert Tips
Can I prepare this vegan peach tart in advance?
Yes, I suggest parbaking the crust and assembling all the peaches with the butter/sugar topping and then chilling the tart until you need it. I recommend baking the tart on the day of serving because the peaches lose color over time.
Can I use store-bought pastry to make the tart?
Yes, this tart would work with either shortcrust or puff pastry. A lot of store-bought pastry is accidentally vegan but check the ingredients just to be sure. I still recommend pre-baking the pastry as mentioned in the recipe.
Can I make this tart sugar-free?
You may use a granulated sugar replacer instead of regular sugar in the recipe. However, keep in mind that some sugar replacers melt differently in the oven.

For a refined sugar-free tart, you can use maple syrup in the pastry. In the filling, rather than mixing the maple syrup with the flour and sprinkling it on top, add the syrup directly to the tart. Feel free to adjust the amount of maple syrup, to taste.
More vegan tart recipes
Follow Rainbow Nourishments on Instagram, Facebook, TikTok and Pinterest, and subscribe via email to receive all of our latest recipes!
Print Recipe
Vegan Peach Tart
Vegan apple tart with a buttery shortcrust pastry and juicy caramelized cinnamon apples. You only need 6 common pantry ingredients to make this simple dessert!
Ingredients
To decorate (optional)
3

tablespoons (60g)

peach jam

,

apricot jam or any light-colored jam
Instructions
Grease a 9-inch (23 cm) loose-bottom tart pan.
Make the pastry:
Add the flour, butter and sugar to a medium size bowl or food processor. Mix until just combined. Drizzle the cold water into the pastry, 1 tablespoon at a time. Mix the dough until it comes together (note 4).

On a floured surface, use a rolling pin to flatten your dough into a large circle about ¼ inch (5 mm) thick.

Transfer the pastry to the tart pan and press it against the base and sides to form a crust. Trim off the excess. If there are any holes, patch it up with the remaining pastry. Alternatively, directly press the pastry into the tart pan and shape it into a crust.

Prick the bottom of the tart shell with a fork. Line the tart shell with parchment paper or aluminum foil and fill it with pie weights or dried rice, lentils or beans. Set aside in the fridge.
Prepare the filling:
Cut the peaches to remove their cores. Use a sharp knife or mandoline slicer to cut the peaches into ¼ inch (6 mm) slices.

Add 1 tablespoon sugar, 1 tablespoon flour and ¼ teaspoon cinnamon to a small bowl. Mix until combined.
Assemble the peach tart:
Preheat your oven to 180°C (350°F).

Blind bake the crust for 10 minutes. Carefully remove the parchment paper and pie weights and bake the crust for another 5 minutes.

Sprinkle the floury cinnamon sugar mixture on the base of your parbaked crust.

Arrange the peach slices in your tart, as desired. Make sure you place the slices as closely as possible as they will shrink when baking. If desired, brush the peaches with lemon juice.

Generously brush the peaches with melted vegan butter. If you have any leftover butter, drizzle it over the peaches. Sprinkle the remaining 1 tablespoon of sugar on top.
To bake:
Bake the tart for 30 to 40 minutes or until the peaches are tender and the filling is bubbling. The baking time will depend on how firm your peaches were.

While the tart is warm, brush the jam on the peaches. Allow the tart to cool in its pan.

Serve the tart warm or at room temperature. Cut the tart with a sharp knife and, if needed, a pair of scissors. The tart is delicious when served warm with a scoop of ice cream, whipped cream or dairy-free yogurt.

Store leftovers in an airtight container at room temperature for 1 day or in the fridge for up to 3 days. I do not recommend freezing the tart as it will change the texture of the peaches.
Notes
For a gluten-free vegan peach tart, use 1 cup (100g) almond flour / blanched almond meal and ⅔ cup (105g) gluten-free flour blend which has xantham gum. You may need to add more flour or water to get the right consistency. The gluten-free pastry is more delicate and should be pressed directly into your tart pan.
Alternatively, you may use spreadable vegan butter, but I suggest omitting the water and adding more flour if needed. Your pastry will also be softer. Chilled coconut also will also work but I recommend adding ½ teaspoon of salt to your pastry to mimic the flavor of butter.
If your pastry is too soft to handle, cover it in plastic wrap or an airtight container and refrigerate it for 30 minutes to 1 hour or until it's firm enough to roll out.
Nutrition
Serving:
1
slice
|
Calories:
211
kcal
|
Carbohydrates:
28
g
|
Protein:
3
g
|
Fat:
10
g
|
Sodium:
102
mg
|
Potassium:
98
mg
|
Fiber:
1
g
|
Sugar:
12
g
|
Vitamin A:
635
IU
|
Vitamin C:
2
mg
|
Calcium:
6
mg
|
Iron:
1
mg
This post may contain affiliate links. As an Amazon Associate, I may earn a small commission from qualifying purchases at no additional cost to you.