An epic vegan peanut butter pie with a chocolate cookie crust and raspberry jam. This pie uses less than 10 ingredients and no vegan cream cheese. It is naturally dairy-free and can be made refined sugar-free and gluten-free!
Why you'll love this recipe
This vegan peanut butter pie combines a classic peanut butter pie with the American classic peanut butter jelly sandwich. It's bursting with flavor, texture and is an easy pie to make!
This pie has been adapted from my popular and very well-loved chocolate mousse tart!
For easier peanut butter recipes, check out my peanut butter chocolate muffins, vegan peanut butter cookies or 3 ingredient peanut butter cookies (gluten-free and refined sugar free).
Ingredients you'll need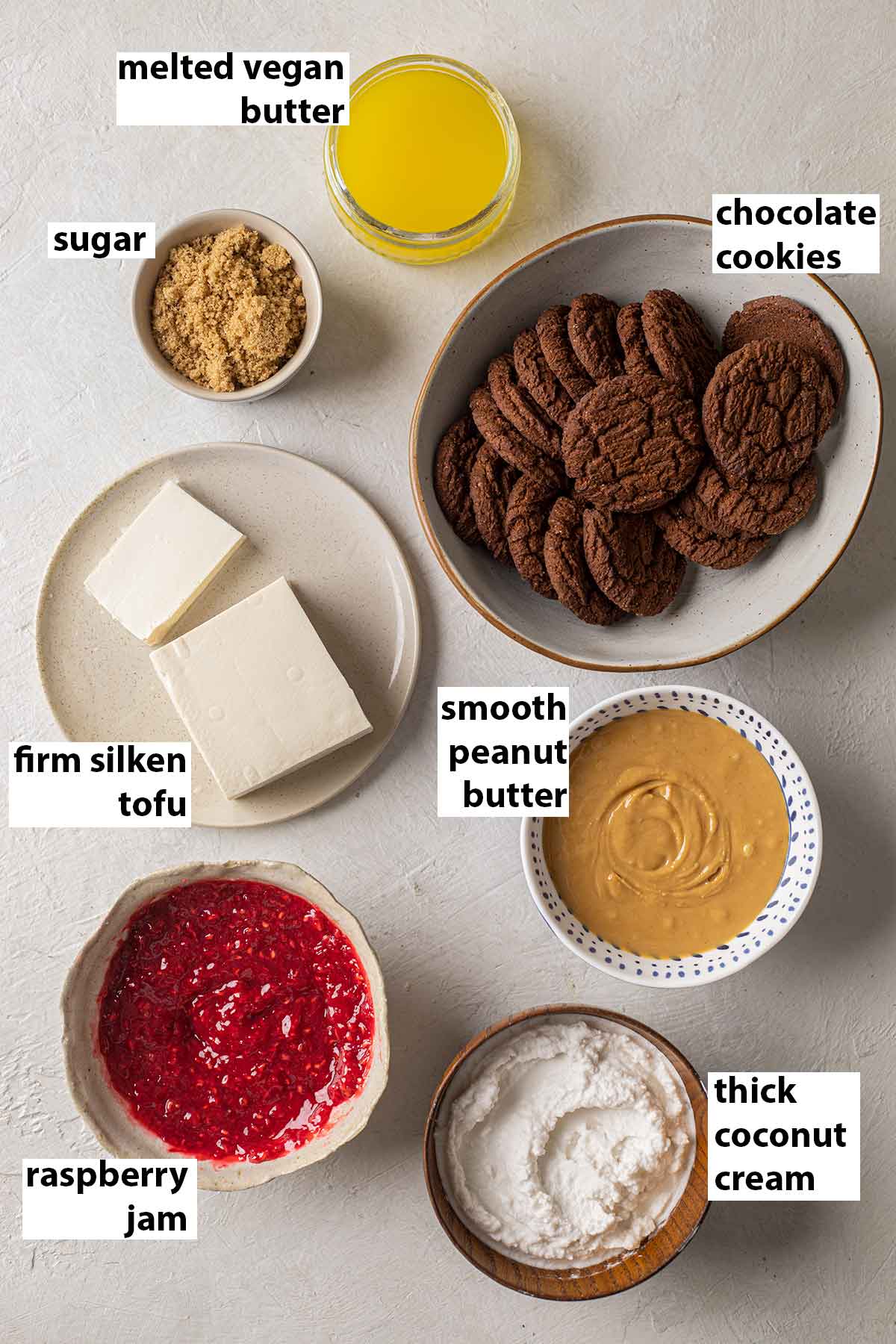 Notes about the ingredients
Sweet chocolate cookies (such as Oreos) or chocolate graham crackers will work for the base. To make this pie gluten-free, simply use gluten-free cookies.
Smooth natural peanut butter is ideal but almond butter or sunflower seed butter will work too!
Firm silken tofu in a tub for the ultimate smooth texture. This variety of tofu is halfway between extra silken tofu (often sold in a tube) and firm tofu. You won't be able to taste the tofu in the pie as it's combined with a few other ingredients.
Thick scoopable canned coconut cream helps the filling set. I used only the thick creamy layer of 1-2 cans of coconut cream.
Brown or coconut sugar for extra sweetness. A liquid sweetener like maple syrup will work, though your filling will be softer.
The full list of ingredient quantities and instructions are in the gray recipe card at the bottom of this post.
Easy chocolate crust
This pie uses a classic crumbly cookie/cracker pie crust which perfectly complements the creamy peanut butter filling.
To make the crust, simply add your chocolate cookies, oreos or graham crackers and pulse fine crumbs. Then add the melted butter/coconut oil and pulse until combined!
This crust/recipe will work well in a 9 inch (23 cm) pie dish or an 8 inch (20 cm) tart pan. Why the different sizes?! Because a pie dish has slanted edges whereas a tart pan has straight edges which means the volume of both is about the same!
If you don't have a tart or pie pan, you can use a springform pan of the same width. Just press the crust so it comes up the sides by 1 inch.
The pie base needs to be baked in a preheated oven for about 10 minutes to help it set. If you don't bake the crust, your pie/tart will collapse when serving (speaking from experience). Alternatively, you can serve the pie frozen!
Raspberry Jam Layer (store-bought or homemade)
This is the best vegan peanut butter pie because it includes a simple layer of raspberry jam! The sweet tartness of the raspberries complements the creaminess of the peanut butter.
You can use a thick store-bought jam or make your own using my very easy method! Simply add raspberries, corn starch and a little sweetener to a small saucepan and cook for about 10 minutes until it's thickened.
Alternatively, you can make a raspberry chia jam which is adapted from my cookbook and requires no cooking! The chia jam alternative is listed in the notes section of the recipe card at the bottom of this post.
Peanut butter tofu mousse filling
The peanut butter mousse filling is a delicious dessert by itself! It's just like the filling from my popular chocolate berry mousse pie but without the chocolate.
To make the pie filling, simply add all ingredients to a blender and blend until smooth. The mousse will be runny initially but after chilling, it will set into a thick and creamy mousse.
If your peanut butter is very thick and lumpy, it may help to melt or warm it up first. However, this isn't needed if you have a high-powered blender.
Tip: If you've run out of smooth peanut butter and don't want to go to the shops, you can actually use crunchy peanut butter IF you have a high-powered blender. You will just need to blend the mousse for longer.
How to decorate this peanut butter pie
I decorated my pie with freeze-dried raspberries and crushed peanuts because that's what I had in my pantry. And it was easier than preparing anything extra!
However, you can decorate the peanut butter pie with:
Drizzled melted chocolate
Melted peanut butter
Dairy free chocolate chips
Vegan-friendly peanut butter cups
Slices of banana
Dairy-free or coconut whipped cream. I'd recommend the Nature's Charm brand!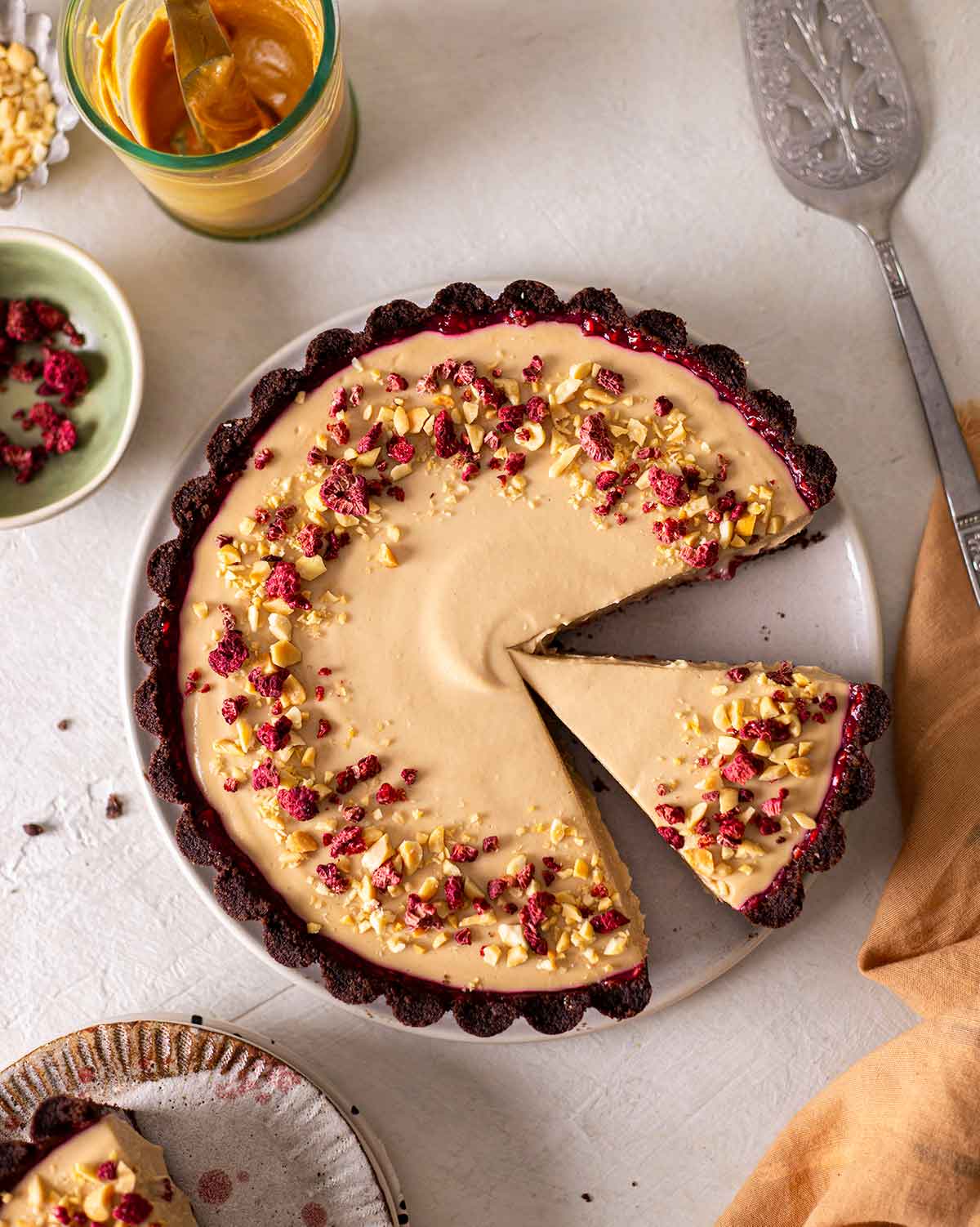 Serving the pie
You can serve this pie straight out of its pie dish after it's been chilled for a few hours. The pie can be kept at room temperature for 3-4 hours, depending on your climate.
However, the mousse filling will soften over time and eventually turn into a soft pudding consistency so I wouldn't recommend keeping it out of the fridge for too long.
Customizing this vegan peanut butter pie
For a healthy peanut butter pie that is refined sugar-free and gluten-free, you can:
Use a nut and date crust instead of the chocolate cookie crust. I'd recommend the one from my chocolate mousse berry pie but replacing the nuts with peanuts.
Use coconut sugar instead in the peanut butter filling
To make this a no-bake pie, don't bake the crust, freeze the pie and serve partially frozen. The filling will be more like a fudge/ice cream than mousse.
You can make this pie without tofu by using more coconut cream (replace it 1:1 by grams). If you do this, your filling will be slightly more firm.
More vegan pie and tart recipes
Follow Rainbow Nourishments on Instagram, Facebook, TikTok and Pinterest, and subscribe via email to receive all of our latest recipes!
Print Recipe
Vegan Peanut Butter Pie with Jam
An epic vegan peanut butter pie with a chocolate cookie crust and raspberry jam. Uses less than 10 ingredients and can be made refined sugar free and gluten free!
Ingredients
Raspberry jam (or use 125g thick store-bought jam, see note 2 for raspberry chia jam alternative)
To decorate (optional)
3

tablespoons

freeze dried raspberries

3

tablespoons

roasted peanuts

,

chopped
Instructions
To make the crust:
Preheat oven to 180°C (350°F).

Add the cookies or graham crackers to a blender or food processor and pulse until it forms fine crumbs. Add the melted vegan butter and pulse until it resembles wet sand.

Firmly press the mixture into an 8 inch tall tart pan with a removal bottom or 9 inch pie pan. Bake for 10 minutes. If the crust collapses a little (which is normal), press it back with a spoon or flat cup while it's warm.

Bake for 10 minutes. If the crust collapses a little (which is normal), press it back with a spoon or flat cup while it's warm.
To make the raspberry jam (or use store-bought):
Addall ingredients to a small saucepan over medium heat. Stir and mash berries with a fork. Cook for 5 minutes or until the mixture is slightly thickened. If desired, add more water for a thinner jam.

Spread all the jam on the bottom and sides of the pie crust. Chill the pie crust in the fridge.
To make the peanut butter mousse filling:
Addall ingredients to your blender and blend until very smooth.

Pour the mixture into your pie crust and smooth the surface. Chill the pie in the fridge for 4 hours or until it's no longer wobbly.

Decorate the pie as desired and serve chilled!
Notes
For an oreo cookie crust, use 24 oreo cookies (~270g) including the cream filling and ¼ cup melted vegan butter. For a graham cracker crust, use 225g chocolate graham crackers and 25g cane, brown or coconut sugar.
To make a raspberry chia jam, combine 1 cup (140g) raspberries, 3 tablespoons chia seeds and 1-3 tablespoons liquid sweetener (to taste) in a small mixing bowl. Mash the raspberries with the back of a fork until all juices have been released and there are no big lumps. Set aside for 10 minutes to thicken and use as needed.
Nutrition
Serving:
1
serve
|
Calories:
393
kcal
|
Carbohydrates:
31
g
|
Protein:
10
g
|
Fat:
28
g
|
Cholesterol:
1
mg
|
Sodium:
206
mg
|
Potassium:
343
mg
|
Fiber:
3
g
|
Sugar:
15
g
|
Vitamin A:
245
IU
|
Vitamin C:
3
mg
|
Calcium:
31
mg
|
Iron:
2
mg
This post was originally published in July 2018 and completely updated in November 2021 with an improved easier recipe and detailed instructions.
This post may contain affiliate links. As an Amazon Associate, I may earn a small commission from qualifying purchases at no additional cost to you.