The BEST vegan banoffee pie with an easy graham cracker crust and caramel without dates. An absolute taste explosion!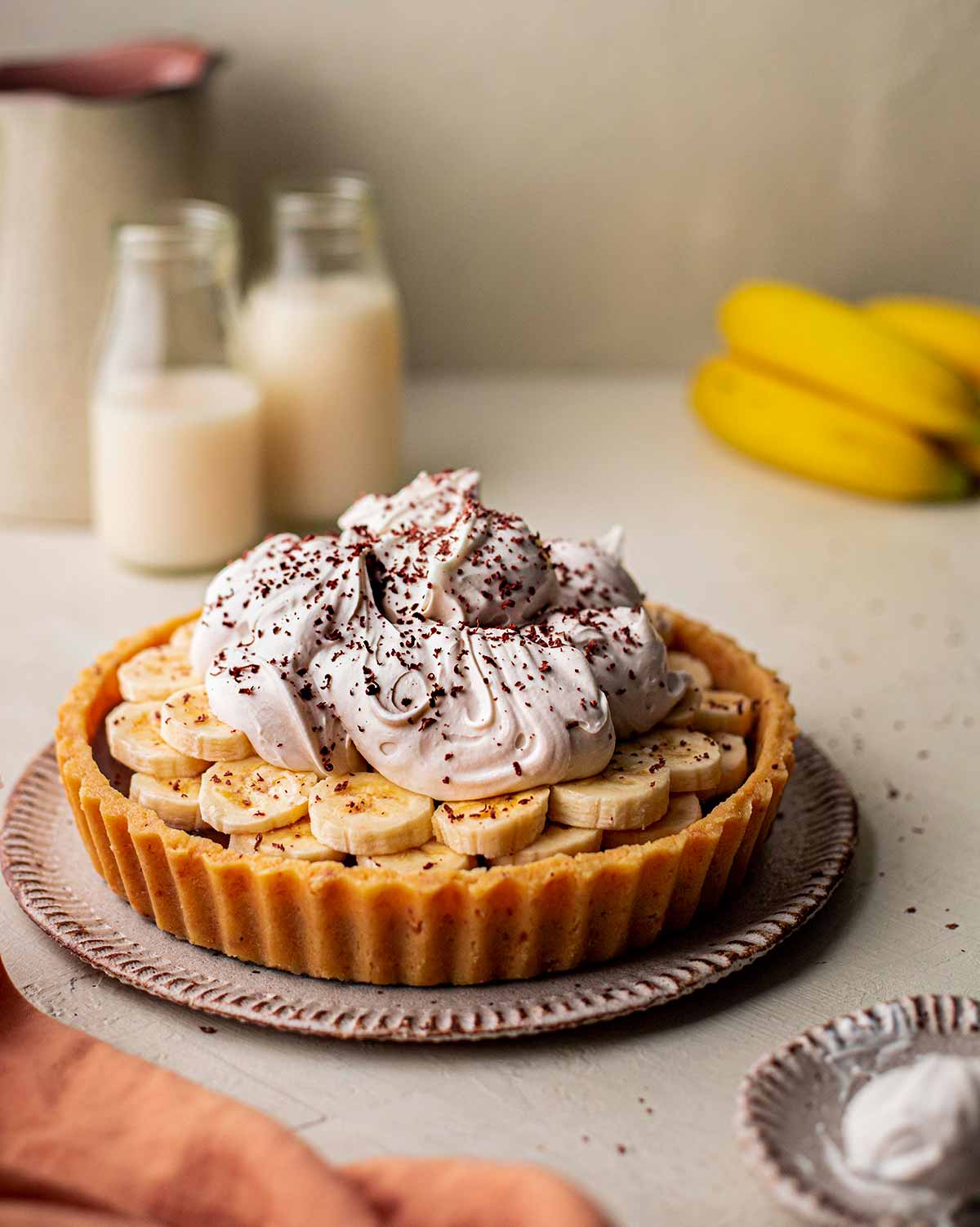 This banoffee pie is one of the best vegan desserts you will ever make! It's exploding with lots of flavors and textures and is:
easy to make
indulgent
impressive to friends and family!
date-free
uses common pantry ingredients (no vegan condensed milk!)
egg free, dairy free and can be made gluten free
If you're craving a vegan pie but prefer other flavor combinations, see my Easy Apple Crumble Pie, Chocolate Mousse Pie with Berries or Peanut Butter Jam Pie.
Making the graham cracker pie crust
This banoffee pie is completely nut-free and date free. Instead of a raw base, we're using a classic cookie crust! It'll melt in your mouth and complement the gooey caramel.
To make the base, add some vegan-friendly cookies to a food processor (or bowl) and crush them into fine crumbs. Alternatively, you can use graham crackers and a little sugar in place of the cookies. Add melted vegan butter (or coconut oil) and mix again.
If you want to make a gluten-free vegan banoffee pie, simply use gluten-free cookies!
The crust needs to be baked for 10 minutes to let it firm up.
Making vegan caramel without dates
This is the BEST banoffee pie because of the easy ooey-gooey vegan caramel! This caramel is made using 4 simple ingredients including:
Thick canned coconut cream:

Make sure that you use the solid creamy stuff at the top of your can! If you use a runny coconut cream, your caramel will not set. Or you can use dairy free whipping cream :).

Dark brown sugar or coconut sugar to give the caramel the sweetness it deserves! I don't recommend using light brown sugar or regular sugar (unless you add some molasses) unless you are happy with a lighter coloured caramel.
Corn flour / starch as a flavour-free thickener
Vegan butter / margarine for that indulgent butterscotch toffee flavour.
Unlike other banoffee pies, you don't need a blender or dates or condensed milk (aka Carnation milk)!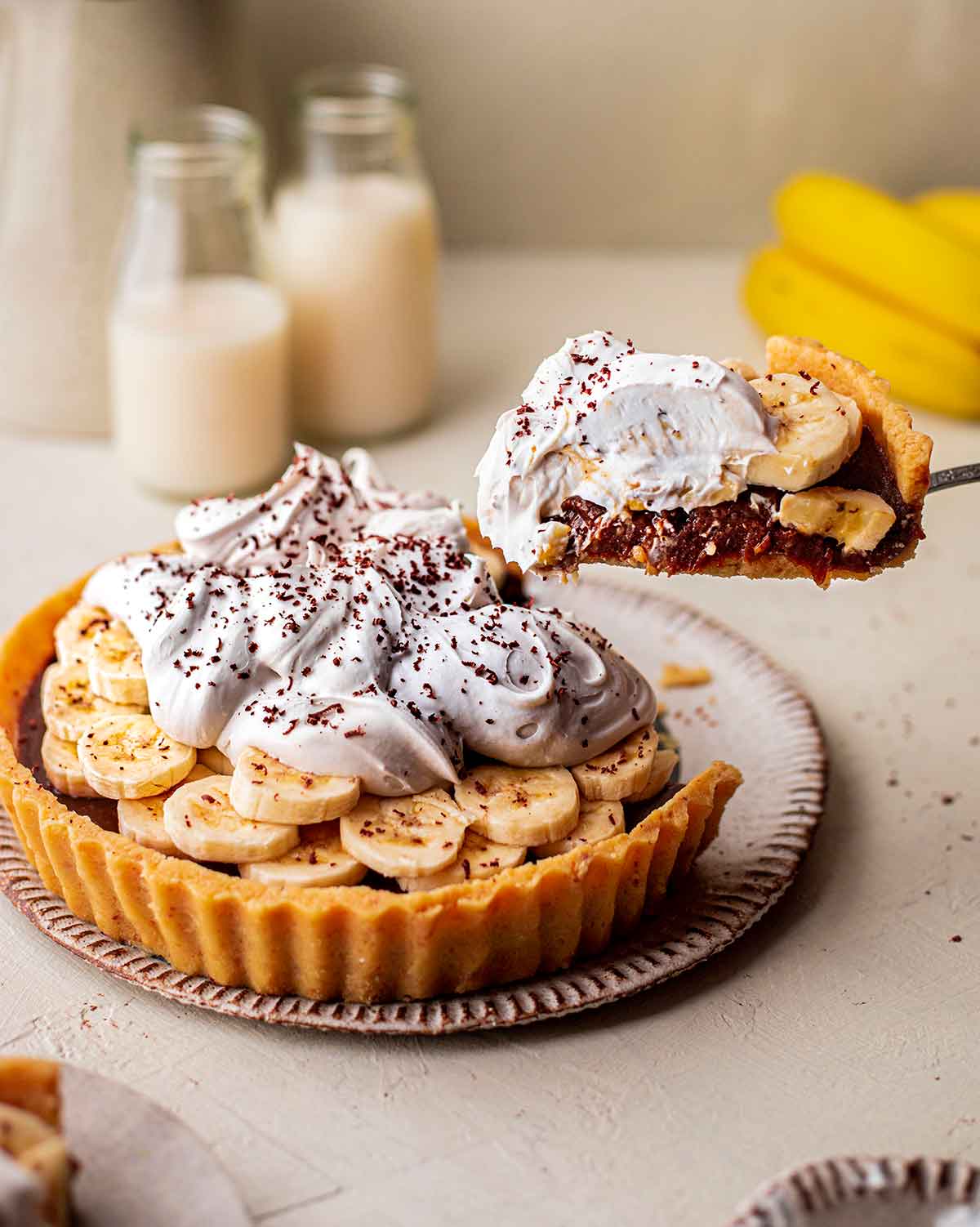 The caramel only needs to be cooked for 10 minutes until slightly thickened. It will thicken a lot more when it cools down!
Your caramel is ready when it thickly coats the back of a spoon. If you'd like further reassurance, drop some of the caramel in iced water, wait for 5-10 seconds and see if the caramel's consistency is to your liking.
The final caramel is lovely and gooey which doesn't run out of the sides!
Assembling the banoffee pie
I topped the toffee/caramel layer with 3 bananas which I found to be enough! I made sure my bananas were ripe because they're sweeter!
The pie can be topped with any dairy-free whipping cream.
I used thick scoopable coconut cream to top my pie. If you want to use coconut cream, make sure you buy a brand that is designed for whipping or a brand that has a large amount of thick cream compared to water. I chilled my can in the fridge overnight and scooped out only the thick cream.
Customising the banoffee pie
To make a vegan GLUTEN FREE banoffee pie, simply use gluten-free cookies in the base.
To take this pie to the NEXT LEVEL, add ½ cup of smooth Biscoff spread to the caramel. Combining Biscoff with caramel and banana is a real dream come true!
Can this pie be assembled a day in advance?
If you need to make this pie in advance, I'd recommend making only the crust and filling it with the caramel.
Why? Bananas oxidize and brown over time. And whipped cream doesn't always maintain its peak 'whipped fluffiness' overnight.
So, I'd recommend assembling the final pie a few hours before you serve it!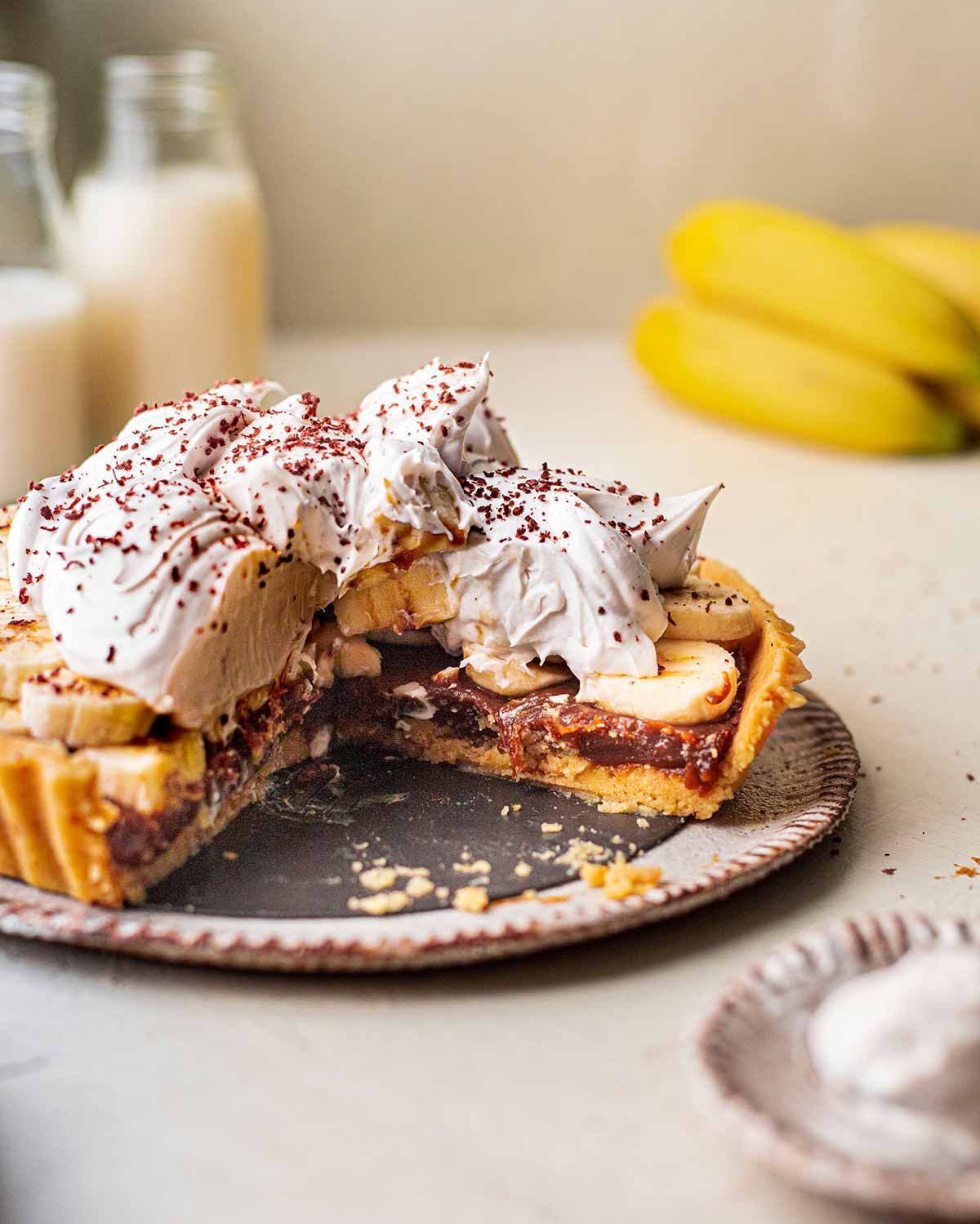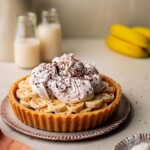 Print Recipe
Vegan Banoffee Pie
The BEST vegan banoffee pie with an easy graham cracker crust and no date caramel. An absolute taste explosion!
Instructions
To make the crust:
Preheat your oven to 180°C (350°F).

Add the cookies to a food processor and pulse until fine crumbs. Add the melted butter and pulse until combined. Firmly press the mixture into the bottom of a 20 cm (8 inch) greased pie dish.

Bake your pie crust in the oven for 10 minutes or until slightly golden brown. If your crust has sunk a little, simply use a spoon to level the crust again while it's warm.
To make the filling:
Add the sugar, coconut cream, corn flour / starch and butter to a medium-size saucepan over medium heat. Simmer the mixture for 10 minutes and set aside to thicken (note 2).

The caramel is ready when it thickly coats the back of a spatula. If you want to test the consistency of the caramel, drop a little caramel in a glass of iced water and wait 5-10 seconds. This will predict the consistency of your caramel!

When the caramel has cooled down slightly (just not boiling hot), pour it into the graham cracker crust and set aside to chill in the fridge for at least 2 hours.
To assemble:
When the caramel is slightly firm to the touch, you can assemble the rest of the pie.

Whip your dairy-free cream according to packet instructions.

Layer the bananas on top of the caramel. Spoon the whipped cream on top and decorate with shaved chocolate if desired.

Serve the pie immediately or store in the fridge for a few hours until needed. Leftovers can be kept in the fridge for up to 2 days.
Notes
For a graham cracker crust, use 200g of plain graham crackers and 3 tablespoons of granulated sugar of choice.
If you heat the caramel too high, it may seperate. However, this is easily fixed! Allow the caramel to cool down then mix the oil back into the caramel.
Nutrition
Serving:
1
slice
|
Calories:
441
kcal
|
Carbohydrates:
49
g
|
Protein:
3
g
|
Fat:
28
g
|
Cholesterol:
3
mg
|
Sodium:
209
mg
|
Potassium:
298
mg
|
Fiber:
2
g
|
Sugar:
27
g
|
Vitamin A:
366
IU
|
Vitamin C:
4
mg
|
Calcium:
13
mg
|
Iron:
2
mg
This recipe was originally published in September 2018 but updated in May 2021.
This post may contain affiliate links. As an Amazon Associate, I may earn a small commission from qualifying purchases at no additional cost to you.