Vegan apple crumble pie with a crunchy golden oat crumble. Also known as a Dutch apple pie, this is easy to assemble and uses only common ingredients! no weird ingredients and perfect for a cozy day!
If you're more of a 'top AND bottom crust' kinda person, check out my classic vegan apple pie. Or skip the top and make my vegan apple tart!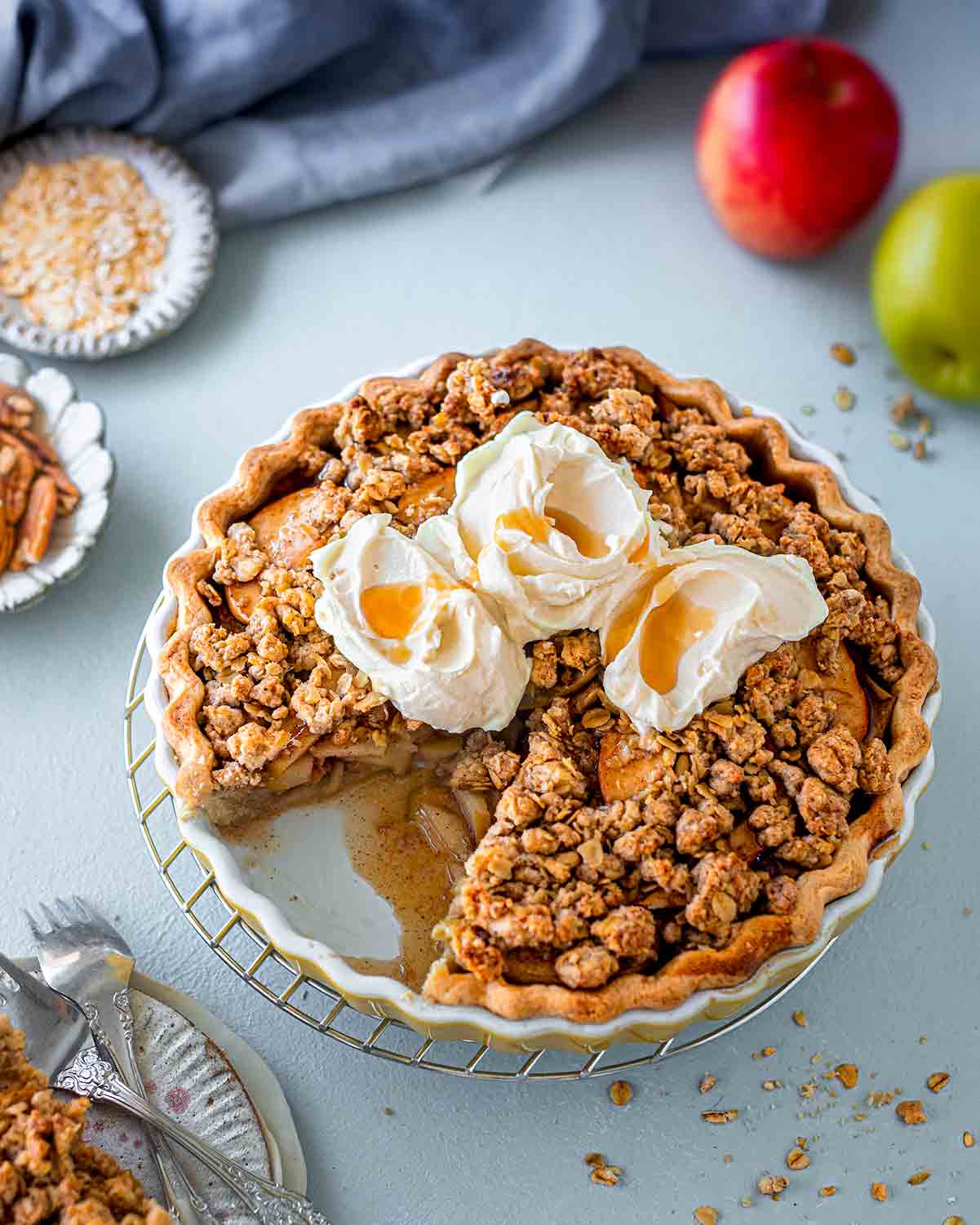 This vegan apple crumble pie or Dutch apple pie is:
automatically egg free and dairy free
easier to make than your average vegan apple pie
100% better than store-bought vegan apple pies!
perfect as an Autumn or Fall dessert
like a warm hug from your insides!
Normally, the hardest thing about making a pie is the pastry. However, with this recipe we're covering all the pastry with apples then topping it with a delicious crumble! If it's messy, it doesn't matter. The effort to reward ratio is in your favor :).
If you're more of a cake person, see my recipes for Vegan Apple Cake with Pecan Crumble or Easy Vegan Apple Bread Loaf. Or if you prefer a lighter tart, see my No Fuss Pear Filo Tart.
Key ingredients for this easy vegan pie
You'll need common ingredients including:
Flour
Vegan butter, margarine or coconut oil
Regular, brown and/or coconut sugar.
Green Granny Smith apples, red apples or both
Cinnamon and other spices if desired
Corn flour/starch
If you're in a rush, use store-bought shortcrust pastry which is vegan-friendly. Most supermarket shortcrust pastry are accidentally vegan as they use vegetable shortening rather than butter.
And that's it! It really is 'easy as apple pie'.
How to make the pastry and apple pie filling
To make the vegan pie crust, simply add all ingredients to a food processor and pulse until combined. If you used vegan margarine spread like me, you may need to add a little more flour. If your pastry is very soft, chill it in the fridge until it's firm enough to be rolled out.
Some of the pastry is reserved for the crumble topping which makes this pie effortless :).
For the pie filling, simply add all ingredients to a bowl and toss until combined. It doesn't need to be pre-cooked!
How to make the EASY crumble
I 100% prefer a crumble topping rather than a normal pie crust. It's easier and adds sooo much texture to the apple pie!
The easiest way to make the crumble is just to use (and crumble) the leftover pastry made in the previous step.
However, to take your crumble to the next level, you can add oats, chopped pecans or almonds! I also added a little more sugar to help further caramelize the crumble :).
Assembling the vegan apple pie
Liberally grease your pie dish or tart tin. I used the little parchment paper that came with my vegan butter to grease my pie dish.
On a floured surface, roll out your pastry so it's a little bigger than your pie dish. The easiest way to transfer your pastry to your pie dish is to gently collect or roll it around your rolling pin. Place the rolling pin on top of your pie dish then unroll the pastry! The pictures below show how I did it.
Trim off your excess pastry using a knife or scissors. Don't throw away the excess as we'll be using it for the crumble! You can leave your pie edge as is or crimp it. This Youtube video is a good guide on how to crimp the edges!
Then prick the bottom with a fork. This allows any excess air to escape when we bake it!
The pie crust does NOT need to be blind-baked. It stays crisp even with the apple filling :).
I PILED my pie with apples. They will shrink from baking so I wanted to make sure my vegan apple pie was completely full. Then sprinkle your crumble on top :).
Serving your vegan apple pie
The pie is best served warm or hot and is delicious with thick dollop cream, vegan whipped cream or dairy-free ice cream!
If you don't eat the pie all in one go, leftovers keep very well in the fridge. Simply reheat it in the oven at a lower temperature until the filling is hot!
More vegan apple desserts
Follow Rainbow Nourishments on Instagram, Facebook, TikTok and Pinterest, and subscribe via email to receive all of our latest recipes!
Print Recipe
Easy Apple Crumble Pie
Vegan apple crumble pie with a crunchy golden oat crumble. Easy to assemble, no weird ingredients and perfect for a cozy day!
Instructions
Preheat oven to 180°C (350°F). Grease a 23 cm (9 inch) pie dish.
Pastry:
Mix all the pastry ingredients in a medium size bowl or food processor. If the mixture is too crumbly, add some extra water and mix until it becomes a pliable dough. If the mixture is too wet, add a little more flour and mix again. Set aside ⅓ of the dough.

On a floured surface, roll out the pastry into a thin circle about 5 mm (¼ inch) thick. Transfer the pastry to your pie dish and press it against the base and sides to form a crust.

Trim off the excess pastry and crimp the edges if desired. Prick the bottom with a fork to let hot air escape when baking.
Filling:
Toss all ingredients in a bowl until combined. Scoop the mixture into the pie dish and set aside.
Crumble:
Add the oats (and nuts if using) and additional sugar to the reserved pastry. Rub with your fingers to create a crumble. Sprinkle the mixture on top of your apples.

Bake the pie in the oven for 40-50 minutes or until the apples are tender and pastry is golden brown.

Serve with a few dollops of cream or ice cream. Enjoy!
Notes
If you only have access to vegan margarine/spread, use only ⅔ cup (150g) and less or no water.
Apples were weighed after they were cored and still had their skin on. You're welcome to peel your apples if you prefer.
Nutrition
Serving:
1
slice
|
Calories:
297
kcal
|
Carbohydrates:
62
g
|
Protein:
5
g
|
Fat:
5
g
|
Sodium:
6
mg
|
Potassium:
176
mg
|
Fiber:
4
g
|
Sugar:
27
g
|
Vitamin A:
44
IU
|
Vitamin C:
4
mg
|
Calcium:
35
mg
|
Iron:
2
mg
This post may contain affiliate links. As an Amazon Associate, I may earn a small commission from qualifying purchases at no additional cost to you.