Vegan raspberry bars which are just like bounty bars but with raspberries! These treats are easy to make, no bake, refined sugar free and gluten free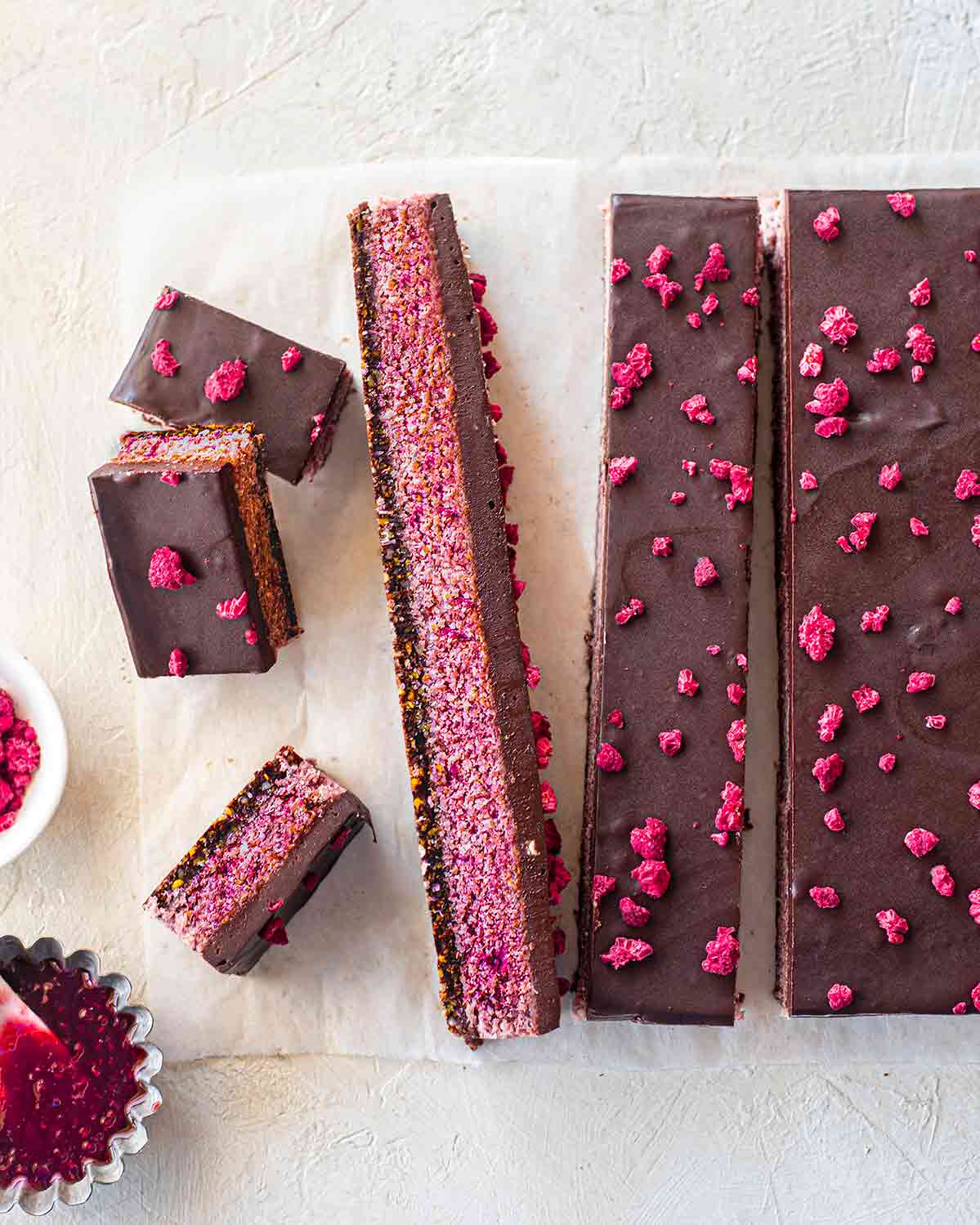 When I owned a cake business and provided treats to cafes all around Canberra, we'd make batches of these vegan raspberry slice every fortnight! This recipe is quite similar to what we used to make and sell. They are:
Wholesome and healthy
Packed with coconut (like a bounty) but not overpowering
Not too sweet as they are refined sugar free
Perfect for an afternoon pick-me-up!
Basically an easy vegan raspberry bounty bar!
Is this a raw vegan recipe?
These vegan raspberry bounty bars are no bake but technically not raw. I used roasted almonds instead of raw because I prefer their flavor. I also reduced the raspberries on the stovetop to intensify their flavor.
If you want a 100% raw vegan bar, I'd recommend you:
Use raw almonds instead of roasted
Dehydrate the raspberries for about 4 hours until they are jammy (but not so much that they are chewy). Or skip this step and use less coconut cream (it may result in a softer slice).
How to make these vegan raspberry bars
Unlike baked vegan sponge cakes, unbaked bars are usually fool-proof and super easy to make! You don't have to worry about the cake collapsing, not cooking properly or not rising.
For this vegan raspberry bounty bar, all you need to do is:
Make and press down your chocolate nut layer
Make and press down your raspberry coconut layer
Melt and pour over your chocolate ganache layer on top
Cut and enjoy!
How to get extremely flat and smooth layers for unbaked slices and bars
One of the MOST frequent questions I get about no bake desserts is: 'How do you get those insanely 'perfect' and even layers'?
My secret is using a flexible cake scraper to flatten each layer! It has more surface area than a spoon or spatula or most kitchen items. Unlike a metal cake scraper, a silicone or plastic cake scraper has more leeway (so it won't just push your layers everywhere) and is easier to use.
Also, when you press your fillings into the tin, I'd recommend you press them in as FIRMLY as possible. Any gaps or wholes will be a structural weak point and will crumble when you cut into your raw vegan bar.
To get a very smooth ganache layer, make sure it's evenly and well melted. Pour it into your cake tin then IMMEDIATELY swivel the ganache around the cake tin. This forces the ganache to reach all corners of the tin. If you let the ganache cool too quickly, it'll be hard to spread!
The best way I can describe the 'swivel' action is.... it's like when you used to play portable pinball-like games when you were young and you wanted the ball to fall down a particular hole... See, playing games back them DO come in handy!
How to neatly cut an no bake slice or bar
Now that we've put in all that time and effort into making the slice (okay, only 20 minutes), we don't want to mess it up when cutting it, you know?!
I've cut thousands of slices and raw vegan cheesecakes over the years and my top tips for neat slices are:
Tip 1: Make sure the slice is very cold before you slice it. The more firm the layers are, the less they are likely to crumble.
Tip 2: Use the sharpest knife you have! I used my Global Chef Knife which I sharpened before I cut into this unbaked slice.
Tip 3: Wipe down your knife between each cut. After you make one cut, your knife will probably have crumbs and chocolate on it. If you don't wipe it down, the crumbs will appear on top of your next slice.
An *advanced* tip for neat slices
It helps if the knife is hot/ warm but dry. The heat from the knife creates a neater cut and just makes it easier to cut through it. However, it should be dry to avoid any smudging between the layers.
You can make your knife's blade hot/warm by running it under hot water (or dipping it into a tall jar of water) then drying it with a tea towel. Or you can use a blow torch to warm up the blade of your knife.
I hope you love these raspberry bounty bars!
Check out my other no bake vegan recipes
Follow Rainbow Nourishments on Instagram, Facebook, TikTok and Pinterest, and subscribe via email to receive all of our latest recipes!
Print Recipe
Vegan Raspberry Bars
Vegan raspberry bars which are just like bounty bars but with raspberries! These treats are easy to make, no bake, refined sugar free and gluten free
Ingredients
Base
1 ½

cup (160g)

roasted or raw almonds

,

or any other nut/seed

¾

cup (150g)

pitted dates

,

if they are dry, soak them in warm water for at least 2 hours

¼

cup (25g)

cocoa or raw cacao powder

Pinch of

salt
Raspberry Coconut Filling
Chocolate Ganache topping
Instructions
To make the base: Add the almonds (or other nuts/seeds) to a food processor and process until it forms coarse crumbs. Drain the dates. Add the remaining base ingredients to the food processor and process until everything is combined. The mixture should stick together when it is pinched between two fingers.

Line a 23 cm (9 inch) square baking tin or container with baking paper. Press the base mixture into the tin to cover the bottom. Set aside.

To make the filling: Add the raspberries to a small saucepan over medium heat. Simmer for 5-10 minutes or until the mixture has intensified and formed a jammy mixture.

Add the raspberries and rest of the filling ingredients to a large mixing bowl. Mix until well combined. Firmly press the mixture into the baking tin on top of the chocolate crust.

To make the topping: Add the chocolate and coconut cream to a small saucepan or double boiler over low heat. Mix until melted and smooth. Pour the ganache over the slice and immediately swivel the tin so the ganache is spread evenly. If desired, sprinkle the freeze-dried raspberries on the wet chocolate. Cover the slice and set it aside in the fridge for 2 hours or until very firm.

Remove the slice from the tin. Use a sharp knife to cut the slice as desired. Enjoy immediately or store in an airtight container in the fridge for up to 5 days or in the freezer for up to 1 month.
Nutrition
Calories:
243
kcal
|
Carbohydrates:
17
g
|
Protein:
3
g
|
Fat:
20
g
|
Sodium:
9
mg
|
Potassium:
219
mg
|
Fiber:
5
g
|
Sugar:
10
g
|
Vitamin A:
7
IU
|
Vitamin C:
5
mg
|
Calcium:
36
mg
|
Iron:
1
mg
This post may contain affiliate links. As an Amazon Associate, I may earn a small commission from qualifying purchases at no additional cost to you.