Creamy avocado tart with a buttery chocolate shortcrust pastry and a rich avocado chocolate mousse filling. This tart is vegan, refined sugar-free and can easily be made gluten-free!
Why you'll love this recipe
FLAVOR/TEXTURE: A rich, smooth and silky chocolate avocado mousse complemented by a crunchy pastry.
WHOLESOME AND INDULGENT: The avocado mousse uses healthier ingredients and you can choose between a buttery pastry or healthier alternatives.
Ingredients you'll need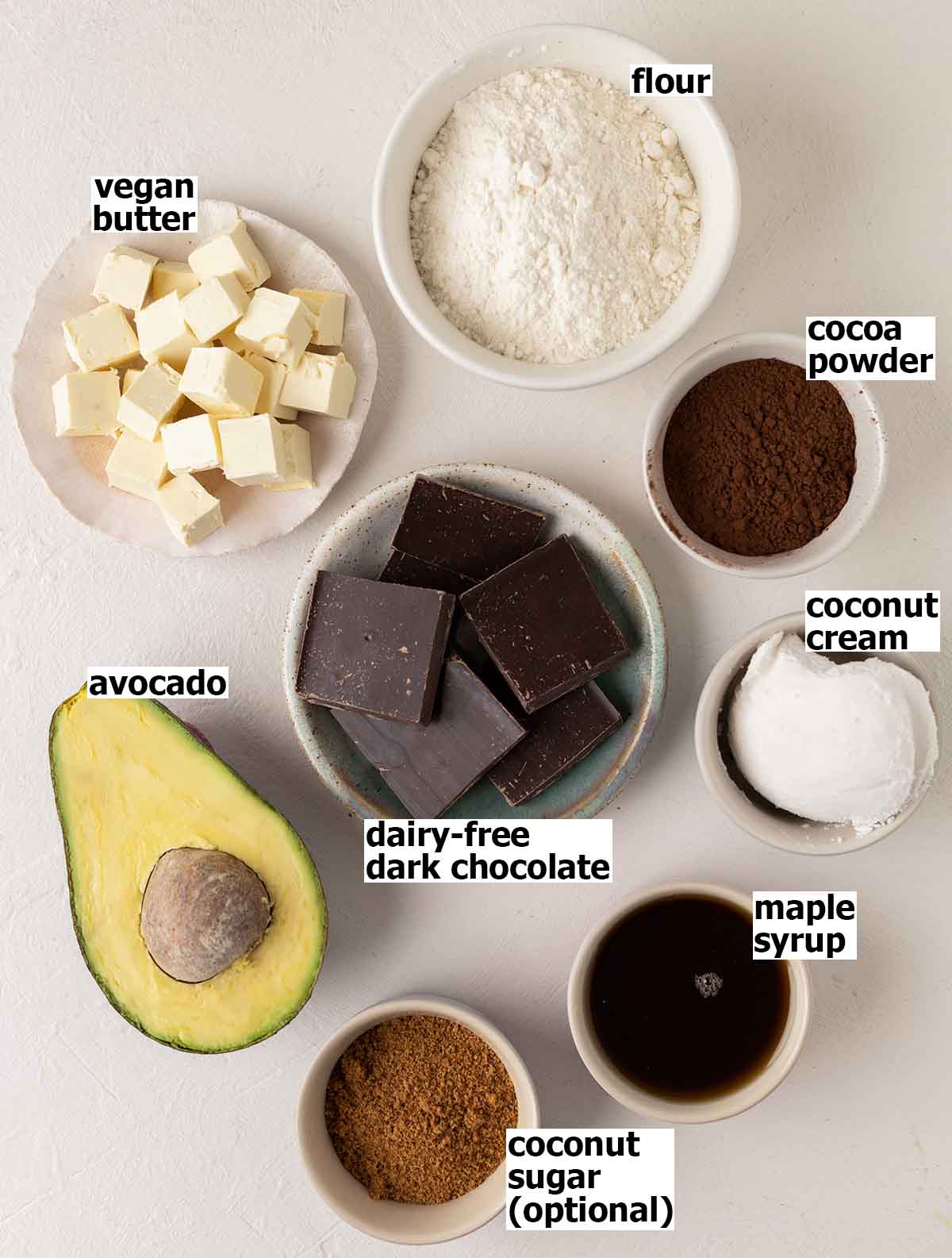 Notes about the ingredients
Flour, butter and coconut sugar for the shortcrust pastry. If you need a gluten-free crust or don't want to use butter, I've included other options at the bottom of this post and in the recipe card.
Avocado. I recommend using a very ripe avocado as it will blend easier. If you don't like avocado, check out my chocolate tofu tart.
Semi-sweetened dark chocolate helps set the avocado chocolate mousse filling.
Unsweetened cocoa powder for a richer chocolate flavor.
Maple syrup to sweeten the avocado chocolate mousse. Alternatively, you can use another liquid sweetener, more coconut sugar or another granulated sweetener.
Coconut cream balances the richness of the avocado mousse and minimizes any possible avocado flavor. The coconut flavor is not noticeable but you can use dairy-free milk if you prefer (quantities are listed in the notes of the recipe card).
The full list of ingredient quantities and instructions are in the gray recipe card at the bottom of this post.
Making the chocolate shortcrust pastry
The tart base is easy to make, even if you've never made pastry before!
Simply add all the ingredients to a food processor and blend until it's JUST combined. Add a dash of water if the pastry isn't sticking together or a little flour if the pastry is a little sticky.
If you don't have a food processor, you can mix all the ingredients in a bowl with a spoon. Just make sure there are no chunks of butter!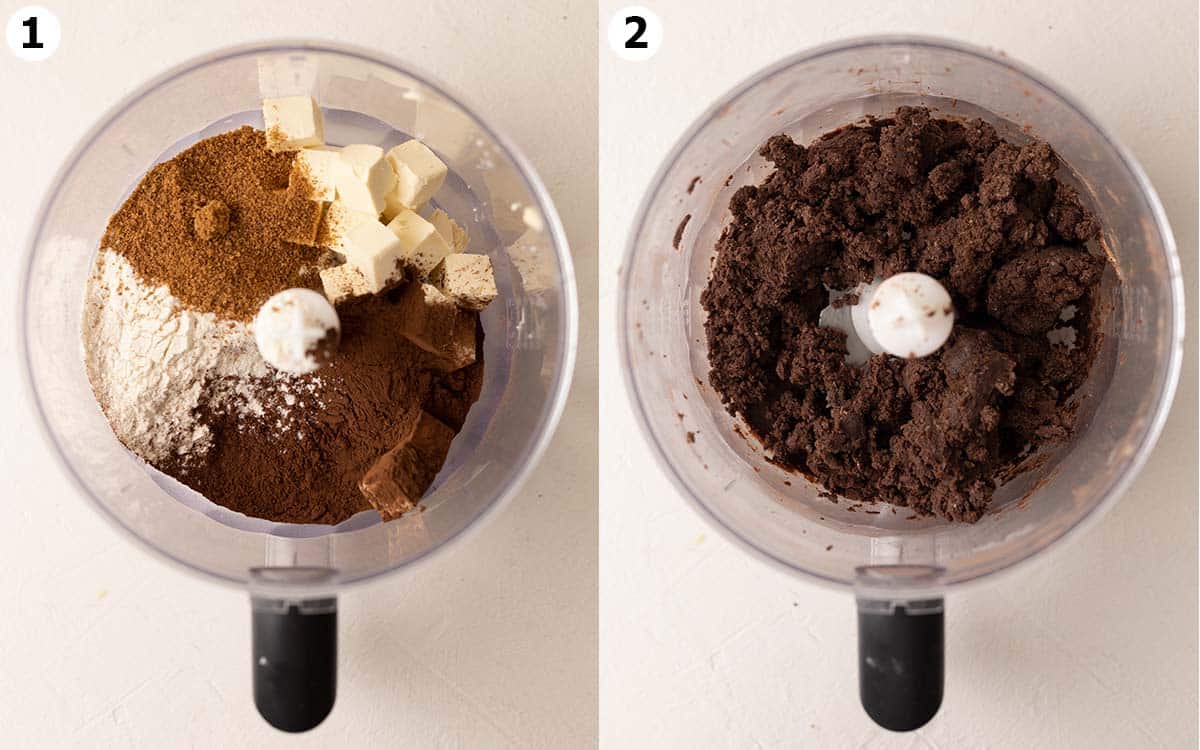 To transfer the pastry to your tart pan, you can either:
Roll out the pastry on a floured surface then transfer it to your tart pan OR
Dump the mixture directly into your tart part and press it against the bottom and sides.
Once you've done this, prick the bottom with a fork then bake it for 10-15 minutes.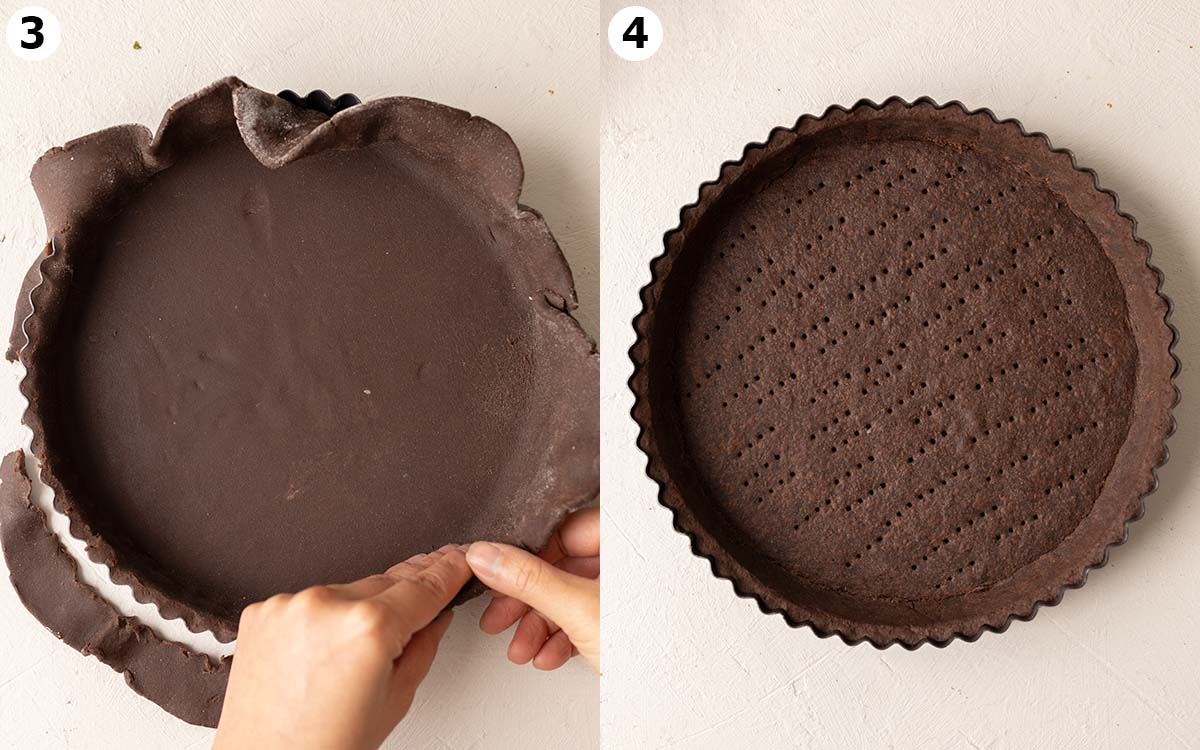 Making the avocado chocolate mousse
The avocado tart filling combines a classic avocado chocolate mousse (avocado, cocoa powder and maple syrup) and chocolate ganache (chocolate and coconut cream). This makes a balanced tart filling that is not too bitter and not too heavy.
First, melt the chocolate and coconut cream in a small saucepan. Then combine the mixture with all the other ingredients in your food processor (or use a blender).
The consistency of your final mixture will depend on the temperature of your ingredients and whether you're making this on a hot or cold day. If you're making this on a cold Winter day, your mixture may separate - don't worry, just warm up a small portion of the filling then mix it again.
Pour your avocado mousse filling into your tart pan then put your tart in the fridge to set!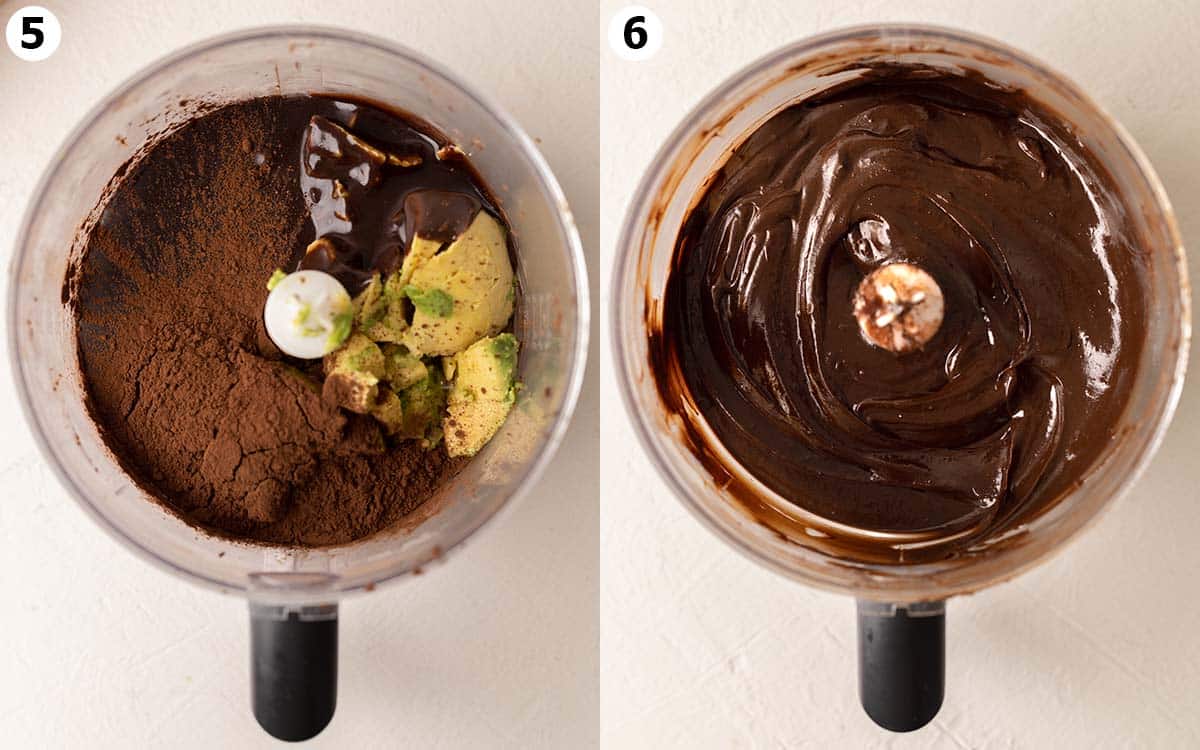 Decorating this avocado tart
This tart is wonderful by itself with no decorations!
However, for a touch of color and to balance the richness of the chocolate avocado mousse, I decorated mine with fresh berries and pistachios. You can also decorate your tart with:
A light dusting of cocoa powder
Shredded coconut
Shaved chocolate
Whipped cream for example coconut cream
Chocolate chips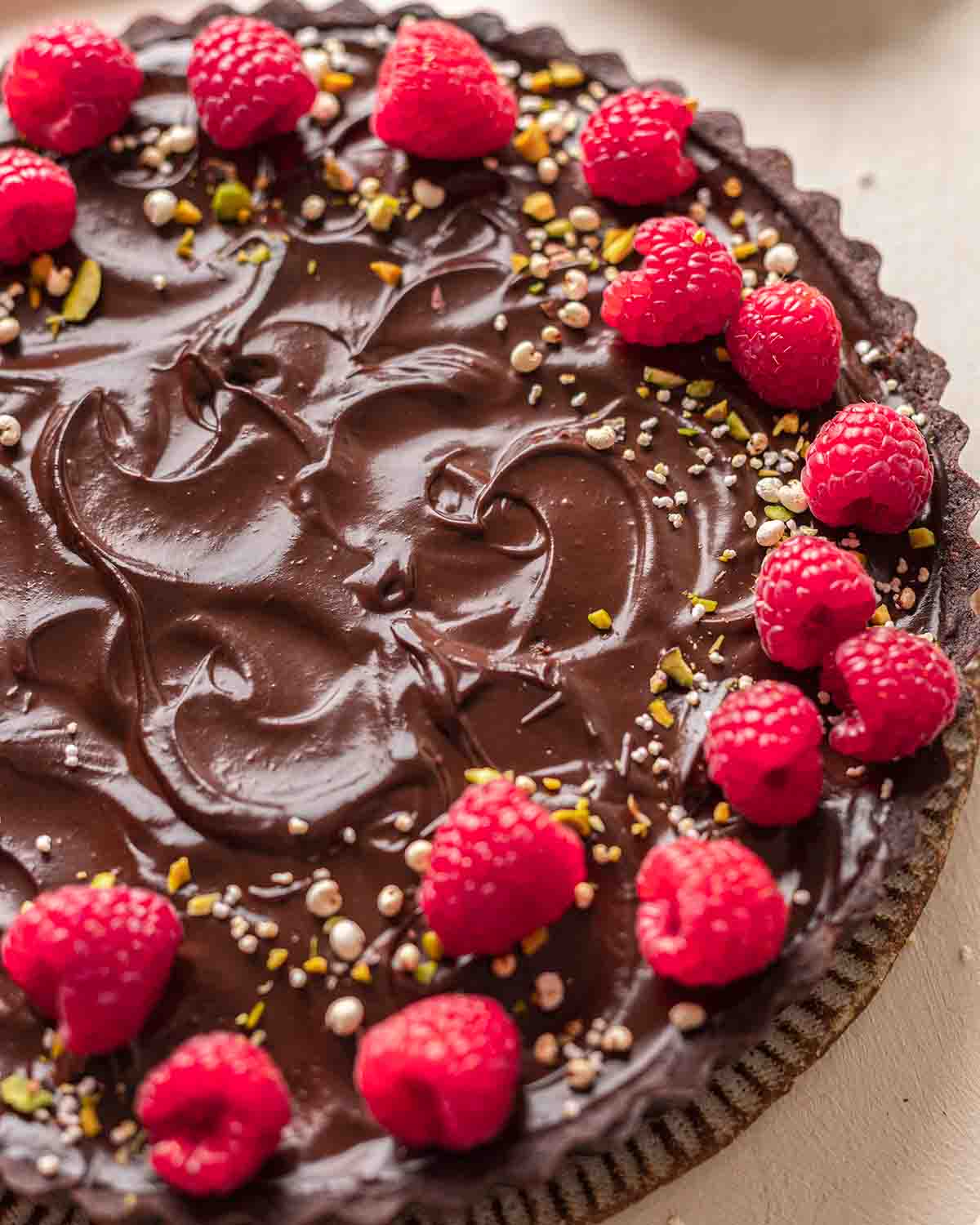 Customizing this avocado tart
Can I make a different base?
Yes! Some options are:
- No-bake nut and date crust from my tofu chocolate tart.
- Chocolate cookie crust made from chocolate cookies and butter from my peanut butter pie. I prefer baking the crust to make it more stable but if you don't mind serving the tart straight from the fridge/freezer, you don't need to bake it.
- Plain buttery shortcrust pastry from my vegan peach tart.
Can I make an avocado lime filling?
I haven't tried it but I recommend replacing the dark chocolate with vegan white chocolate and adding lime juice and lime zest, to taste. Omit the cocoa powder and make sure you use a light-colored sweetener so your tart is a beautiful green color!

Alternatively, check out my vegan grasshopper pie which uses avocado.
More vegan chocolate desserts
Follow Rainbow Nourishments on Instagram, Facebook, TikTok and Pinterest, and subscribe via email to receive all of our latest recipes!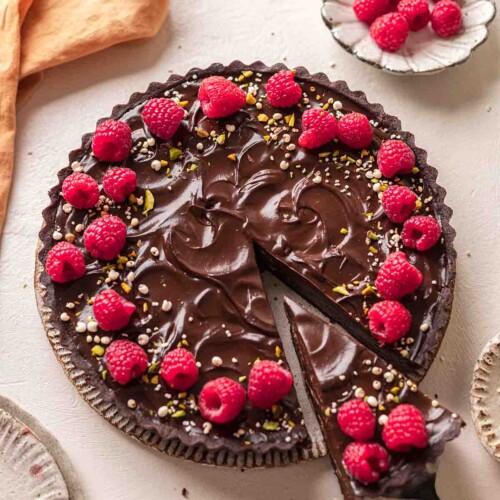 Print Recipe
Avocado Chocolate Tart
Creamy avocado tart with a buttery chocolate shortcrust pastry and a rich avocado chocolate mousse filling. This tart is vegan, refined sugar-free and can easily be made gluten-free!
Ingredients
Chocolate shortcrust pastry
Chocolate avocado mousse filling
Decorations (optional)
~1

cup (120g)

fresh raspberries

,

strawberries or as desired
Instructions
To make the base:
Preheat your oven to 180°C (350°F).

Add all the pastry ingredients to a food processor. Mix until combined and there are no more chunks of butter. Add 1-3 tablespoons of chilled water and mix until the dough is soft and pliable but not sticky.

On a lightly floured surface, use a rolling pin to roll out your pastry into a large circle about ¼ inch (5mm) thick. Transfer the pastry to a 9-inch (20cm) tart pan. Alternatively, you can dump the pastry directly into your tart pan.

Press the pastry against the bottom and sides of the tart pan to form a crust. Trim off the excess. If there are any holes, patch it up with the remaining pastry.

Prick the bottom of the tart shell with a fork. Bake the crust for 10-15 minutes or until dry to the touch. If the tart puffs up or collapses in areas, use a spoon to press it back, while the tart is hot.in
To make the filling:
Melt the chocolate and coconut cream in a small saucepan or a double boiler.

Add all the filling ingredients to your food processor. Blend until the mixture is as smooth as possible. Taste test the avocado mousse and add more sweetener or cocoa powder if desired. Note that the mousse will firm up when you chill the tart.

Pour the mousse into your cooled tart base. Place the tart in an airtight container in the fridge for 4 hours or until the filling is set.
Decorate and storage:
Decorate the tart as desired. Serve immediately.

Store leftovers in an airtight container at room temperature for a few hours or in the fridge for up to 3 days. You can also freeze the tart without any decorations for up to 1 month.
Notes
To make the pastry gluten-free, you can either use a high-quality 1:1 gluten-free flour blend OR use ¾ cup (75g) almond flour and ½ cup (80g) gluten-free all-purpose flour which has xantham gum. You may need to add more flour or water to get the right consistency. The gluten-free pastry is more delicate and should be pressed directly into your tart pan.
Alternatively, you can use ⅓ cup (85g) of your milk of choice. I like using soy milk or almond milk.
Nutrition
Serving:
1
slice
|
Calories:
378
kcal
|
Carbohydrates:
43
g
|
Protein:
5
g
|
Fat:
25
g
|
Sodium:
75
mg
|
Potassium:
326
mg
|
Fiber:
6
g
|
Sugar:
24
g
|
Vitamin A:
37
IU
|
Vitamin C:
3
mg
|
Calcium:
63
mg
|
Iron:
3
mg
This post was originally published in October 2019 and updated in 2022 with step-by-step images and tips.
This post may contain affiliate links. As an Amazon Associate, I may earn a small commission from qualifying purchases at no additional cost to you.