Easy vegan protein brownies made with only 6 ingredients and are incredibly easy to make! They are flourless, healthy yet fudgy and decadent.
These brownies are also refined sugar-free, gluten-free, naturally eggless, keto and grain-free!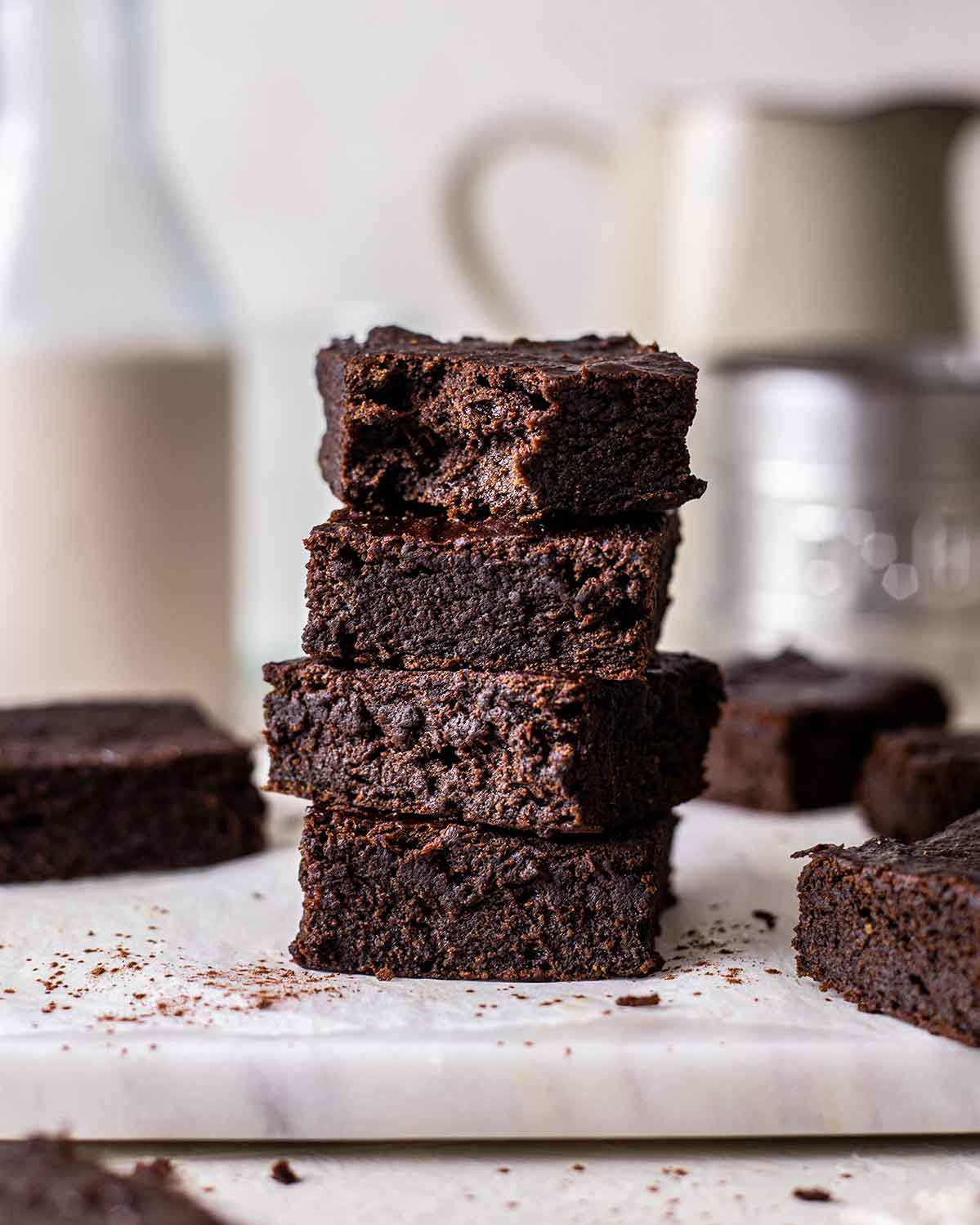 6 ingredients you'll need
Banana puree is our main sweetener and binder. I used banana puree instead of mashed banana because I didn't want chunks of banana throughout my chocolate treats! The banana puree gives the brownies a slight banana taste which helps balance out the taste of the protein powder.
Smooth natural peanut butter, as a source of protein and fat. This helps make the brownies rich, fudgy and oh so delicious.
Cocoa powder or raw cacao powder. I prefer using cocoa powder as it tends to give brownies a classic 'chocolatey' flavour whereas cacao powder can make baked goods a little bitter. You can read about the difference between cocoa and cacao powder at Taste of Home.
Vegan chocolate protein powder which is already sweetened. If your protein powder isn't sweetened, I'd recommend adding maple syrup.
Maple syrup (optional) for flavour and some sweetness. The banana adds a lot of sweetness but with a strong banana flavour. Instead of adding more bananas, I compensated with a little maple syrup. However, if you find your brownies sweet enough, you don't have to add maple syrup.
Baking soda helps the brownies rise a TINY amount so they don't have the texture of pure fudge. Many vegan protein brownie recipes don't have raising agents creating overly dense brownies (fudge in the shape of brownies). By adding a little baking soda, these brownies are closer to traditional brownies.
As always, the quantities of ingredients are at the BOTTOM of this post in the grey recipe card. For ingredient substitutions, see the FAQ at the bottom of this post.
How to prepare the protein brownies
These vegan protein brownies are awesome because you only need one bowl to make them. AND the raw batter is edible!
First, if you haven't pureed your banana, add them to your large mixing bowl and use a stick blender to puree them.
Simply add ALL your ingredients and mix until you have a smooth fudgy batter. The batter should be thick and slightly sticky. However, it shouldn't be too thick that it's hard to mix.
In this case, a thick brownie batter leads to more dense brownies. Conversely, a thinner brownie batter creates slightly cakier brownies. We want somewhere in between!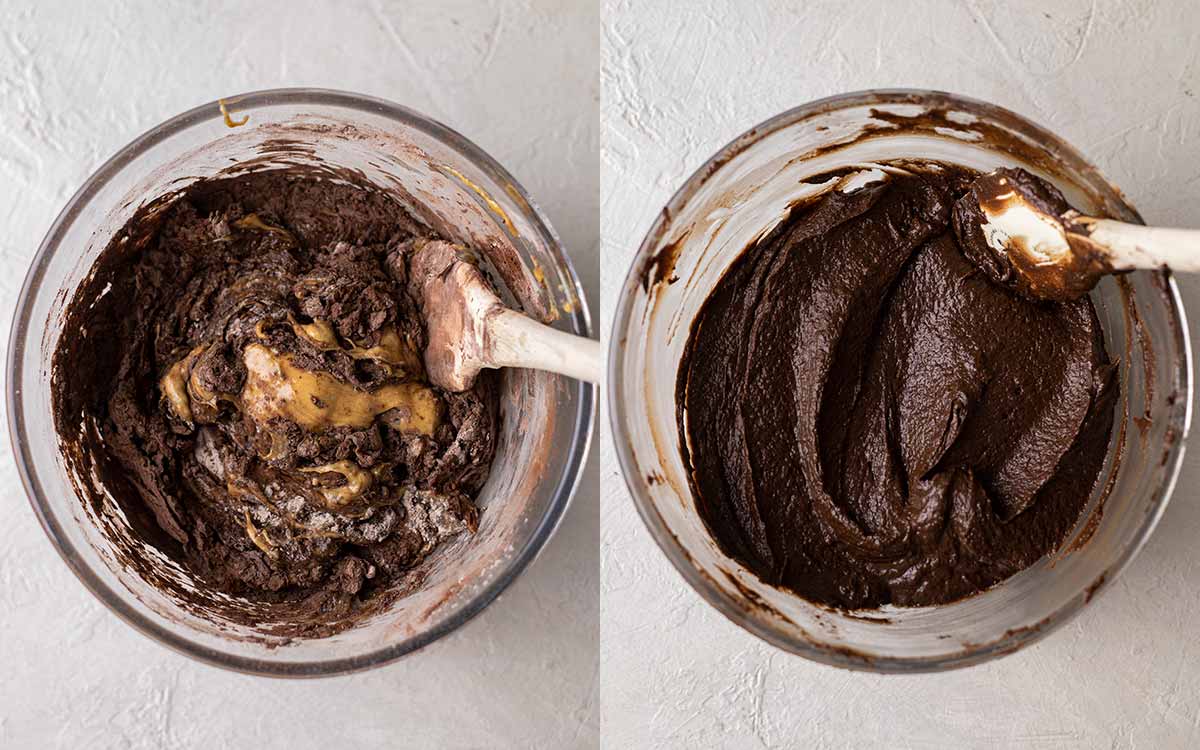 Decorating and baking the brownies
Simply pour the batter into a square baking pan and smooth the top with a spatula. You can bake the vegan protein brownies undecorated OR top them with sliced berries for a pop of colour and freshness!
The brownies took around 20 minutes to bake (give or take) every time I tested them. For fudgier and moist brownies, bake them for a little less time. Or for sturdier brownies, bake them for a little longer.
The brownies may puff up a little in the oven. They are ready when you can poke a skewer in the middle and there are some wet crumbs or a tiny smudge of batter. Unless you want to be eating unbaked batter with your brownies (I won't judge, it's delicious), make sure your skewer isn't coated in wet batter.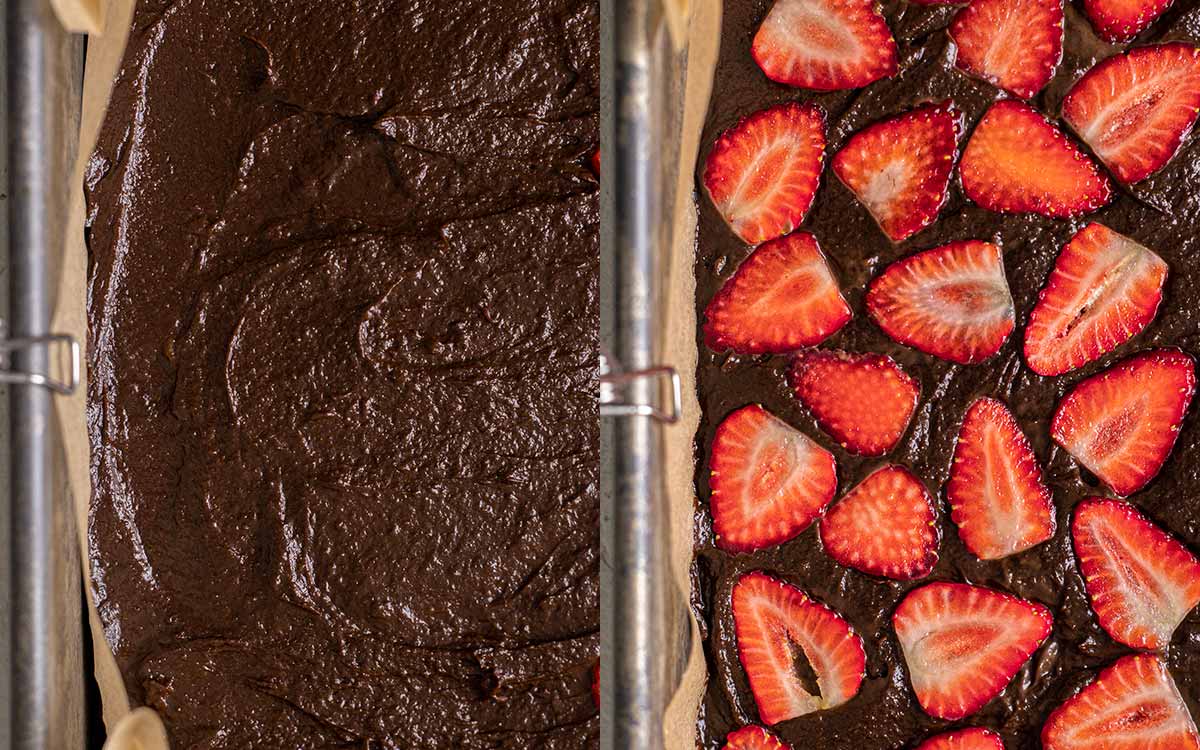 Customising this recipe
Can I use something instead of bananas?
Yes, you can use apple sauce instead! Pumpkin puree or sweet potato puree will work but your brownies won't be as sweet.
Can I use something except peanut butter?
Any other smooth nut butter (such as almond butter) or sunflower seed butter will also work. I haven't tried tahini, though I predict it'd have a very strong aftertaste!
What kind of protein powder can I use for these?
I tested these brownies with a vegan protein powder blend which is mostly pea protein and was sweetened with stevia. It worked well without the additional maple syrup.

I also tested these brownies with unflavoured protein powder (brown rice protein powder) and found the brownies needed a little extra sweetness. However, you can taste the raw batter and adjust as needed!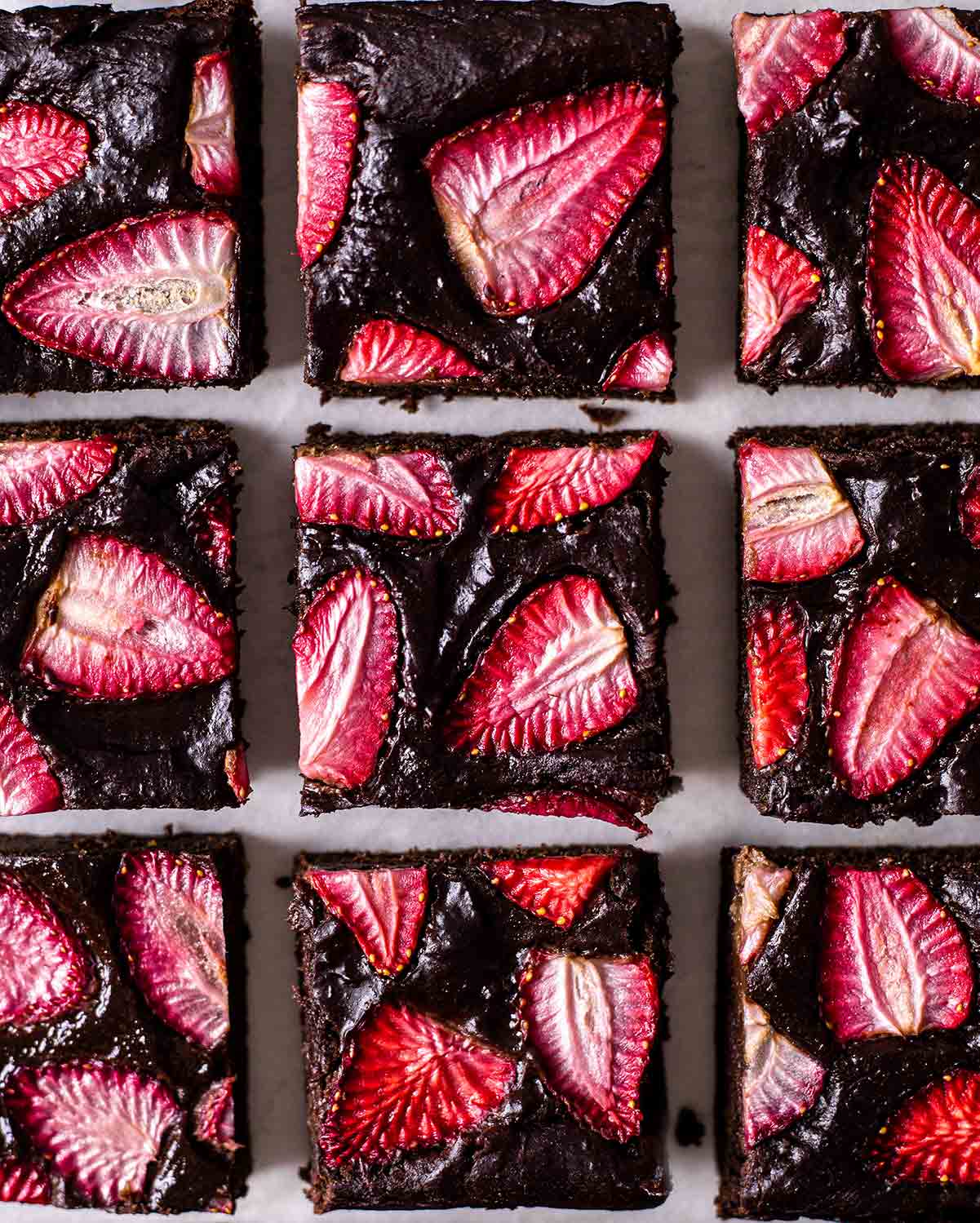 Can I add vanilla extract, vegan chocolate chips, nuts or other things to these brownies?
Yes! All of these will take this high protein vegan dessert to the next level :).
Can I use powdered peanut butter?
I haven't tested this recipe so can't vouch for results!
Can I serve these as mini protein bites?
Yes, these brownies are sturdy enough to be divided into mini bites!
How long do the vegan protein brownies last with the strawberries on them?
After 1-2 days, the strawberries tend to soak in the colour of the cocoa powder and lose their natural colour. This is only natural! However, they still taste delicious.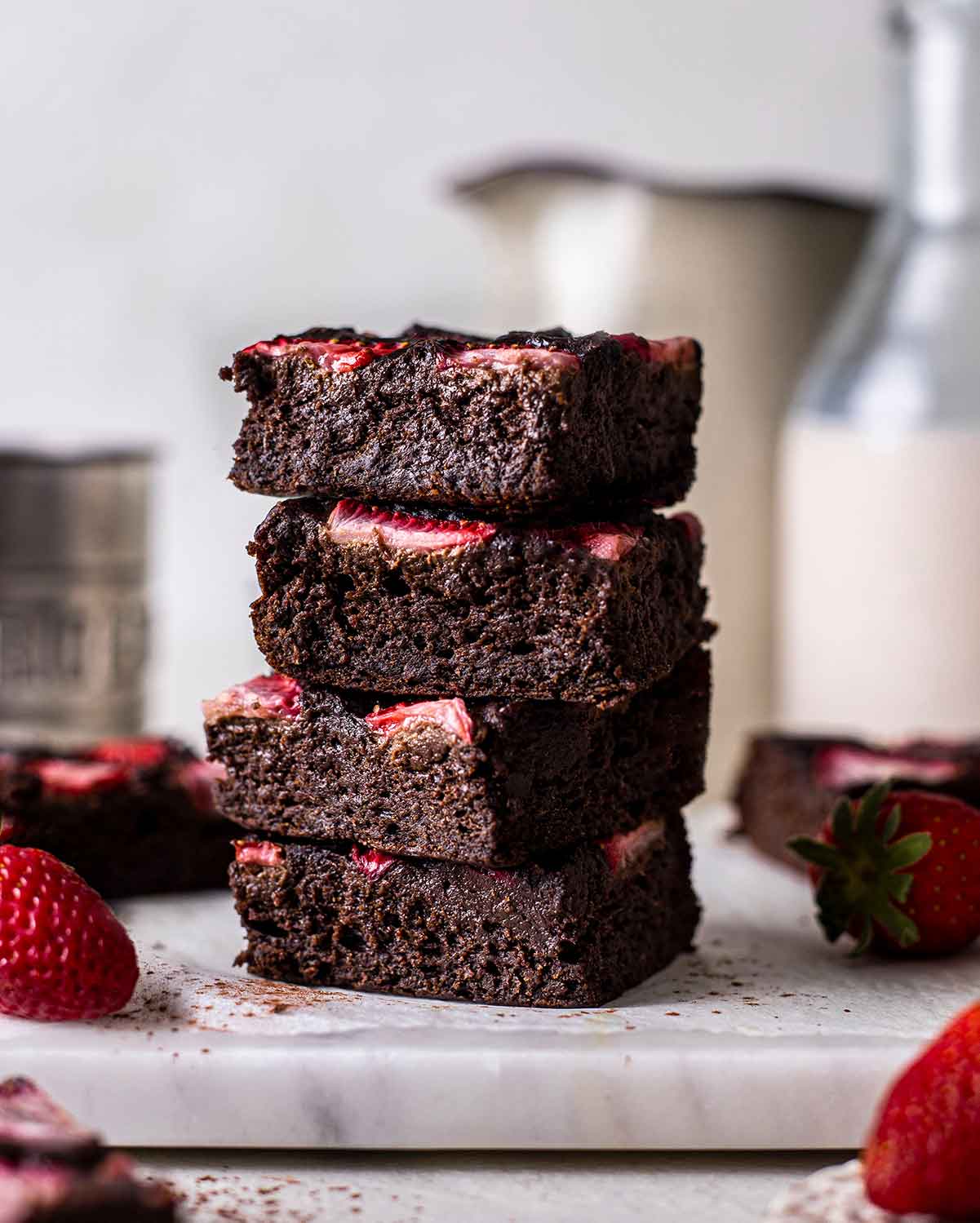 More healthier vegan brownies
Follow Rainbow Nourishments on Instagram, Facebook, TikTok and Pinterest, and subscribe via email to receive all of our latest recipes!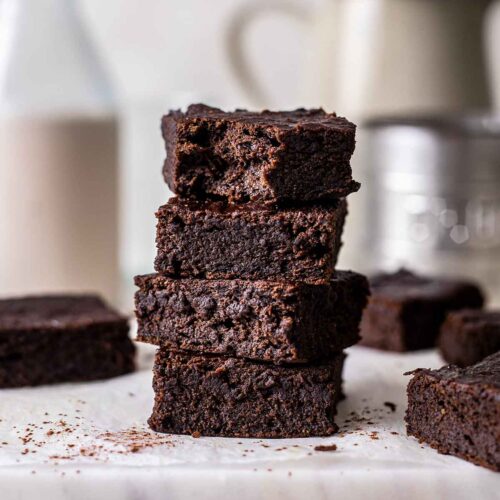 Print Recipe
Vegan protein brownies
Easy vegan protein brownies made with only 6 ingredients and in 1 bowl! They are healthy yet fudgy and decadent.
Ingredients
To decorate (optional)
¼

cup

strawberries

,

or berries of choice, sliced thinly
Instructions
Preheat oven to 180°C (350°F). Line an 8 x 8 inch (20 x 20 cm) square baking tray.

Add all ingredients to a mixing bowl and mix until well combined.

Pour the brownie batter into your lined baking tray and smooth the surface with a spoon or spatula.

If desired, scatter some strawberries (or berries of choice) on top and lightly press them into the surface.

Bake the brownies for 18-23 minutes (shorter for fudgier brownies, longer for denser brownies). If you insert a skewer into the middle, there should only be a tiny amount of crumbs but no wet batter.

Allow the brownies to completely cool down. Cut into 16 small pieces, 9 large pieces or as desired. Enjoy!

Leftover brownies can be stored in an airtight container in the fridge for 3 days or in the freezer up to 1 month.
Notes
To puree the bananas, add them to your mixing bowl and puree using stick blender. I haven't tried mashed bananas for this recipe but I imagine it will make the brownie batter thicker with chunks of bananas.
I used a lightly sweetened chocolate vegan protein powder and found the brownies needed a very small amount of maple syrup. However feel free to omit or add more maple syrup, to taste.
Nutrition
Serving:
1
brownie
|
Calories:
132
kcal
|
Carbohydrates:
11
g
|
Protein:
6
g
|
Fat:
9
g
|
Sodium:
68
mg
|
Potassium:
221
mg
|
Fiber:
2
g
|
Sugar:
8
g
|
Vitamin A:
183
IU
|
Calcium:
24
mg
|
Iron:
3
mg
This recipe was originally published in 2018 and updated in 2021.
This post may contain affiliate links. As an Amazon Associate, I may earn a small commission from qualifying purchases at no additional cost to you.