Raspberry and pistachio wreath recipe perfect for Christmas and gifting to loved ones! Easy to make, impressive and delicious.
This festive wreath recipe is adapted from my popular jam donut babka, sticky cinnamon buns and many other brioche style bread recipes on Rainbow Nourishments. Readers have successfully made these recipes over 80 times which means this wreath is *very* tried and tested! You're in good hands here!
Ingredients you'll need
Even though this wreath looks fancy, you only need a few basic ingredients to make it!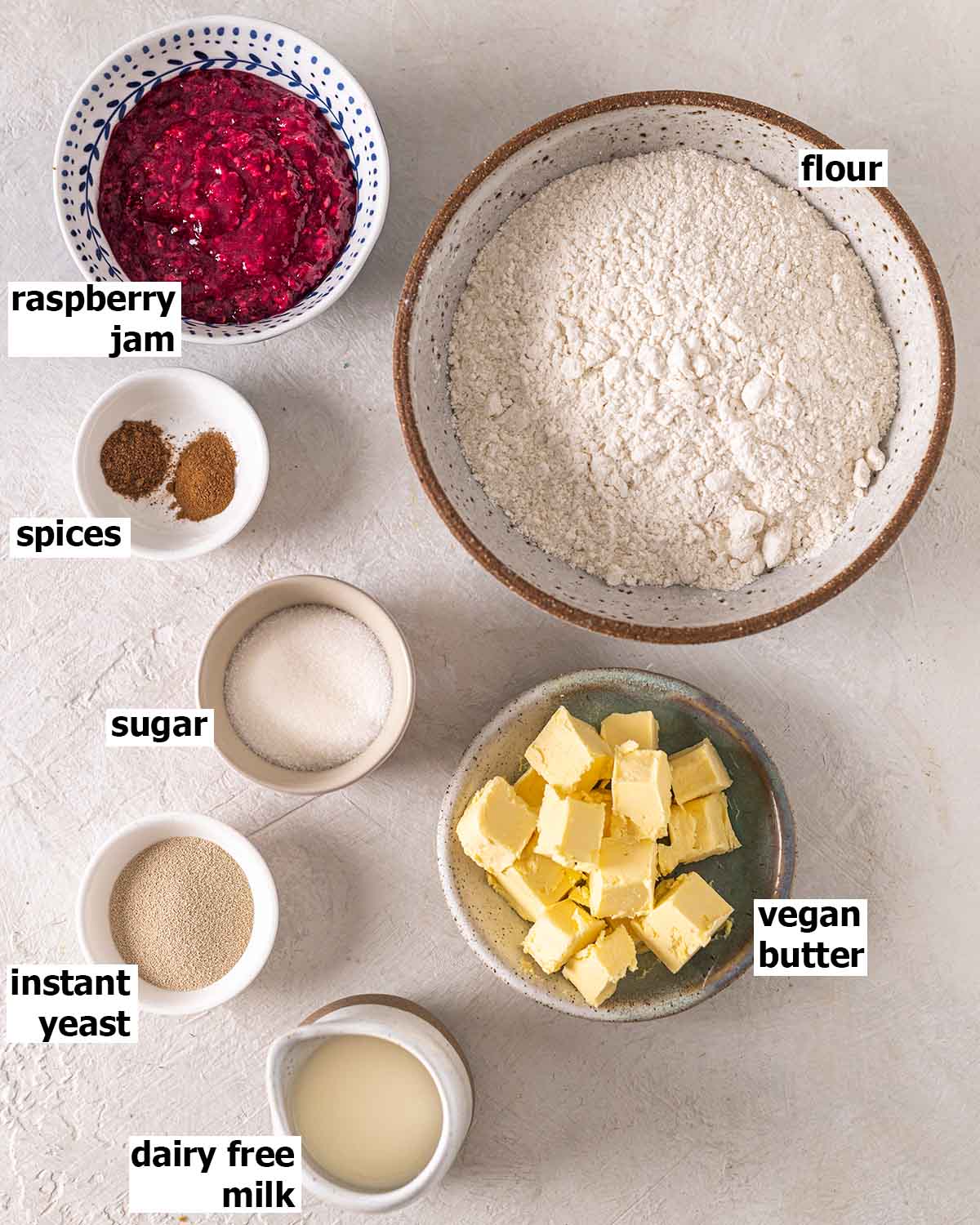 Notes about the ingredients
All-purpose flour or bread flour are best for this recipe.
Instant dried yeast is the easiest and quickest from all varieties of yeast. You may use a different type of yeast but it'll need to be proofed/activated beforehand.
Vegan block butter or margarine. Make sure this is room temperature otherwise it'll be difficult to incorporate it into your dough! If you use spreadable margarine, your dough may need a little extra flour and/or less milk.
Homemade quick jam (using just 3 ingredients) or store-bought jam. I'd recommend raspberry jam as it has the most vibrant color!
Pistachios to decorate (optional but recommended). But who can say no to a red and green wreath)!
A complete list of ingredients, quantities and instructions are in the gray recipe card at the bottom of this post.
Preparing the jam for this wreath recipe
I made a quick jam out of raspberries, sugar and corn starch for this wreath. To make the jam, simply add ingredients to a saucepan then simmer it until it was very thick and sticky.
If you use store-bought jam like Bonne Maman's raspberry conserve, you will need to reduce it on the stovetop beforehand as it's too liquidy. The jam needs to be thick enough so it doesn't ooze out when rolling or baking the wreath!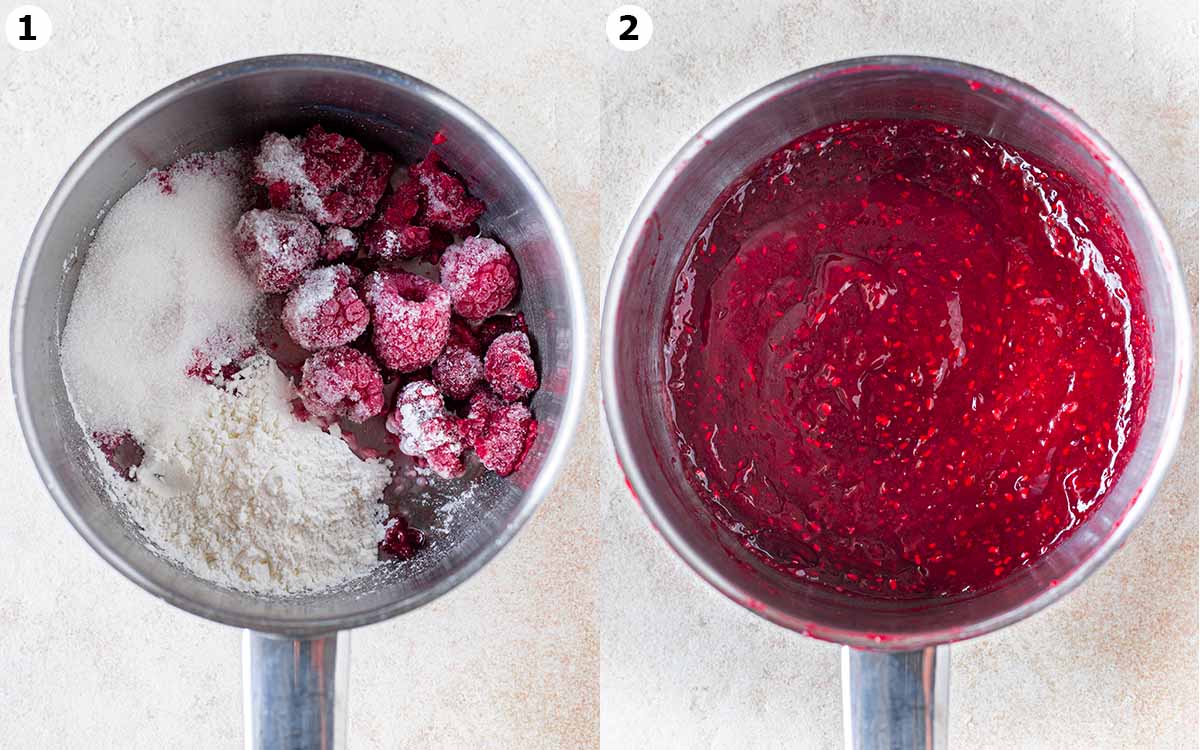 Preparing the dough for the raspberry wreath
It's super easy to make the dough for the wreath. Instant yeast doesn't need to be activated beforehand so you can simply add all the dough ingredients to a stand mixer and knead until it's soft and stretchy.
If you don't have a stand mixer, you can use a large mixing bowl. Simply mix all the ingredients in the bowl then knead it on a clean floured surface.
The dough should be soft and have no large cracks in it. However, it shouldn't be sticky enough that it sticks to the side of the bowl/kneading surface.
Top tips for resting the dough
When you rest the dough for the first time, the most important thing is to keep it in a WARM humid spot in your home. King Arthur Baking recommends that dough is rested at 75°F to 78°F (23°C - 25°C) for optimal flavor.
Unlike regular pizza dough, this dough is enriched with butter. The butter inhibits the dough from rising so it takes longer to proof.
The absolute minimum time for rising is 1 hour if you live in a hot climate. However, it can take 2-4 hours if it's Winter. And if you rest the dough in the fridge, the dough can take 8-10 hours!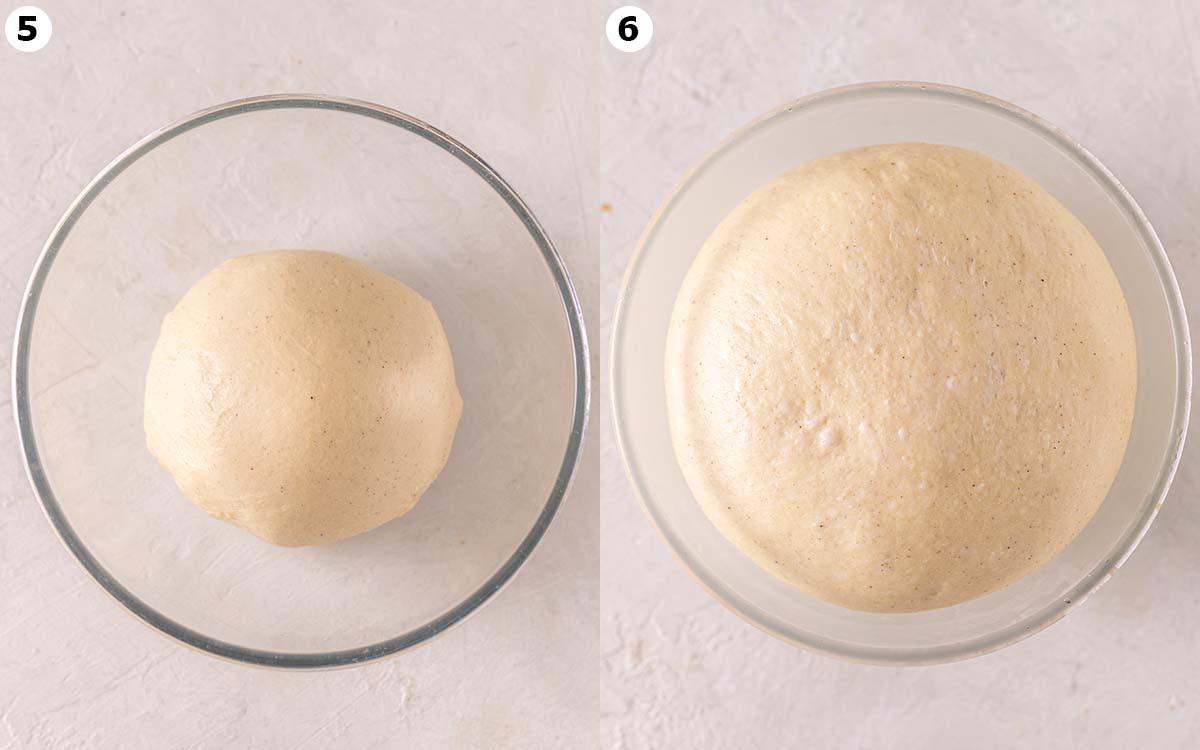 How to assemble the wreath
If you've made cinnamon rolls or babka before, it's easy to master this wreath recipe.
Simply roll out the dough in a large rectangle on a floured surface. Mine was about 45 x 25 cm (18 x 10 inches) large. TIP: the longer your dough, the larger your wreath will be!
Next spread your jam on your dough. My jam was very thick and sticky so I was able to spread it very close to the edge.
Once you've done that, roll your dough starting from the long side. You will need two hands to do this.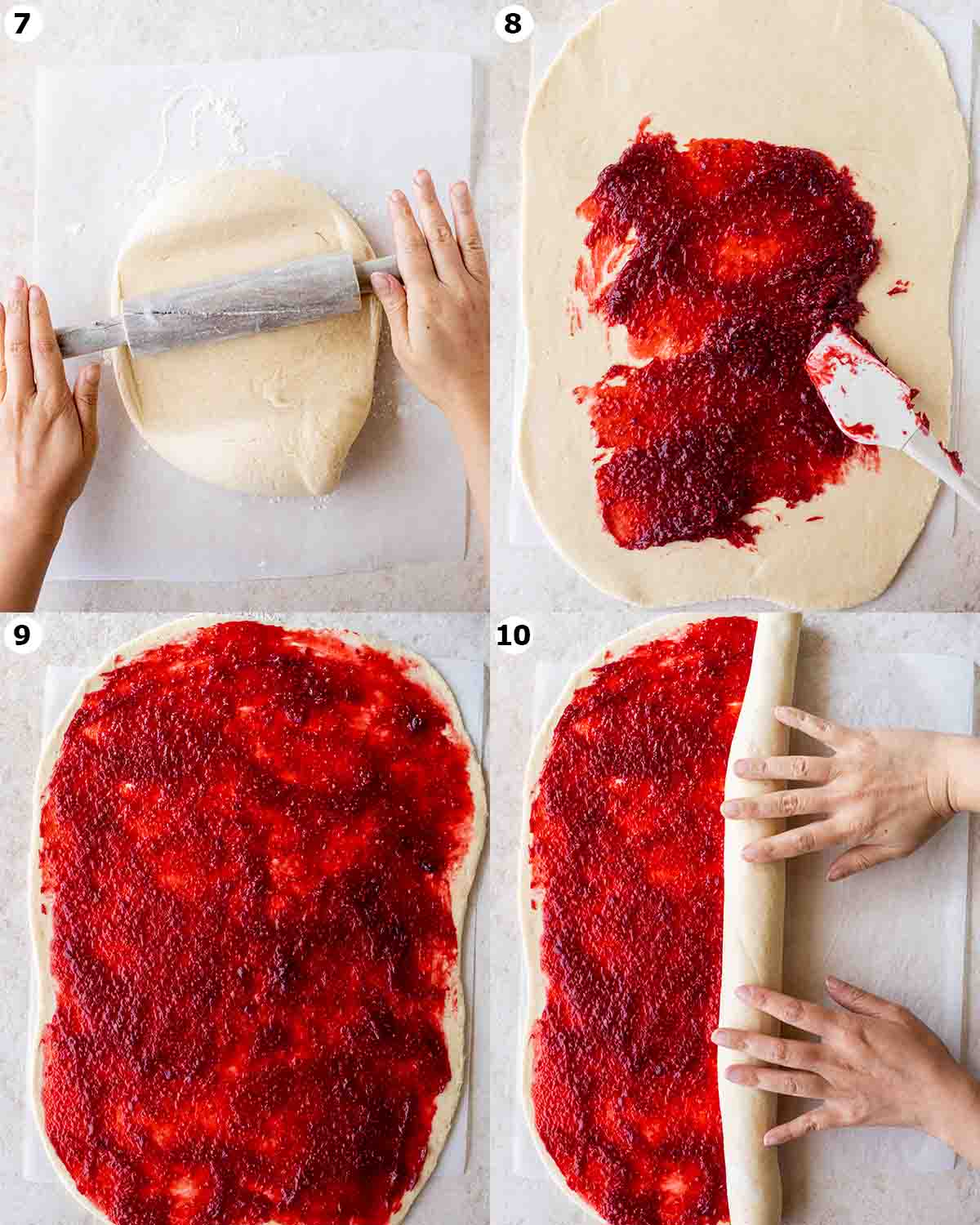 Now you have a log of dough which will be similar to a Swiss roll. Cut the dough in half lengthways so you have two long strips of dough.
Twist or fold the dough to form a braid-like shape. Try to make sure the exposed jam side is on top!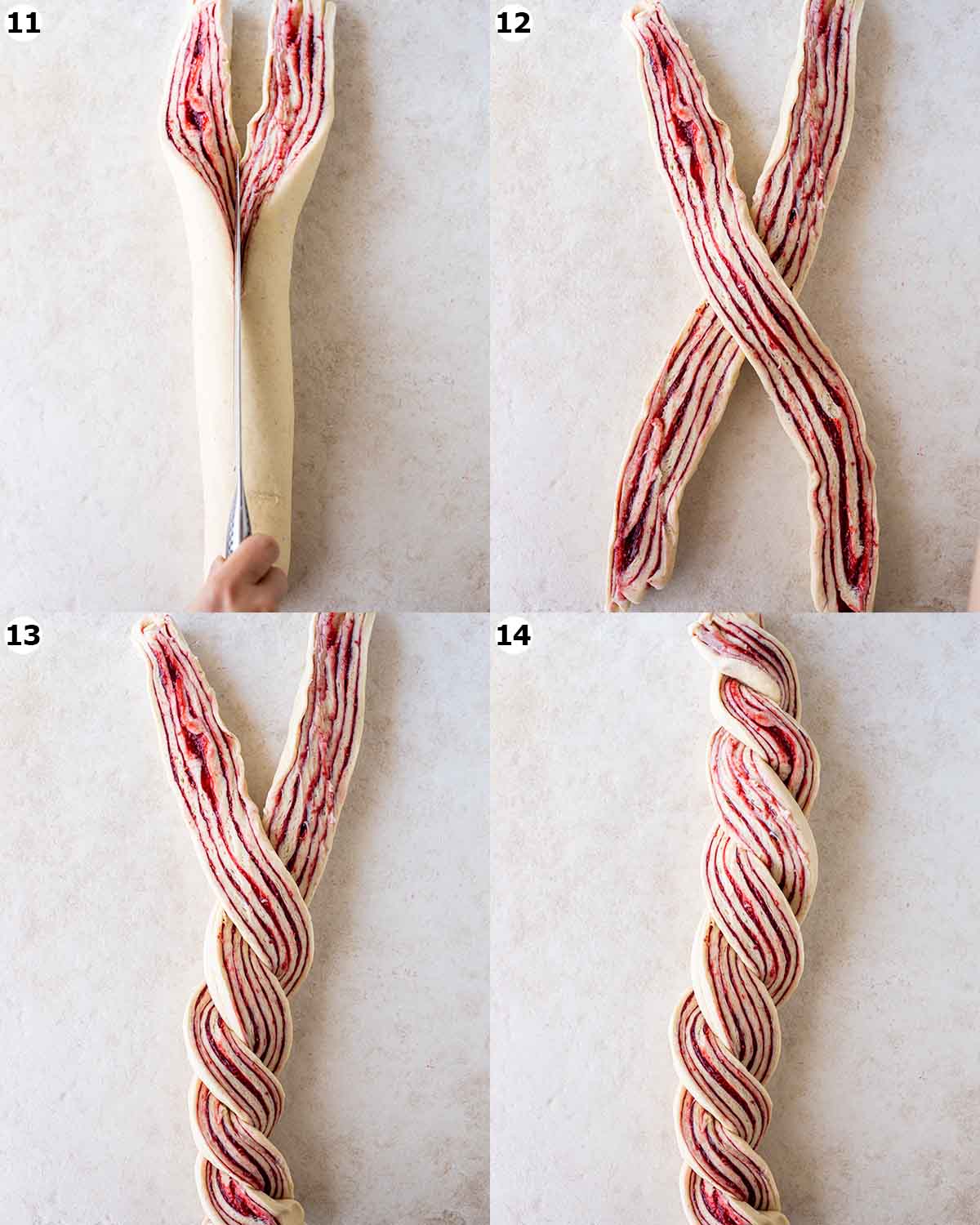 Once you have twirled your dough, transfer it to a sheet of baking paper. It's easier to do it at this stage because shaped wreaths are hard to transfer! Then simply bring the two edges together to form a circle or wreath.
Allow the wreath to rest for about 30 minutes to 1 hour until it's puffy again. It will increase in size a little but not dramatically. Then it's ready to bake!
Making this wreath in advance
If you'd like to make this wreath ahead of Christmas Day, here are a few options:
Make the dough and let it rest in the fridge overnight. I recommend placing the dough in a large container as it will expand in the fridge! On the day of baking, allow the dough to soften a little at room temperature, shape it into a wreath and let it rise once more. Chilled dough is easier to handle!
Make the dough, assemble the wreath and let it rest in the fridge overnight. You'll need to place the wreath on a very large baking tray as it will expand in the fridge. I recommend covering the wreath with a very large container, tea towel or something that won't stick to the wreath as it rises. The next day, you can transfer the wreath straight from the fridge to the oven (it'll just take an extra 5-10 minutes to bake.)
Alternatively, you can do either step 1 or 2 and freeze your dough/wreath. The dough will continue to rise until it completely freezes.
Recommendations for serving the festive raspberry wreath
For some festive color, I sprinkled some chopped pistachios on my wreath. Alternatively, you can:
Sprinkle other nuts on the wreath
Drizzle some dark or white chocolate on top
Drizzle a simple sugar glaze on top. Check out the simple lemon glaze I used for my poppyseed muffins.
Customizing this wreath recipe
If you'd like to make the wreath EXTRA festive, you can also:
Add some raisins and extra spices to the dough when you mix all the ingredients together
Add some chocolate chips to the dough. Same as above!
Use a gingerbread filling instead of a jam filling. I'd recommend the filling I used for my Gingerbread Cinnamon Rolls.
Other showstopping Christmas desserts
Follow Rainbow Nourishments on Instagram, Facebook, TikTok and Pinterest, and subscribe via email to receive all of our latest recipes!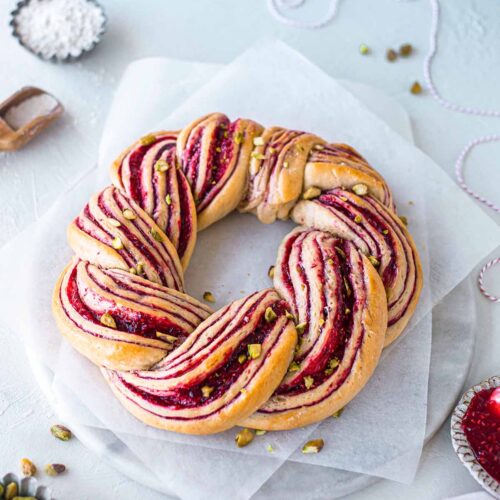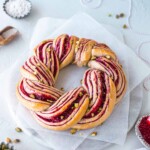 Print Recipe
Raspberry and Pistachio Wreath Recipe
Raspberry and pistachio wreath recipe perfect for Christmas and gifting to loved ones! Easy to make, impressive and delicious.
Ingredients
Instructions
To make the jam:
Add all ingredients to a small saucepan and bring it to a boil for 5 minutes. Stir while mashing the raspberries. Reduce to a simmer for another few minutes or until the raspberries have broken down. The final mixture should be like a thick very thick and sticky paste (the thicker, the better). It should keep shape and 'stick' to a spoon almost like frosting or buttercream. Remove from the heat and cool.
To make the dough:
Add all ingredients (and optional add-ins) in a large bowl or stand mixer and mix until it comes together. Knead the dough for 5-10 minutes or until the dough becomes soft and stretchy. The dough should be tacky but shouldn't stick to the side of the bowl. If the dough is sticky, add a little more flour and knead again. If the dough is dry (where cracks are showing on the surface), add a dash of milk and knead again.

Leave the dough in the bowl or stand mixer, cover with a tea towel and place it in a warm place for at least 1 hour or until the dough doubles in size. If it doesn't double in size, place it in a WARMER spot and wait until it does.

Dust a clean surface with flour. Roll out the dough into a rectangle shape around 25 x 45 cm large (10 x 20 inch). Spread the cooled jam onto the dough so it's close to the edge.

Starting from the long side of the dough, roll it into a tube (note 5). Use a sharp knife to cut the tube in half length ways creating two long 'strips' of pastry. Carefully twirl the two halves together.

Place the dough on a lined baking tray. Connect the two ends of the dough together to form a wreath. Cover the wreath and let it rest in a warm place for at least 1 hour or until increased in size by at least 20%. You can also let the wreath rest in the fridge overnight.
Baking the wreath:
If you chilled your wreath overnight, let it come to room temperature. When you are ready to bake, preheat the oven to 170°C (340°F).

Bake the wreath for 20-30 minutes. The amount of time will depend on your dough and how you made the wreath. The wreath is ready when the surface is slightly golden brown and if you press the surface, it should feel firm and bounce back quickly. Allow the wreath to cool on the baking tray.
Decorating the wreath:
To make a sugar glaze, add the sugar and water to a small saucepan over medium heat. Stir until the sugar has dissolved. While the babka is still hot, drizzle the sugar glaze on top.

Sprinkle the pistachios on the wreath just before serving. Enjoy! The wreath is best eaten the day it is baked. Alternatively, store it an airtight container at room temperature for 1-2 days.
Notes
If your store-bought jam is a little runny, reduce it on the stove for 5 minutes. Add the jam to a small saucepan over medium heat and allow it to simmer until it's thick and some of the liquid has evaporated. The jam should not drip and be sticky. If in doubt, the thicker the better! Use the pictures in the blog post as a reference.
Instant yeast doesn't need to be 'activated' or 'bloomed' beforehand. However, if you use another type of yeast, combine it with warm milk and a pinch of sugar beforehand. Wait until it bubbles then use it in the recipe.
If you're avoiding refined sugar, you can use 50g of any liquid sweetener instead of the sugar and water. Heat it up and drizzle on the wreath while it's hot.
If your dough is too soft and will be difficult to shape, place it in the fridge for 30 minutes to firm up. This is just for the wreath's appearance and won't affect its taste or texture.
Nutrition
Serving:
1
serve with only pistachios
|
Calories:
234
kcal
|
Carbohydrates:
36
g
|
Protein:
4
g
|
Fat:
8
g
|
Sodium:
82
mg
|
Potassium:
104
mg
|
Fiber:
2
g
|
Sugar:
8
g
|
Vitamin A:
380
IU
|
Vitamin C:
3
mg
|
Calcium:
40
mg
|
Iron:
2
mg
This post may contain affiliate links. As an Amazon Associate, I may earn a small commission from qualifying purchases at no additional cost to you.