Easy vegan lemon poppy seed muffins with bakery-style high tops and a luscious lemon glaze! These muffins come together in just 1 bowl and use common pantry ingredients.
These lemon muffins are perfect for Spring just like my vegan lemon cupcakes, carrot muffins or lemon olive oil cake.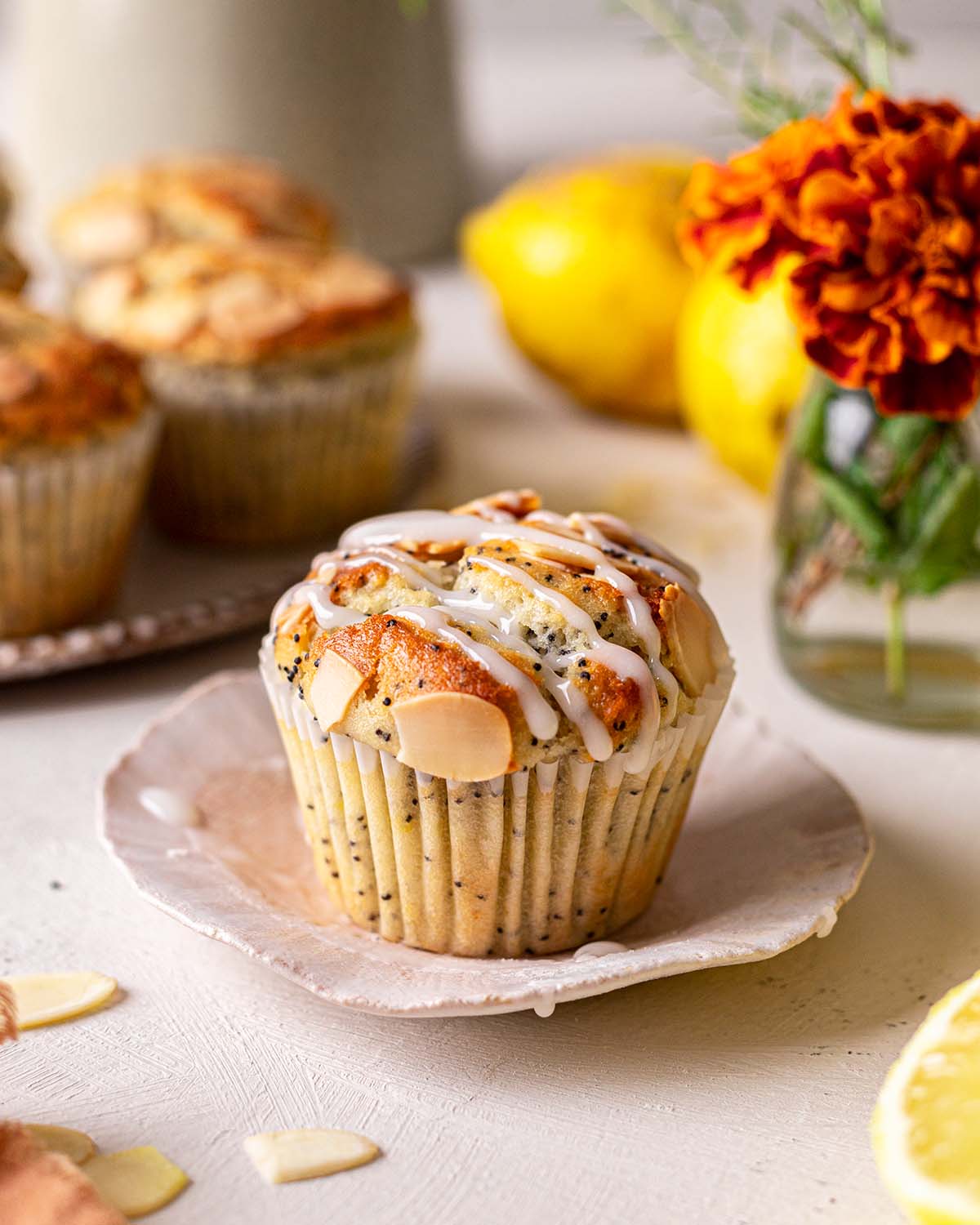 Ingredients to make this recipe
You'll need less than 10 ingredients including:
Notes about the ingredients
Granulated sugar or cane sugar for the best flavor and texture. These vegan lemon muffins have just the right amount of sweetness, without the glaze. For healthier muffins, you can use coconut sugar though it'll make the muffins brown in color.
Dairy-free milk. I prefer using soy milk or oat milk as they usually make the muffins more tender. However, any milk will work or even water!
Oil. I'd recommend a neutral-flavored oil. Olive oil will make these muffins beautifully golden but can leave a strong flavor, depending on the variety you use. If you use coconut oil, make sure you serve the muffins warm otherwise the coconut oil may solidify and they'll feel dry!
Lemon juice and zest, ideally from fresh lemons for the best flavor! When the lemon juice is mixed with the dairy-free milk, it turns into vegan buttermilk which makes lighter lemon poppyseed muffins.
A complete list of ingredients, quantities and instructions are in the gray recipe card at the bottom of this post.
How to make vegan lemon muffins
First, add all the dry ingredients to a large bowl and stir until combined.
Add all your wet ingredients directly to the mixing bowl. Then mix until combined!
You'll want to make sure there are no pockets of flour or wet ingredients. However, don't overmix your batter otherwise your muffins will be tough. Some lumps are fine, as long as they aren't lumps of dry ingredients.
The lemon muffin batter should be a little thicker than regular pancake batter, which you can see in Image 4 below.
Dividing the muffin batter and baking
Each muffin cup should be filled almost all the way. This helps create those gorgeous high muffin tops!
For minimal cleaning and ease, I used a large ice cream scoop to portion the muffin batter.
I'd also recommend sprinkling some flaked almonds on top of the vegan lemon poppy seed muffins! They're an easy way to add texture to the muffins and elevate their appearance!
For extra lemon flavor, I'd suggest making the easy lemon icing. You only need 2 ingredients and it adds a punch!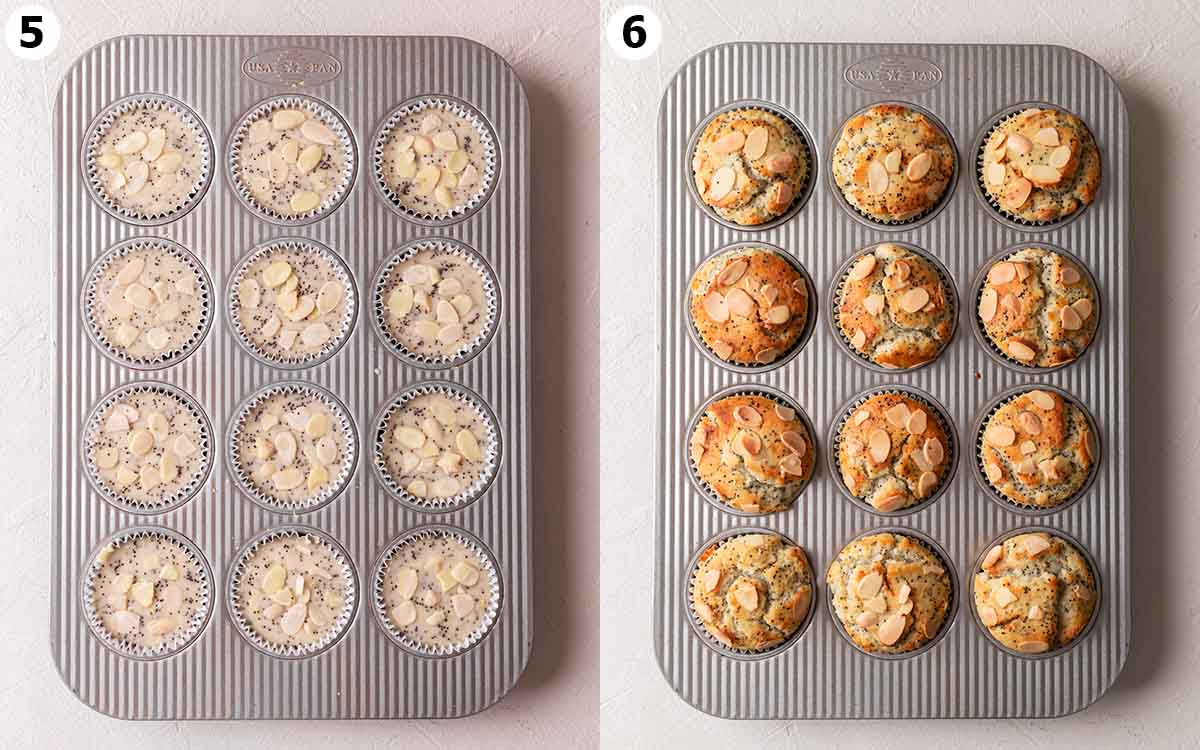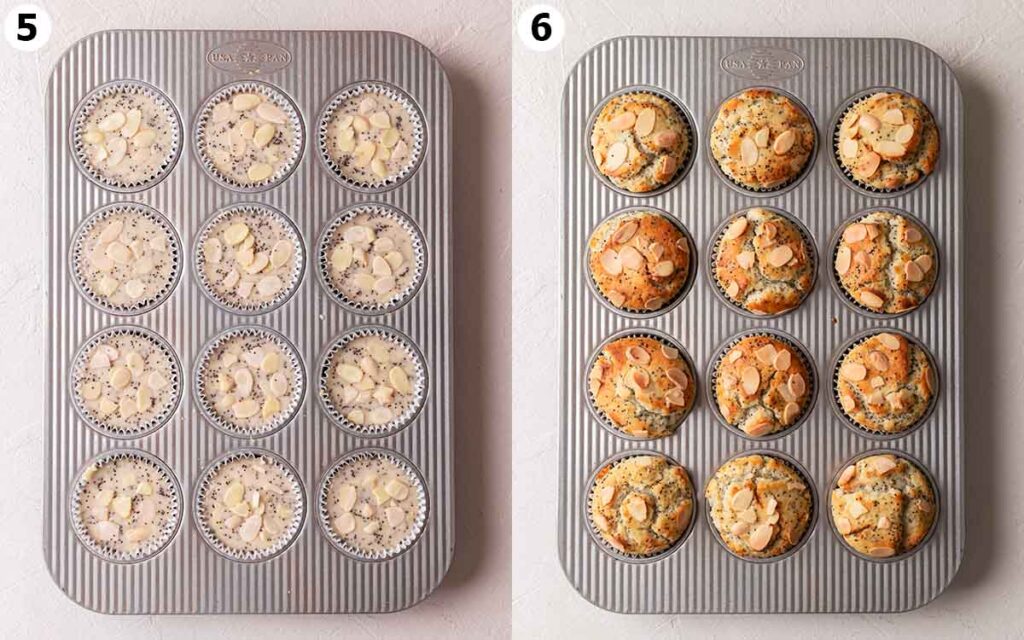 The role of acid in baking
In vegan baking, we often add a little acid (in the form of lemon juice or apple cider vinegar) as it helps the cake become more fluffy and rise. This can help with eggless cakes, such as my vegan blueberry muffins.
However, when too much acid is added, it has the opposite effect and can make a cake flatter, as demonstrated by The Cake Blog. That's why so many lemon cakes are flat! I counteracted this by slightly reducing the baking powder.
Interestingly, these vegan lemon muffins rise best with 2.5 teaspoons of baking powder. This is compared to using 3 teaspoons of baking powder or a mixture of baking powder and baking soda!
Tips for making tall bakery-style muffins
As vegan lemon muffins contain a high amount of lemon juice or acid, they can be a little flat. However, here are a few tips to make your muffins rise a little taller:
Chill your muffin batter for 1-2 hours or overnight. This is a technique often used in professional bakeries! It allows the starch in the flour to absorb the liquid ingredients. The batter becomes a little thicker and more robust, similar to chilling cookie dough. You can see the difference in this helpful post by Handle the Heat.
Chilling the batter only works if you use double-acting baking powder. The powder reacts when you combine it with wet ingredients and when it's heated in the oven, as explained by The Kitchn.
If you're not sure what type of baking powder you have, I'd recommend chilling your batter (just before it's fully combined). Then add your baking powder and mix it thoroughly into your batter.
Initially bake the muffins at a high temperature. I'd recommend preheating your oven to 220°C (425°F) and then reducing the oven heat to 180°C (350°F) once you put your muffins in. The initial high temperature makes the muffins rise quickly but the lower temperature allows the muffins to cook evenly.
Sally's Baking Addiction vouches for a similar method but to reduce the heat 5 minutes after they're in the oven. However, I found this to be fiddly and it would sometimes burn these muffins.
However, these vegan lemon poppy seed muffins will still bake beautifully without these special techniques!
Expert tips
Can I make these vegan lemon muffins gluten-free?
Yes, check out the notes of the recipe card at the bottom of this post. I recommend a combination of almond flour (for moisture) and a gluten-free flour blend (for structure and stability).
Can I add blueberries to these muffins?
Yes! You may need to bake the muffins for an extra 2-5 minutes, depending on whether you use fresh or frozen blueberries. I'd recommend adding the blueberries to the batter just before the batter is fully combined.

You do not need to toss the berries in flour beforehand - they will not sink with this batter! Alternatively, check out my vegan blueberry muffin recipe.
Can I use bottled or jarred lemon juice?
It is possible but you'll get more flavor from fresh lemons and lemon juice. You'll also get a lot of zest from 2 lemons which adds a lot of lemon flavor.
Can I make this recipe into a cake?
Normally when I convert cupcakes into a cake, I need more raising agents. Instead, I'd recommend checking out my recipes below:
- Vegan Lemon Blueberry Cake
- Vegan Lemon Olive Oil Cake
- Vegan Lemon Drizzle Cake

If you'd like to make a lemon poppy seed cake, I'd recommend making the Lemon Blueberry Cake, omitting the blueberries and adding poppyseeds.
More easy vegan muffin recipes
Follow Rainbow Nourishments on Instagram, Facebook, TikTok and Pinterest, and subscribe via email to receive all of our latest recipes!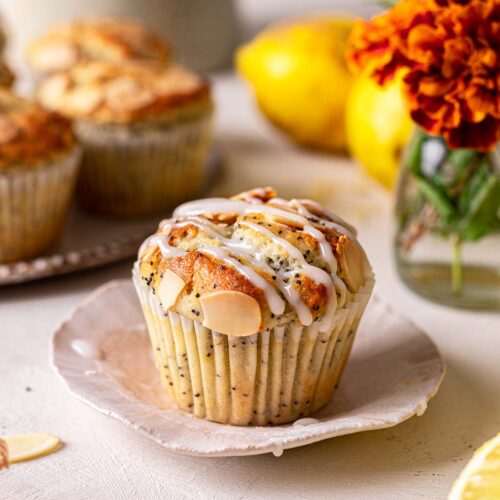 Print Recipe
Vegan Lemon Poppy Seed Muffins
Easy vegan lemon poppy seed muffins with bakery-style high tops and a luscious lemon glaze! These muffins come together in just 1 bowl with common pantry ingredients.
Instructions
Preheat the oven to 220°C (425°F, note 4). Arrange muffins liners in a muffin pan.
Making the muffin batter:
Add all the dry ingredients to a large mixing bowl. Mix until there are no lumps.

Add all of the wet ingredients to the bowl and mix until just combined.

Use an ice cream scoop or a large spoon to divide the mixture into your muffin tin.
Baking the muffins:
Optional: sprinkle the flaked almonds on top of your muffins.

When you're ready to bake the muffins, reduce the oven temperature to 180°C (350°F). Immediately place your muffins in the oven.

Bake the muffins for around 22-25 minutes. If you insert a toothpick into a muffin, there shouldn't be any wet batter on it, though some crumbs are fine.

Cool the muffins in the pan for 10 minutes then allow them to cool on a wire rack.
Optional: Making the lemon icing
Add the powdered sugar and lemon juice to a medium mixing bowl. Whisk until combined. The icing should be runny but hold its shape for a few seconds when you drizzle it. To make the icing thicker, add 1 tablespoon of powdered sugar and mix again. To make the icing thinner, add a few drops of lemon juice and mix again.

When the muffins have cooled, drizzle the icing on top.

The undecorated vegan lemon muffins can be enjoyed warm. Otherwise enjoy the muffins at room temperature.

Store the muffins in an airtight container at room temperature for 2 days, in the fridge for 3 days or in the freezer for up to 1 month.
Notes
To make these vegan lemon muffins gluten-free, substitute the plain flour with 1 ½ cups (150g) almond meal and 1 ½ cups (240g) gluten-free all-purpose flour. A high-quality 1:1 gluten-free flour such as Bob Red Mills may work but I haven't tested it so can't vouch for results.
This amount of sugar creates moderately sweet muffins, especially when paired with fresh lemon juice. Alternatively, you may use coconut sugar. This will result in darker and less sweet muffins.
You may use melted coconut oil (room temperature) for these muffins. However, coconut oil can solidify when it's cold so will make cakes feel drier than normal. If so, I'd recommend warming up the muffins before you serve them.
The initial high temperature encourages the muffins to dome higher.
Nutrition
Serving:
1
muffin (without toppings)
|
Calories:
331
kcal
|
Carbohydrates:
46
g
|
Protein:
4
g
|
Fat:
15
g
|
Sodium:
117
mg
|
Potassium:
54
mg
|
Fiber:
1
g
|
Sugar:
21
g
|
Vitamin A:
1
IU
|
Vitamin C:
3
mg
|
Calcium:
107
mg
|
Iron:
2
mg
This post may contain affiliate links. As an Amazon Associate, I may earn a small commission from qualifying purchases at no additional cost to you.