Buttery and easy sourdough cinnamon rolls which are flaky and melt in your mouth. These vegan cinnamon rolls are made without yeast but sourdough discard. Delicious and not too sweet!
These vegan sourdough cinnamon rolls have the same flakiness as your classic cinnamon rolls but are slightly less sweet. The fermented sourdough starter adds a subtle tang, which makes it hard to stop at one bite!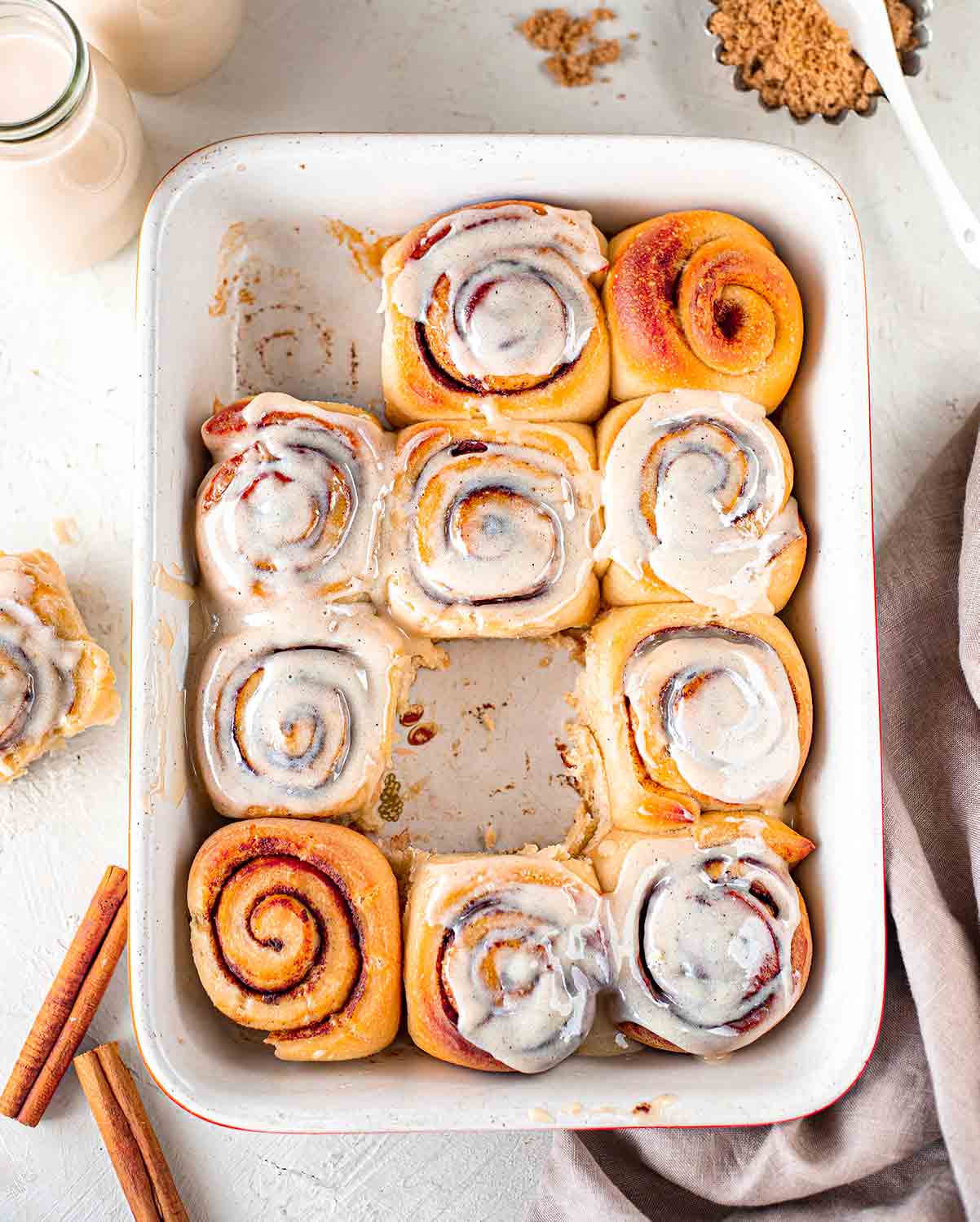 Making sourdough starter from scratch
If you're new to sourdough baking, my favourite ways to create a sourdough starter are:
Bake with Jack's recipe. I used plain flour for my starter and it does the trick!
Getting 20g of sourdough discard from a friend or neighbour! Add the starter to a jar with 50g plain flour and 50g lukewarm water and mix until combined. Loosely cover it with a lid and leave it at room temperature or a warm spot overnight. When the starter is bubbly and has doubled in size, you're good to go!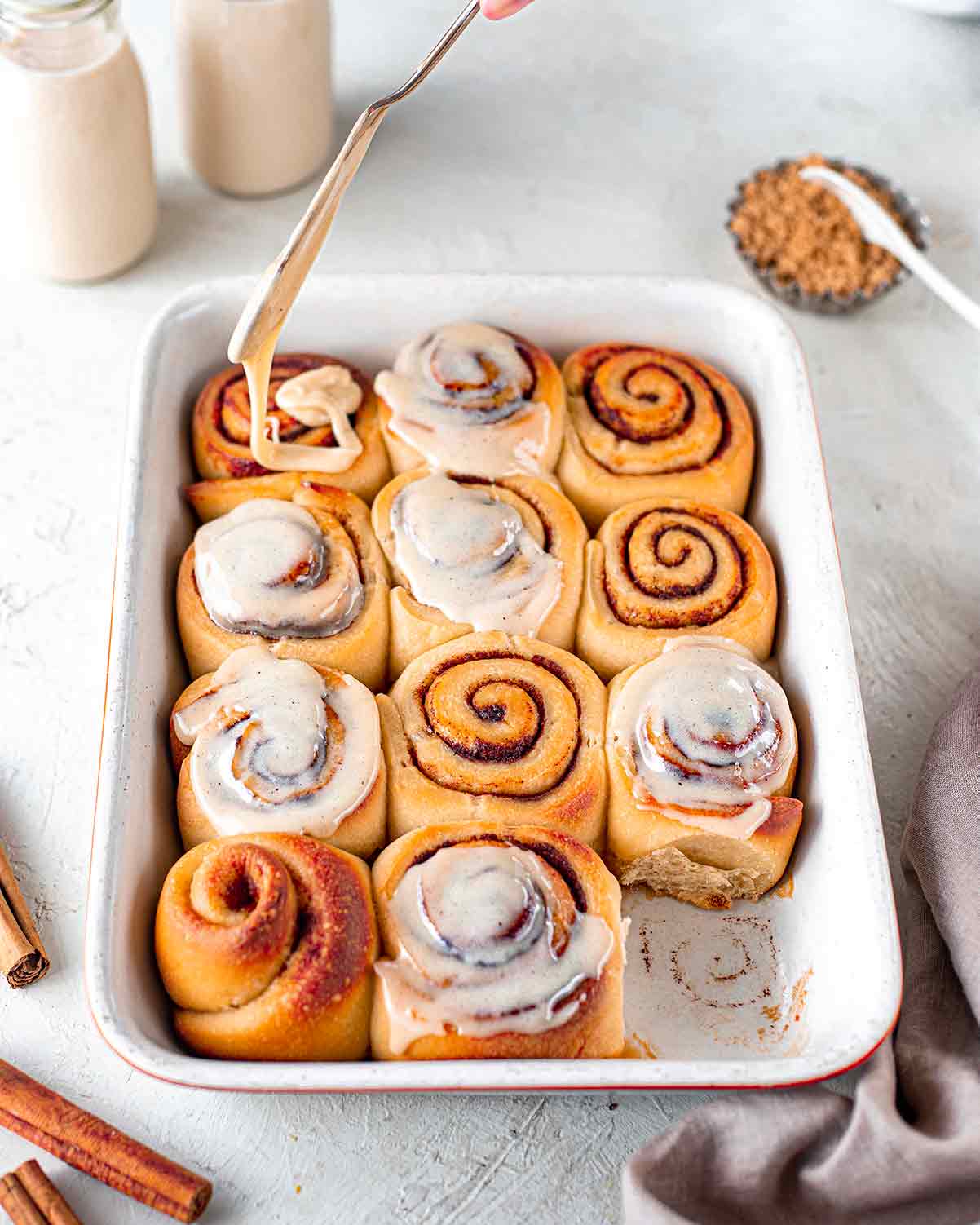 Feeding your sourdough starter
To keep your sourdough alive, you need to feed it (just like a baby or a plant)!
The Perfect Loaf explains how to feed your starter in some detail. Normally, you need to discard the majority of your bubbly starter every day or every few days, mix in some flour and water and repeat until you need to bake with it. When I first got my starter, I did this for about 1 week, got fed up with it then researched simplier and less time-consuming methods.
Instead, the 'scrapings method' is 100 times easier and you only need to feed your starter the day before you use it! Watch Bake with Jack's Scrapings Method video for a straight-forward explanation.
Ingredients for these sourdough cinnamon scrolls
To make the dough for the rolls, you only need five ingredients including:
Plain or all-purpose flour
Cane sugar or coconut sugar
Sourdough discard or active sourdough starter
Melted vegan butter
Dairy free milk, such as soy, coconut or almond.
For more 'wholesome' rolls, you can substitute the plain flour for spelt or whole wheat flour. The rolls won't be as fluffy but you'll get more fibre in your body!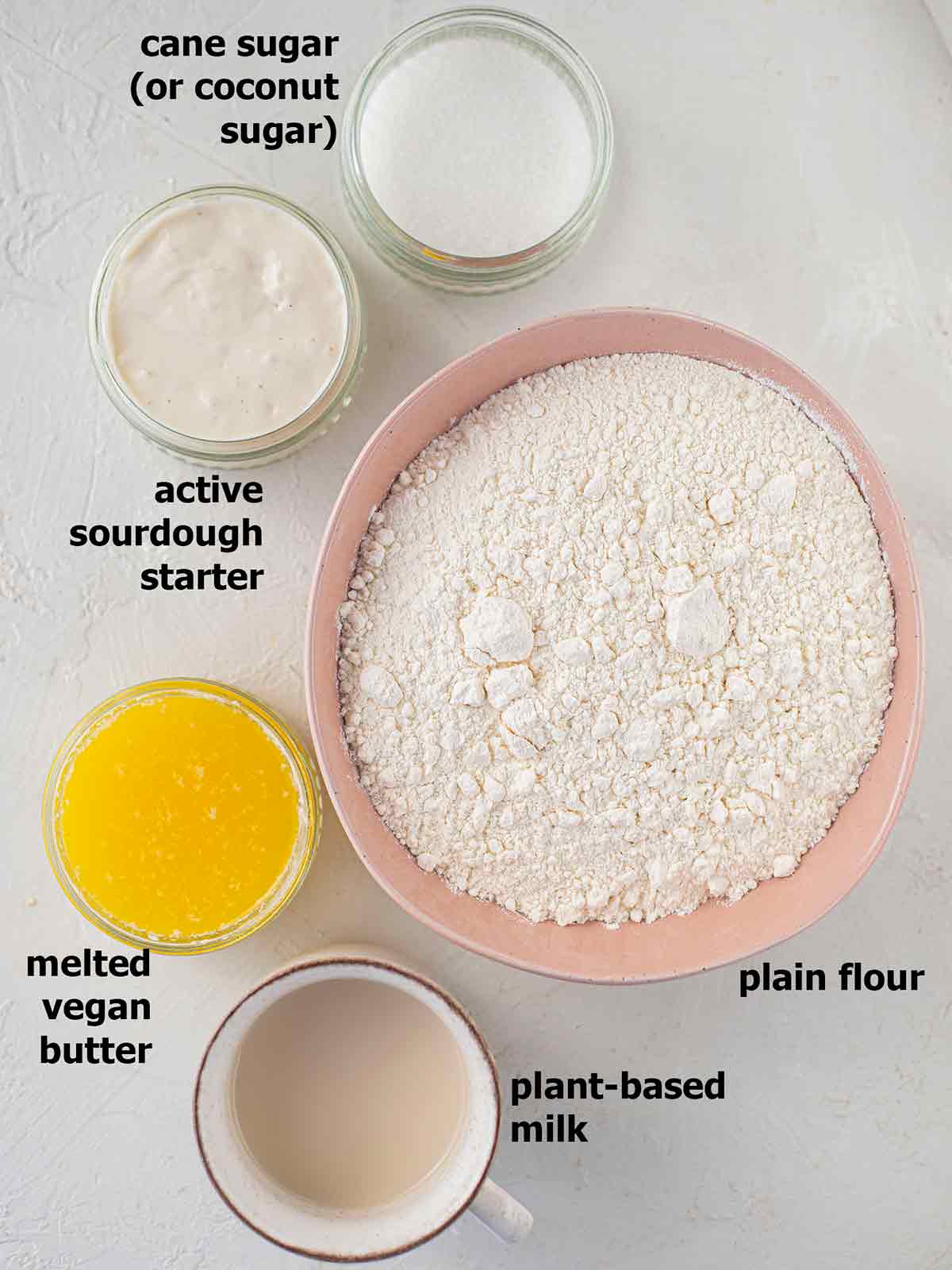 Making the dough for the sourdough cinnamon rolls
These are the easiest sourdough cinnamon rolls! To make the dough, add ALL the ingredients to a stand mixer or large bowl then mix or knead it for a few minutes. This activates the gluten and allows it to be soft and stretchy.
Initially, the dough will look shabby and have pockets of flour or milk. However, just keep kneading until it forms a smooth and cohesive dough! The dough will eventually come away from the side of the bowl.
Kneading using a stand mixer will take ~5 minutes whereas kneading by hand will take 10+ minutes. Consider it a free arm workout :).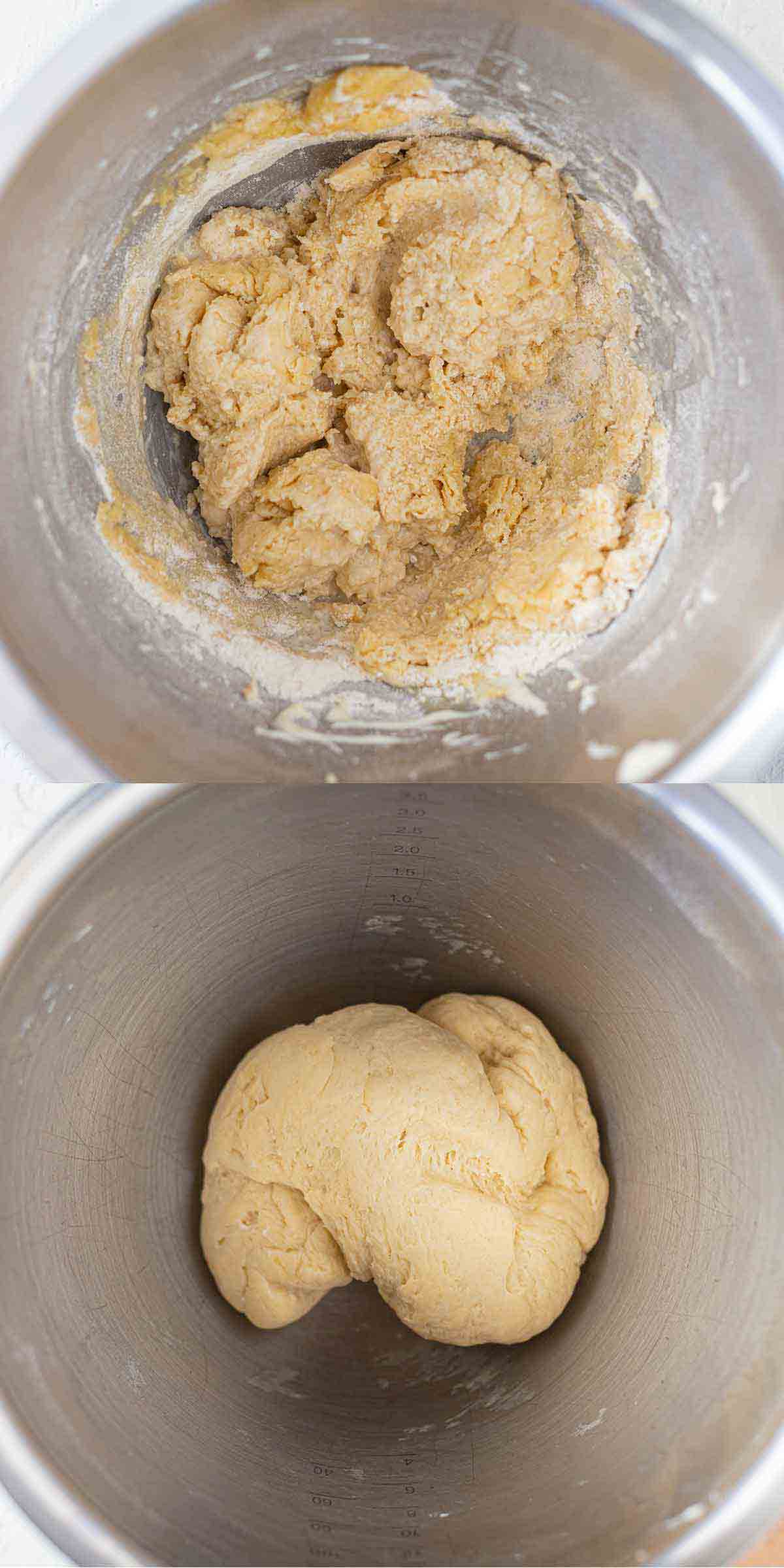 Resting the dough
Place the dough in a bowl, cover it with a tea towel and place it in a warm area. In an hour or so, the dough should increase in size.
From the angle of these pictures, you can't see the dough doubling in size, but I promise it did! It may not have 'doubled' in size because it's cold where I am right now but I know they'll increase in size later.
In this step, the sourdough starter in these cinnamon rolls are being fed with more flour which allows them to grow!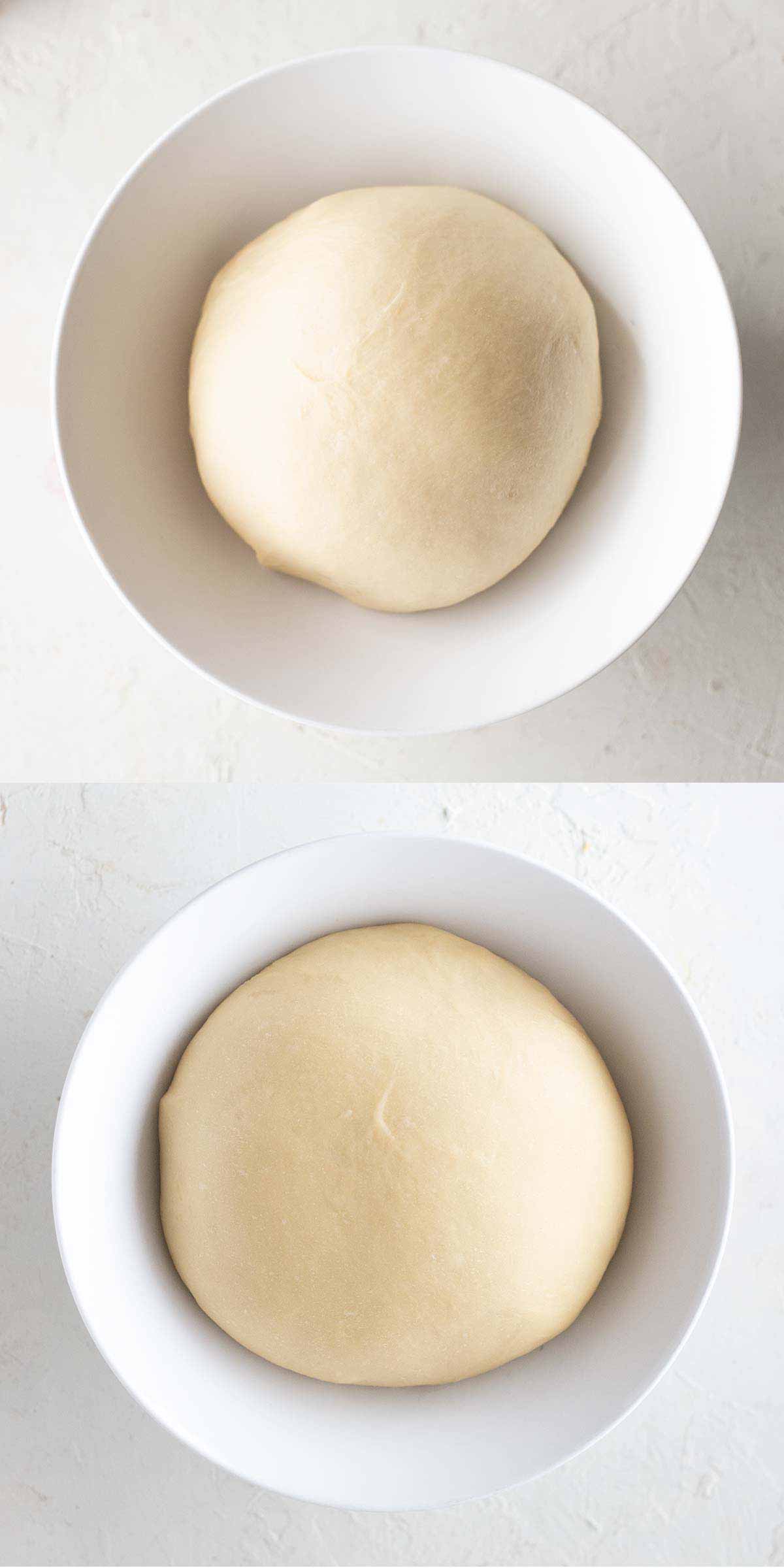 How to assemble sourdough cinnamon rolls
If you've made cinnamon rolls before, these are a breeze to make. But if this is your first time, don't fear!
On a floured surface, use a rolling pin (or jar) to flatten the dough into a rectanglar shape.
Brush the dough with your melted butter and liberally sprinkle on the cinnamon sugar. This is the most delicious part! Rub in the sugar so it doesn't go everywhere when you roll up the dough.
To roll the dough for the sourdough cinnamon rolls, imagine it is like a jam roll but FIRMER. Try to make sure there are no gaps when you roll the dough. I like using both hands so both ends of the dough are rolled evenly.
I prefer cutting the dough with a very sharp knife or unflavoured dental floss. Some people use a serrated knife, though this doesn't work for me.
If your cinnamon rolls are squished when you cut them, simply reshape them with your hands…. or don't, it won't hurt either way!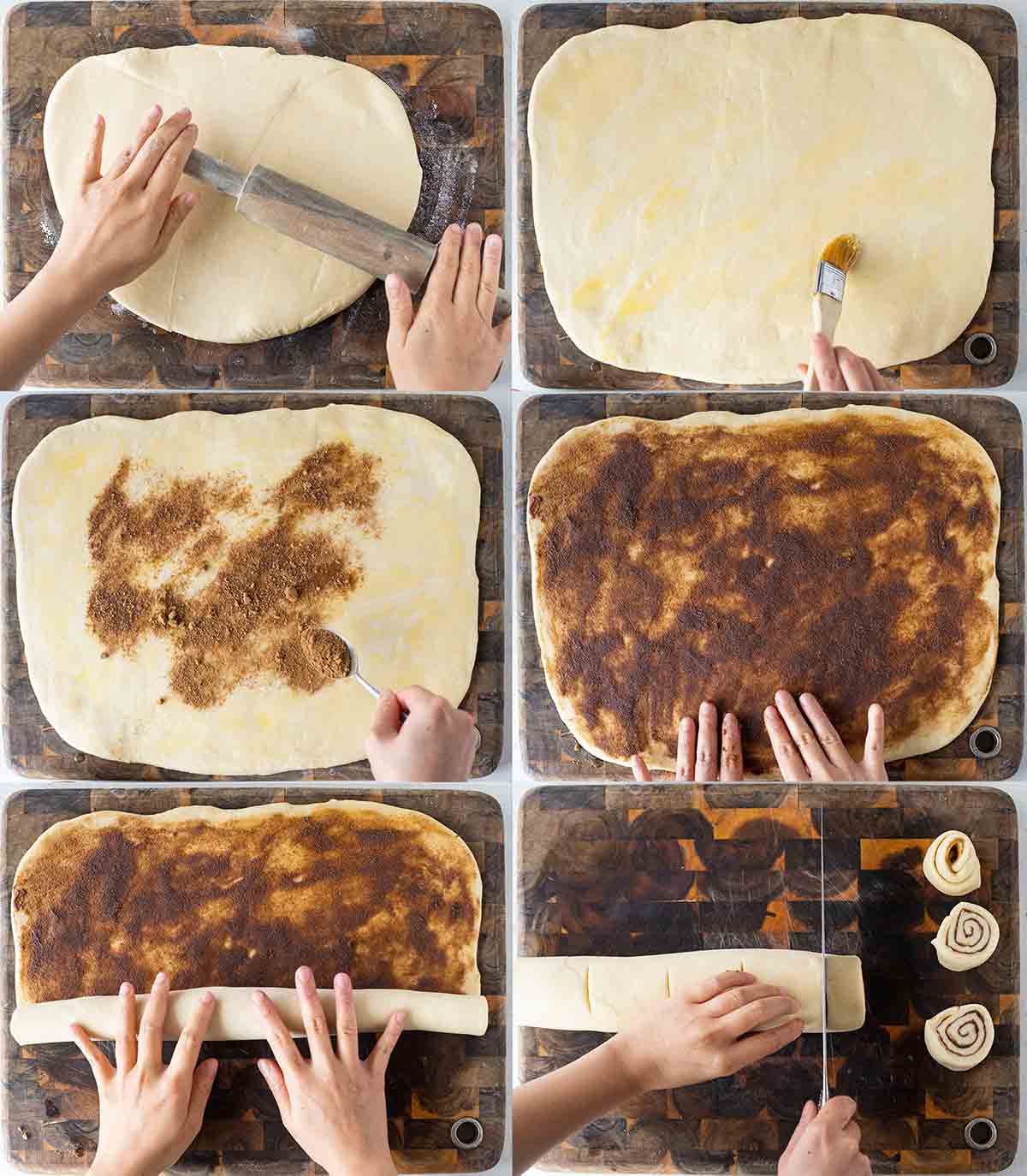 Resting the rolls
Arrange your sourdough cinnamon rolls in a baking dish and let it rest for the second time. Even though these vegan cinnamon rolls are without yeast, they will still rise! You can rest them for 1 hour or overnight in the fridge.
Just make sure you bring them back to room temperature before you bake them :).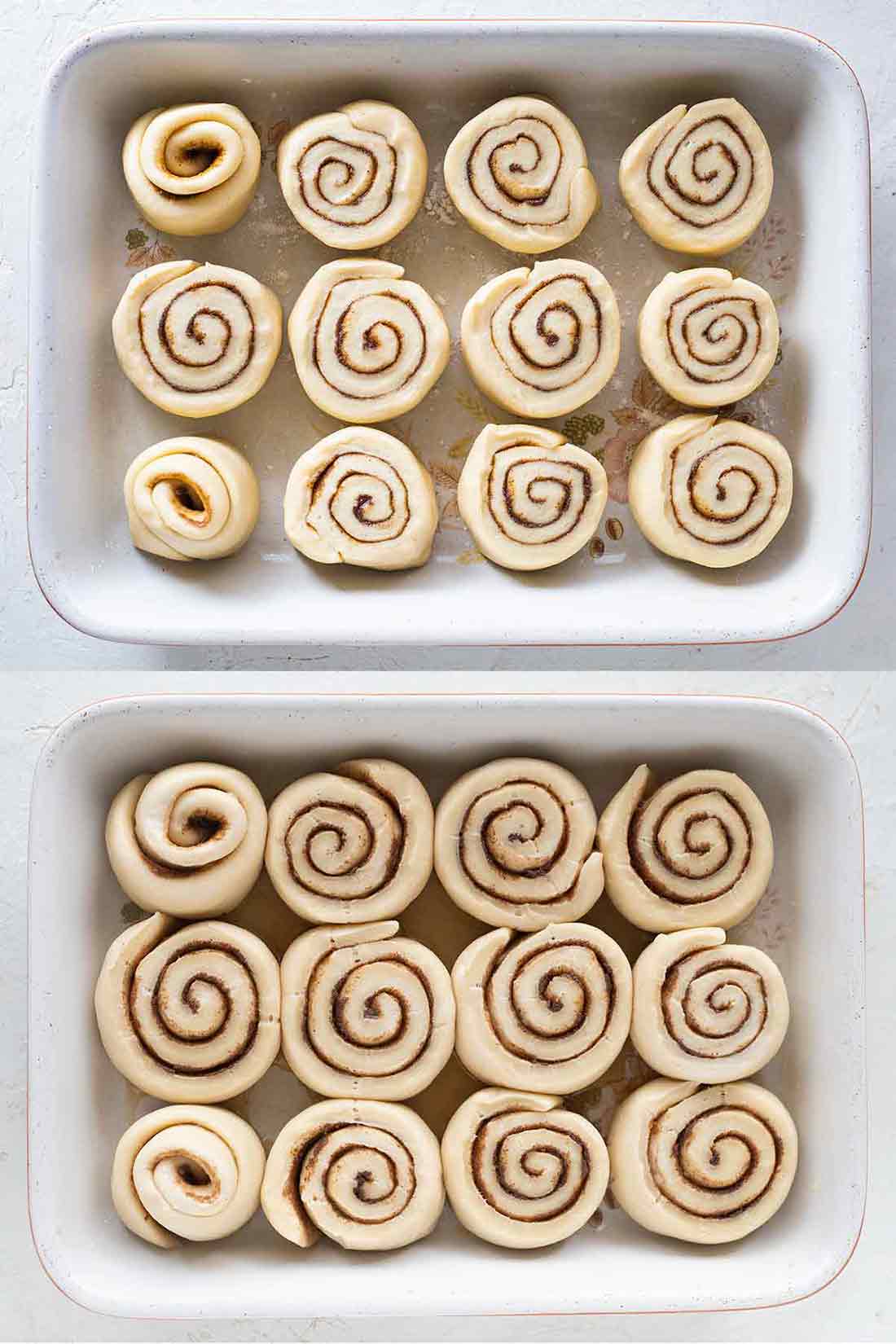 Frosting the sourdough cinnamon rolls
The recipe includes a basic vanilla frosting flavoured with MAPLE syrup because it's delicious!
However, If you prefer refined sugar-free cinnamon rolls, eat them without frosting or drizzle them with only maple syrup.
I hope you enjoy this recipe!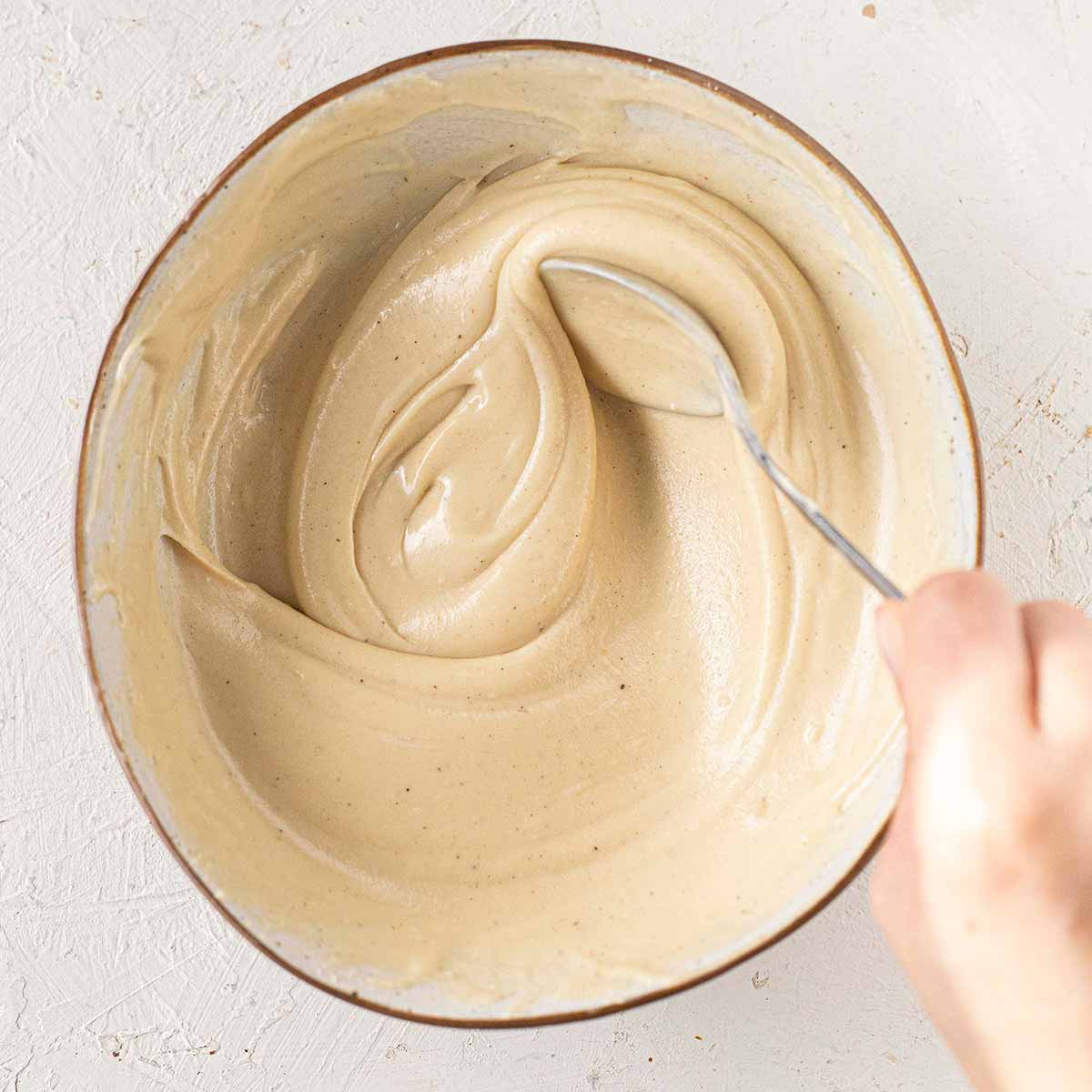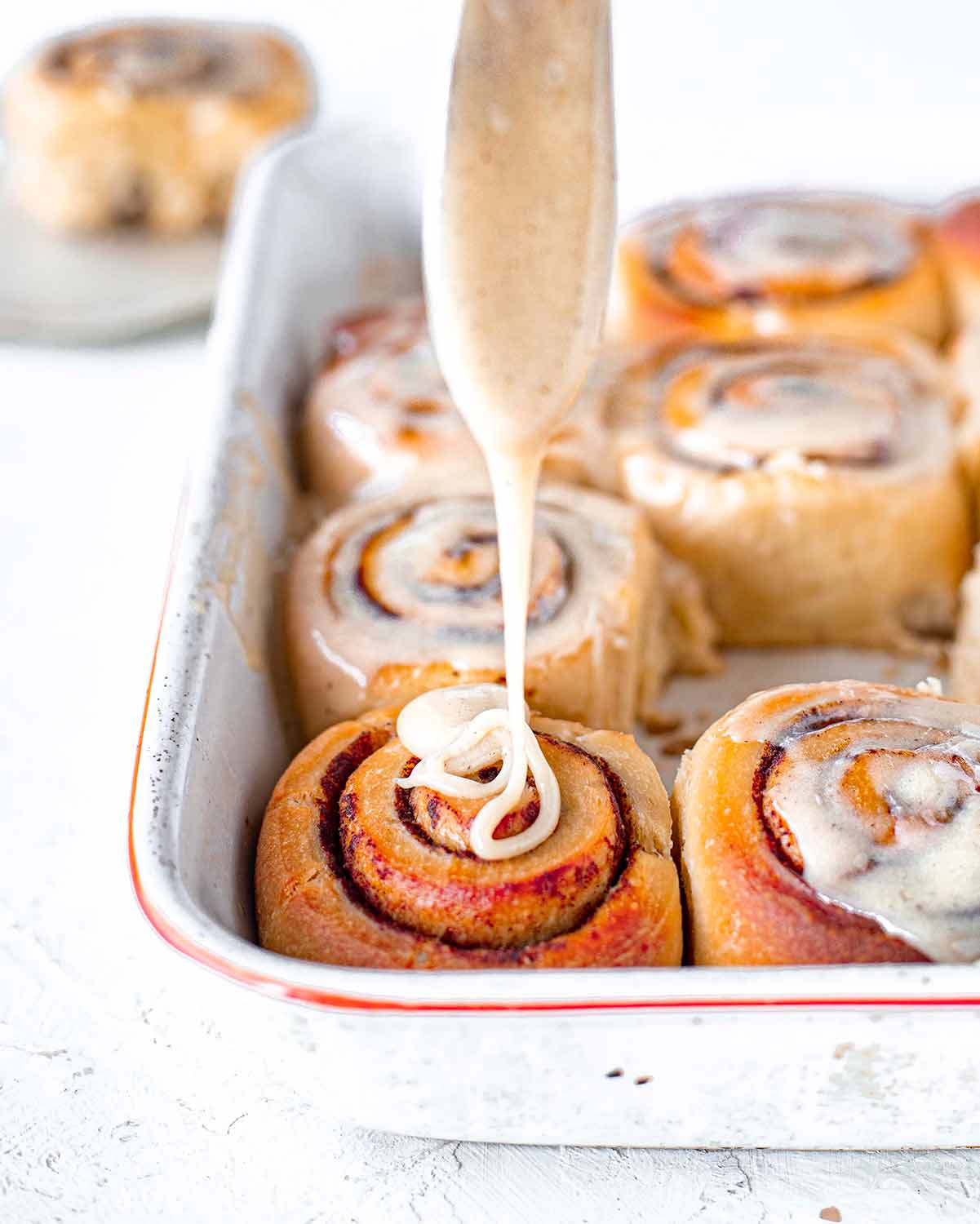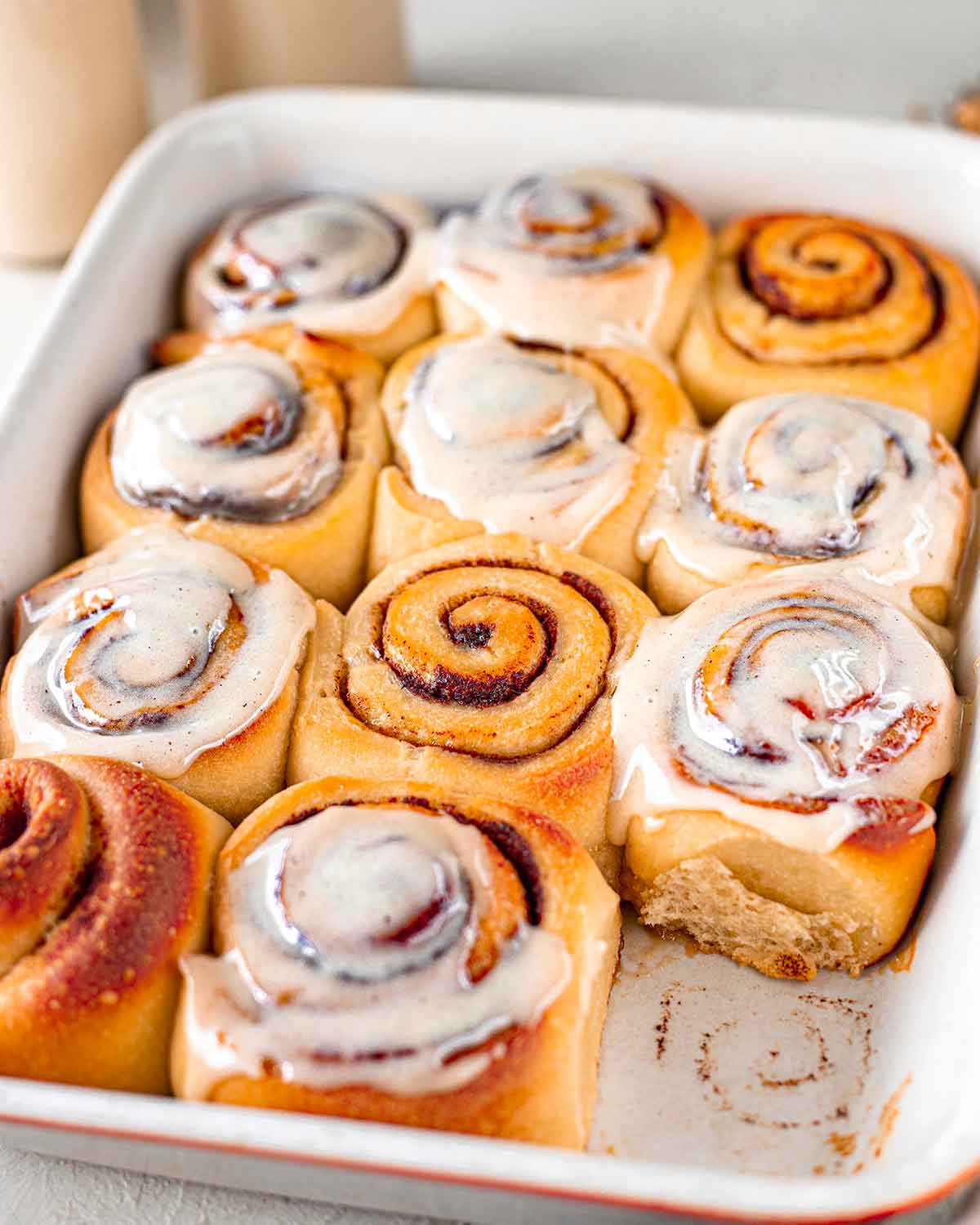 More recipes for vegan cinnamon rolls:
Or check out these 10 vegan sourdough recipes using leftover sourdough starter or sourdough discard!
Follow Rainbow Nourishments on Instagram, Facebook, TikTok and Pinterest, and subscribe via email to receive all of our latest recipes!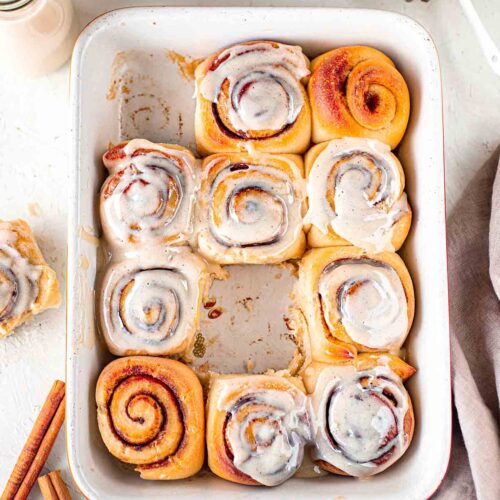 Print Recipe
Sourdough cinnamon rolls with a maple vanilla glaze (vegan)
Classic buttery cinnamon rolls made with a sourdough starter and no yeast. Easy, delicious and not too sweet!
Instructions
To make the cinnamon roll dough
Add all the roll ingredients to a stand mixer with the dough hook or a large bowl. Mix until combined. Knead for about 3-5 minutes or until the dough comes away from the sides of the bowl and forms a soft dough. If the dough is too wet, add a little more flour and knead until it's no longer sticky (avoid doing this if you can as it'll make the rolls drier). If the dough is too dry, add a dash of milk and knead until it forms a smooth dough.

Cover the bowl with a tea towel. Set it aside in a warm spot for at least 2 hours or until the dough has doubled in size.
To prepare the cinnamon filling:
Combine the sugar and cinnamon in a small bowl.

Dust a clean surface with flour. Scoop the dough onto the surface and roll it out into a large rectangular shape.
Assembling the sourdough rolls
Use a pastry brush to spread the melted butter or margarine on the dough, making sure it reaches all edges. Liberally sprinkle the cinnamon sugar and rub it into the surface with your fingertips.

If your dough is too soft to be rolled, chill it in the fridge for at least 10 minutes. Starting from the long side, tightly roll the dough into a large tube. Use a sharp knife to cut rolls out of the dough.

Place the rolls on a baking tray, leaving a little space between each roll to allow them to spread. Cover the tray with a tea towel and allow them to rise for at least 1 hour or when the rolls are puffy again and have increased in size by 50%. You can do this step overnight if you leave the rolls in the fridge.

When you're ready to bake the rolls, preheat the oven to 180°C (350°F).

When the oven is hot, bake the rolls for 15-20 minutes. The rolls are ready when they are slightly golden brown or when you insert a skewer in one of the middle rolls and it doesn't have wet dough on it. Set aside to cool.

To make the frosting: Whisk all of the ingredients in a small until smooth and there are no lumps. Generously drizzle the frosting onto the rolls.

The rolls are best eaten the day they are baked. Alternatively, store them in an airtight container at room temperature for 1-2 days or in the fridge for 3-4 days. Warm up the rolls before you enjoy them.
Notes
* My sourdough starter had 100% hydration. Any amount of starter between 75-150g will work. Use less for a mild sourdough taste and more starter for a stronger sourdough taste.
** If you can't find vegan cream cheese, sub the frosting with a simple maple sugar frosting. Mix 2 cups (200g) powdered sugar, a dash of plant-based milk, a dash of maple syrup and vanilla until combined.
Nutrition
Serving:
1
roll with glaze
|
Calories:
258
kcal
|
Carbohydrates:
36
g
|
Protein:
4
g
|
Fat:
11
g
|
Sodium:
137
mg
|
Potassium:
54
mg
|
Fiber:
2
g
|
Sugar:
8
g
|
Vitamin A:
462
IU
|
Vitamin C:
1
mg
|
Calcium:
37
mg
|
Iron:
2
mg
This recipe and post was originally published in March 2019 and updated in May 2020.
This post may contain affiliate links. As an Amazon Associate, I may earn a small commission from qualifying purchases at no additional cost to you.